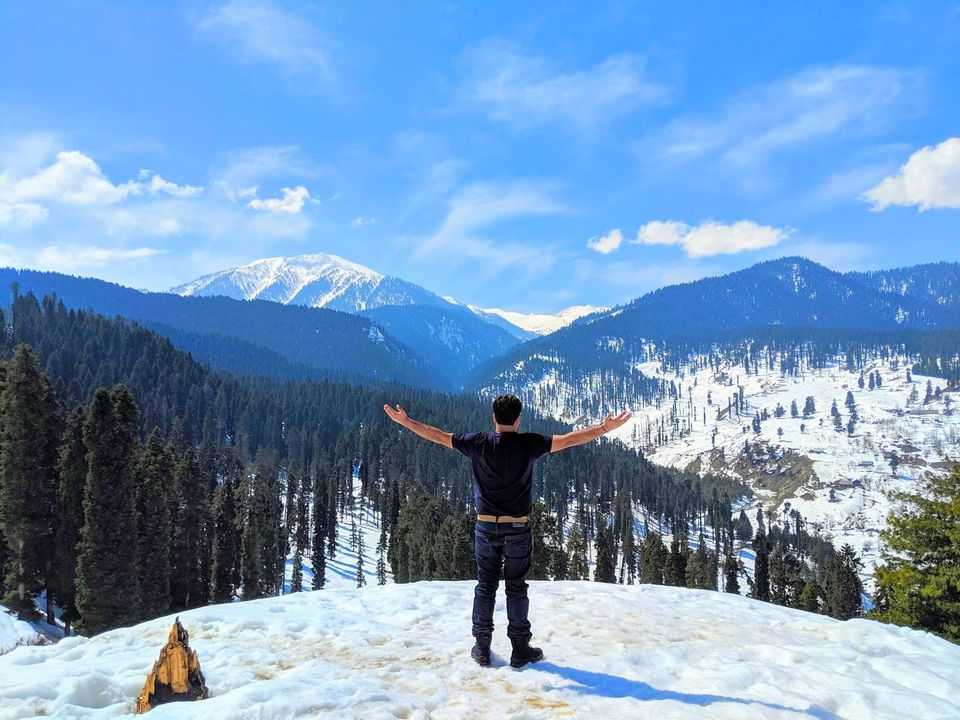 Kashmir Region - J&K - India
March 2019 !
The Tales of Kashmir !!
This was my 5th Visit to Kashmir and probably 8th Visit at J&K State .
Apparently all these visits happened in last one year . By this you can sense what Kashmir holds in my heart .
Going Kashmir is not like going to Jammu , there is 360 degrees difference . I have 100's of stories of this heavenly region and I am sure probably if I publish a book that will justify it's real Aura .
I had a flight on 18th Feb 2019 , just 4 days after this shocking incident which moved the entire country . This was big incident considering the casualties that happens throughout the year . I didn't cancel my tickets because I know there is life beyond TV news hours .
Somehow conditions were not favourable so I had to postponed it .
This time , Right next to my seat was Mr. Farooq Abdullah ( Ex CM of J&K ) . While people were coming and greeted him but I sticked on without any movement. Probably I have reached that stage wherein I see all VIP and celebrities are as human like you . And that's how you can say my excitement hormones cheering for known faces died long back .
Except one or two I actually want to meet and say Hello rest I didn't affect me either when Aparshakti Khurana ( Ayushman Khurana Sibling ) was sitting next to me while traveling to Mumbai .
My family is hell freak of these new channels and sometimes they claim they know the world by the eyes of news anchors . Another Favorite channel in my house is Comedy Nights - Kapil Sharma . For me practically both all same . Both entertain viewers so they can stick on the television whole day.
We live in that era when news channels have their political ideologies and probably same with viewership . While the news and reporting need to be neutral and fair , this is the unfortunate air we breathe in our "Free Press Era" . I am happily making a safe distance to these news channels . I go at Facebook news pages and check the Facebook Comment Association Of India ( FCAI ) and probably one in 100th comment would make sense and that's it for me . Secondly I only go by official announcements not TRP speculation games by channels .
Whenever my plan to Kashmir gets cancelled then probably my mother is the one who is happiest around . I can see that superlative form of love in her eyes whenever she hear that I am going Kashmir . She will not say but I know she probably might be thinking that I may not come back . I can so much relate with Arm forces family and how they feel about their posting in such areas . The only good part is their unconditional love goes on a new level everytime .
I need to confess I am selfish here but may be I want them to be strong enough to see any lows in life ( with me or without me ) . While I am chicken hearted but I want them to be strong enough is the purest form of Irony .
Reality is they see Kashmir from eyes of News channels and I see Kashmir from my own eyes . We have not come to concurrence because all joint Visit plans didn't materialize till now .
During my first visit at Kashmir I told myself that I would cover each and every point of Kashmir , no matter what . I do talk to myself often but I am too much good in keeping promises to myself .The best part is , I don't break the promises I make to myself .
I kept on venturing different routes , different regions , different locations and specially the places where there is Zero presence of tourists . When I first went deep in South Kashmir I could see these Kids looking at me as if I am alien or tourist from Western country . Probably I could sense the same how people of West feels when they visit East and greeted by people . These three little boys , probably 10 Years old came and said "Salam" and run away . I later reliazed that that's how they greet when they meet any unknown stranger and yes these areas have not seen tourists from many years .
For many I was a stranger and quite a surprise what I was doing in places where only locals come but then you need to verify this by your own whether any Individual wish to talk or not . So rule no. 1 , go near and smile . If they smile back you are home else talk what is required .
Like my all other visits , Dal lake is my baby from a longer time . Now some Shikara owners can recognize me . My early morning and late evening Shikara rides in different season has glued so many picturesque in me that I bet I have seen the best of the nature till date .
I have been to some parts of Switzerland but trust me there is a conscious effort of nature telling me that real and raw beauty exists here . There is a second factor as well and that is approachability . You know you can go Switzerland anytime again without second thoughts but you only visit Kashmir depending on news highlights . This uncanny efforts of probably not the next time creates some much desires that you love something more than required .
Snow of Gulmarg or Valley of Sonmarg is with no comparison at all. Probably while dealing with Ponny rides would give your some bad experiences in Gulmarg but that's ok you get to meet all kinds of people in your journey called life 💓
My own experience was enhanced when I saw Kashmir from the eyes of an 94 Year old uncle who happened to be the House boat owner . I could see that whatever he was saying was without biasness , without fear and without any self interest . I had a conversation with him for straight 4 hours with open heart . One thing that helped me after the conversation was that my fear about the valley was removed to almost 80% .
They treated me with Vegetables Pakoda with Hot Tea at the corner of house boat and you can imagine the moments of lifetime sipping tea with image of Sun Set at Dal lake . I could have that moment with my favorite beer as well but then I thought liberty should be exercised when there is 100 % willingfull consent from all people around .
Nevermind tea was hell tasty as well .
I happened to stay in same houseboat for more than couple of times and I could see that they treat you like your family when you visit their place . I had never stayed at any other houseboat later on . Cold is tough for oldies and I sincerely hope he would recover and see some more bright sunny years as well .
This time was almost same like before but then misfortune hurts each person equally . So practically this incident has caused that much dent and it is not even 10% tourist who are visiting the valley . Not even 10% tourist who are visiting the world renowned Ski sports .
It was late evening and I took the Shikara ride again like always and the rider started asking about my place to which I stated . He further put this in discomfort that see how we are treating all tourists here and how people are behaving with Kashmiri's post this incident . While I am too against all those incidents but then I told him it's not right . To which he stated that what if we also start doing same , how would you feel . This time I wanted to give him a strong message . I told him you figured out the person who troubled them but did you figure out there was one person who actually saved them from that violence .
The bottom line says , There are always right people among wrong ones . That's how God create the own balance .
Probably he figured out and changed the topic about Tourism . I saw same when people tried to tell tourists that Kashmir is safe and you all go and tell others on visiting kashmir .
Some tried to put on FB live video so that it spreads and reach out to masses . I made them stopped that video . And only reason is they didn't ask my consent but I can understand the pain when pockets gets hit when tourism is the only major occupation people have .
In all my previous visits I have not seen a single act of incidents which we see on our TV channels but yes I cannot deny the fact that situation can change here any time , any moment . May be you could could be that one amongst 10 million six sigma defect quotient but that's how the equation in any other part of world is . No place is in this world is considered 100% safe for tourists.
If you see things from the eyes of tourists then it's a divine form of heaven .
While I know visiting Kashmir is not like visiting any other place but then I know I am ready to take that risk again and again .
I remember one quote from an Army official , The most painful part is when you have gun in your hands and your own people in front .
This sentence has a too much strong meaning !
While we love the region , we got to love the people as well !!
Peace !!
If there is a checklist for life , I have ticked it 5 times and counting ......