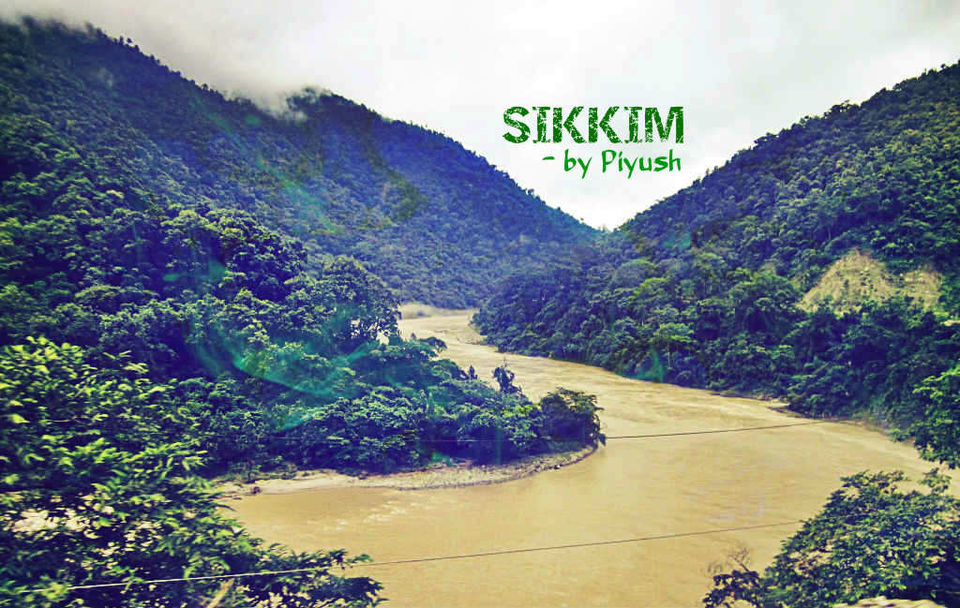 Bordered by Nepal, China & Bhutan, the state SIKKIM is wrapped with chilly clouds so (that) the beauty can't be ruined by any other object. Sikkimese clouds help to get the tourist's photography done in an artistic way.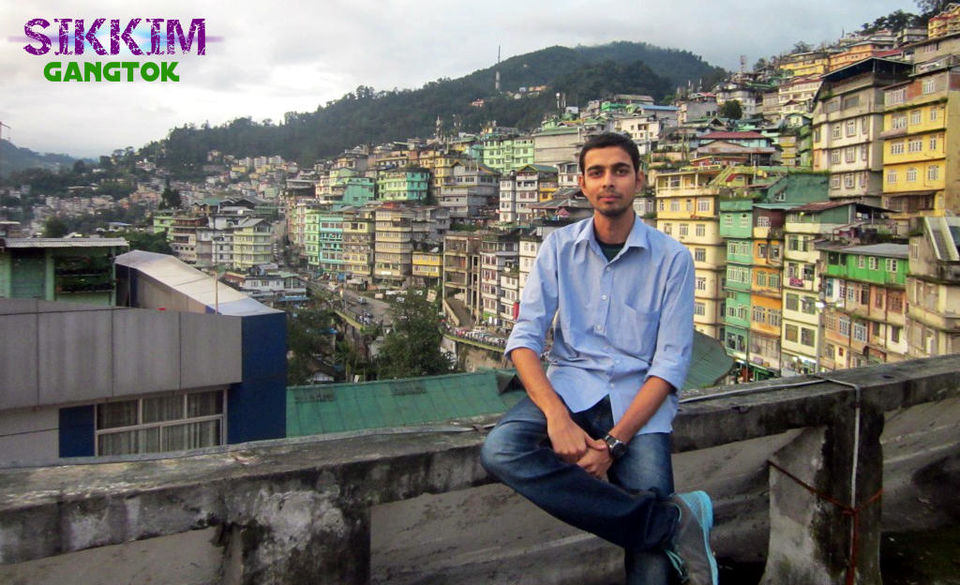 Not tactical, I booked the tickets for us on a whim. We're four, I was younger & meal was enough to satisfy our hunger. Our train was 6 hours late so we waited in the railway dorm. One of the three brothers, Mr. Dinesh's one wrist was covered with a golden & branded but "STOPPED" wristwatch and the mystery was just solved as he revealed his love story with his loving spouse. ALL IS FAIR IN LOVE & WAR.
After 45 hours of massive journey, we reached Siliguri(WB) & stayed at one's home, spent that night without moving. We left at the break of dawn after a huge West Bengali Breakfast cooked by Kalpana Didi. On the way to Gangtok, the view of the winding Teesta remains etched in my memory. River Teesta is the lifeline of Gangtok. We moved along the Teesta – alternately to its left or right – we, for the most part, crisscrossed by the river. Weather changes from hour to hour. Really, this small state has so much natural beauty around every bend of the road that is impossible to list them all. Not in jest, I have fallen in love with this place. Further up the road, there was a bridge that crosses the river, the Teesta Bridge. I enjoyed the view on both sides as the river flows in colourful currents between the mountain and the Teesta village below.
As we reached, we were warmly welcomed with smiles & a white dupatta. After a tiny rest, we went for an ancient type lunch. Why Ancient? Because our lunch was served in bronze containers. God-awful, Beef, Pork and Chicken were also served on the same table. There should have also served the world's most delicious young cow meat – Veal.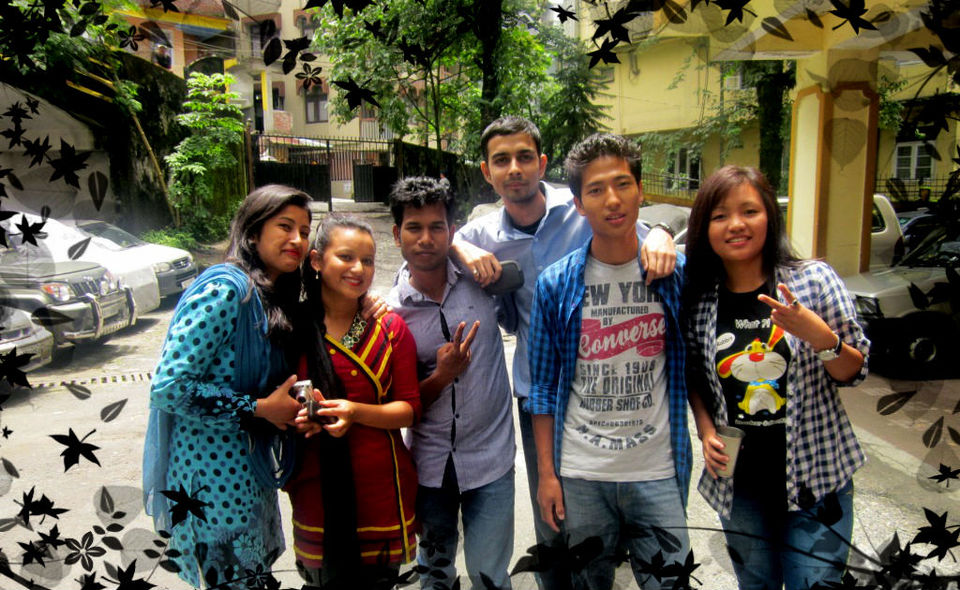 During the five-day seminar, I really enjoyed a lot. On July 21st, there was an opening ceremony in which one welcome speech delivered by Dr. Bimal Rai, one presentation given by Mr. Krishna Adhikari & the program was followed by high tea. On the same day, all the participants are divided into groups & mine was 'A'.
The following morning was fraught with excitement, actually most of the days was covered by the peace presentation and at the evening, we enjoyed some singing & a hip-hop dance performance. Also participated in coin-magic and bottle-paper game. We photographed all the day till "Vidai". Movie show was also scheduled for evening followed with Bengali Dinner. Meditation & Prayed were crucial parts of the seminar. I want to say that I've uploaded some performances on YouTube after getting their consent.
RICE, RICE, RICE
Argh, I'm sick of white RICE,
I'll have to eat anymore,
If I don't peek, If I don't eye.
I could eat a horse, I can have anything,
But It makes me puke,
When you talk with white, When you walk with RICE.
Got a stomach ache,
Duh, if you ate too much,
A different kettle of fish,
Naff off, such & such.
Duh, if you ate too much,
A different kettle of fish,
Naff off, such & such.
After a childish poem, I've a bit more to jot. On the third day, we enjoyed chicken dance and listened all the presentations based on Human Fall & Principle of Restoration. Amazing, I had never heard anything before. Next morning, the schedule was hectic because of some additional activities such as Holy Ground Visit, movie show and other related programs.
The date was July 25th, 2014 – an emotional day for all. I woke up with enthusiasm & went for meditation and prayer. That day we all sang some emotional, devotional & patriotic songs like – "Yaad Aayenge Ye Pal", "Jan-Gan-Man" & "Fulko Aakhaama" etc. Two Japanese sisters also sang Japanese National Anthem, I didn't get that but their rhythm was very attractive, I must salute. I felt quite emotional during the closing ceremony. Most of the guys got burst into tears, tears of happiness & joy. Just after these memorable tunes, they started "Certificate Distribution Program" & "Vote of Thanks".We all took our lunch & gradually participants went to their abode. Before, we shared our contacts together with tears & a special message "See You Later"/"Goodbye".
The seminar had completed successfully & all the guys had gone except me and core members. Then we planned to visit some attractions. We went "Lal Bazaar" where all directions were full of antique scenes. I was very excited to see clouds & mountains just in front of mine.
We went back to "Siliguri" where one Japanese sister "Hitomi" left a packet of juice & a packet of biscuit for me as a gift. Perhaps, she wanted to say thanks for coming here, but unfortunately I forgot juice in the home and reached the railway station. I phoned her. "I'll give you the new one", she replied. And she gave me later. Thank You :)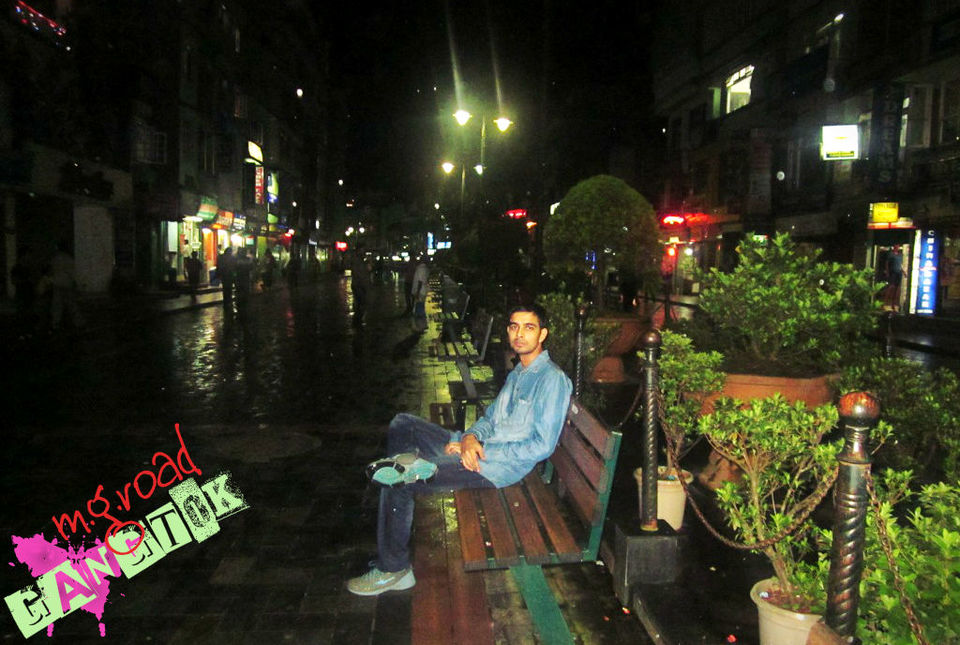 Eventually, I want to say you all that plan to travel outstanding Sikkim ASAP. Beautiful mountains and clouds are waiting for you.THANKING YOU ALL ....