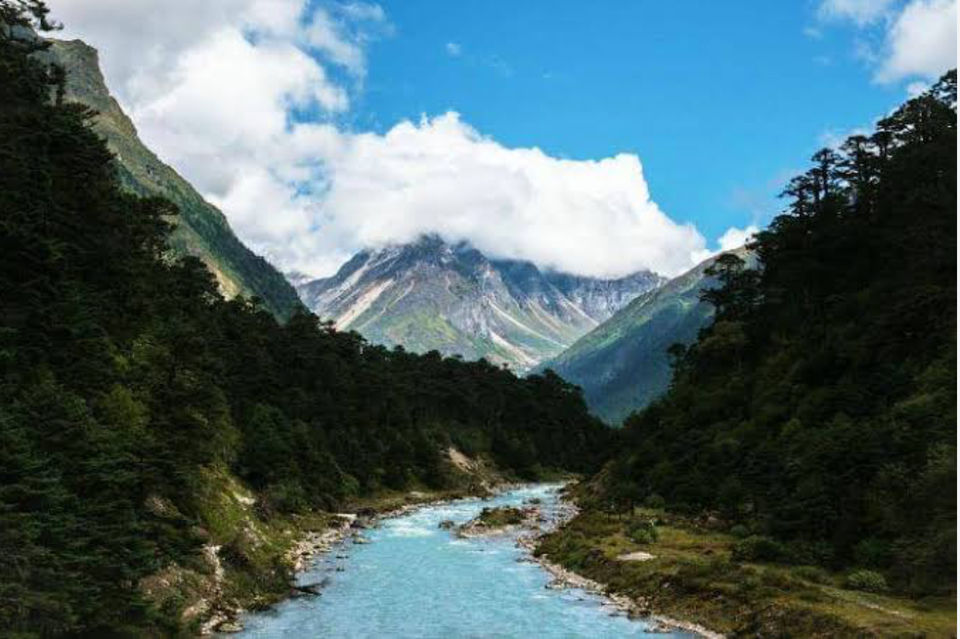 North east India is full of nature and picturesque views, that needs a thorough exploration especially during summer. The land of north east India is full of lush green all through summer where you get to view the landscapes, peaks and lot of vegetation. Summer starts from March and runs till June, where weather scales from chillness to scorching heat, still with cool evenings and not much pricking heat in the mornings here are some hidden gems to pack your bags to.
1) Majuli islands
Facing Brahmaputra river, located on east of Guwahati coming under Assam district, it is a UNESCO world heritage site. History says this island was called as Majuli ruled by Chutia kingdom. Filled with only greenery which you get to view only during summer, this island comes under pollution free zone. You could plan one day trip or one night stay trip to this island from Guwahati, Dakhinpal satra, Auniati satra, garmur and tengapania are places to visit. While you could plan for a ride across Brahmaputra or do a cycle ride across the Majuli streets sip the famous rice beer beverage and bite yum thali where you shouldn't miss fish fry and spicy chutney.
2) Dong
Located at an altitude of 1240m high where three countries border meet, viewing one of the loveliest landscape, Dong is a hidden gem of Arunachal Pradesh. If you want to find solitude away from city life Dong is the ideal place for you. Filled with history from British era, the unique thing about this valley is at 1300m high you get to spot confluence of three rivers. Another fact about this place is it is the first place to view sunrise in India. Glow lake, lohit and sati rivers, walon, tidding and chaglagam are places around to visit. You need two days to explore this valley for it is 13 hours away from Itanagar.
3) Mon
Located in Nagaland surrounded by Myanmar and Longleng this valley is the home of Konya tribe. With history from British era who found their weaving exquisite e this valley is full of sloes and terrains giving you views of peaks and landscapes. Longwa Village, Veda peak, chenloisho village are places around. You need two full days to explore this spot, especially view of the most gorgeous falls flowing on Veda peak. From Kohima this valley is 11hours away.
4) Shnongpdeng
It is spelled as sh-nong-pu-ding a small quaint town hidden gem of Meghalaya which is 90km away from Shillong and 8km away from Dawki. Popular for bamboo cottage stay, with most clear waters where you get to see the bottom of river bed, doing a ride on the river waters is refreshing. Kayaking, snorkelling, zip lining and small treks are popular things to do. It is an adventure spot of Meghalaya most travelled by adventurists for kudengrin trek is a must visit spot.
5) Unakoti
Named as Angkor war of northeast filled with lot of rock carvings, this place falls under UNESCO heritage site. The literal meaning of this place is one less one crore, that it was also known as subrai khong. Surrounded by Raghunandan hills, belief is there are ninety nine lakh ninety nine thousand nine hundred and ninety nine idols were found here. Myth story of this place is Lord Shiva stopped by this town on his way to Kashi. Surrounded by lush green forest this town is an offbeat spot of Tripura. Unakoti rock carvings, Shyam sundar ashram, soleromiar hawar Laxmi Narayan mandir and heritage site are places around to visit. Cave exploring and trekking are popular sports done here.
6) Mayodia-
Located in Dibang valley of Arunachal Pradesh literal meaning of this place is peak of Mayu mountain. Filled with mountains where clouds touch the peaks, this place receives highest snowfall all through the year. Nestled in between Roing and dibang valley all through summers the place is a sigh to watch. From Guwahati 647km away it is a place for nature travellers which is tagged as hidden gem of Arunachal Pradesh. Sally zoo, mchao lake, deopani park and namdapha national park are places to visit.
7) Tuophema village
It is known as tourist village of Kohima, where you would find Naga style architecture huts amidst backdrop of lovely mountains surrounded by fog and mist. Tourist should pre book for stay in this hut which is full of all needed amenities. Right from morning sunrise till stargazing in the night your day is jam packed with lot of things to do. Tasting dry pork, pork stew and kongshia lon, visiting Kohima war cemetery, attending hornbill festival if you'd re travelling in December, shopping for bamboo works and embroidery shawls, stopping by dzukou valley and trekking to viswema village are things to do around this village.
North east of India is so full of nature and beauty, that some spots are mesmerising taking your breath away. Each spot has something unique that you carrry as memory after travelling. Amidst nature are some hidden gems and offbeat spots showing you blissful green landscapes and places to explore.