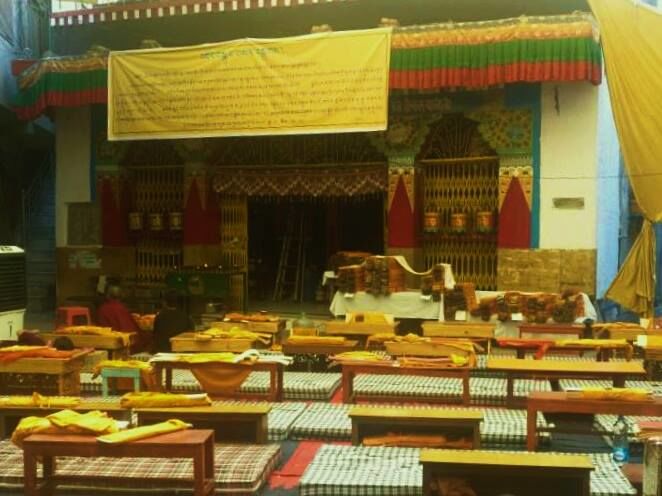 You recognize it as soon as you step out of the rickshaw. The huge green foot bridge covered in tattered Tibetan prayer flags resonating the chant Oṃ maṇi padme hūṃ. It's absolutely unmissable.
Climb over to the other side of the National Highway- 1 and there is the gate in a very Buddhist architectural style welcoming you to the "Tibetan refugee colony" of New Aruna Nagar, very famously called the Majnu ka Tilla. The easiest and the most cost efficient way to reach here is to take the Delhi Metro till either Vidhan Sabha or Civil Lines, both on the Yellow Line, and then take a rickshaw for not more than 30 Indian Rupees. Tell the driver to take you to Majnu ka Tilla and he will drop you at the majestic green bridge I talked about earlier.
Majnu ka Tilla, literally meaning the hillock of Majnu is said to be named after a Sufi mystic nicknamed Majnu who used to ferry people across the Yamuna River for free. The Tibetan refugee colony had started build around the 1900s but most people left Tibet and sought asylum in India after the Dalai Lama went into exile to Dharamshala during the period of the 1962 Sino-Indian War. Till this date, this refugee colony remains unauthorized.
As soon as one enters this colony, the atmosphere seems to be very different from that of mainstream Delhi. The close-knit buildings and the very narrow lanes provide relief from the scorching Delhi sun. MKT is known for its food and fashion and the localities of the area are all very well dress- be it in their traditional Tibetan clothes, or the Western attire. One also finds a lot of well maintained, air conditioned shops selling clothes, shoes, bags, and what not at dirt cheap prices. They have the dupes of almost every shoe in trend- such as Ugg boots or the Adidas Superstars- and one can grab these at throwaway costs, feeling like a million dollars!
The tapering lanes of this market are lined with jewellery shops selling silver and turquoise jewellery. Search through the lot, hawkeyed and you might just find yourself a gorgeous silver ring or a pair of silver earrings for as low of 250 rupees.
Walk a little ahead and you will find a very small shop on your right, selling basic groceries. The catch is that the it also sells the delicious laping- a traditional Tibetan street food. It is a spicy cold mung bean noodle dish. The dry variant has soy chunks wrapped in the noodle and the soupy one will have the noodles in a soy sauce gravy. The dish is served with red chili and green onion sauce. A bowl of this will cost you as less as 30 rupees and you can devour your serving sitting inside the low plastic stools in the shop. The whole rustic vibe of it gives it a very homely feeling.
Upon walking ahead, you will find a shop stuck in the narrow-congested lanes, selling bright colourful kurtas. These are available in in either flannel or pure cotton, for both men and women. You can also set your bargaining skills to work and grab them for prices as low as 50% of the original quoted rate. The one drawback there is that the shopkeeper only sells 'free-sized' kurtas.
The narrow lanes further open up to a colourful open courtyard, lined with shops selling souvenirs and little trinkets of Buddhist and Tibetan cultures. At one end of the courtyard is a Buddhist monastery, breath taking with its colours of yellow, green and red, its serene atmosphere. The soft hum of the gong and the smell of incense in the air. On either side of the monastery are two lanes taking you to various parts of the market. The left lane is famous for its cafes and junk jewellery stalls. After starting your meal with laping, this is the best place to move on to the main course. The buff kothe at Dolma House Café are on top of my list. Kothe are momos influenced by the Tibetan and Himalayan cuisines. These are first steamed and then pan fried till they are slightly brown and charred from the outside. These are served with a red chili and garlic chutney, spicy enough to leave you in tears. The kothe are also available in chicken, pork, and vegetable variants beside the buffalo one. Order a glass of fruit beer to gulp this hot dish down with. Another thing I like about Dolma House is its seating arrangement overlooking the rest of the market, one colourful junk jewellery stall in particular, through a huge glass window. You can sit there for hours watching the tourists wandering about and the localities running errands and doing chores.
Once you are done at Dolma, don't forget to leave enough space for the best. Walk a little ahead and on your right, you will find a narrow staircase leading up to Ama's Café. Of all the eating joints in MKT, this one seems to be the most popular, and definitely has the best ambiance. It is almost always completely occupied, but do not give up hope and wait for a table to be cleared because it will definitely prove worth your time. Their desserts are to die for. Ranging from cakes to donuts to pies, you name it, and they have it. The Tibetan cheesecake is very peculiar. Traditionally called the tu cake, it is made of yak butter, and is definitely not for everyone, but definitely worth a shot. There is nothing in this world that cannot be solved with Ama's dessert with a cup of a nice cappuccino. The woody look of the place gives a very authentic hilly touch to it. The walls are adorned with wood logs and beautiful paintings. The café also provides free Wi-Fi, and for those who like it the good old fashioned way, there are shelves stacked with books that the customers can help themselves to. A cosy little balcony serves as a good spot for those who like a nice smoke after their meals.
Very small, yet very rich in culture, this place can satiate any traveller's needs- friendly faces to chat with and hear about their stories and legends, souvenir and books on all things Tibet, aesthetically pleasing shops and lanes, delicious food and fashionable clothes and jewellery- all at the cheapest prices one can imagine. Majnu ka Tilla is a must on any traveller's trip to the capital of India.