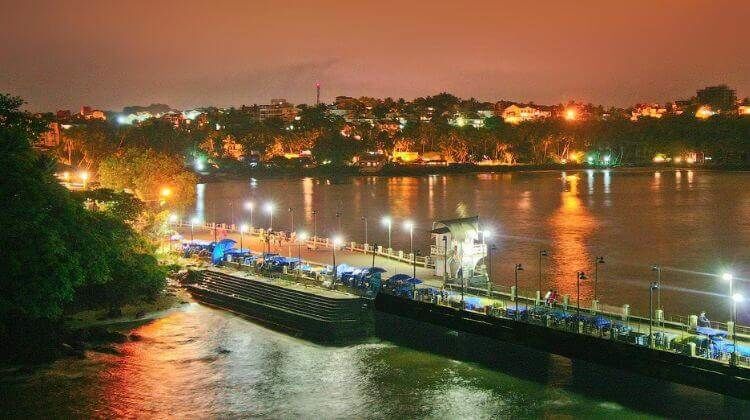 GOA..Whenever this name is uttered, the one thing that comes first in the mind is the happening crowd of the youths as well as of couples, loud music, booze, lights..always in the party mood. But at first I didn't get this image clearly as when I had first visited Goa with my parents and relatives..all I had seen were beaches, shopping streets and other city tours like Agura fort, Bascillica of Bom Jesus, Mageshkar temple and so on. But when visited with my husband for the second time but for him the trip to Goa was for the fourth time, I actually got the feeling of this scincilatting night life of Goa which I missed. But yeah, apart from this pomp and grandeur, there lies a beautiful romantic beach, named DONA PAULA. About which we will discuss..about the beach, how to reach, best time for travelling, water sports, restaurants and much more. By the way, the beach is known as lover's paradise.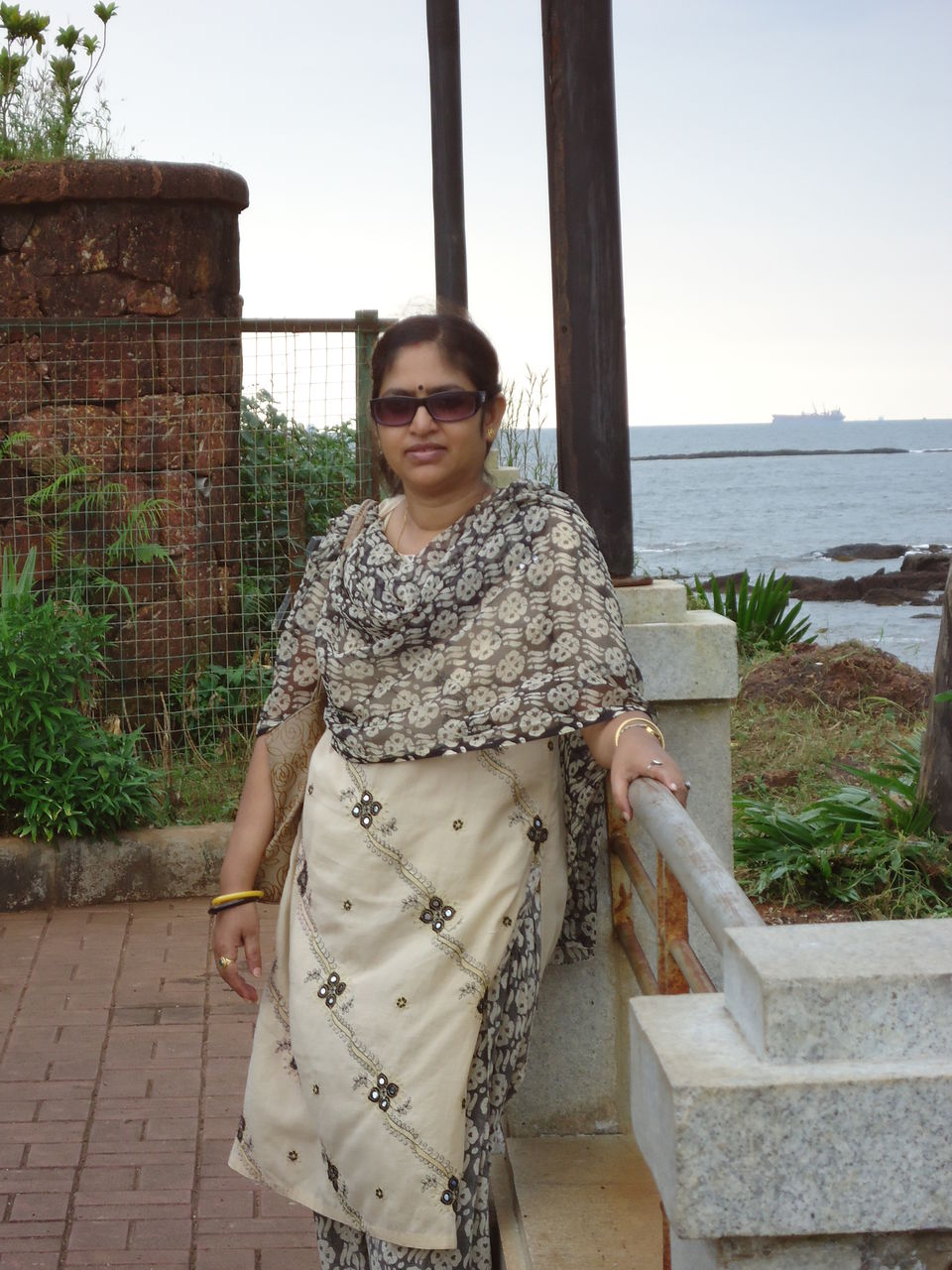 ABOUT DONA PAULA BEACH:
Dona Paula beach is located at a distance of 7 km from Panjim. The name of the beach has been kept after the then Viceroy's daughter Dona Paula de Menezes who was believed to be madly in love with a fisherman. Her insane love for the fisherman drove her to jump off the cliff when the Viceroy refused to strike a marriage alliance between the two.
Every year thousands of tourists come here to get a share of their enjoyment and the story attached to it also makes it an interesting place to visit. Cuddled in the southern portion of the peninsula, the beach also has its significance because this is where two prominent rivers Zuari and Mandovi meets the Arabian Sea. The beach offers exceptional views of the palm trees and Mormugao Harbor. The view of the mound promises a serene relaxation.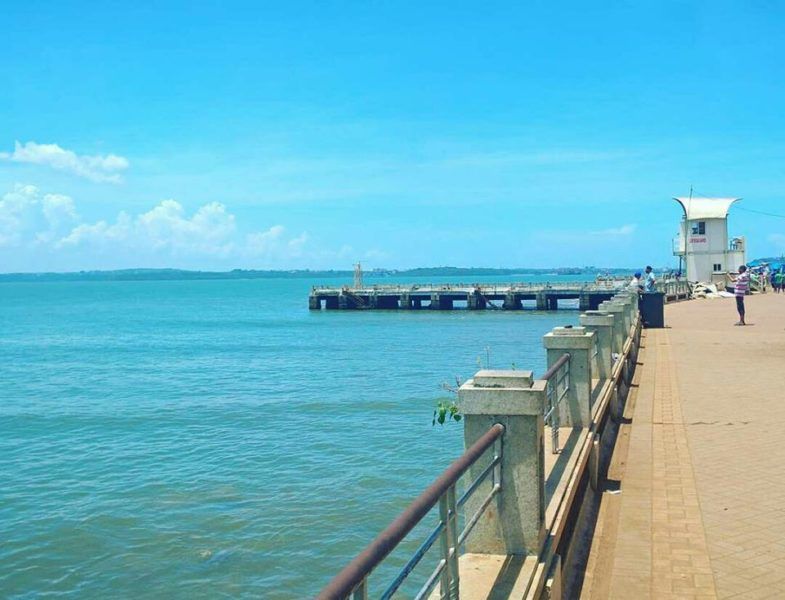 The elegant coastline presents a silvery burnish especially when the sun begins to set. Dona Paula also has some attractive goodies on display in the bustling marketplace outside the beach. You will get a host of charming products like straw hats, feni, hair accessories and much more. The prime attraction of the beach is the pumping water sport adventure activities and the wonderful sea-food joints situated near the beach.So if you choose to lounge in the sun or decide to try your hand with the sports, you are sure to have a wonderful time here.
HOW TO REACH THERE: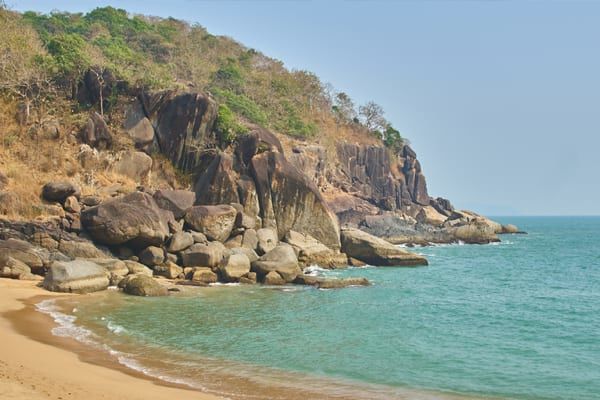 - How to Reach Dona Paula Beach from Panjim
Dona Paula Beach is not very far from Panjim. The beach is located at a mere 6 km away from the Panjim bus stand. You can take a cab or a taxi or even get on a public transport bus. It will take a close to 15 minutes to reach the beach including light traffic on your way.
- How to Reach Dona Paula Beach from Goa International Airport
Goa International Airport is close to 38 km from the beach. The airport is well-connected with all the major cities in India. From the airport, you can hire a cab or take the local bus which will take you to the spot in about an hour.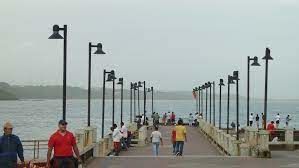 BEST TIME TO VISIT DONA PAULA BEACH:
The climate is moist throughout the year but it is relatively pleasant in the months between November and February. June and September should be avoided because it rains during this period.
January is the coolest month and May is the hottest month with average temperatures around 25 degrees and 30 degrees respectively. Due to propinquity to the sea, the humidity is extremely high in the summer months.
WATER SPORTS:
1. Water scooter ride.
2. Water skiing.
3. Parasailing.
4.wind surfing.
5. Kayaking and Yachting.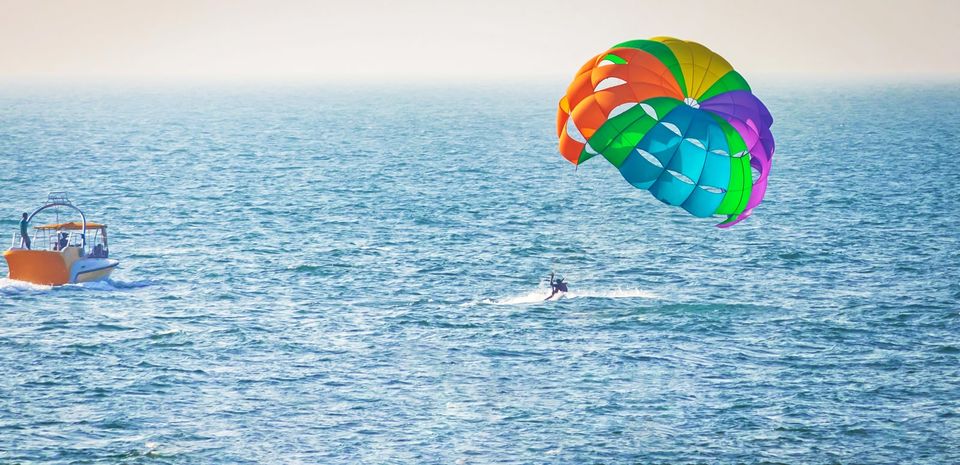 PLACES TO EAT DONA PAULA BEACH: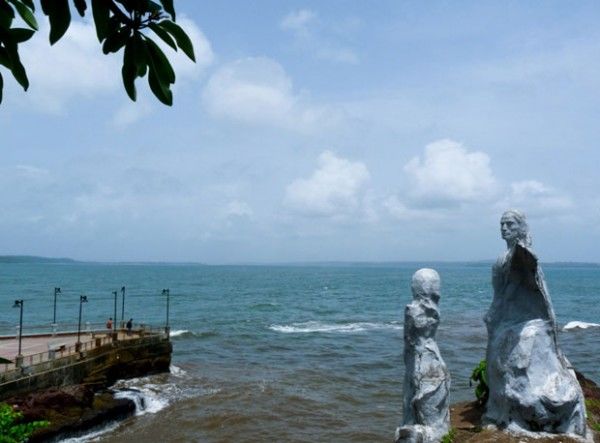 1. Karan's restaurant and bar: When you sit here, you will be mesmerized by the views of the sea and the beach. The food, especially chicken dishes, are the most demanded and popular among all. The place has a slightly disheveled look but great food and wine compensate for it. You will enjoy the light music playing in the background, with the cool breeze and the coastline in this very popular place.
2. Menino's Sea View Restaurant and Bar: The place has many cuisines to offer and is located at the Dona Paula Jetty. The prices are affordable and the staff is very friendly. With great service, one can have an enjoyable time here.
3. Captain 'n' Joe Bar: Well-lit, well-done interiors, and great food define this unique place. The restaurant serves many cuisines like America, British, Indian and Chinese. This place gives you a fantastic view of the pool and garden and is a great place to unwind.
4. Delhi Darbar Mughlai Restaurant & Bar: If you love the old Indian and Mughlai food, then Delhi Durbar serves authentic delicacies at inexpensive rates. Vegan meals are also available here and foreigners often visit this place to get the flavor of Indian food.
Shopping at Dona Paula Beach :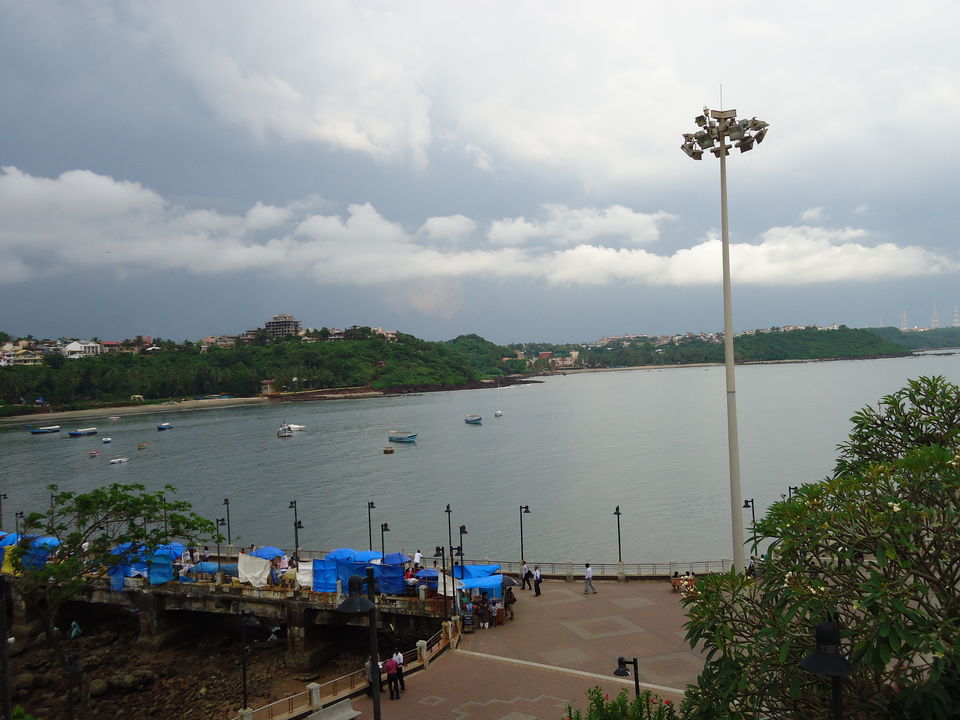 For more recreation, you can go on a shopping spree near Dona Paula. Several shops deal with artifacts, trinkets, souvenirs, books and clothes, all at rates which you can afford. On the beach also many stalls sell straw hats, Goan liquor like feni and port wine.
1. Govindam Goan cashews: They sell top-notch Goan cashews at rates which are affordable and quality which is superlative.
2. Goan Boutique: A place where women are set to enjoy and which is loaded with colorful bags, accessories, clothes and much more. You will also find budget swim wears and footwear especially for the kids.
3. Apna Bazaar: A mini-mall which has a little of everything. It has ample parking space and also enjoys good footfalls as visitors are happy to get everything under one roof. Dona Paula beach shopping is fun and very good for the little knick-knacks that you would love owning. Open vendors also sell accessories scarves, goggles and a lot more. The icing on the cake is that you can negotiate here well and get good deals for all.
This place has been used as shooting place for the movie SINGHAM.
Some important informations for those who will come to this beach for party, booze and wild night life. For the party lover animals, this beach will not disappoint you as there are some lists of bars and night clubs mentioned down below.
NIGHT LIFE AT DONA PAULA BEACH: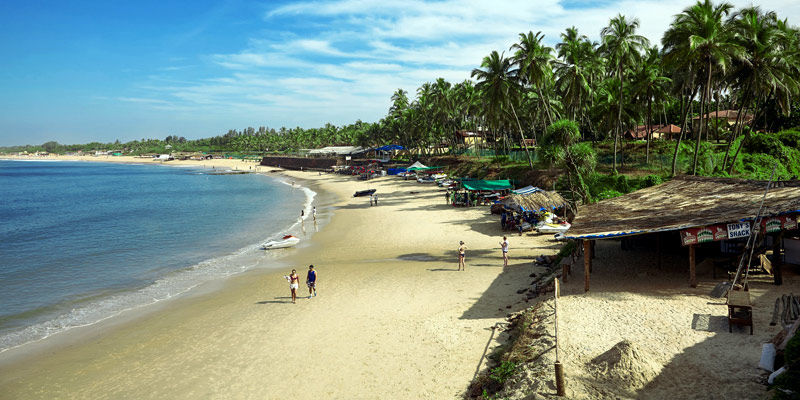 For a hippie night put together with lip-smacking food, intoxicating wine, and hip-shaking numbers, Dona Paula beach nights are entertaining and addictive. You will want to come back here every night and sink in the night aura of the beach. There are many popular bars and pubs where you can dance all night and enjoy till the wee hours.
1. Bar Latino: This is one of the oldest places here and is known for its ambiance and great-tasting food. If you love the upbeat nightlife of Goa, then this place surely defines it. The lounge-cum bar is the perfect place for everyone to unwind and distress.
2. Lobby Bar: This is one of the most popular places to hang out at night. Well-suited for youngsters and couples, the bar is lively and always bustling with activity. You can hit the dance floor and have a quiet drink in the comfortable lounge and also eat from the well-crafted menu.
3. Bar Alfonso: Another popular hangout for travelers, the Bar Alfonso has a beautiful and comfortable feel to it. The music is invigorating and food is delectable here. Apart from these 3 prominent bars and pubs, there are some other places where the traveler can visit like Pescador, Harbour, Menino's Bar and restaurant and the Pooja Bar.
With this overall package, the beach will surely woo you all and its attractiveness is not at all less than any other beaches of Goa. So its a must watch beach to explore if you want some off beat track.