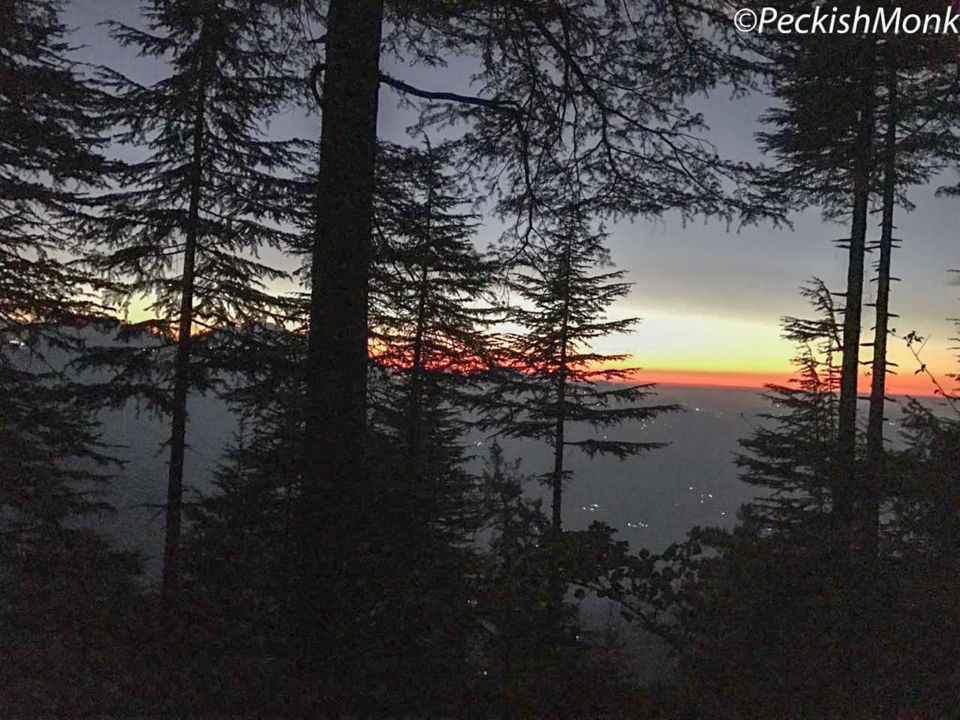 This year Christmas was supposed to be different and so does we. This time we have decided to go for a a place which is tranquil and adventurous.
So we started looking for some place to make a reservation, we knew this is priority because of Christmas weekend, while on outlook we found this less know property Tranquil Countryside Home and we fell in love instantly. The property is located in the small town of Mashobra which is 380 Kms from Noida, though the property is 5Km downhill from Mashobra on the road less travelled.
We talked to the owner and reserved the rooms for us and owner ensured us that someone will meet us on the way and take us to the property.
How to reach -
Self-Driving - Noida -> Delhi -> Murthal -> Karnal -> Chandighar -> Shimla -> Mashobra
Flight - Delhi -> Shimal, Shimla -> Mashobra by bus
State Transport - ISBT - Mashobra via Shimla
Train - Delhi - Kalka, Kalka - Mashobra by Bus
The Journey Begins 23/12-
We stared on Friday morning around 7 in the morning after having a good night sleep and stopped at Gulshan Dhaba in Murthal around 9:30. What could be better than a piping hot parathas with white butter and a hot cup of tea.
We had our shares of hearty breakfast and moved ahead on GT road towards Chandigarh. In next 3hrs we were in Chandigarh and took the Panchkula road for Shimla. The roads are under construction after Parvanoo to make it a 4 lane highway till Shimla so at some place there could be some traffic slog so we took a random stop because of traffic for a lunch break. The restaurant from outside was not very good looking though the food they served was good.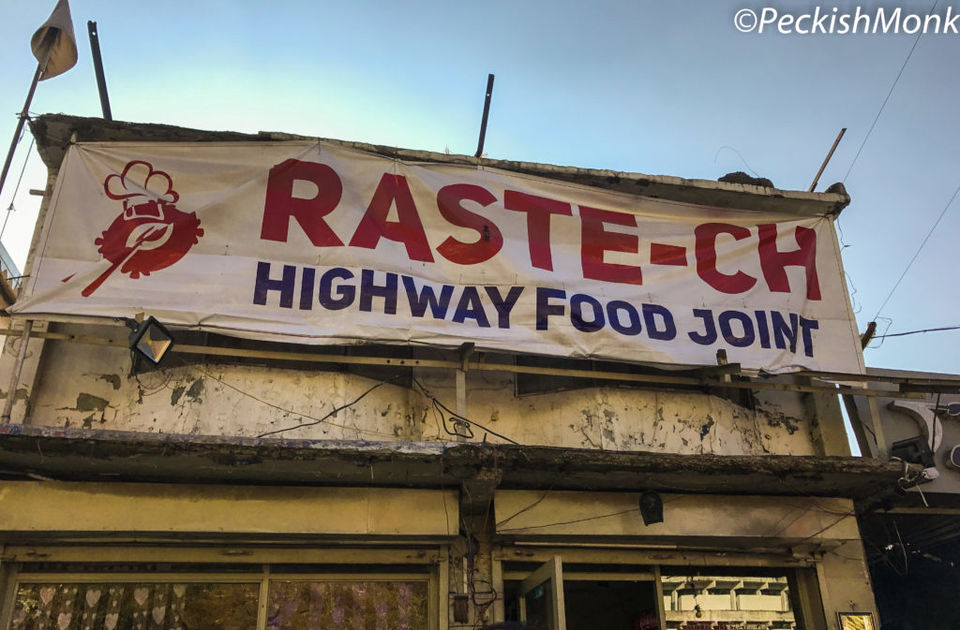 The traffic was eased out by the time we had lunch though the condition of was not very good due to Christmas weekend. We reached Mashobra around 6 in the evening and last 5Kms were adventures ride in the midst of long pine tree on the mountainous unpaved rocky roads.
Tranquil Countryside Home
The passion behind opening a country side house in remote location was the love for nature. In past few years Shimla has become over crowded with buildings encroaching one upon another with little or no open space. Parks if any are few and distant. The travelers coming to Shimla for the first time have an image of hills covered with greenery, which now can only be seen in the surrounding areas. We wanted a place with lots of open space in the heart of nature.
We reached to the property at 7 in the evening and the valley was deserted to the extent that there were neither salve nor the caste and was worth every penny for an adventurous home stay. The property has a three stories with a functional dining area and kitchen and plenty of space for bonfire and other recreation. We met the staff there and they were amicable and always in your service. We took a short break to freshen up and was ready to rock at 8 in the night with bonfire, lips smacking snacks and drinks.
The Staff - Alli Bhai (The care taker & guide), Abhishek (Executive Chef), Happy (The helping hand to chef) and the best one Duggo (The Labrador, friendly and playful).
we were enjoying the bonfire, Happy and Abhishek were serving us different snacks and after 2hrs of food and drinks we all sat down around the fire and Happy and Ali bhai started the Himanchali folklore songs with some variation of Hindi and Punjabi and believe me it was blissful. A supper cold night, some hot snack, fire and music. Well, I really don't know if I can ask for anything more. After a dinner we went to bed around 1:30 and slept till 9 next day.
If you want a place to spend a night there are many options but if one wants to experience the serenity and beauty of Shimla then TRANQUIL COUNTRYSIDE HOMES is an ideal location. People coming for holidays are from cities and come to relax and enjoy. We believe one can only feel relaxed when your mind is at peace. To relax your mind you need calm and tranquil surroundings to rejuvenate your mind and body. We wanted to provide our guests a leisurely stay with all facilities amidst nature.
The biggest USP is the serenity and calmness of the place. It is surrounded by thick deodar forest on three sides which adds to the beauty of the property. One can visit nearby streams which are at a walking distance and can also go for hiking in the forest with a guide. The experience starts with 6km off road journey from Mashobra. The bumpy ride is adventurous and mesmerizing with beautiful landscapes. Forest and villages on the way give a true feeling of the rural setting.
Day 2 - 24/12
The day started with a scenic view of mountain, pine trees and small villages from the bedroom window and a hot cup of masala tea. We had ajwain paratha, razma and egg bhurji along with glass of fresh chach(butter milk). If you want you can go for a trek with Duggo, he know the terrain very well and take you to certain place and get back to home with safety. We, being the most lethargic people in the world preferred to stay and had planned to sun bathe, we asked Abhishek for some mustard oil for head and feat massage and sit idle in the mild sun for 2-3 hrs and took the shower afterwards. The lunch was ready by the time we took the shower. We had chicken, dal makhni, rice, chaptis rubbed with clarified butter and farm fresh salad.
After the lunch, well it's time to sleep again for couple of hours. By the time we woke up the sun was setting behind the curtains of mountain spreading natural red, blue and yellowish mix of lights in the sky.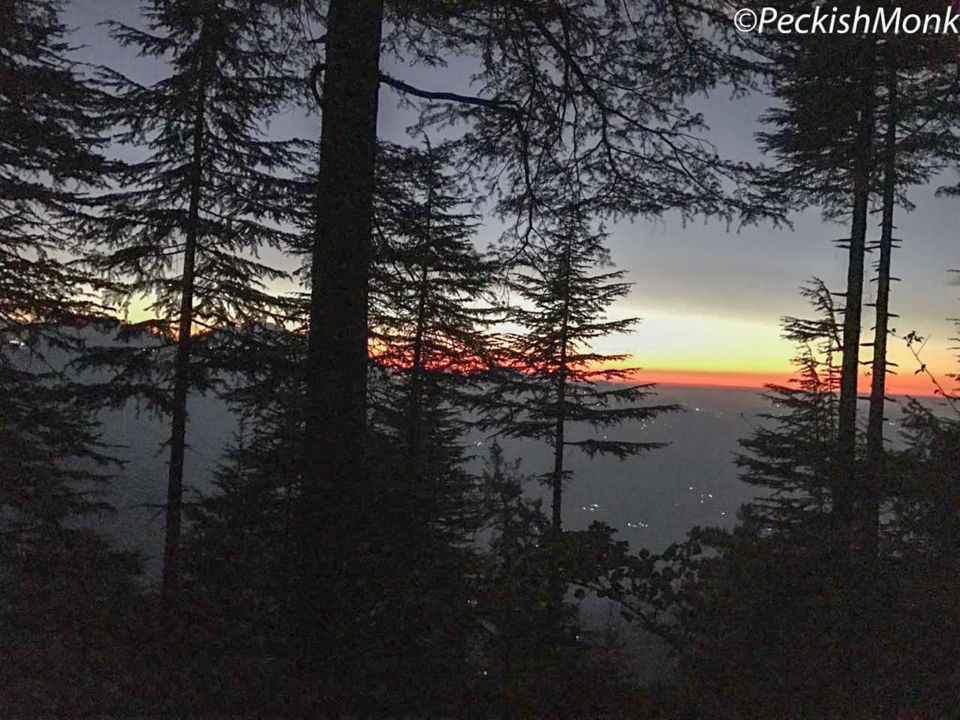 All of us just sat and enjoyed the view.
The evening was slightly colder than the day before with partly cloudy sky and we were sipping hot ginger tea, simply blessing.
The night started with same theme, bonfire, snacks and entertainment by Happy and Ali. The owner of the property was also there so we had some chat with him about his thought behind starting a countryside home so remotely, challenges he faced and future plan he have.
We at tranquil countryside homes wish to rejuvenate your mind and body while giving you an experience and adventure in the comfort of a home in the lap of Mother Nature. The experience in itself is priceless, for what we charge for the service provided, to make your stay comfortable in a remote and isolated place which is challenging in itself and so that we continue to serve you and others with the same enthusiasm in future.
For dinner we had egg curry and chaptis with some rice and piping hot gulab jamun in desert and we went to bed around 1:30 when it was started drizzling.
Next day morning, we woke a little late around 9 and there were fog all-around with light rain and we were not able to see anything at all, though as soon the weather clears out we can see what some only can dream about - It was snow on the peaks and trees... God just did a whitewash for us and we were overwhelmed with what our eyes are seeing.
I called Happy for some tea and told him to prepare the breakfast because it was time to leave the beauty behind.
We started our return journey around 1 in the noon.
We reached Chandigarh around 6 in the evening and Murthal around 9:30 in the night. There we had our dinner and moved ahead to our destination.
I was a great journey and spellbinding vacation with so much fun and happiness. This is the best Christmas one can have.