".. As our jeep went deeper into the jungle, we reached the seashore. Thick dense jungle on one side, a long white sandy beach on the other. Water crystal clear and it stretched as far as one could see. Just when we thought it could not turn any magical, we spot a tiger sleeping on one of the huge rocks and a bunch of dolphins playing in the ocean"
I interpreted my father "But, papa, won't the tiger eat us all!" My father laughed and said " Not unless you harm them"
My bedtime story routine as a child looked more or less like that. One enchanting story, which involved a jungle, a lot of wild animals and tonnes of adventure.
Bangalore was at its peak summers, a reason enough to get-away. Moments later, our bags were packed, zoomcar booked and destination final - Masinagudi. A small town in the Tamil Nadu region of India. Finding a place in Masinagudi was easy, after all, there is only handful of them. One clearly stood out of the lot - Jungle Retreat. Dreamy eyed, I was all set to live my bedtime stories.
It took us about 6 hours to reach our retreat, almost an off-roading experience once you divert from the Masinagudi village into the forest. Upon entering we were greeted by the manager he briefed us about the area, possible activities around and some ground rules. "It is prohibited to wander around by yourself post 6:00 PM, we have Rangers assigned if you need to walk to the lounge or back" "Also, please make sure there isn't any food item in your bags it can attract wild animals to the room." As surprised as we were on the strictness, we simply nodded and went with it.
Right after we decided to freshen up, have lunch and think about what we want to do during the stay. While it is acres of land, only some of it is accessible to guets. Other parts can be visited for hiking, birdwatching or other such activities along with Rangers.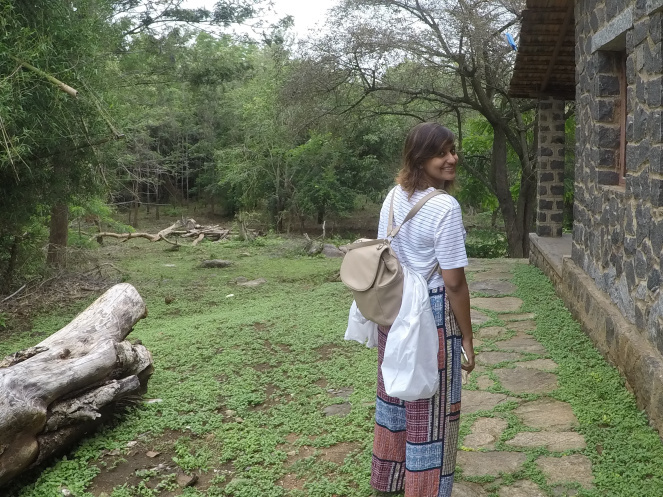 Walk towards the room was a slight climb around the area, you are surrounded by trees, trees and more trees with a couple of chalets scattered around. As I walked on the stony pathway, mostly looking upwards, in awe of the tall trees around me. My friend hushed "Khyati turn around, fast" And so I did. There were 5 deer galloping around on the same pathway that I just walked. Cross the field, playing, dancing and just being, without any fear. Oh! what a site.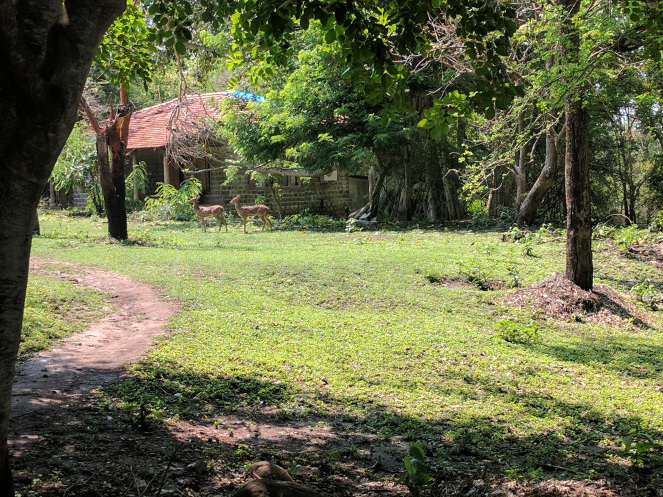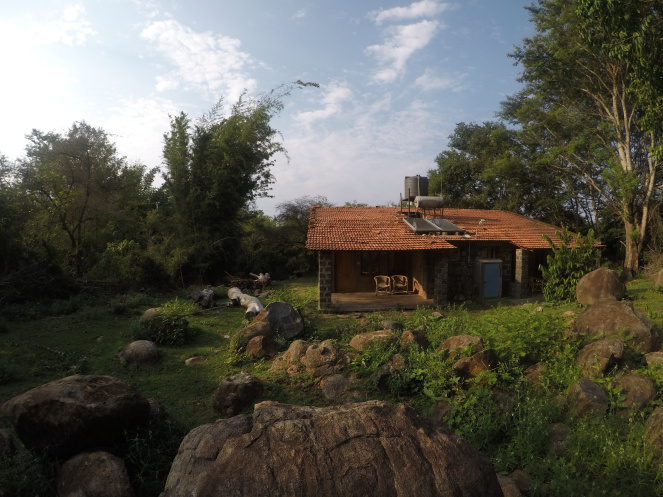 Lunch was a spread of a local dishes, we met the activity manager to understand what all can be done in the area. A few options were: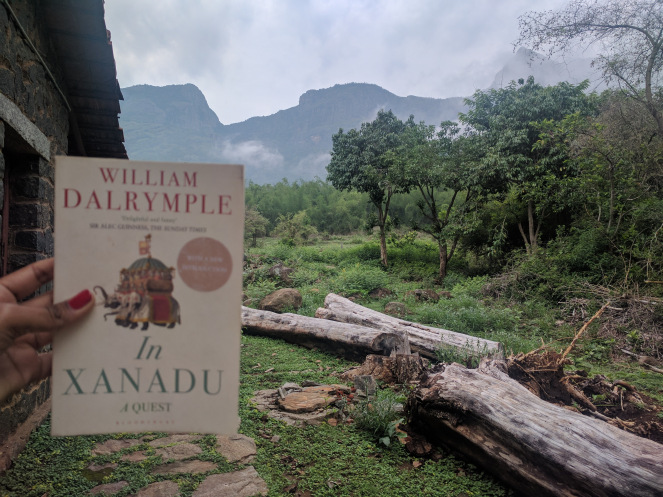 Bird Watching in the premises: Rs 250 Safari: Rs 1,500 Elephant Camp and Safari Rs 1,700 Safari in the area meant the possibility of witnessing deer, elephants, peacocks and hopefully leopard and tiger in the wild. The idea of witnessing big wild cats have always been fascinating, however, the manager told us chances of spotting one is really low. A little disappointed, we thought of just relaxing the in the wilderness.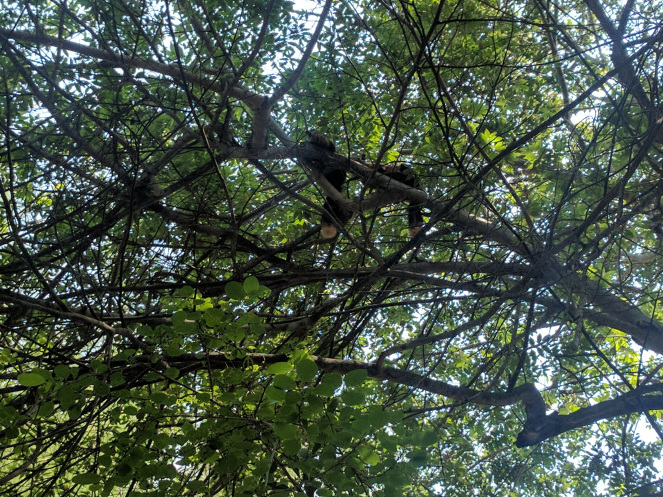 It was beautiful weather, perfect for a swim so we decided to walk around, get to our chalet and head to the pool. On our way to the pool, we saw monkeys jumping around, doing their monkey business. And two beautiful Malabar squirrels just lazing on a tree branch. For the lack of words, Oh! what a sight.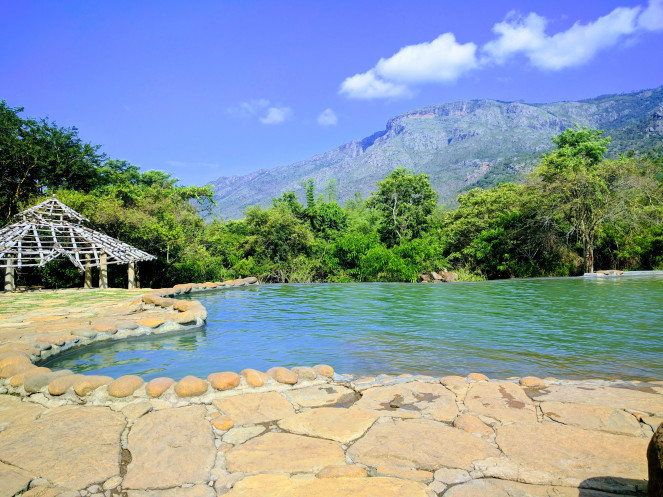 And just when we were feeling all excited witnessing such small surprises we reach the pool. It was nothing like an ordinary pool. It was designed in a way that it blended with nature very well, the round stones around it gave it a very rustic look, and it faces the Nilgiri mountain range! Talk about swimming in the lap of nature.
By 5:30 it started to get dark and by 7:00 it was pitch dark. The good folks at Jungle Retreat run a small presentation, every day, to educate visitors and tell them a little more about the surroundings. They shared footage of amazing creatures spotted in the premises, some horrifying data and ended it with the hope that they educated the handful of us to live a more sustainable life. We were accompanied by one of the rangers, and as we were about enter the room he shushed us. It was pin drop silence, and then we heard it. We heard wild elephants trumpet, the twigs cracking, they asked us to quickly get in. And we did. "It almost feels like we are caged in a zoo, a role reversal" said my friend.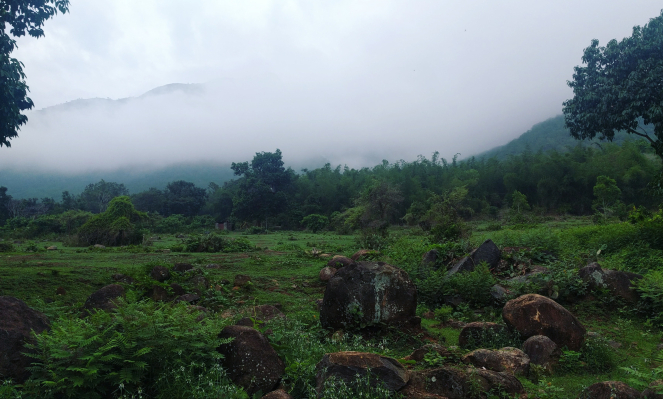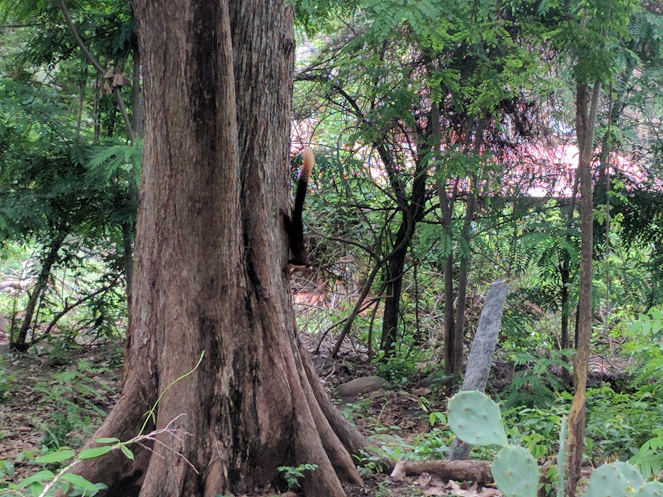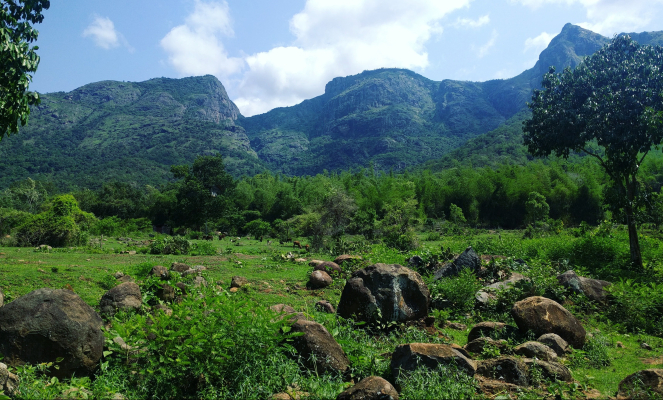 Following morning, we got up to the beautiful site of mountains covered by cloud. It was chilly morning when most parts of India had a 30 degree + temperature! We went off for a quick hike, recalled our science classes as we stumbled upon the touch-me-not plant, heard birds chirping, played with some stray dogs, said bye to the beautiful Malabar squirrels and our hosts.
We went all the way across Bandipur, Madumalai. Lived in the middle of the forest. Yet, we did not spot any of the big wild cats! Most of us book a safari and judge it by the possibility of spotting either a Tiger, Lion or a Leopard. But what about the rest of the Jungle? If we look carefully, you would see that the entire Jungle is Alive! Those tall trees, taller than you can imagine are living, breathing, sheltering. The notorious monkeys, magnificent Malabar squirrels, galloping deer and do not forget the touch-me-not plant. There is a wonder and curiosity evoked by the jungle, which is an experience far enriching.
We said Bye to Masinagudi, in the hope to visit another national park to witness the wilderness. And with the promise to live a sustainable life, because Animals are also a part of us.
Fact File:
How to reach Masinagudi:
Masinagudi is a short drive away from Bangalore, best reached by road. Roughly about 250 km away from Bangalore, once you pass the city and the outskirts the route only gets picturesque. Driving via Bandipur is an experience in itself, throughout the narrow highway you see deer, elephant, peacock and if you are lucky some more wild animals. And once in awhile you also witness homo-sapiens (the moronic kinds) stopping in the middle of the road to take pictures, or worst, take selfies with animals! But, well hope they understand the dangers someday and be a tad bit more responsible.
Where to stay in Masinagudi:
The drive just gets not so comfortable once your cross Madumalai National Park (Tamil Nadu) the diversion to get in the Masinagudi forest area is crowded by local rangers who offer to take passersby on a safari. The road also gets bumpy and then it is pretty much an off-roading experience till the retreat.
Jungle Retreat is spread over acres of unfenced land right in the middle of the forest. It offers a couple of accommodation options - Dorm, tree house, deluxe room for two etc. The cost includes breakfast and with an additional charge, you can have a meal there itself.
Where to eat in Masinagudi:
Your best bet in the town of Masinagudi is to eat local food. If the idea is to relax and stay in for the weekend better book your meals there itself. And if you wish to step out for safaris, bird watching or any other place nearby there are plenty of local restaurants to eat at. If you are on a budget trip, eating at the local places would definitely be a better idea as the cost per meal (buffet) can go up to 1000 Rs!