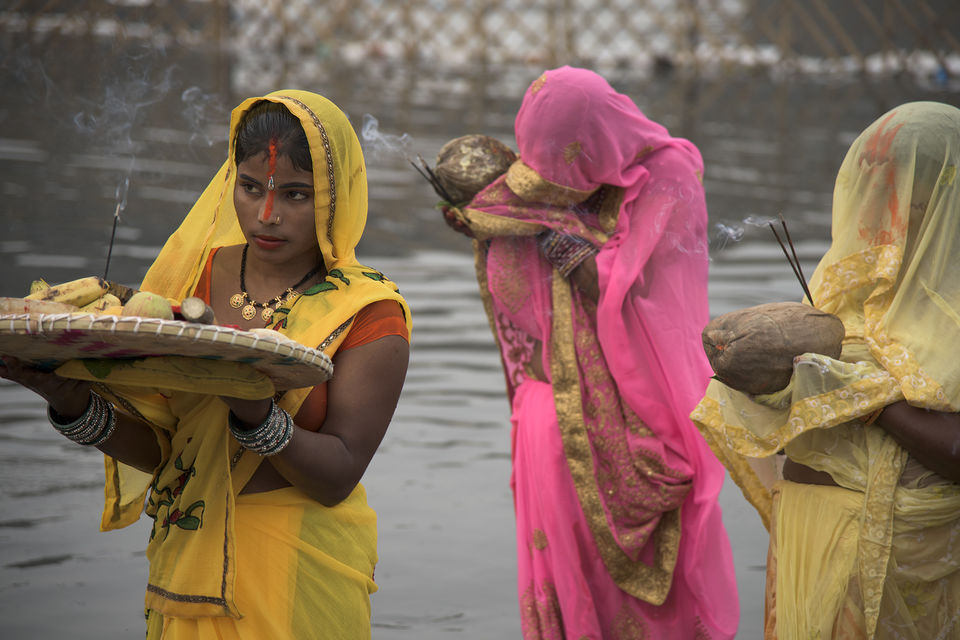 Since childhood I was involved in organizing Chhath Puja in Bengdubi cantonment area of North Bengal. Then, I had no idea about the story behind this ancient festival as I was only interested in staying out for a night on the banks of river in a dense forest. Secondly, waiting to taste home tekhuas (sweet prasaad) I have always seen my mother not even drinking a drop of water for these two days which was in fact difficult for me to believe. After coming into photography and studying the histories and culture of India, I consider myself lucky to have witnessed this ancient festival since my childhood days.
Chhath is an ancient Hindu Vedic festival which is celebrated in different parts of the country specially in Bihar, Jharkhand, UP, and parts of Nepal too. The Chhath Puja is dedicated to the Sun God and his wives in order to thank them for bestowing life on earth and to request the granting of certain wishes. Chhath does not involve any idol worship. What I have seen so far in my house is that this festival is celebrated for two days. The rituals of the festival are rigorous and are observed over a period of four days. They include holy bathing, fasting and abstaining from drinking water (Vrat), standing in water for long periods of time, and offering prasad (prayer offerings) and arghya to the setting and rising sun. Some devotees also perform a prostration march as they head for the river banks.
The very first day of chhath starts exactly 4 days from Diwali and last for 4 more days. This day the people who observe fast take bath at a river or pond and prepare lunch (consisting of rice, dal mixed with pumpkin, made in pure ghee). The second day is known as Kharna or kheer-roti. The people observe fast for the full day without taking even water and eat this kheer-roti as dinner after offering it to the rising moon. The third day is the main festival day (exactly 6th day from Diwali) of chhath. The devotees maintain 'nirjal vrat' on the third day. It mainly consist of going on river bank and offering 'argha' ( offering of fruits and sweets in winnow ) and surya namaskar to the setting sun followed by the next day event of offering argha and surya namaskar to the rising sun on the fourth or last day of chhath. The fast then comes to an end after offering argha to rising sun.
I still remember how I along with my elder brother used to tease my mother on keeping fast for so long by saying "hey maai utha suraj bhaile bihan" (Mother please wake up, Sun God is out now).
After almost a gap of fourteen long years, this year I finally managed to click some photographs on the banks of Yamuna in Delhi. Images © Jai Thakur | www.jaithakur.in