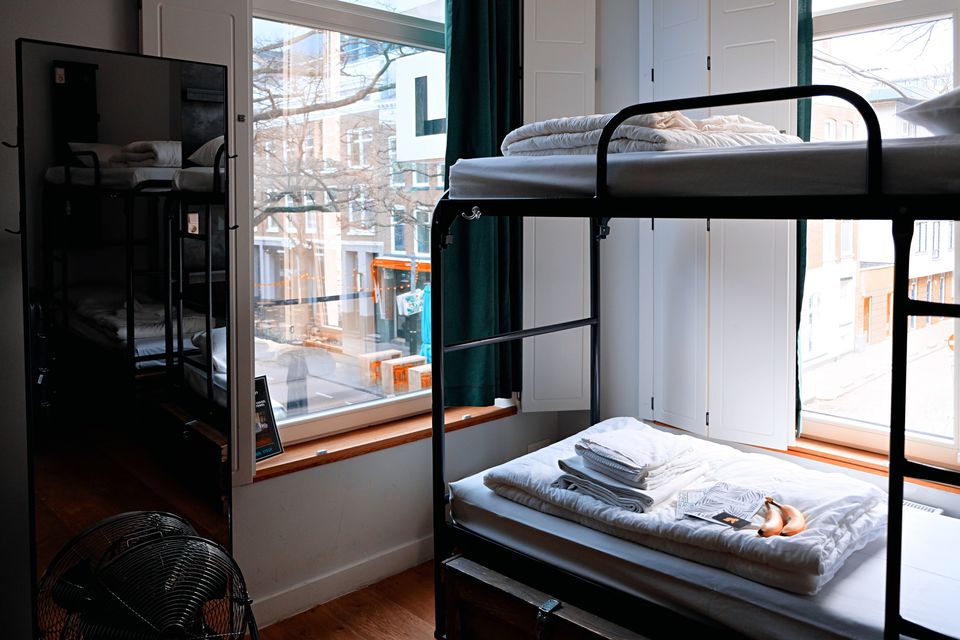 Goa is possibly the most famous tourist destination in India. So much so, that in far flung Bratislava a few years back, I had met a girl working in a café who wanted to visit India, and specifically Goa, because she had heard about it from her friends. While the hippie phenomenon has popularized Goa to the western world, honeymooners from across India, college kids looking for their "boozing holiday" and the general no judgement approach of the state has popularized it among domestic travelers.
And when there are so many backpackers and thrifty travelers heading to a destination, hostels are bound to flourish. For a large part of 2020, people had been locked indoors, and work from home became a reality. As restrictions started easing out a bit, many remote workers shifted base to Goa for long staycations. And for such long hauls, what better option than a hostel to check in to.
Here is a hostel trail through Goa, starting from Mandrem - Vagator - Anjuna - Arpora - Panjim - Palolem, and an honest review of each from a traveler's view point.

1. Moustache Goa – Mandrem
Moustache Hostel in Mandrem, North Goa is a well suited for a workcation and staycation. The dorm rooms are spacious and airy, compared to many other cramped rooms typically of a hostel. The mixed dorm room has two large balconies opening up to the view of open fields in Mandrem. The washroom was always kept neat and was also the most aesthetic washroom I have ever seen in a hostel, says a guest.
The property is a little far from the touristy places, hence provides the much needed quiet on a workation. Mandrem beach is about 4 kms and Arambol is about 7kms. There is a vegan cafe in the property premises. Other than that, there are no restaurants / shacks at a walkable distance from the property. This makes a rental scooter / bike or your own commute option necessary. However, select restaurants from Mandrem and Aswem do deliver to the property. There is also a functional kitchen in the hostel that can be used to cook simple stuff. The property WI-FI was okay, not great. However, there are network issues with some operators especially Airtel in this area.
Some Pros: Spacious, Far from the touristy crowd, open location
Some Cons: Lack of restaurant options, no beaches at walking distance, dependence on scooter or other modes of commute, poor phone networks
Room Rate: Mixed Dorm rooms start from Rs. 300 per night. Click here for details


2. Dreams Hostel, Vagator
Dreams Vagator is a backpacker's hostel located in touristy heart of Goa. It is popular among international and domestic guests alike. The overall environment and vibe are that of fun, relaxation, creativity and adventure. The stay at Dreams promises to be one where you can really chill the way you want, whether you want to discover music, play games, read a book, cook a meal, create art, practice yoga, or meet people. Located
The dorms have been given interesting names on the planets, and the overall décor exudes a fun element. The best part at Dreams is the manager, who is the go-to person for any information and help that you may need. Infact, he has information on all the not-to-be-missed events around town. Hit him up for anything that you're seeking experience wise in Goa.
Some Pros : Prime location – Quick access to the beach, cafes and all-party places nearby. Budget friendly compared to other options in the area.
Some Cons : If you're looking for a quiet time during your stay, unlikely that you'll find that at Dreams.
Room Rate: Mixed Dorm rooms start from Rs. 800 per night. Click here.
3. Pappi Chulo, Vagator
This is by far one of the hippiest places around. Having an artistic vibe, this hostel is located on top of a cliff above Vagator Beach, only a minute away from sea. All of North Goa's happening hot spots are a mere 10-15 mins away. With 5 different theme rooms, with ensuite bathrooms, this is a great place to chill and connect with others. There are common areas both outdoors and indoors, and the garden grows palm and mango trees with a bunch of chilling cozy corners. While the vibe is superb, cleanliness and facilities can be improved here. Visitors who want to imbibe the hippie spirit of Goa, hit this up!!
Some Pros - In house bar, weekend parties, 100m from the beach, prime location (Curlies, Liliput, Shiva cafe are all within half a km), budget friendly - again one of the cheapest
Some Cons – Noisy, Not suitable for a workation, can get very crowded as there are lot of outsiders coming in out frequently.
Room Rate: Mixed Dorm rooms start from Rs. 399 per night. Click here for details
4. U R D Ki, Anjuna
Pronounced as "You Are The Key", this is a hostel space that provides you the comfort and experiences to ensure that you meet you! Located on the main road, within half a kilometer of Anjuna beach, this place has a great friendly vibe overall. And the game room which is also the common area is a fun part of the hostel, where you can spend a lot of time. As they claim, they started with a vision of empowering individuals and helping them discover that they are the key to everything they do in life.
Some Pros: Located on the main road within half km from Anjuna beach, Art and Game room, In house - beer at cheapest price, Friendly staff
Some Cons : Unclean kitchen, Power issues, Prices keep fluctuating depending on duration spent.
Room Rate: Female Dorm rooms start from Rs. 375 per night. Click here for details
5. Yuppi Hippi Hideout, Anjuna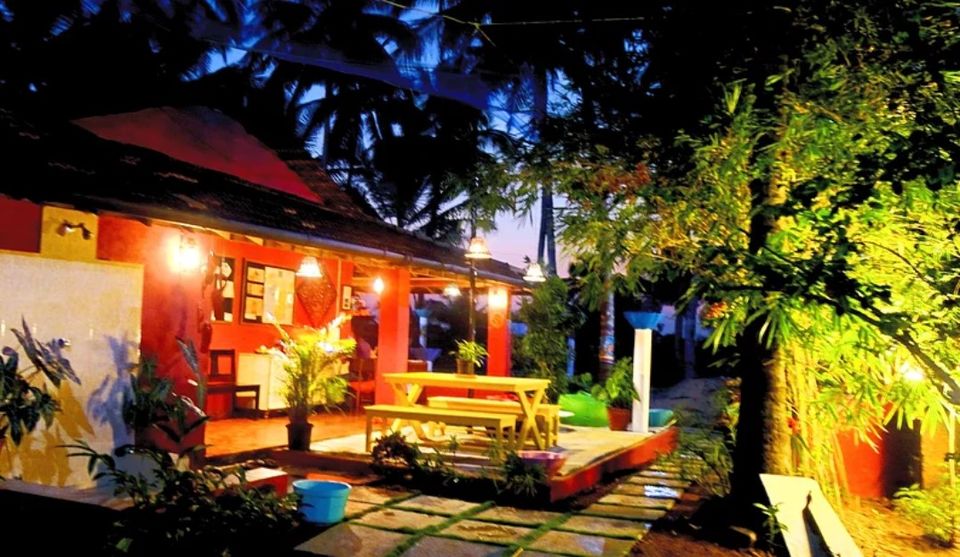 For anyone wanting to relive the times of the Hippi generation, you must head to the Yuppi Hippi Hideout at Anjuna. Located on a hill, overlooking the beach, this house was used by the Hippies since the 70s. The property is located on the party belt of Anjuna Beach and near the best Techno, Electronic Dance Music and Goa Trance party hangouts. While essentially it has 3 Hippi themed rooms and a couple of huts, the latest addition is that of a four bed ladies dorm room. The wooden huts with a balcony face the sea, and hence are a great stay option in an otherwise crowded Anjuna.
So, female solo travellers who want the Hippi vibe of Goa, can head here.
Some Pros : The property faces the sea, and hence the view and the vibes are exceptional. Being situated in the heart of action in Goa, entertainment and food options are galore around the place. Though a Hippi vibe, its peaceful and good for long stays.
Some Cons : It doesn't have dormitories for guys. Given that it has a limited dorm facility, not the best for backpackers. There is no inhouse kitchen (much like the other hostels). Breakfast is additional.
Room Rates : The Girl's dorm starts at Rs. 800 per night. Click here for further details
6. Woke Hostel - Arpora
This is a backpacker's haven, and has a great workation vibe. This place is set in an old Goan-Portugese residence with a different experience - inspired by the iconic Aegean Sea paradise of Mykonos. The hostel is set admist a curated garden with palm trees that shade a blissful swimming pool. As a guest mentioned to me, the whole environment reminded her of a mother – comforting and strict. There are protocols that need to be followed on cleanliness, in premises behaviour, maintaining the decorum of the place etc. The crowd is young and evolved, not the freewheeling vagabondish crowd that would otherwise be visually associated with a hostel
Some Pros: Amazing homely set up, Beautiful décor, Pretty Garden Area, Pet friendly
Some Cons: laundry services are very costly, can be little pricey compared to other hostels
Room Rate: Mixed and Female Dorm rooms start from Rs. 500 per night. Click here for details
7. Old Quarter Hostel, Panjim
Imagine living in an old Portuguese house, right in the middle of the most colourful neighbourhood in India. The Old Quarter Hostel located in the Fontainhas neighbourhood of Panjim town promises just that. Imagine cycling around the streets lined with the vibrantly colored houses, and coming back to mingle with the crowd a the lovely inhouse café. The mixed or female only dorms are ideal for anyone who wants to meet new people and keep the budget in check. All bunk beds have personal lockers and we provide a free basic breakfast for all guests.
Some Pros : Located in the heart of the popular Fontainhas area, Budget friendly compared to the other options around, fabulous inhouse café, Close to the churches of Old Goa
Room Rates : Mixed dorm beds start from Rs. 500 / night. Click here for more details
8. The Lost Hostel, Palolem
At a stone's throw away from the famous Palolem beach of South Goa, The Lost Hostel is a great choice for backpackers seeking the peace and solitude of the place. The hostel based on a theme of varieties of hooks, since we are all hooked on to something, whether it's a job, a passion or a feeling. There are enough and more hooks in the property to hang all the worries and have a great time.
The vibe of this hostel is fabulous, with the overall peace and chill vibes of South Goa settling in. Each of the dorm rooms have been themed with a different "hook", from superheroes to music to food.
Some Pros: Closest to the Palolem beach, Budget friendly, In house bar, Weekend events/parties
Some Cons: Only Mixed dorms, no exclusive female dorms
Room Rate: Mixed Dorm rooms start from Rs. 300 per night. Click here for details


Goa has options for every kind of traveller, and hostels are a great way to go light on the wallet and yet get the maximum feel of the vibe here. Look these up for planning your next trip to the Pearl of the Orient.
Follow me on Tripoto and Instagram @thewanderjoy for more travel and life adventures!
Earn credits and travel for free with Tripoto's weekend getaways, hotel stays and vacation packages!
Get travel inspiration from us daily! Save our number and send a Whatsapp message on 9599147110 to begin!