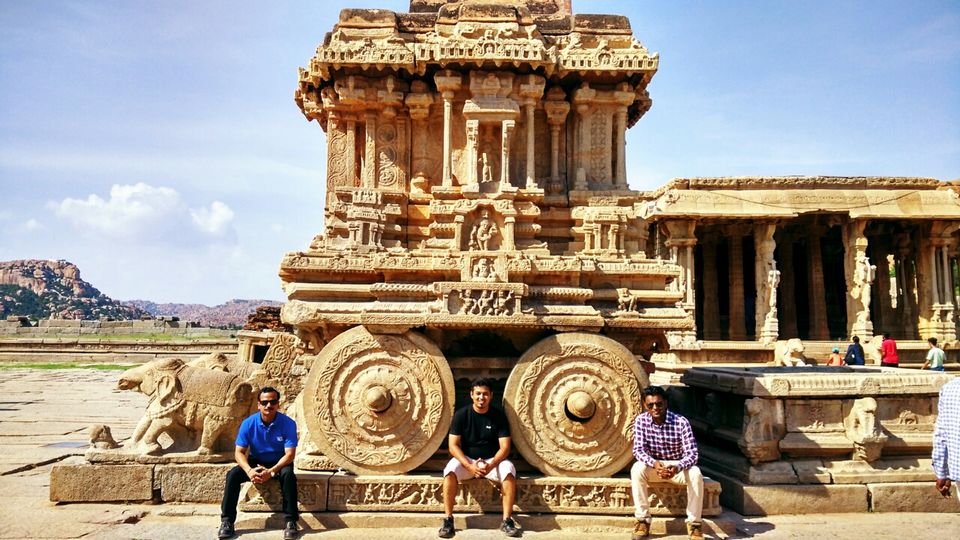 3 friends ,3 rides ,4 days
Visit to UNESCO HERITAGE SITE Hampi,Badami,Pattadkal,Aihole...
Route of the ride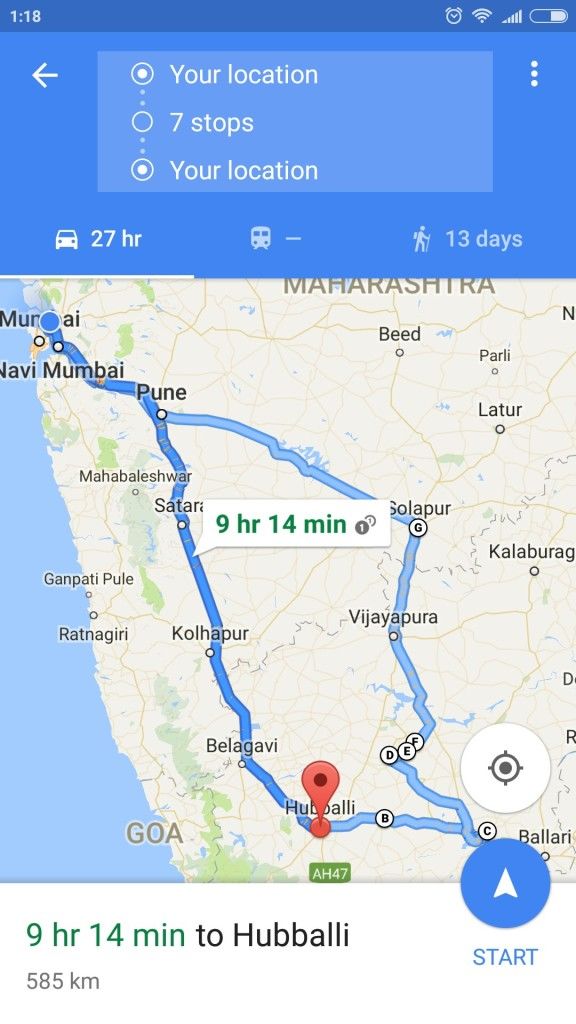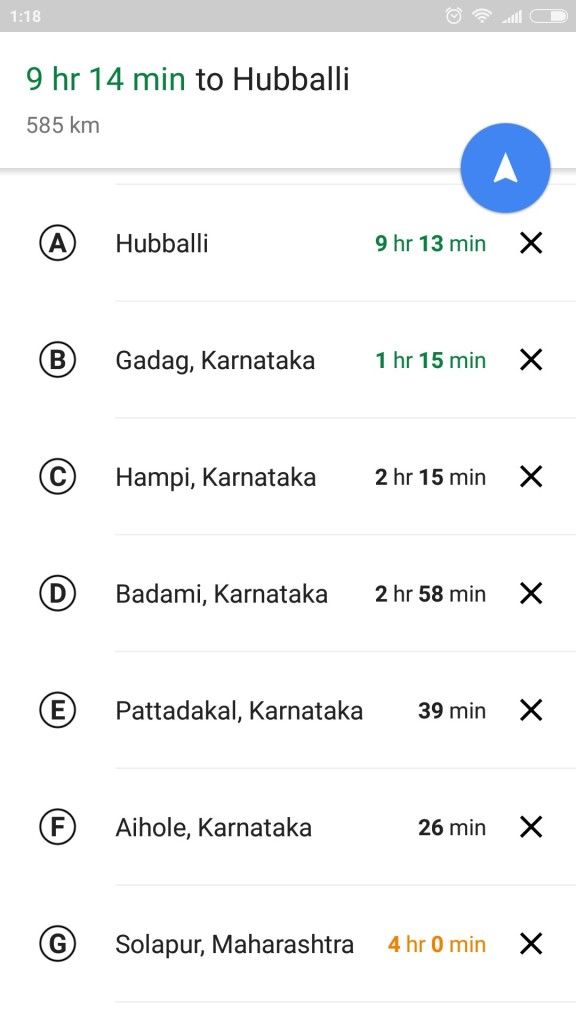 Preface
With holidays in hand plan was in mind for 5 days covering Gokarna , Murudeshwar, jog falls n hampi. Being the only one with the holidays was planning to do solo.Meanwhile colleagues showed interest in joining. But being short on holidays for them we were in dilemma about the destination to go either to Murudeshwar, Gokarna or Hampi alone.
Lots of googling and planning, discussions we finalised Hampi to be the destination.
Preparations started with servicing, docs collection,etc and we're all set to leave on Saturday.
A night b4 the ride is always sleepless, excitement about the next day ride and anxiety about the preparations made or missing ,keeps u awake, finally went to bed at 2pm.
Day 1
Tringg-tringg phone rang...6. 15 am
Sanjay was ready and was about to leave from Kalyan .Our meeting point was decided to be Datta snacks at the junction of pune and Goa hwy.
Quickly got out of the bed , got ready and was on wheels by 7 am (Thane)
Sky was already lighted up , snooking through the traffic reached Datta snacks by 7.45am
Sanjay was already waiting there with furious mind.(being waiting for me since half an hour ;) ). Datta snacks to the rescue. Favorite vada pav for each one and we headed for Pune where our third partner Vicky was about to meet us.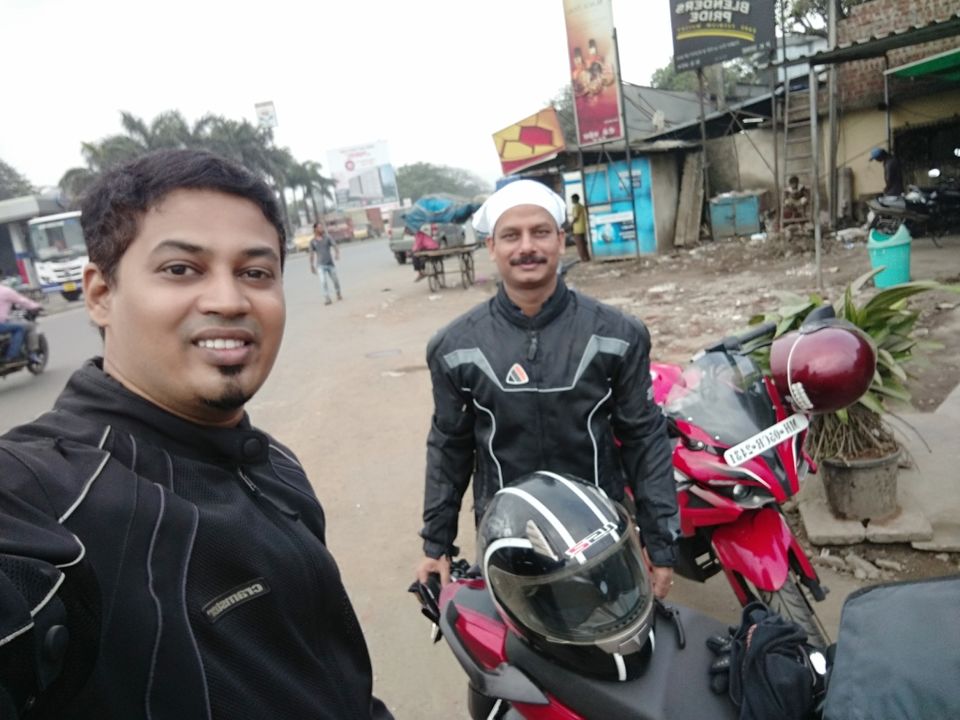 Cruising with our rides Apache and rs 200 on butter smooth mumbai- Pune highway gave the perfect boost for the full day ride ahead.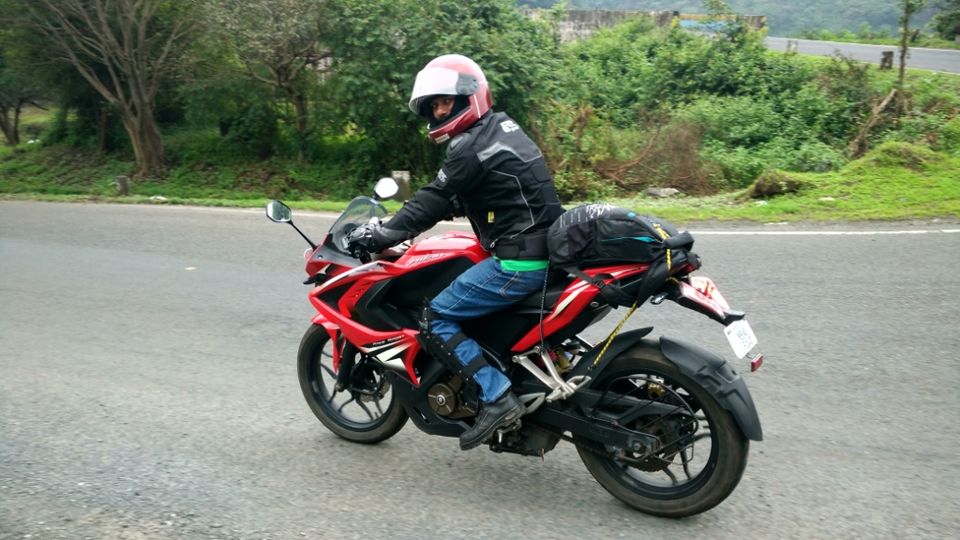 Lonavala was as pleasing as always with the clouds on road and the sprinkle showers just chilling our minds.
We were cruising at moderate speed on mumbai- pune- Bangalore highway and met Vicky at the exit of Katraj tunnel on the way.
A quick snacks break to fill in the belly tank and our journey of 3 of us together actually started.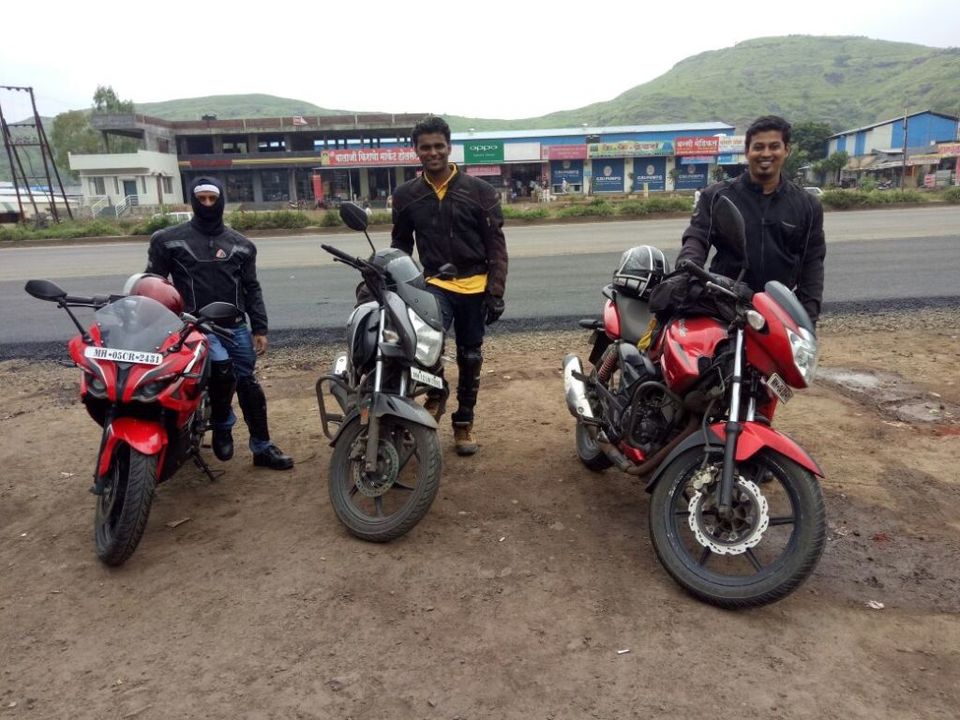 Being only few long ride experiences Sanjay and Vicky were anxious about the distance to cover, hence plan was made to ride till hubballi and cover the remaining distance in next day.
All three rides were roaring on national highway gulping the kms descently..
Till Satara road works are going on so ,one will find many diversions on way.
Cruising rides reached Karad by 1 pm.From Pune till KaradVicky was with a pillion ,his friend Rohit.
As Vicky did his degree in Karad, his friends were there for seeoff and also his....oohoo..oohhooo....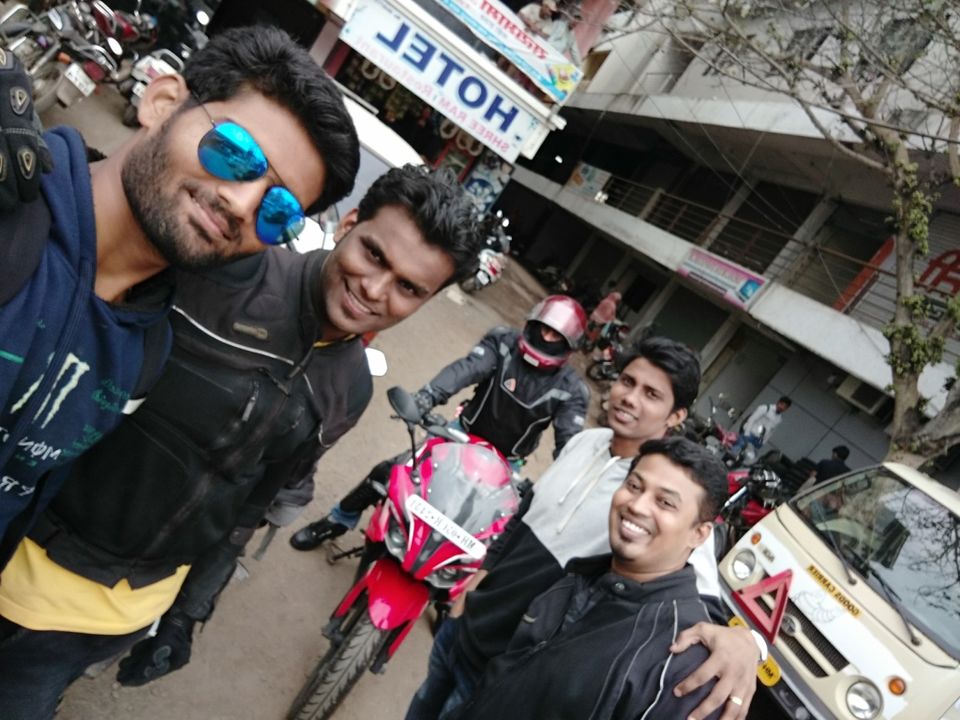 Plan was to eat near Kolhapur so Karad break was to hydrate the body and to meet junkies.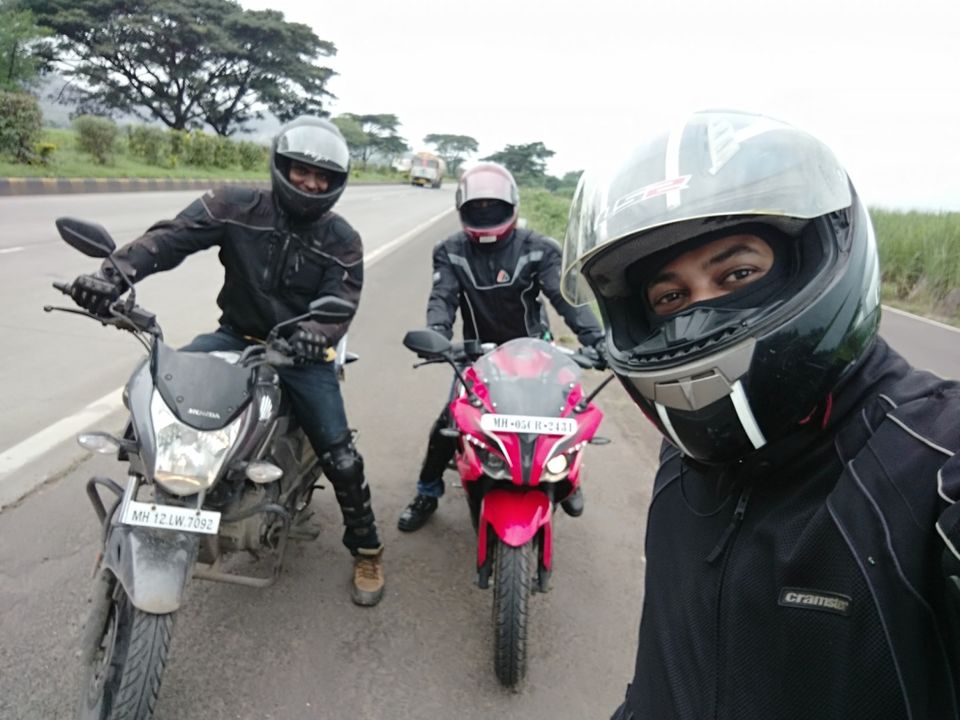 Tambda and pandhra rassa outlets were tempting but the Navratri was bullying the urge, fight was between the mind and the taste buds but in the end mind won and we vroomed beyond Kolhapur till kagal for a lunch break.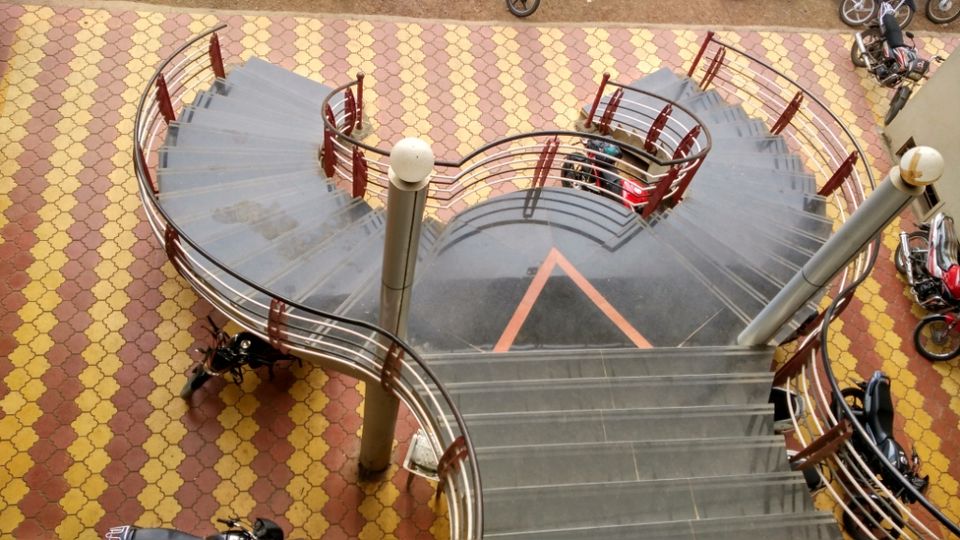 A nice relaxing break to engines , chitchats, tummy fill in and phone calls. Looking at the navigation , Hubbali was still 191 kms long.
Everyone agreed on to ride till hubballi and call it a day
On the edge of Karnataka border, the landscape started changing, with fewer cars on the road, long stretches of grass lands and many farmers with herds of sheeps, many windmills on hill tops and evening dusk filling the sky was just pleasing.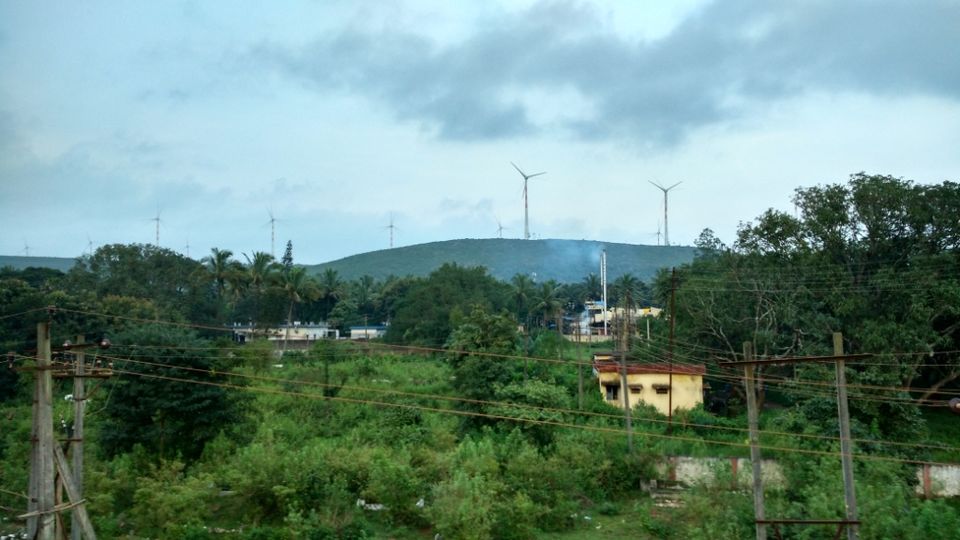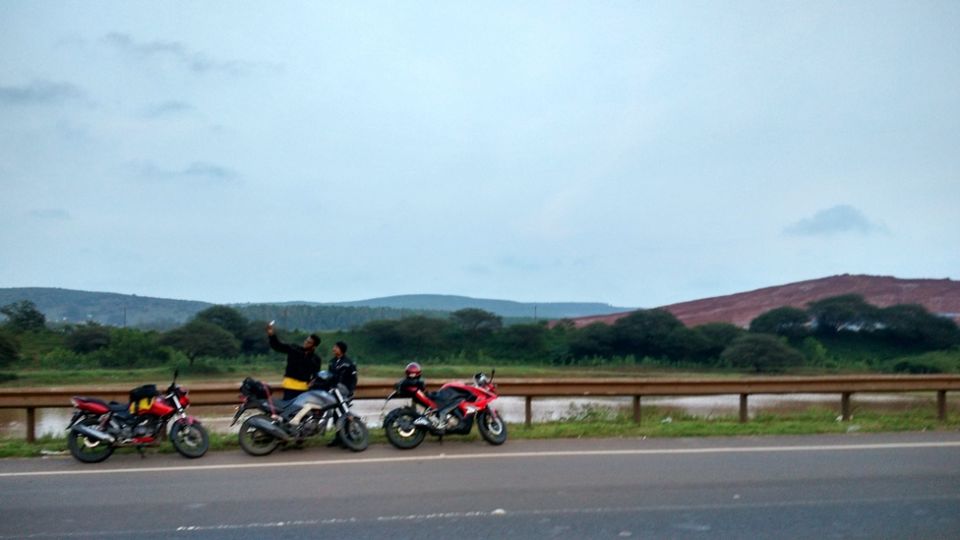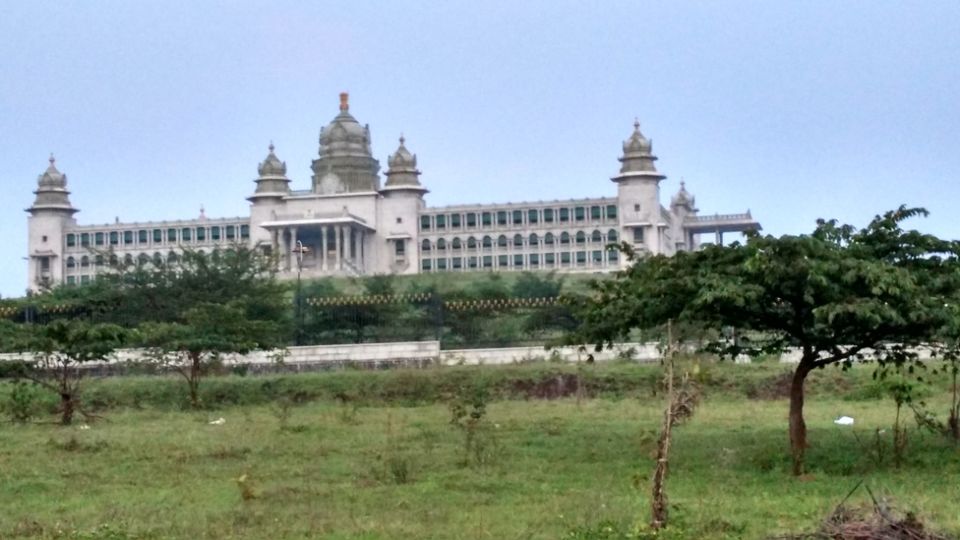 Nipani- sankeshwar-hattargi- belgaum etc stations were passing with dark setting in.
Finally at the petrol pump just 5-6 kms before Dharwad we asked for the road conditions and traffic conditions in the city.
Thanks to local youths, in their broken Hindi they guided us to the bypass route.
After traversing on bypass road for some kms we stopped again for navigation search.
Two guys were standing and watching us, there eyes were yelling that they wanted to help us.
Hats off to their respect for their city and proud feeling which encouraged them branding their city.
These were the words,
" U take right turn here, this road will pass through city,twin cities Hubbali Dharwad, enjoy the view and reach till CHINNAMMA CIRCLE ,if u take the straight road (the road shown by navigator Google maps) u will just touch the city and go. Plz see our city"
Just Wow!!!
Swaying through the city traffic we reached CHINNAMMA CIRCLE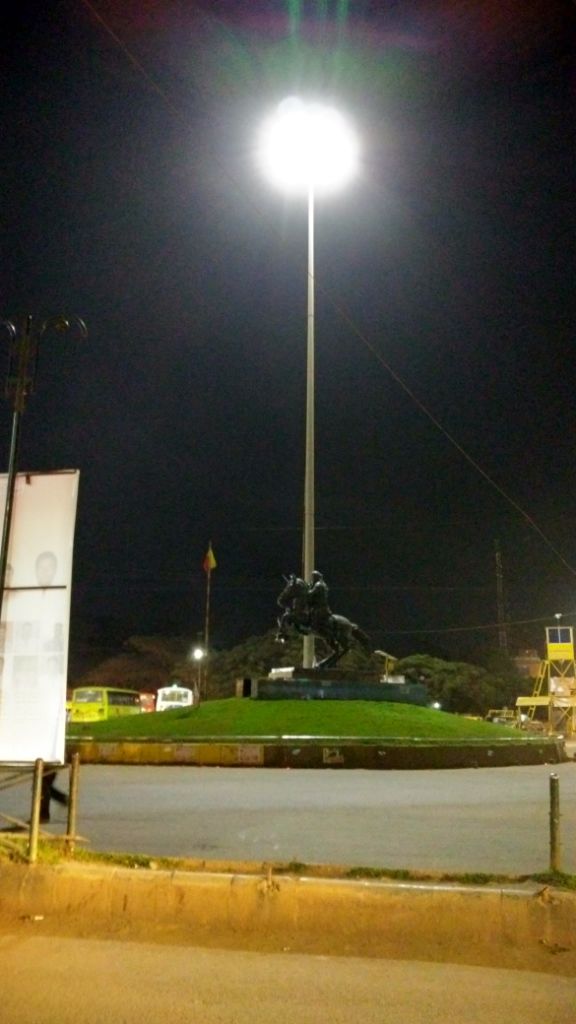 and yes as said were delighted by the look of the city. we were the centre of attraction in our whole attire and everyone was curious and trying to help us guiding the route towards Gadag.
Sign board saying Gadag 54 kms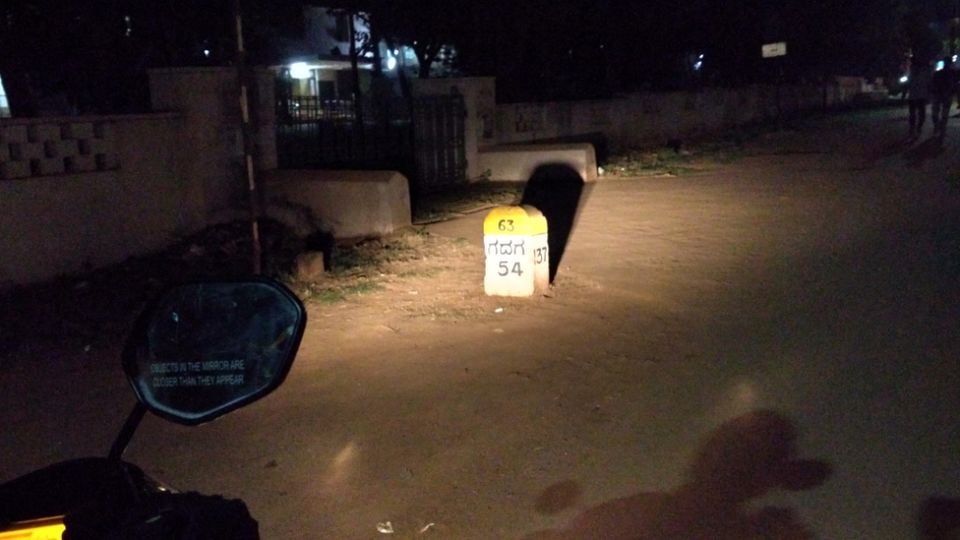 A quick brainstorming session
Petrol chk ok
Lights chk ok
Gadad 54 km ok
Body fatigue naah
Feeling hungry naah
So Gadag doable ok ok ok
Hence we were off to Gadag. Soon Street lights gone and village road began. In another hour or so we reached Gadag, searched for the hotel, some bargain for room cost (bargaining is in blood) and we called it a day off.(with some 662kms on odo :) )
Parked our sweeties in the safe custody of hotel, had our dinner, informed well being to better halfs/family, off to bed.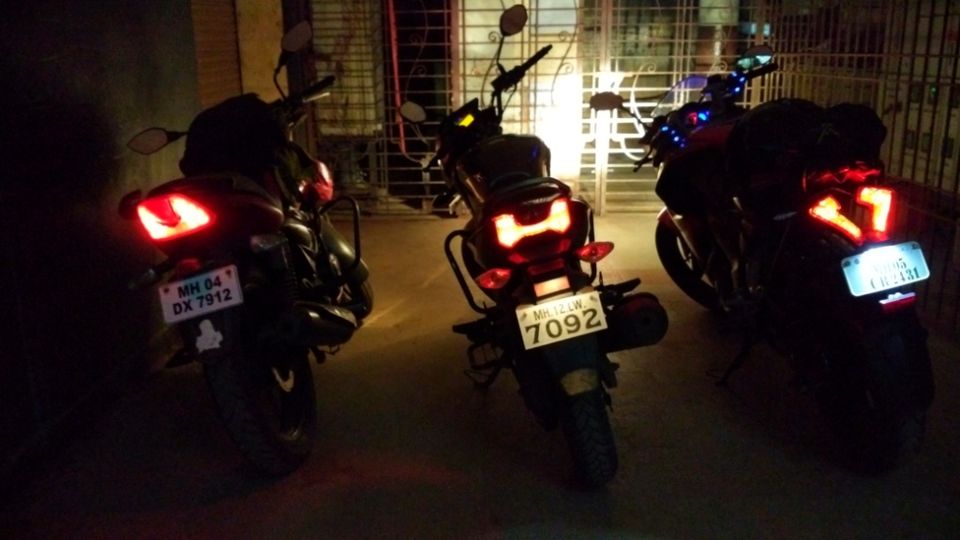 Quickly googled for trikuteshwara Temple , a board which I saw on the way, which was just a km away. Awestruck with the pics and decided to visit the temple in the morning b4 leaving Gadag.
Day 2
A day started little late and after the breakfast at 9 am we were off to Trikuteshwara Temple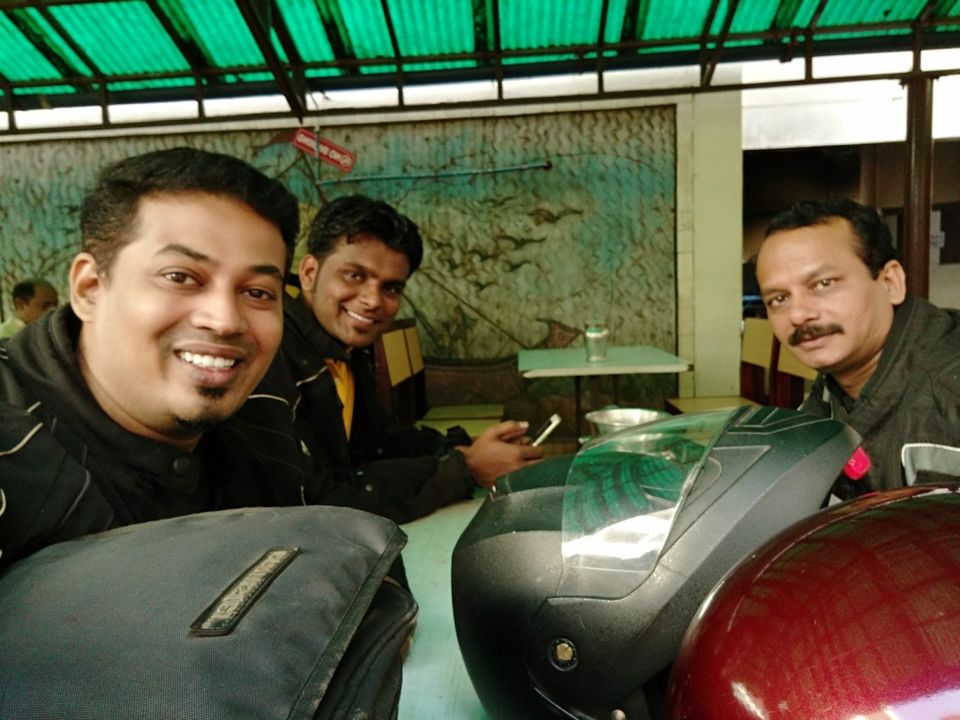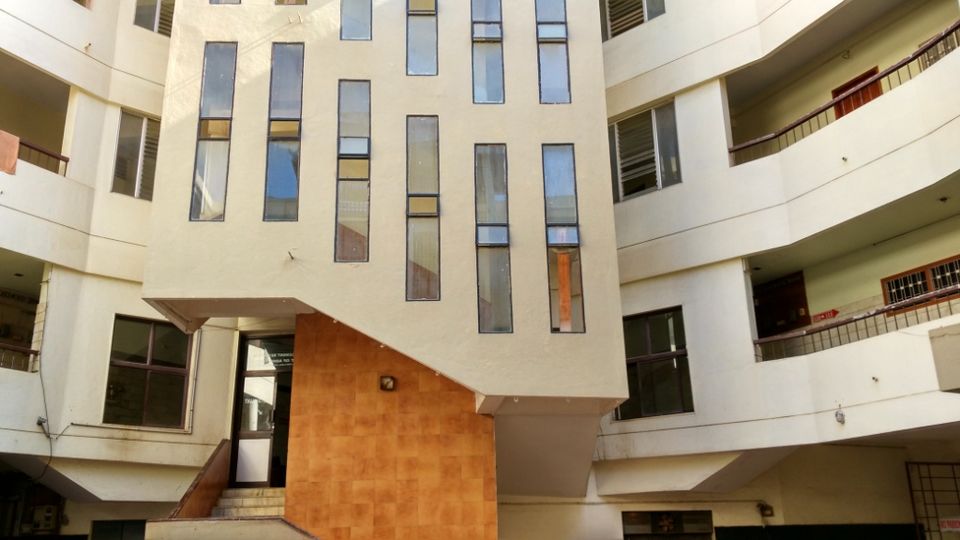 Navigating through the small lanes of Gadag we reached the temple, parked our bikes outside, two kids came close and were asking something in Kannada language, gesture showed they wanted to seat on bike to have a feel. I offered to seat on my bike for a photo but their eyes were set on RS200. But our denial made them furious and one of the boys just memorised the no. Plate of RS200 and went away...
In a confused state of mind we entered temple and were pleased to see the wonderful temple complex with beautiful carvings on it. We took the blessings at each temple and were amazed by the beauty.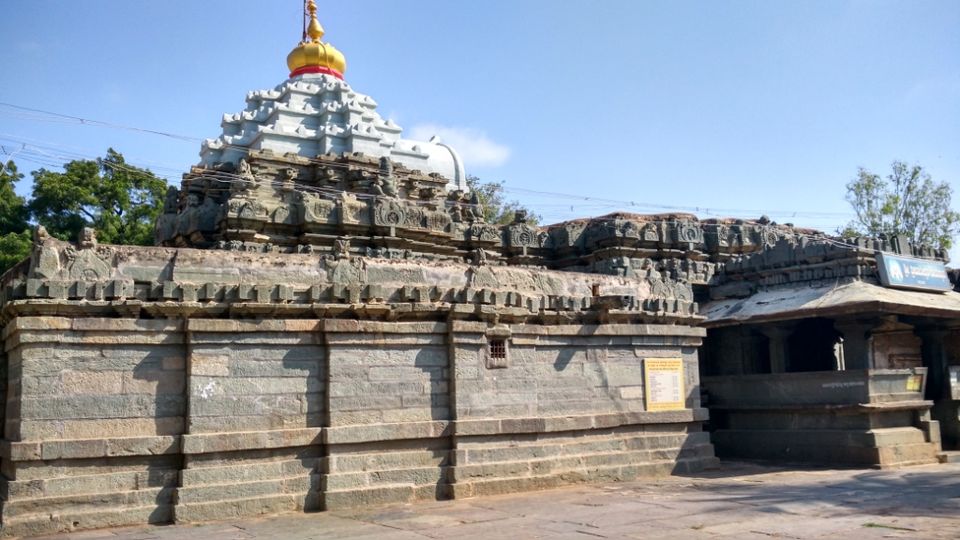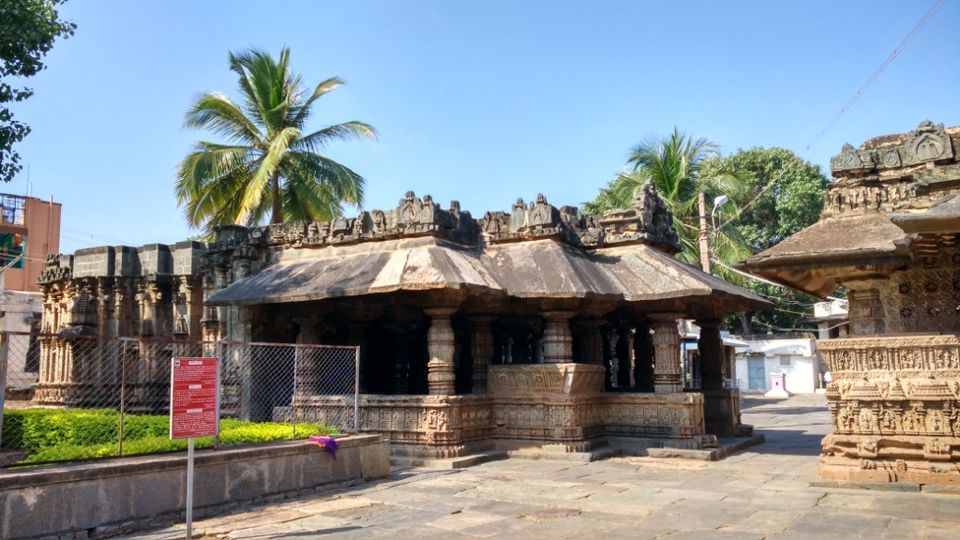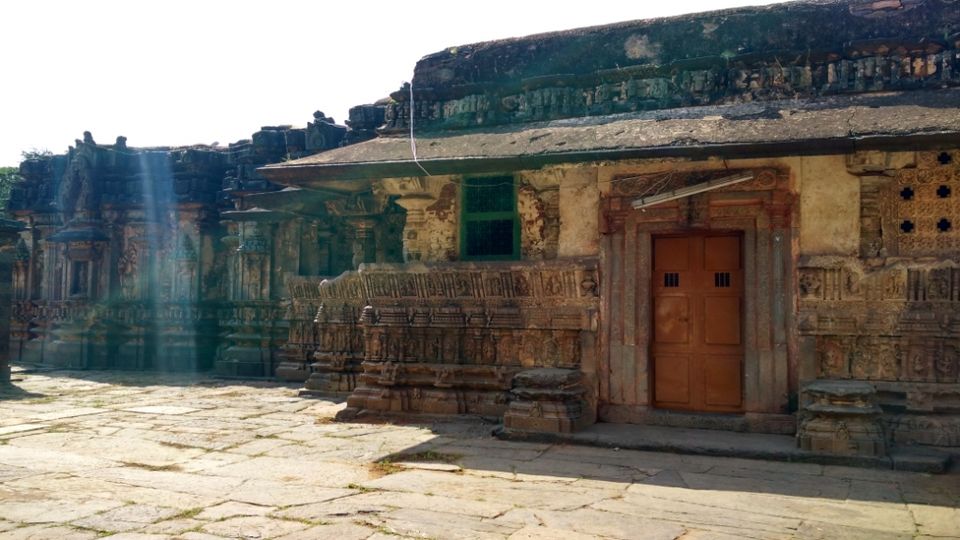 Saraswati statue (ancient)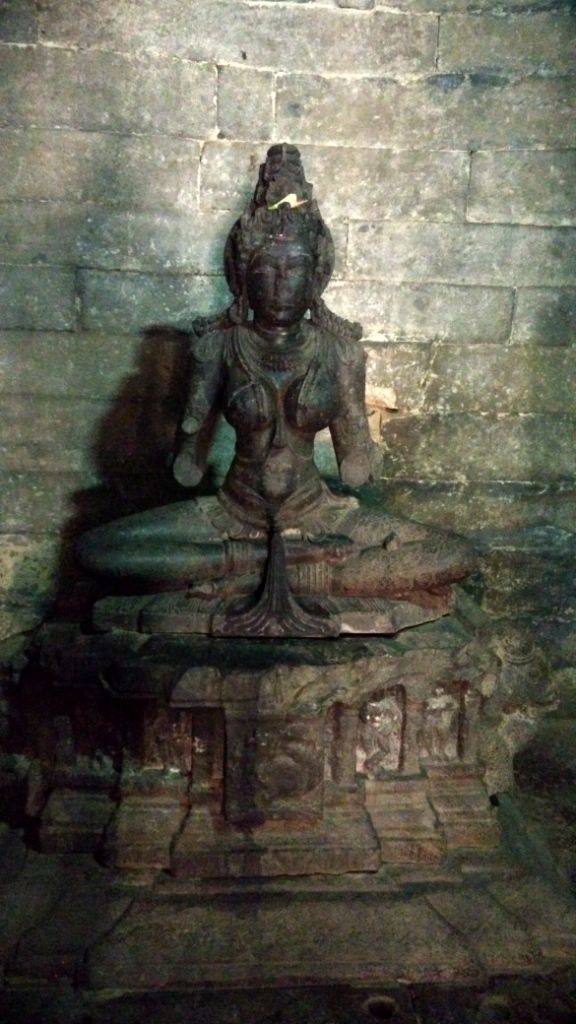 Bawadi (well)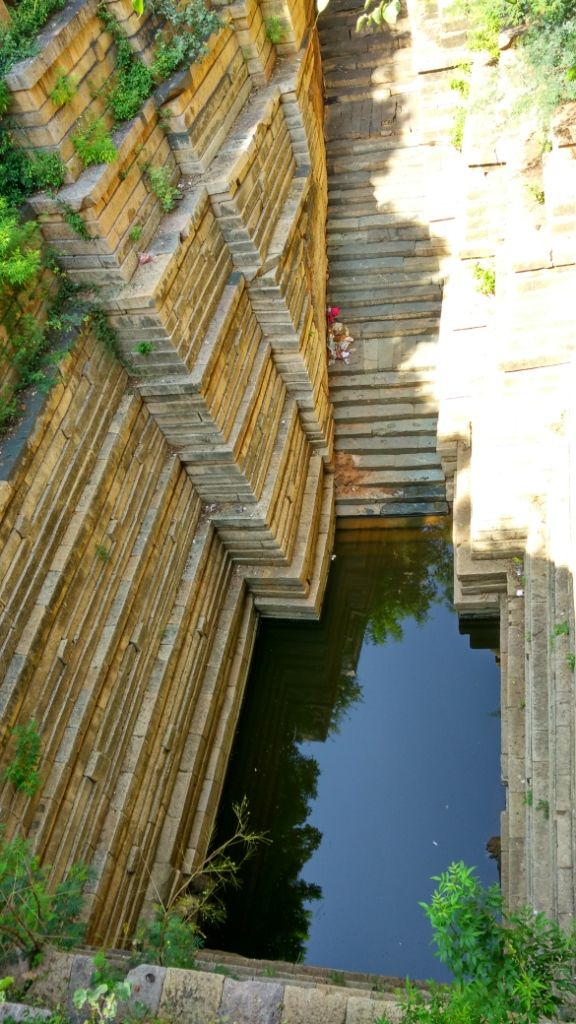 With gears on , you are always an attention grabber ,one such local visitor gave us info about the temples in the premises and guided us for route towards Hampi.
He also insisted us for visiting temple,for which Gadag is actually famous for, and a temple of lakes on the way to Hampi.
Few clicks on the way to Hampi
Basaveshwara Statue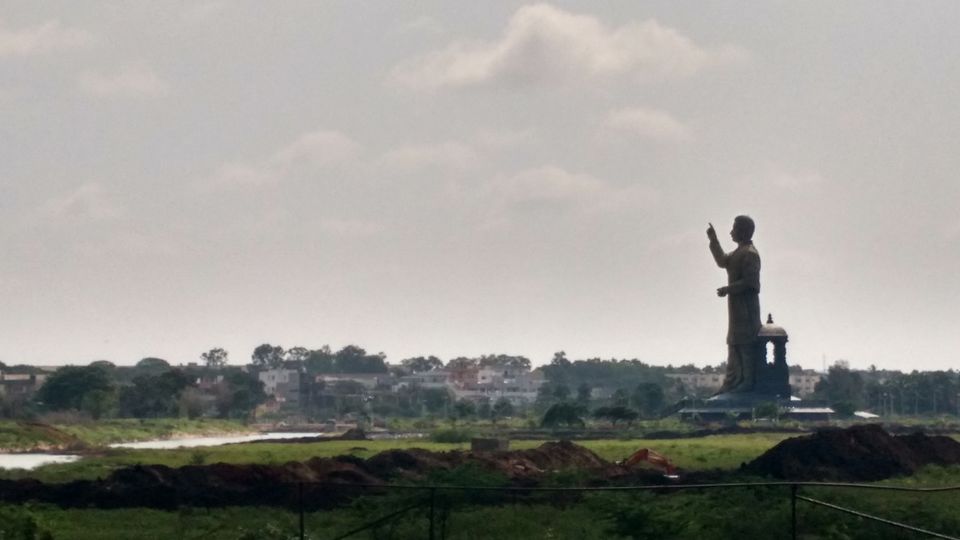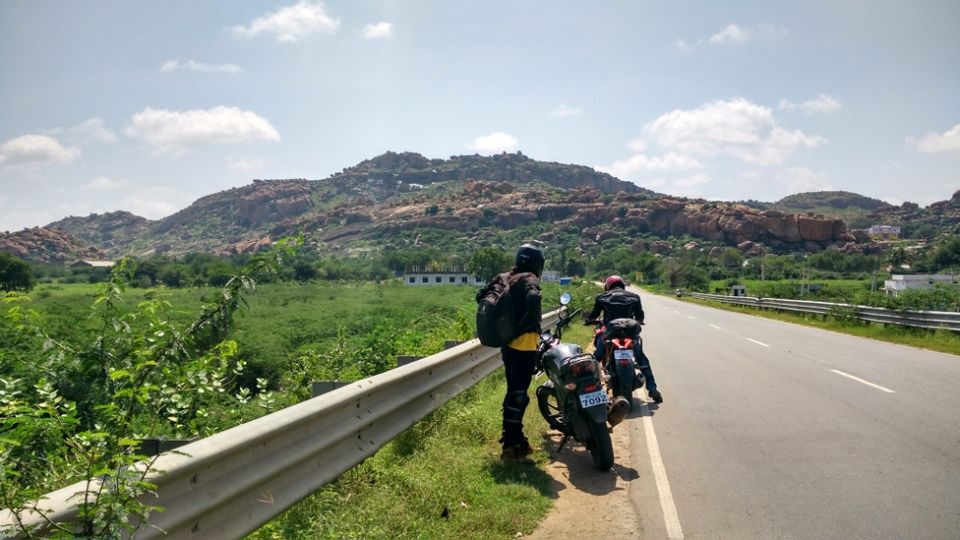 Scortching heat was dehydrating the body rapidly.We took a break at Koppal hydrating our bodies with watermelon juice which felt just heavenly.
At the entry of Hospete we took a bypass to avoid the city traffic.
As one comes close to Hampi the sighting the big boulders of granite becomes frequent and you feel aww seeing the sculptures made by our own mother Earth. Small, big very big enormous big boulders supported by small boulders is a sight to watch. It starts giving you a feeling of an ancient era( bahuballi ,Mohenjo-Daro scenes starts flashing in your mind and of several other epic movies). With this feeling in mind we reached Kamplapur Gateway to Hampi. Just few kms ahead and we reached our 1st site of Queens bath.
As we parked our bikes children came rushing requesting to buy guide books or avail guide facility.
One can find official guides at Hampi having an authentic Identity guide. It's a 2 yrs course,after passing this they become official guide. One can opt for a full day guided tour or half day guided tour covering the major attractions.(Rs1200/-) . There is also a facility of rickshaw tour costing Rs 600/- per person. As we were already late we booked a guide for half day tour on our bikes. Inquired about the cheap hotel stays as plan was to leave by Eve and cover some miles of way back journey. Some bargain and we dumped our baggage in a room , got freshned up had our lunch and we were on our tour to Hampi on our rides.
Hampi (Hampe) is a village and temple town recognised as a UNESCO World Heritage Site, listed as the Group of Monuments at Hampi in northern Karnataka, India. It was one of the richest and largest cities in the world during its prime. It is located within the ruins of the city of Vijayanagara, the former capital of theVijayanagara Empire. It's dotted with numerous ruined temple complexes from the Vijayanagara Empire. On the south bank of the River Tungabhadra is the 7th-century Hindu Virupaksha Temple, near the revived Hampi Bazaar. A carved stone chariot stands in front of the huge Vittala Temple site. Southeast of Hampi, Daroji Bear Sanctuary is home to the Indian sloth bear.( Google info in short.)
We started our journey with Vitthal temple complex where we needed to park our bikes km away from actual complex as a precautionary measure against noise and air  pollution caused by moving vehicles.Govt has provided facility of eco-friendly cars to reach the actual site from parking spot with shelling out few bucks for the ticket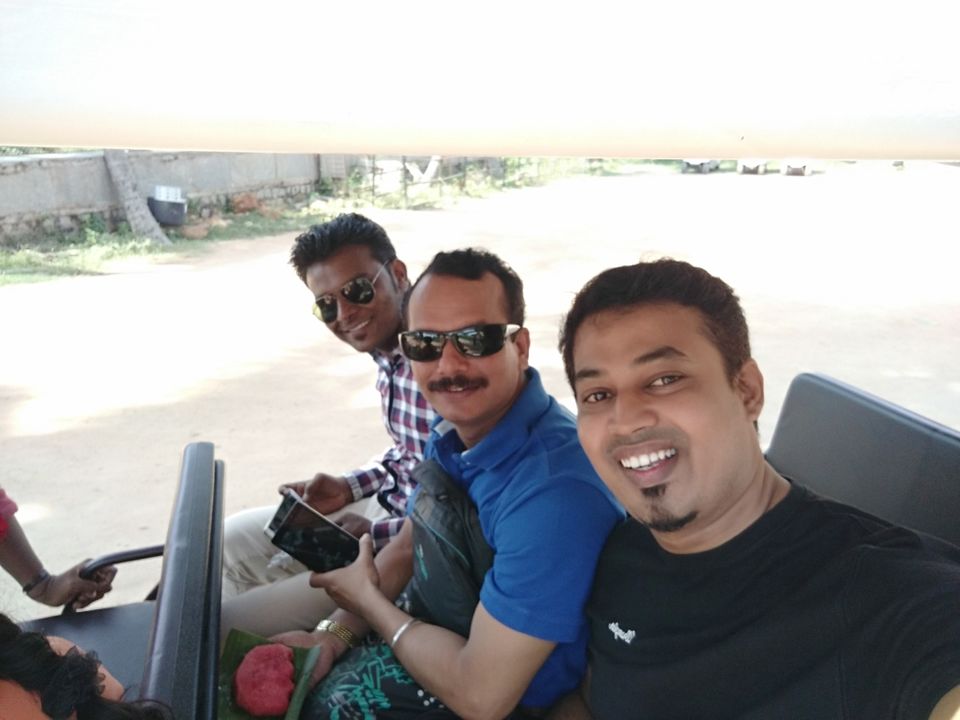 Now let photos do the talking...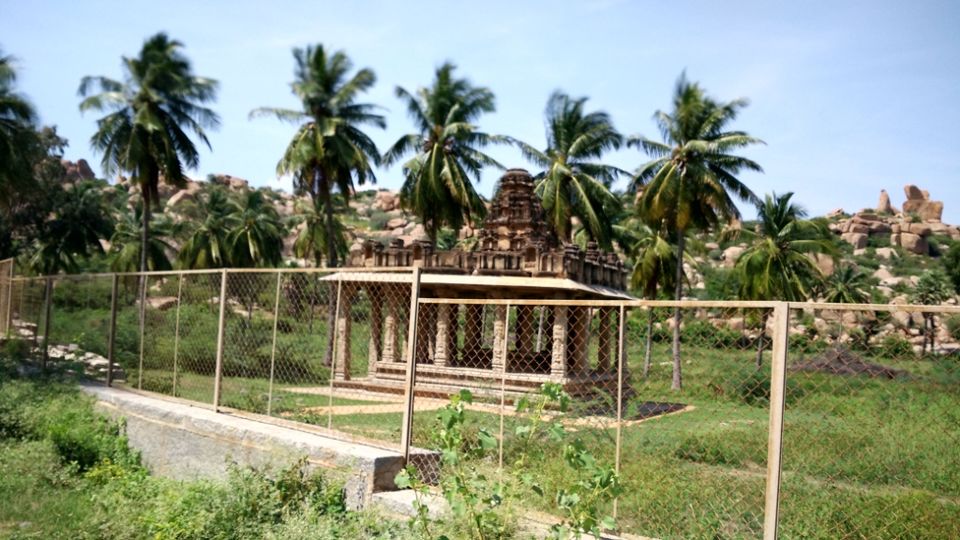 Parking space for horses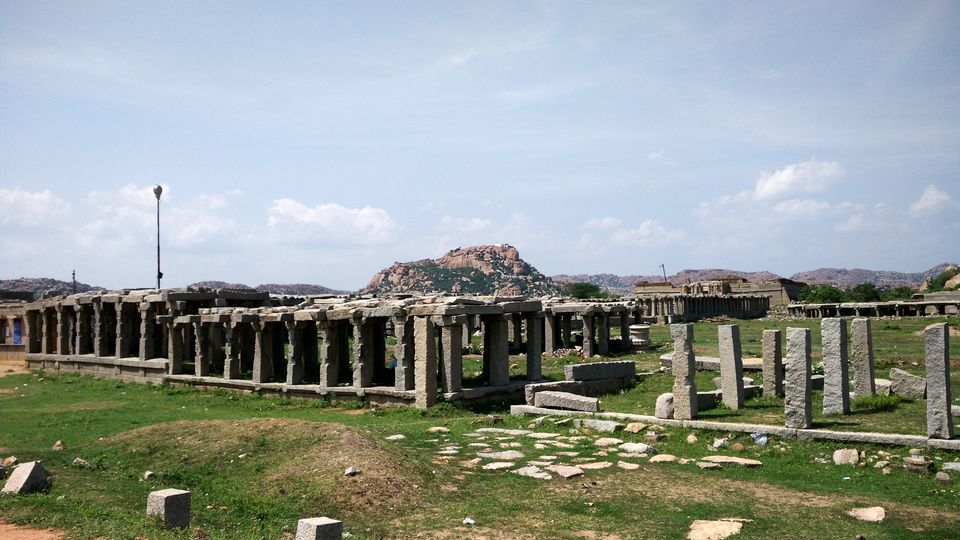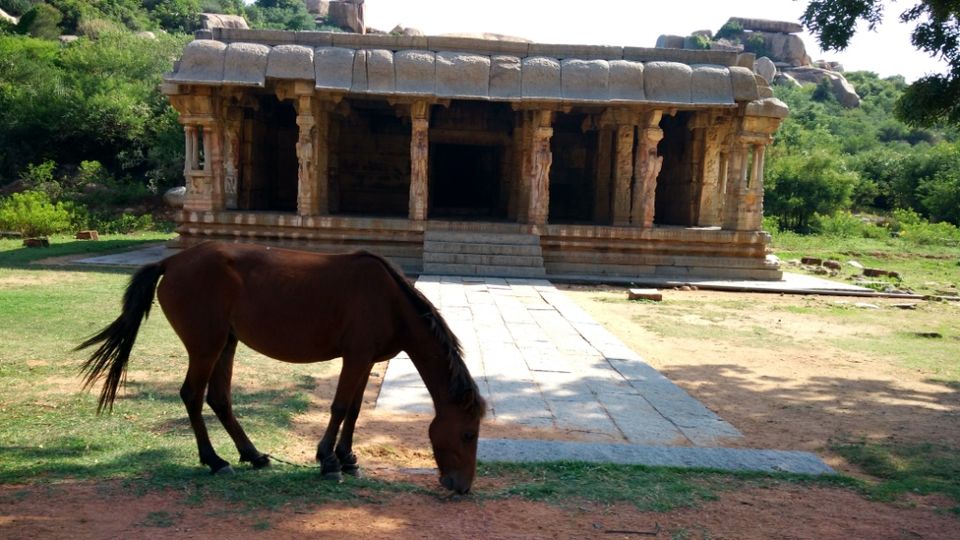 Vitthal Mandir entrance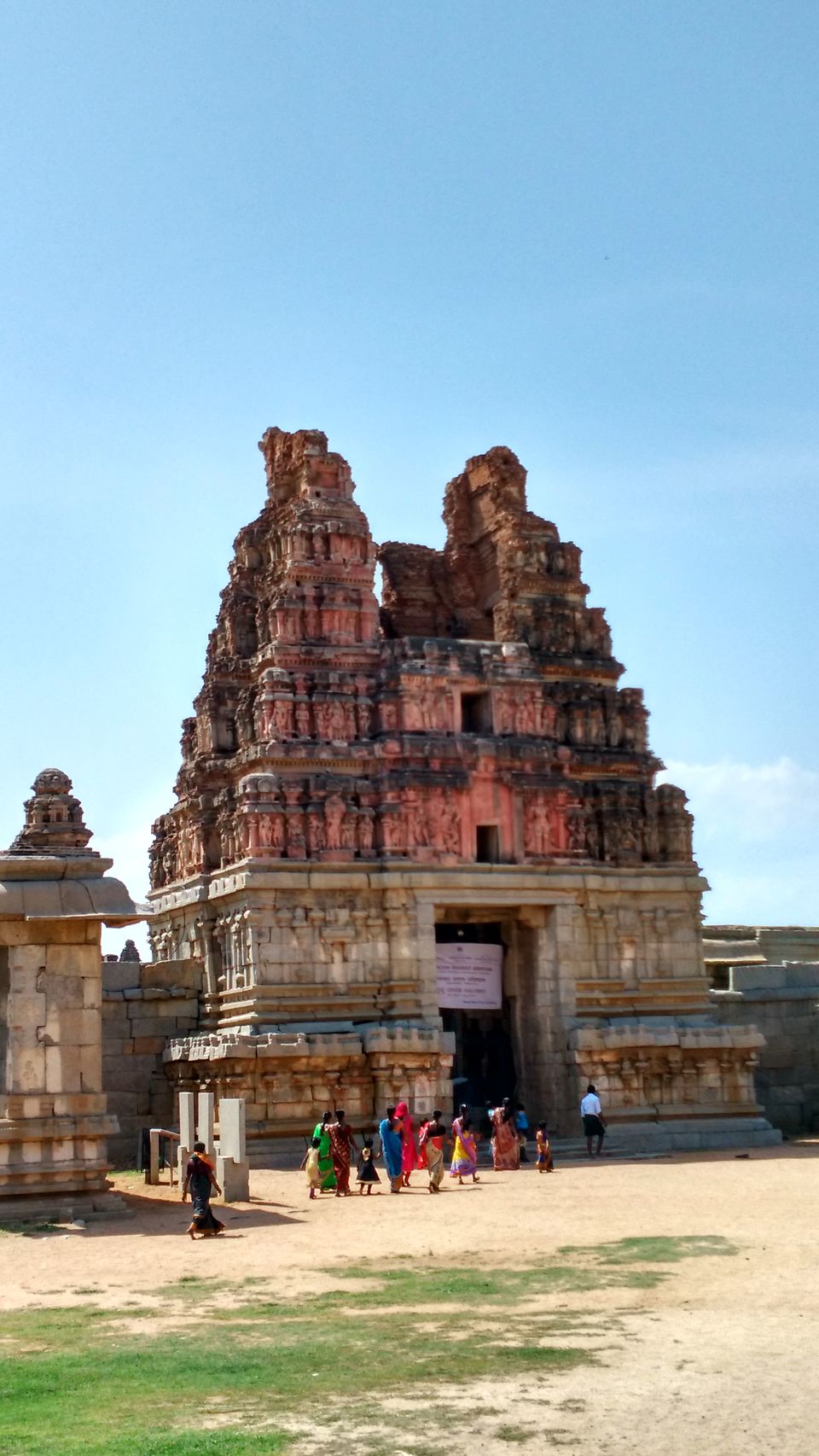 Sangeet mandap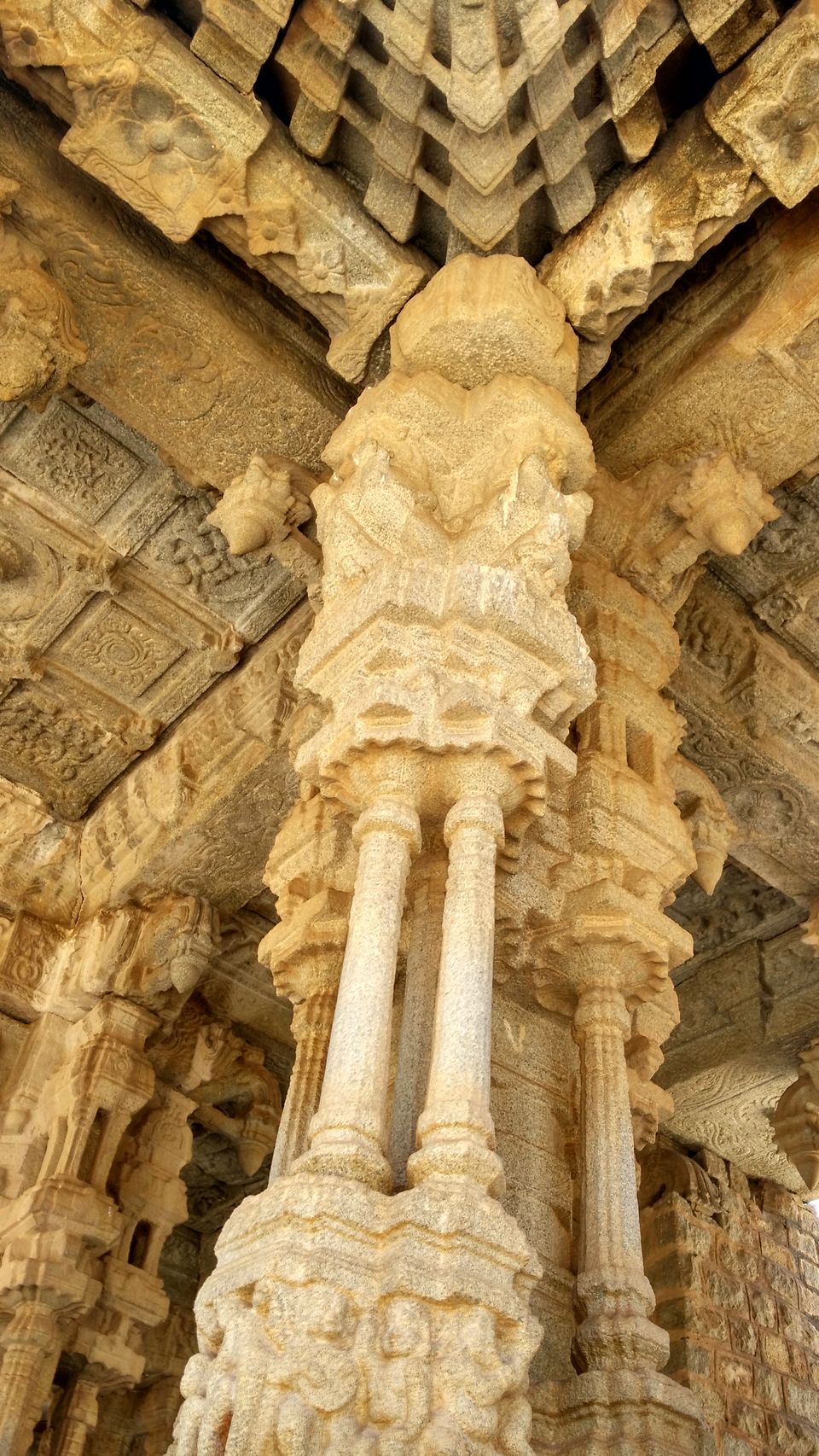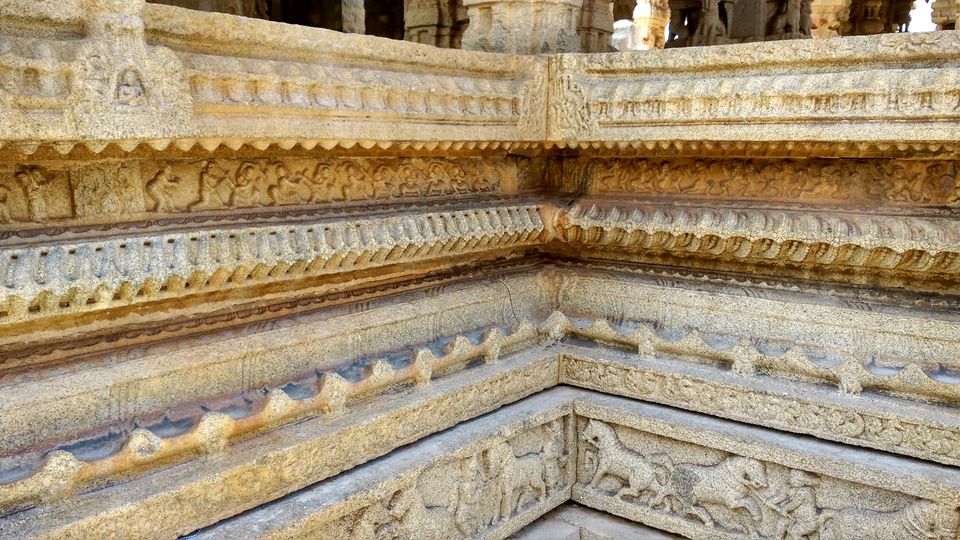 Two in one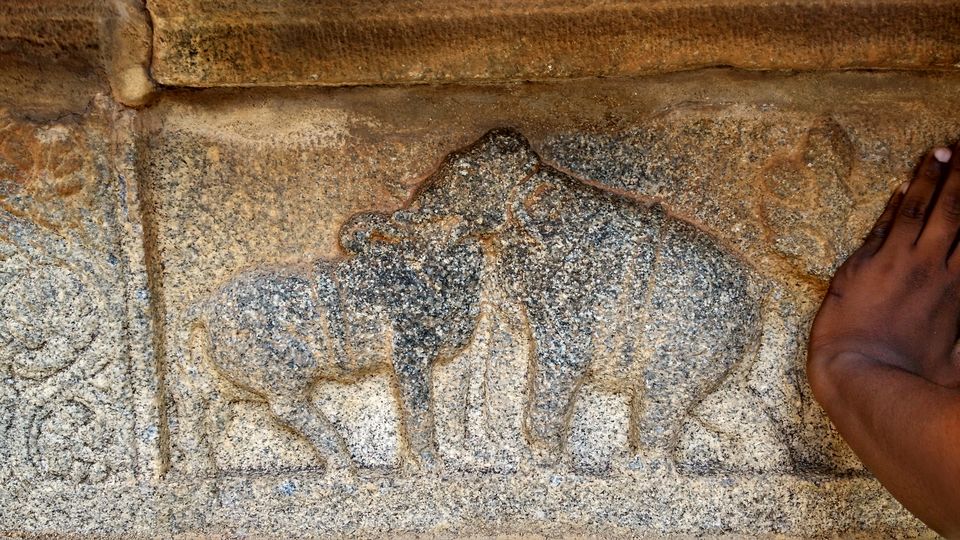 Miniature model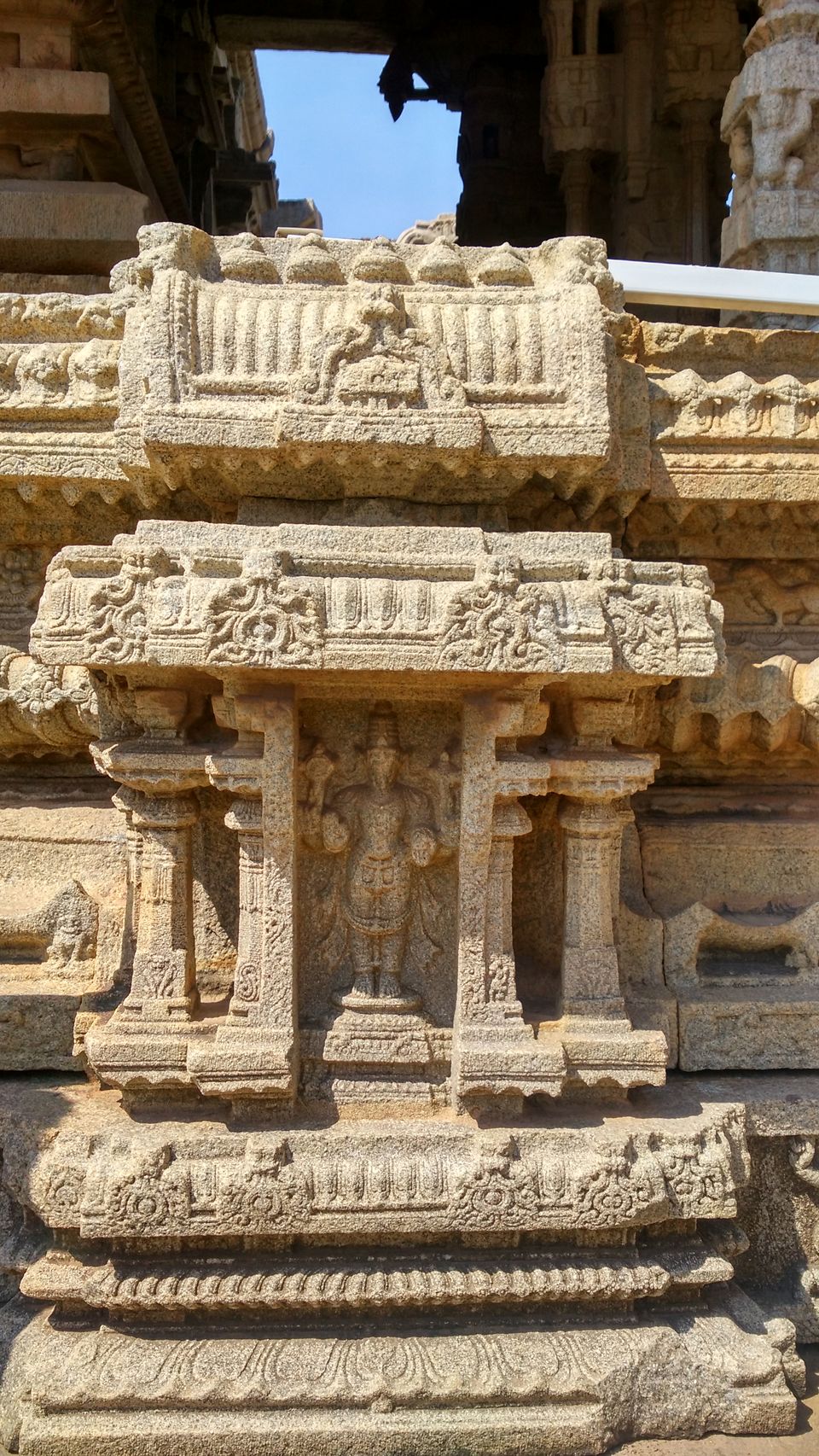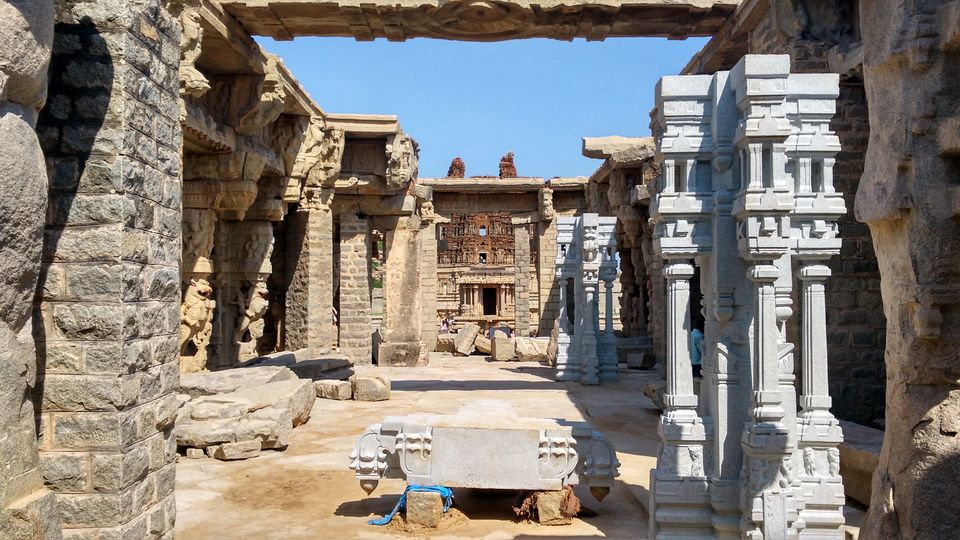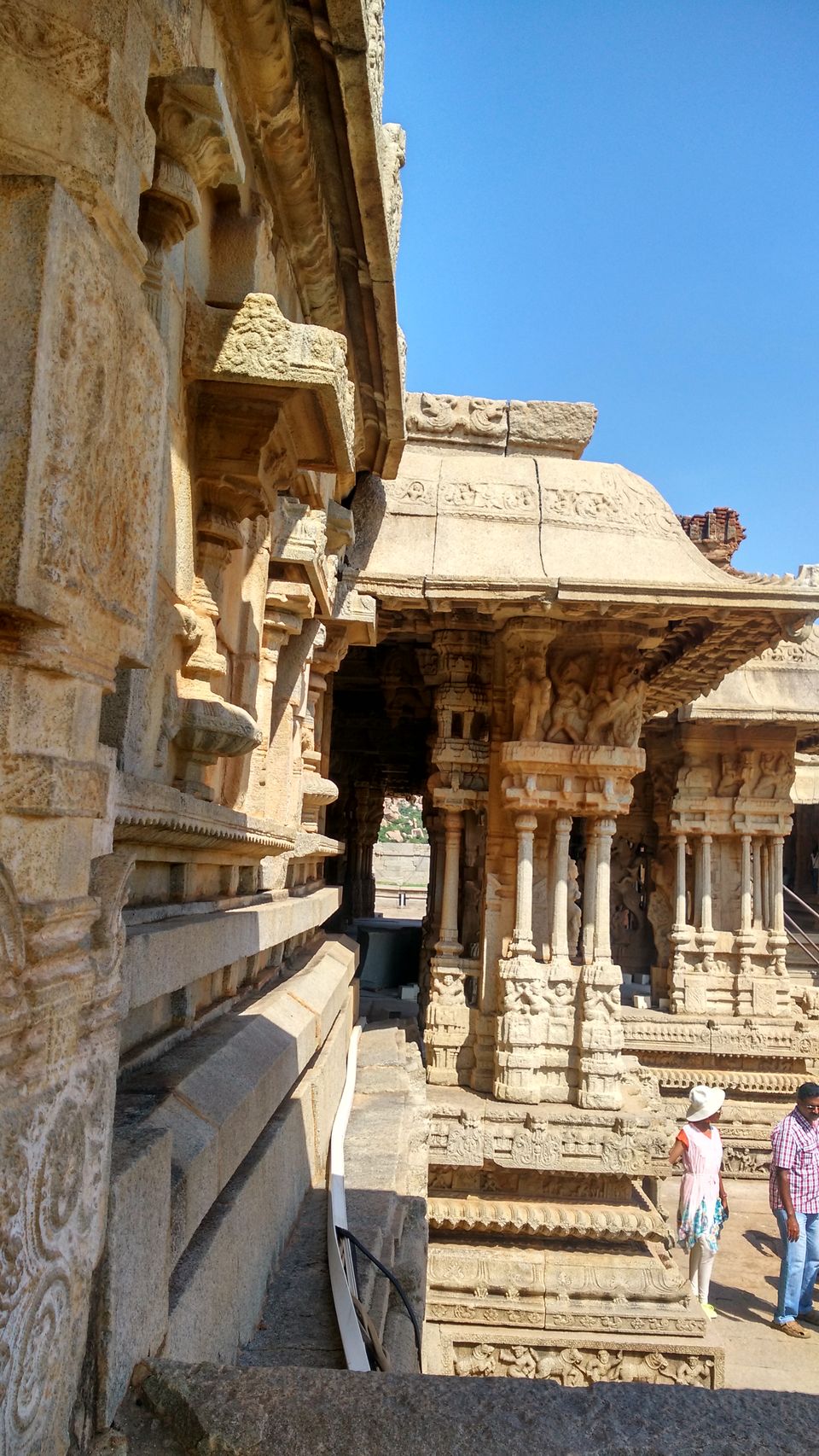 Vishnu Temple
Trilingual script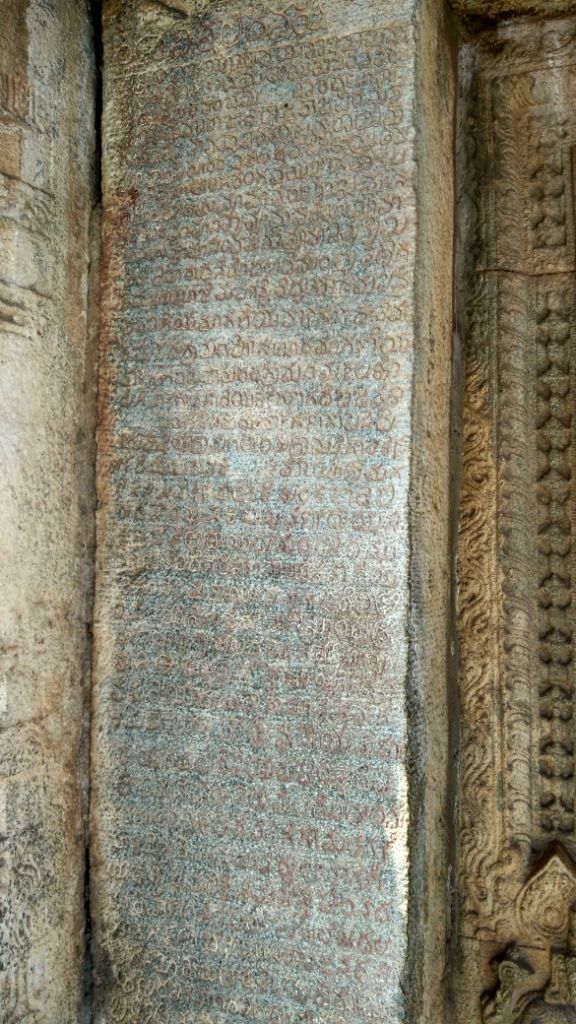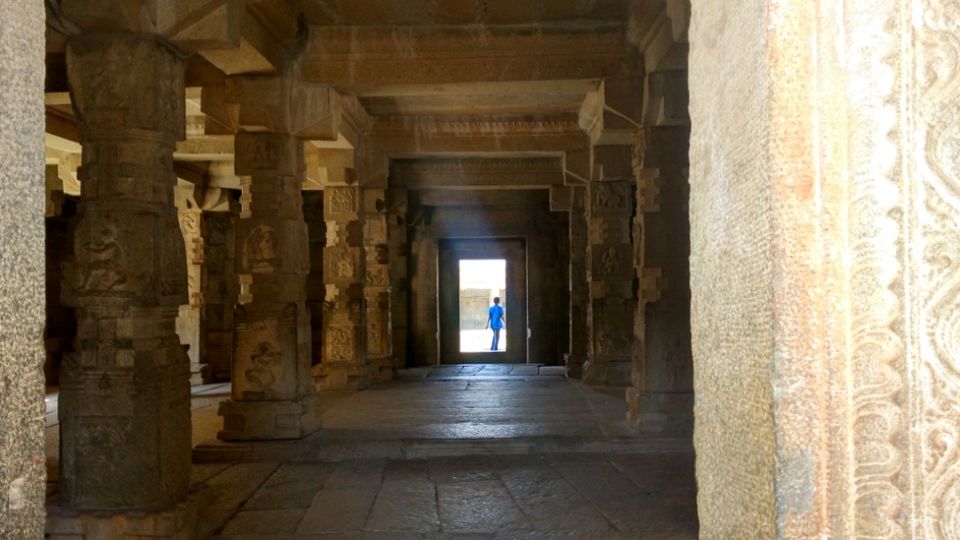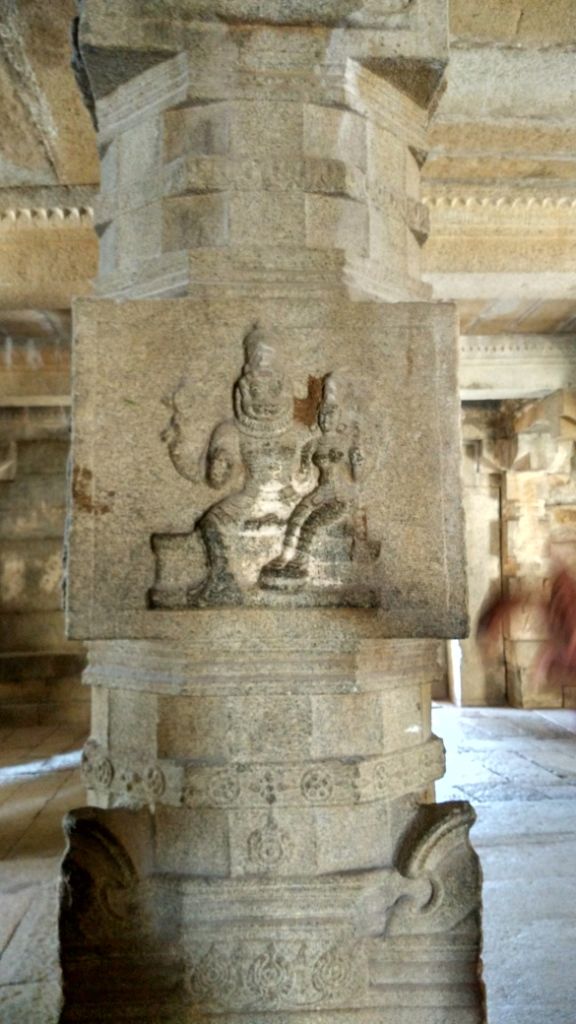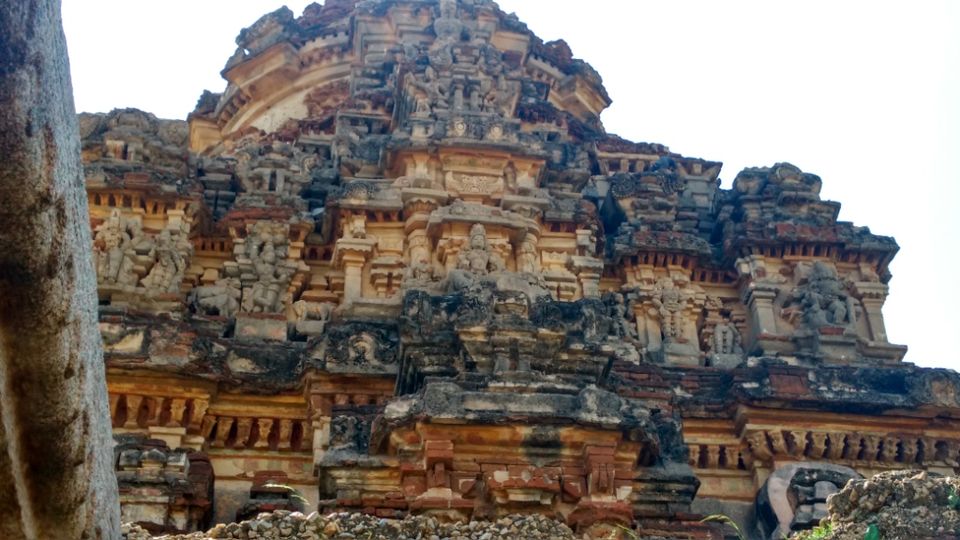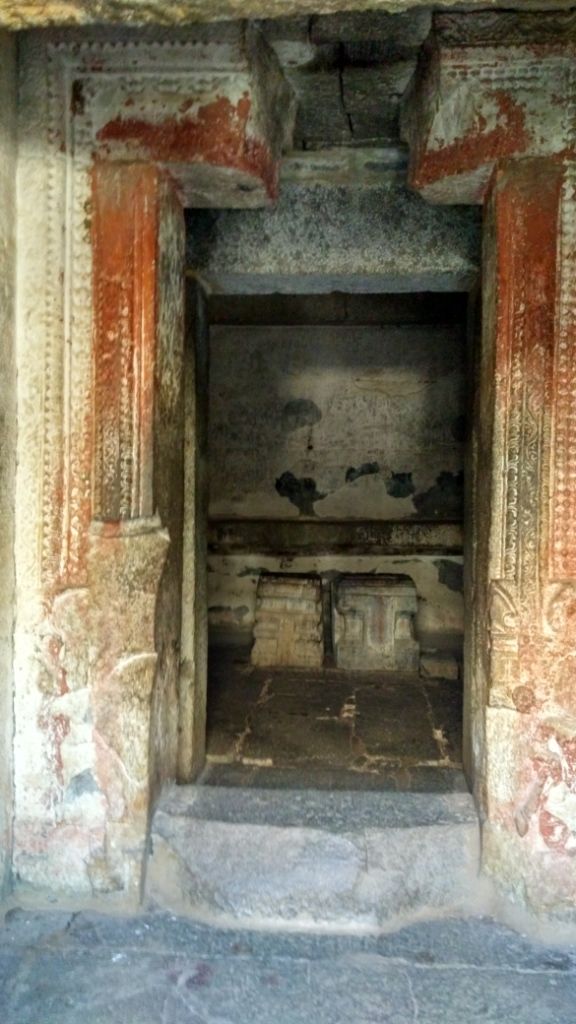 It is said that during attack on empire the Vishnu Murthy at the temple was transferred to Maharashtra,currently known as Vitthal -Panduranga at Pandharpur.(might be /might not be)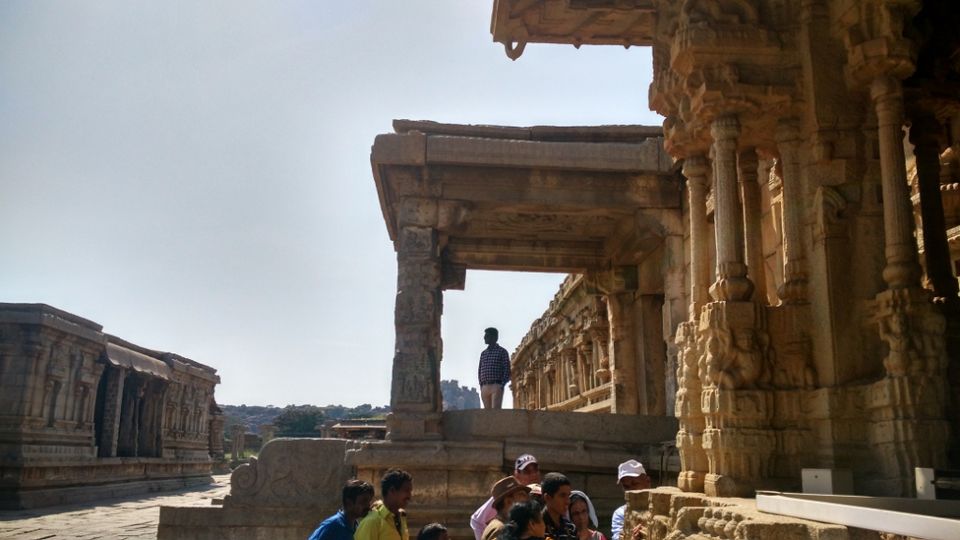 Mandapa
sounding pillars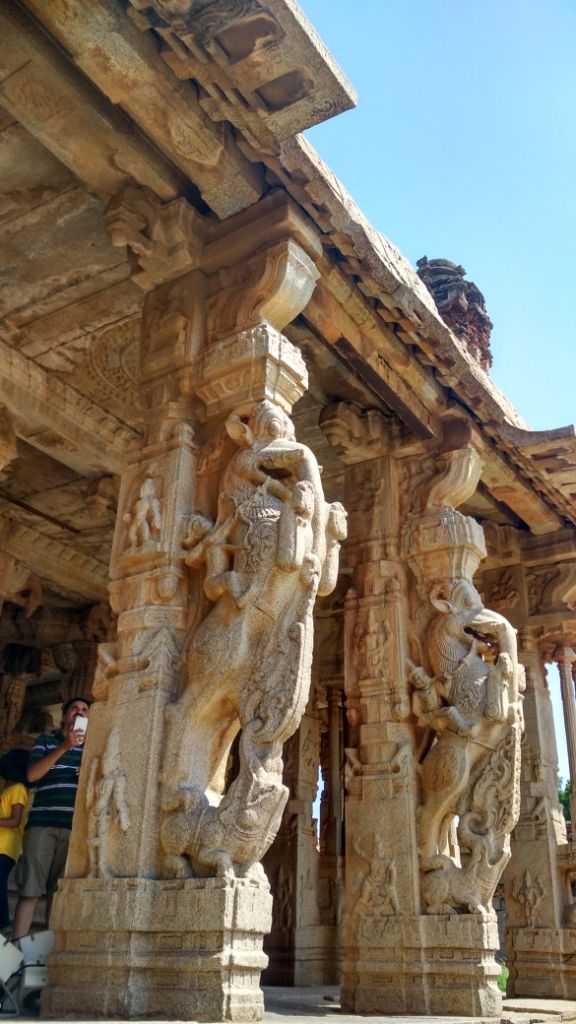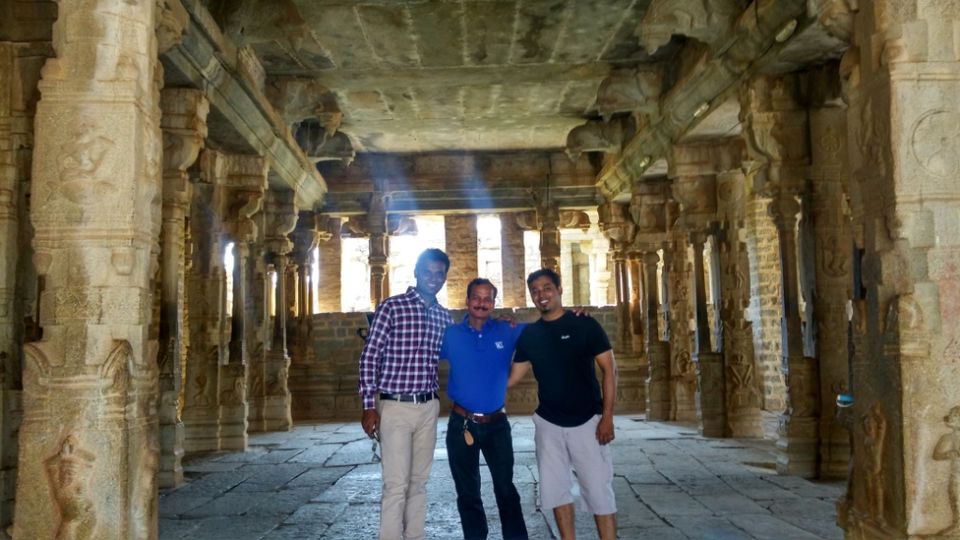 Vishnu Ratha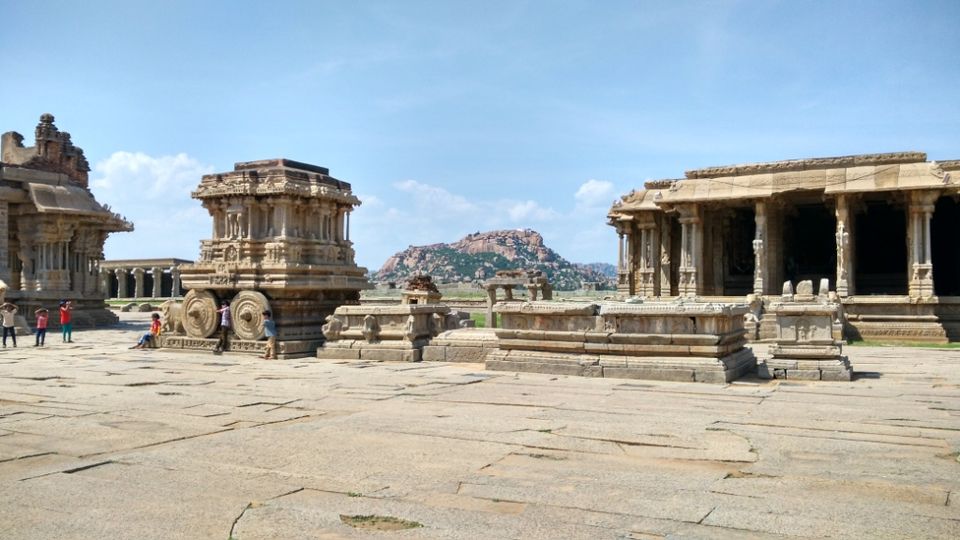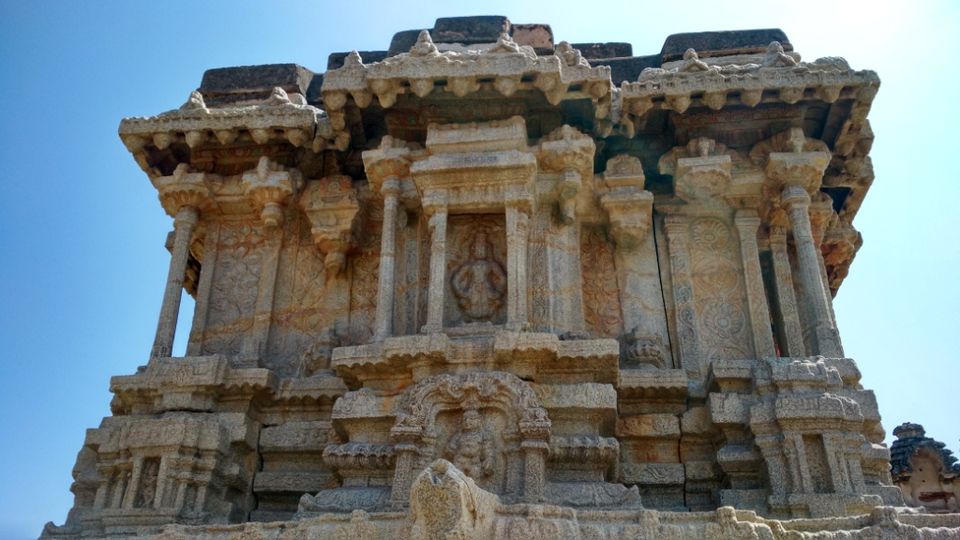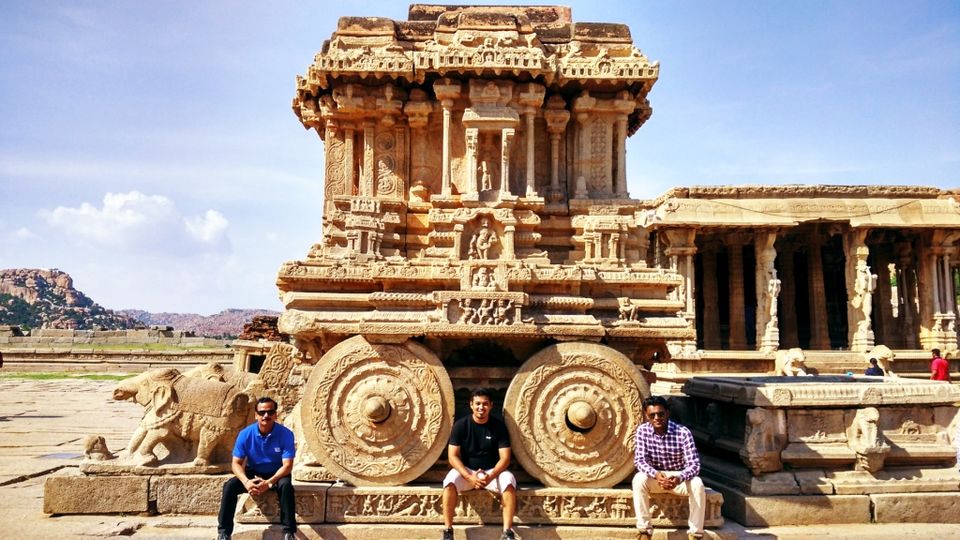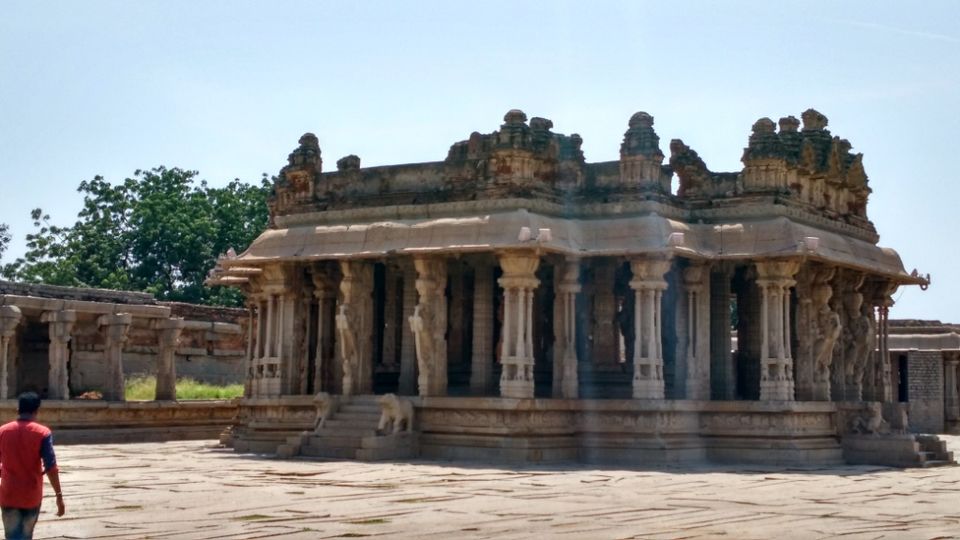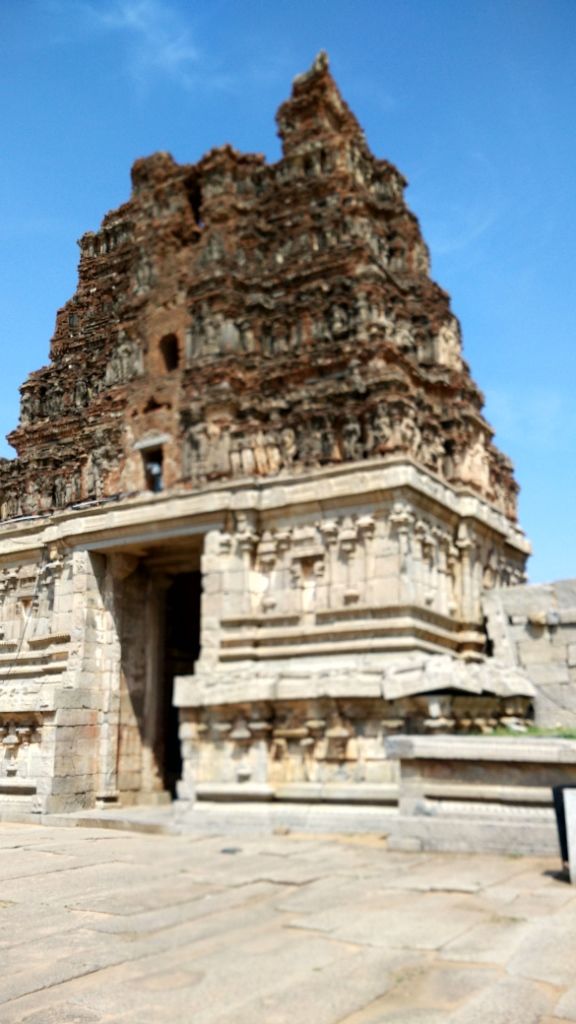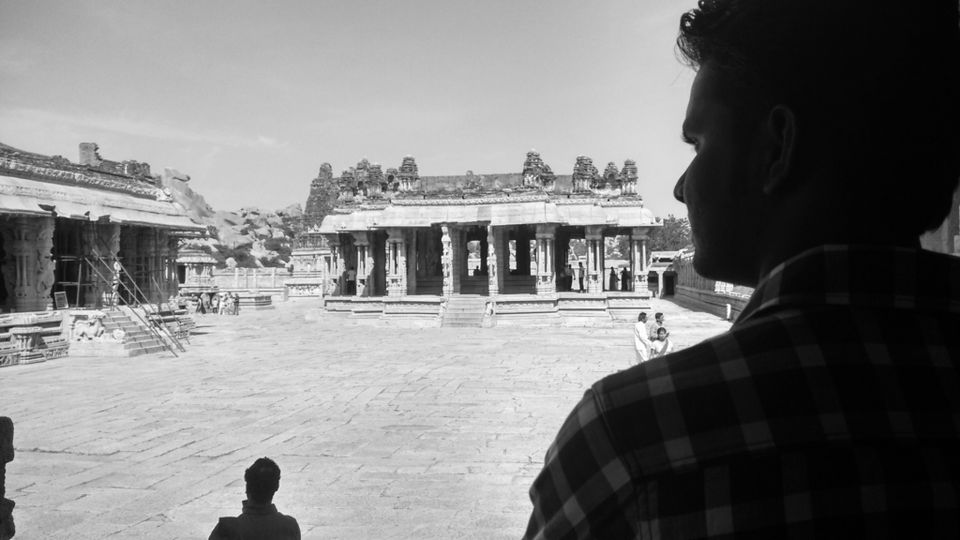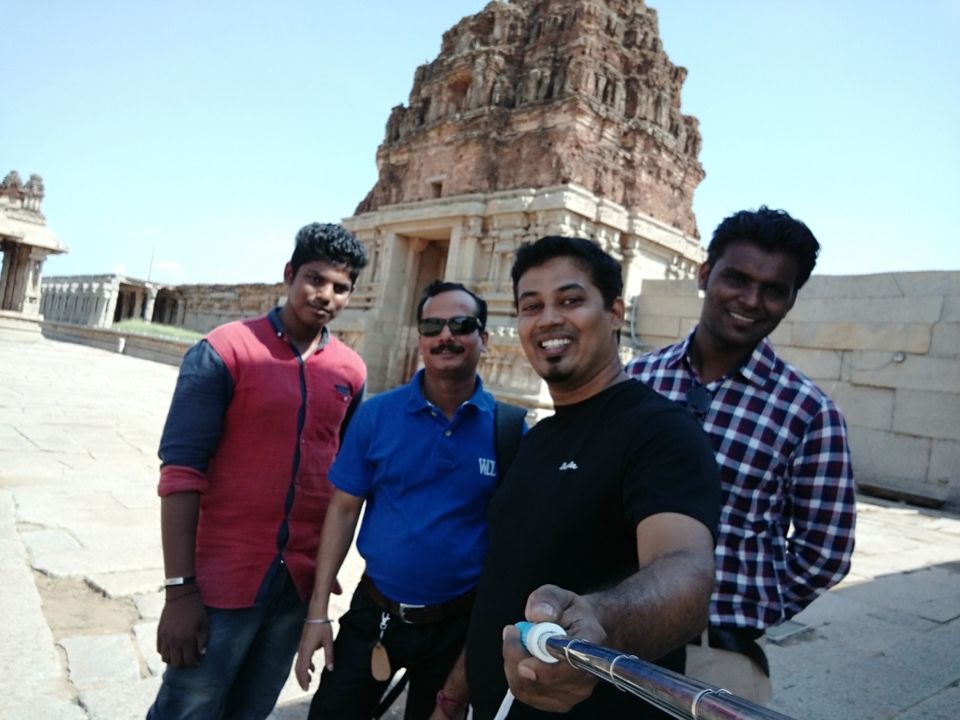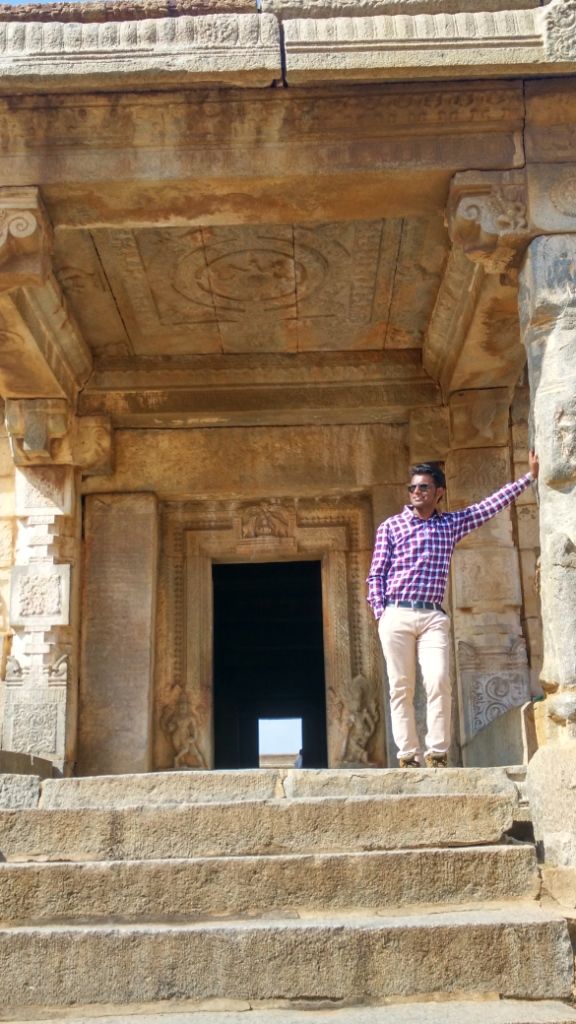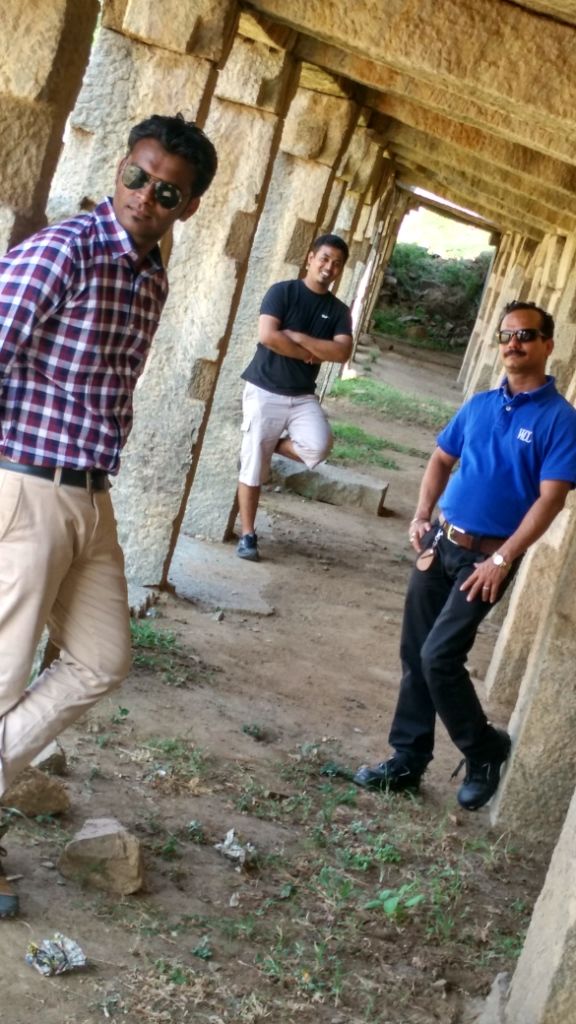 Next we headed to Queen's bath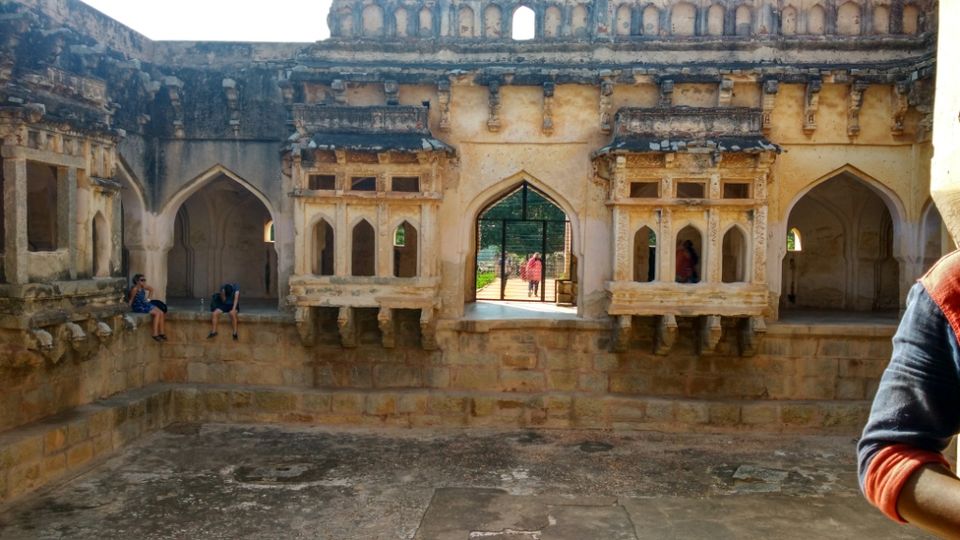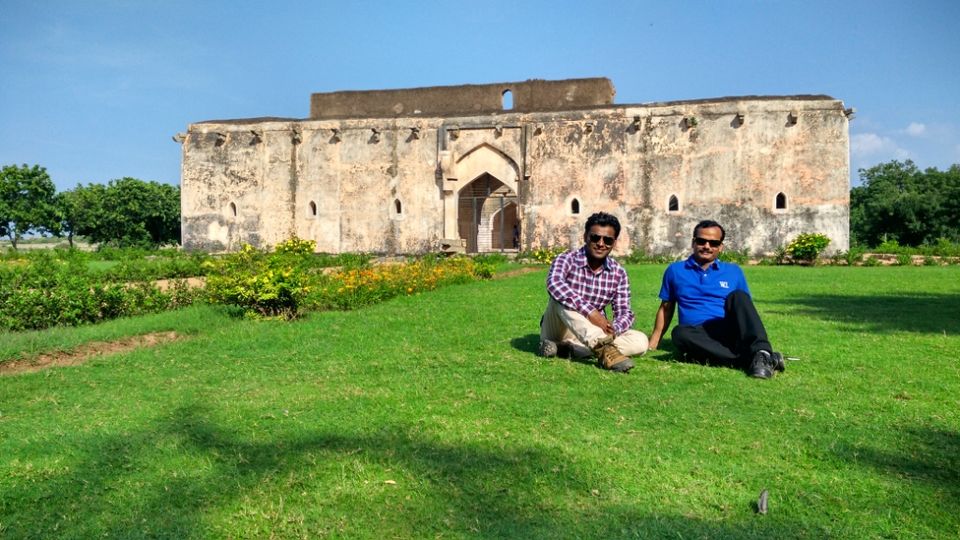 Then to fest area
We having some fun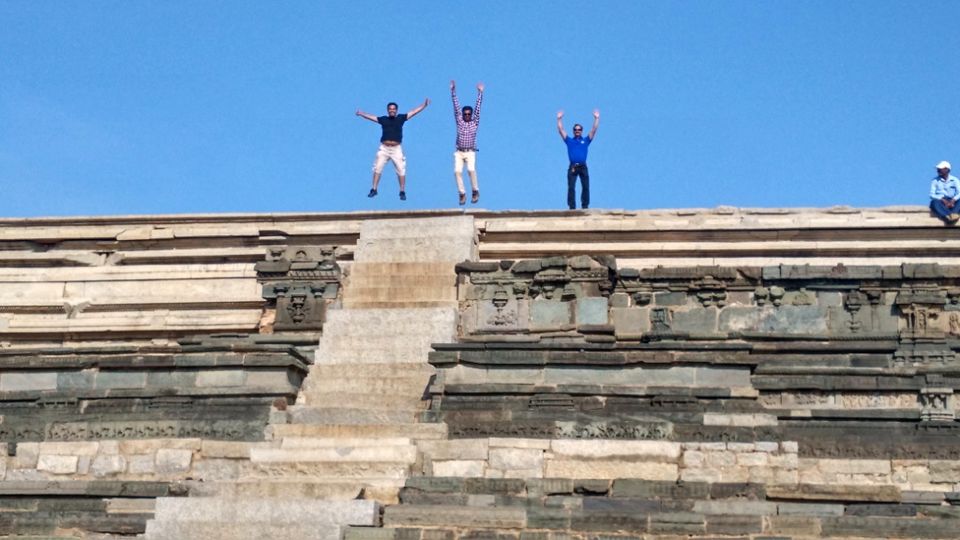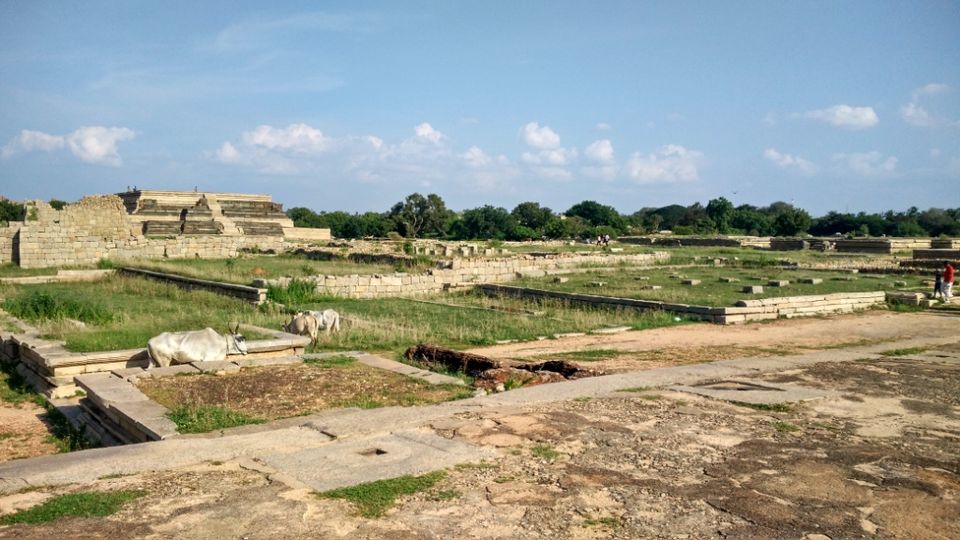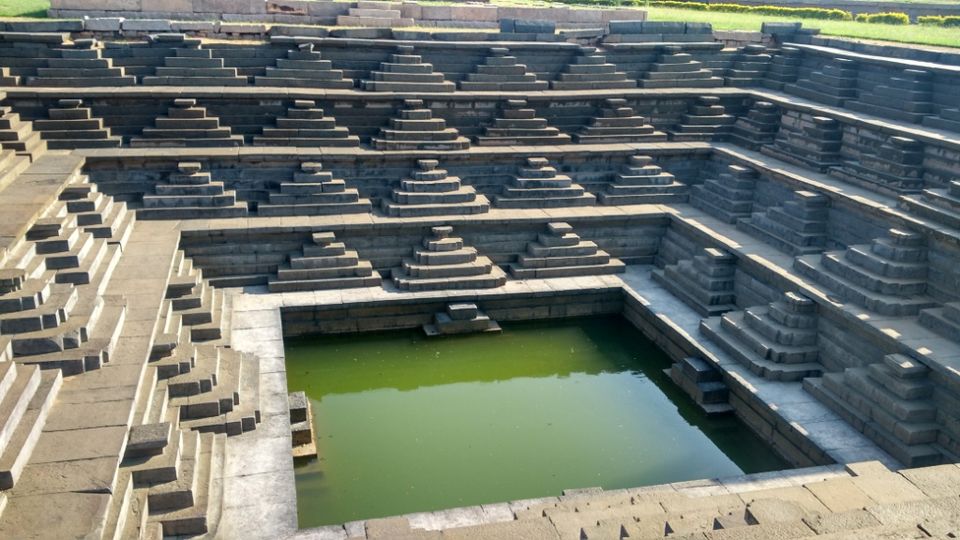 Multiple stories on one wall at Vijaya temple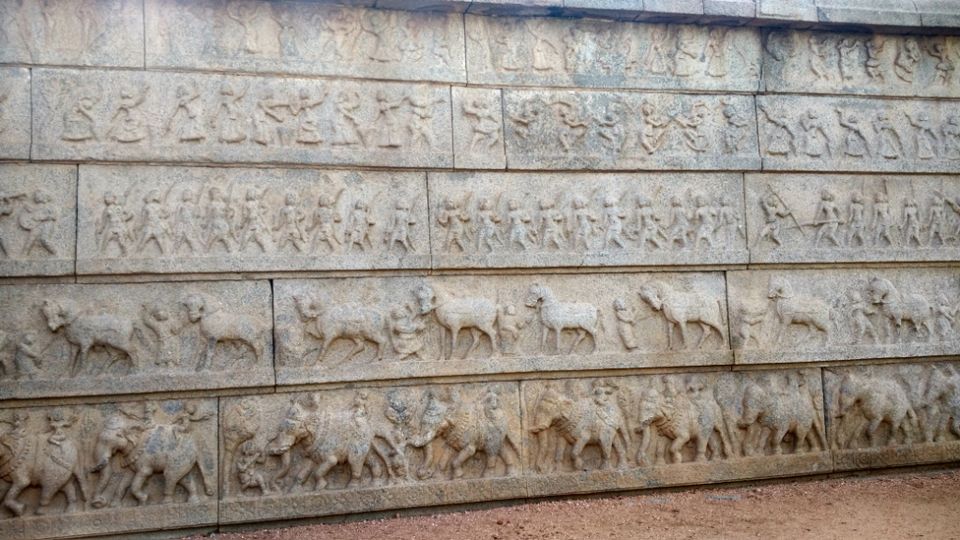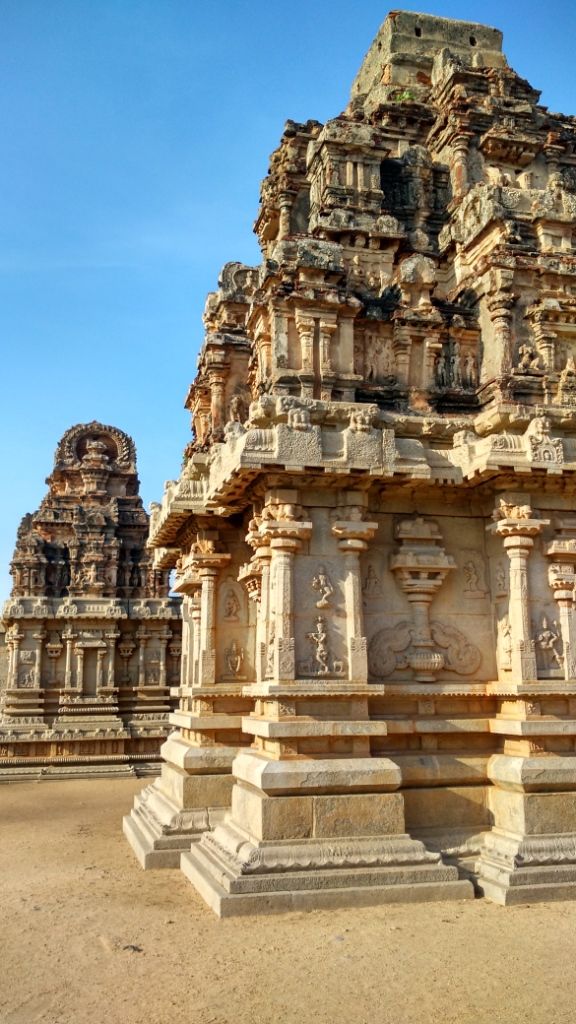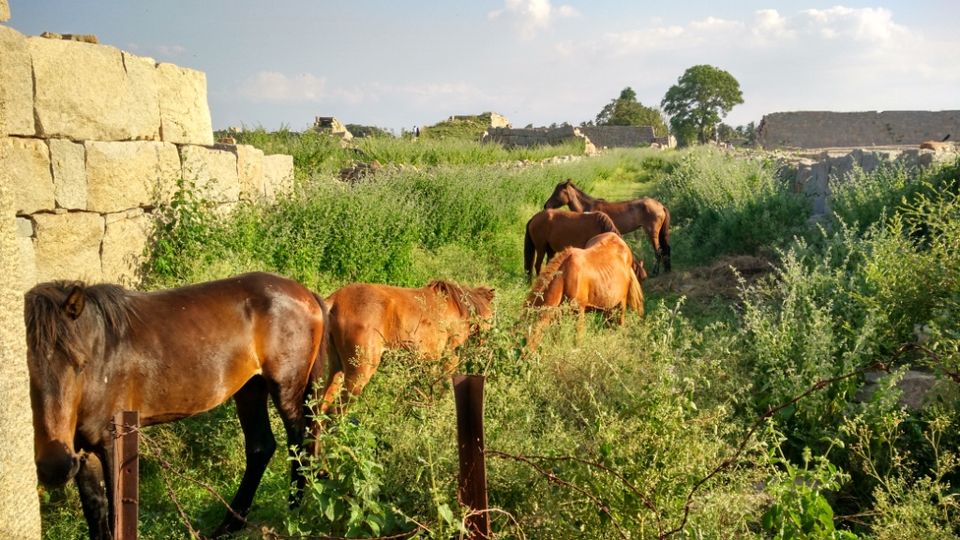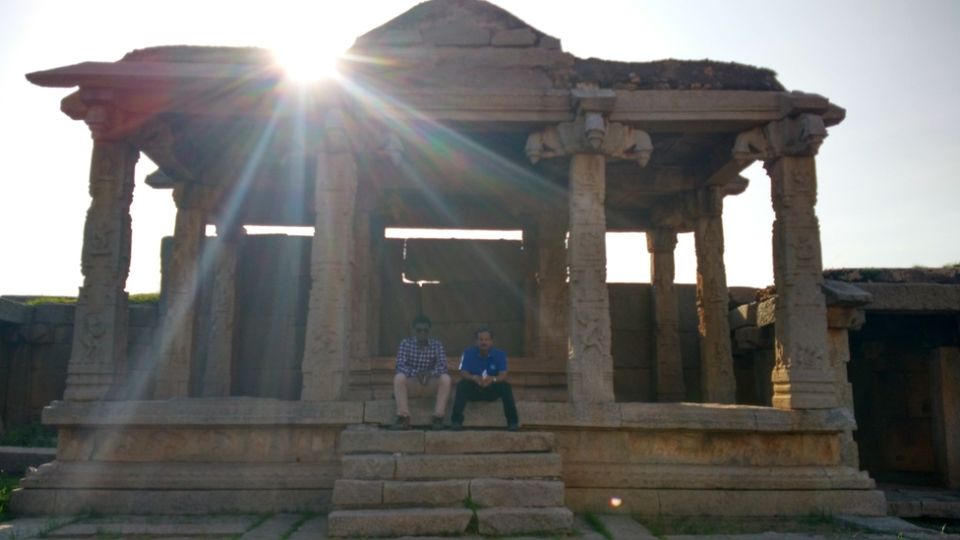 Lotus mahal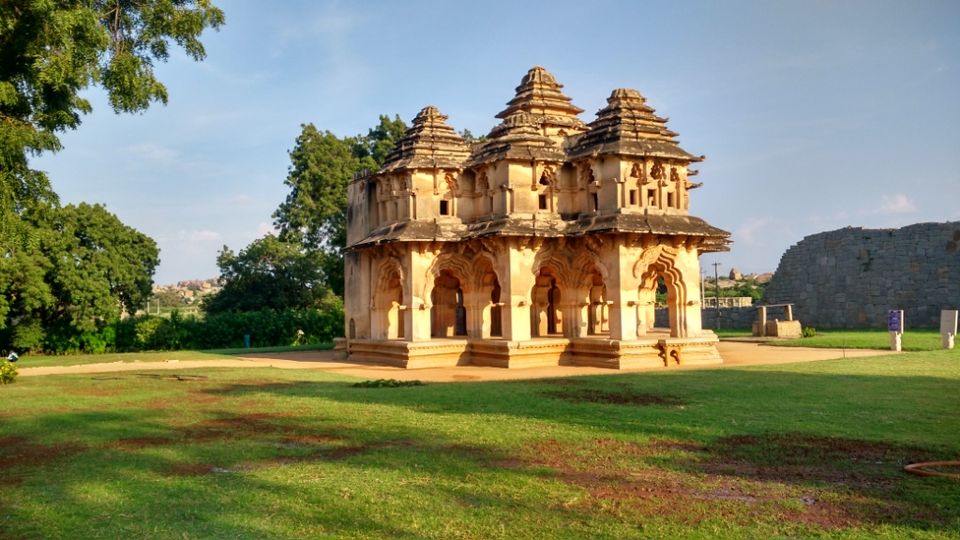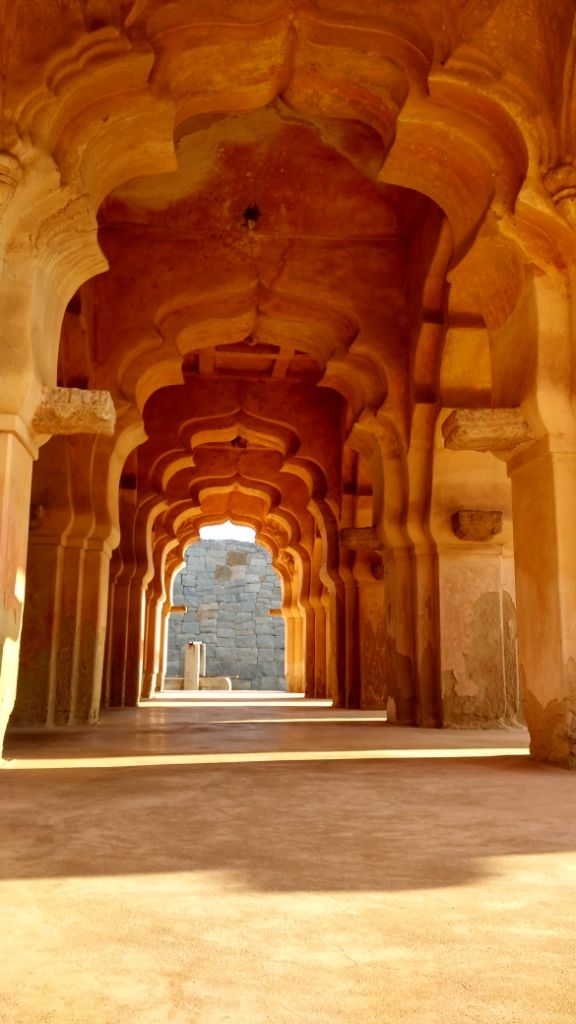 Watch tower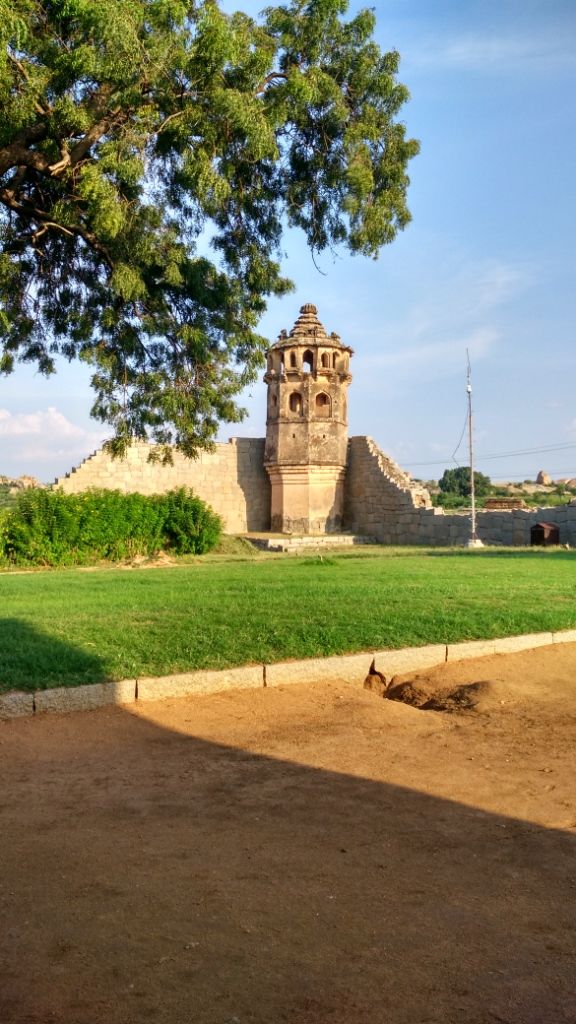 Elephant parking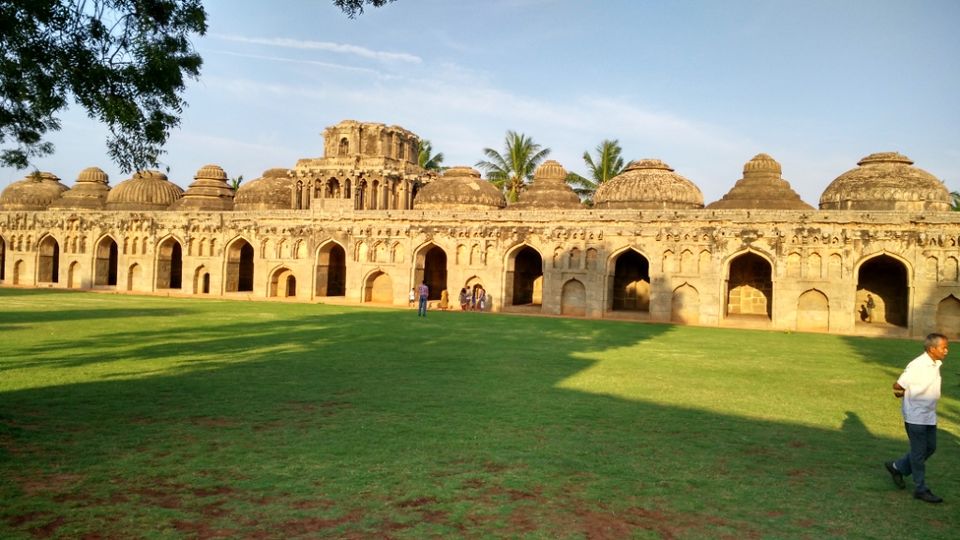 So much to see in Hampi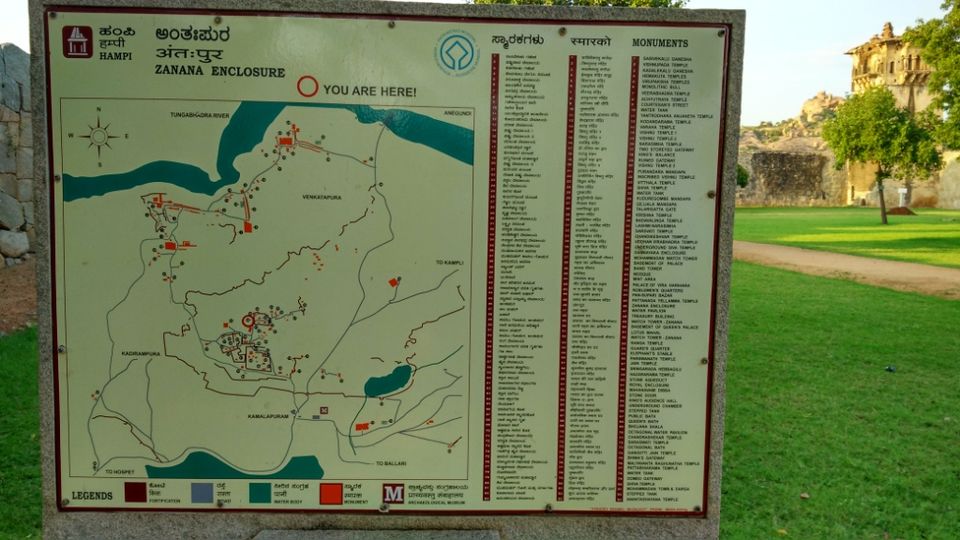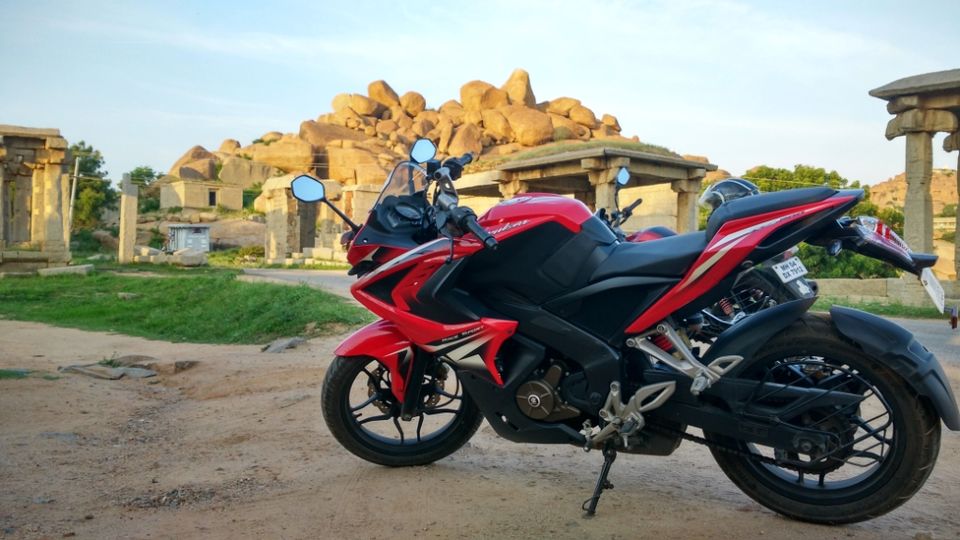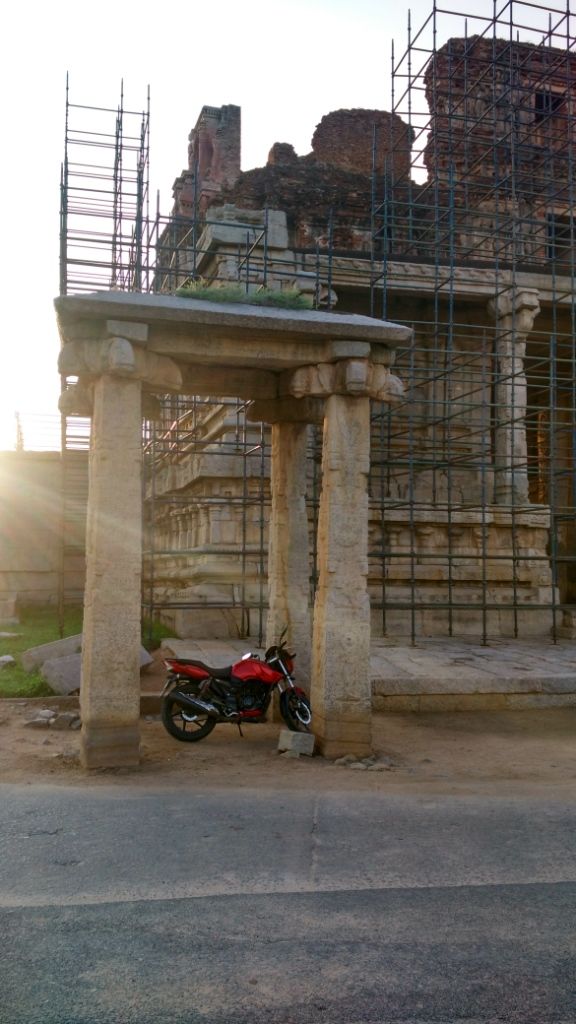 Lord Ganesha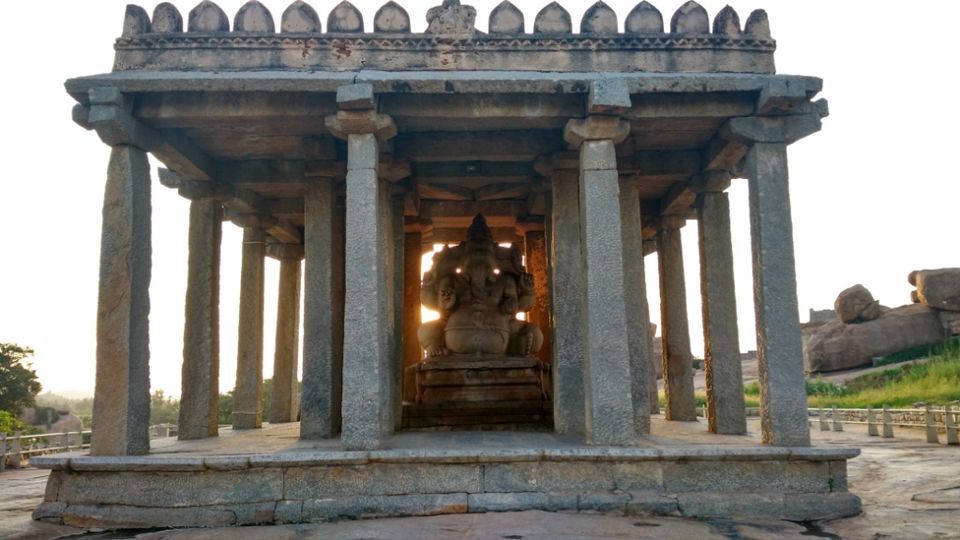 Blessings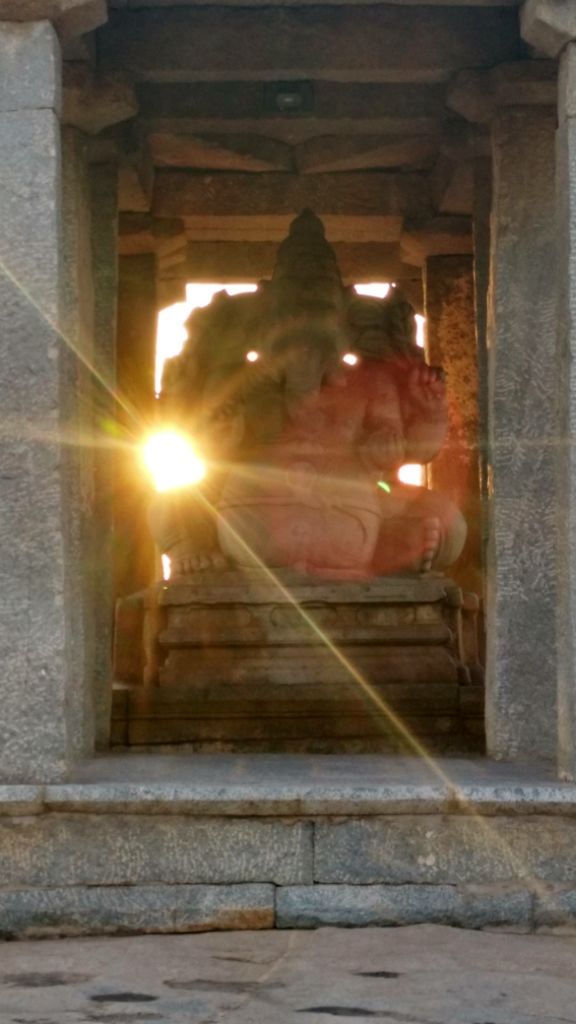 Virupaksha Tem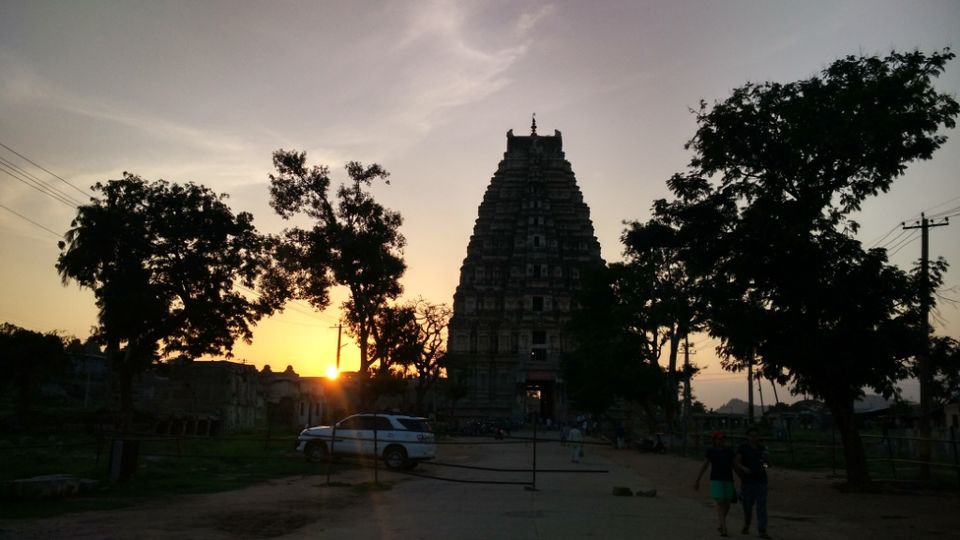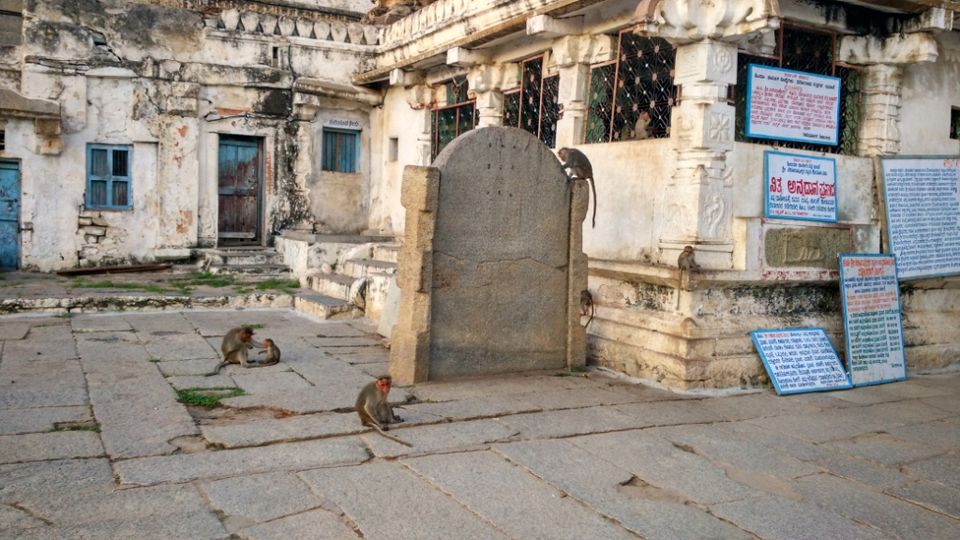 Blessings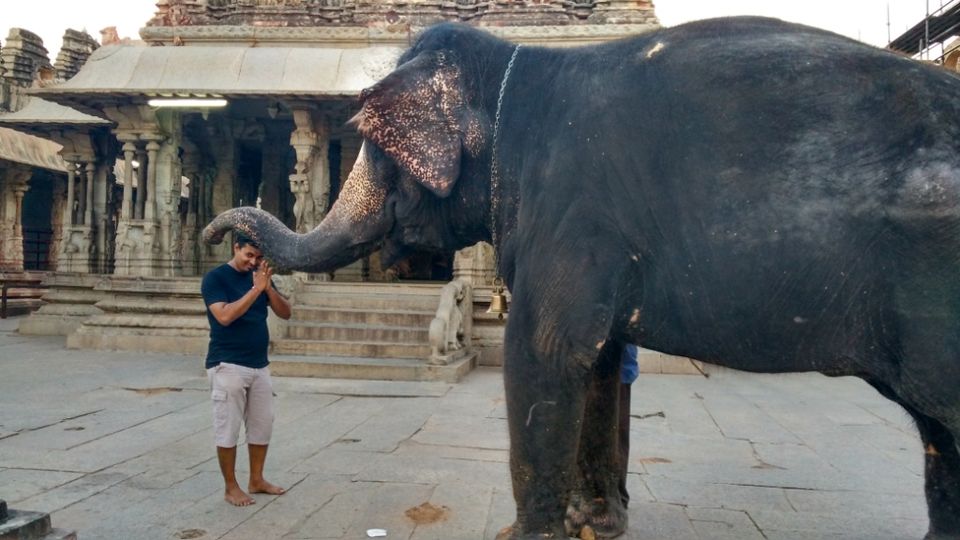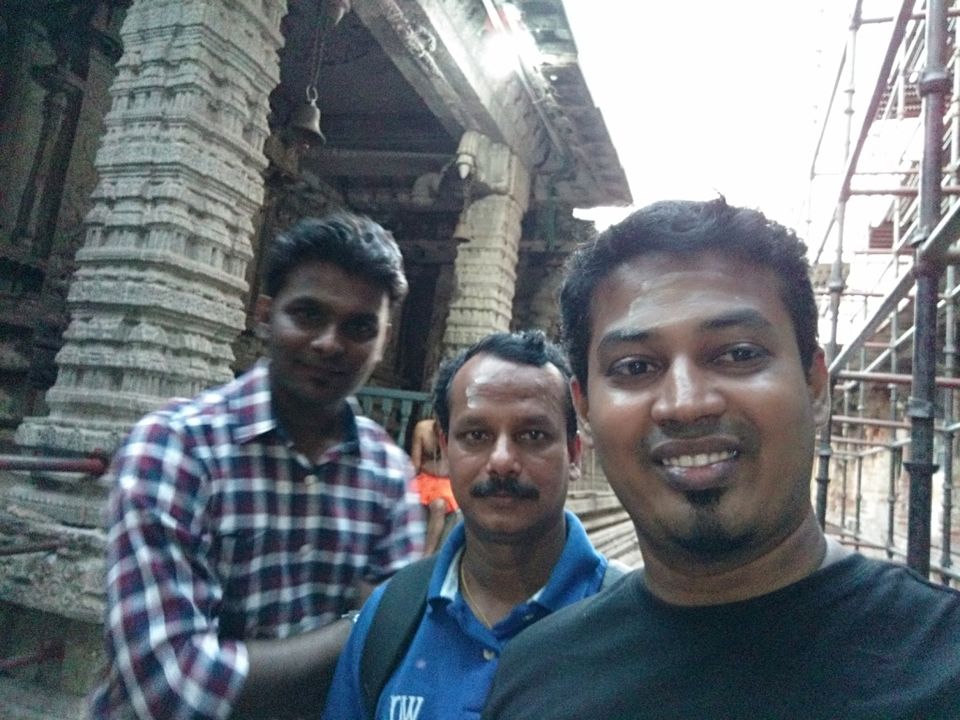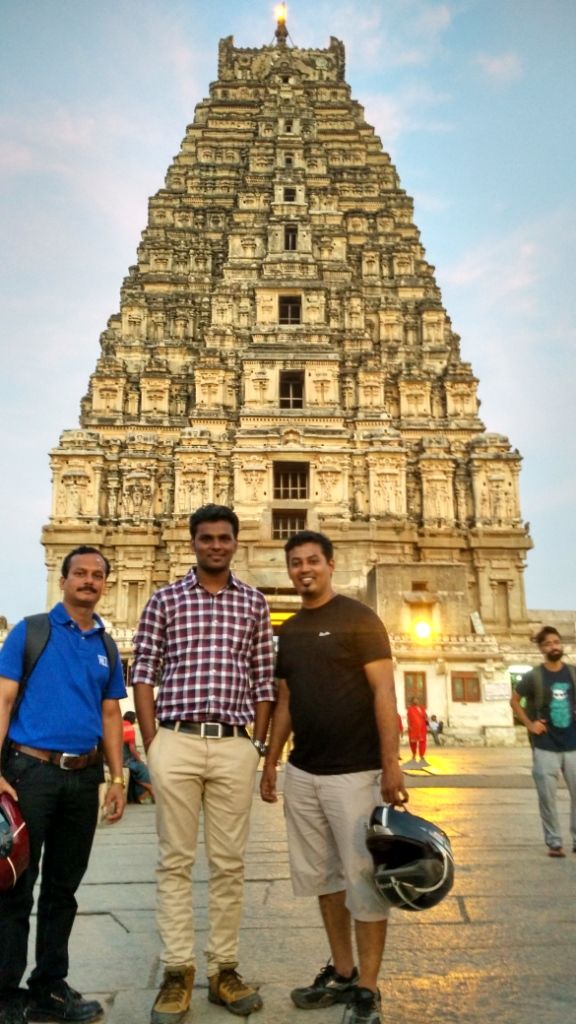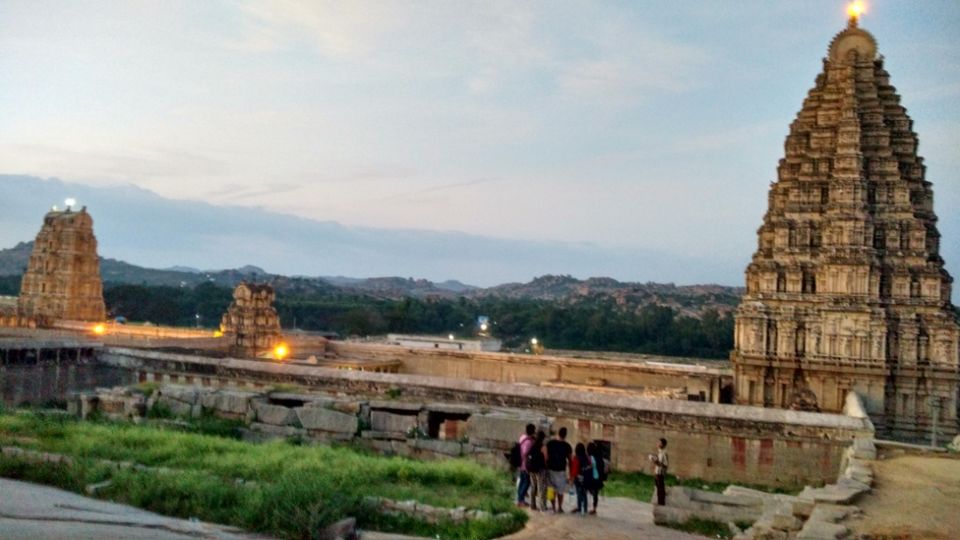 Into the rocks enjoying dusky Eve with soft music ..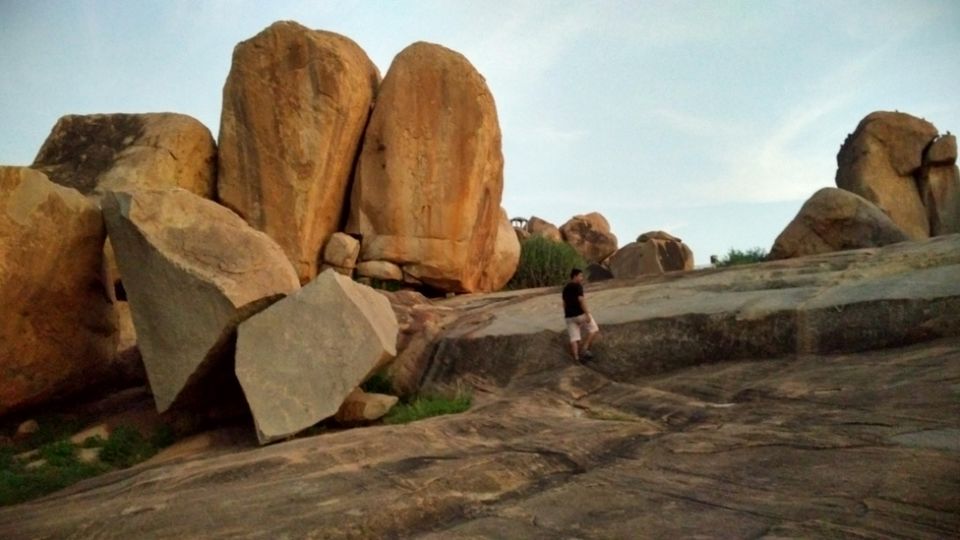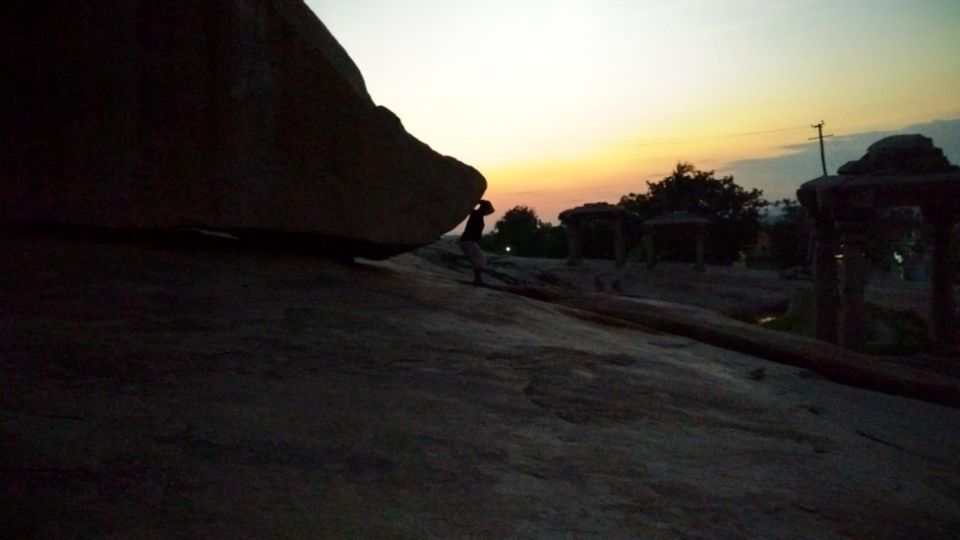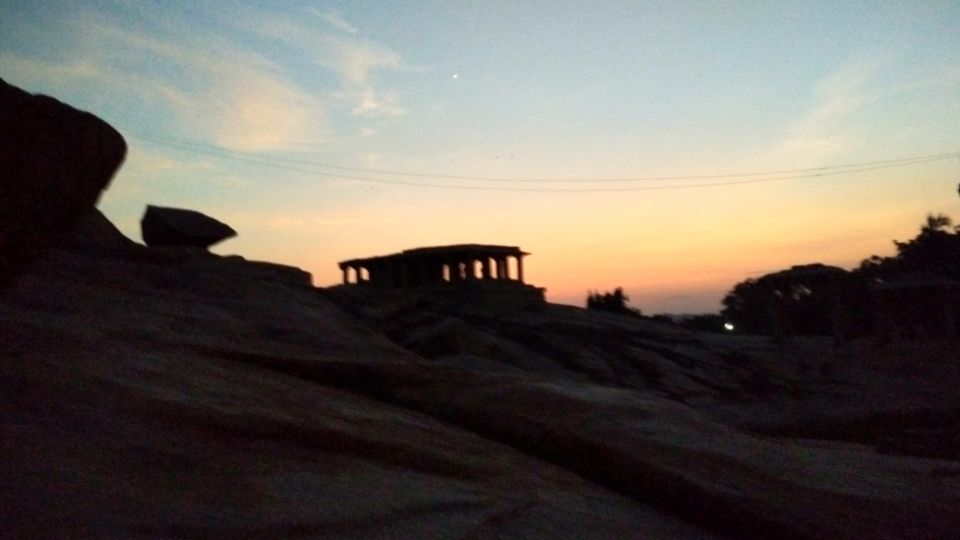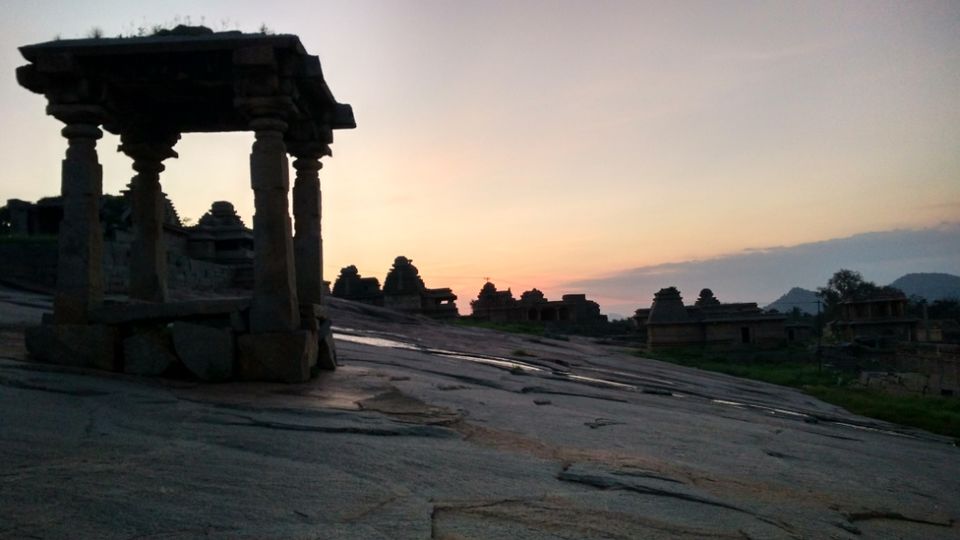 With so much filled in our eyes heart and soul we left for hotel.
Let me tell u guys it's just a glimpse of Hampi....!!!
Thumbs up to the govt.for efforts taken to preserv e the monument and cleanliness maintained at the sites...
We stayed at Kamplapur at that night...
Day 3
With only one day left in hand Target had to be updated, to start return journey but now it was 750  kms to cover...
My suggestion was to ride till Pune and next morning proceed onwards.
Another option was to bunk the class for one more day ;)
Thanks to our bosses and colleagues another day extension granted. Yippie..
Next thing struck to the mind was destination, suggested by my jiju to take Solapur route on the return journey and covering Badami , Pattadikallu and Aihole on the way....As same journey was made by jiju on their ride in south India till Kanyakumari with their Splendor bike( that's an another adventure,an awesome ride).
So we quickly decided to take the Solapur route. Googled the map and headed towards Badami.
@ Kamlapur Lake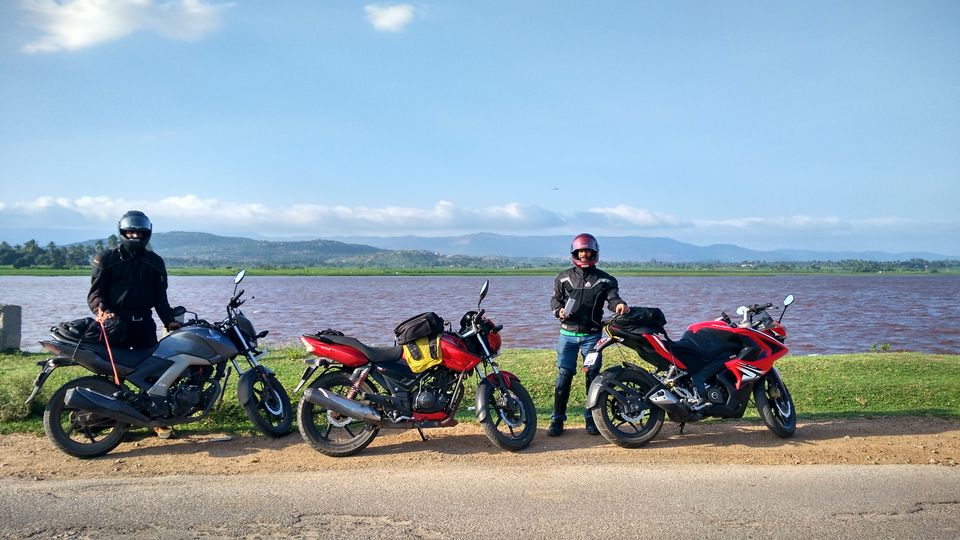 Enroute,we took a break at Kushtagi for oil change and also got our bikes checked, suggestion came from owner to visit Aihole, Pattadikallu first and then go to Badami. He also insisted to try famous Sweet Karadantu of Amingad. But we decided to visit Badami first , so we were off to Badami via Gajendragad.
Sight of the naturally made sculptures of huge granite boulders pleases you.
We reached at the base of Badami Caves in parking lot. Parking authorities warned us about the aggressive nature of monkeys and requested us not to leave any luggage on bikes,as monkeys will tear,mess it up in search of food. So we took all our luggage and searched for a home nearby to keep our gears and luggage. Luckily house next to the site allowed us to keep the luggage. They were reluctant to accept the money we offered for keeping the luggage safe. I think the sight of fully geared 3 monkeys was more entertaining to them :) .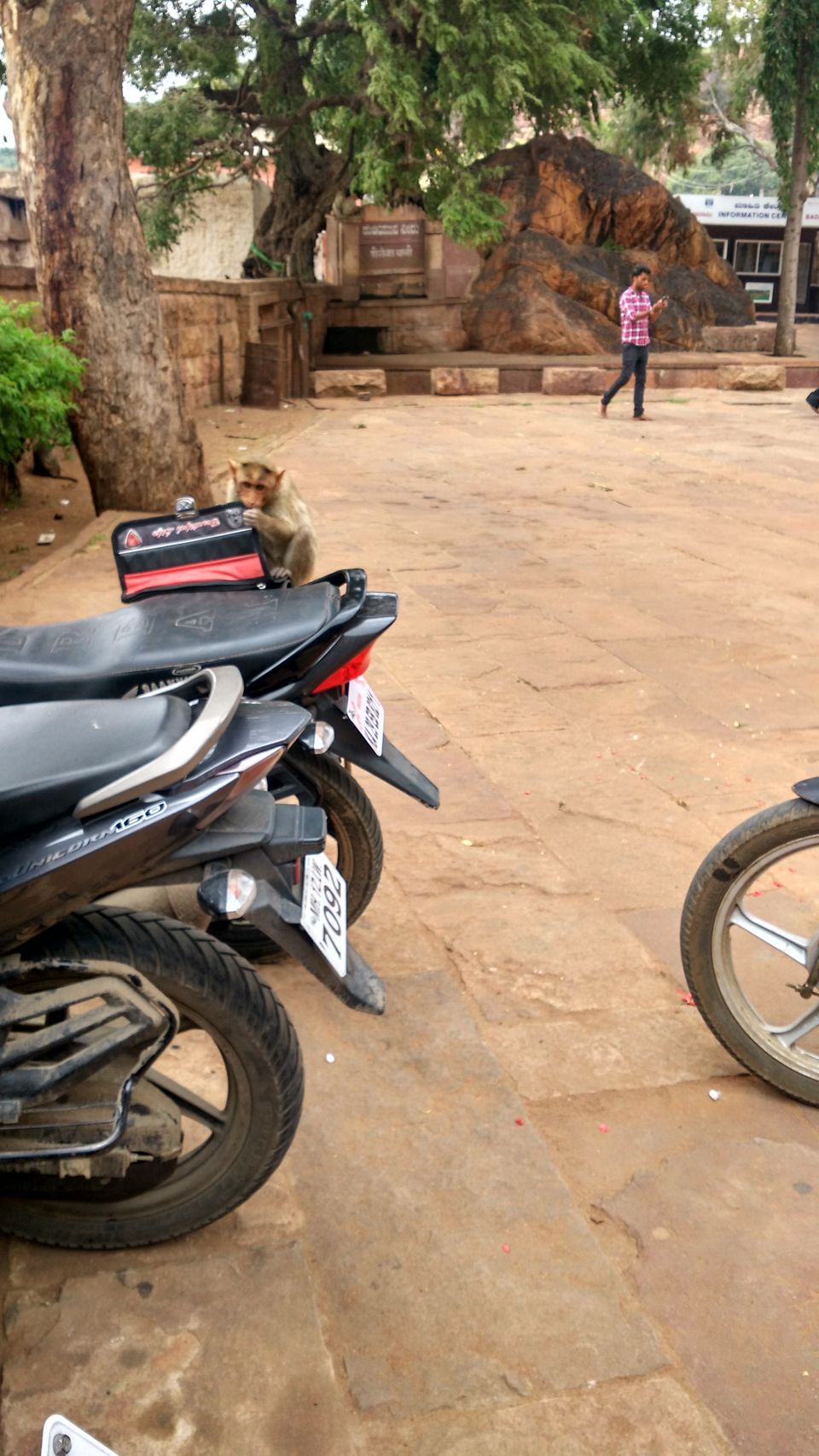 So here we were at Badami , took the tickets at the counter and started climbing steps towards Caves.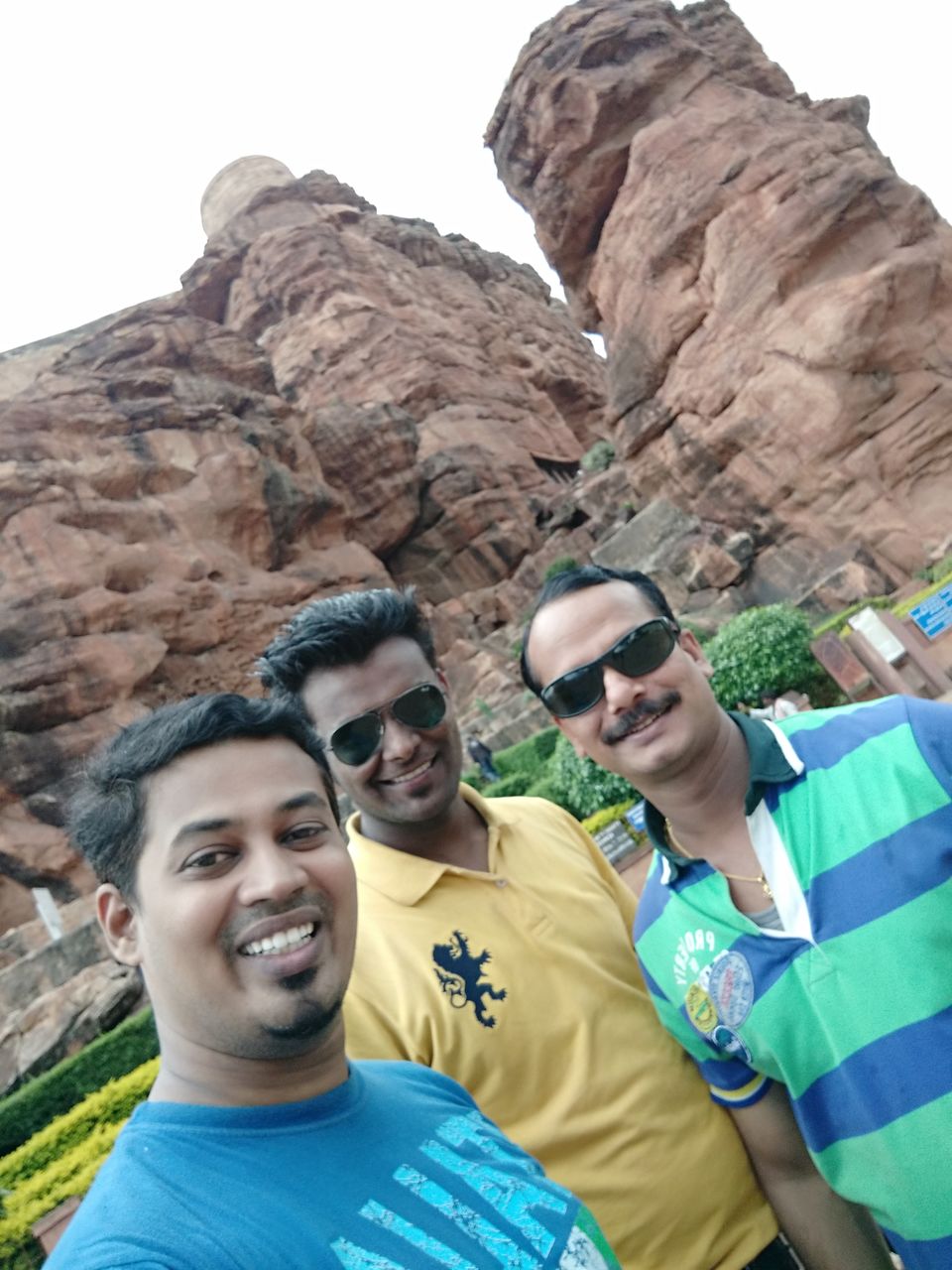 At Badami caves are few in number, but the panaromic views of the lake, city and mountain of boulders is a sight to watch. It is paradise for photographers and Selfie kings ;)
One can opt for guide which will explain the history and the story of the sculptures.
As we reached the first cave the feeling of Mohenjo-Daro filled in and I did this ;)
Weather was pleasing and cool Breezes were just soothing. With lots of photos and admiring the scenic views we came down within a hour.
Few clicks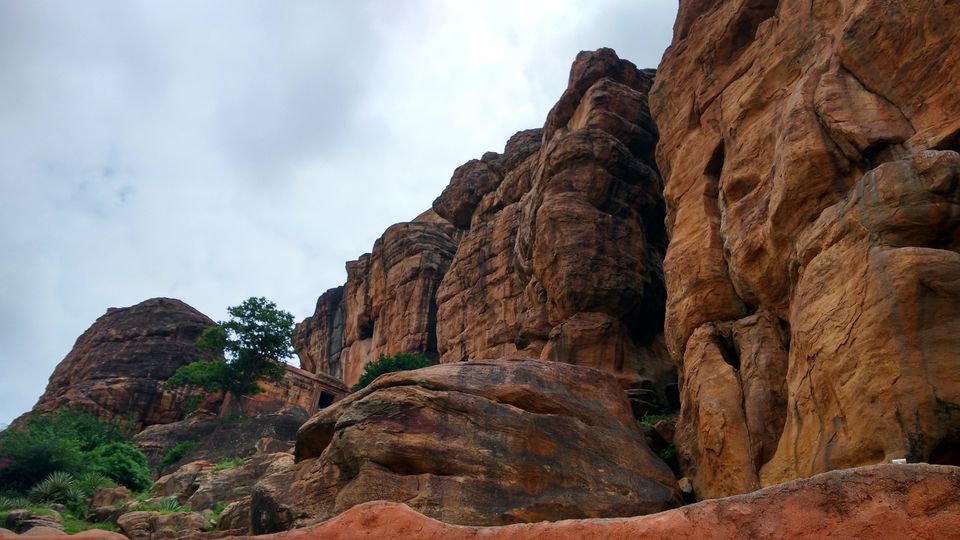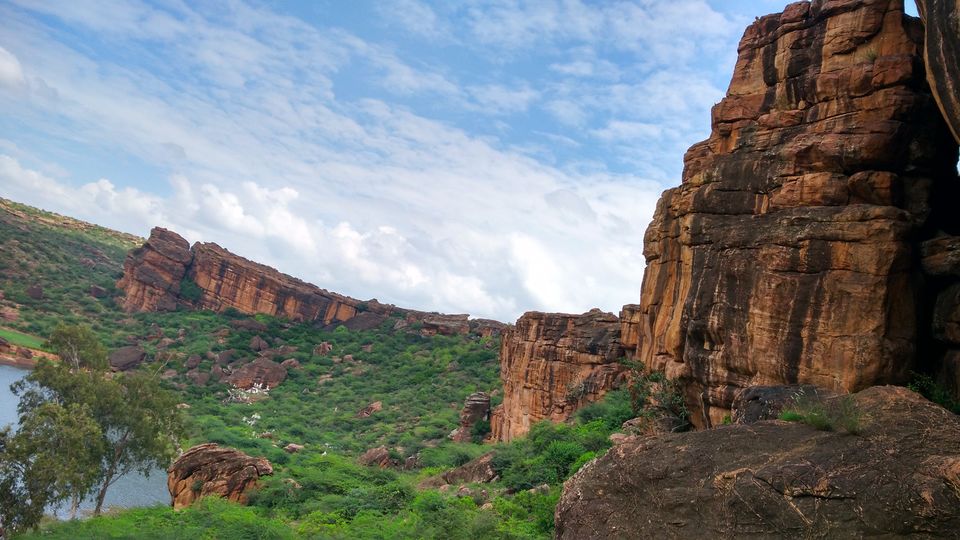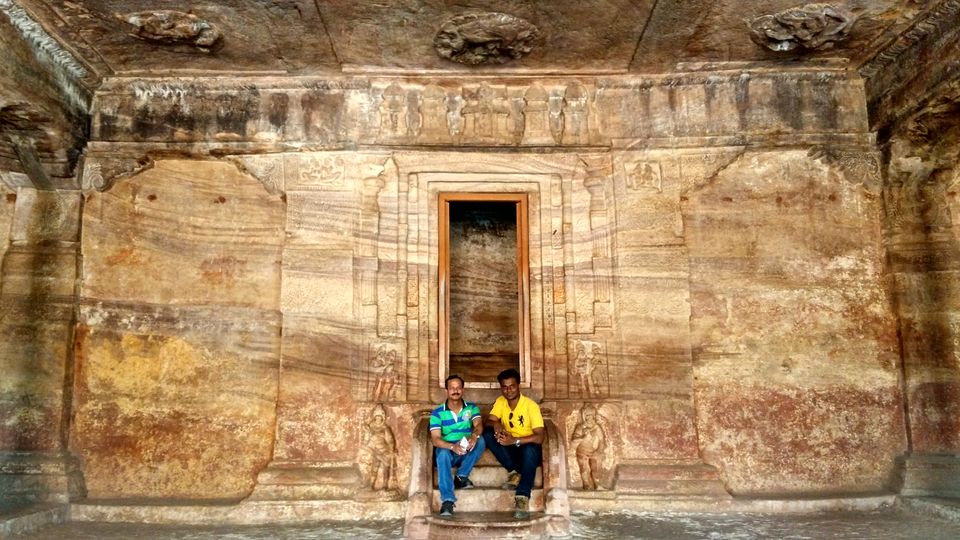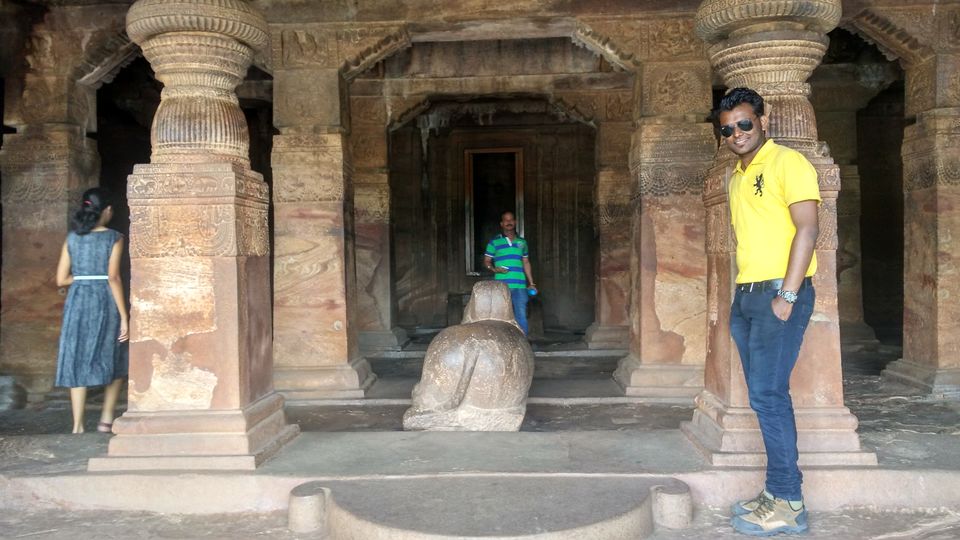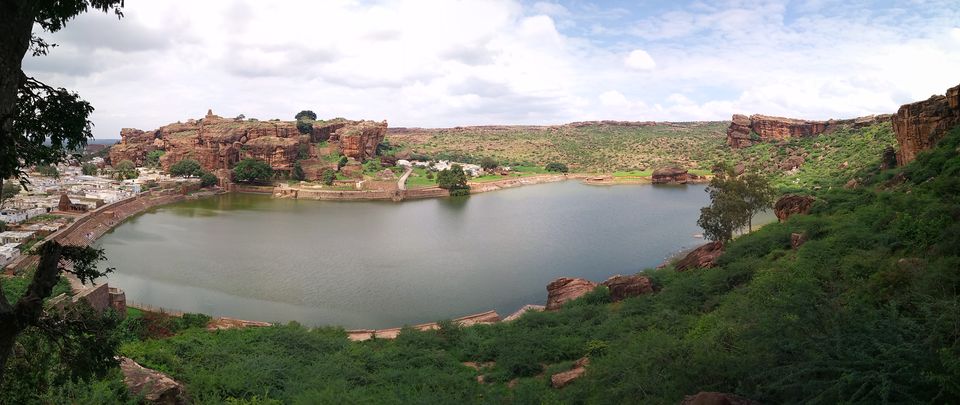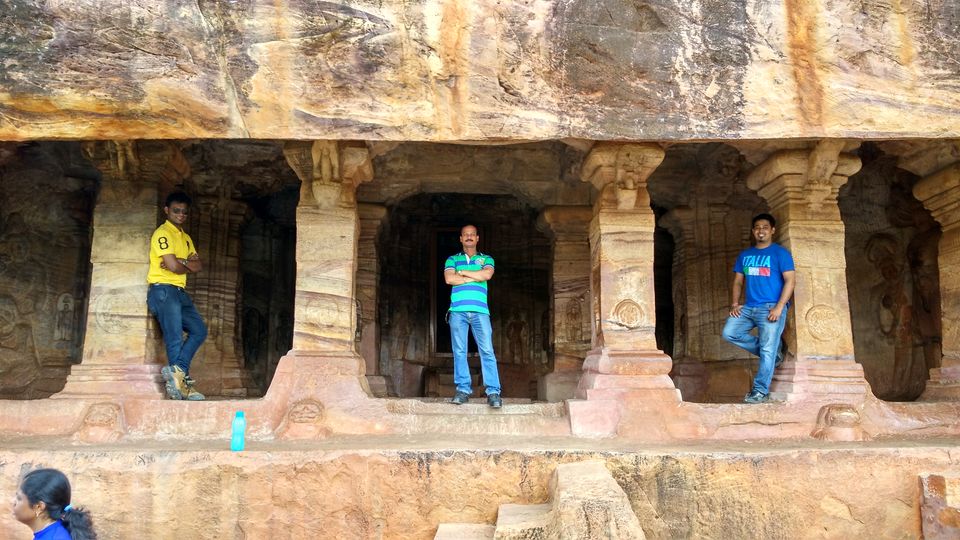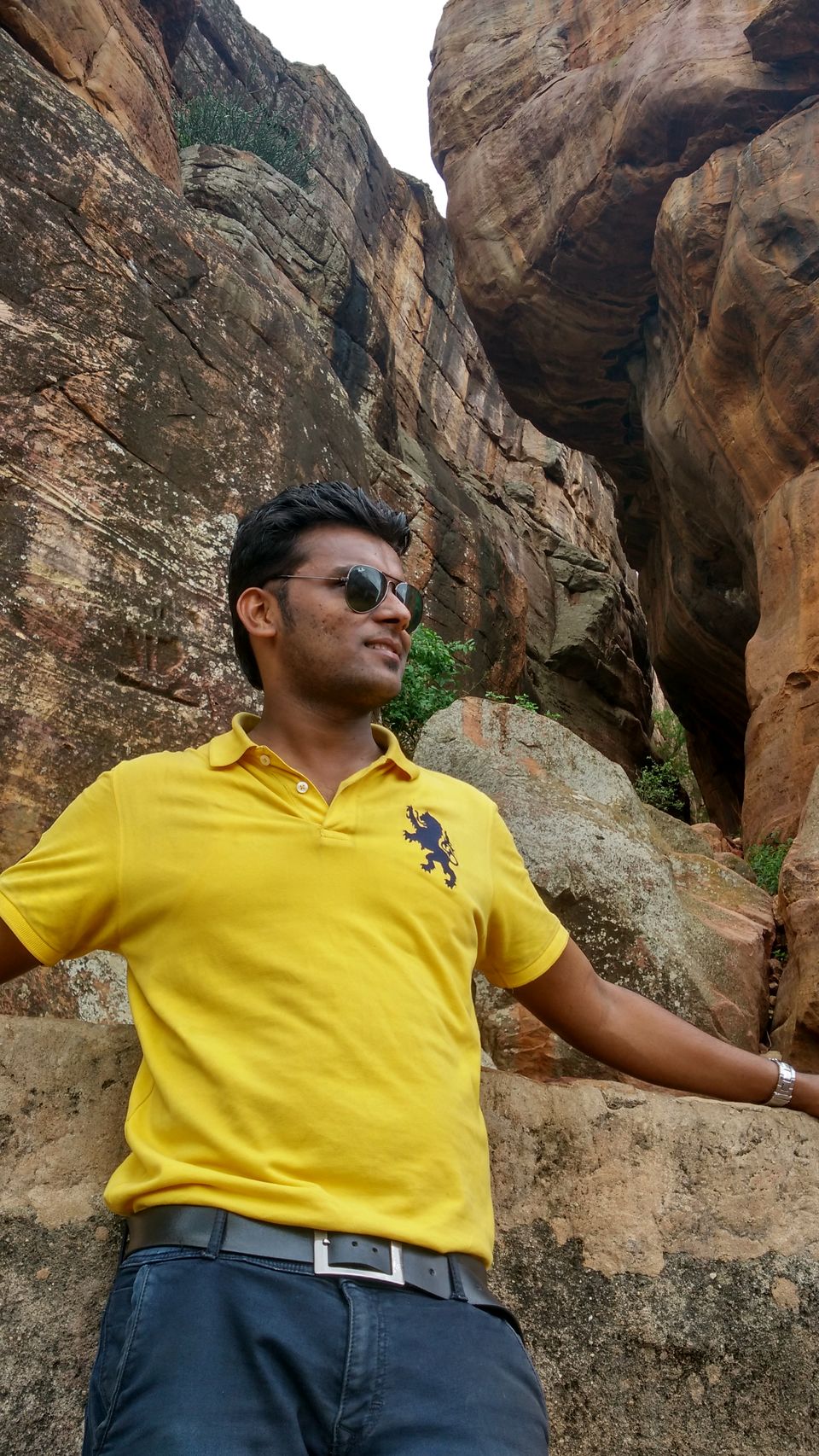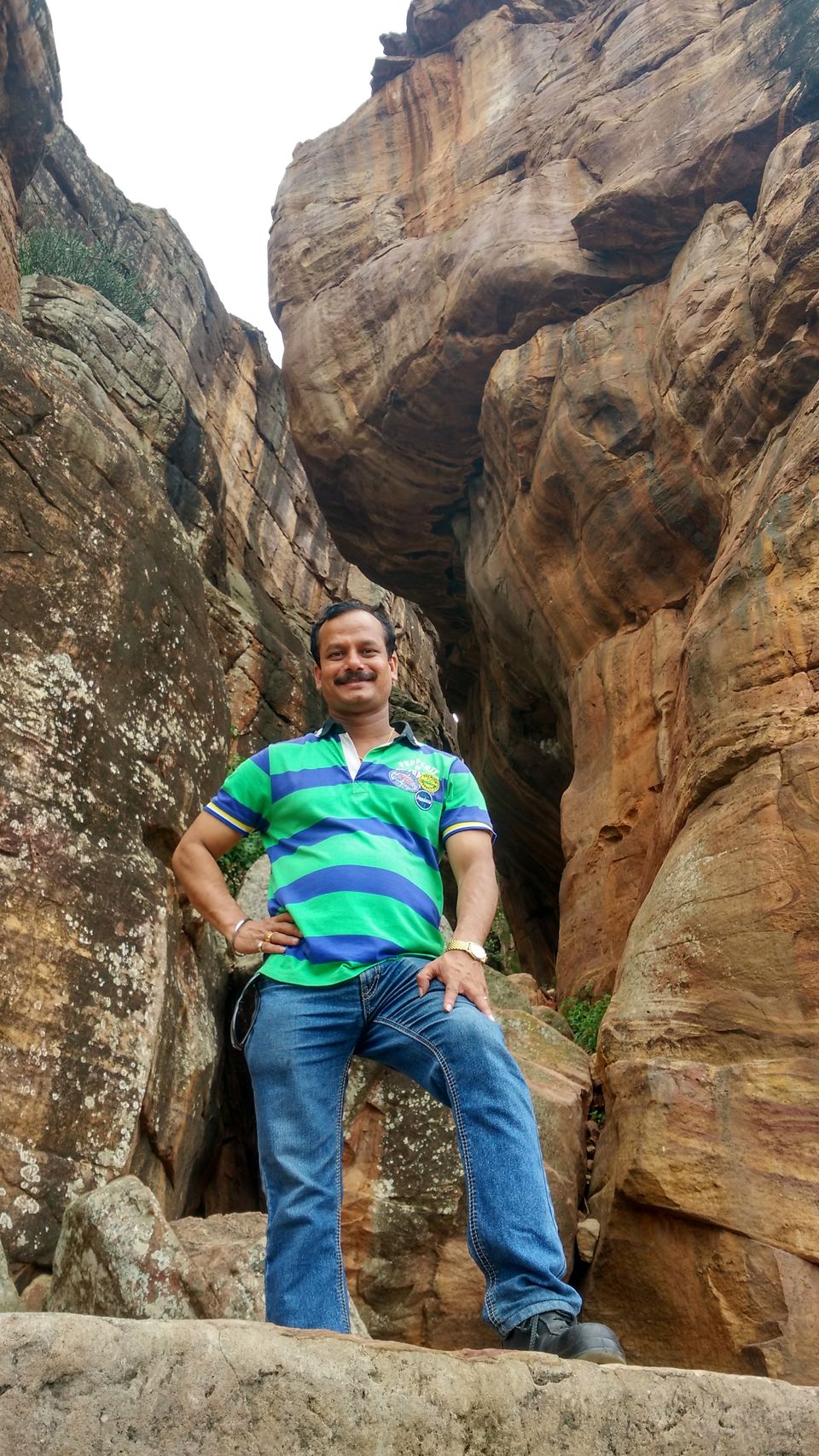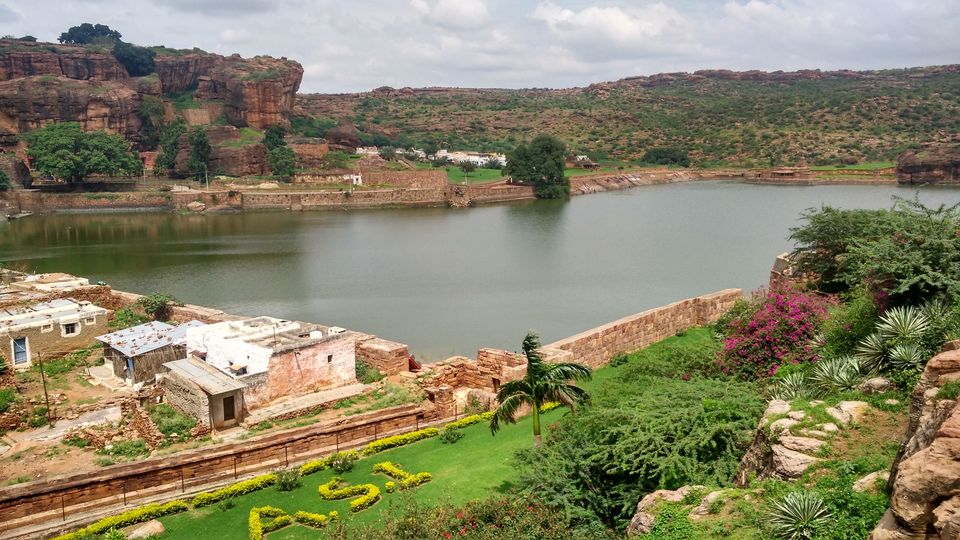 Next destination was Pattadikallu, at petrol station we asked for directions and headed straight ahead. The routes were internal village roads and lot of roads were under construction. So we're bit slow on speed
Reached Pattadikallu temple site.
It's a protected UNESCO world heritage temples complex surrounded by well maintained green lawns.
One needs to buy tickets before visiting the monument, also can avail facility of guide and the facility of eco-friendly car drop service, though not much distance to cover on feet.
As compared to Hampi these are less skeptical but less destroyed too and the boulders gives you the feel of an ancient era.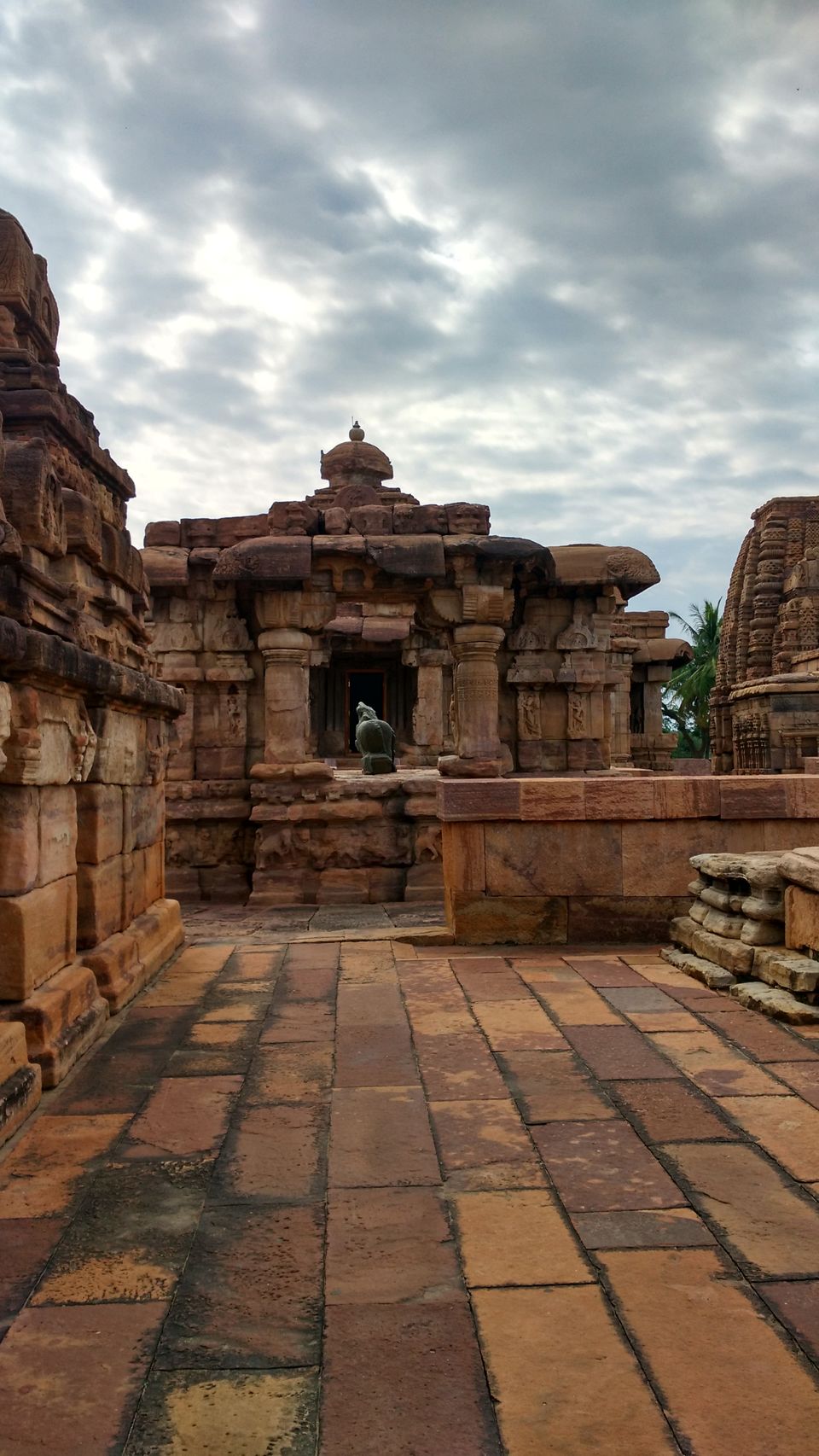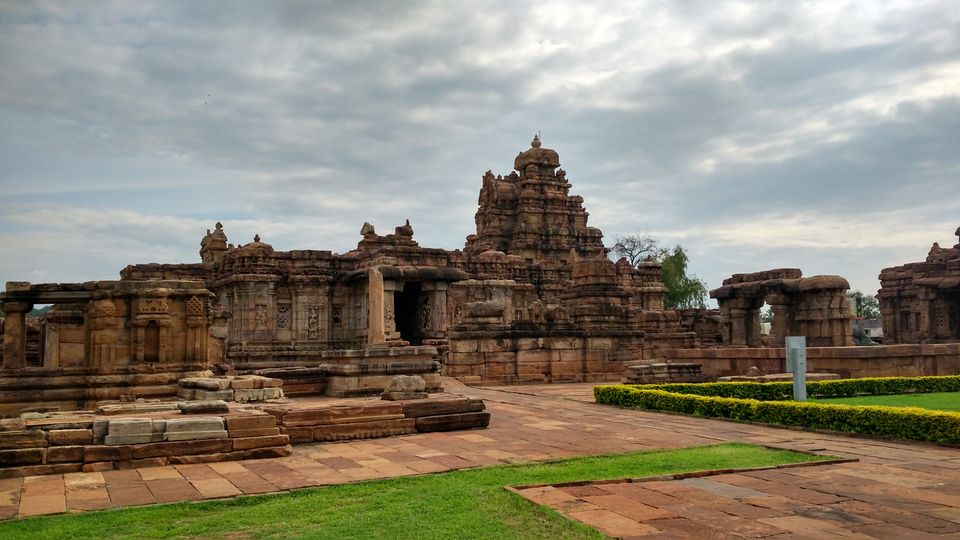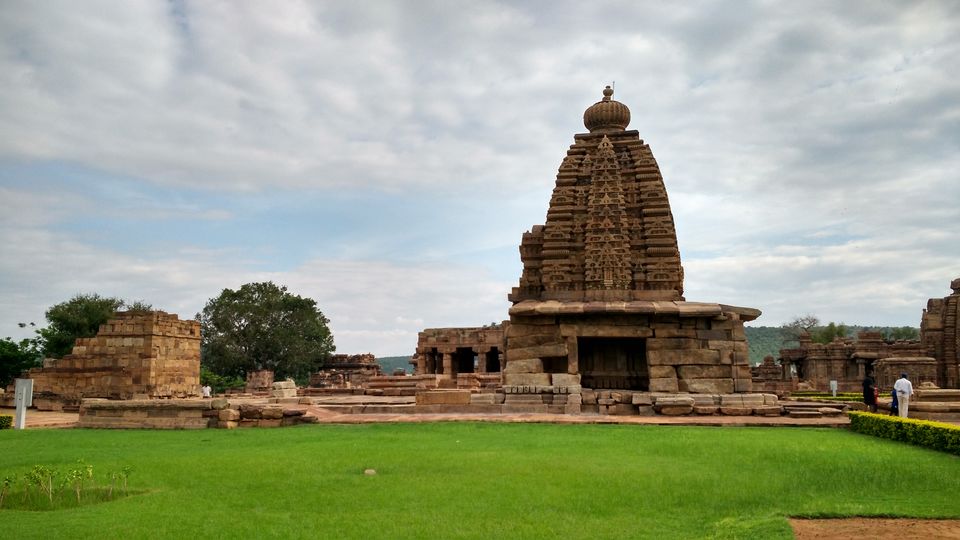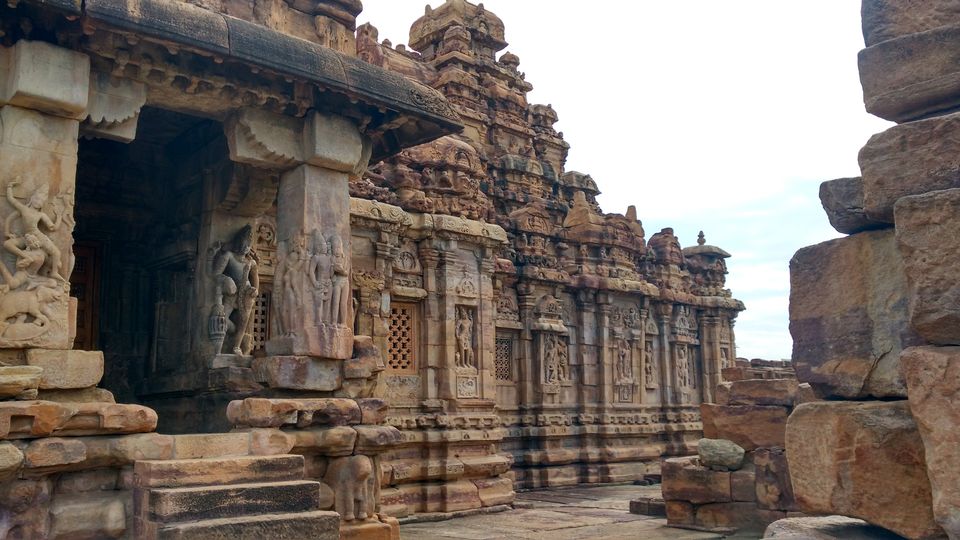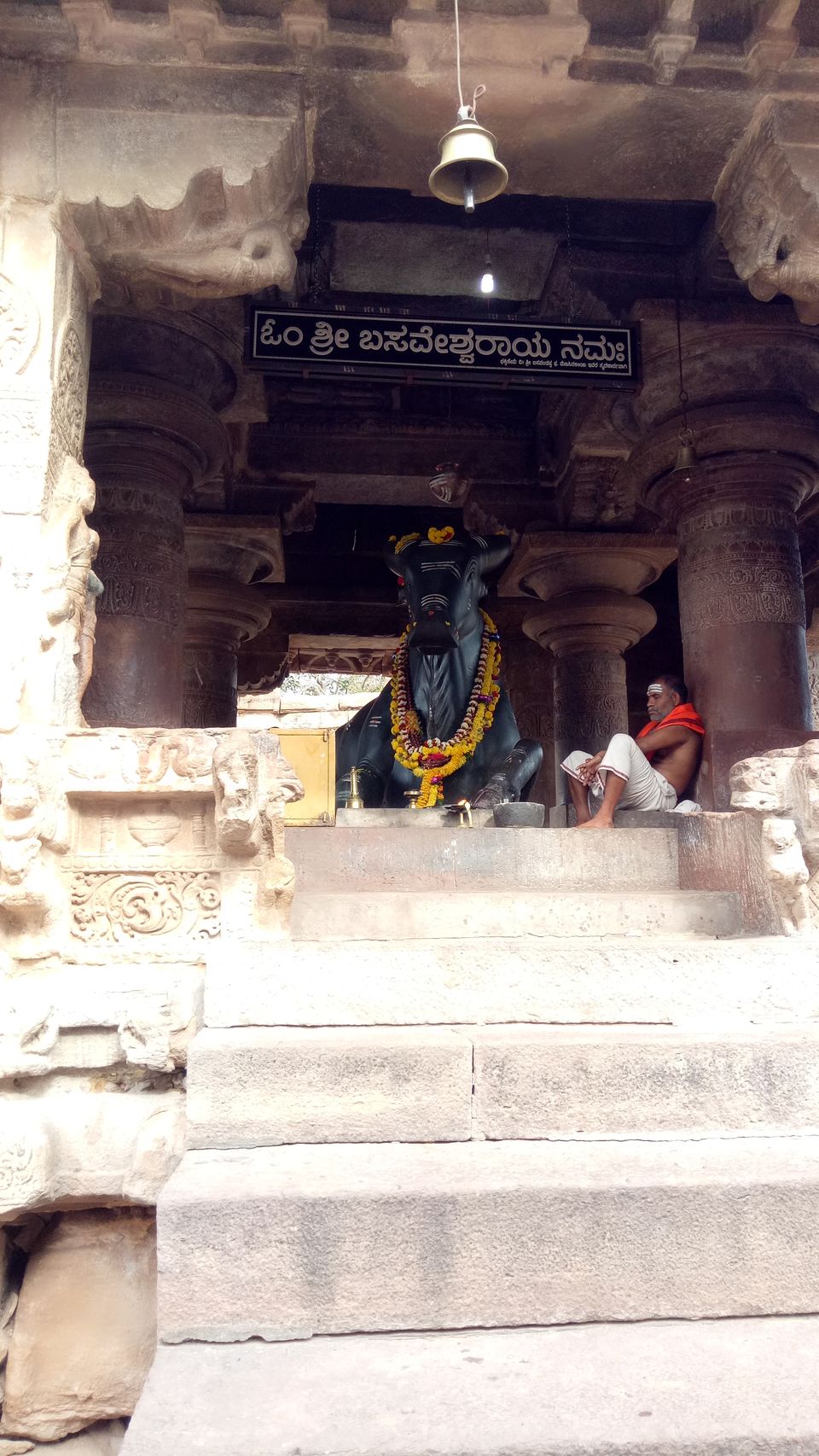 Opposite to the entrance there are many local food stalls where u can get the freshly cooked food and a bottle of chhas to soothen the body from wrenching heat.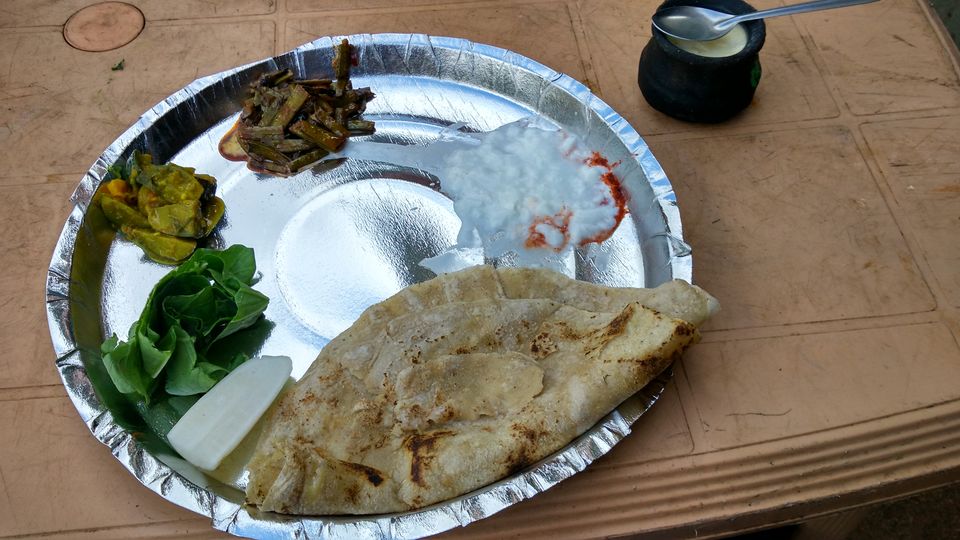 Next destination was Aihole.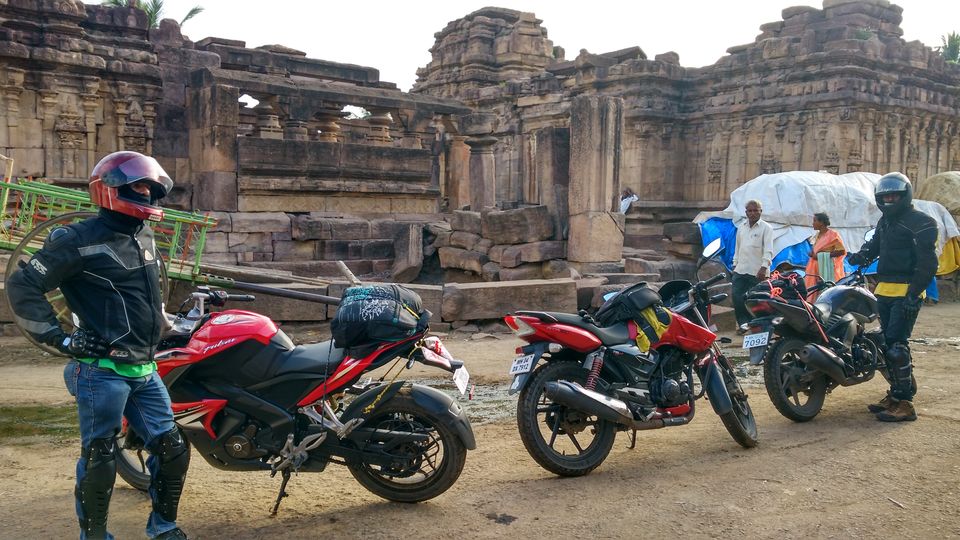 Aihole is also UNESCO Heritage site and in all there are 125 temples spread all over Aihole.Main attraction is          Durga temple. Just when we were parking our bikes one curious guy walked nearby and started asking about us, he was happy to see MH number plates and was asking about our itiniery. It was when we asked him about his whereabouts and tour plans we were  awestruck.
Meet Mr.Udaykumar He traveled all the way from Tamilnadu with his 2 kids and better half in his own car covering famous temples enroute and was about to enter Maharashtra in few days covering Kolhapur, Shirdi etc, overall a well planned 15 days tour.
His aim was to inspire his kids to travel n explore the world on wheels. With vision and dreams like every other wanderer , road-trip to Ladakh, northeast , Singapore,and what not...he waived good bye.
Bitten by the same bug of Wanderlust souls were delighted to meet each other....
A quick visit to the Durga temple and we wrapped up ,as it was already getting dark.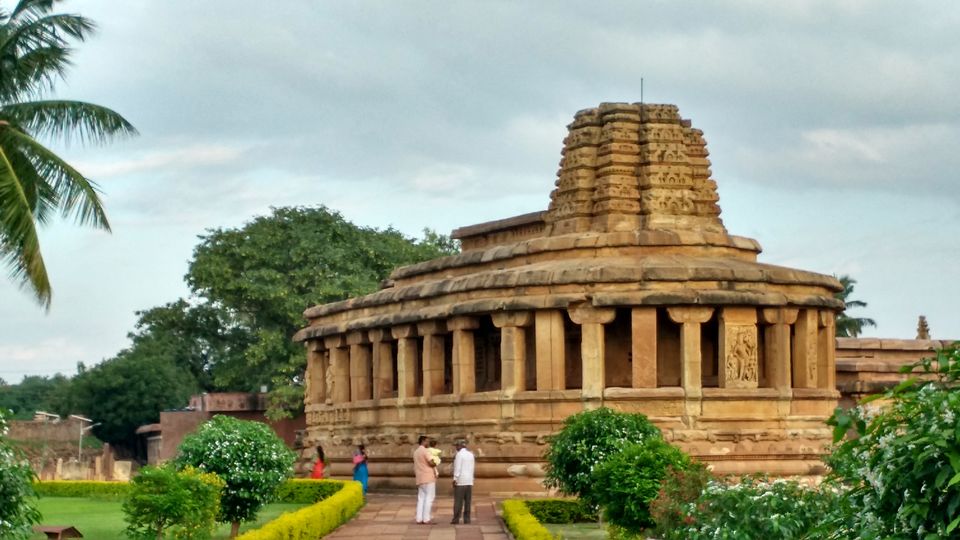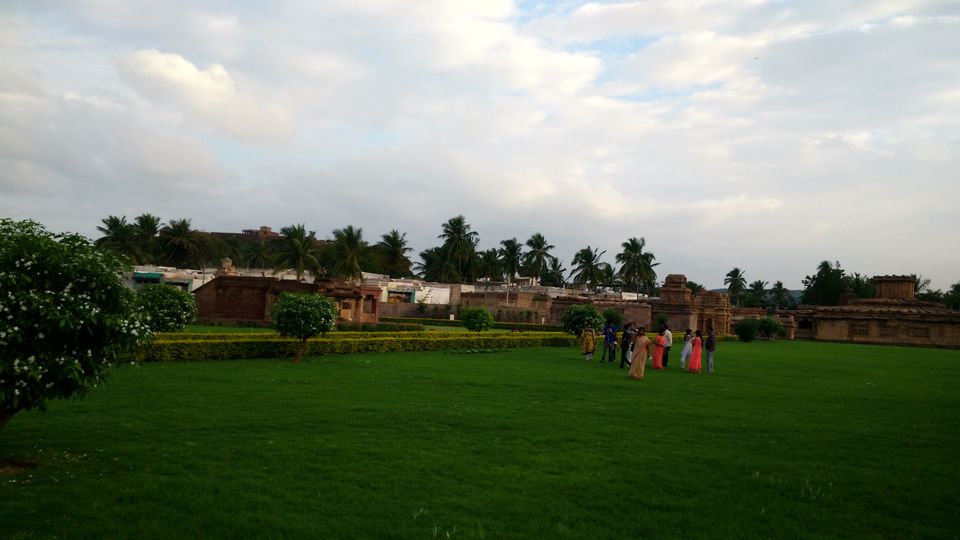 Some odd    kms on internal roads and we reached Amingad .
Famous for its sweet named as KARADANT
Obviously one supposed to stop and buy from the originator of sweet and here we were at Vijaya ..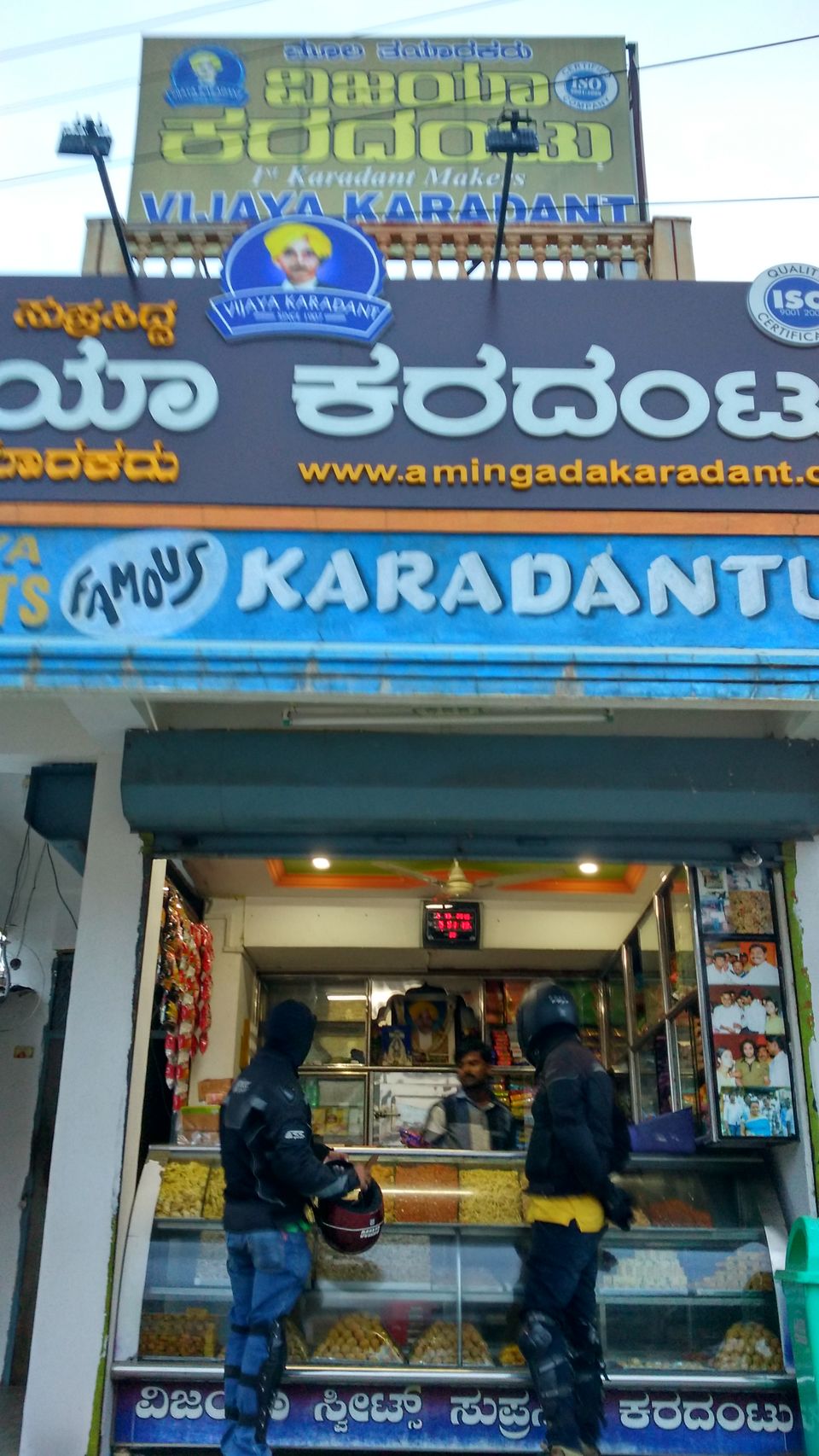 Bought few packets for us friends colleagues family and we took off towards Solapur. In a few kms from Amingad we reached the 6 lane highway towards Solapur.

Enroute came across sunflower farms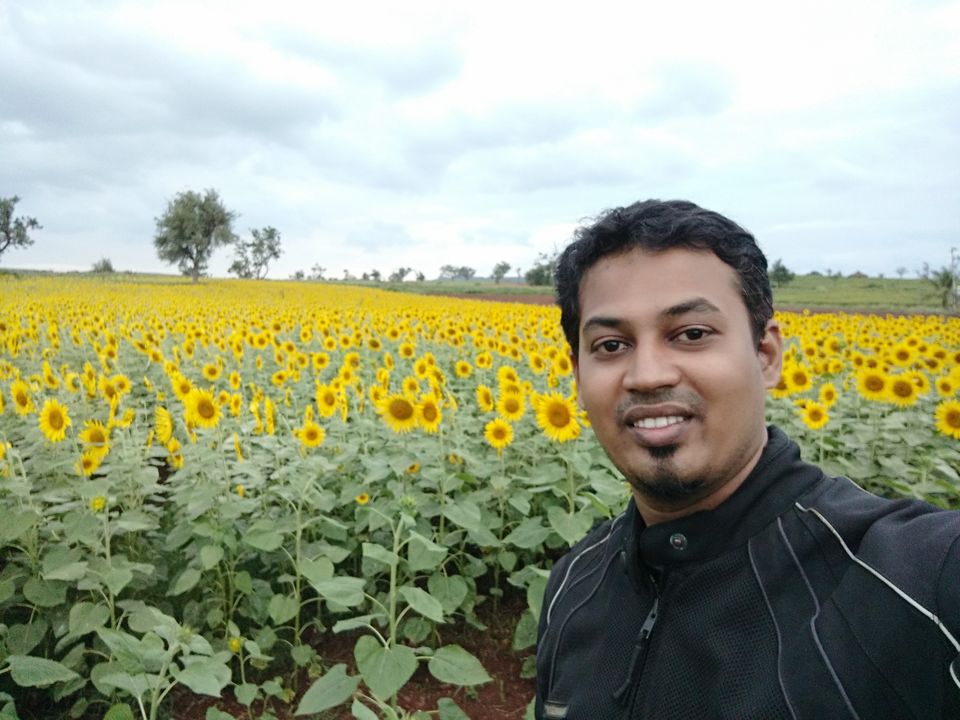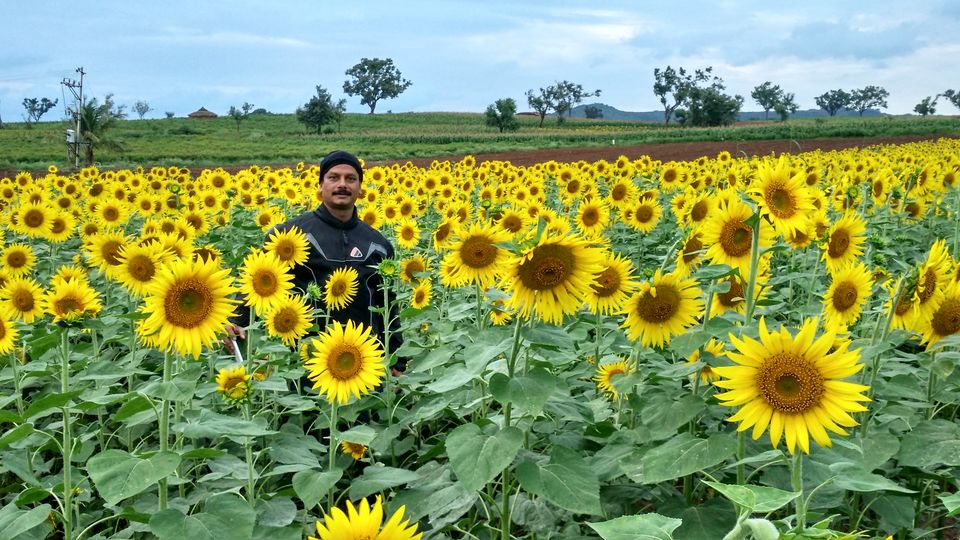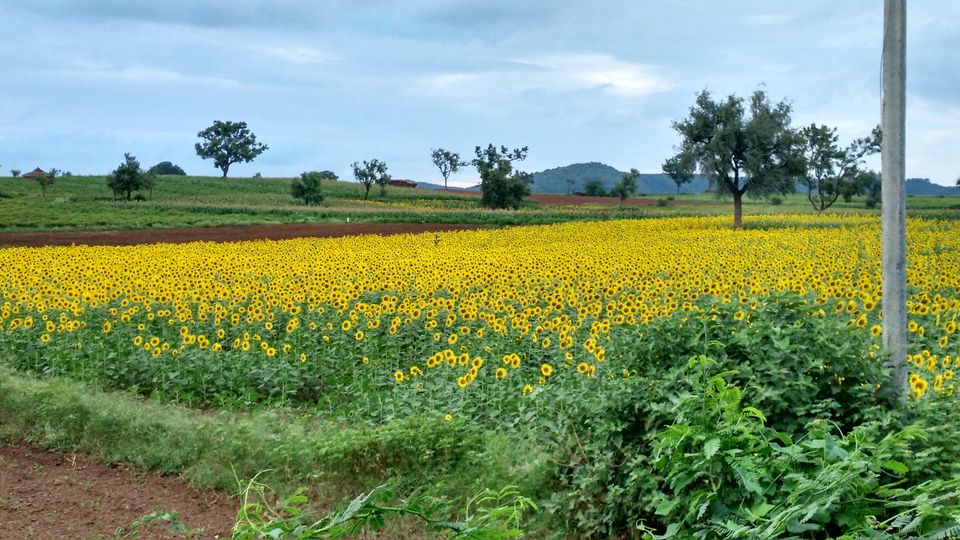 All three rides in synchro were cruising in dark. At the outskirts of Almutti city we stopped by to click some snaps of lighting show on Almutti dam visible from highway from long distance. People can enjoy this show everyeve at 7 pm.
Till Bijapur roads were simply awesome. Now just 100 kms away from Solapur and suddenly 6 lane highway reduced to 4 lane highway and that too without divider. To add to the worst scenario were the deadly pothole. Till Solapur our entire journey covered was about 1200 kms. But last 100 kms from Bijapur to Solapur- were worst of all. Heavy truck traffic potholes makes it even worse. It's recommended to avoid this route at night or else detour shall be taken to bypass this stretch.
After all bums and dumps we reached Solapur at my Cousin's house to the home cooked food.     Yummy...
Tummy full, gn....sweeeeeeet Dreams... :)
Day 4
Next morning started in relax mode. Had our breakfast ,took blessings of the Ghat (Navaratri Devi ) poojan @ home and return journey started.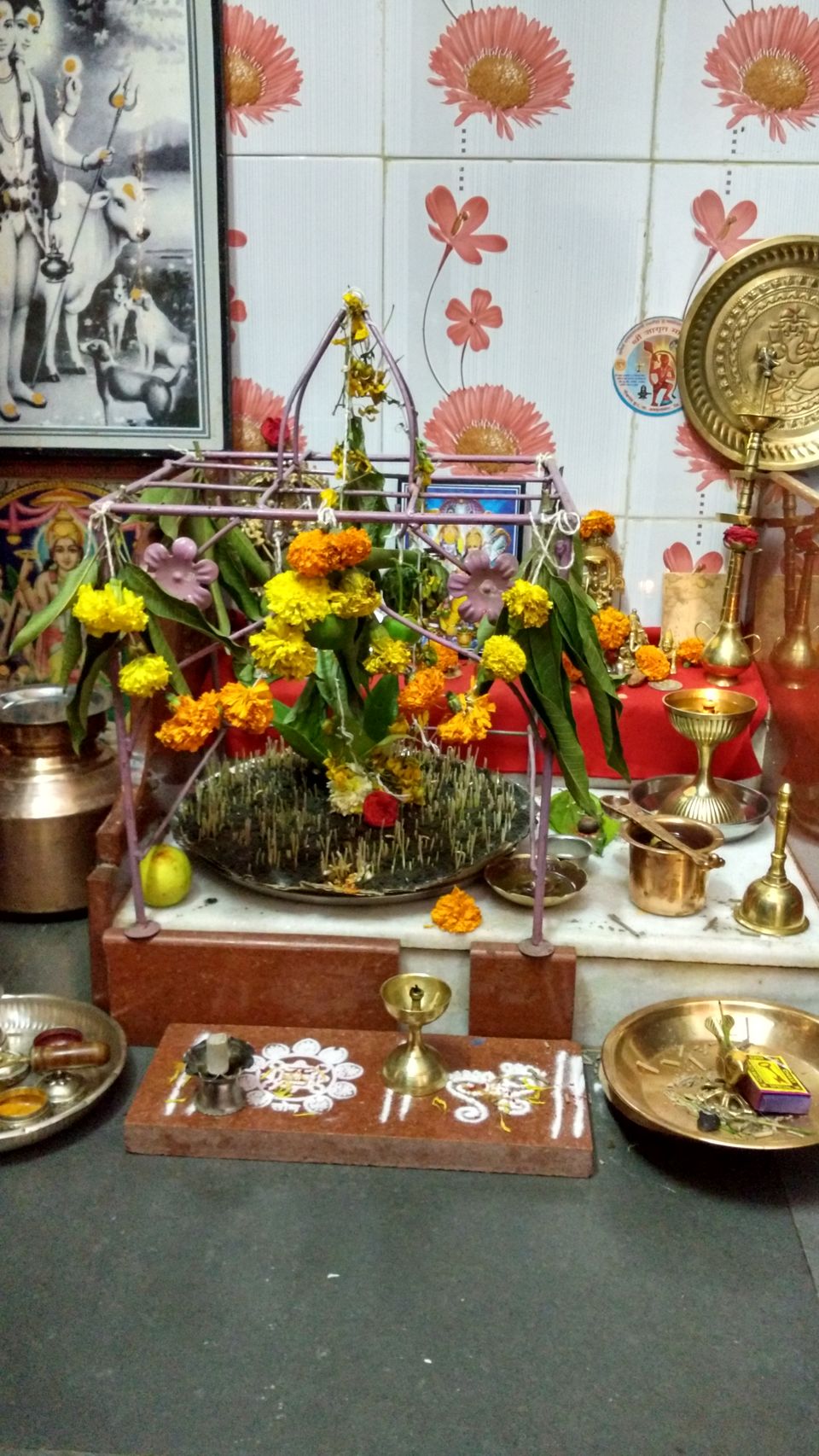 Rides were gulping kms rapidly on awesome Solapur Highway.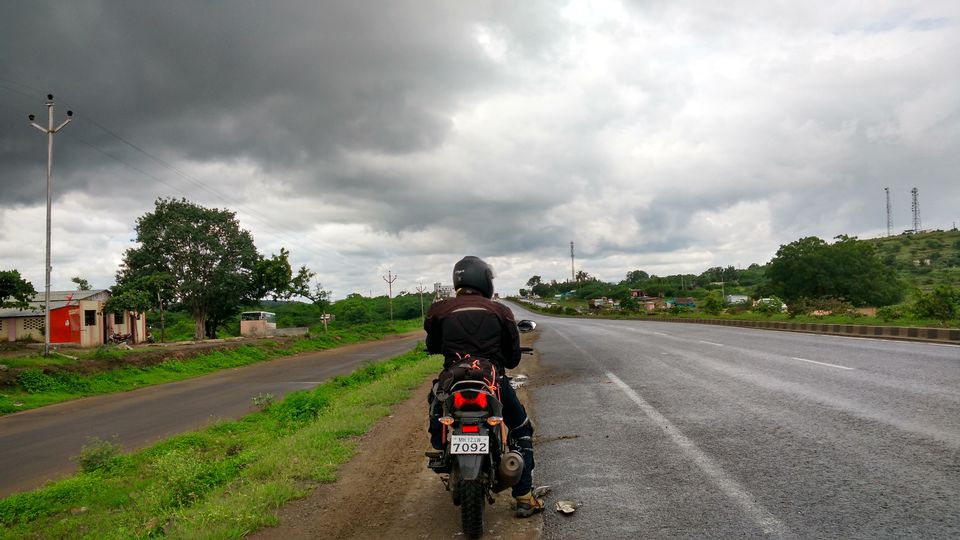 And in no time we reached near Pune. A thought struck me, to detour towards Theur for blessings of One of the Ashtavinayaka lord Ganesha. We all agreed and headed towards Theur.
There was no rush at the temple and we had a peaceful darshan of  Lord Gnesha, known as Chintamani. A cherry on the top, darshan on tuesday, a day considered to be of Lord Ganesha as per mythology.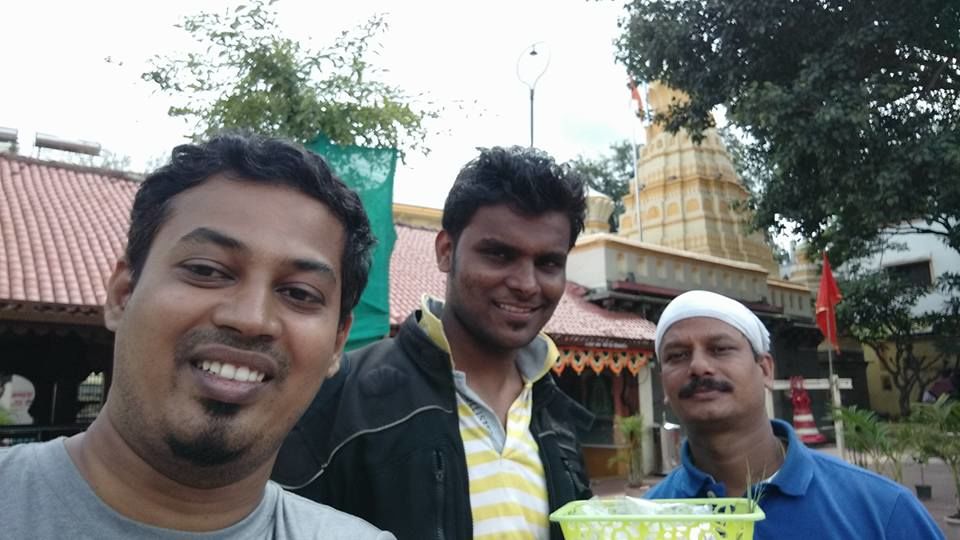 Then it was time for pet pooja  ,we had lunch at Shree Durga lunch home near Temple, a nice tasty ,homely food.

It was time for returning the bike to Vicky's friend (actually except Vicky himself everything was borrowed ;) ). Handed over Unicorn to his friend Vicky joined me as a pillion.
At Lonavala weather was pleasing and were greeted with sprinkling showers and a dense fog in the valley. It calls for a quick selfie.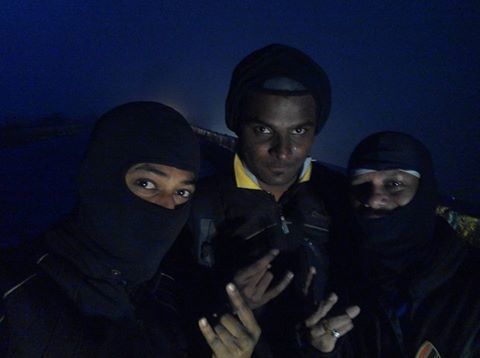 Hearts were filled with emotions and happiness of wonderful ride as journey was in its last stretch.. wohooo...

Return journey is always a pain and it  started as we left datta snacks travelling through bumper to bumper traffic and undulated roads,waived good bye to Sanjay. Dropped Vicky at Kharghar and i reached home. A glimpse on odo raised a big smile on my face... 1600 km..    :)
A short video
Sayonara.....!!!