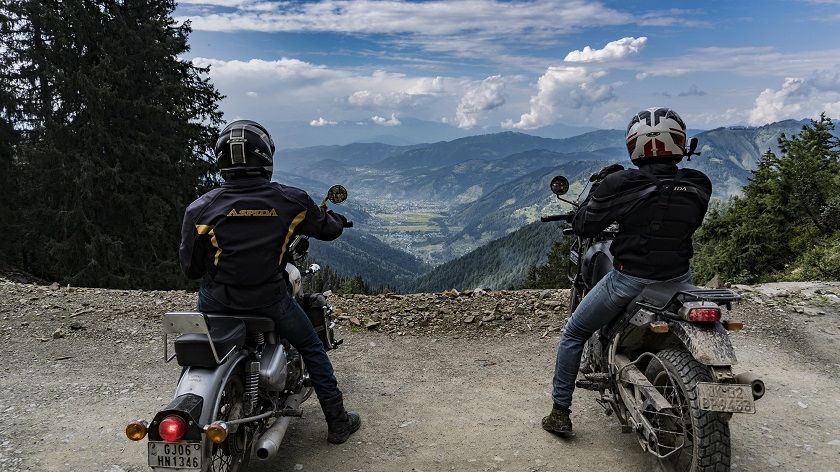 Indian Himalayas is full of epic and memorable road routes. From the world's highest motorable roads for adventure junkies to some of the most serene — there's something for everyone. Where some routes — particularly the Manali-Leh and the Buddha Circuit in Spiti Valley — have seen a dramatic increase in the number of tourists in the previous years, some are still pretty untapped. They are, in fact, so untapped and offbeat in their nature that hardly any tourist visit them throughout the year, despite having all the facilities a tourist may need — from Google defined roads to enough accommodation options on route. And one such route in the Jammu region in J&K lies in and around the Bhaderwah Valley.
During my recent motorbiking trip in Himalayas with Jammu and Kashmir tourism, earlier in September, under the campaign of 'Exploration of unseen places' in J&K region, we did a 7 day road trip from Jammu to Killar, and back. The trail took us to some of the highlighted (yet unfrequented) valleys and the many unspoken towns.
From passes over 10,000 feet above sea level and roads otherwise known as the world's deadliest, this is the routemap for Jammu to Killar road-trip in J&K: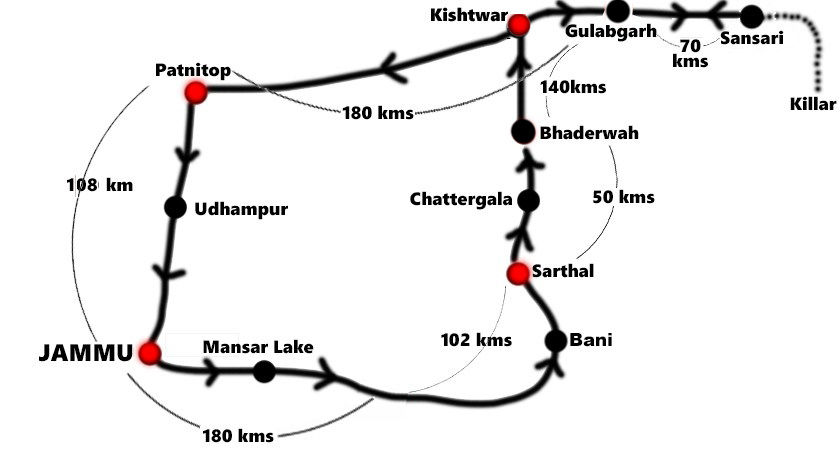 Starting from Jammu, and completing a loop, the route takes you to a total distance of nearly 900 kms. One can self-drive here and can complete the journey in 5 days.
Please note that all red dots in the above map denote towns where you can stay during the night. All these towns have enough guesthouses to choose from, except for in Sarthal that has only one government owned guesthouse, which fortunately operates throughout the year. It's called TRC Sarthal.
If you're short with time, and want to compete the journey in 4 days, you can skip Patnitop, and drive straight from Kishtwar to Jammu in a day — though it will be a long journey, it can still be completed in under 10 hours. But be known that Patnitop is a popular tourist destination near Jammu (picture it as a better and less touristy Shimla) and can be a great place to unwind yourself from the tiredness of the road-trip.
What Can You Ride/Drive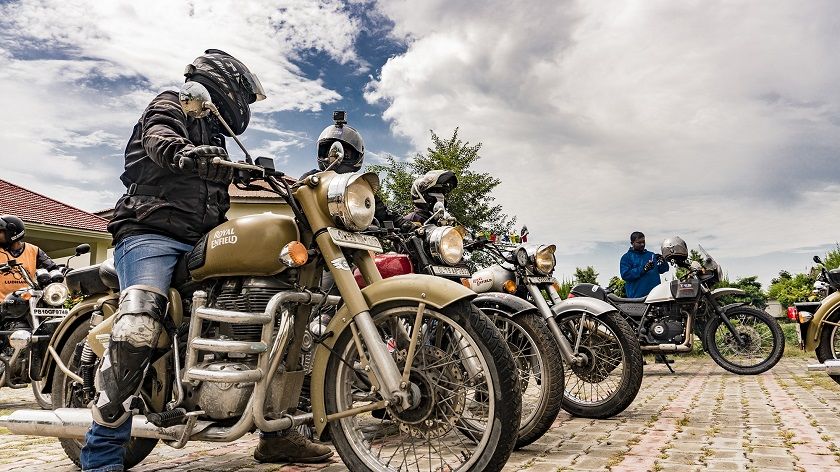 The entire route is doable on a motorbike as well as in a car with decent ground clearance. During our trip, we had nearly 60 riders (with a few riding pillion) and a 4*4 Mahindra, and never did the Mahindra not follow us somewhere. Sure we had a minor safety issue on a 40-50km stretch near Sansari where the road was only wide enough for one car to pass through — with cliffhangers on one side and a 1 km deep gorge (that the motorbikers found as something amusing) on the other. But overall the entire route had no difficulty level. Having said that, any SUV, or a hatchback with decent ground clearance can be driven, though with extra care between Kishtwar and Killar, particularly between Sansari and Killar.
From Jammu to Sarthal, and Kishtwar to Jammu (via Patnitop) there should be no problem at all in driving, for anyone with good driving skills. Between Sarthal and Kishtwar, we have a high altitude pass, but still not too brutal at 10,000 feet above sea level. Those who have been to Leh or Spiti won't even feel it, but that doesn't mean it lacks anything in admiration.
900 KM |5 Days | Uncountable Highlights
As you commence your journey from Jammu, on Day 1, the route takes you to the popular Mansar Lake a holy site, sharing the legend and sanctity of Lake Mansarovar. People believe that it is by visiting the Mansar Lake, you complete your visit to Mansarovar.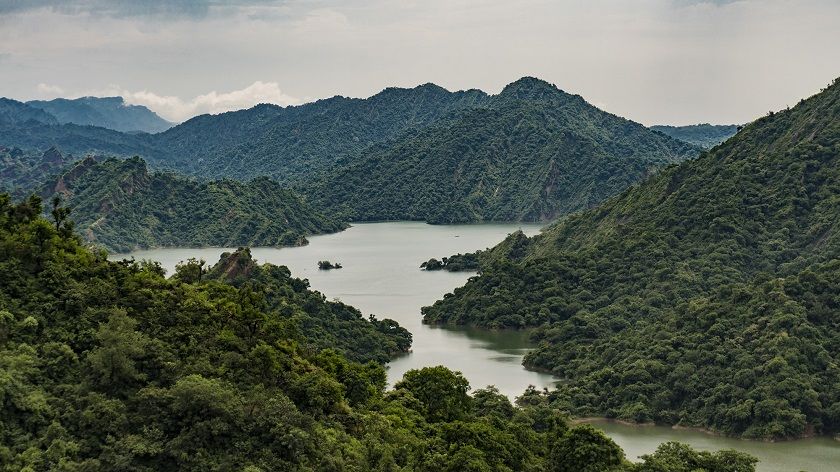 Moving next, Sarthal itself is a destination full or moments of awe. Referred to as "little Kashmir" Sarthal is a wide, grassy valley inhabited in season by the Kashmiri Gujjars — a semi nomadic shepherd tribe. A hiking route from Sarthal takes you to Kailash Kund — considered as the abode of Nagraj Vasuki, and thus holy in nature.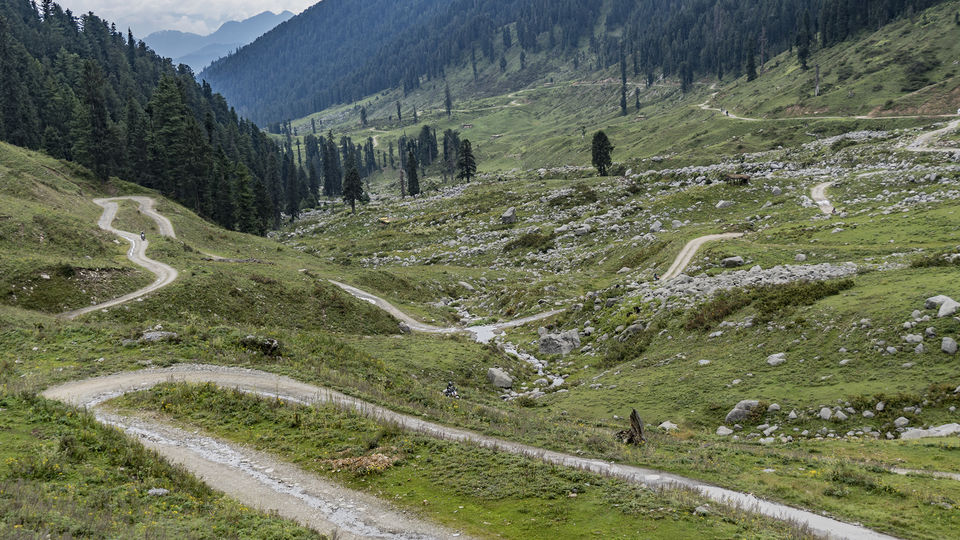 The Kishtwar to Killar route is popular as the world's one of the deadliest roads. With unrealistic cliffhangers, deep gorges and the narrow & suffocating roads — driving here is going to be your story of a road trip in Indian Himalayas for a long, long time.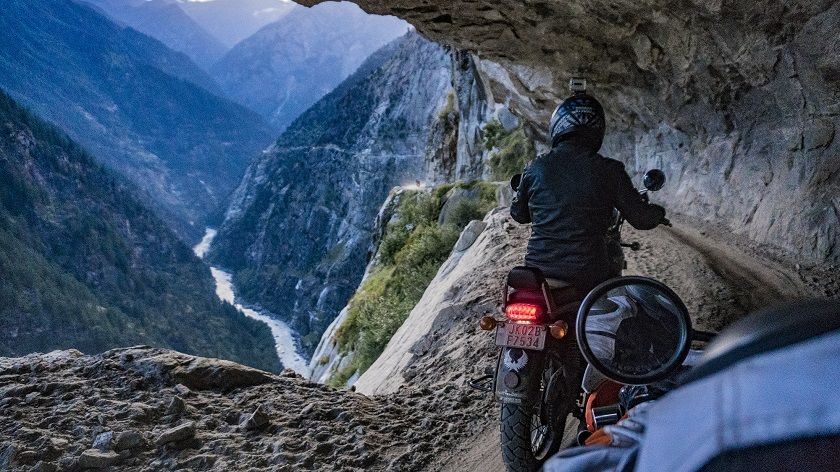 With Chenab River flowing on your either side, the route to Killar also qualifies as one of the most beautiful road networks in the Indian Himalayas.
Another highlight, Patnitop, is already a known and a pretty hot destination for people living in Jammu and other big-towns nearby. The route from Patnitop to Jammu is moreover very picturesque, as you catch period glimpses of Jammu-Katrarail railroad and period glimpses of a massive four way highway stretching to a distance. Between Patnitop to Jammu, a couple of attractions to visit are the Sansar Lake and the Chenani-Nashri Tunnel (India's longest road tunnel stretching to a distance of 9.2 km).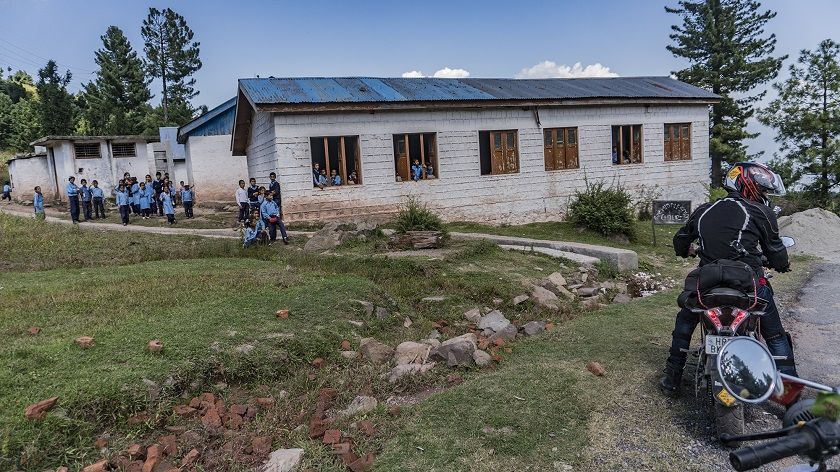 Where To Stay Throughout The Tour
Bhaderwah, Kishtwar and Patnitop are big towns, with no dearth of accommodation. From budget guesthouses to something fancier — you can easily find a place of personal choice and taste. For Sarthal, however, you will not be having such a luxury. Because named as TRC Sarthal, the government owned guesthouse is going to be your only option. The guesthouse, however, can easily accommodate nearly a dozen people. It also has a massive campsite for those looking for extra adventure.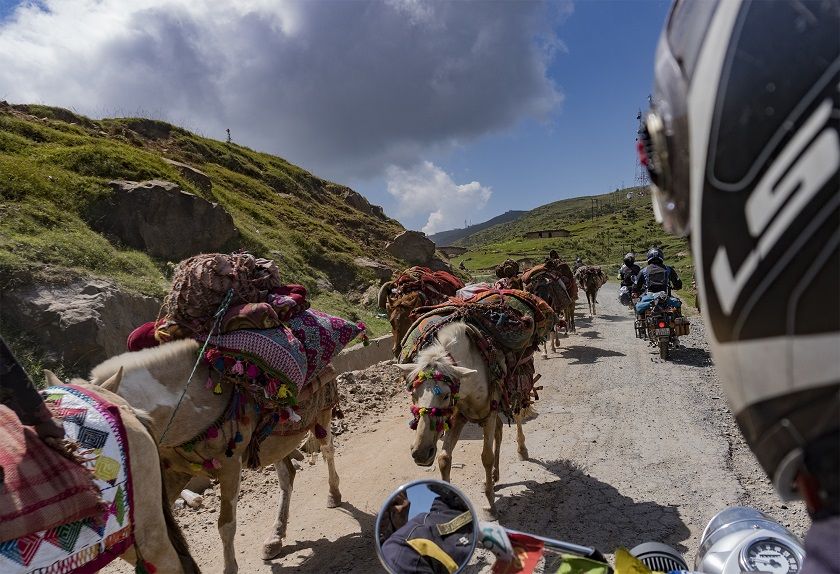 Useful Tips:
There are enough petrol stations on the entire route. You won't need to carry extra jerkins, even if you're riding a Royal Enfield.
Renting a motorbike can be a problem in Jammu as there are no rental shops available. You may have you arrange for one, before you get there.
The entire route remains open throughout the year, except for Chattergala pass that blocks during snowfall in winter with no prior notice. The route opens as soon as the snow melts. Moreover, Killar to Kishtwar track can get very muddy and slippery in winter and during rain, making it challenging to get through.