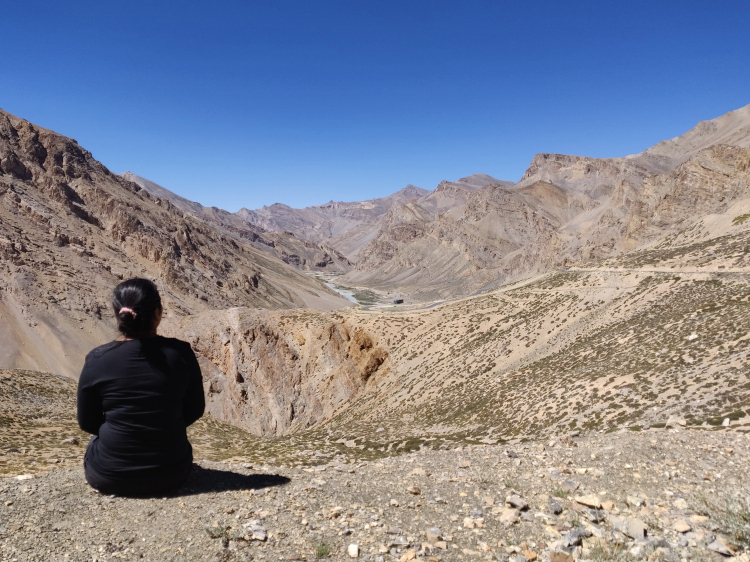 I am someone whose mind is constantly wandering and can be calm only when I am traveling , which for me is like meditation and as long as I am travelling I don't care if it is with a group of friends or alone .
Two of my runner friends had registered for a full marathon being held in the month of September in Ladakh and they were considering the possibility of driving till there (My heart started racing thinking of the possibilities!) . Over the last couple of years, I have had a couple of opportunities to visit Ladakh, one for work and once for a holiday. However, both times I had taken a flight and here comes another opportunity, this time 'BY Road'!
The unfolding of the next chapter was no less than a movie script, the only difference was that it was happening for real. However, as luck would have it, personal and professional emergencies came up at the last moment for my friends and that created doubts on the possibility of this Road Trip. As we got closer to the date, the plan looked impossible to happen. If these emergencies were not enough, heavy rainfalls and article 370 too came up at the same time just to add to my woes.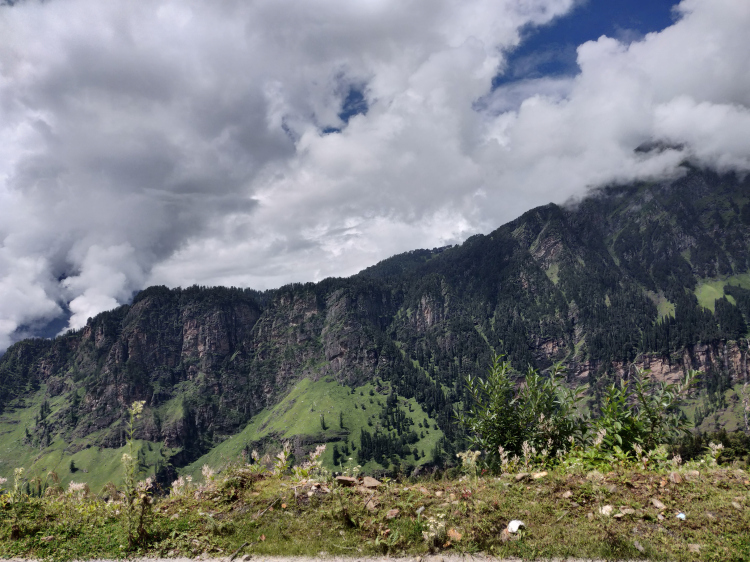 The only alternative everyone came up with was to fly down and participate in the Marathon and fly back, which was a dampener for me as the key excitement all along was the Road Trip! At last, it was decided that the two of my friends will fly down to Ladakh and I take the road less travelled (or should I say, the Road I wanted to travel) meet them there.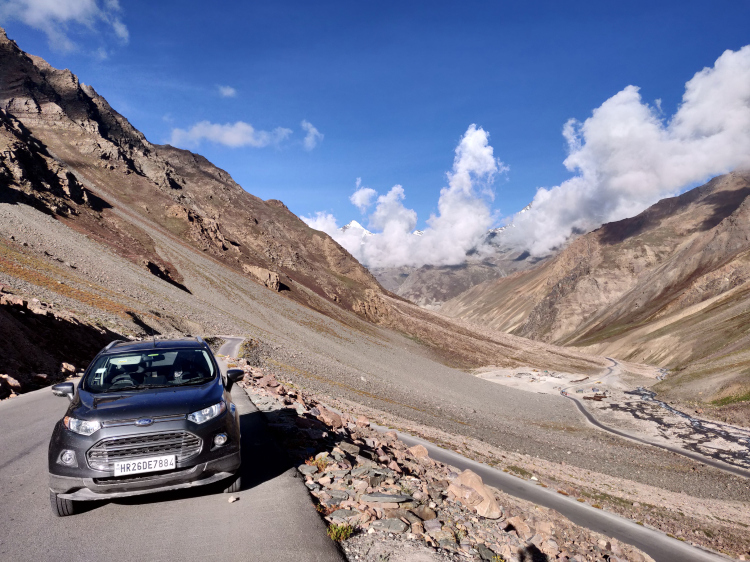 With a little push and motivation, the next thing I knew was that that I was marking a milestone in the history of my personal travel.
"SOLO GIRL ROAD TRIP " covering approximately 1023 Kms from Gurgaon to Leh in three days and two nights.
The Big Decision
Night before the big day I had a mix of encouraging and concerned conversations with some of my friends, which made me anxious and contemplate about all the WHAT IF'S
· What if the car breaks down in the middle of nowhere?
· What if I get harassed?
· What if fall sick?
· Roadblocks due to heavy rain?
As I pondered over these questions, I found myself on the highway early in the morning!
Gurgaon To Manali:
After a lot of thinking of all the things that could go wrong, I decided to go with the flow and found myself driving for the first destination MANALI. Since it was the most spontaneous decision and no logistics in place, I drove down to Manali without knowing where to stay and how to go ahead with the itinerary. However, I ended up staying in an amazing hostel THE HIDDEN TRIBE which is run by a city guy who loves to interact with his guests and share his knowledge and suggestions of the region. Not to miss is the amazing inhouse café that the hostel runs.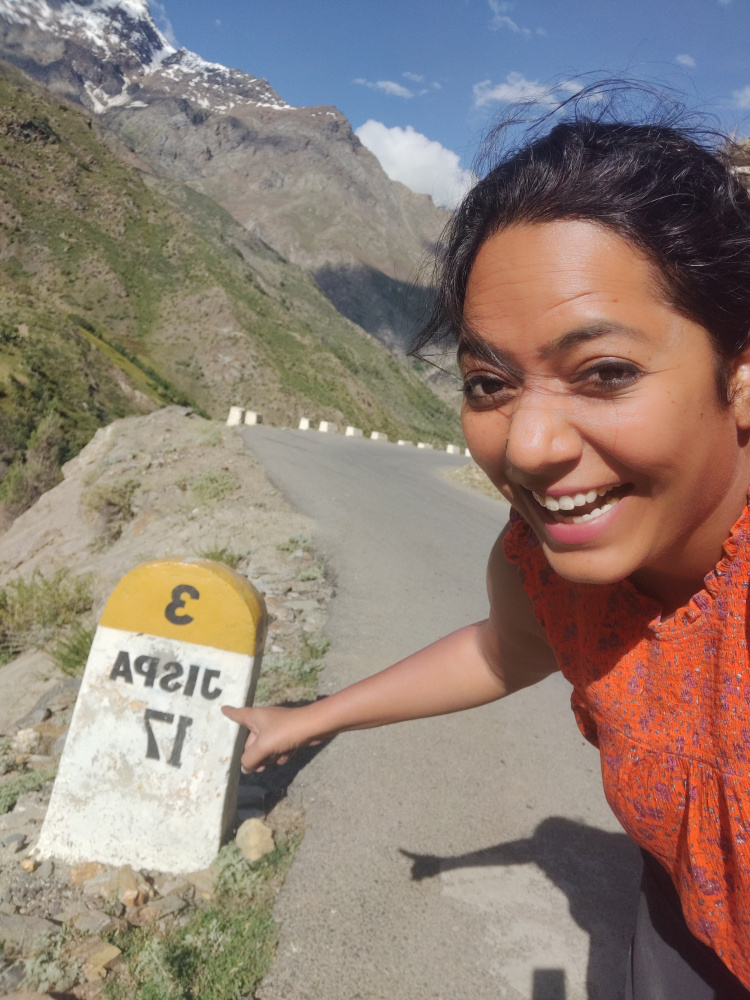 For the next leg of my adventure and the destination for second day - JISPA, one must obtain a permit. Since, I didn't know about this earlier, I ended up having mine only after hours of walking around in the market. Manali to Jispa is a short distance of about 92 kms, and hence I was not worried about getting late.
Enroute Jispa, as I stopped at the first checkpoint " Gulaba post" and as I was getting my permit verified, one of the officials asked me twice if I was driving alone on this route all the way to Leh is when for the first time when I realized that what I was experiencing was rare and brave event- even by my standards.
Here is the gist of my conversation with the security official the checkpoint verifying my permit :
Security official : Mam your " car number"
Me: Answers
Security official : Drivers Name
Me: Kanika
Security official: Number of passengers traveling with you
Me: Just me
Security official: " mam are you driving alone"
Me : Yes
Security Official : Are you driving alone all the way to Ladakh...?
Me : Yes
The security officer shrugged and made gestures that I think were that of surprise or appreciation. I believe it is very rare that women have driven alone in those terrains.
Me : Patting myself
As I zoomed further, the views got better and mountains grew taller,without taking many breaks I made it to the tiny village Jispa by early evening and found myself a guest house for the night . The evening was spent chatting with some cyclists that I met on the way and a beautiful couple who were on their way back to Delhi. Taking their advice to start early for the last leg I was on the road by 5:30 AM.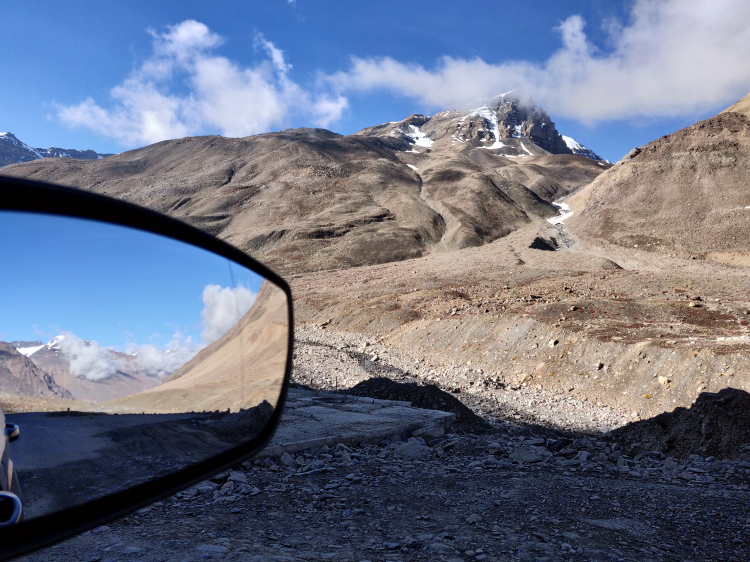 The distance to cover was about 300 kms till the Leh city and the challenges were no less. I had to target to cross a water crossing before sunrise to avoid being stuck by the gushing water, ensure I cover 300 kms before sunset as otherwise I could get stuck in the middle of nowhere.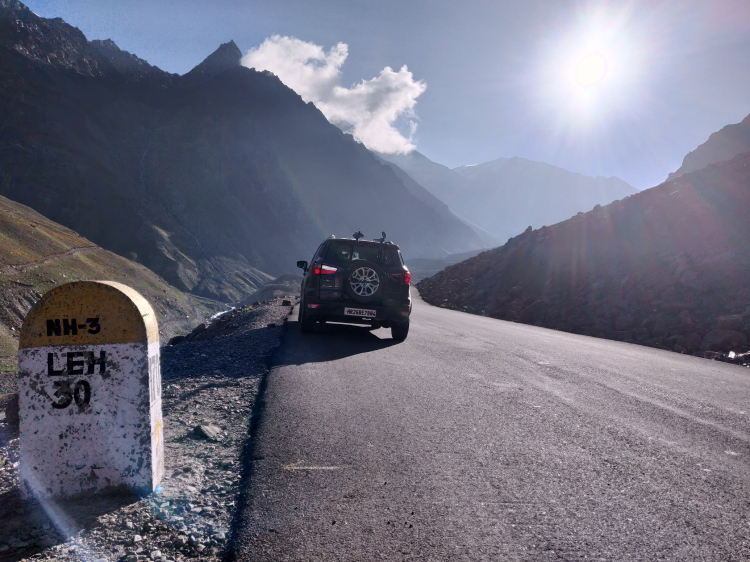 I did manage to cross the Bharatpur Nala without literally getting stuck but I kind of did and that was a thrilling experience. Now I don't know about being stuck in the middle of nowhere, but I did take multiple breaks on this route, and how could you not. The beauty around me was no less than magic and the high mountain passes one drives through are breath-taking.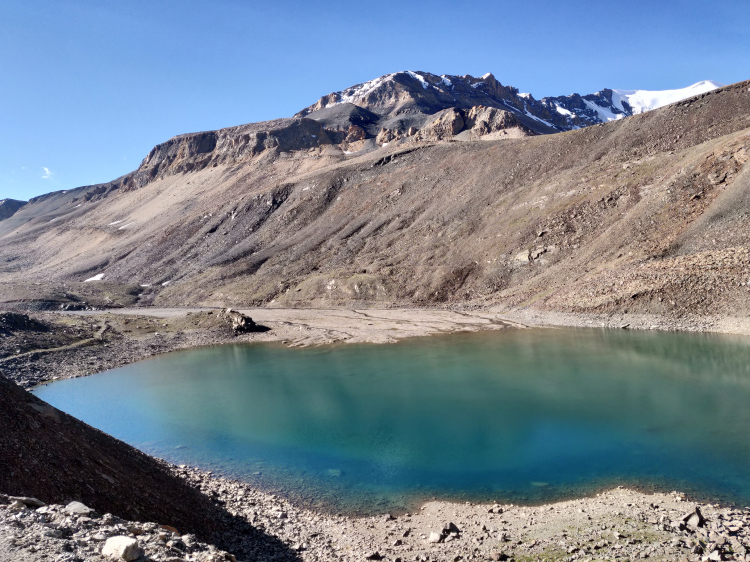 Random Lake
But one thing that I did not expect is to get affected by, was the altitude, it was the tea and Maggie break at sarchu pass (13000 ft) post which driving for another 9 to 10 hours were a challenge. However, after a total of 11 hours of driving with headache and nausea it was a relief to be able to reach Leh on time and see my friend waiting at the guesthouse.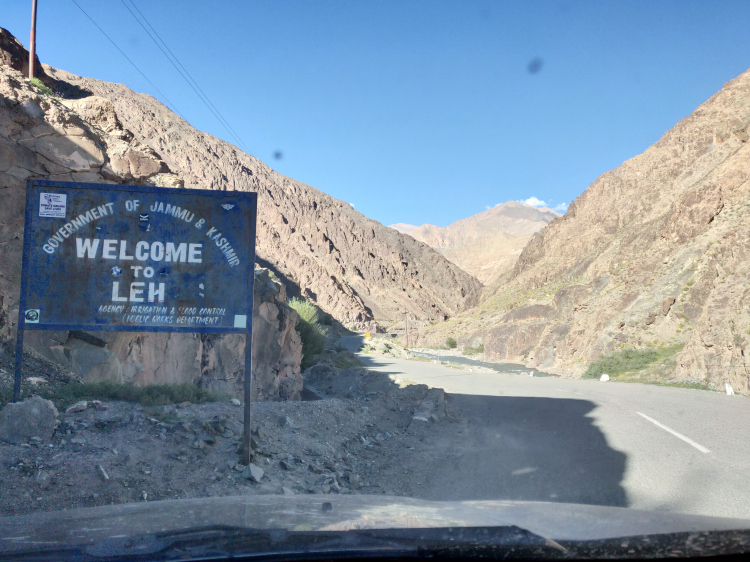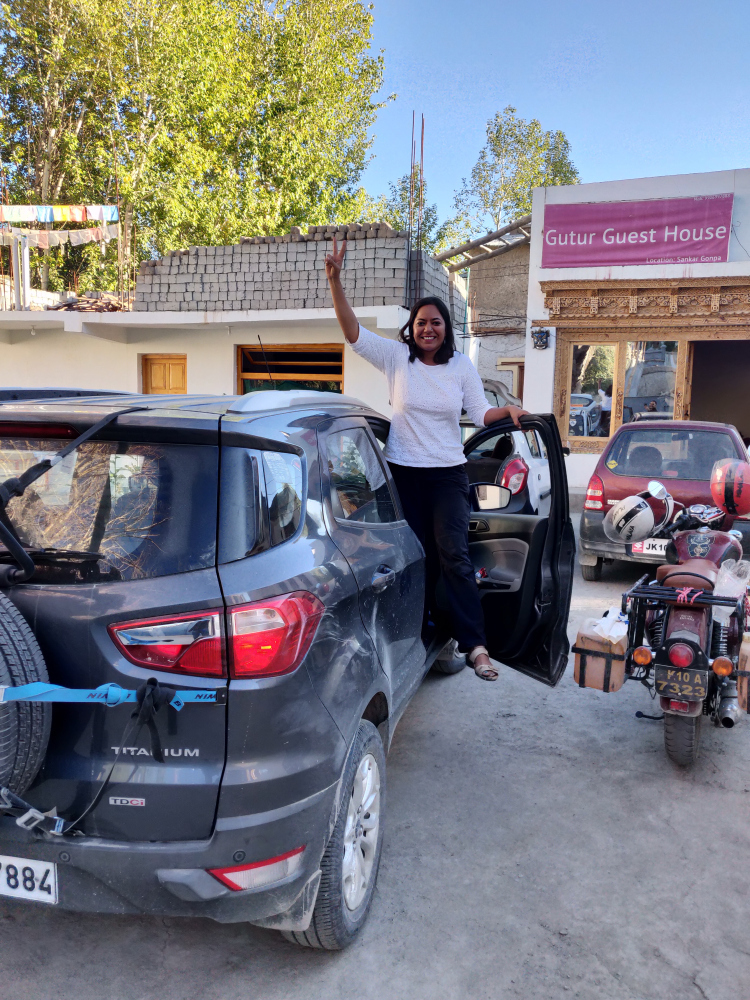 We took the first couple of days slowly to acclimatize ourselves with the altitude and the same was ensured by the amazing hosts of our homestay.
I would any day prefer staying at a homestay over a resort or a hotel, especially if you had a chance to experience their services before. It was during my holiday with my parents when I had a chance to stay at the "GUTUR GUEST HOUSE ". They pampered us with sumptuous home cooked meals, warm conversations and add to that, a mindful personal touch that brings in the feeling of being at home away from home. So, there was no chance that I was not coming back here.
The beauty of the homestay is that It is run by a beautiful local family who treat you like family, take care of all your needs and make arrangements according to your preferences. We spent our time here by taking walks in the back alleys and all the way up to the main market.
The Ladakh marathon was the main reason why this trip happened, the few days before the main event we spent our day with small walks in search of the morning tea, stretching session at the shanti stupa and ending up at random breakfast places. The final day both of my friends ran and finished their marathon marking the end of a momentous trip that almost never happened!!
Like every time, I left behind a piece of my heart in the little paradise on earth as we head back to the mad world and concrete walls that we call home, with a hope that someday soon I will be back again!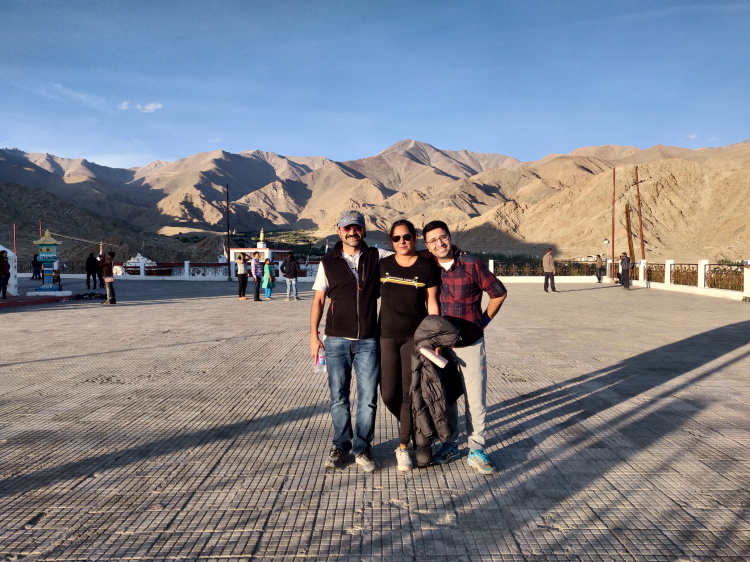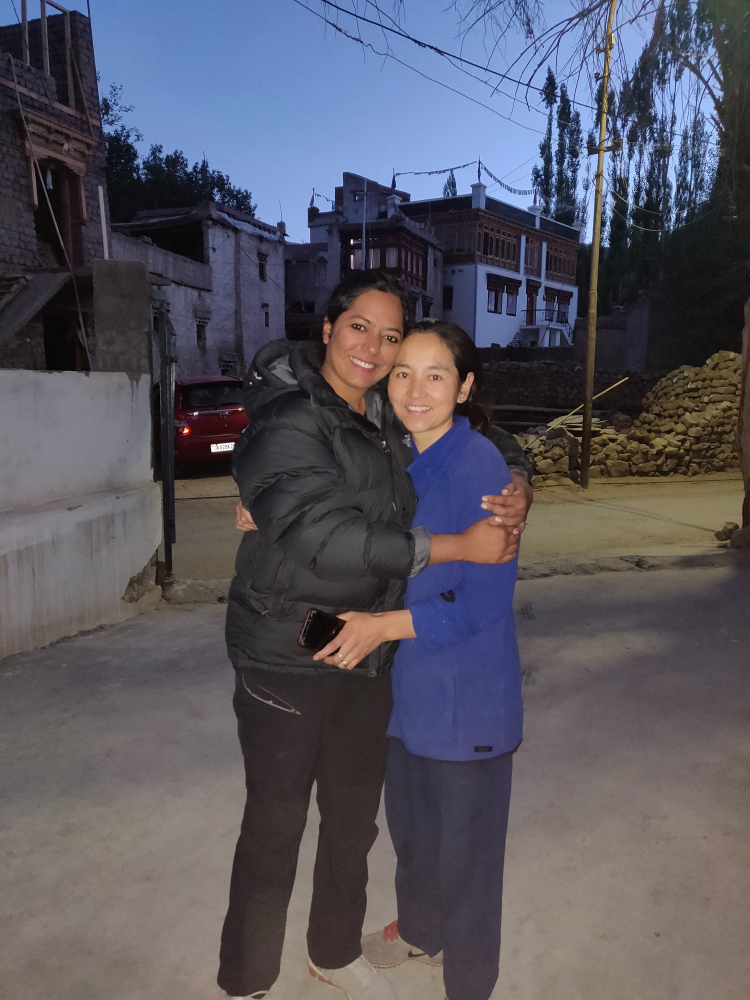 Au Revoir!!