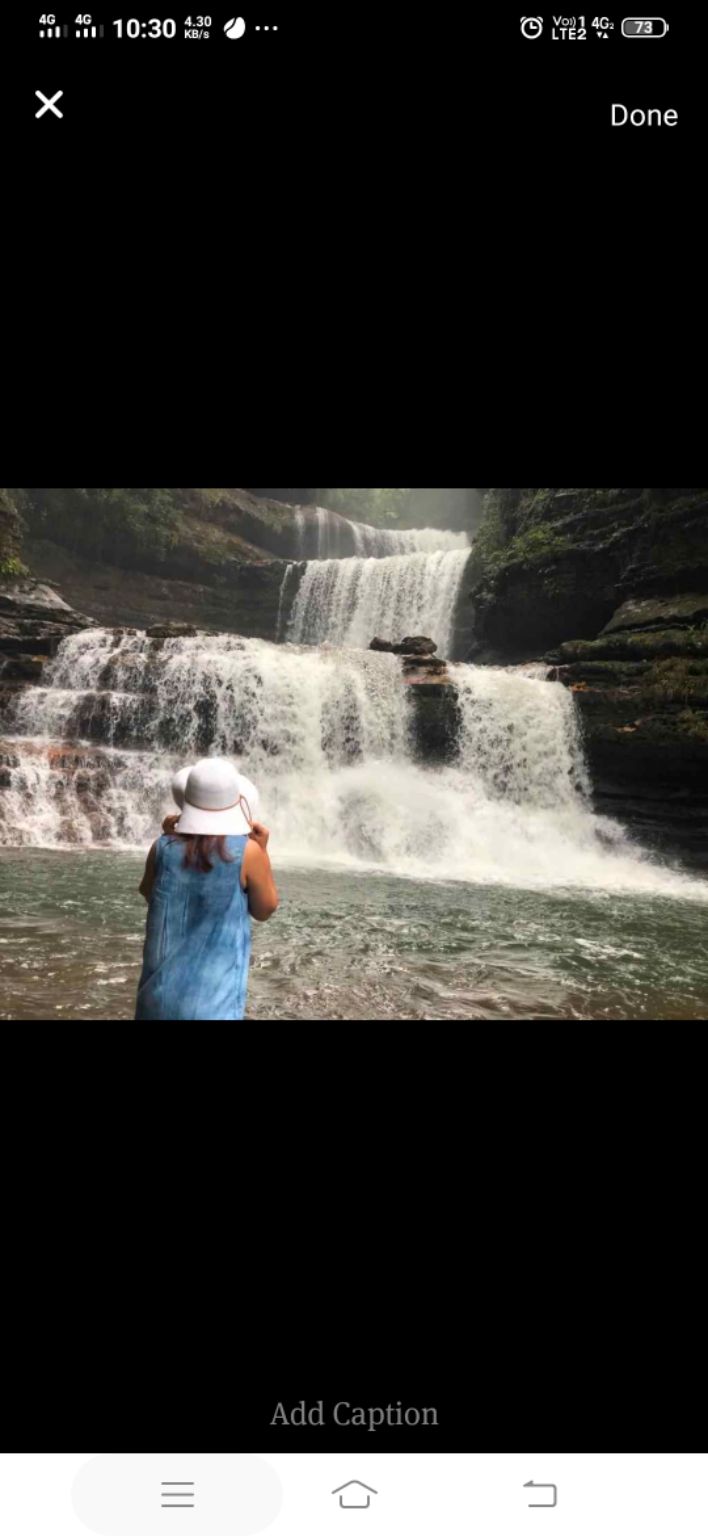 Guwahati
Day 1 : This Hotel is a km away from Lokpriya Bordoloi International Airport(Guwahati). Shillong is 100kms away from Guwahati city.
Guwahati is the capital city of Assam. There
are many places to see around in the city.  Kamakhya Devi temple,  Umanada Temple,  Chandmoni sanctuary , Alfresco cruise in Brahmaputra river,  fancy market are few of them.  Kaziranga National Park is one of the popular tourist attraction of Guwahati.
Khorika and Paradise restaurant offers the best Ethnic Assamese food in the town.
Paltan bazaar near Guwahati Railway Station is another popular shopping destination in Guwahati.
Guwahati is hot and humid after April till September.  So the best time to visit the city is October to March. 
Guwahati is  busy and big(superlative) city of  northeast.
So stopping by, before your ascend to the hills of Meghalaya is strongly recommended. 
The ascend, towards the abode of clouds.
While driving on the roads, leading to  main part of Shillong,  you will come across a place so serene called as Barapani.its some 10kms away from the centre point, also from here the traffic starts jamming in. I think Umiam lake resort is a great place to reach , be and stay if you want to enjoy the beautiful location ,view and also if you are wandering in search of  tranquility. Then this is the place to be.
Barapani or Umiam lake,   is one of the significant  location in Shillong.
A major tourist attraction. 
Umiam lake resort is under the megalaya tourism department, and it offers the most picterquise view of the lake. 
Other amenities it offers are
- a conference hall,  spa and a swimming pool. 
Adventure part :There is a boat ride around the lake which costs Rs 2000/ boat (Anaconda) or Rs500 per head for small boats( rubber inflated boats) .
Rooms are comfortable except for the load shedding part on the first day of our stay.  The property is under state government so the service is slow and will give you the feel of regular government services every time you are expecting from a resort (like the name suggests).  But the good part is - The amazing view of the lake from the room as well as the restaurant and it  definitely pays up for the slow service , unfriendly staff and load shedding part of the resort . 
Food : breakfast is complimentary and they provide chole bhature along with  sandwich,  French fries, Nuggets and aloo paratha. For in room dinning they provide variety of Indian Chinese and continental cuisine.  Of which I would strongly recommend chicken Masala  if you are a chicken lover like me.
They also boast a bar that has a huge list of cocktails, mocktails and other drinks.
The room tariff is rs3500 for standard rooms. 
Up-to Rs8000. But I feel you are paying all your hard earned money for the view and the serenity of the location.  Otherwise everything else is overpriced.
Well I  had a great time there and to summarize my stay it was all about the lake view,  and the peace it gave me to just stay there between the woods with a lovely lake rippling gorgeously as the wind blew everytime over it.
I wanted to stay here forever but sohra was calling....  And I had to go...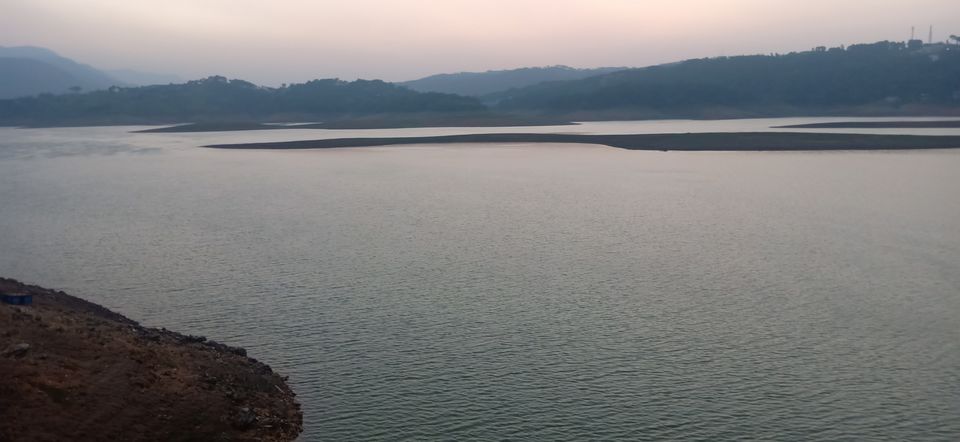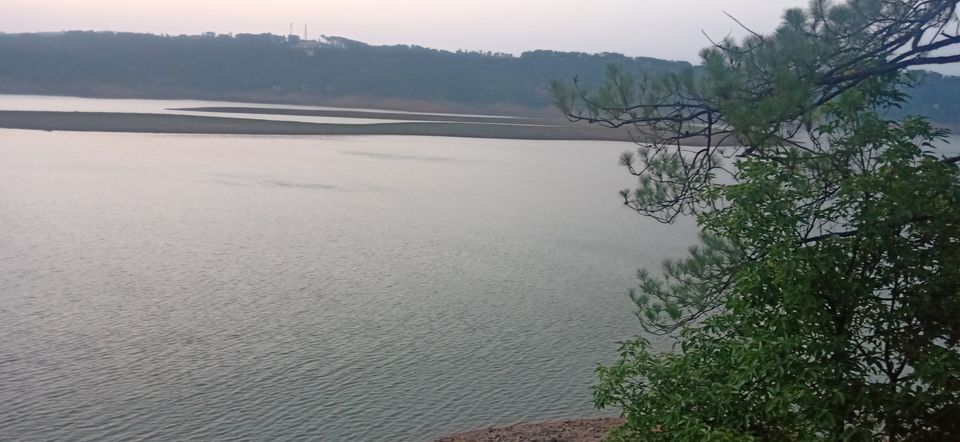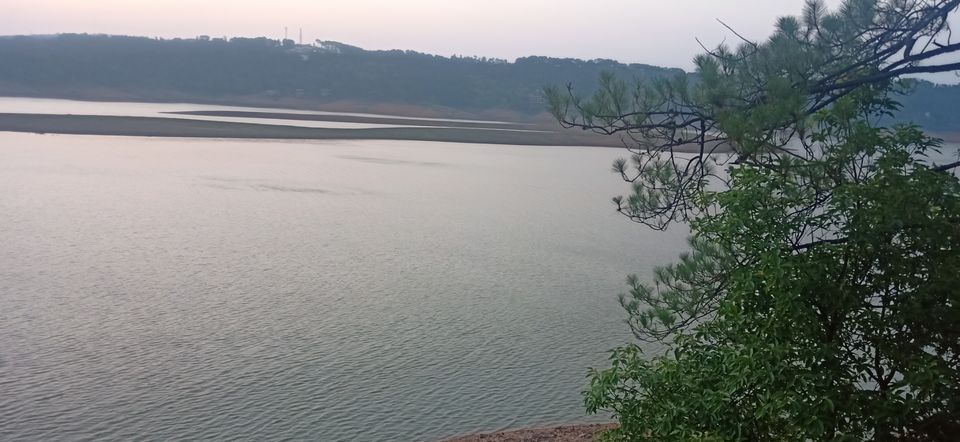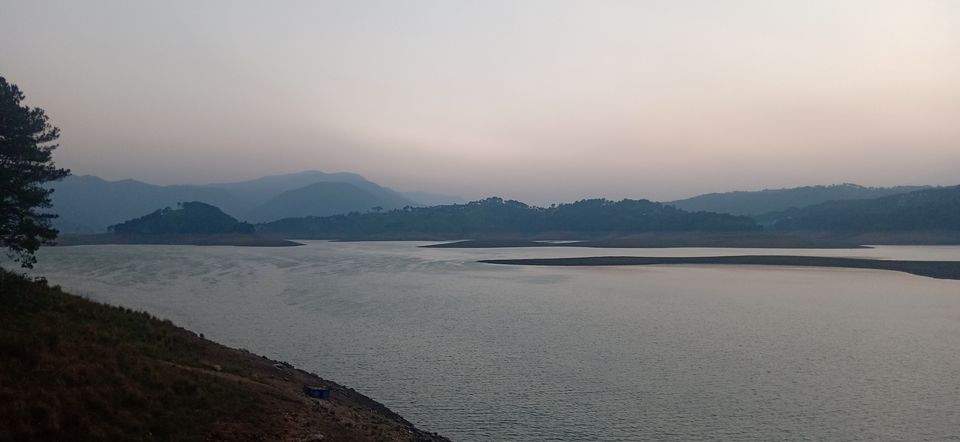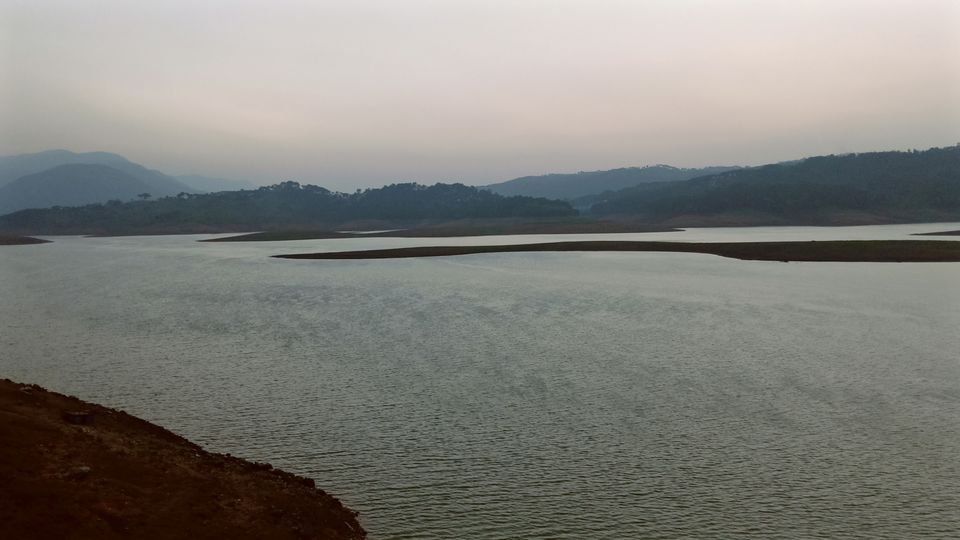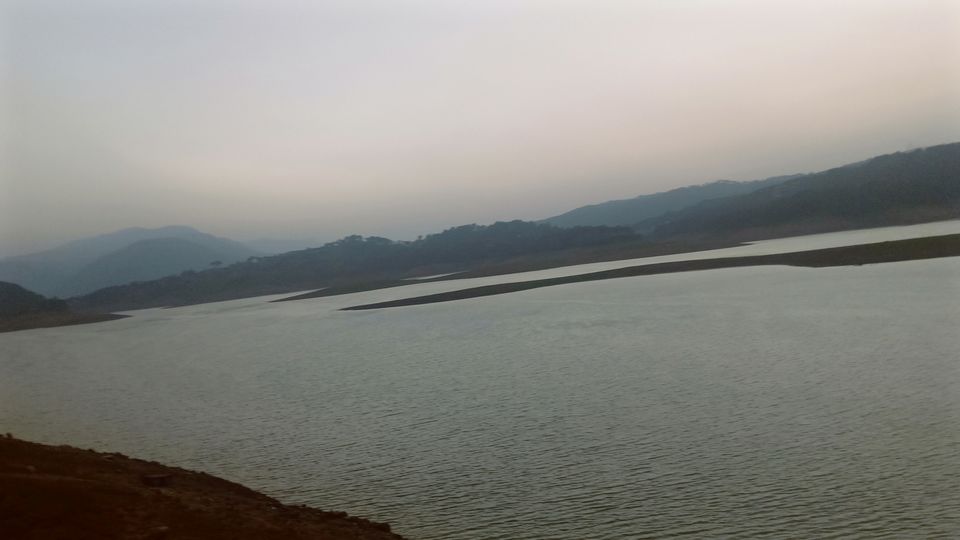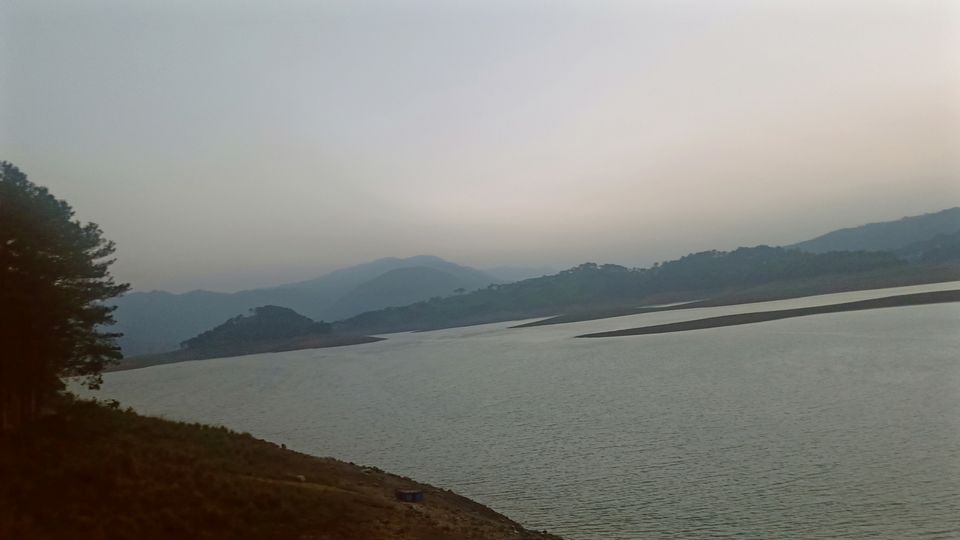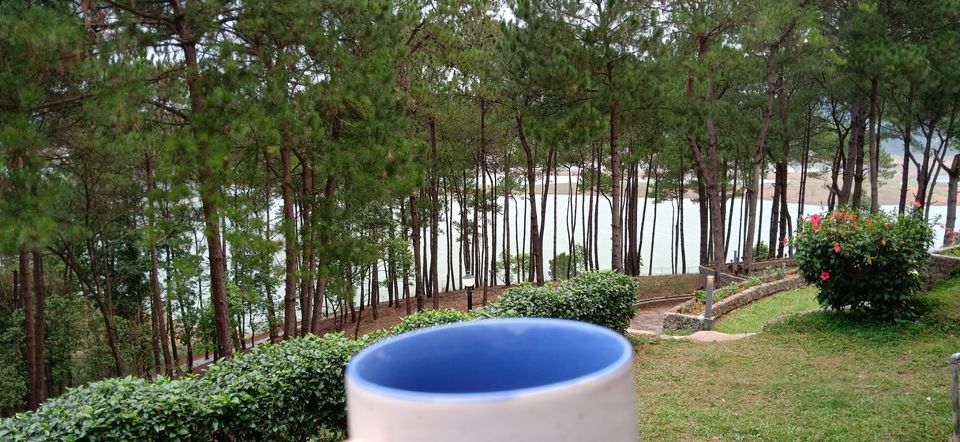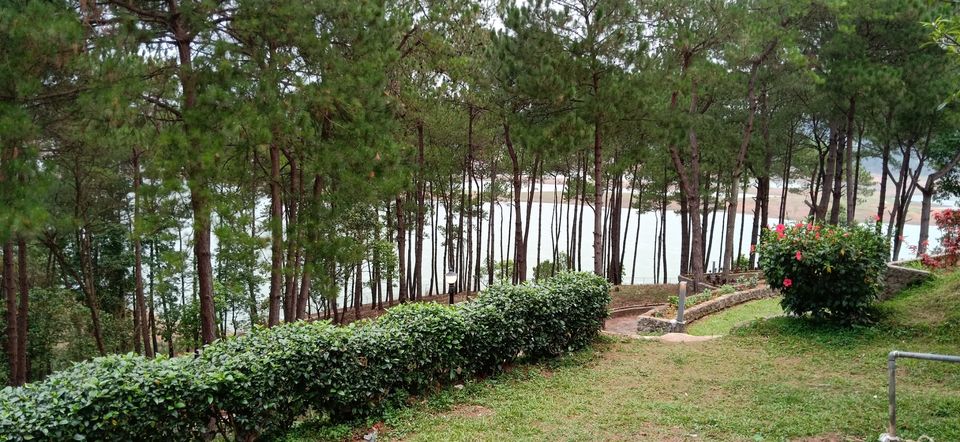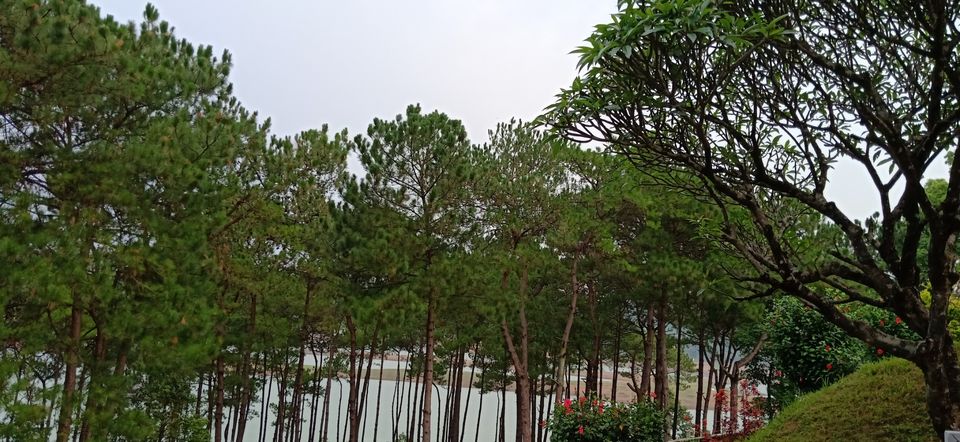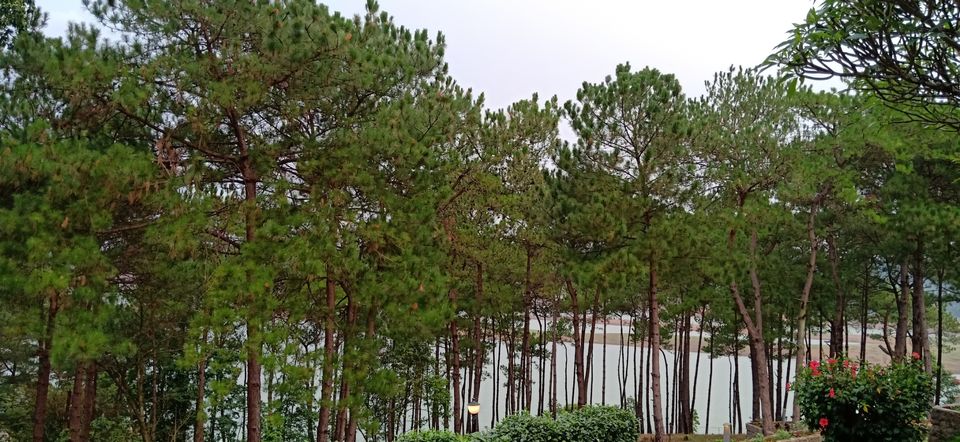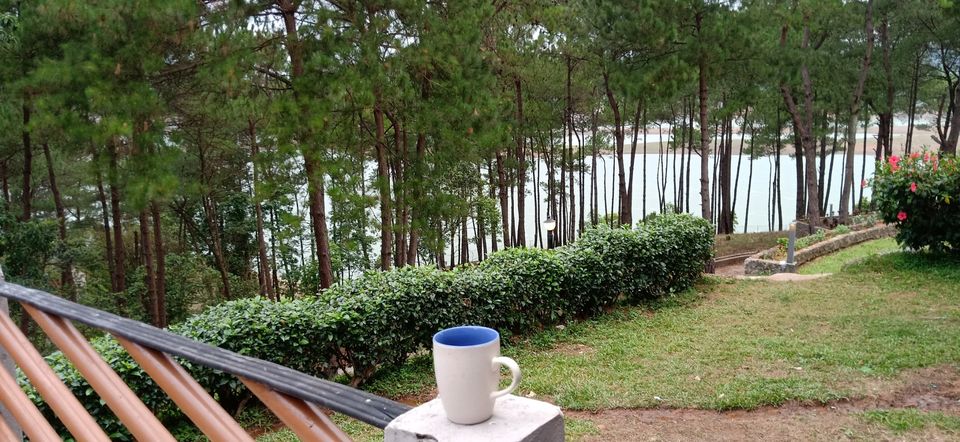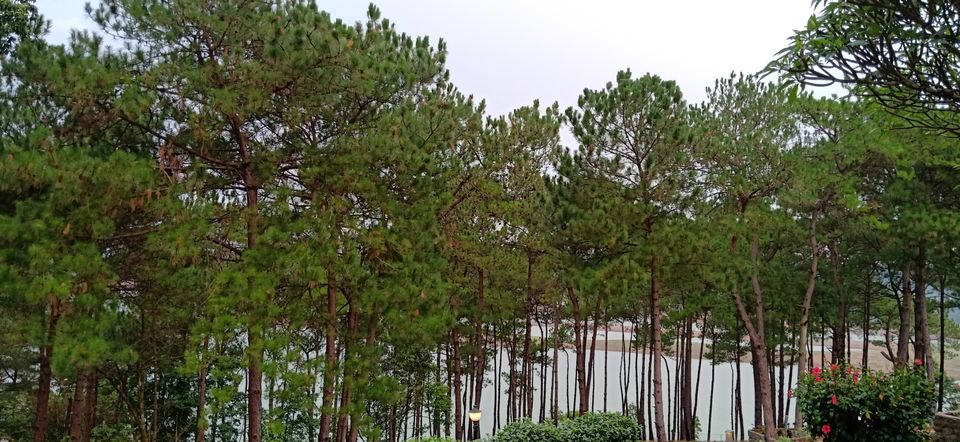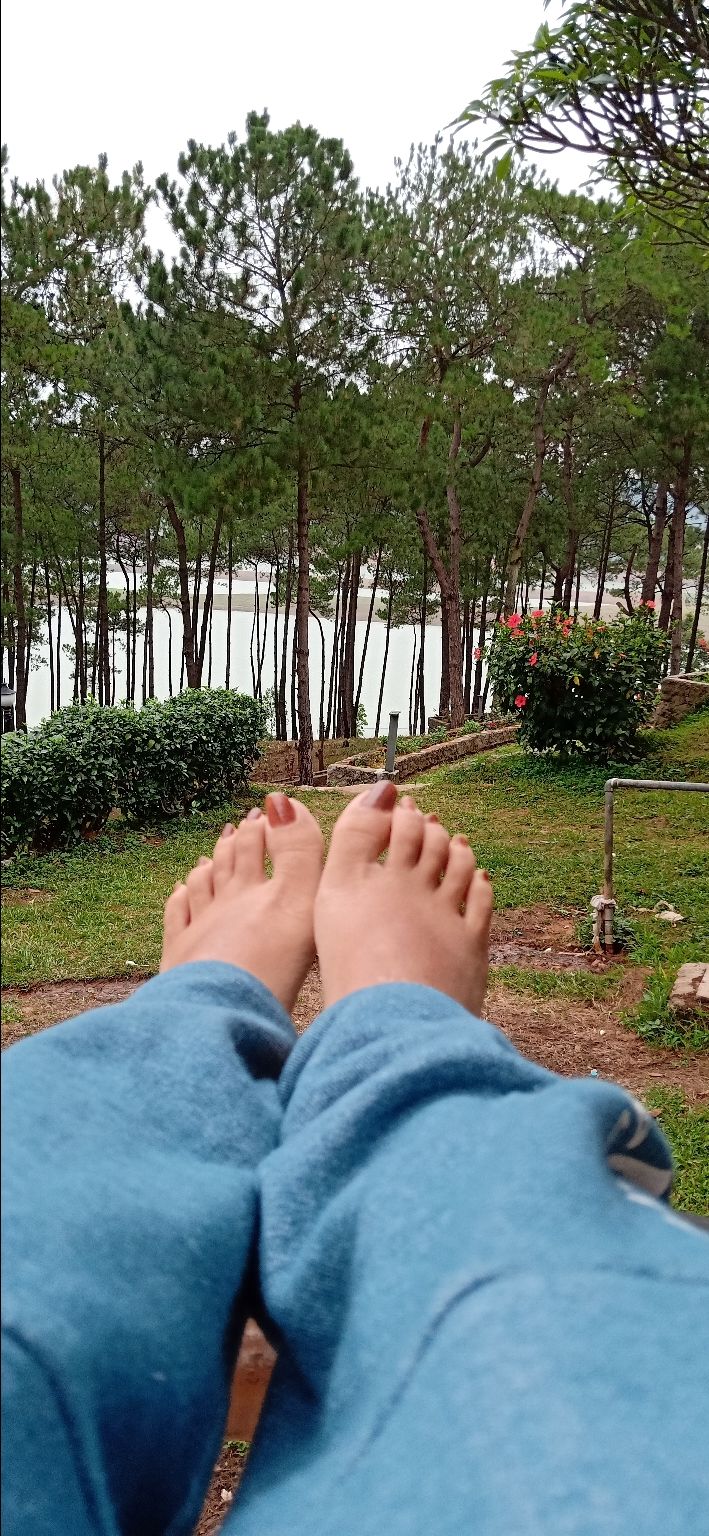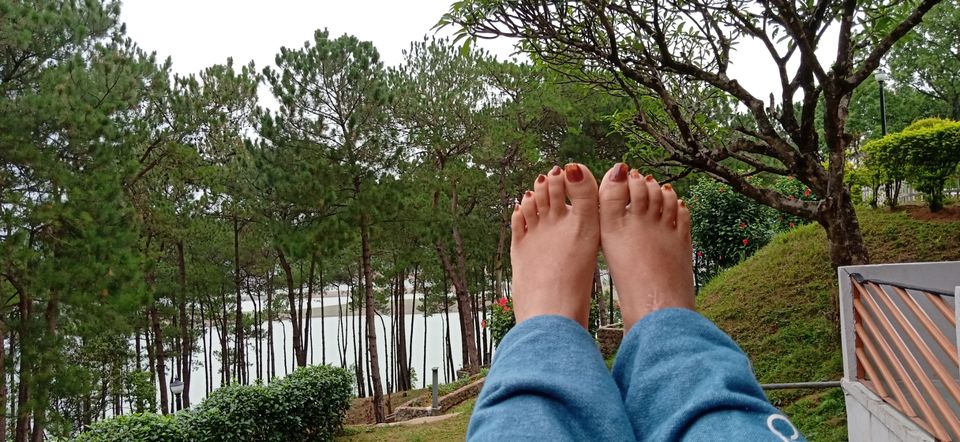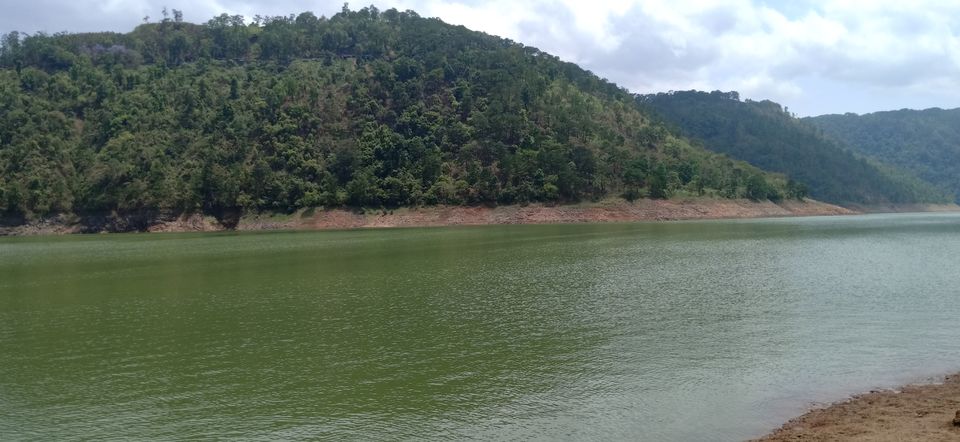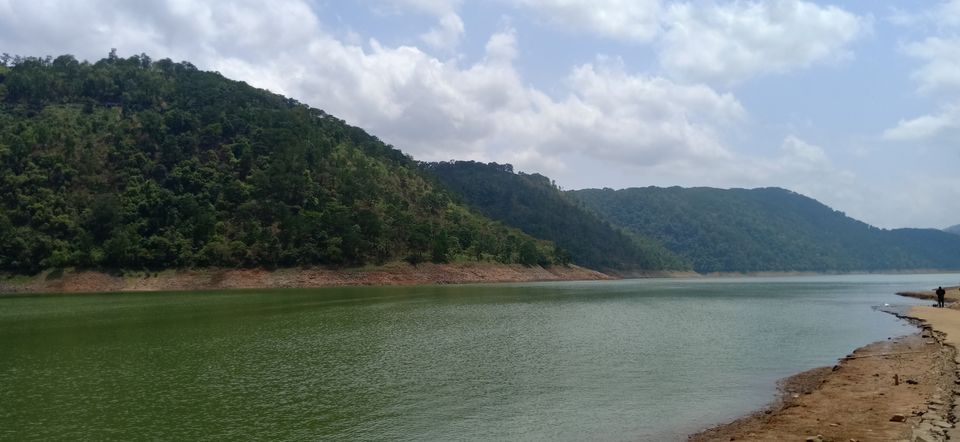 Cherapunjee also locally known as sohra is alltime foggy or covered with clouds. It's one of the wettest place on earth.  Anytime you visit this place,  you will get lost in the clouds and it's scenic beauty.
The lush green valleys,  canyons that stand midst of the cloud with spellbounding view of milky waterfalls  is one thing of joy to witness in Cherapunjee.
There are several trails to trek and places to discover in sohra.You will find  places to see and capture moments of bliss along in it . All along the quest of finding the surprises and pleasure to our eyes,  we will unknowingly discover the best of ourselves,  while the clouds move along with you and you keep moving ahead.
There is a calm in this place that you will seek within you.  After you have left behind all the hustle of daily life.  You escaped from the miserable monotony.  Reaching cherapunjee is a feeling something similar to moments post cold shower after a hot dusty sunny day. Well,  but it's not exact and appropriate description . But anyway I tried!!!
As you drive towards cherapunjee the visibility will decrease and the roads will be covered in thick clouds.  Driving can be really tricky and dangerous here when thick clouds cover the road . Be cautious while you drive, as you are approaching the most beautiful and amazing experience ,along with  some thrill and mesmerizing view of your lifetime.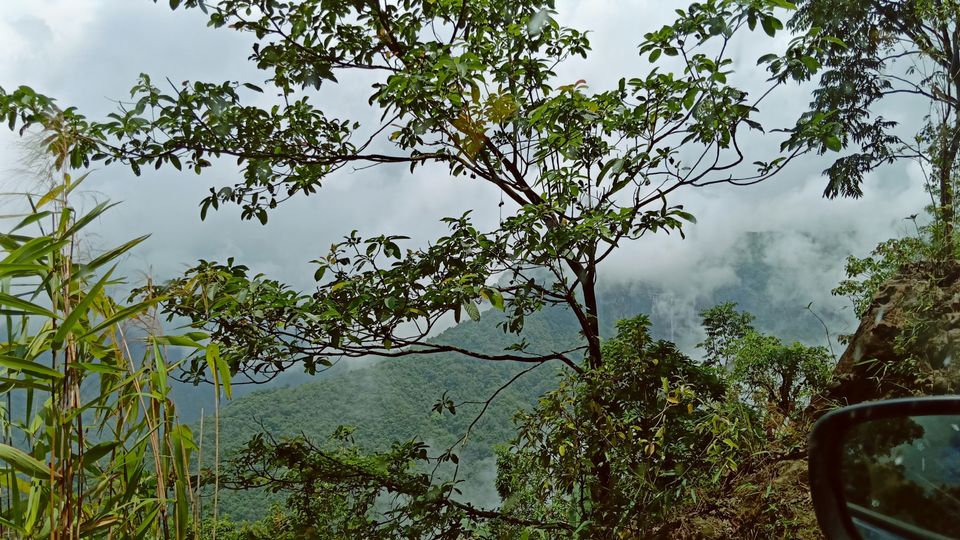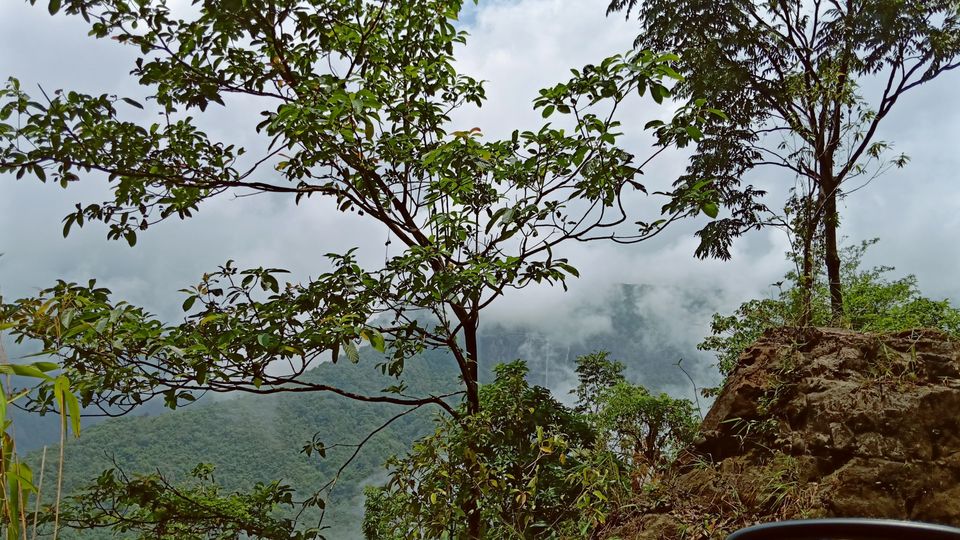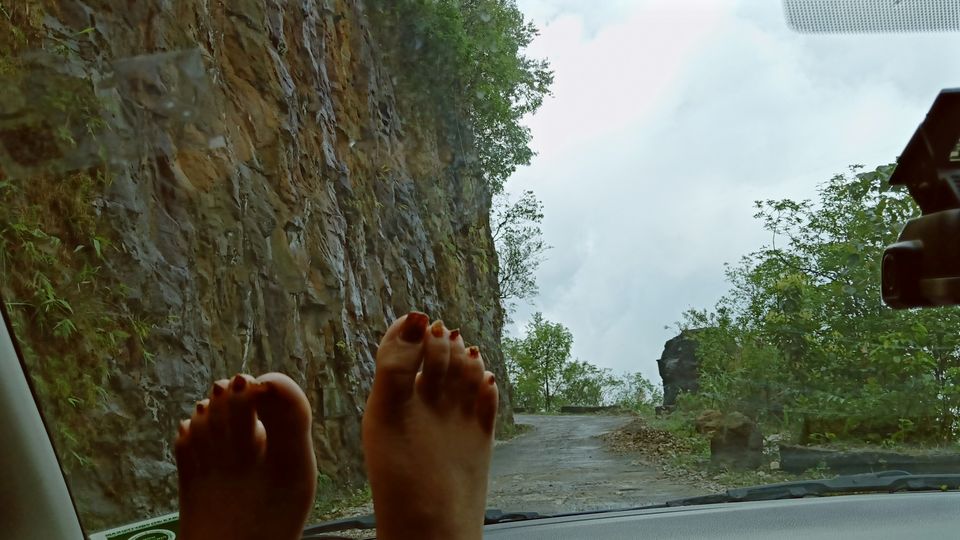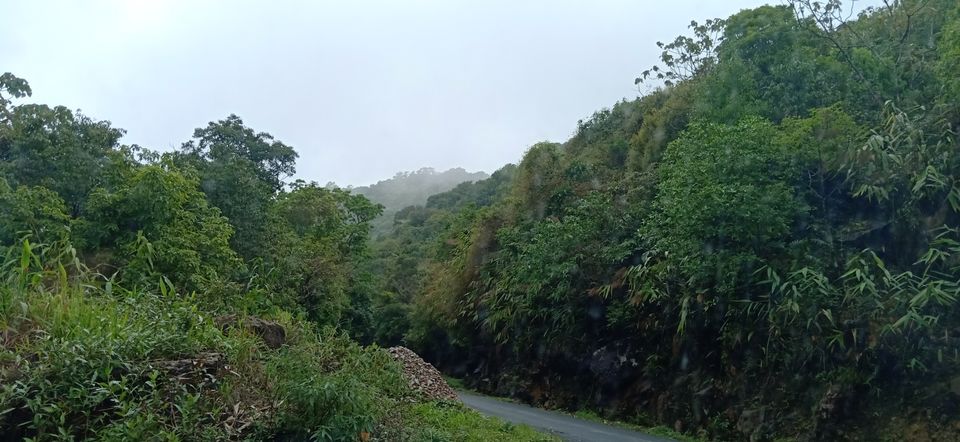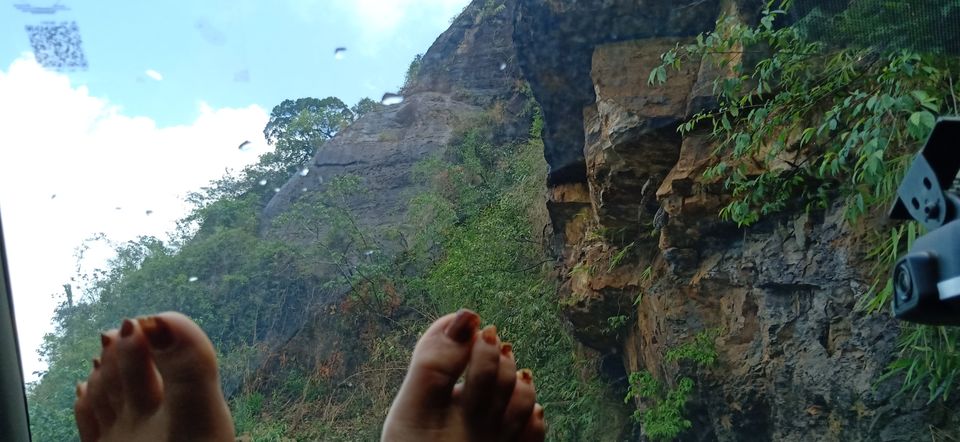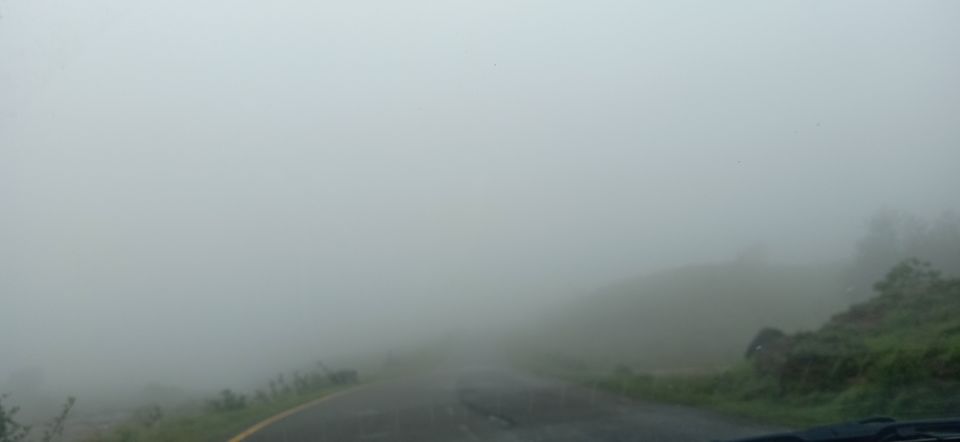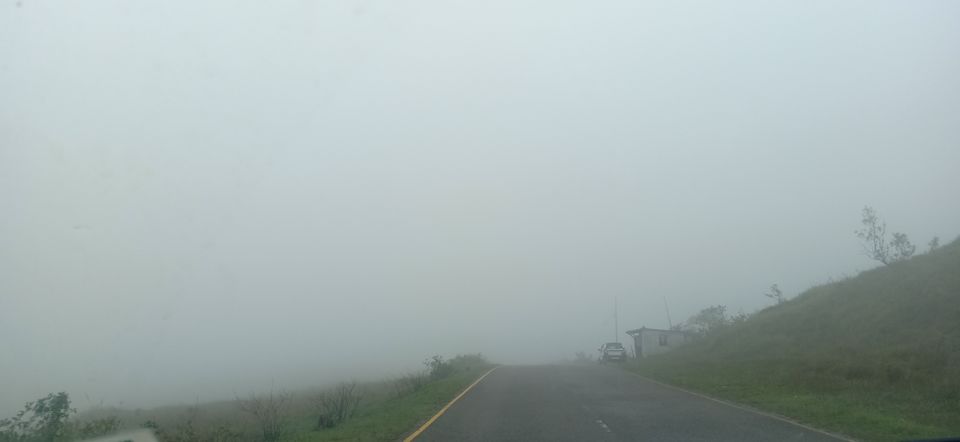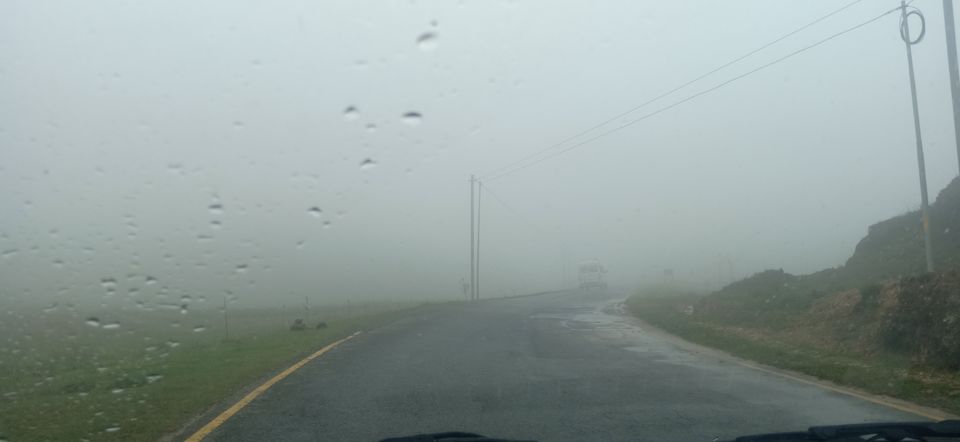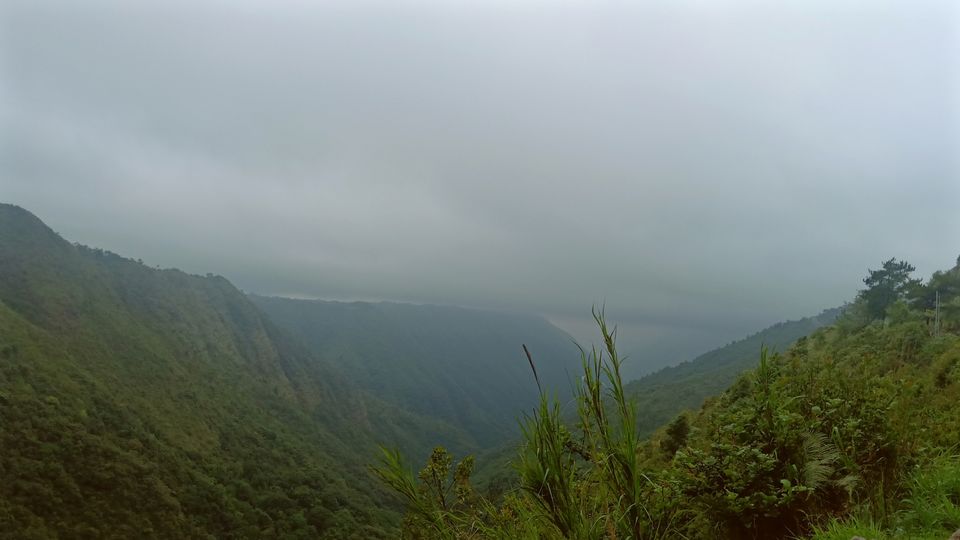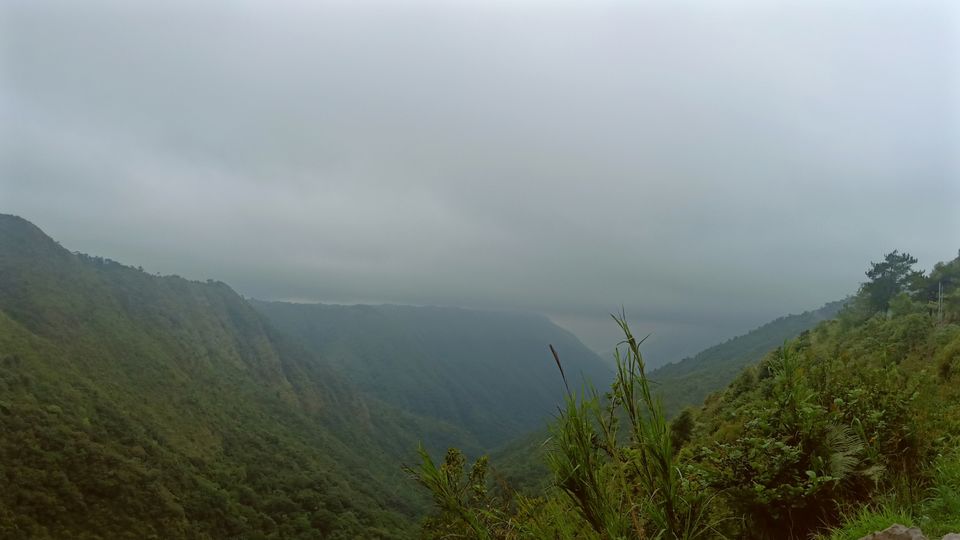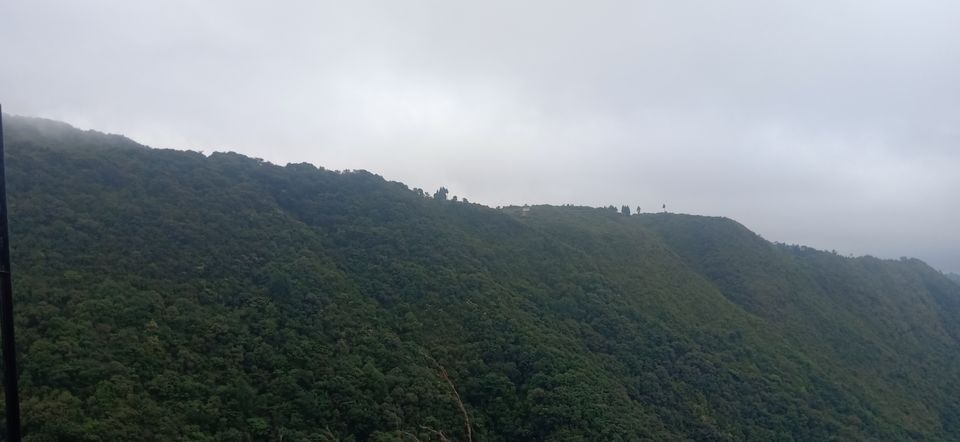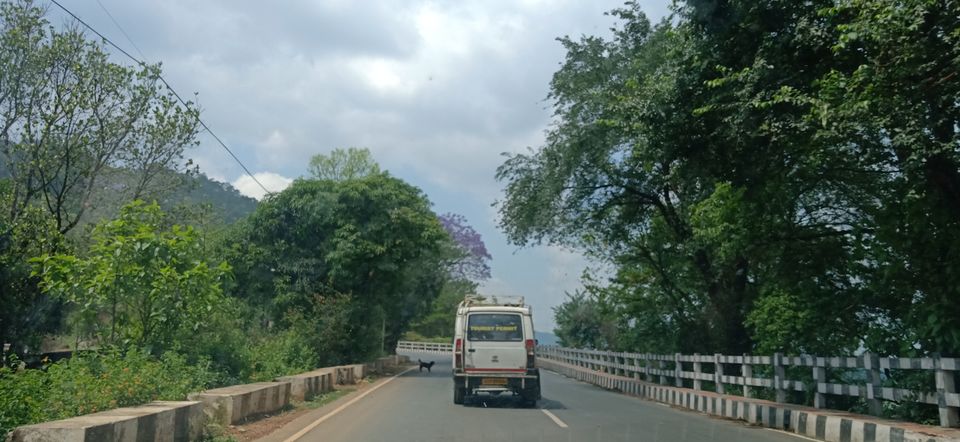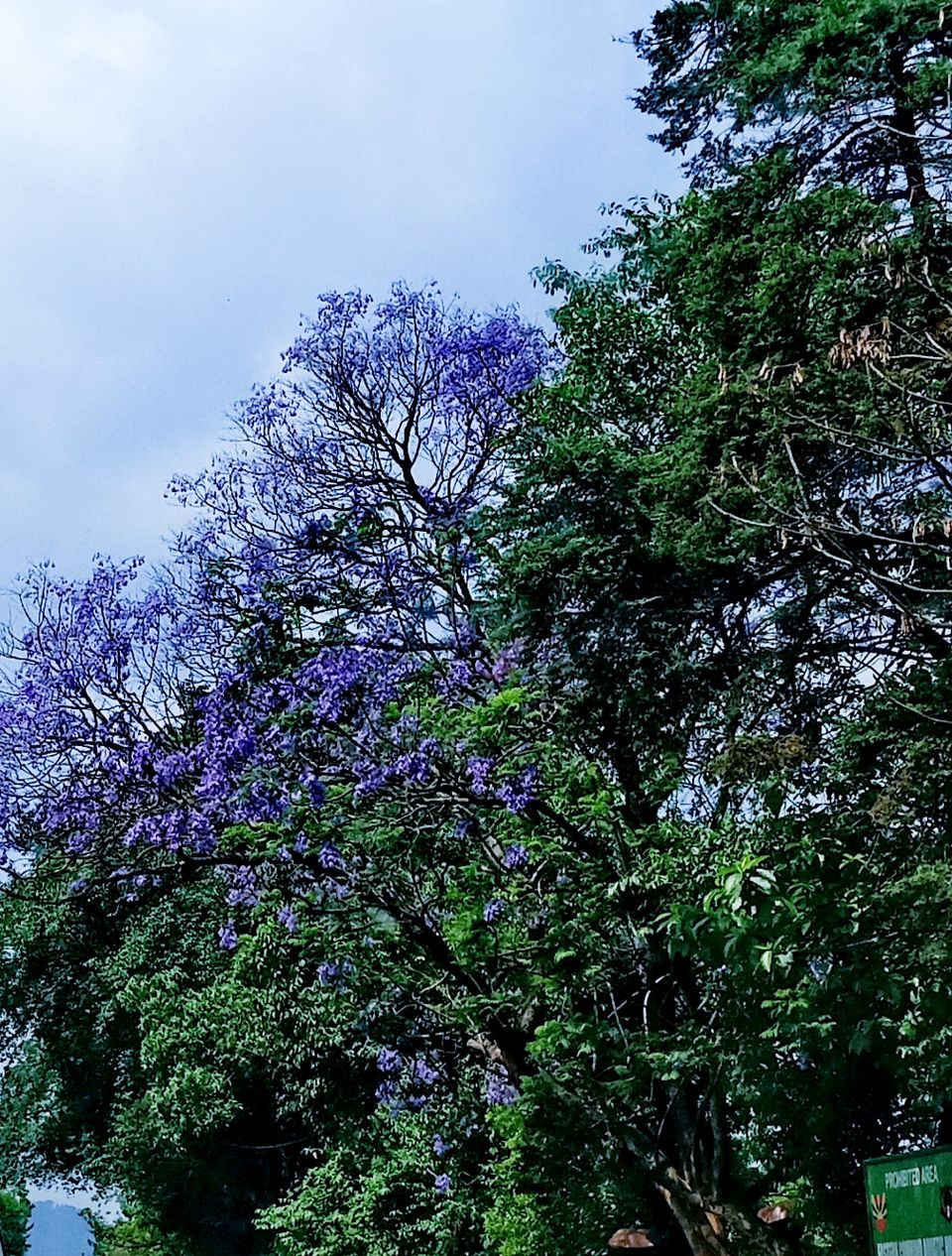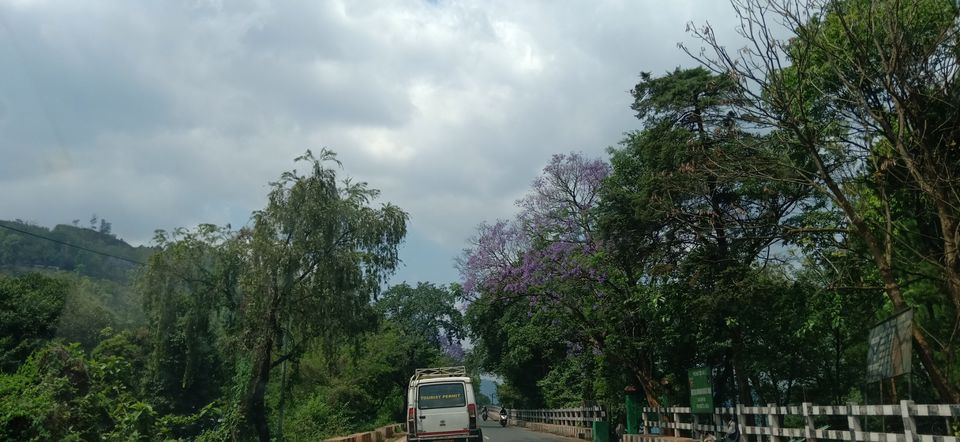 Nohkalikai falls
It's some 5kms from the main point of cherapunjee.  When driving towards the falls, start the drive upwards near golden spoon dhaba.
"Noh" means to jump and "kalikai" was the woman who jumped off the cliff.  As the legend goes kalikai was married to a man for the second time and she had a daughter from her previous marriage.  The husband was jealous of his step daughter so one day when kalikai returned home her husband fed her the meat of her own daughter . She later found the little finger of her daughter in the nut cracker.  Realizing the terrible thing that has happened to her daughter,  she ran all over the village and in the end not able to find her daughter anywhere, she realized that her husband made her eat her own daughter she jumped off the cliff. 
The story is tragic but the view is not.
Trust me!!!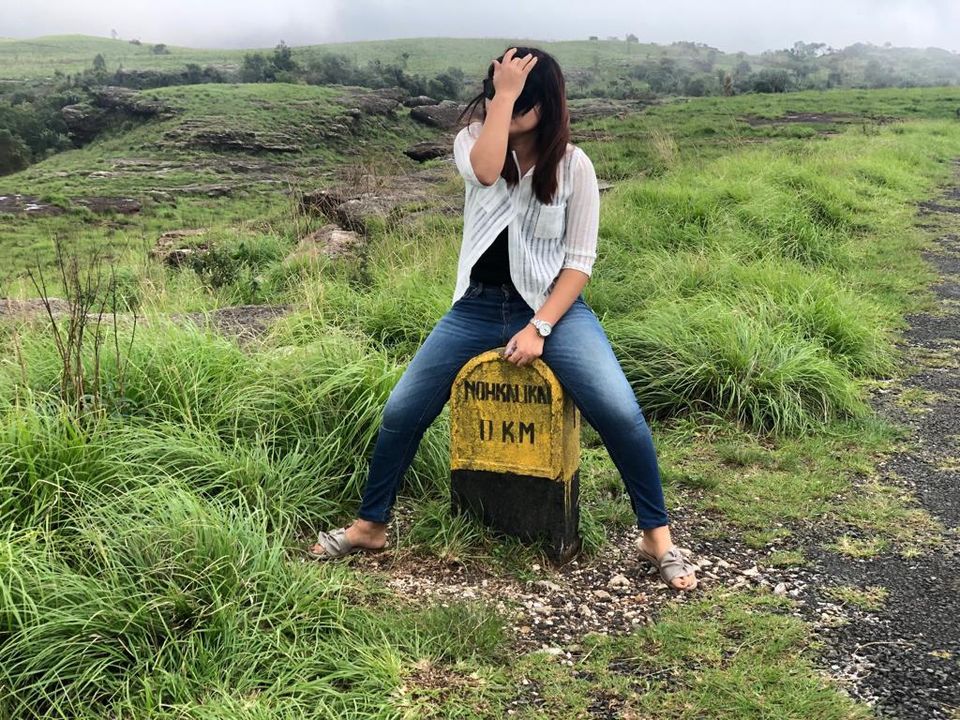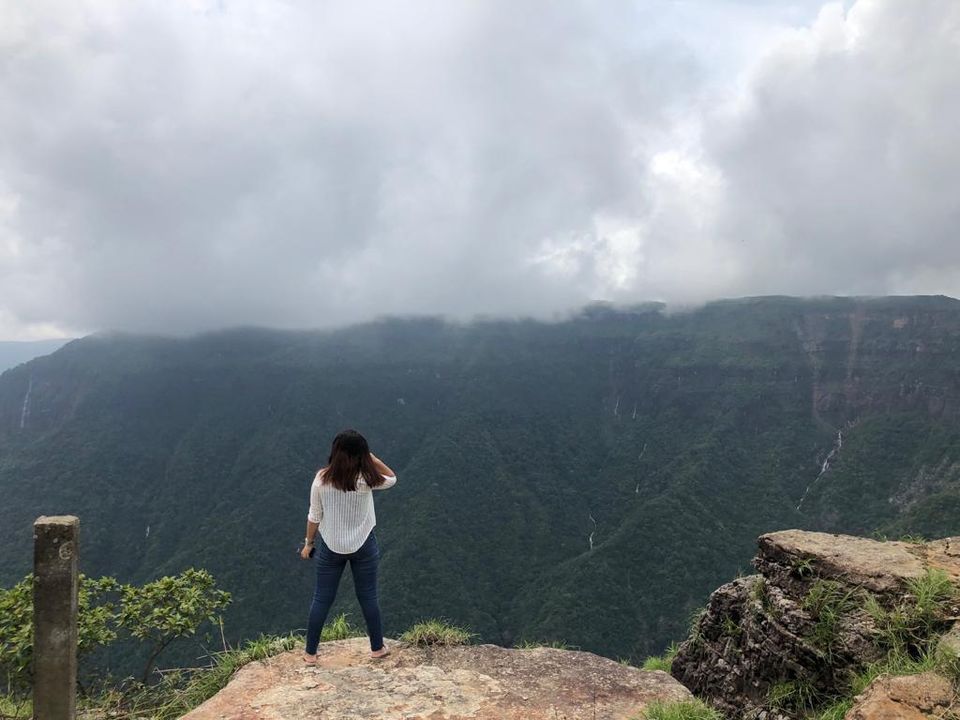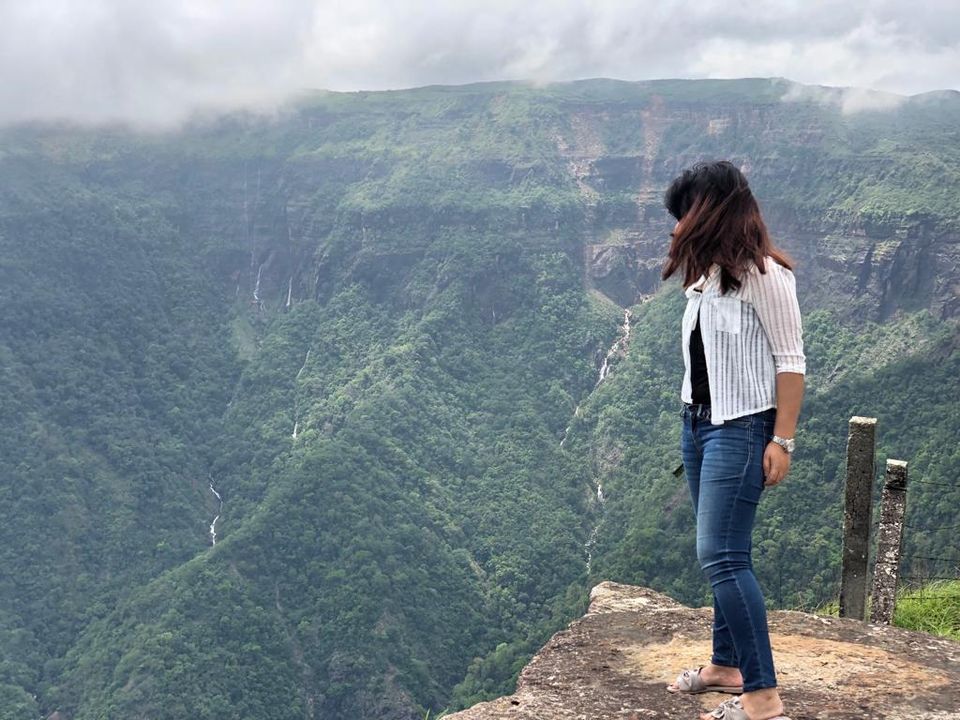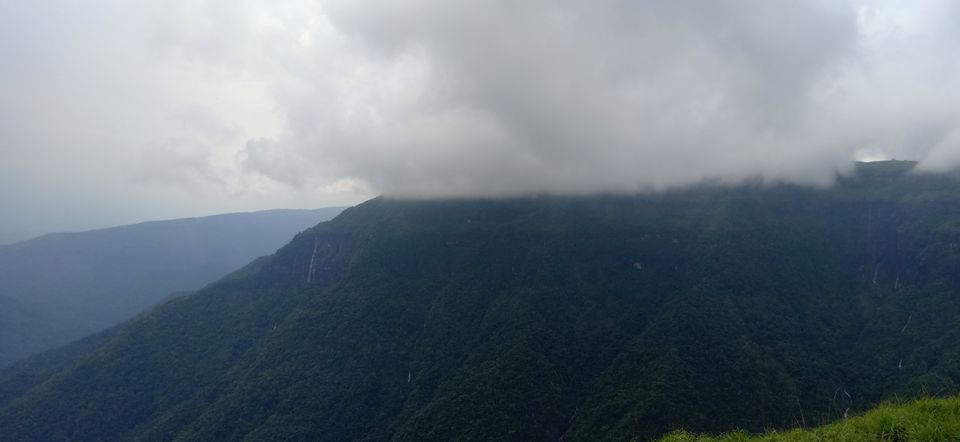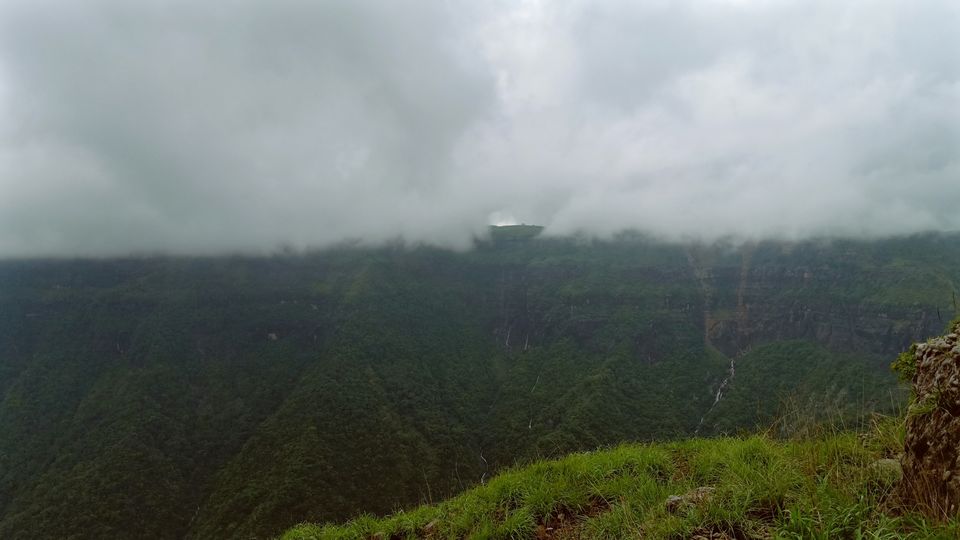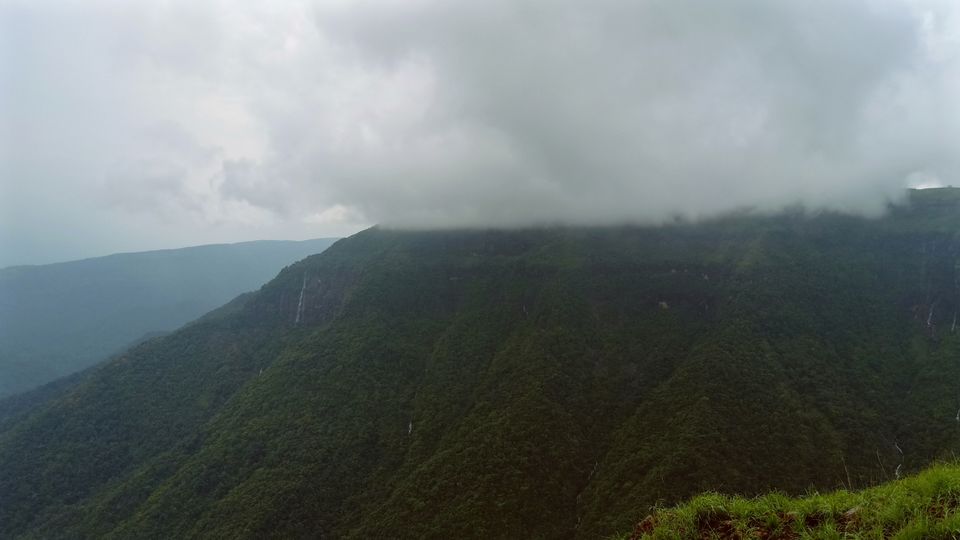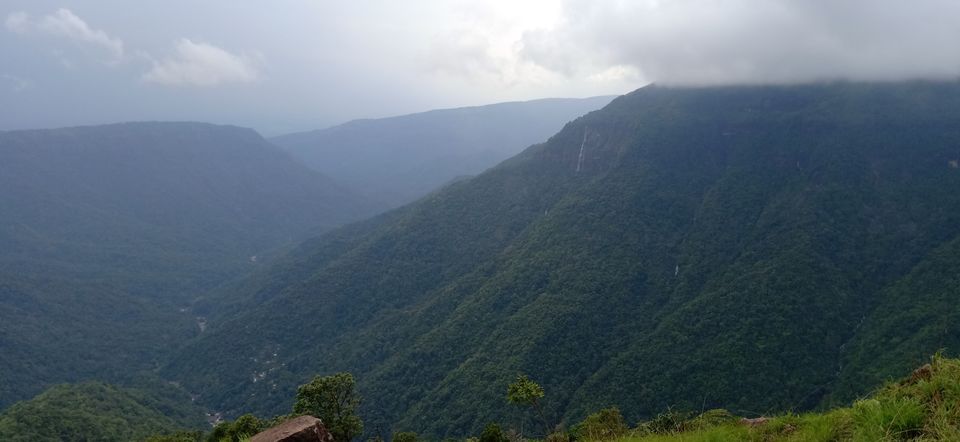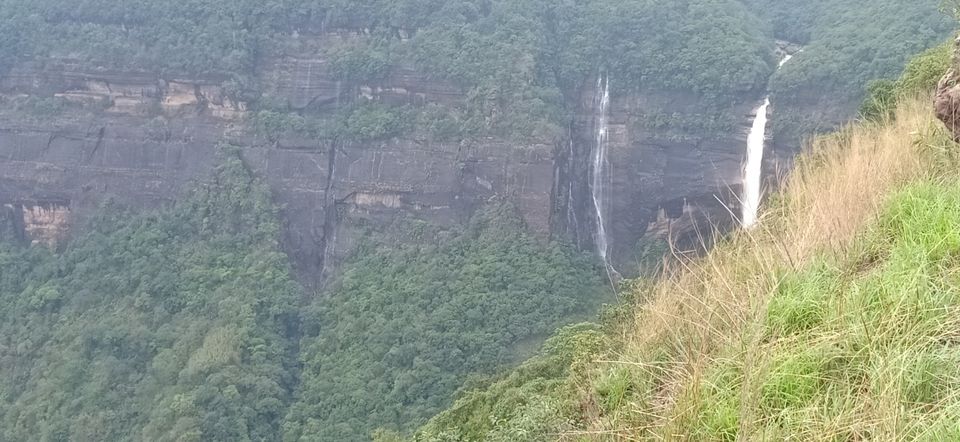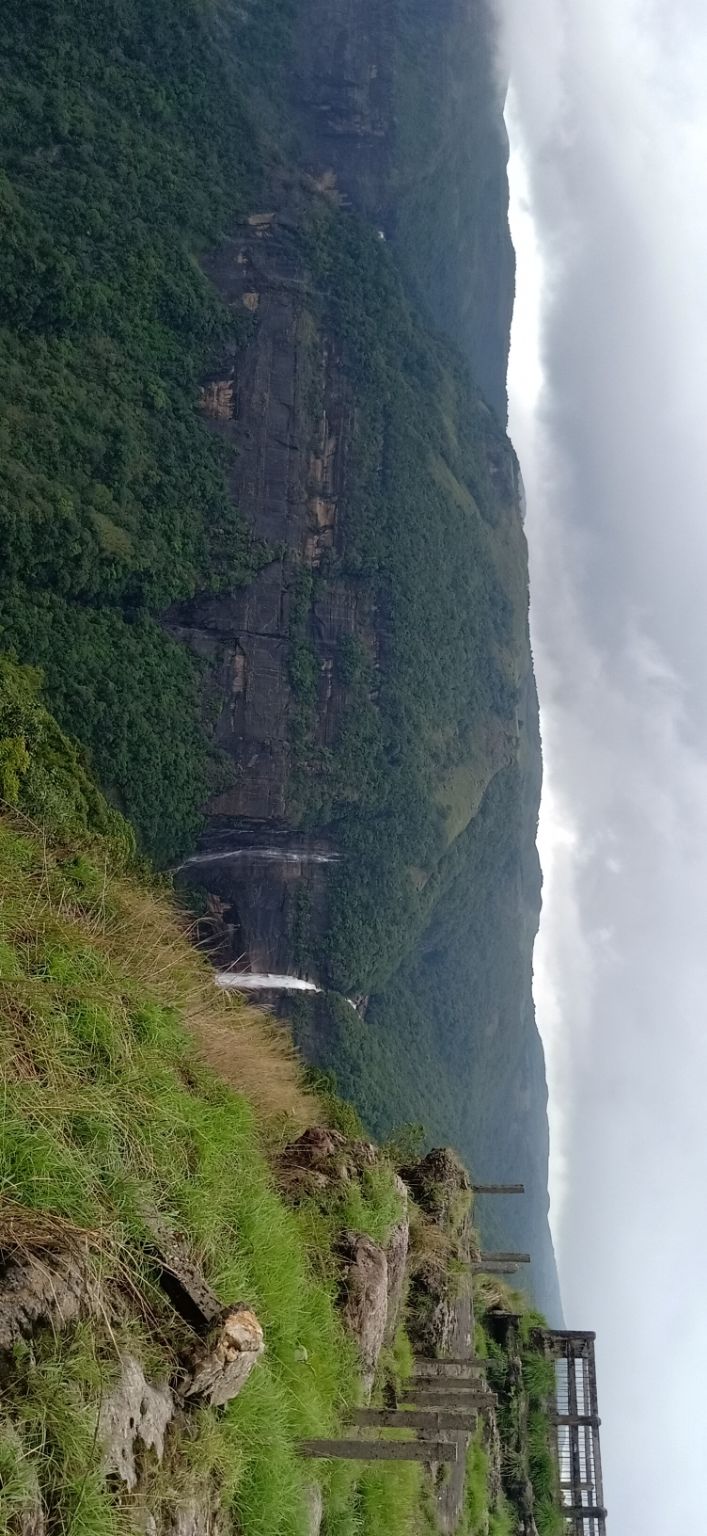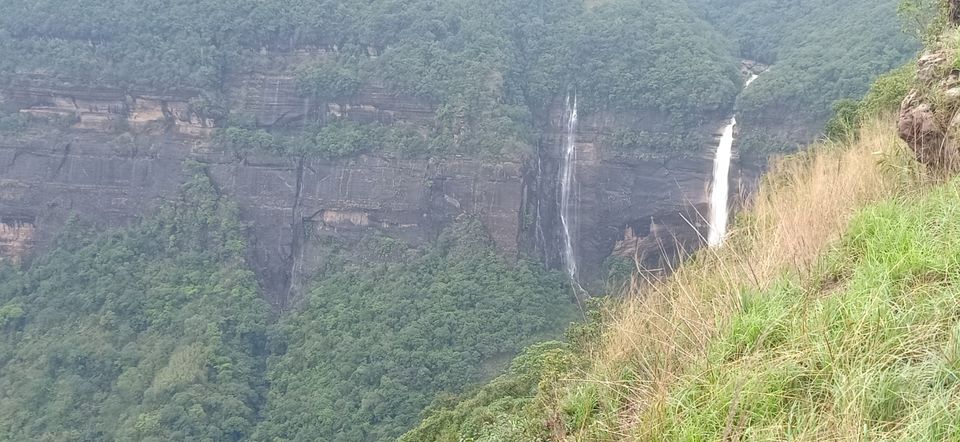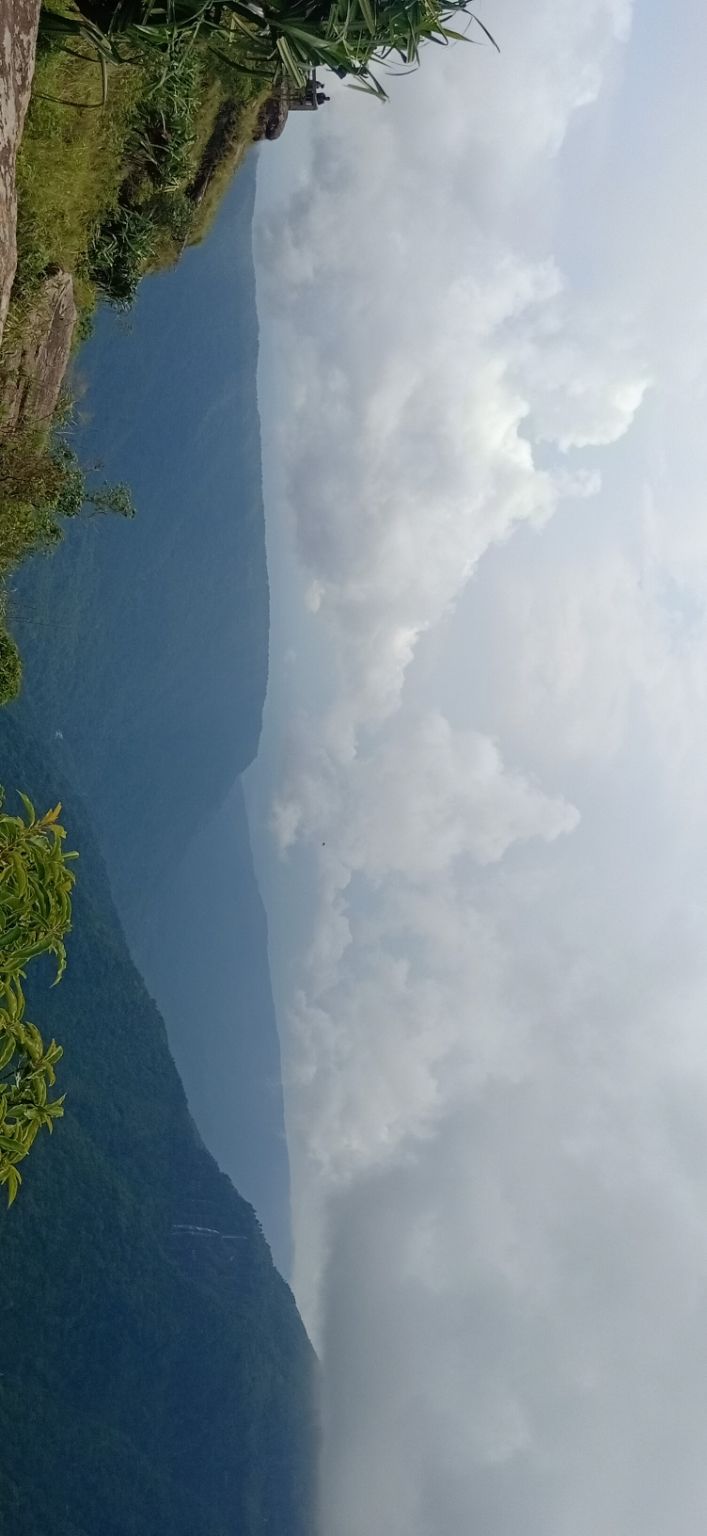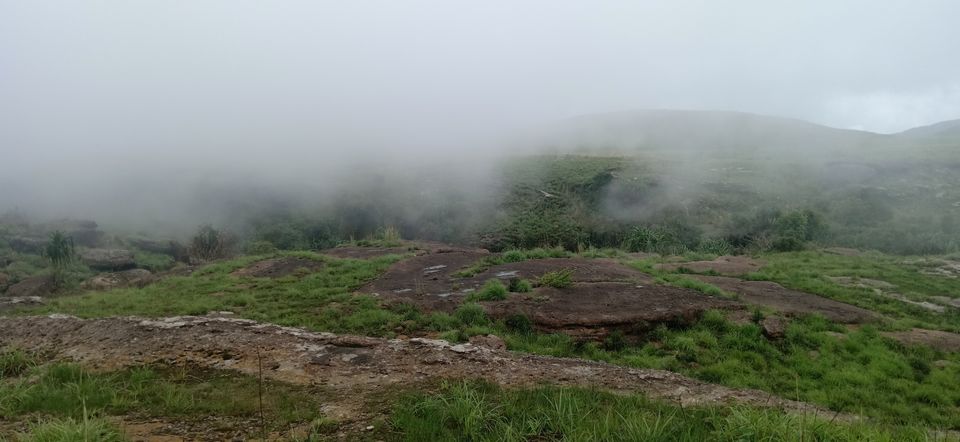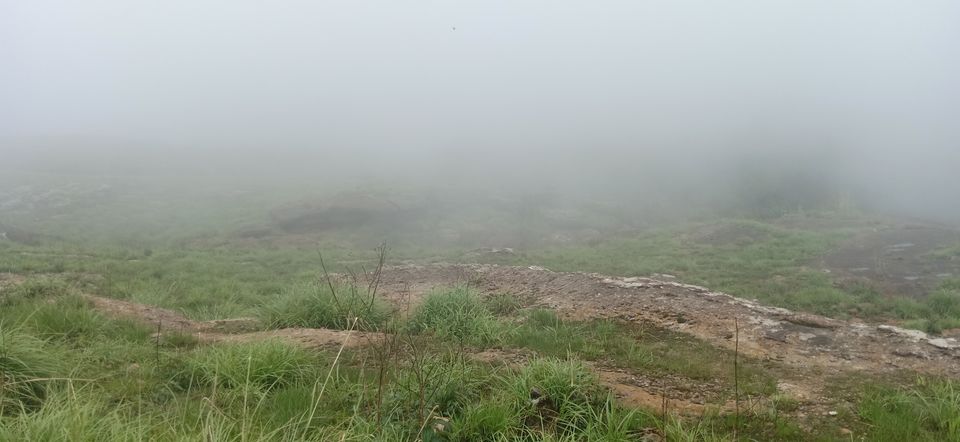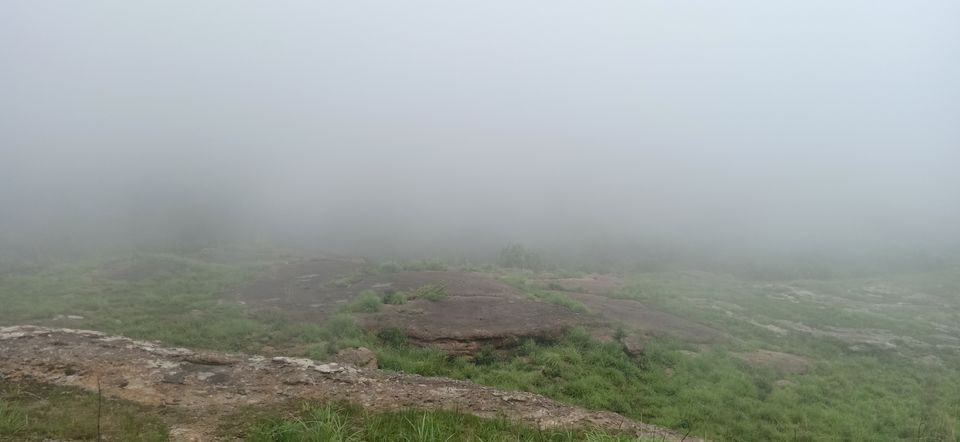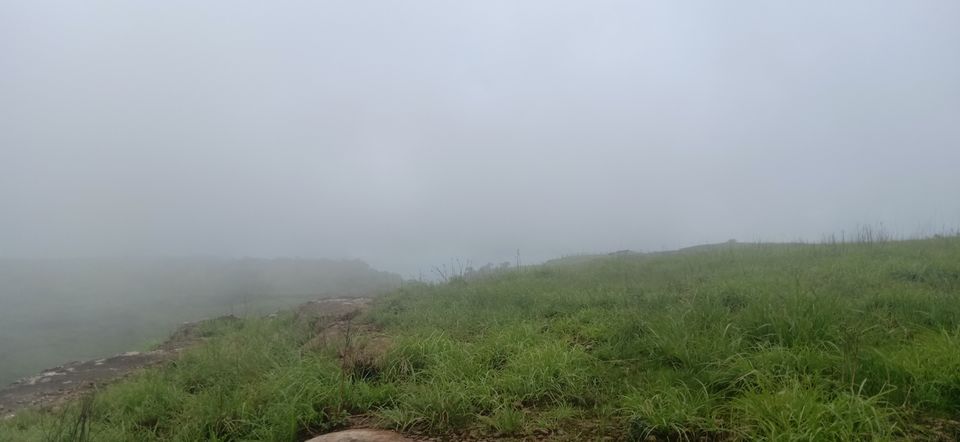 It's an easy 6km drive to Daithlon falls from cherapunjee . However a dangerous trek awaits as it leads you to a breathtaking view of an amazing waterfall. You can accomplish your one of the" to do list" shower under the waterfall.
Daithlon falls flows down as stream and again at a certain distance gives you a amazing speelbounding view as a wrestling falls. However weisidong falls cannot be captured through the easy way.  You have to earn it's views through a slippery and dangerous wooden ladder and a steep stair downwards. Then only you can  reach the falls.  So please wear shoes that has grip sole and are comfortable to walk down and uphill.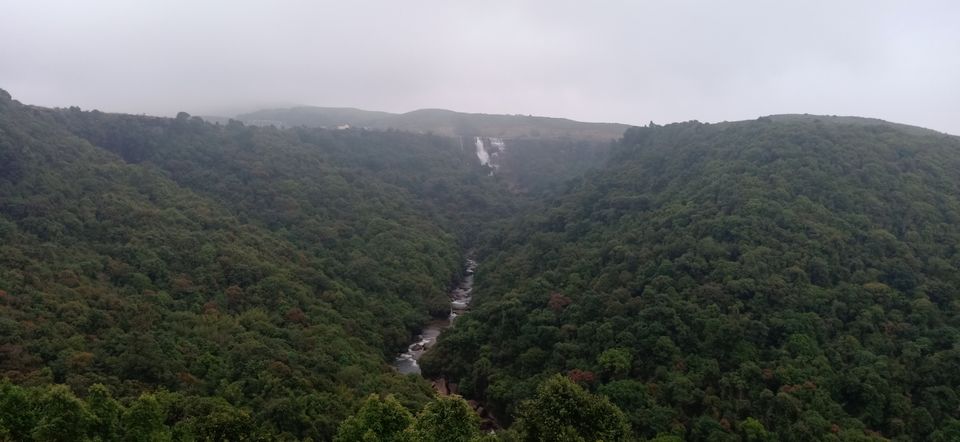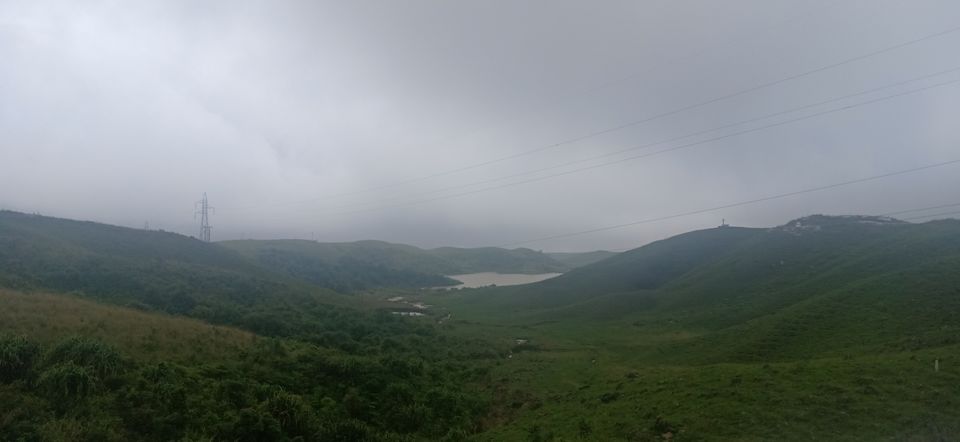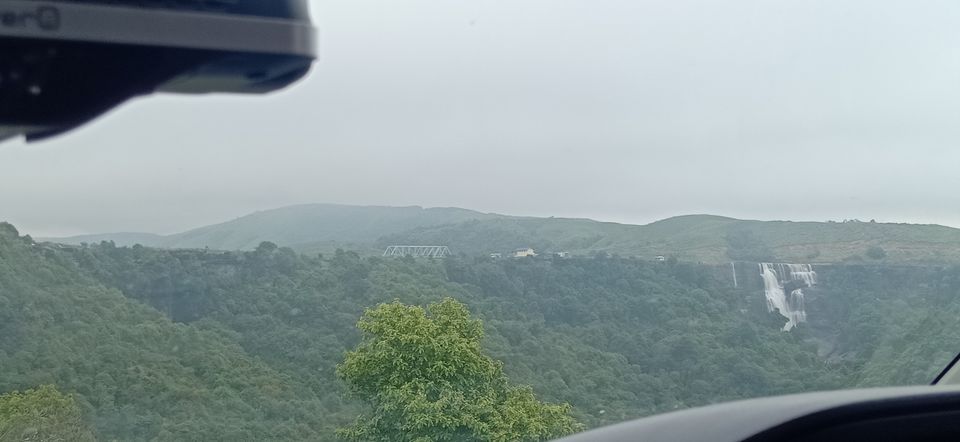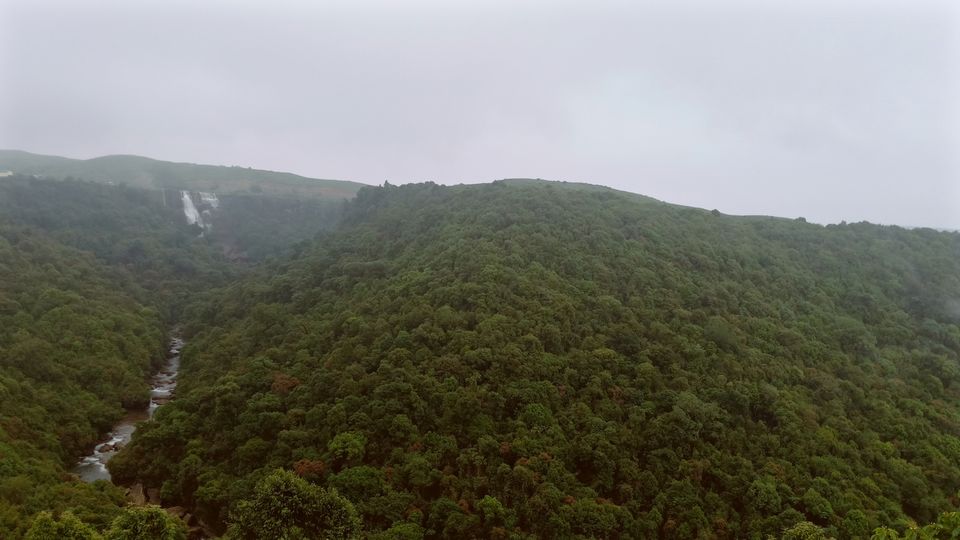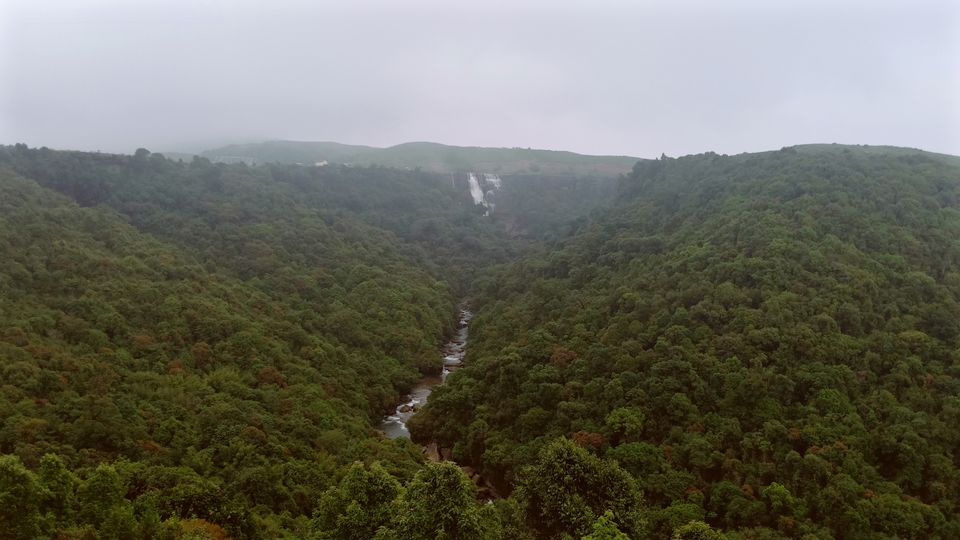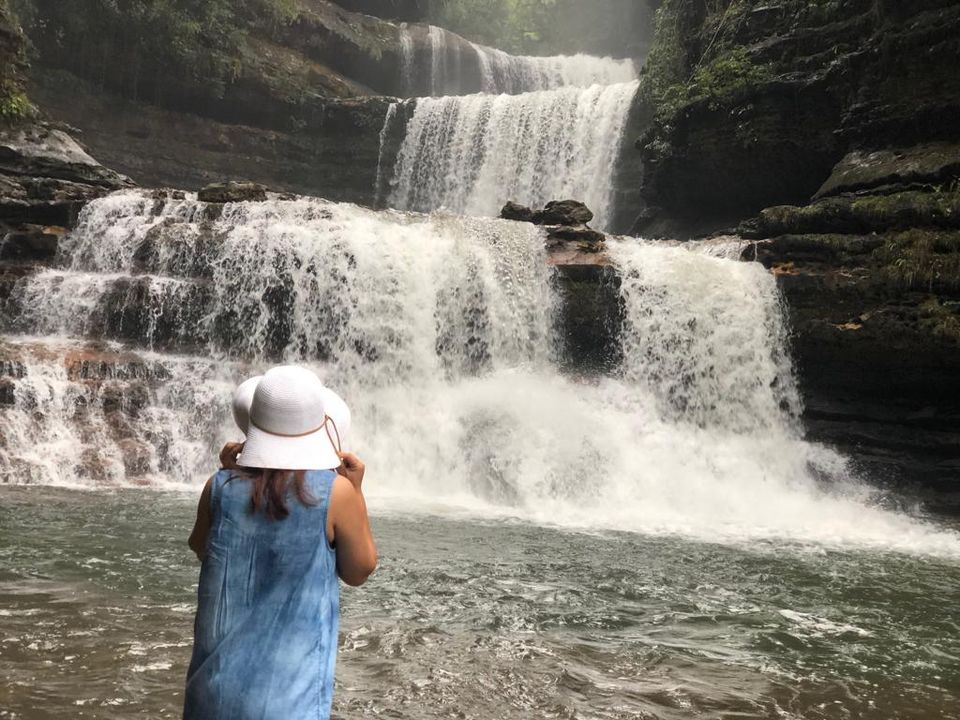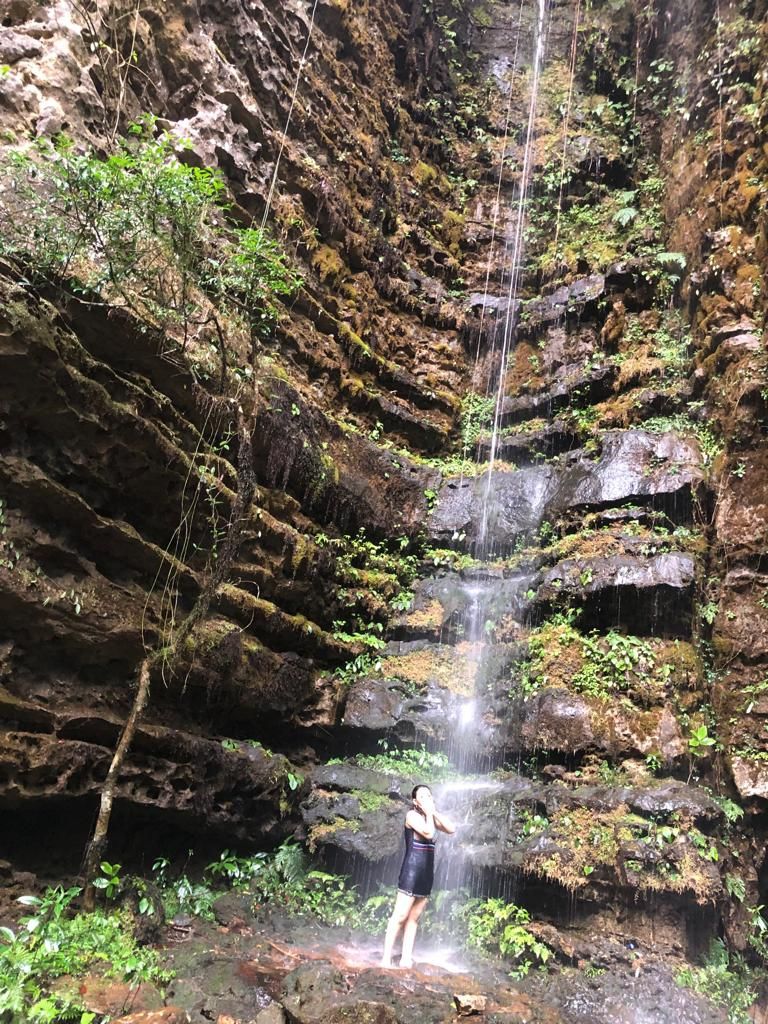 laitlum canyons
An hour away from Shillong, it worth paying a visit. 
The roads are driveable. However, there is no local taxi available so its better to rent a car or reach there by a motorcycle. 
The place is a extensive  lush green meadows that gives you view of the canyons . The strong wind that blows from far below the  gorges  will move you (literally ).
There are many ambulant tea vendors who have chips,biscuits and fruit cakes to offer.  Otherwise, it doesn't have a decent eating outlet. Parking is available.  10 mins away from the Laitlum canyons is a a cafe known as Daphipha cafe, which I recommend to visit for moms and chowmein.  The taste is amazing. 
This is a great place for family picnic. A great pre-wedding shoot venue too. If you have great photo graphy skills, this place is inviting.  Also the quiet it owns is for people who like to just be , there (without thinking or doing anything).
You can lie down and look at the sky,  or just roll down on the slopes.  You can watch the clouds on their transitional high and want to sway away with them.
You can just be crazy or lost or meditating.  Maybe cluck someone's picture or get clicked yourself.  You can just be anything and do nothing,  but happiness is guaranteed!!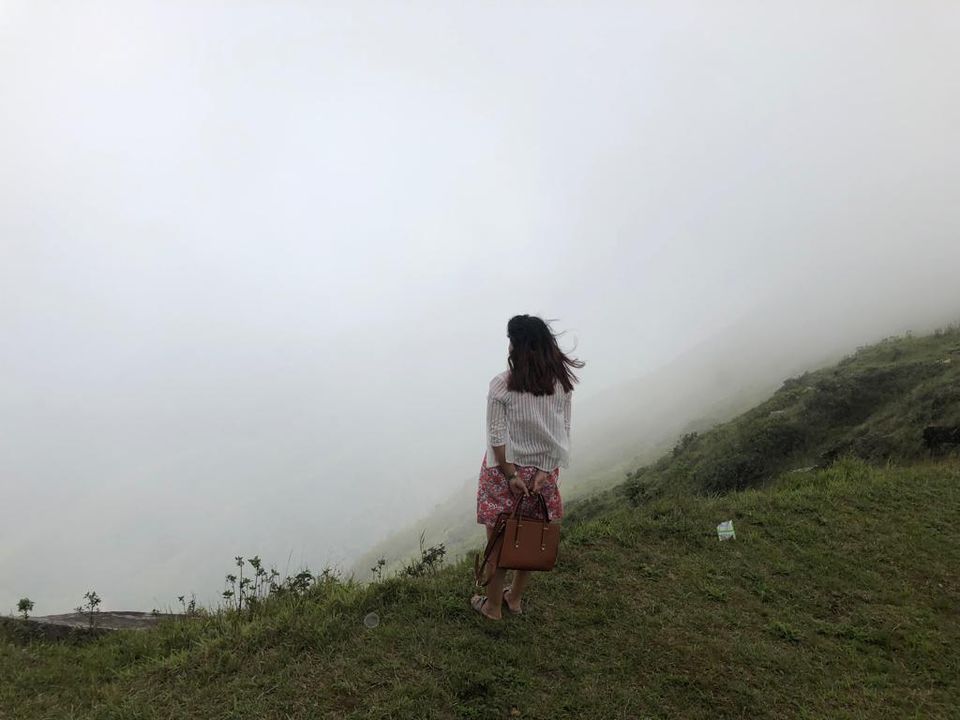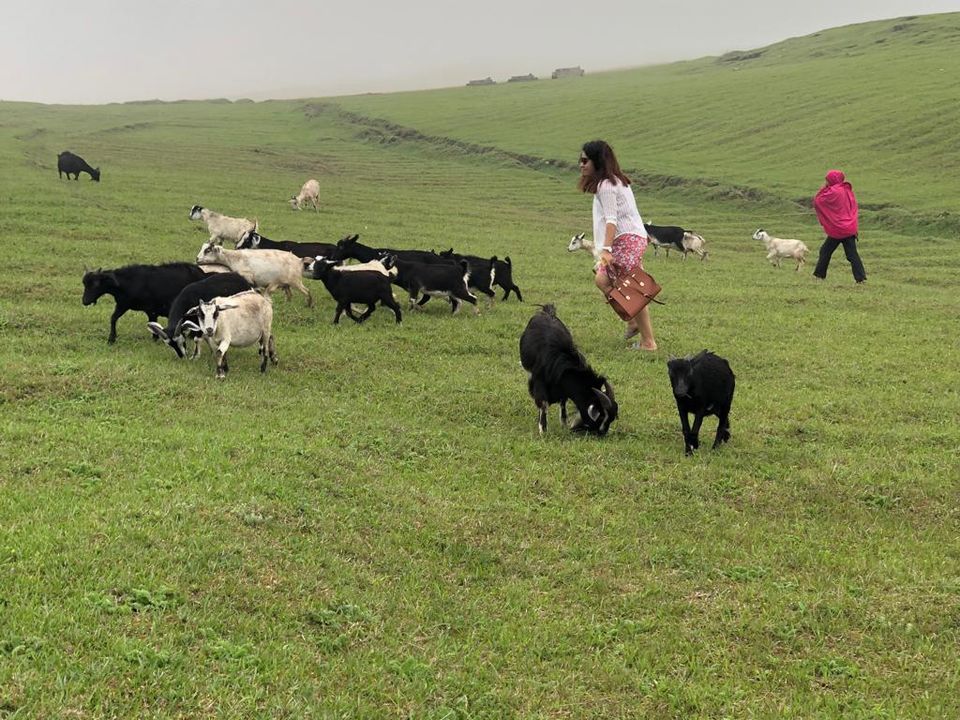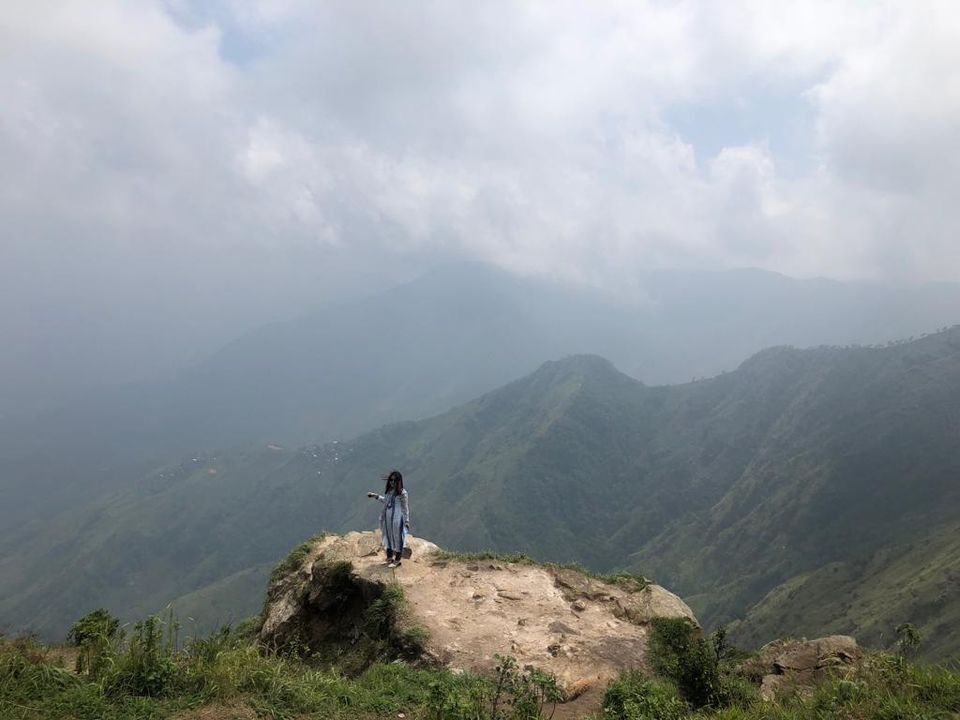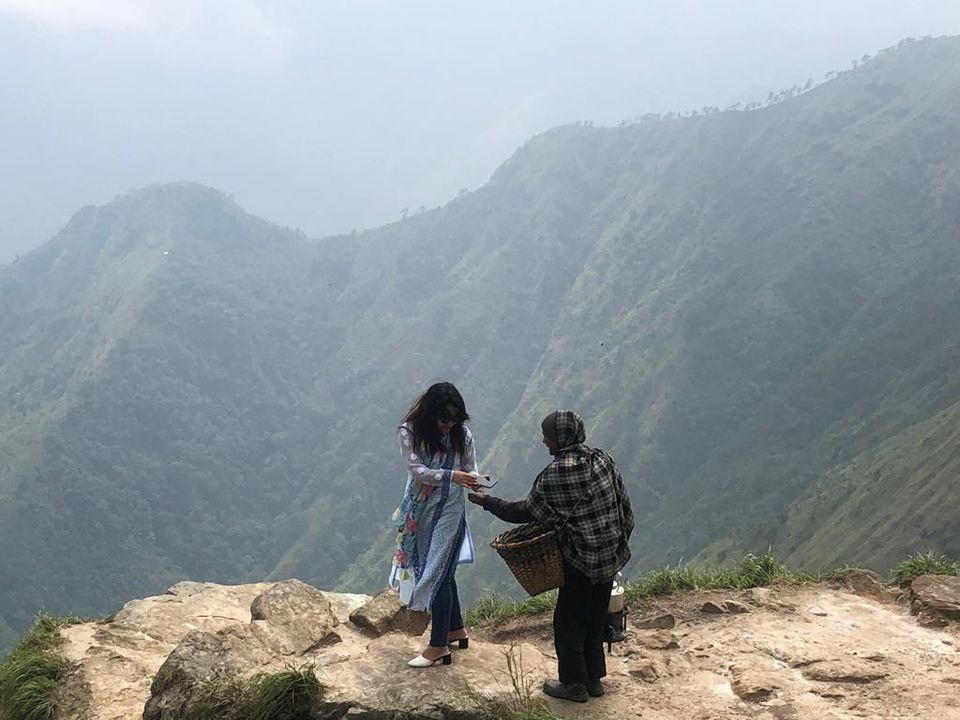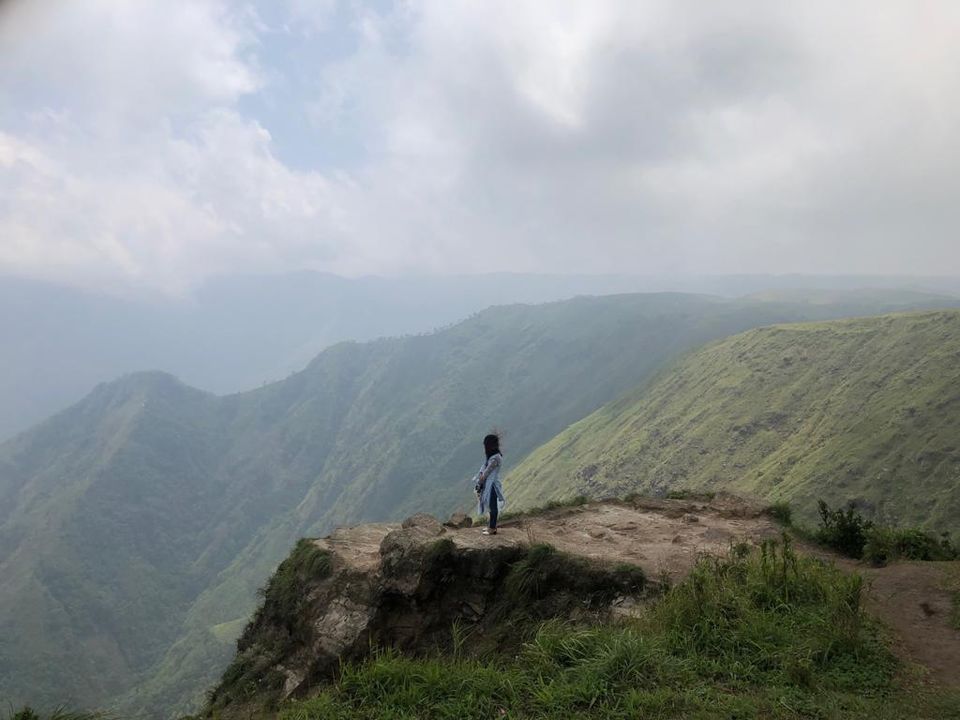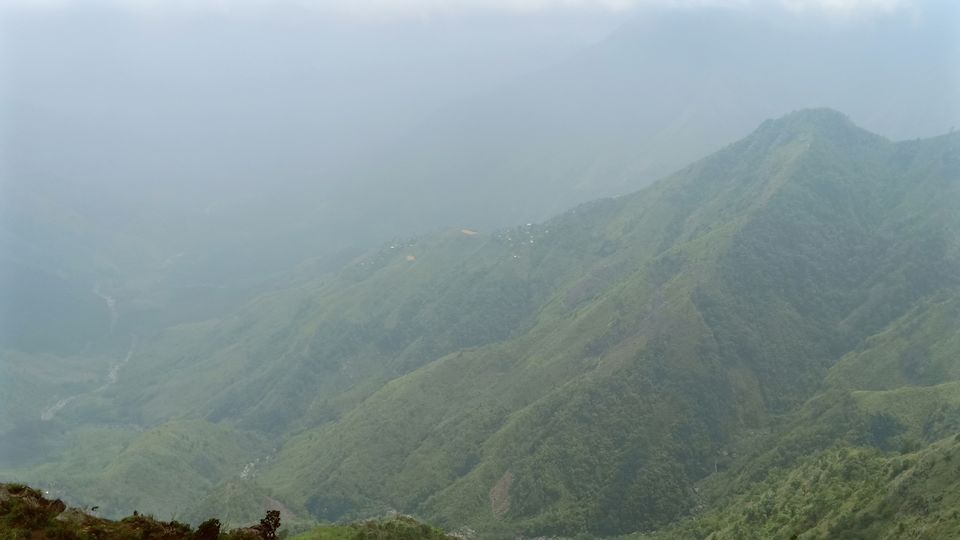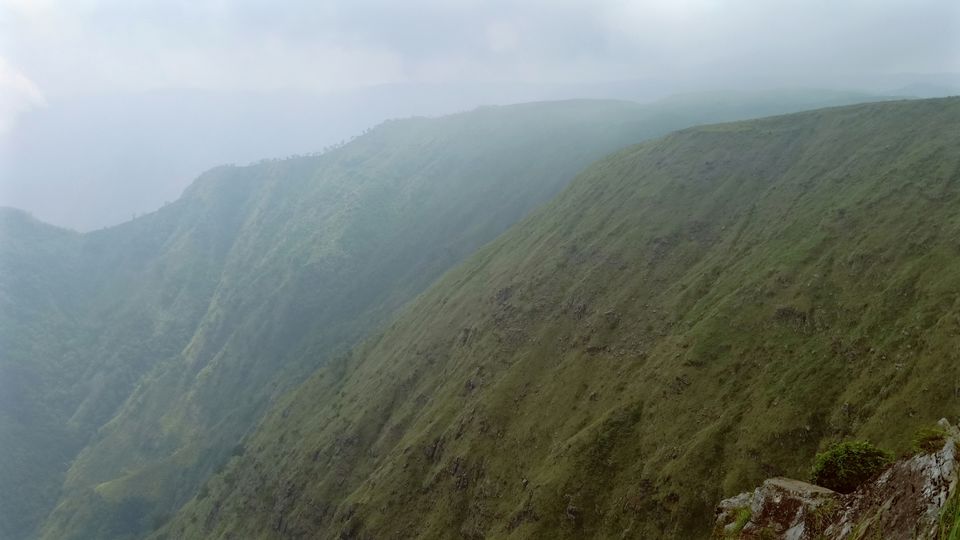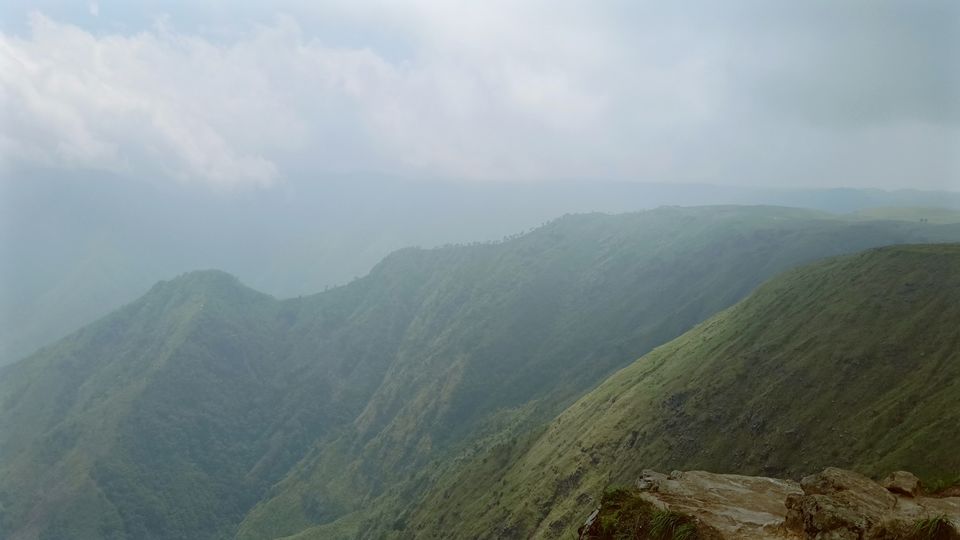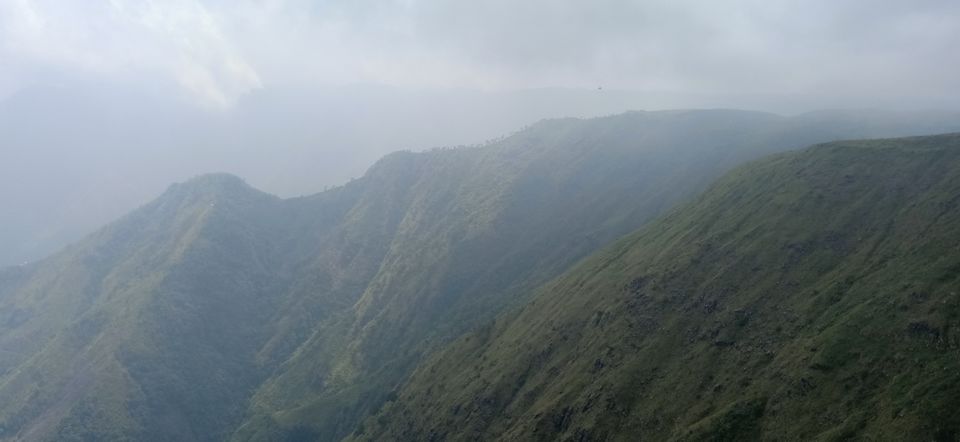 Kangshuri falls  or the cave of hidden sword .
Shillong shilchar highway will take you to kangshruri waterfall. The journey is beautiful and so is the destination.  The roads are pitch black( without any pot holes or any break)and wide .
Legendry kangshruri falls is a beautiful fall of water that forms a pool so desirable thats turquoise in colour to look at.  Why wear the colour when you can dive right into it,  isn't it???  So I chose the later and swimmed and floated there for an hour.
I  wanted to be there forever looking t the blue sky, floating on a turquoise pool of a huge waterfall,  life couldn't be better( also if you  have someone by your side) to save you from Drowning , I would stay there forever if my basic needs weren't so insistent on  being terrestrial (and not floating on pool water ).
If you are visiting Shillong then this waterfall is a must visit. 
Apart from the fall they have a place where you get  ethnic khasi  food .
It's delightful and tasty especially after an hour if floating around the pool.  So go for it.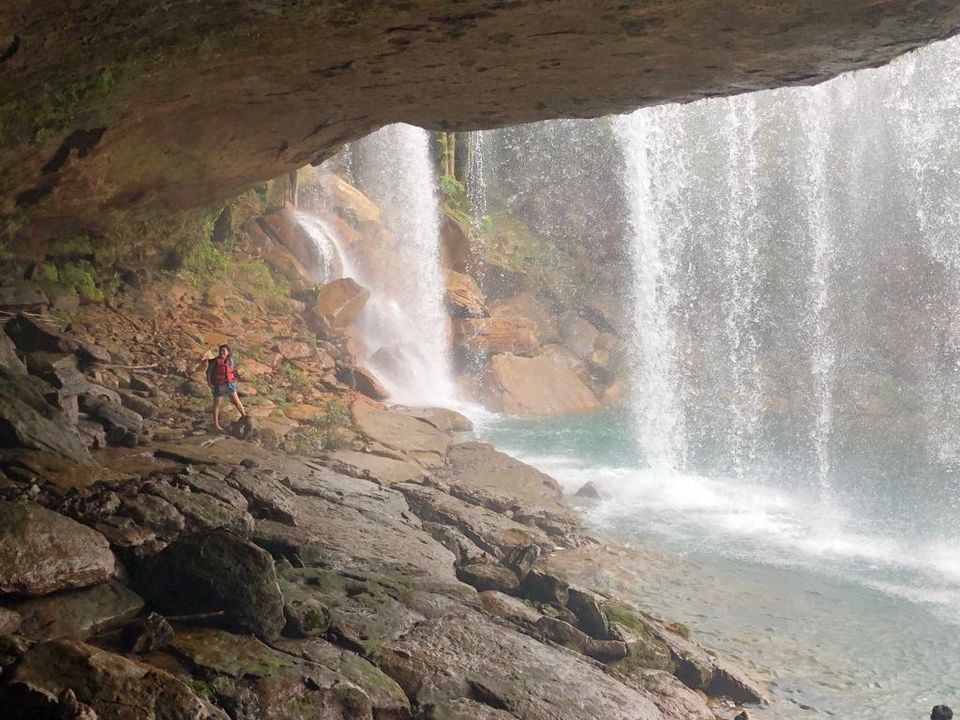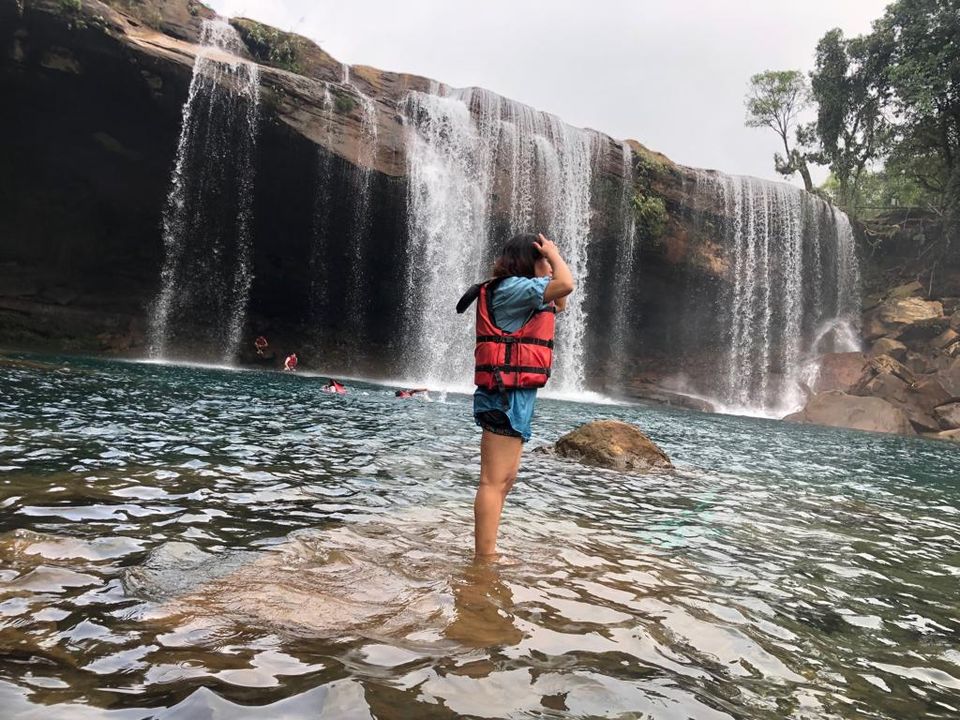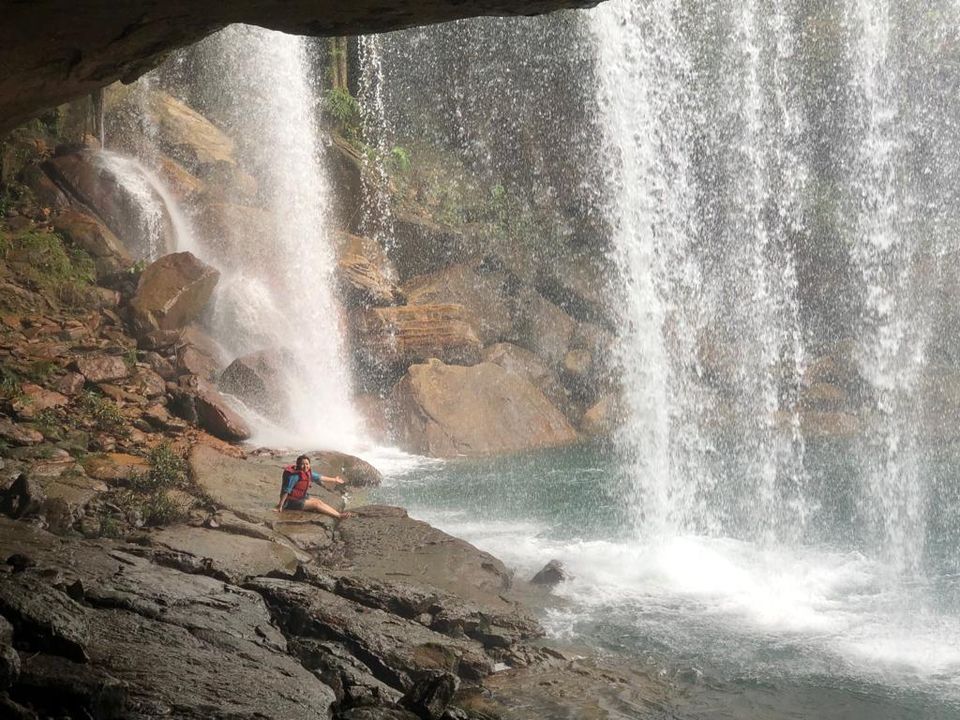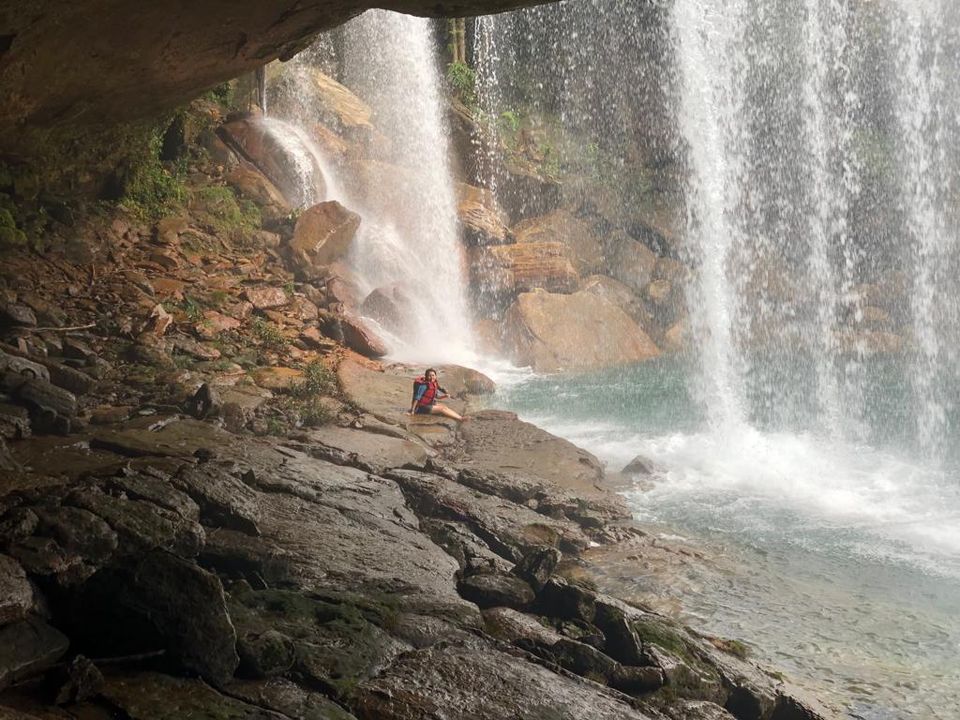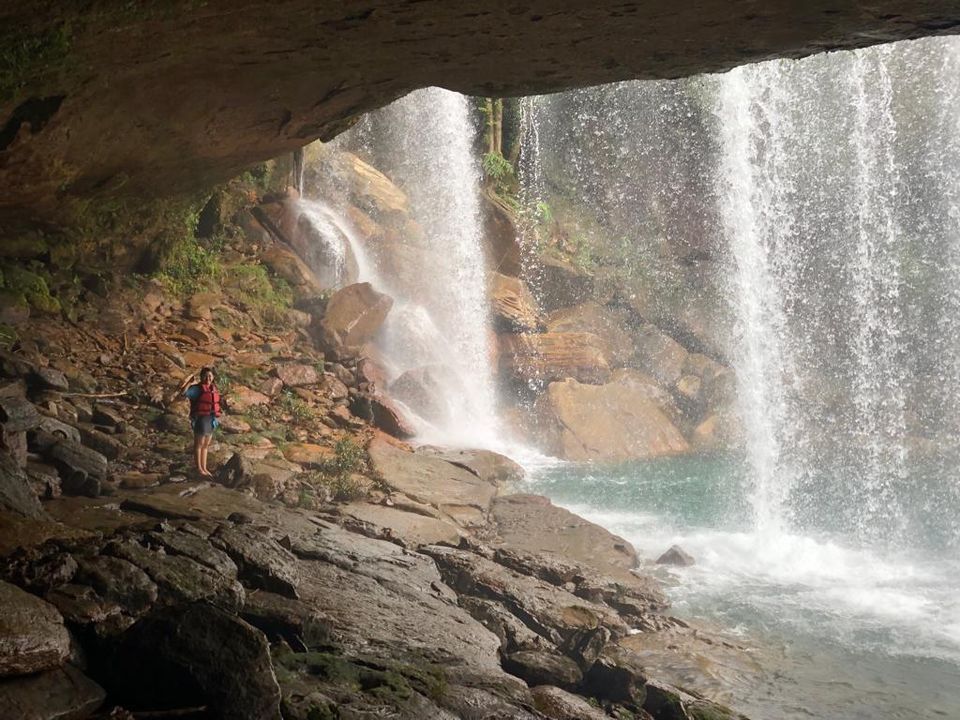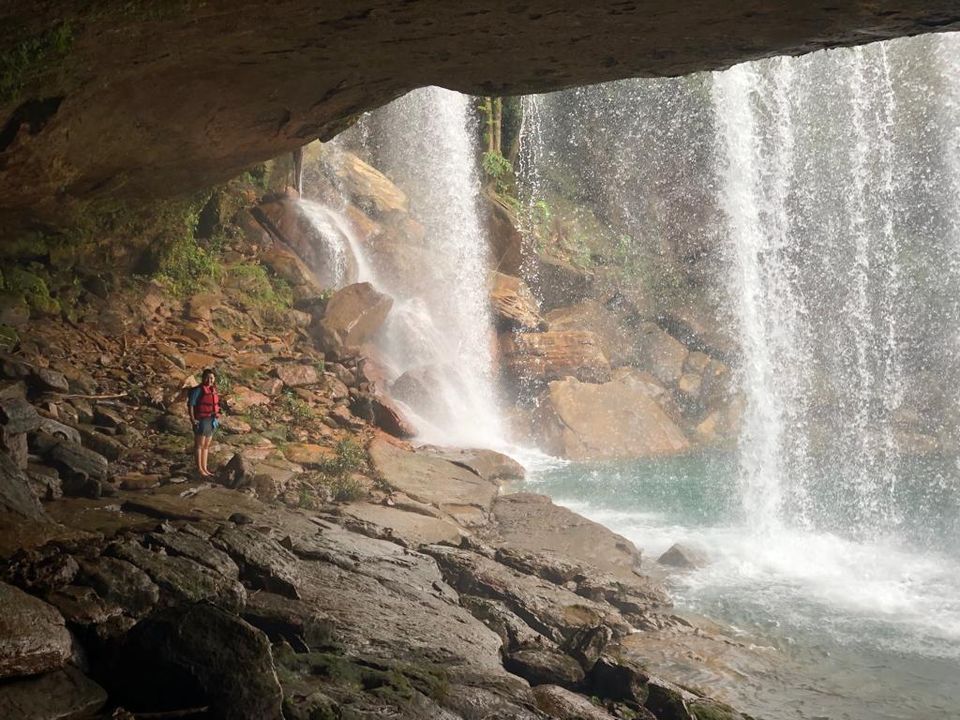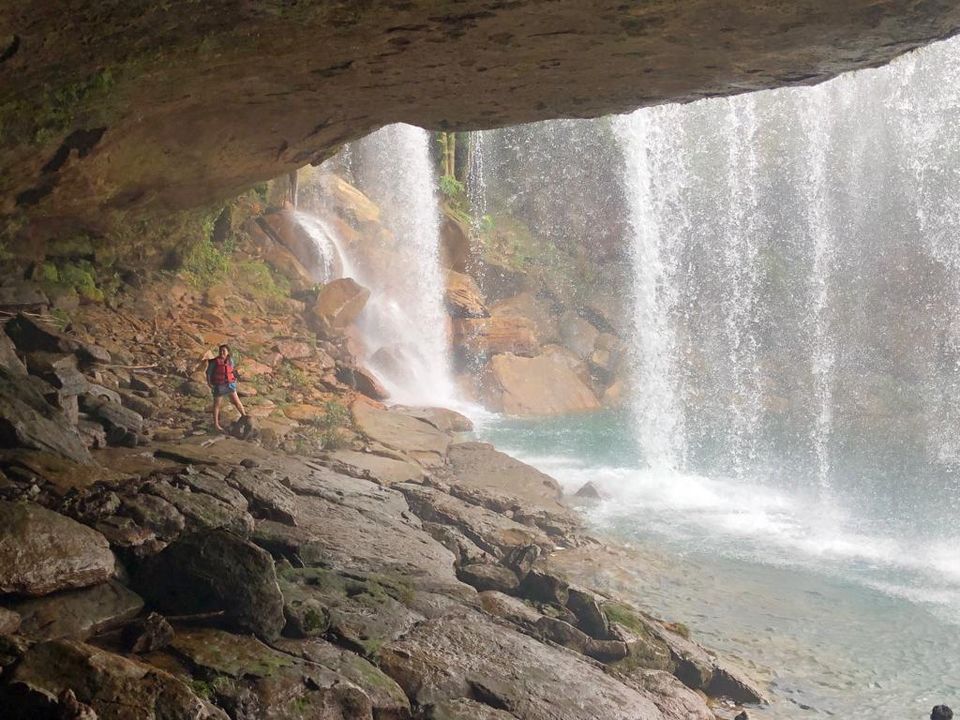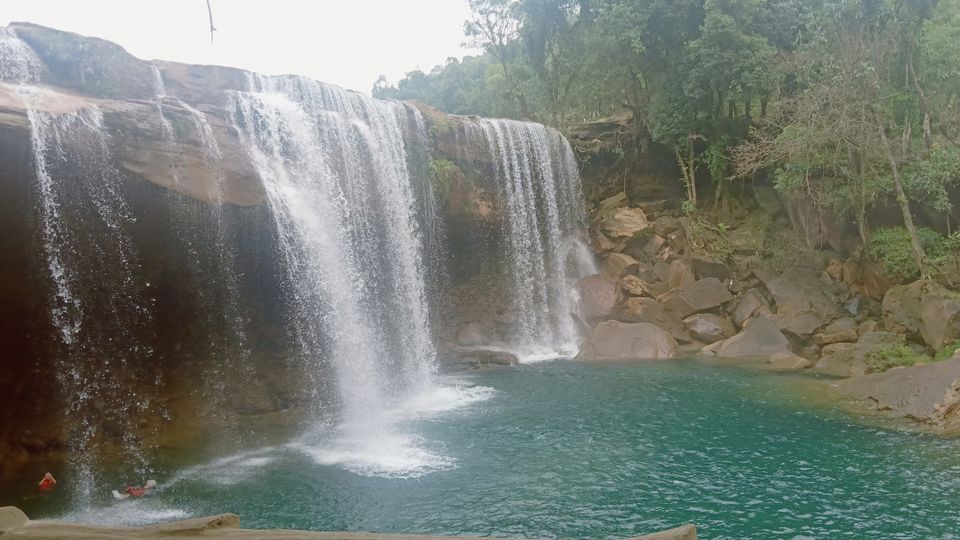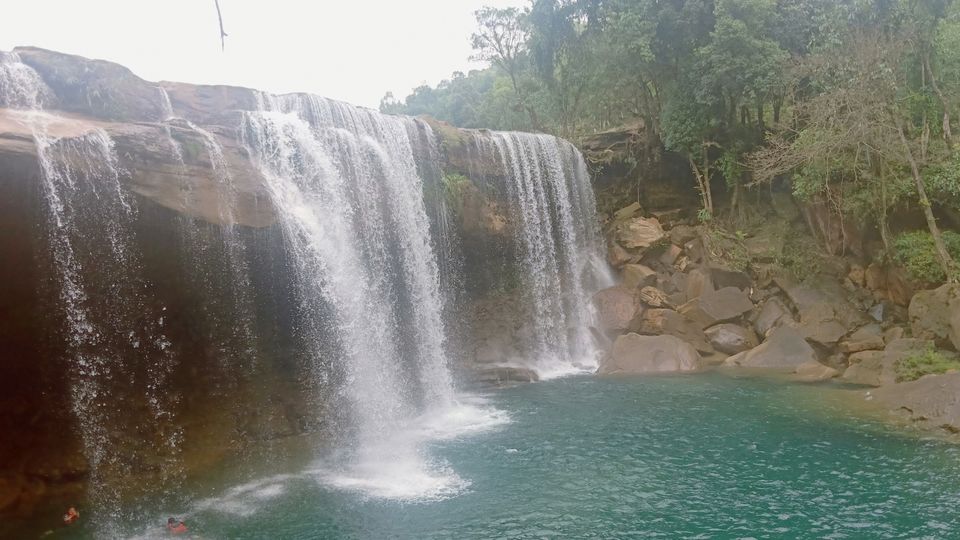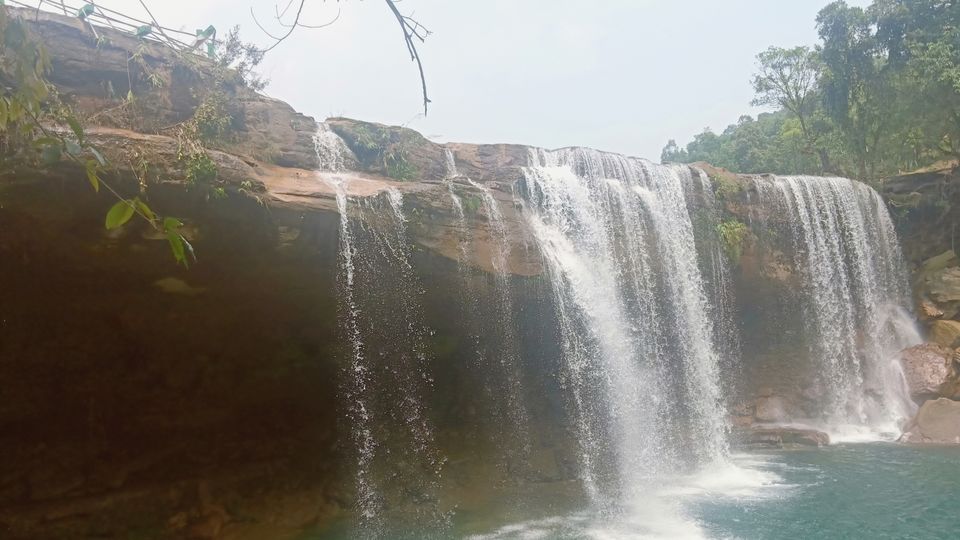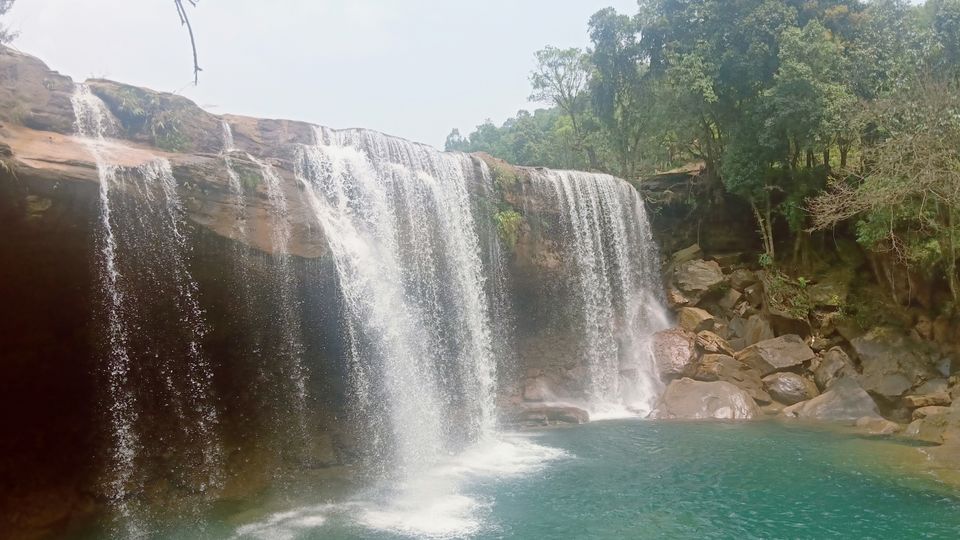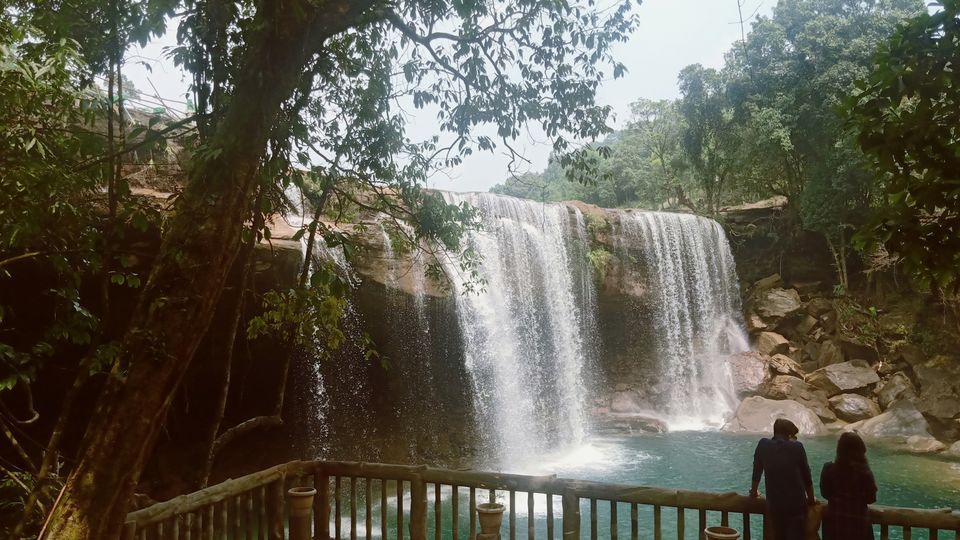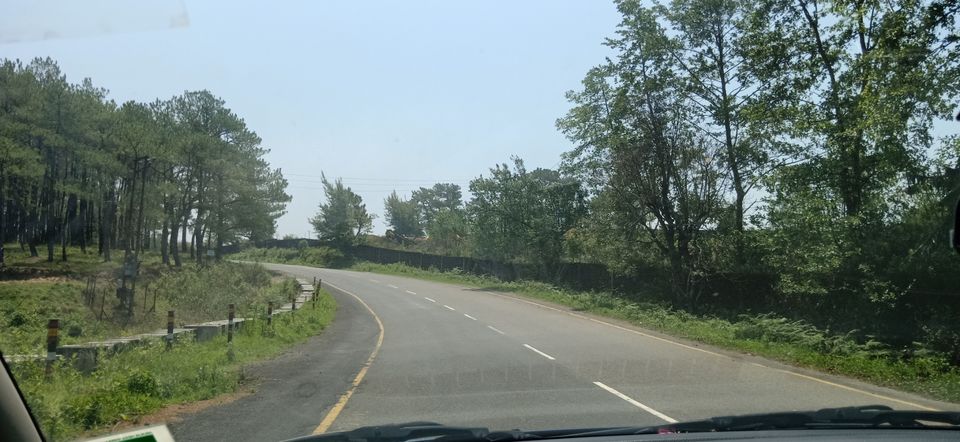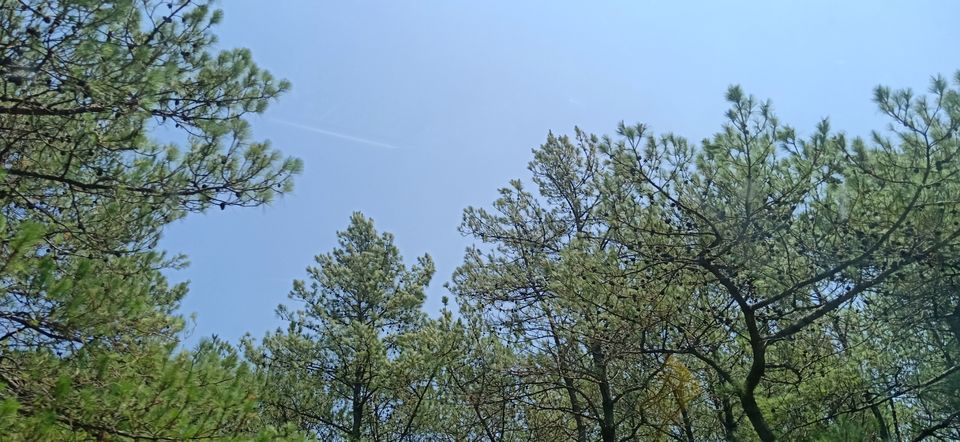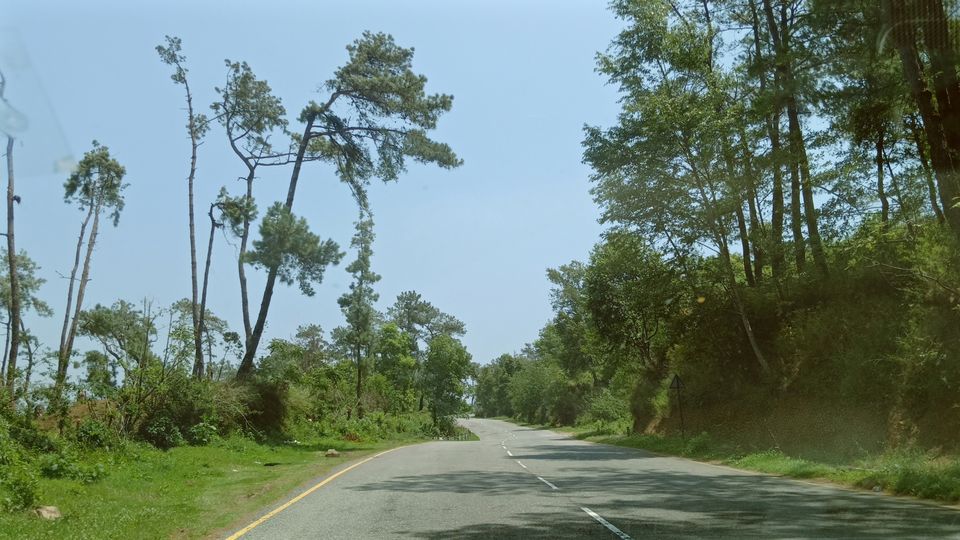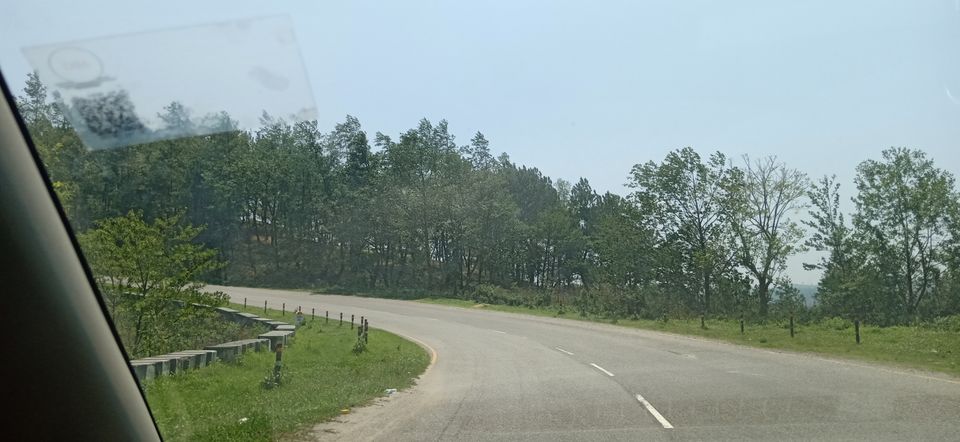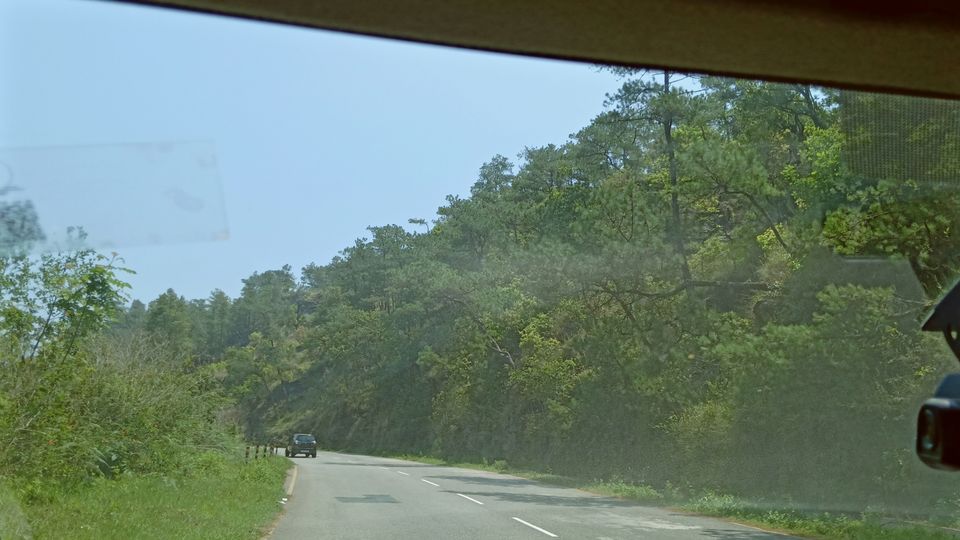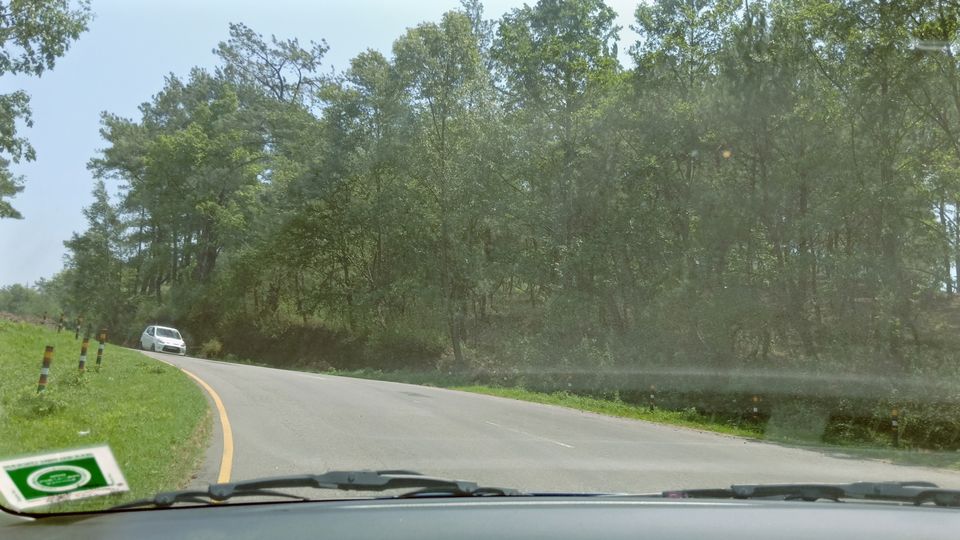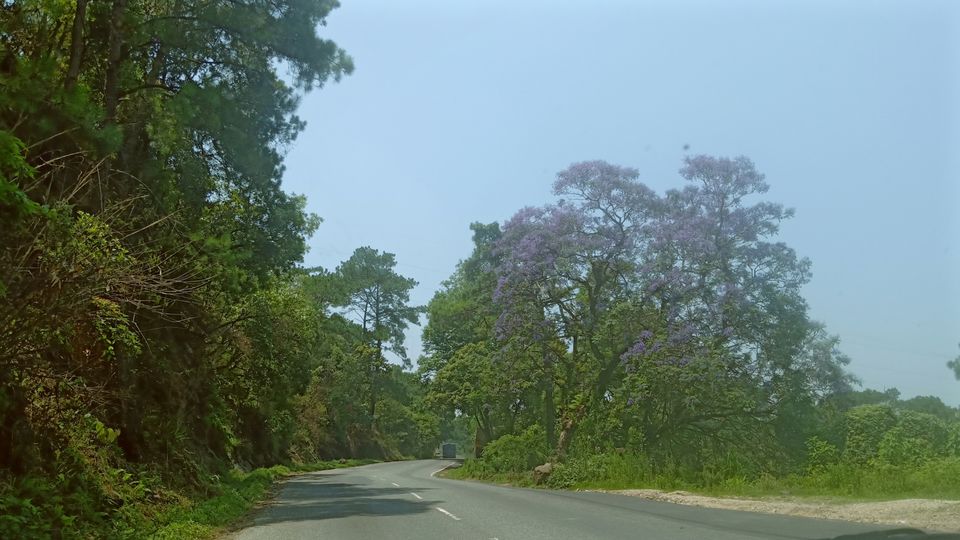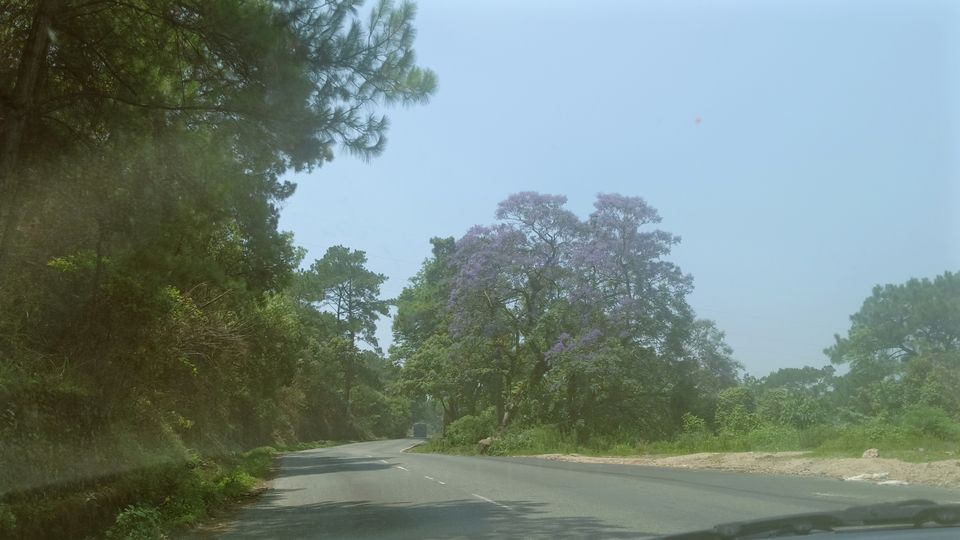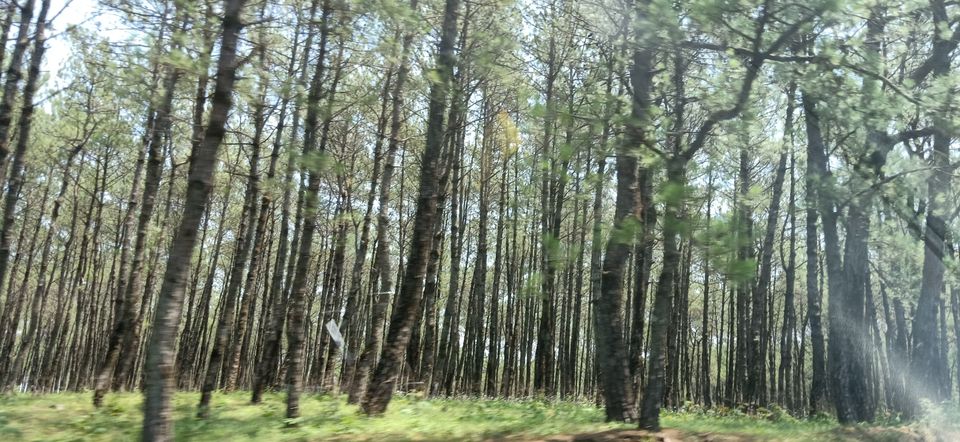 You can get the panaromic view the city . Get a picture of yourself in Khasi dress. Or just fool around and claim to be present at the place where everyone goes.  Click a picture, of course. 
There are shops that sell you drinks, fruits and sweaters .
Totally a family place.
Asiast cleanest village is in mawlynnong. 
living root bridge  isj nearby, and there is a stream flowing by and crowd of diverse people tirelessly posing and clicking pictures.
It's a great place to take pictures and pose more for more pictures!! 
Living root as name suggests are living roots of rubber plants used as bridges.  Unlike the Howrah and the Brooklyn ,  this is purely environment friendly and economical. 
The architect of the bridge are the kissing people and this is one of  their traditional method of problem solving. 
Situation :There is a stream difficult to cross, you are low on budget and have no building material. What will you do??
Simple, you can use a living tree and it's strong roots to lay a path for you.  ....... and that was spectacular to watch and truly inspiring to know.
This place is so unusual. Surely, It stands for a saying where there is a will there is a way.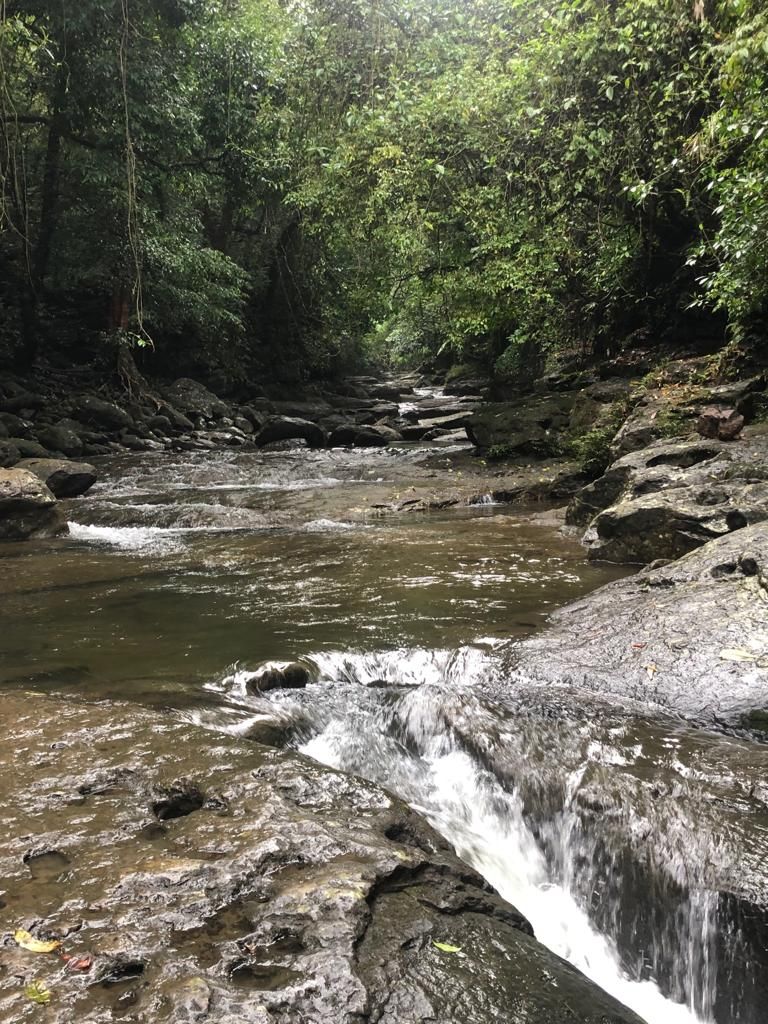 Guwahati
After a week in Shillong and cherapunjee .
Reluctantly we packed our bags for departure from the wild.  From the misty, cold Sohra to bright Shillong and then hustling City of Guwahati .
We drove back to Guwahati, affirming this as one of the most amazing road trip of our life. We made memories and met ourselves at its best. 
What was there not to be happy about,  it was an awesome moment most of the places we saw.
I loved being in the arms of the solitude  of the place; that must have waited for me to come there and embrace it's beauty for so long. I experienced  certain separation anxiety while returning... yet it dissolved as soon as I thought of coming back to this blissful place again. A place that  made me fall in love with myself.
With all the good cloud smeared memories of Meghalaya, I reached Guwahati,  to fly away in to the hassles and monotony of everyday life. Which appeared less painful after the memories started playing in front of my eyes like a movie. 
Meghalaya, is  a place to go and know why it is known as the home of the clouds.... and many more.
Meghalaya, the abode of clouds is not just called so, as you climb the hills from Assam you will be surrounded by the mesmerizing cold wooly air, and smitten by the beauty it veils.
As you start your journey to Meghalaya. Based on your travel plans and personal preferences, staying in #Guwahati the capital city of Assam as well as the whole of the northeast can start your trip with a much needed pause.
In Guwahati you can grab all the gears and essentials for your further exploration. If you are visiting the remote pretty places of Meghalaya,  then you should collect the necessary equipments which will be easily available in the Guwahati city. 
Also,  this city has many temples ,  museum, park, Shopping malls and end numbers of things to do for a day. 
Where to stay: Luxury to mid Range hotels to hostel,  you can have everything here. 
Staying and visiting Guwahati city will be a good start to your Meghalaya trip.