- Neale Donald Walsch
This trip was long coming. I had few things planned out after I quit my job. But sadly OR fortunately, it didn't go as I wanted it to have and I was a bit frustrated with what was unfolding before me. One of those things on my to do list was to was to travel and I had been looking forward to this for almost 3 months and everything finally seemed to be falling in place for this.
After a lot of confusion as to who all would be make it for this trip, the team was finally assembled. We were rearing to go and everything was set in place.
Fast forward: Bangalore --Delhi--Dehradhun--Mussoorie
The trek to the Valley of Gods OR Har Ki Dun as it is fondly called starts from a small village known as Sankri. This is the base camp for many adventure groups and was no different for us.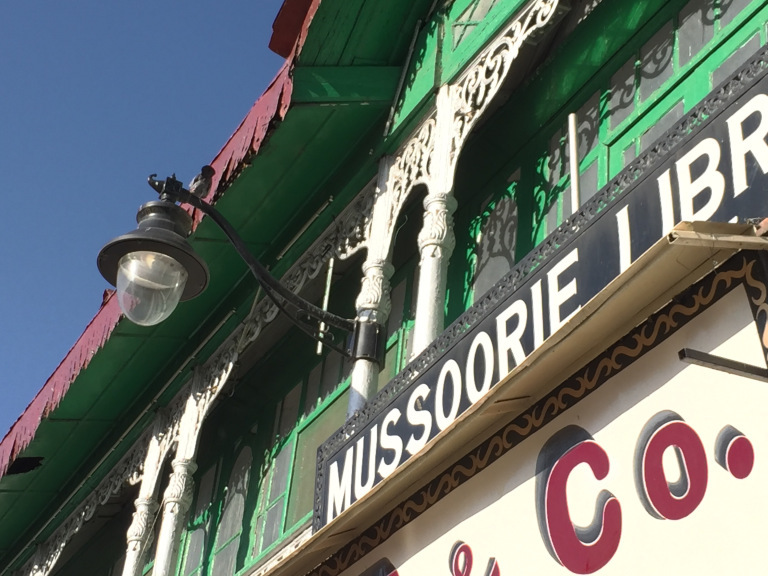 And so the journey begins....
Day 1:
After having travelled for almost 8 hours in the local bus from Mussoorie, we got down at Sankri; and with the help of a local Shepard who was traveling with us along with his goat in the bus, we managed to find a place to rest for the night before we began our trek.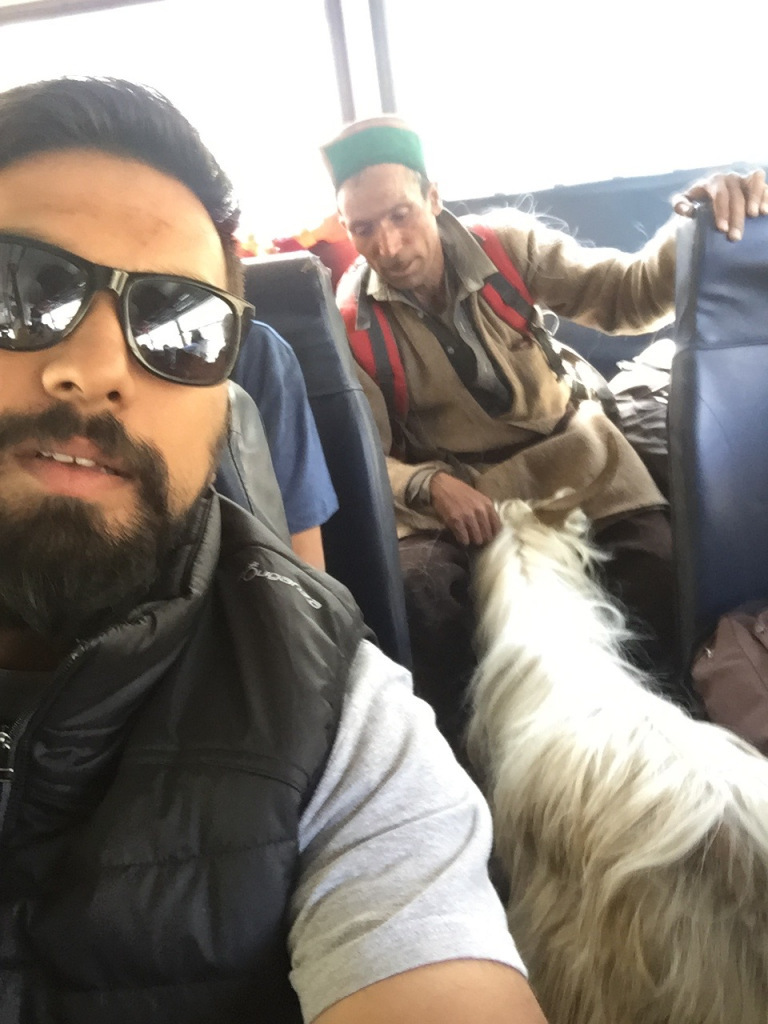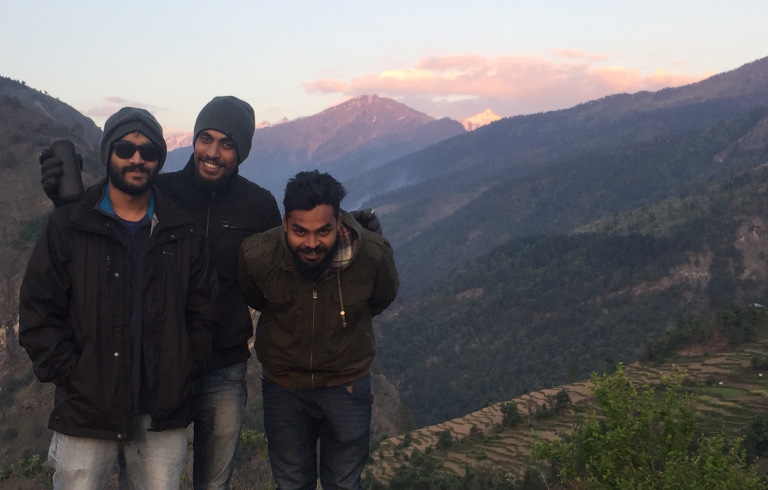 After coming to an agreement on the pricing for the room for the 5 of us, we put aside our bags in the room and off we went for a stroll around the village. Coming from the boiling hot city of Bangalore, Sankri was as cool as Dermi Cool in the summer.
As the night fell upon us, we headed to a small restaurant to grab a hot meal for ourselves before we called it a night. We had a long day tomorrow and we needed all the energy we could gather.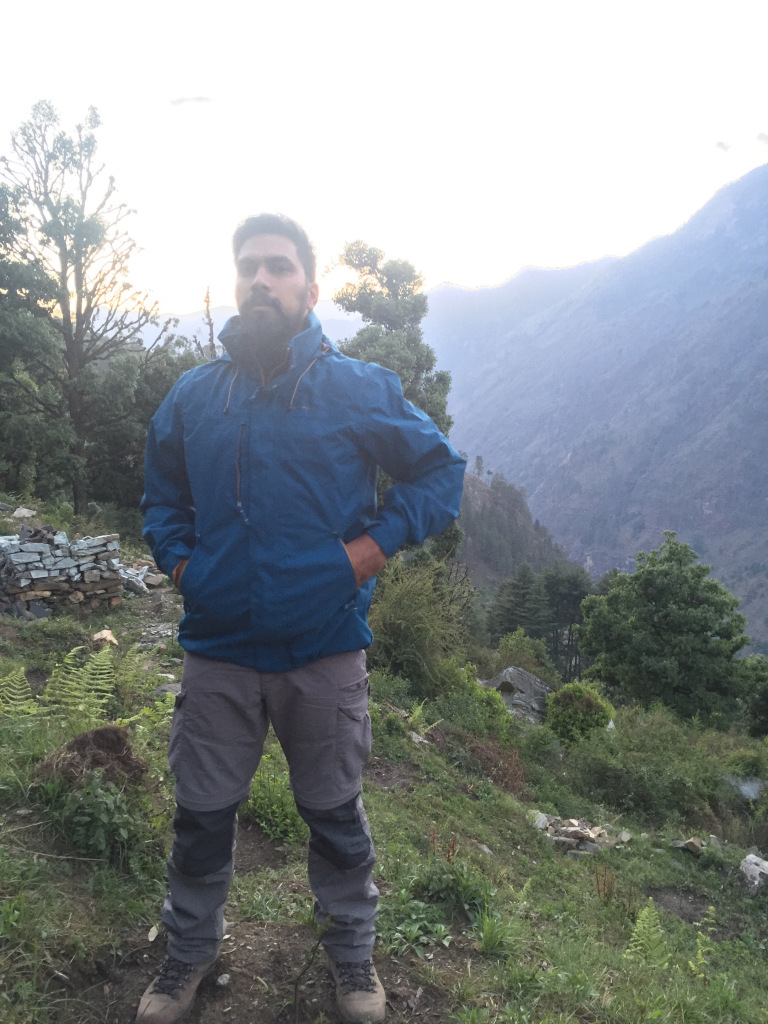 I was up by 6 the next morning and got done with my morning duties before I began the tedious task of waking the rest of the group up. We HAD to leave by 8:00AM so we could reach our first campsite by early evening. This way, we would have enough time to set up our tents and explore the surroundings before the brutal cold weather could take over.
We hopped onto our cab at Sankri and headed towards Taluka to begin with our trek. Before we could even do so, we were stopped by a massive gang of Goats. They weren't looking for any trouble, just making their way through the mountains as an everyday affair.
I got off the cab and walked beside them till this traffic jam cleared out.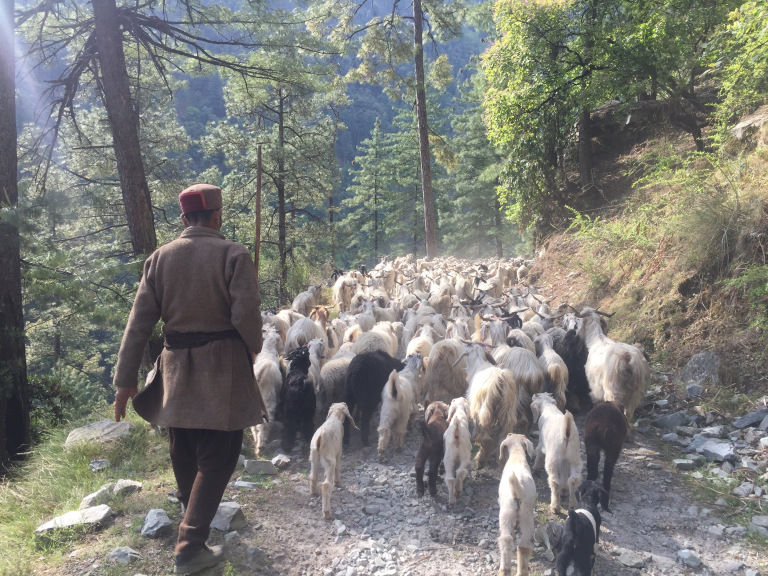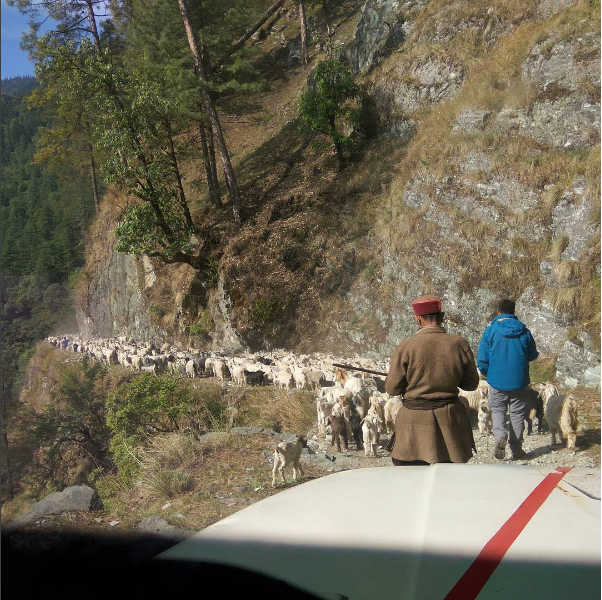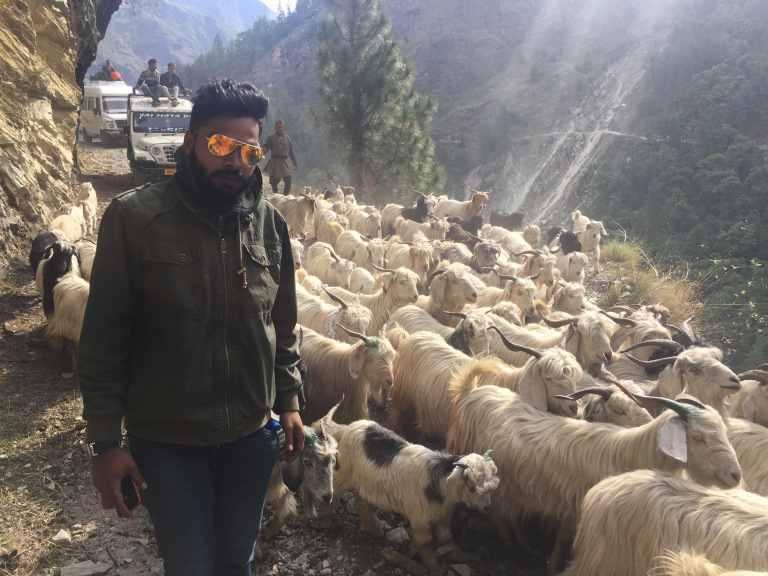 After getting past the army of goats, we made our way to Taluka. It was a long, bumpy journey that went through scenic mountains and landslides that seemed like scars across the mountains.
All geared up and ready to start, we took a group photo to mark the beginning of our long journey. Our destination (Har Ki Doon) was in our line of view (the snow capped mountains in the end of the photo), but we knew it was going to be one beautifully long journey to reach it.
Making our way beside the large river bank, we were in awe of this scenic landscape. It was our first time to Uttarakhand and this was just the beginning of something beautiful to come.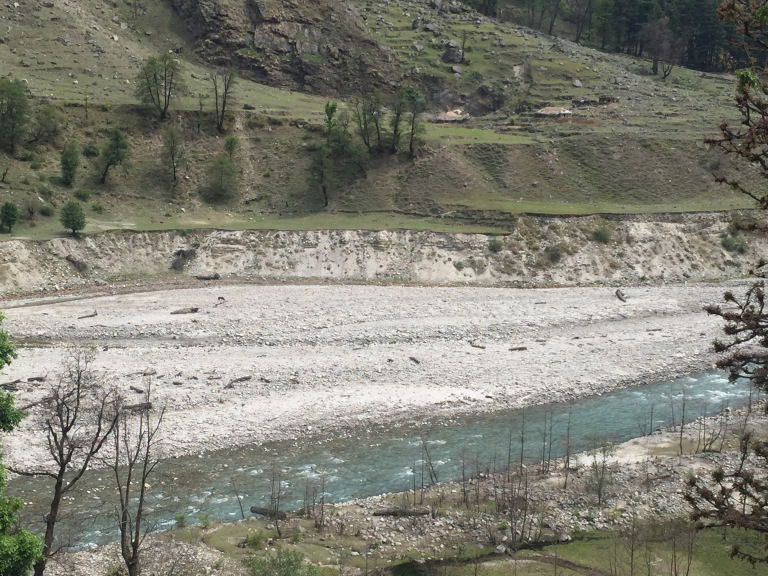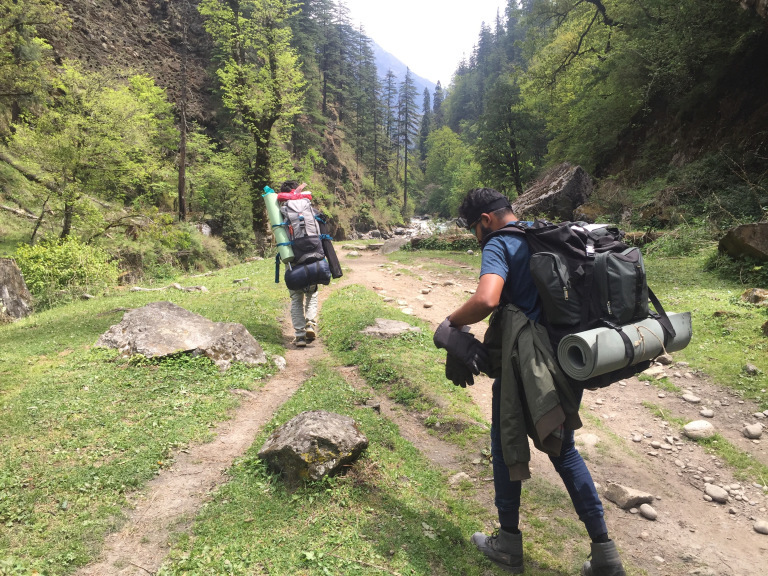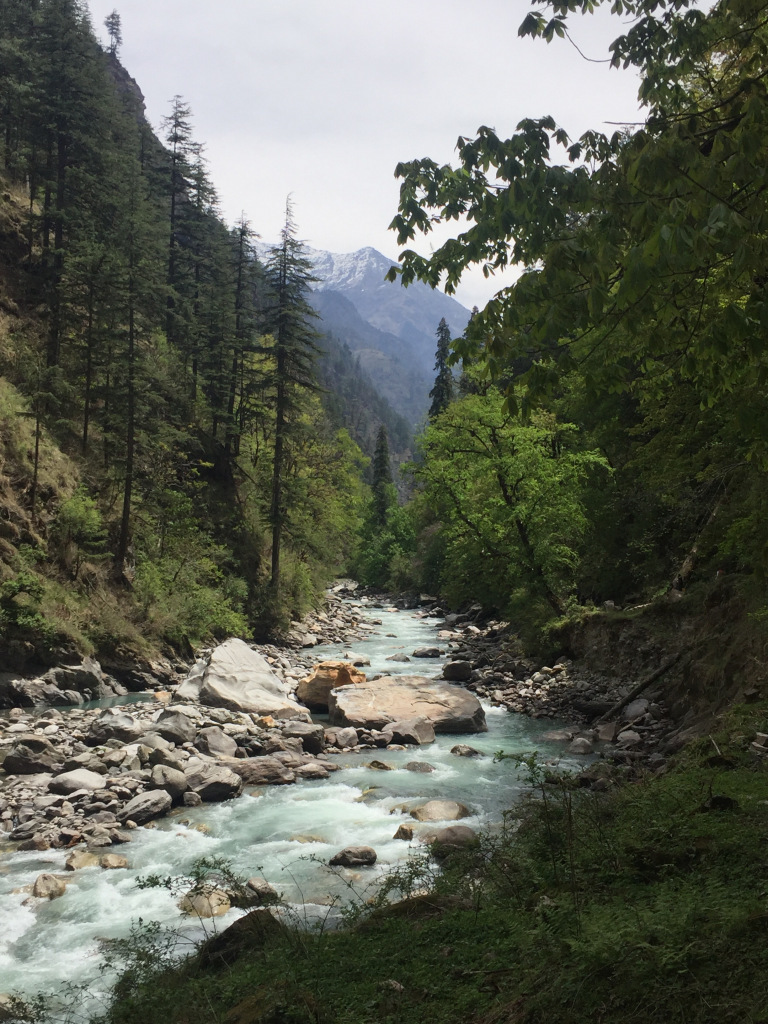 And there she was! The beauteous Supin river, flowing in full force in the summer. The water we noticed was more clear (as compared to the waaters in Himachal) with a pinch of turquoise touch to it. It was absolutely breathtaking to soak in this view.
We took a 10 minute break here before we got back on track to reach our campsite.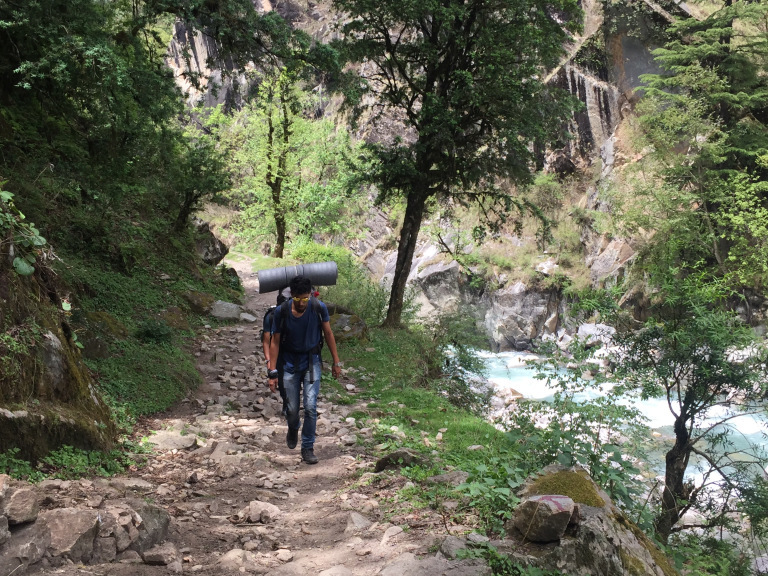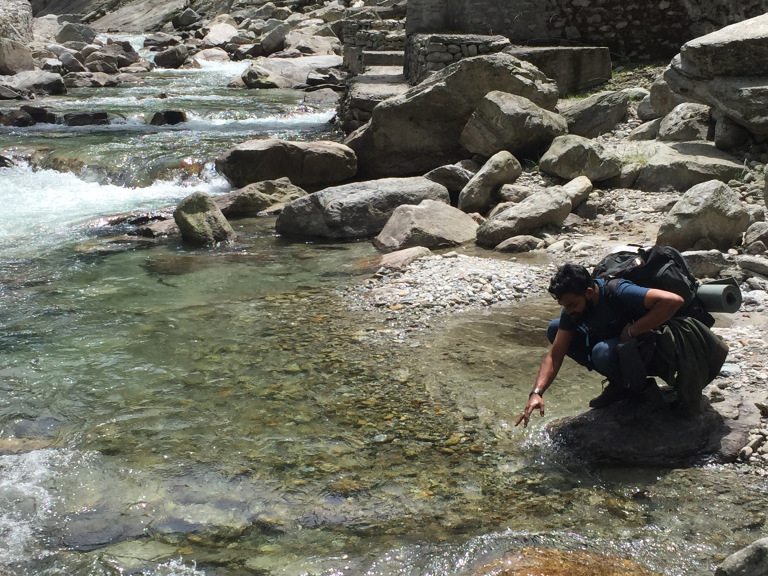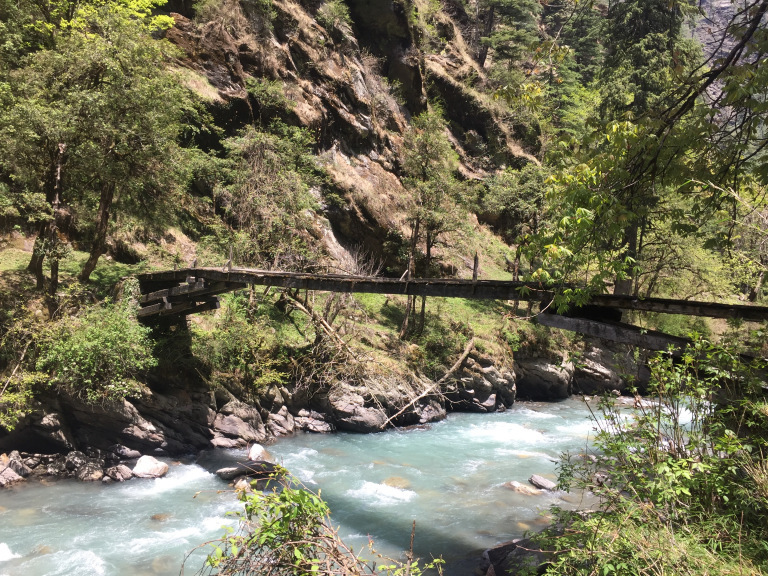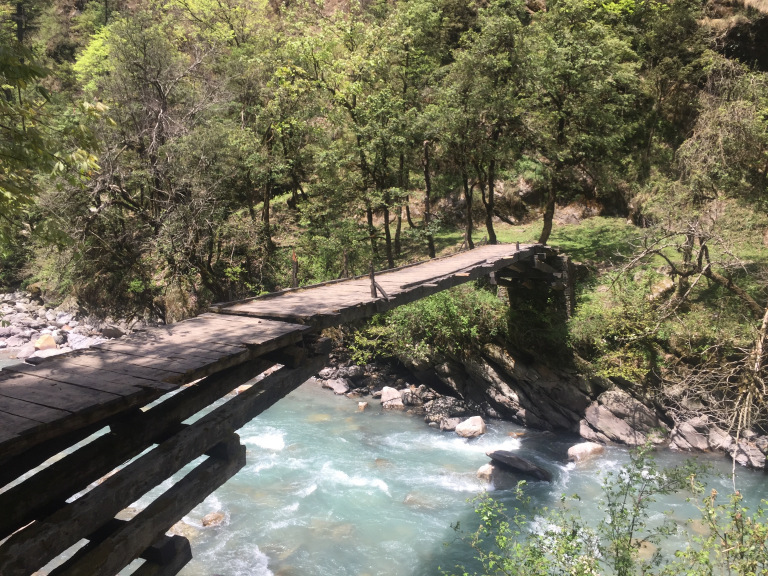 We had bought all our cooking utensils and ration for the trek and were looking forward to cook in the wild, in the open. En-route, you will find enough chai stalls that also serve light snacks. You can choose to rest up here and gather your energy before you get back on the trail.
One of the common sights here in the mountains is that of horses. These horses carry heavy weights on their back and are used for transportation of food, construction items or carrying bags and other things of trekkers.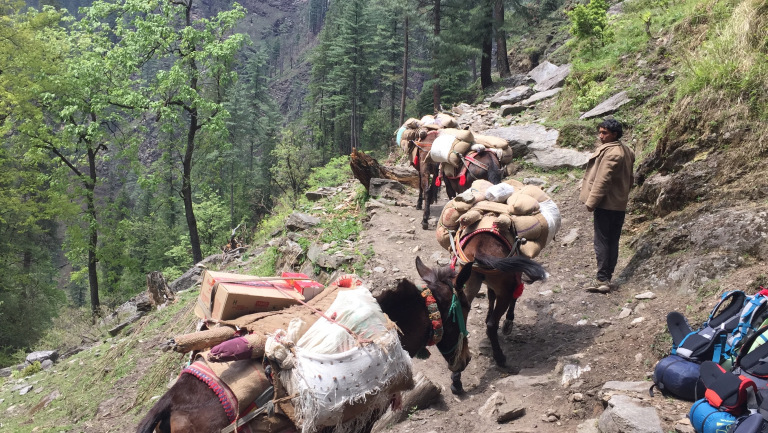 The first day didn't seem to be very tiring, but the heavy bags we were carrying (18 - 20kgs) began to take a toll on our backs. We were carrying only what was needed (tent, sleeping bag, clothes, food, toiletries etc) and yet the weight of the bags seemed heavier than expected.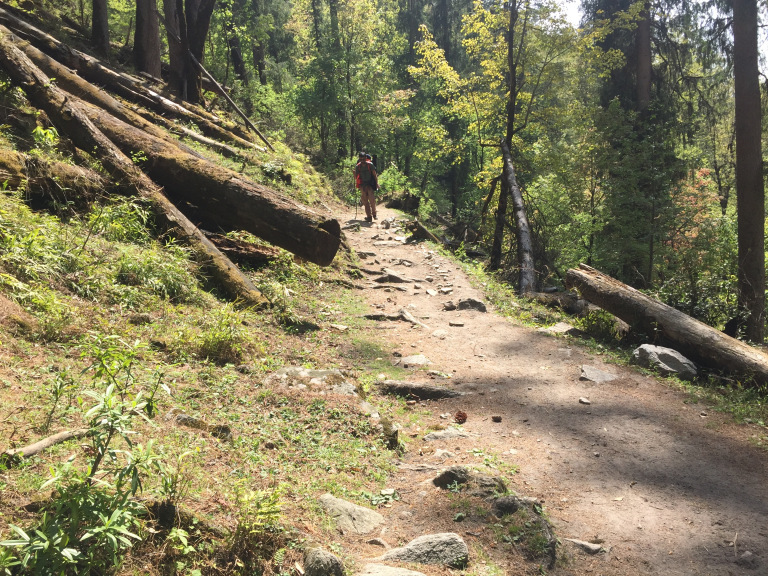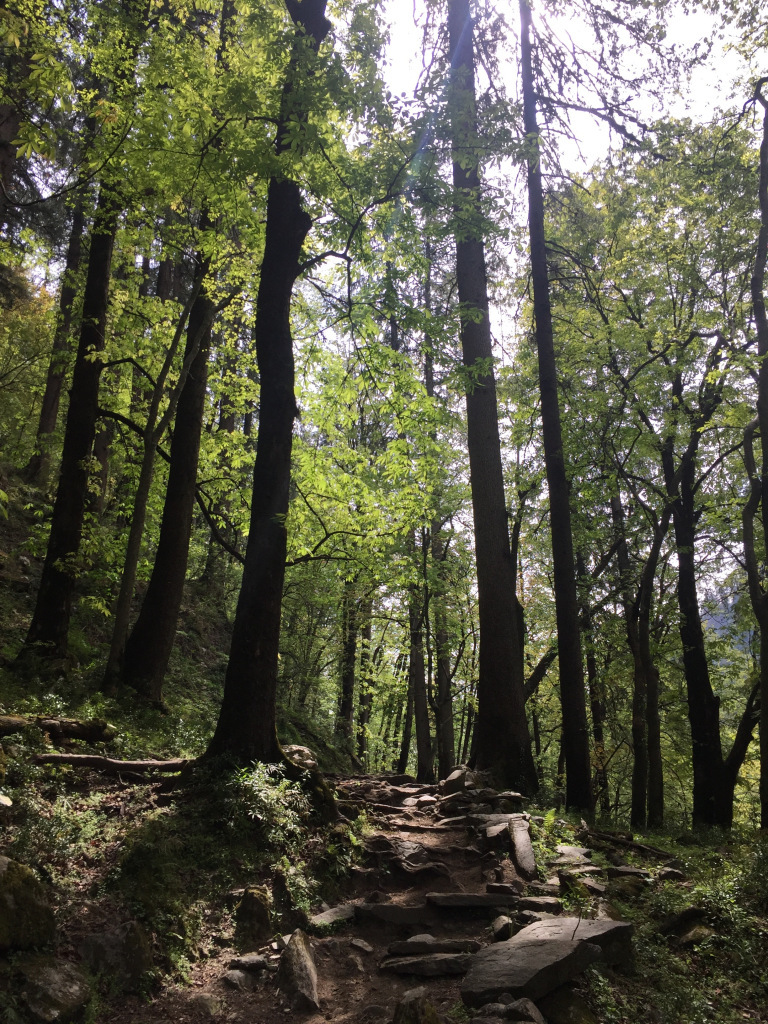 We were met by some beautiful landscapes and the start for this trek could not have been more pleasing.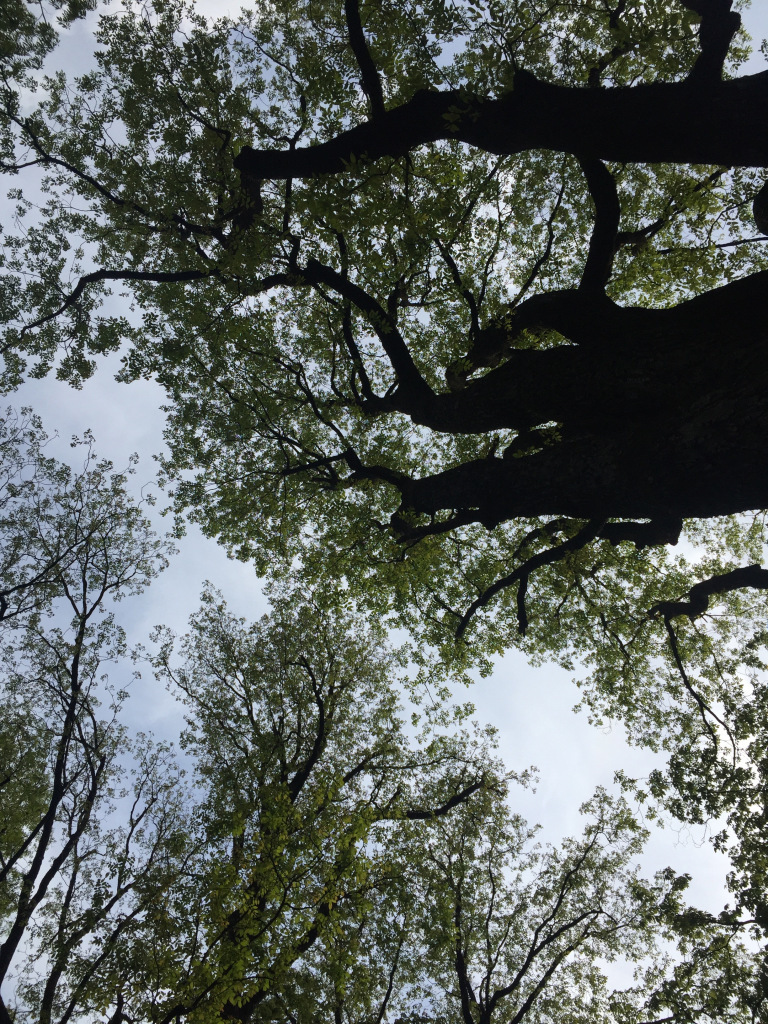 The village of Gangaal was in our sight now and we knew we just had another mile or so to reach our campsite. The village looked gorgeous from down here and the wooden houses stood tall and majestic and added to the scenic view of the mountains.
We finally made it! We sat down and took a break before setting up our tents. No sooner did we start this, we were greeted by two mountain dogs. They were scavenging for food and they landed up at the right place.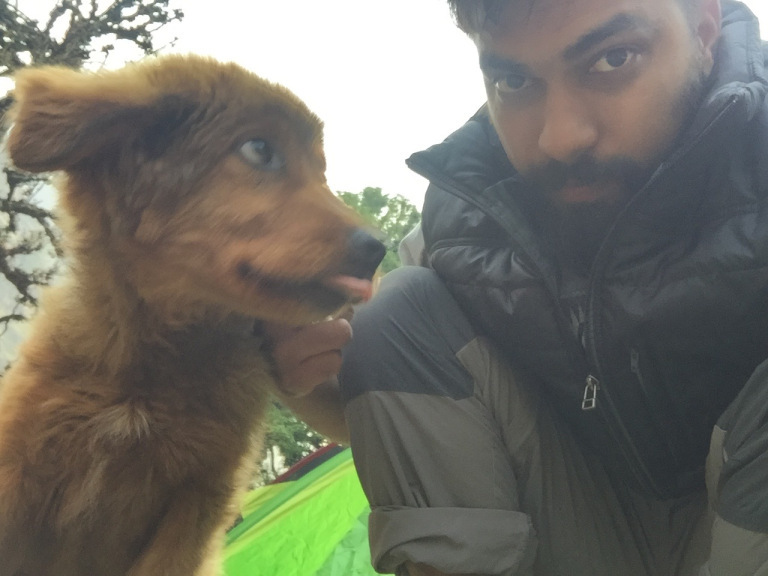 We setup the tents and I wandered off to get some water and firewood for cooking. The campsite looked beautiful and we were greeted by couple of locals who happened to be passing the place.
It was starting to get cold and we needed to get some warmth. We set the rocks and firewood down and started the fire. Soup was on the menu for the night and soup is what we had along with some easy to make noodles, Maggi.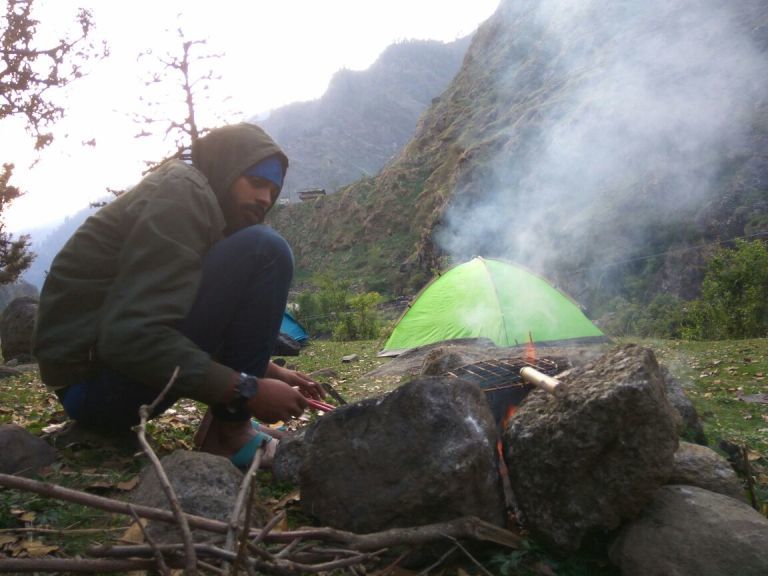 With our stomachs feeling content, we sat by the fire for a while and by now it had become pitch black. The cold wind was piercing through our skin and we could no longer stand still. Our bodies were shivering and acclimatizing to this weather at the same time. It had seemed like a long time had passed since we had dinner and just then, a look at the time - 8:15 PM! Whaaaaaaaaaaaaa? Time definitely runs slow and we were all flustered
Everyone decided to call it a night and headed to their tents. Before I did the same, Rohit and I wanted to try out a little bit of star photography. I was looking forward to doing this for the first time and the time seemed to be right. The skies were clear and it was the perfect time to capture it. The stars twinkled through the night sky and it was an absolute delight to be able to capture this on the camera to share it with everyone.
It's not the best star photography, but it was my first attempt at it and I did manage to capture the stars despite the slight blur.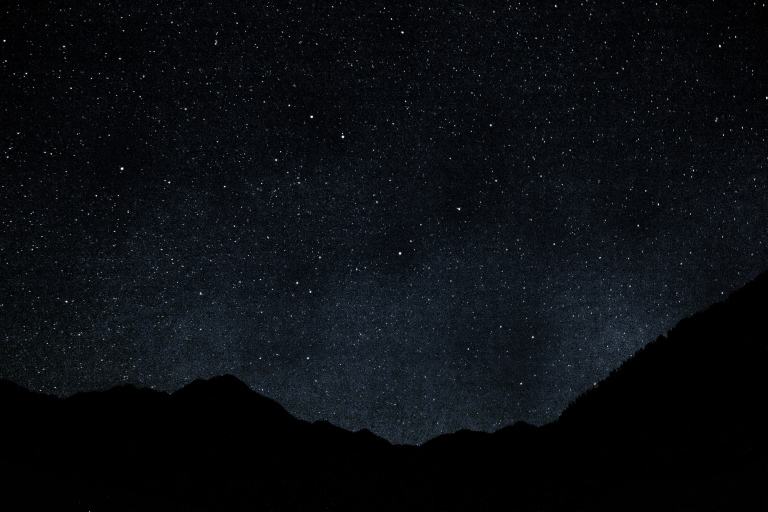 This blog was originally published by 'THE AMBIGUOUS TRAVELERA Personal Account of My Journey of Self-Awakening'