As I had done the Annapurna base camp trek in Nepal last year, I was determined to start my 3 month stint in India with a crazy adventure, and I ensured it had to be cold, bone chillingly cold. I recall hearing first about the Chadar trek couple of years ago when it was shared multiple times on social media tagged as the world's most remotest region (Zanskar Valley in Ladakh) where locals have to trek for days on sheets of ice used as a route for them to send their children to school and get access to local supplies.
'Chadar' refers to a blanket of ice and can only be accessed during the coldest months from January to February. The region remains close off for eight months to a year due to heavy snowfall and it was also known as one of the most popular winter treks in India. No surprises there as here I was a Malaysian flying all the way to start my journey in India, with the ultimate Chadar trek. So yeah.
The thought of treading through deep icy waters and walking on a thin layer of ice was somehow fascinating and thrilling to me. My first impression of the Zanskar region was one of isolation. I had the same exact picture in mind and looking back I am glad my trek mate managed to capture this which sums up part of my experience, yet it felt like as if a wicked ice queen had decided to cast a spell and form a frozen obstacle course for us to cross over. At that point, I remember that I stood motionless and surveyed the place, really thinking to myself if I should put my left foot forward or not.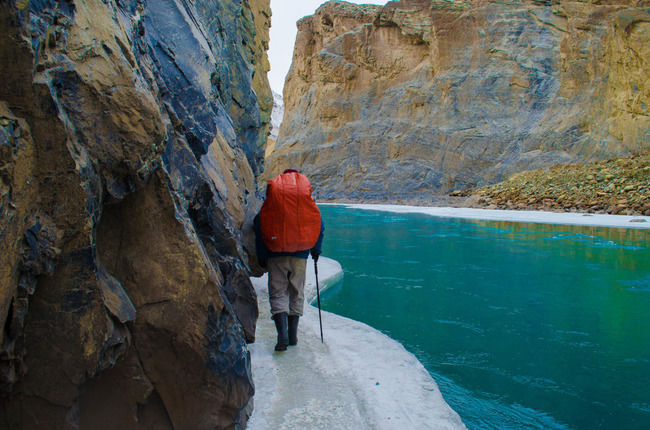 My journey in Leh, Ladakh began by getting acquainted with other travellers at The Auspicious Hotel who signed up with adventure companies like Thrillophilia. I was so glad to have had the time to arrive few days earlier and meet other like-minded travellers. We sang, ate delicious steamed momos, had a party, huddled over bon-fires and captured star trails at night.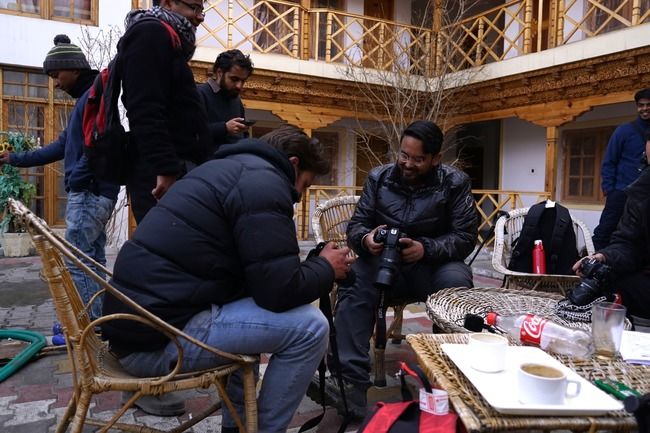 Day 1 - Leh to Tilat Sumdo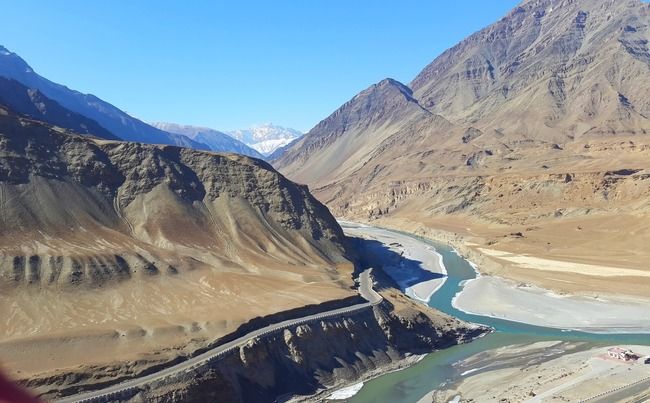 And we began our bus journey from Leh which took us approximately 3 hours to the starting point which is Chilling (yes, you heard it right!). Here's where our 64km trek was about to start. I was confident that my first walk on the Chadar would be a cakewalk. After all, good judgement was needed to differentiate between old hardened slabs of ice and fresh slushy ice. I had many days to fall and I didn't want to fall right at the beginning. So walking like a penguin was a must, and having a wide grin was an absolute necessity. Did I mention that everyone had a camera to capture your every move?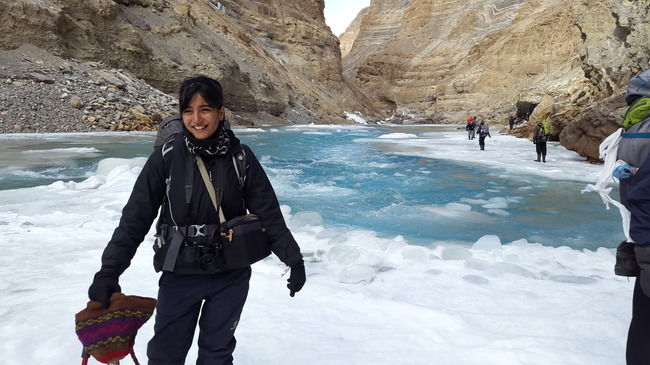 Whether I put my left foot forward or not, you'll know later. Let me take you back to the start of my journey in Ladakh. I arrived few days before in Leh, Ladakh to acclimatise and also get acquainted with my trek mates which I'll be meeting for the first time. Coming from a tropical country and diving deep into the frigid mountains was not the best decision ever but I came prepared. I rented a mountain jacket from the Indian Mountaineering Foundation in Delhi because I knew that I wouldn't want to be lugging around big jackets for the rest of my trip, but turns out there was only one size available in XXXL. It looked like my Uncle's jacket and it felt like I was wearing a hard-shell space suit. At this point, I chose comfort over style.
However, there was a major debacle two days later on whether we should even continue with the Chadar trek. Due to the intense trek commercialisation and record number of travellers arriving specifically for the Chadar trek (Note: In 2015, there was a ban on this trek after a landslide blocked the river), the ice was not fully formed and this meant danger. There were at least three groups that had returned after managing to only complete two days at Chadar. There were also all kind of deeply exaggerated stories about how this was the most toughest trek, and how it was near impossible to step on the ice without fully submerging your body in deep icy cold waters and the apparent wasteland at every camp site.
It was a catch 22 situation. Discontinuing the trek would mean wasting your money and spending more cash in Leh, Ladakh for the next 7 days and to continue would mean putting yourself at risk.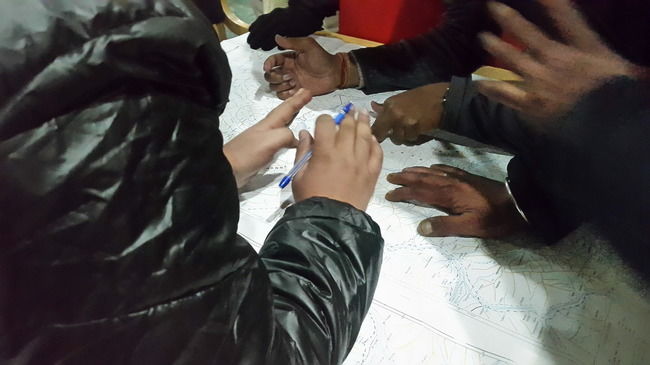 Fast forward to a day later, we all decided that we should go ahead with the trek and the same route. We agreed that our team's overall physical and mental fitness and spirit should lead us with little to no problem despite the tricky situation.
Having made a steep 45 degrees descent into the valley, I felt like a pro after walking on the sheet of ice for 1-2 hours. I did not fall, and did not think this was hard at all. Who ever said this was hard has got to be crazy! So I finally reached the camp site and took a good look around. The vast mountains rose straight up all around us, and when the wind blew through the valley where we were, it felt like as if those giants were stamping their heels.
The porters took their time to set up our first campsite and this was when we were served Chai (Tea). When you're high up in the mountains, there is nothing that comes close to a simple cup of aromatic tea. Soaking in the last of the sunshine before nature's sunset arrives, I wanted to not move. I knew when night came, I would be a frozen popsicle.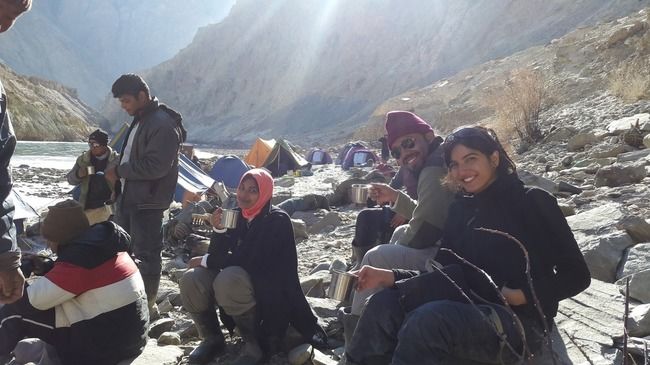 Before you know it, it was night time and I could hardly wait to go back to my tent after having my dinner. The biting cold did no good to me. Some people decided to brave the cold and capture the milky way. I thought I'll give it a go after few days. With 8 layers of clothing, my heat pads purchased from Daiso, and my sleeping bag, I was ready to sleep. I strangely felt way more warm and toasty here compared to my stay at The Auspicious Hotel.
Day 2 - Tilat Sumdo to Shingra Koma, 9.5km, 6 hours
Ready to take charge of the next day. I woke up at 7am and the rest of us were ready to leave by 9am. Today was suppose to be an arduous trek. Parts of these places do not get any sunlight until mid-day, hence walking through Tilat Sumdo felt like I was battling through a morgue freezer. Our face and ears completely exposed, it was hard to even look up.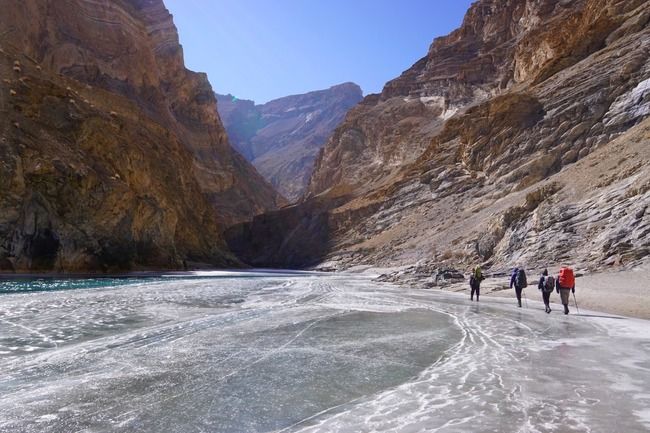 During the next few hours, we walked and walked to what seemed to be like an endless game. There was no inclines and we thought the easiest way to speed up our walking process would be to slide, fall every 2 times, walk and repeat. Atleast we would be entertained. This became our master walking strategy in the morning until the sun came out and we were greeted with a stunning view of the light shining over many surfaces from the ice to the towering rocky mountains.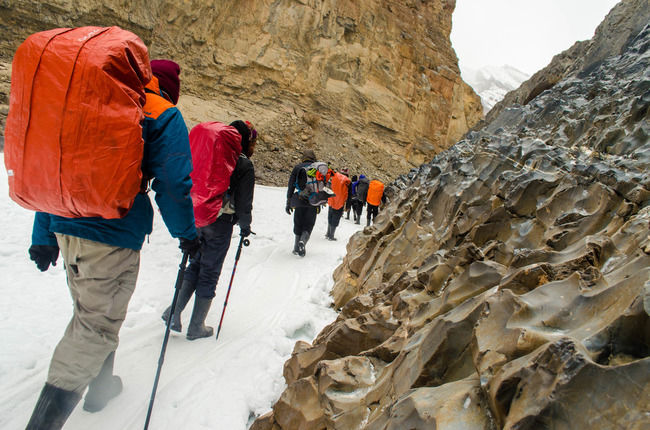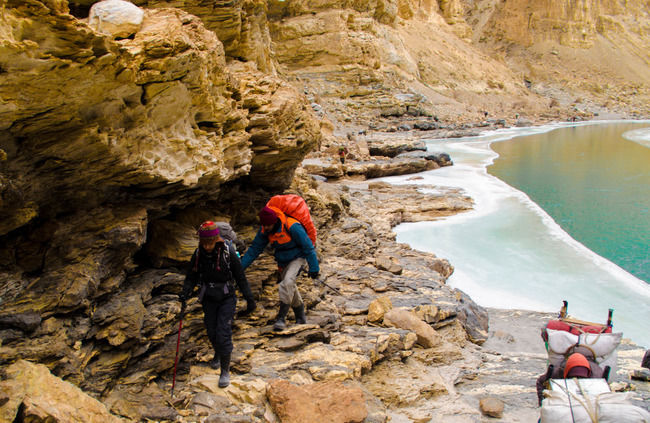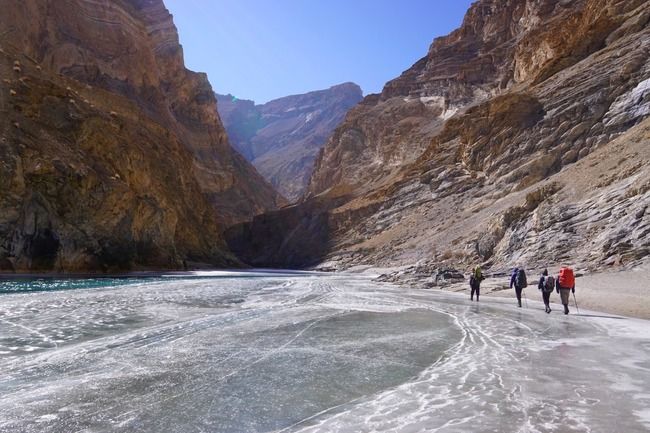 When we finally reached Shingra Koma, the campsite looked heavenly. It was a big camping ground just right next to the stream. The name 'Shingra' Koma derives from a plant name called 'Shingra' which is available in abundance in this area. With the onslaught of excitement and the sun healthily shining on us in full glory, I was in this ultimate zone where I didn't feel like taking any pictures, except maybe for just checking to see if I look presentable.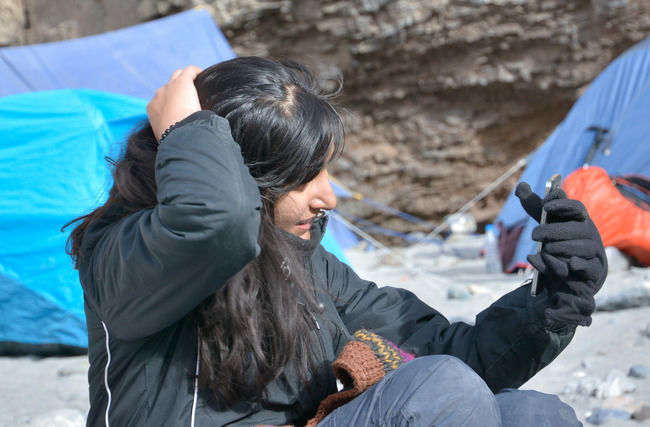 One of the joys of the mountains for me is the way that life is so simple. One's focus is on living and expressing rather than keeping up or keeping in time. The downfalls of normal life is that you hardly have time to remember who you have seen in the past few days, let alone save that time together. Out here, we knew these days together with unknown friends would be precious, before we wrestle with the ice and the mountains. On that thought, nightfall soon appeared and it was time for another day, and more sounds of ice-breaking adventures.
Day 3 - Trek from Shingra Koma to Tibb, 15km, 7-8 hours
So I was told this would be one of the most arduous treks, but very pretty on hindsight. If there was a special frozen dessert, today would it. From frozen icicles to a play of different green and blue colours on the ice, you have to see it all to believe it. That picture of traversing the edge of a thin slab of ice was about to come true.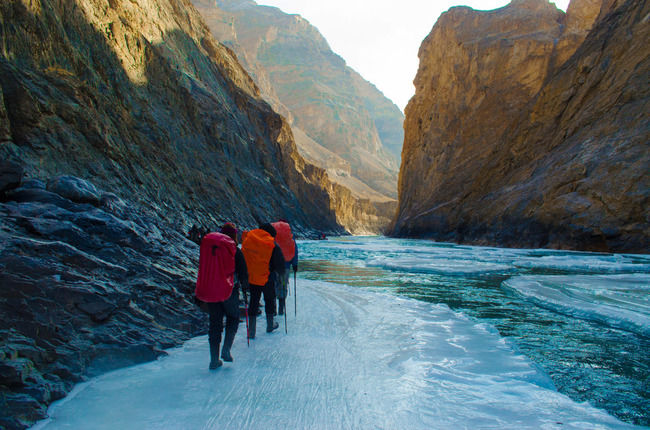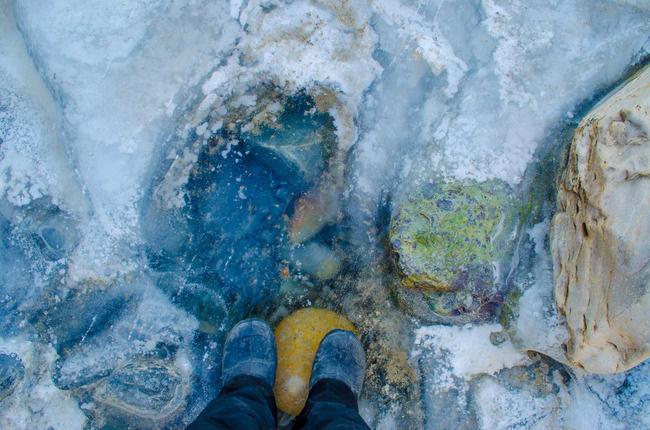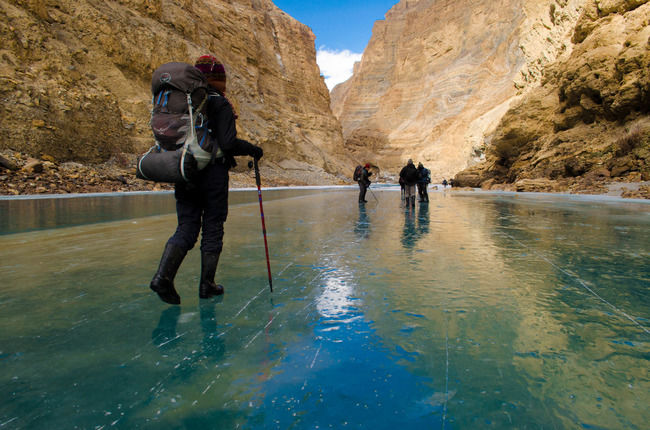 Our journey to Tibb cave was a long adventurous one, we were completely entranced by the beauty of the ice formations and the works of nature. Hanging on to our dear lives while inching towards our next step was a sweaty workout. I had never felt this nervous and was afraid that I could either land with a split and tear my ligament, or worse still, fall into the cold rapid waters.
Upon reaching the Tibb cave, we were told that according to local folklore, Buddhist monks used to chant and meditate at these silent dark caves to discover their inner self. The insides of these dark caves also serve as a place for them to take shelter, and it is surprisingly incredibly warm. While our campsite was not at the Tibb cave, we trekked to the cave to see what the locals were up to, and realised that another small trek group with fancy North Face camps were camping there and the locals were making a special non-veg dish for them which comes with a slightly higher price tag of course. But, we were welcomed nonetheless.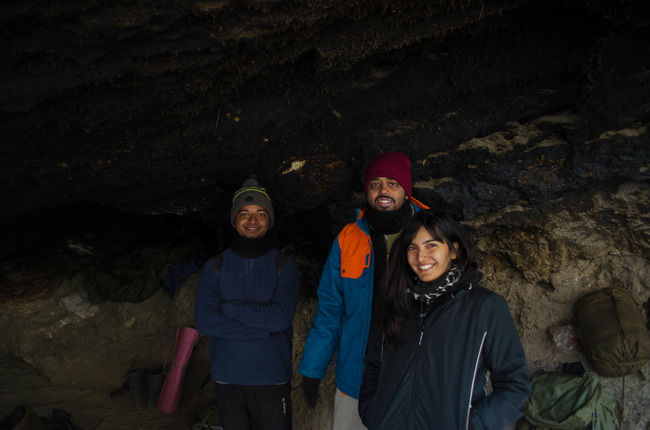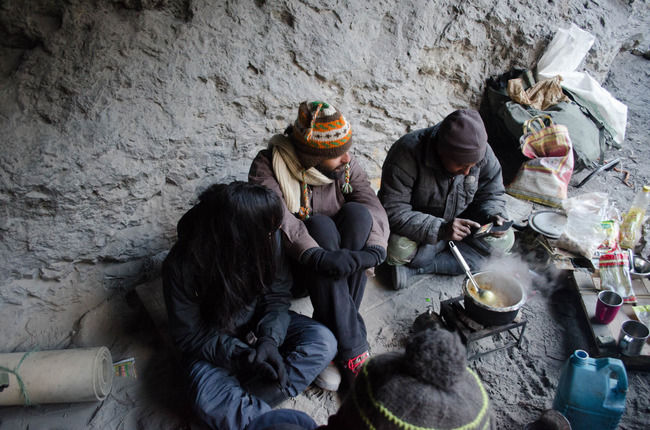 Day 4 - Trek from Tibb to Nerak, 12km, 7 hours
The shadows of our feet and reflection was hardly visible, because we were back in the freezer. This was a day of adventure as we climb through cliffs, and cross gorges and valleys within Chadar all in our attempt to be at Nerak, which ironically means 'Hell' in Hindi.
The curse of Nerak was upon me. On my way to Nerak, Chadar was not fully formed once again and it was quite a challenge to get across. The simple bouldering we started with quickly turned into rock climbing. I decided to pass my camera bag to the porter who thought it was a brilliant idea to toss it to another guy, in hopes he would catch it. And he didnt.... he picked up the soaking wet camera bag from the deep Chadar waters and tossed it again.... and this time, the dude missed it AGAIN! Mind you, I was mid-way through a rock climbing session while witnessing this. My mind was racing, I couldn't decide if I should transfer my energy onto my limbs to get moving, or simply be furious at what I just saw.
So I got my camera bag, emptied the contents, placed them in dry socks (yes I was desperate) to absorb all the moisture. The camera of course stop functioning for the next few days and it drained all my battery. So goodbye star trails and everything else. Thankfully there were tons of people with DSLRs so I got this covered but I was still so miffed about the whole thing.
With the unpredictability of what comes next, I didn't know what to expect. But when I encountered the much-awaited frozen waterfall, I thought to myself that this is definitely heaven on earth.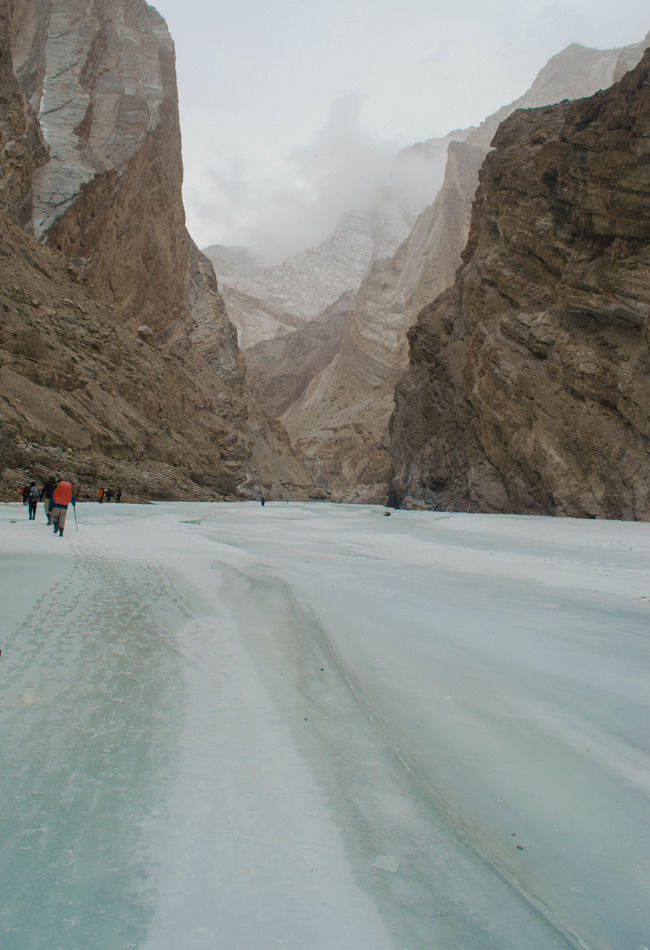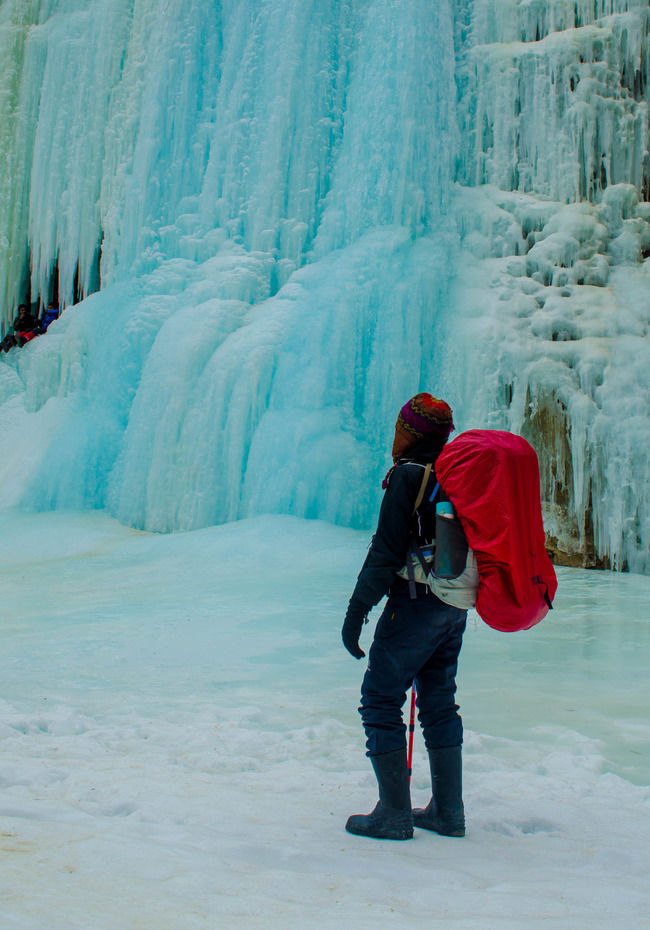 Legend has it that: "Centuries ago when the locals faced the dearth of water and went to Tibet for water. They were handed over a box which was said to open after reaching the village. But the villagers were so curious for knowing what is inside the box. They opened it before reaching the village. Two fishes jumped out of the box and created these two gigantic waterfalls."
So we were on our way to our Nerak campsite, which is 200ft higher than the Chadar river. Our camp tonight was known to be the coldest nights and there were expected to be strong gusts of wind. The Nerak village was 2000ft higher than our campsite, and once we reached our campsite, many decided to trek all the way to the village and bring in the local alcohol which is called "Chang".
That night, we had a taste of some "Chang" which tastes like ale. The alcohol content was quite low and tasteless but it brought the feeling of warmth which was perfect for enduring the temperatures that were -30 at that time.
Day 5 & 6 - The Return from Nerak
The next two days, we begin our journey back. That morning we awoke to the sounds of breaking ice. "Quick, quick, quick, the ice is breaking, we have to leave now!" exclaimed our trek guide. It was well early into the morning, where many of us was still asleep but hearing this shook us.We also noticed that it was snowing! Today, we thought that, we'll be retracing our steps and it should be fairly simple, but I guess this is when you can never underestimate what comes next. When you're in nature hands, you need to adapt and think quickly. Every second counts and if we hadn't left on time, we would have probably been stranded.
So we made our descent to the Chadar and I noticed that my gumboots were eerily grating against the breaking ice. I heard creaking sounds and wondered if it could handle my weight, or would it just break at any moment. As I put my foot forward, carefully trying to avoid my thermals and socks getting wet, but that's when it hit me that there was no escape. By now, the water was knee deep and had seeped through my gum boots and pants, all in frozen temperatures. I looked up at that moment and also remember the sky to be slightly overcast with dull grey streaks.
With all doom and gloom, I quickly leaned back against the rock to make that swift change to a new pair of socks, and minutes later, I regained my strength like the rest of the team mates and continued walking like a pro.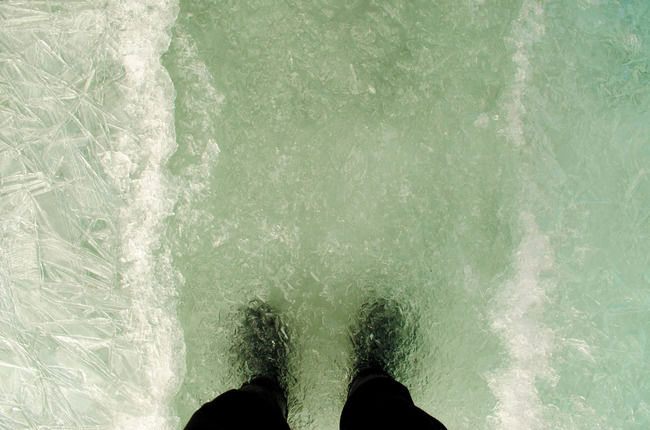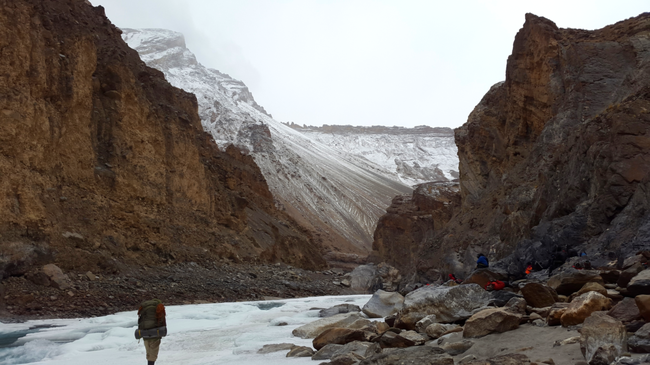 Exhausted and completely frozen over my clothes to my hands, I crashed in my tent. We knew that the tough days were over or at least hope for perfect sunshine weather. Of course at that temperature, there was no such thing as long sunny days. But we were already craving in for some much-needed rest, good ol' sunshine and a feast.
Day 7 - Return to Chilling
Our journey at Chadar was coming to a bittersweet end. We knew that today was the day, for all of us to maximise our time and fun in the Chadar waters.
Few daredevils in our group decided to brave the freezing temperatures and take a dip. I fortunately did not have the luxury of carrying extra pair of clothes and the thought of dripping wet was not my idea of an adventure. I, however, enjoyed seeing the rest shiver in delight after they took their two second dip. Yes, in seconds a lot can happen in -30 temperatures. You can only pray that your friends have a earbud because if you forget to wipe your ears dry completely... then good luck. You'll be lacking the power of hearing in no time.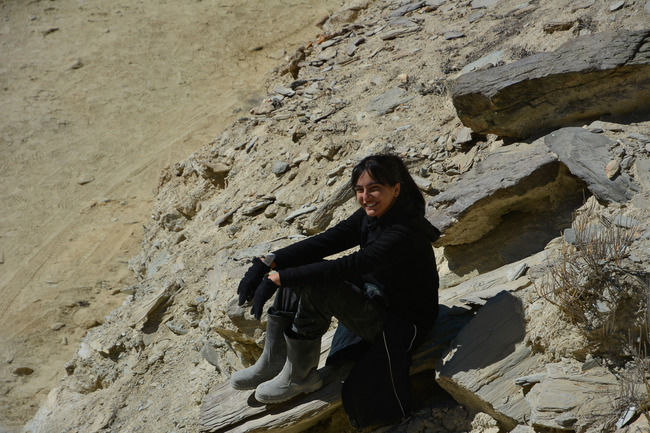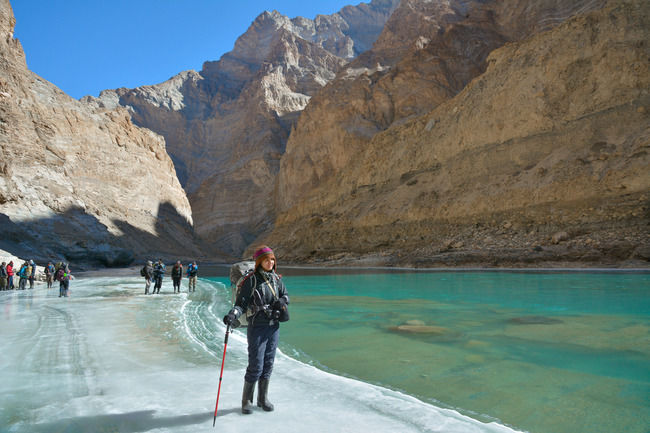 With the successful completion of my epic voyage, I have never had such a wintry experience before in sub-zero temperatures. The Chadar trek was everything that I hoped and imagined it to be. Jaw-dropping sights, the humility of the people and the physical and mental challenges that we had to overcome, these are the little lessons that I have taken back which trickle onto my other areas in my daily life. I had spent a lot of time just walking, thinking and feeling incredibly insignificant in front of these gigantic mountains. The conversations on tall high rocks as you overlook the blue waters to inspiring stories you hear when night falls are moments that I value and replay at least 10x over now, as I type this in the comforts of my own home.
Having written a detailed post of my experience, I must mention that I foresee trouble brewing in Chadar for the next few years. Currently, a road will be built to link the once inaccessible Zanskar villages with Leh, and this place will be packed to the brim with tourists once jeeps and other vehicles are allowed. When I was there, I came across many trek operators charging exorbitant amount of fees and most of them were ill-equipped to maintain a standard, handle any sort of safety procedure or provide proper medical aid. With the fact that Chadar has been known as one of the wildest treks out there, I hope trekkers make an informed decision if they do decide to pursue this trek.
Trip first published on The Gone Goat