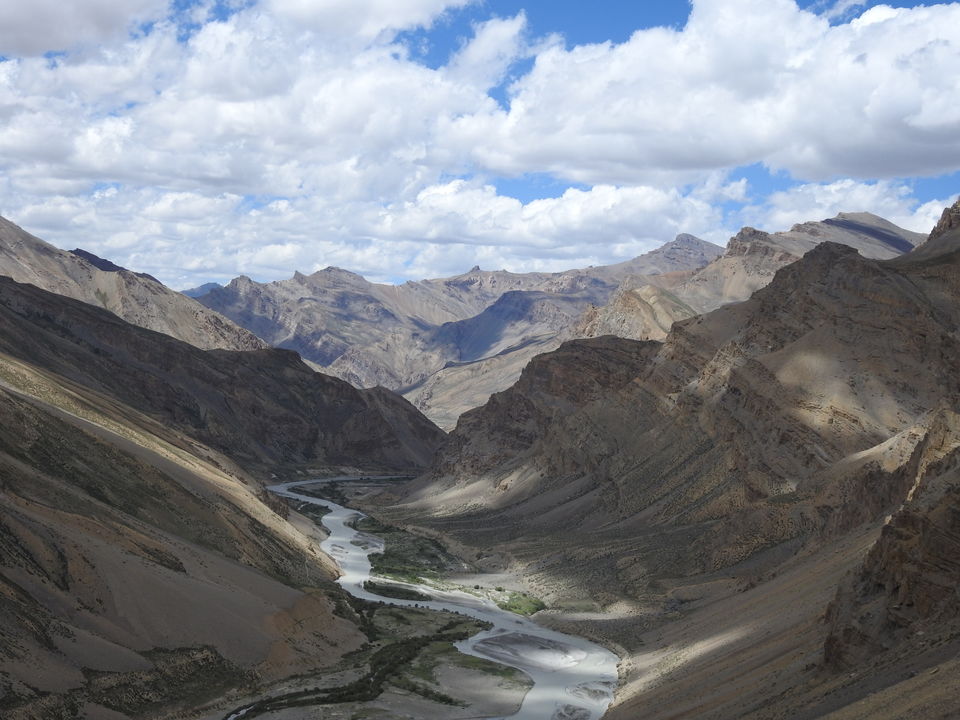 Our road trip from Manali to Leh had to start at 4 am. We got ready in the morning and our shared taxi was waiting for us with the fellow passengers. We were accompanied by a Japanese wedding photographer, another wedding photographer from Mumbai and a couple where the man was from France and the woman was from Poland. After the initial round of instructions, our road trip finally started, I and my friend occupied the last seat of the jeep, we had the maximum space but later we also experienced its disadvantages in the course of our journey. It was pretty cold in the morning and our first break was after 2 hours which was Rohtang pass. It was dark outside, all I could see was fog outside the jeep. It was a smooth ride till Rohtang pass with some Bollywood music playing in the jeep. As we were about to reach Rohtang pass we could see rain clouds and the darkness clearing out. The pass was only surrounded by heavy rain clouds and snow-capped mountains. We clicked a few photos, relaxed our muscles, and moved on with our journey. Since we were travelling with 3 foreigners we had to make multiple stops at the checkpoints for password verification. The advantage of this was that we were able to get out of the jeep and explore various locations along the way. After we crossed Rohtang pass the road ahead of us was extremely hostile, as there were no roads and driver driving on the edge of the valley. Honestly, the pahadi drivers know their way across the mountains but it gets extremely scary for the people not used to such speed on these difficult terrains. And the people sitting at the back face the most difficulty as when the car jumps we are the first ones to bang our heads with the roof and the position of our body is not stable at all. While the scenery outside the jeep was extremely beautiful with the river flowing by, snow and lush green mountains covered with snow on the side but with this thrifty drive, it was getting a little tough to enjoy the view. However, as dedicated photographers, we did not give up and kept clicking photos in whatever minute second of stability we got there.
Soon we got some relief and the driver stopped for breakfast in Chandra-something village. In that place, we met yet another interesting gentleman from Canada. He parked his cycle and sat with us for breakfast. He is a professional cyclist and while we were cribbing about our jeep journey he told us he is going from Manali to Leh on his bicycle. All of us at the stable stood there in shock but there was more, this was not his first time doing this, he had also cycled from the Nepal region all the way till Pakistan, and many more adventures like this one. His wife is also a cyclist and a mountains runner, and they keep going on adventures every year. He always takes off from his office and gives time to his passion at least twice a month. He was truly an inspiring man, and I think all of us on that table would agree with this fact. And with this incredible interaction early morning we continued our journey. As we were moving towards the Himachal Pradesh border the altitude and the structure of the mountains completely changed. The started to encounter dry region with a clear sky and brown & sand colour mountains. There were a few lakes and snowcapped mountains also on the way. As this Himalayan road trip from Manali to Leh is quite famous, we kept seeing a lot of bikers and cyclists on the route. I must admit that this entire route is not well constructed but still, people keep riding and driver which is extremely commendable. The reason why people would love this route it because of the scenic beauty, the sudden shift in the terrains, weather and the rock formations. We also crossed the area called the Baralaacha, where one can see 12 roads in S format across the mountains. The area was so beautiful that we had to stop the jeep at the top and click photographs of the landscape. And soon after we crossed this mountain we were at the last check post of Himachal Pradesh. This spot was beautiful, with a small temple on the side, mighty mountains all around and clouds hanging above the mountains. We went more time here than actually we were supposed to but it was worth it. And after this point, we entered Jammu & Kashmir. It was only a few km's that we drove and he saw a truck loaded with Old Monk rum, all of us had a big smile on our faces as there was a small wine store in the middle of nowhere, important, isn't it?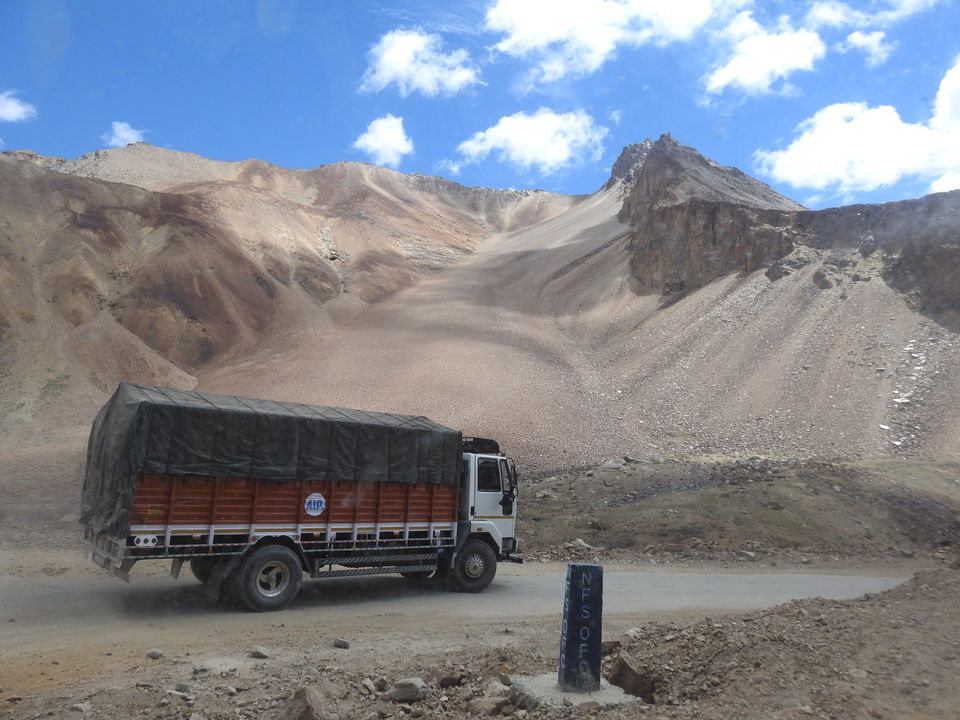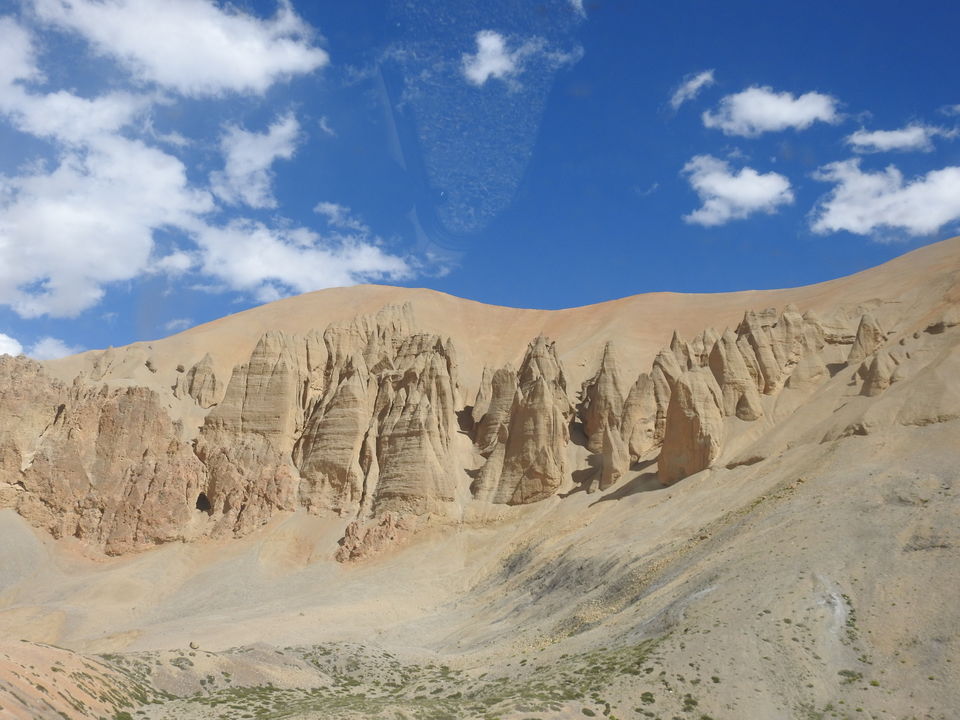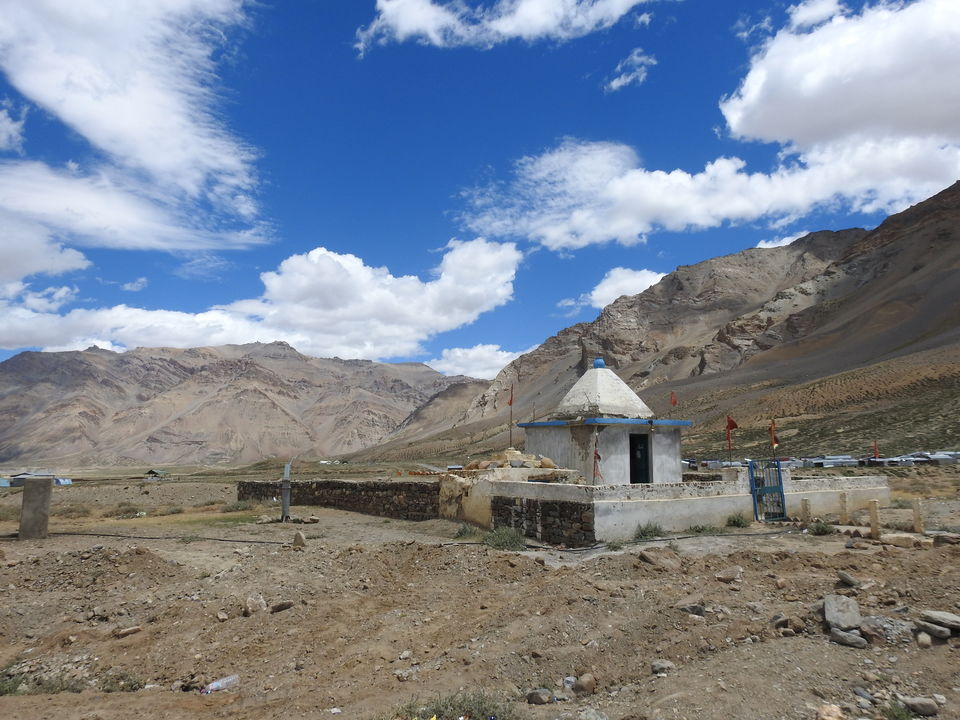 For lunch, we stopped in a small area near the army cantt. The helipad said Vijay and Ajay, I am guessing it was named after 2 martyrs. At that location I first went to the washroom, there was nothing special about the place only the fact that from the window I could see the beautiful Himalayas. And at that moment I realized in this area anywhere you go you are surrounded by the mountains. We stopped at a small dabha maintained by an old couple. It was suggested to me that to cope up with acclimatization one should drink garlic soup. So we ordered a bowl of garlic soup and dal chawal. This was the first time I was having garlic soup, it was creamy with few pieces of garlic inside it. The aunty served a salad, that was a mix of onion, cabbage and an of red chilli powder, it truly enhanced the taste of the dal chawal. I was full, contented and happy. After staying there for around 45 minutes it was time for us to continue our journey. Mountains do test your patience, enjoying their beauty comes with a price of sacrificing your comfort. We were not able to get enough of the mesmerizing beauty around us and as a gift, we finally got onto a good road. A straight drive with mountains on both sides and clouds coming down in front. It was a beautiful stretch but suddenly we saw a truck rolled down on the side. As we inquired the truck was carrying petrol for the airplanes. Luckily the driver was safe but the petrol was gone to waste and so was the truck. Nonetheless, we had to move on if we planned on reaching there before night time. After we crossed the Khardungla Pass, the second highest motorable track in the world, I started to feel a little nauseating. It was mainly because we were on the road for more than 10 hours in the rough terrains. That route from the pass to Leh was beautiful we could see the Indus River flowing on the side and small villages started to appear but it was getting a little difficult for me to enjoy. Just before Leh, the driver stopped at a check post, I could not control and I puked in a small washroom beside the river. Few chocolates and toffees down I was back to my normal self again. And within 1 hour we were in Leh.