So there I was in the middle of New Delhi, disoriented from the pollution and the chaos. The people, the traffic, the pollution and everything was a crude departure from the mountains in Ladakh. I was back in the city after spending 20 days in extreme temperatures. Did I still want the mountains? Heck, yes. My birthday was nearing in two days and I was suppose to head to Punjab, to explore the plains.
However, due to the intense Jat riots and protests, it was deemed unsafe to travel to Punjab. In 30 minutes, I changed my plans and booked my flight to Bagdogra, which is in the Darjeeling district in West Bengal. The plan was to explore Sikkim for 8 days, head to Kolkata to visit my 92-year old granny, do a quick border run to Nepal and get my visa issue sorted and extend my stay in India.
I reached Bagdogra airport and was meant to meet a New Delhi friend I made who was also travelling to Sikkim. The simplest way to travel in this region is via a shared jeep or shared rickshaws. He was kind enough to wait for me, although his flight reached 1 hour earlier and we soon got a rickshaw that took us to Silliguri, the foothills of the Himalayas which doesn't look anything like the Himalayas but more like Delhi's half cousin. From Silliguri, we haggled in broken Hindi (me) and proficient Hindi (them) to secure the best possible deal to get us to Gangtok, the capital of Sikkim. Minutes later, we were blasting Hindi music and singing our way for 4 hours in the car.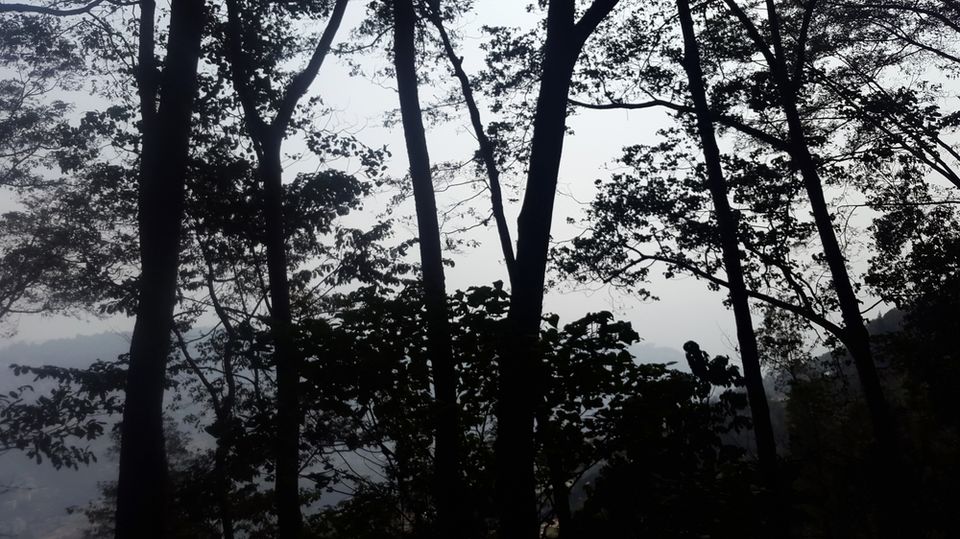 These guys had already made their booking, and I was struggling with the spotty net to make a room booking via GoIbibo, a travel booking app. The best part about joining these apps, is that one gets a 70% discount for the first 3 days of any room / hostel you book. Minus all of that, my stay per night was only 250 rupees (RM15). Dirt cheap and I get a whole room to myself, take that! Although this place was suppose to be a "hotel", from the pictures it looked more like a hostel with your own private rooms. The hostel wave has not quite reached other parts of India and honestly, in places like this, even a dingy looking street cart-cum-hotel would be called the "Sheraton of India".
So while I figured out the whole hotel mess, there was a security checkpoint before entering Sikkim. Sikkim is a landlocked state in India and situated at the ecological hotspot of the lower Himalayas with many areas being restricted to foreigners. These permits are issued on arrival on the land borders of Sikkim - most popular is Rangpoo Check Post. Since it was quite late into the night, and I had made a quick decision to visit Sikkim, I really did not read much into the security restrictions here. "Are there any Indians or NRI's (Non-residential Indian) here?," asked the security official at the checkpoint. To which I replied "No." and I waited for his next question on whether there were any foreigners here, but he did not asked that and before I could say I am a foreigner, the jeep whizzed through the roads.
Minutes later, I asked my Delhi friend, "Wait a minute, did I just enter illegally?" and with slight hesitation, he said "errr....I think so...yes. But why didn't you tell them you're a foreigner?" "I don't know. Was I supposed to? Everything happened so quickly."
I could only hope that nothing would go wrong. I reached the "budget hotel" and my friend used his ID to register here. I later came to know that only Indian nationals are allowed to stay here and any foreigners who enter Sikkim need to be attached to a tour agency / operator and stay at an assigned 4 or 5-star hotel designated for tourists only. Well, I wasn't sure how that would pan out over the next few days.
I started googling for images of what a detention centre or prison looks like and frantically started thinking of sob stories that would seal my fate. But I thought to myself, I'll sort that headache later and savour the good moments before it turns bad by visiting the cafes of Sikkim and the whole tourist sightseeing thingamajig.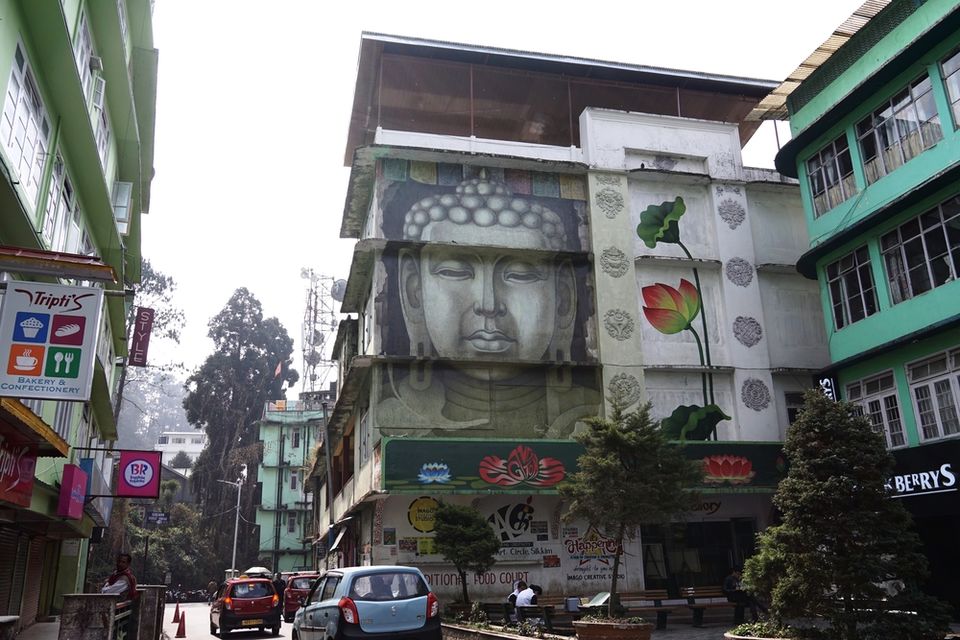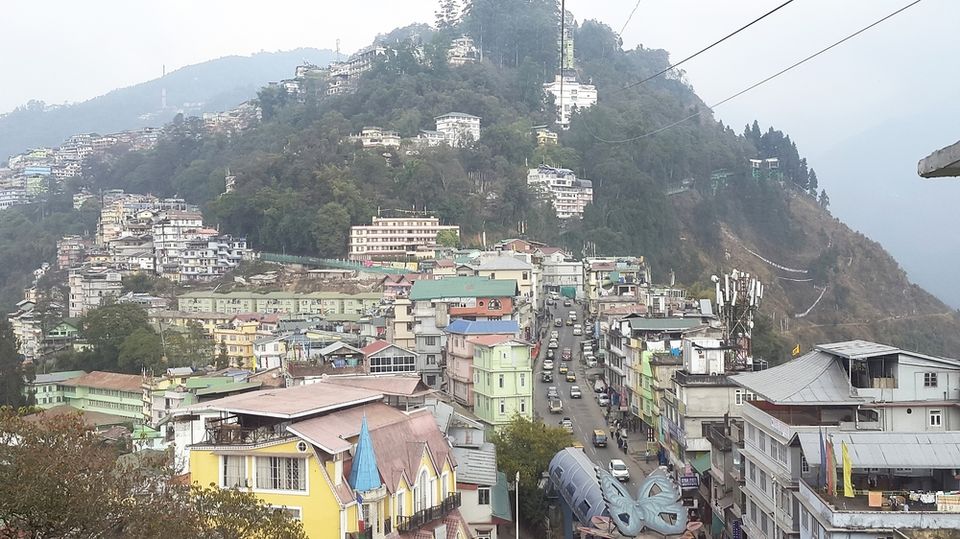 There were couple of sightseeing areas and monasteries for one to see in Gangtok but the whole sightseeing thing after a day in Gangtok did not appeal to me. Yes, the cafes and food were brilliant and very affordable but I realised, let me chuck this and visit North Sikkim which I have heard great things about. The time for the moment of truth came: No permit, No go basically.
My bitter morning episode started at the tourist office, and fast forward few hours later after moaning about the trials and tribulations of travelling solo, they solved my issue. Let's just say that broken hindi, an Indian looking girl who tried her very best to blend in worked it's magic.
For two-days, my trip to North Sikkim was sealed. A great deal of Rs 1,200 rupees (including food, hotel and transportation was covered!) That's only 71 ringgit. Did I mention that I get two beds and a 5 blankets to myself once again in this beautiful cottage? I am telling you, travelling solo has it's perks.
I couldn't help but admire the magnificence of the mountains and pristine, untouched landscapes of North Sikkim. Everything was marked in high-definition with a velvety feel to the edges of the rugged giants.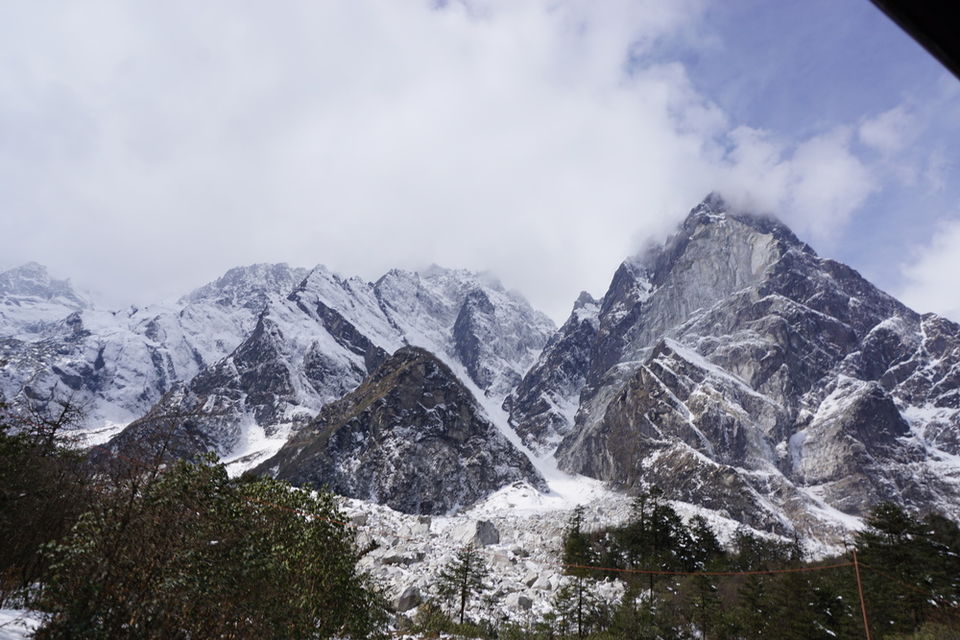 So as I settled into the front seat of the jeep and begin to have a conversation with 3 honeymooners and a Bengali family, I realised it was no longer a conversation, rather an interrogative session.
"So, you are travelling across Sikkim? Are you meeting your friend? Oh, no friend! Where are you from? Why are you alone? Oh, you are here 3 months!!! What does your father do? Why so long? It's not safe for a girl to be here. Oh you must come to my house in Kolkata? No, come to mine. I stay near the city it's more convenient. Ok, tell me are you not married? Do you have someone? You know I know someone who is single. Just tell me your age. It's ok, you tell me later. We have plenty more days. Again, beti (daughter), why are you alone? It's not good. You will have to stick with us. We'll take care of you ok. Done."
I turned back to my front view and at that moment, thanked heavens that I was seated in front and not at the back. The mountains knew how to stay relevant because that quickly became the focus of the entire evening and the rest of the few days. We stayed at a small mountain village in Lachung which means 'Small Pass' and had a cute little cottage-feel to it with the name called 'Apple Mountain Retreat'. As lovely as the name sounds, the place had no apples unfortunately, but stunning views and great hospitality. Temperatures that night was about 6 degrees. Nothing I couldn't handle.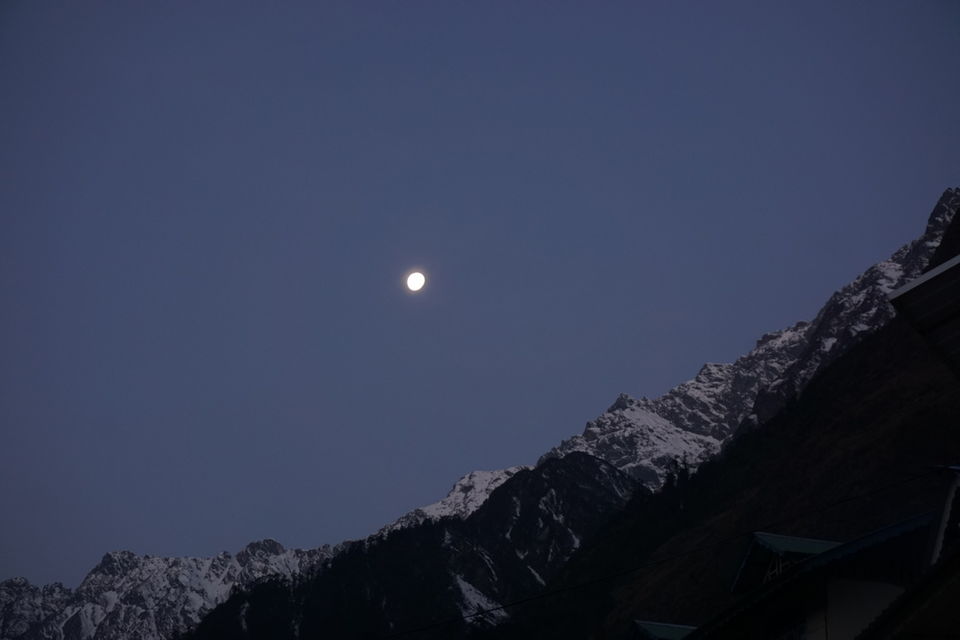 Our much-awaited journey to the 'Valley of Flowers' in Yumthang Valley, known to have over 24 species of rhododendrons, the state flower was about to happen. As I had arrived in winter, sightings of flowers were rare as the entire valley gets enveloped in thick snow. Ideal time, would be in Summer between March to May. Other than the wonderful views of vast valley of flowers, Yumthang also offers stunning views of the mountain peaks such as Pauhunri and Shundu Tsenpa forming the backdrop of the river Teesta.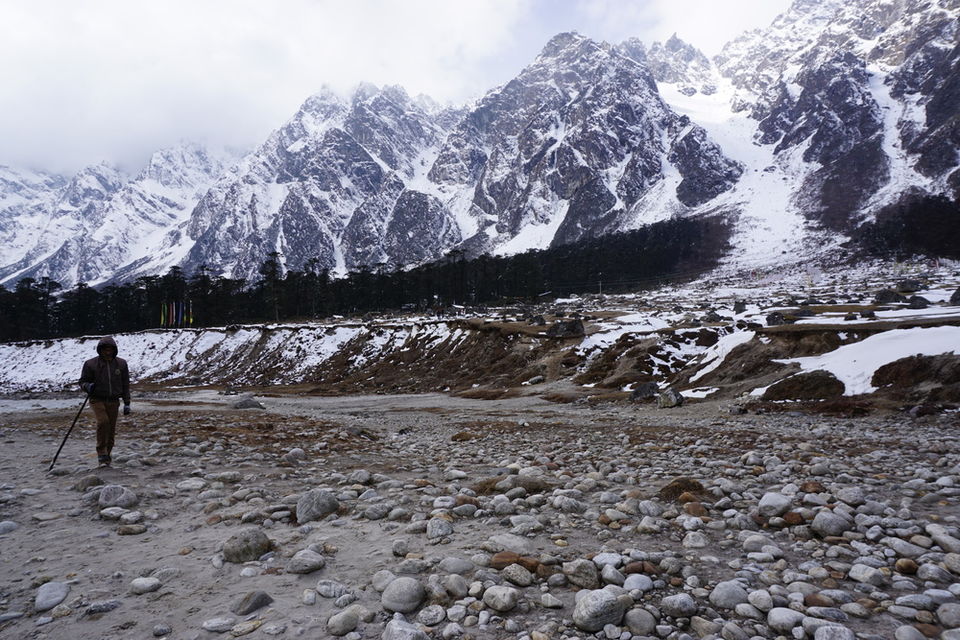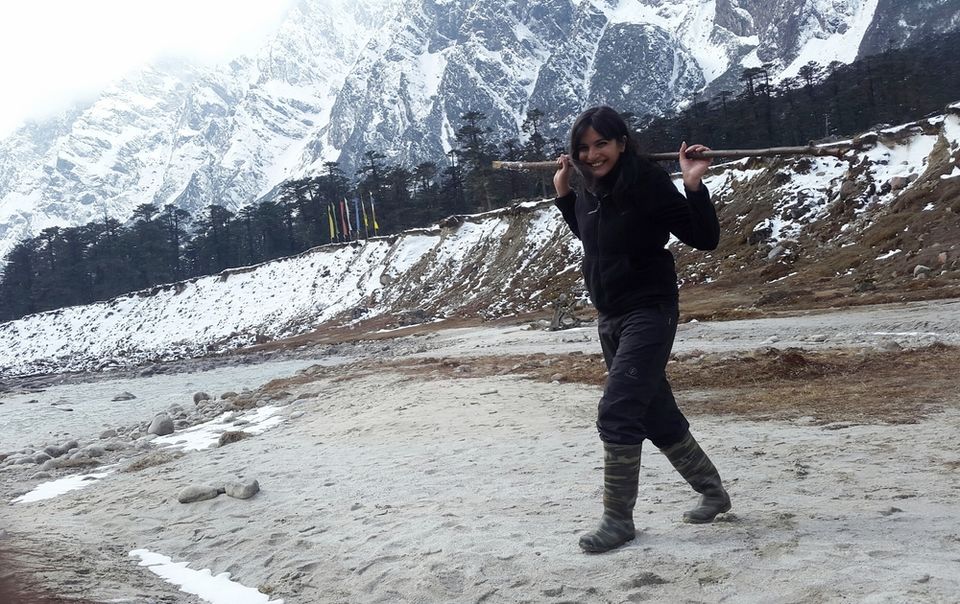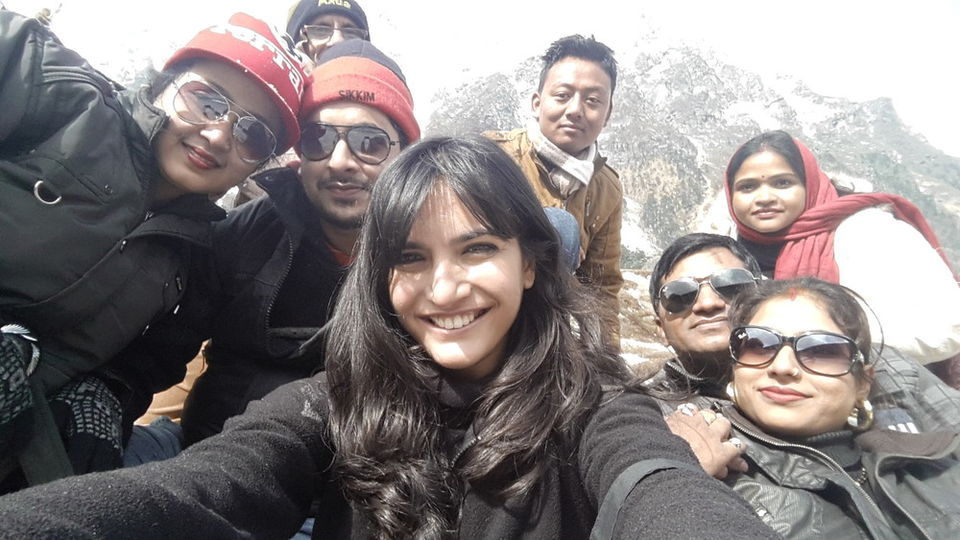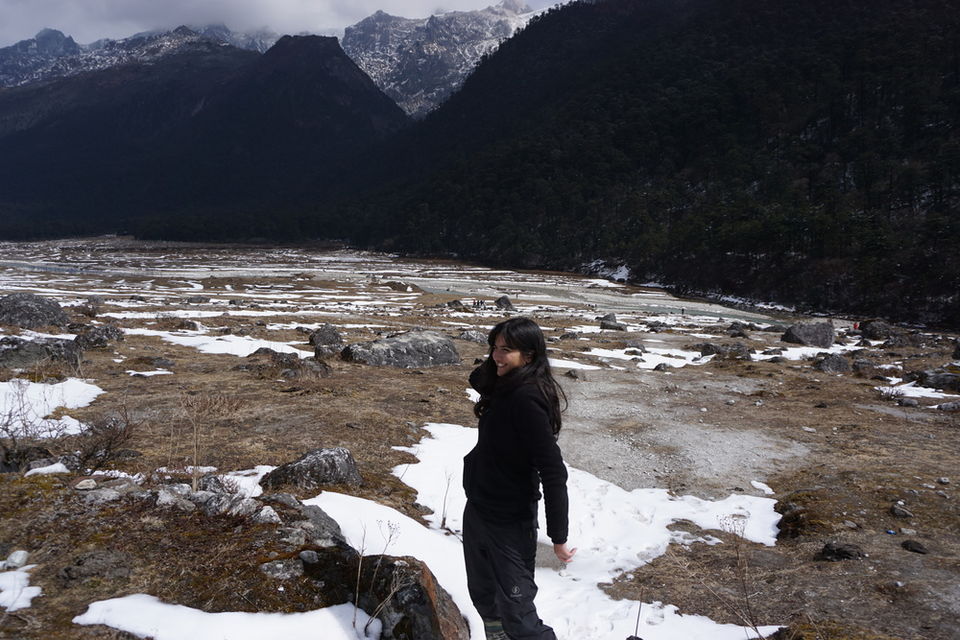 After the fun-snowballing, countless selfies and attempts to blend in the mountain life in the steepness of the valleys, we wanted to head further up to a place called Zero Point. This is the place where the all roads to civilisation ends and within a short distance from the border, you'll be able to spot China which tourists like me are definitely not allowed. Due to the intense snowfall, it was not possible to reach to Zero Point at all. There were also several hot springs at this area and unfortunately, we were not able to do any of that. So much for getting "access" to these places.

Bummer. But on I was ready to see more of Sikkim. I knew North Sikkim had so much to offer but with the permit restrictions, I really couldn't go off the beaten path. Journey was kept short with many in between stops at various waterfalls, snow-playing adventures, various chai stops, conversations with 10 or more honeymooners that resulted in similar patterns as before. It was time to head back to Gangtok and mark off other places on my places to see that only "Indian nationals" were allowed access to like Nathu-La Pass and Tsomgo Lake.
So after a day or two, I made my journey cramped in the backseat of the jeep together with some engineering guys who were in Sikkim to set up 4G Reliance network. They were pleasantly friendly and my attempt of trying to really speak Hindi and be all local with "Hi, I am from Delhi." failed miserably. "So, no really. You can't speak proper Hindi, and you're from Delhi. Impossible. Tell me where are you from." At that point, I thought shit, I should have just said I am from Kashmir or somewhere remote, but that didn't work and the truth revealed itself.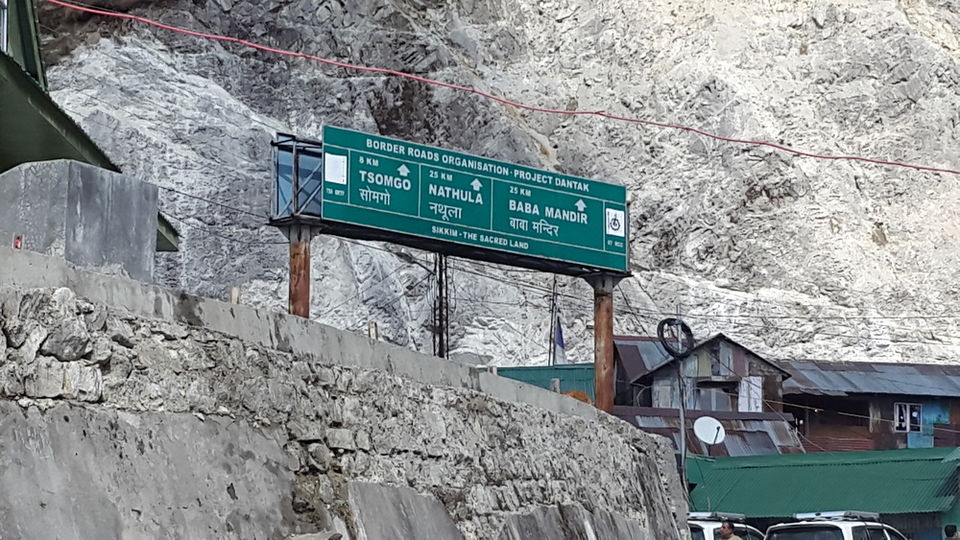 The pass, at 4,310 metres above sea level forms a part of the ancient Silk Route. Nathu means "listening ears" and La means "pass". No pictures were allowed beyond this point considering it's an Indo-Chinese border area.
The best part was that you will come across a fenced Indo-China border where you can see both the Indian and Chinese soldiers guarding the border. I shook hands with both sides and they gave me a serious no-nonsense handshake, really a sign telling me I shouldn't mess around here. Truly a 'no mans land'. Till today, it is known that mails are delivered across the border on certain days during the week.
On our way back to the Tsongmo Lake a.k.a Changu lake, which is a 2.5 drive from Gangtok city. Known to be extremely sacred by the local people, the glacial lake is often visited by hordes of tourists as yaks are lined up on the sidelines. As it was winter, I was literally covered in sheets of ice.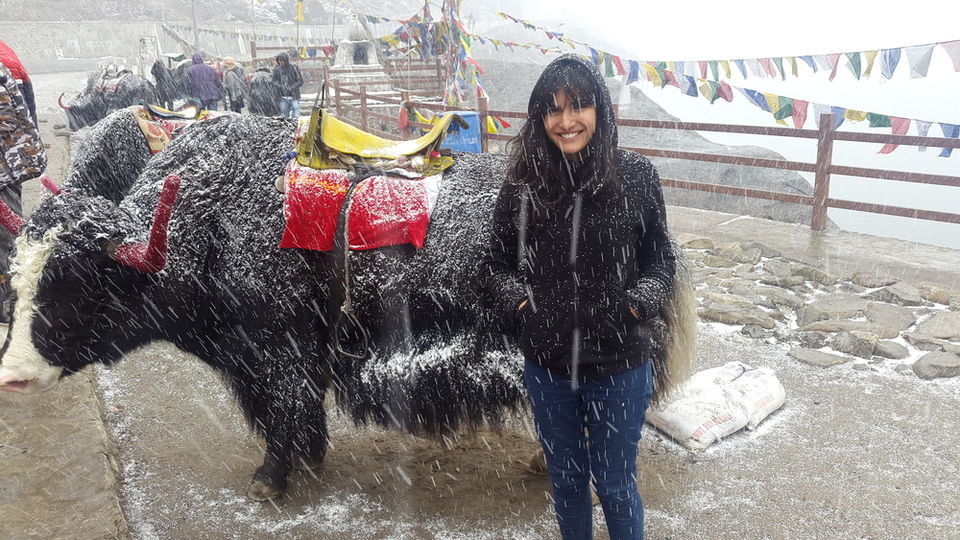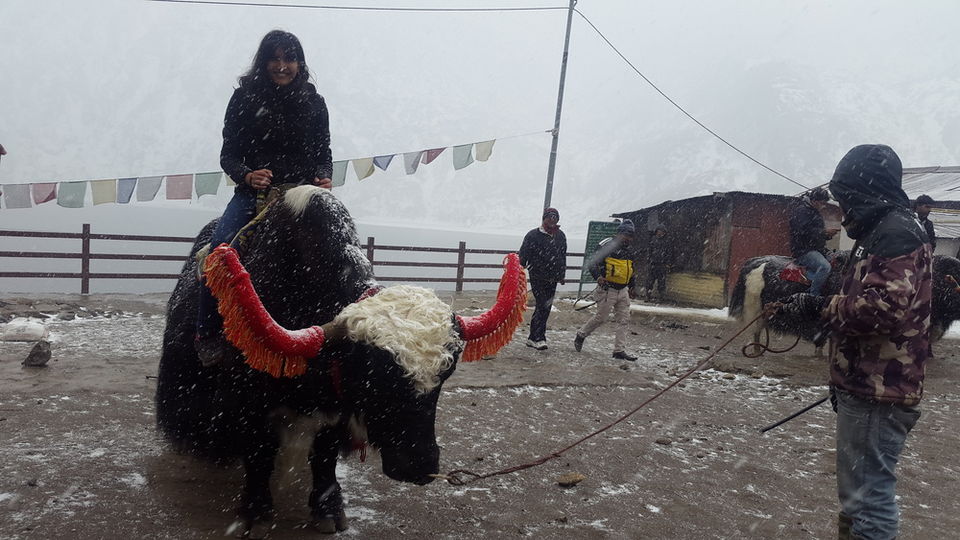 Riding a Yak may have been a splendid experience for many, but I wished I didn't ride one. I know Yaks are a common carrier of goods in the Himalayas, but sometimes they're underfed and really I do not know to what extent they're mistreated but I usually condone acts of animal riding and would encourage others to make an informed decision before riding one.
The blustery winds, pounding snow and blizzard like conditions made it so hard to capture any footage. But with such GOLD statements from the drivers to the honeymooners, I wished I had recorded their statements in Sikkim instead. "Mam, no worry, this is snow, not dandruff....come out!"
Trip first published on The Gone Goat