***A breath of fresh air***
'Another Wednesday morning and the same dragging feeling of nothingness ensues', she thought to herself. With a heavy heart she heads to her workplace and finishes the day without feeling great about anything at all. It's the same old all over and before she hits the rock- bottom, a voice calls out: 'Didi, how about a short weekend trek?'. As if this was some sort of elixir to rescue dying people, she gets back from the dark pit of her semi-depressed state and gasps for fresh air. As soon as she regains consciousness, a 2-word response: 'Yes, please' seals the deal!
***Embrace the journey***
What started with a light nod, giving up midway due to unavailability of the preferred options and uncertainties cropping up due to life & work-created crises turned out to be the most amazing 2 days of my life. We of course had the hashtag ' Du-pling' sorted out for our sibling trip with much help from the TVF web series .The idea was amazing of course. Now it remained to be seen how we executed it. I left the task to my brother and he made sure the travel arrangements were well in place. We had Chopta-Tungnath as first choice and Parashar lake as the second.
A little search here and there made us came across a travel site and the description and honest feedback on open/ closed snow treks helped us zero in on some of the most do-able options we had, given the weather conditions (heavy snowfall across Himachal Pradesh & Uttarakhand and half the routes being blocked). We decided on Nag Tibba trek for 17-20 Jan weekend.
A brief plan/ itinerary was as follows:
17th Jan: Friday - departure from Delhi to Pantwari 18th Jan: Saturday - Reach Pantwari around 9-10 am; trek up and reach the base camp by 4-5 pm 19th Jan: Sunday - trek up from base camp till Nag tibba temple and up to the summit; return back the same day; head back to Delhi at night 20th Jan: Monday- Reach Delhi early morning
Once the tentative plan was known and bookings done, we made sure that we completed our prep for our first ever snow trek. Trek shoes, enough woolens (socks, cap, track pants) formed our quick shopping list from Decathlon. We made sure and chose stuff to sustain the minus degree temperatures we had been warned of.
Friday night, after a hearty dinner, we set sail for your trip ;10:30 pm being our starting time from our common pickup point: Kashmere gate. A short group of 7 people that we were, we had our brief introductions done before beginning our road trip to Dehradun - our first pit-stop. Heavy on personal biases and day-to-day hustle that we were so desperate to run away from, we spent the night travel in silence and being what we were: strangers at best.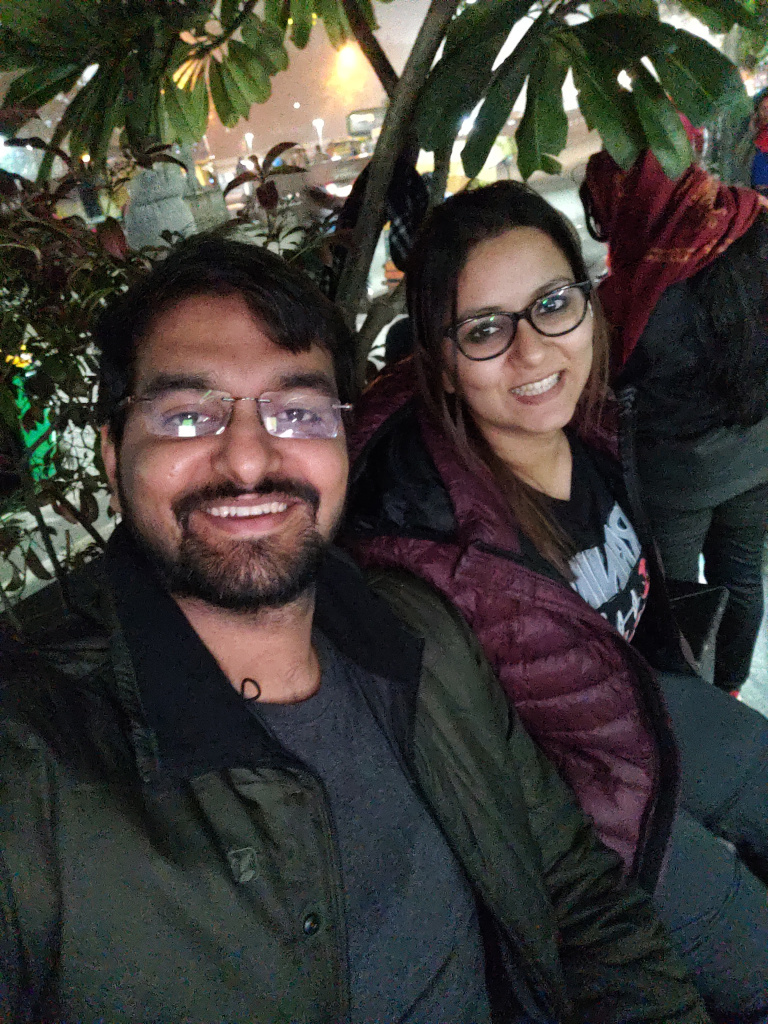 A quick start to the dupling ????PS: please don't bash me if this word doesn't exist at all
It was morning 6:30-7 am when we reached Dehradun and had our traveler-bus pickup to Pantwari ready. With Saturday morning and mountain breeze on our way working its magic, there was some ground covered on breaking ice amongst us. An attempt at getting to know the co-travelers while readying for the ascent with sumptuous breakfast on the way made it a perfect weekend morning.
Upon reaching Pantwari, we had short break to freshen-up. Our local guide suggested a few add-ons: raincoats, replacement of unsuitable shoes to have a safe snow-trek to make sure our trek was all fun and no worry.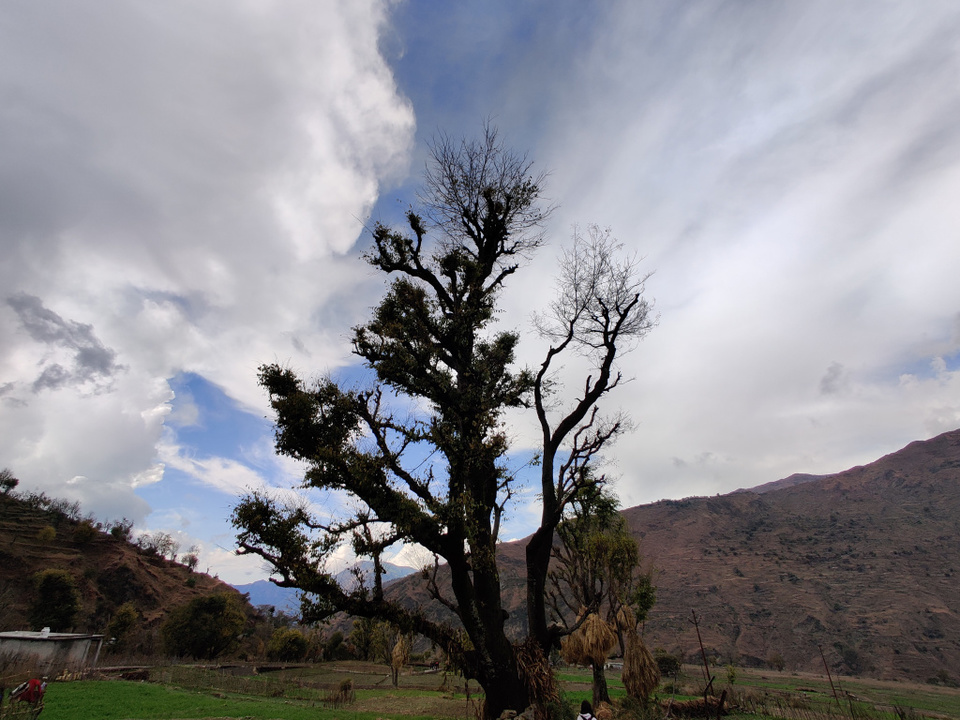 ' Straight out of dreams' scenery right from the start !- Pantwari
***Out of comfort zone***
We started our trek to basecamp with a quick note to self: 'it's all going to be worth it at the end of the day'. The basic information we had was Pantwari to base camp was ~ 5.5 km and bas camp to Nag tibba summit was ~3.5 km. Since we had some hearsay pointers on the trek till basecamp, we assumed it to be plain walk compared to the trek till summit. This one element made some of us struggle initially but we got better on the way. Our local guide made sure the trip was a fun ride but at the same time we pushed our limits and stayed on plan. Precisely the reason why we never stopped at the first maggi point on the trail. Our guide with his ever-smiling face told us the second maggi point isn't far away and we should keep walking. On the way a banana and a quick chocolate made sure our energy reserves were replenished. His queries about our lives - work, friends and life at large served as quick knockers for our otherwise privileged life. Also, pretty much what kept us going apart from the 2 nd maggi point that became the milestone we could not miss. Upon reaching, it was home cooked aloo sabzi and roti that acted as 5-course meal to our exhausted selves. Now on, we wouldn't stop for more than 10s in between. Clearly, we over ate and over promised in very same moment ????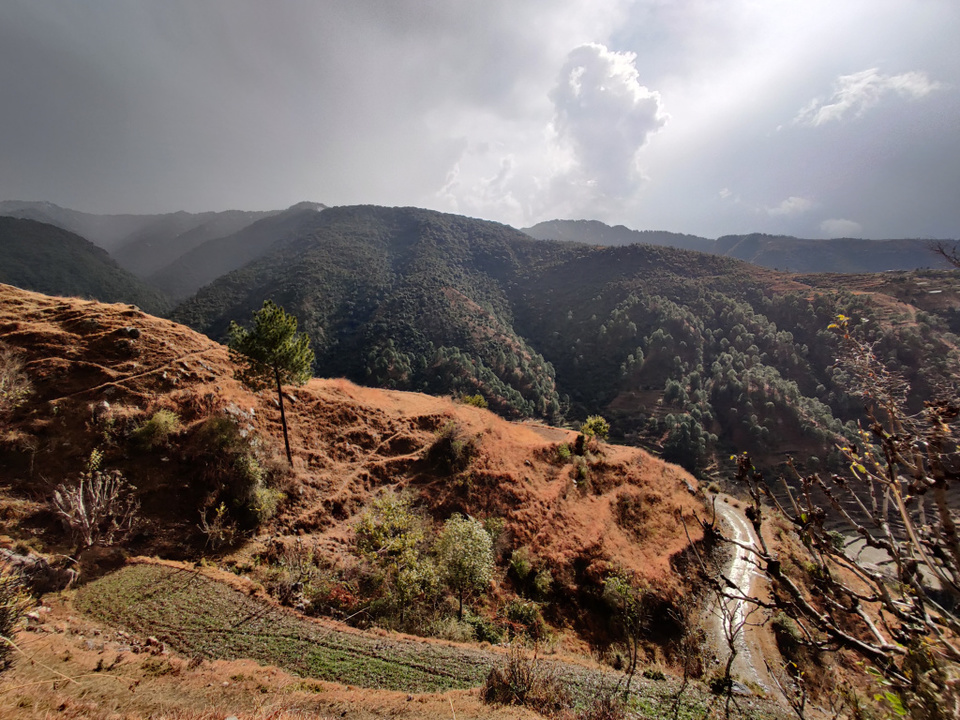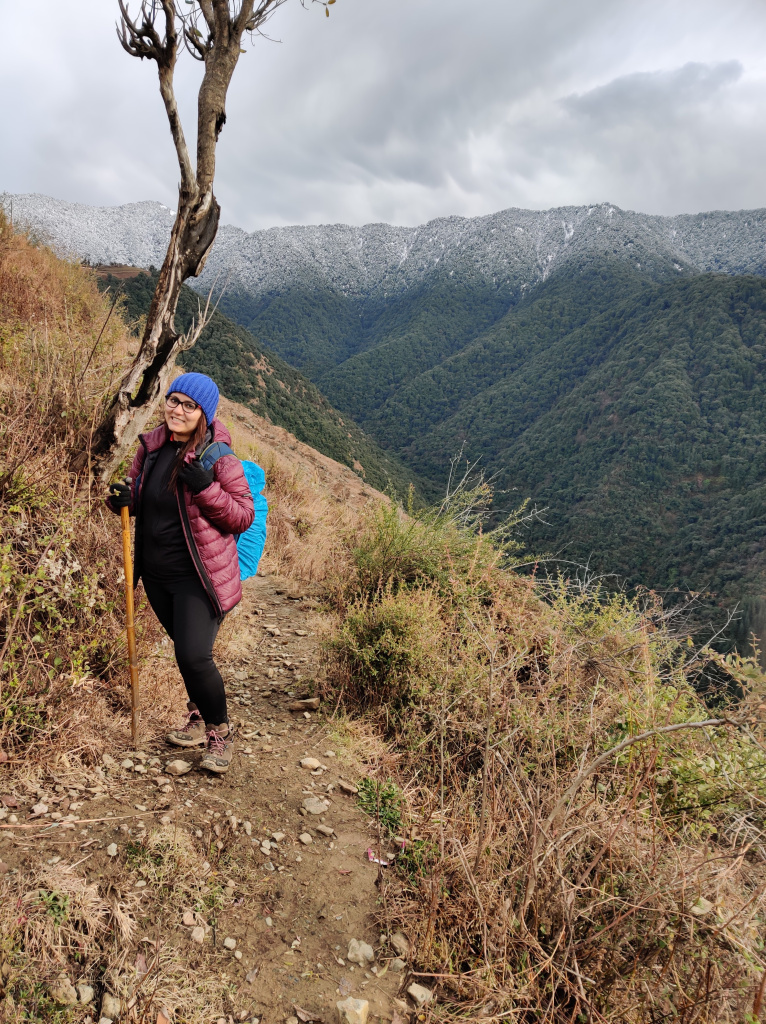 Right at the start of the trekSomewhere in between - the dopamine and snow acting up ????
It was the entry gate for Nag tibba base camp which served as our next milestone and thought the base camp site will not be far away. We under-estimated the distance. This route was all jungle and small trails and the levels got far more steep than earlier part of the trek. After an hour or so more of struggle however, we finally made it to the base camp.
It was 4:30 pm. Our trek lead had notified of tea-pakode to be served and we were left to embrace the view that did lie ahead of us. I'll have to admit this was one of the most important piece for me. The scenery created by magical hues of the setting sun, sky, chilling cold and snow-capped mountains up close was something which words will always fail to describe. There are few moments in our lives which if taken out will leave it a hollow mess. Well, the Mandarmani beach morning, sunset at Vagator and Chapora fort, sunset at Lovrijenac fort at Croatia, afternoon at carmel bunkers, kheerganga morning will be amongst one of those finest moments in mine. Let's just say: That evening , I added one more moments to this bucket full of rich moments of my life.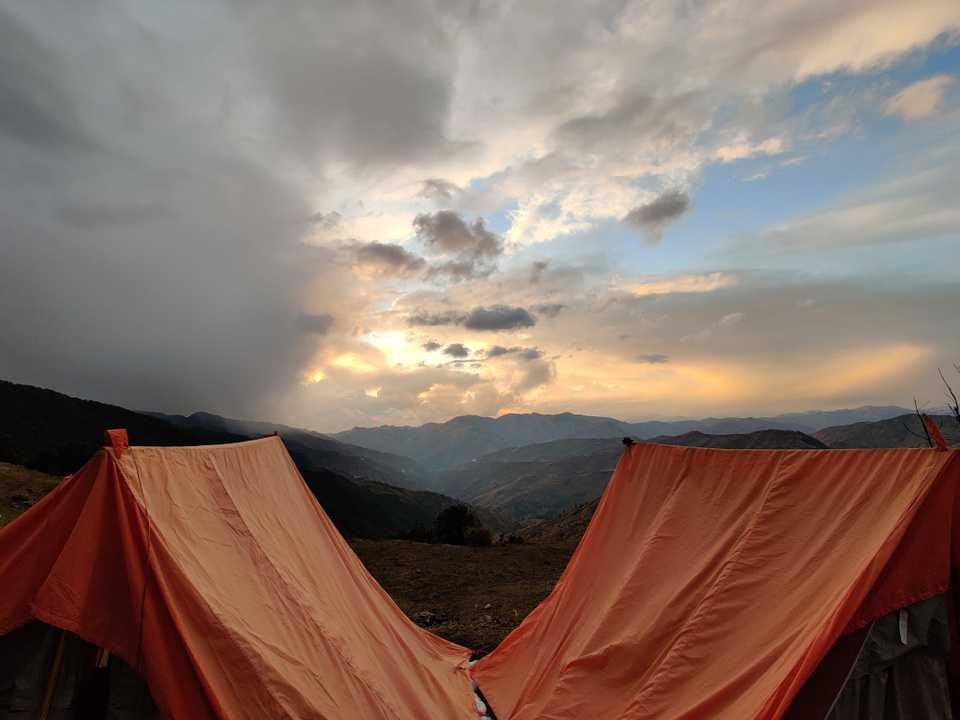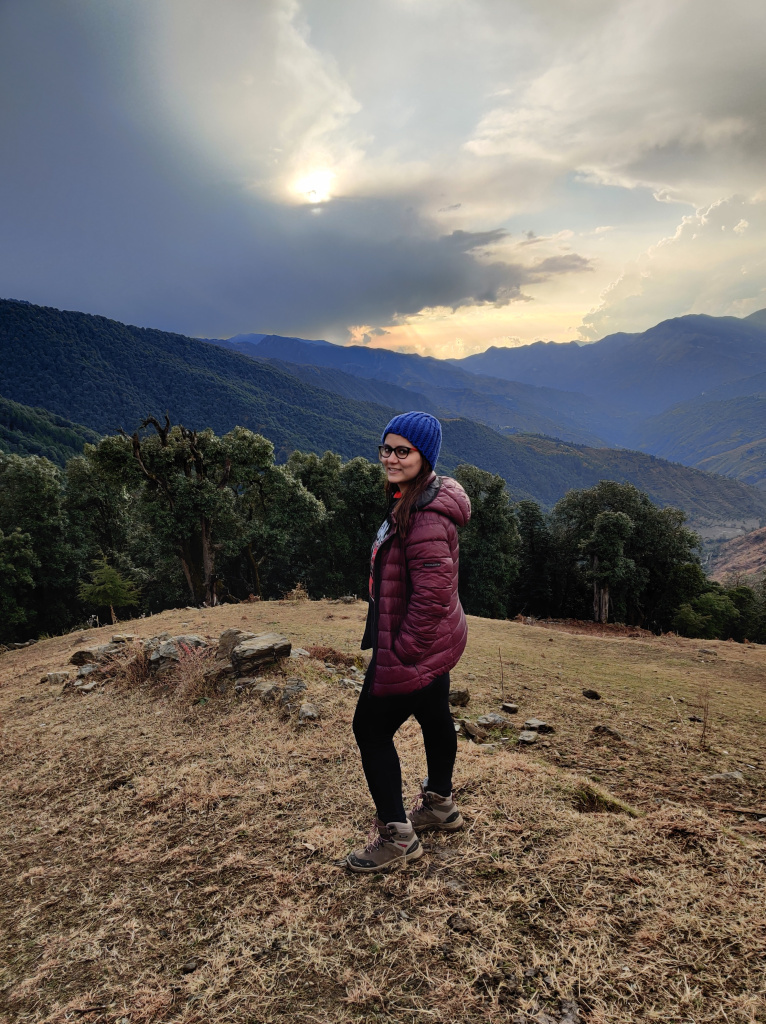 Post this entrancing 45 minutes' time frame, it was the food rail, snowfall and our little chit-chats that worked our way through to the chilly night. We had our promised chai-pakode followed by veg maggi and then soup to our rescue amidst the otherwise freezing camp of ours. This was really the short time span where all of us 7 co-travelers shared a few parts of our lives with each other and opened up about our vulnerabilities, fears in life and truly, the reasons for choosing to come on this trek. Since apart from my brother and self, we were all people from different walks of life, it was truly an opening- up session amongst strangers in a different land. Post dinner and some failed attempts at Mafia, we went to sleep as we had an early start planned the next day.
***A million little suns ***
Post breakfast and a hot piping cup of tea, we were ready to witness snow laden mountains and more important, trek on it. We left our backpacks at base camps and were packed to brave the chill on our way that we had only heard stories of. The route was average compared to our trek the previous day up till the base camp. It was steep in some parts but largely easy on the level of difficulty. It was the first ray of sunshine en-route Nag-Tibba that once sprinkled over the nature's snow sheet created an overwhelming experience for our gang of 7. For most of us this was a first. Walking further up and closer to our mini-destination - the Nag tibba temple, we were greeted with knee-deep fresh snow. We made sure we made best of it. Snow fights, fun frolic photo sessions ensued.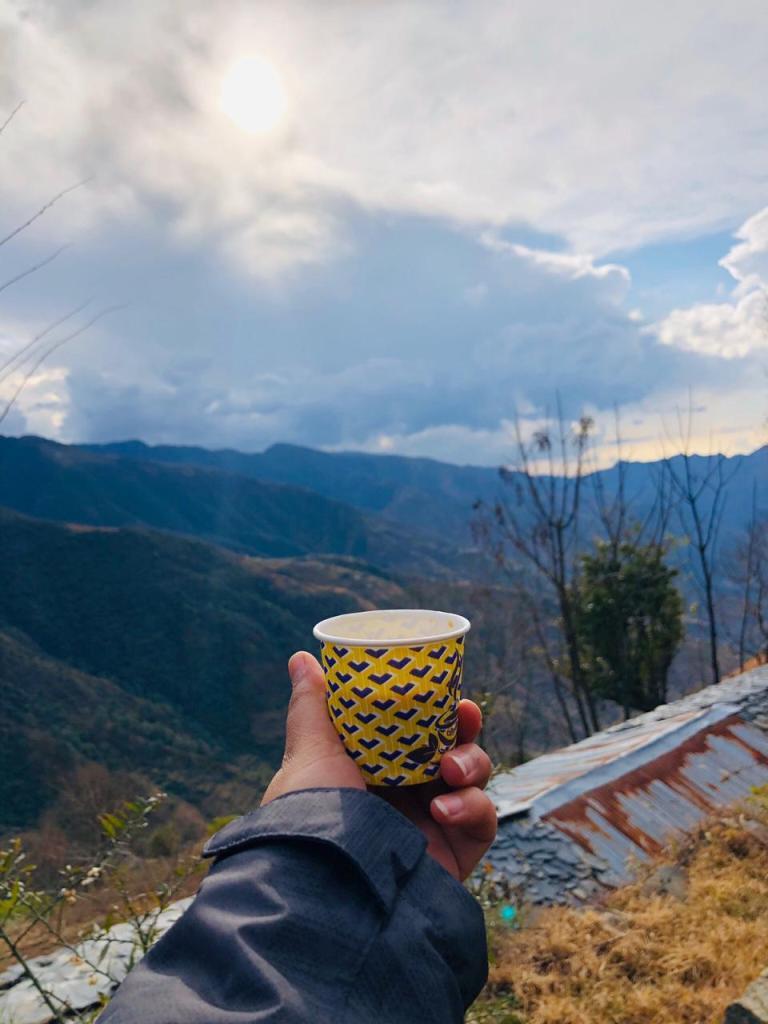 After a short walk of another 15 minutes, we reached Nag tibba temple- the centerpoint after which the whole trek has been named. It is believed to be the abode of 'Nag Devta' or God of Snakes, from which it borrows the first part of its name; 'Tibba' is a local word for hill or peak. Local villagers come here to offer their prayers to Nag Devta for the protection of their cattle. After paying our respects, we tried attempting the trek until summit despite the initial warnings from locals. We gave up half way as trekking in knee deep snow at such steep level didn't seem like such a good idea after all. Giving up was not such a bad thing in this case as this decision saved us time and energy. We spent the saved time in absorbing the scenery which sun, snow and oak trees had created.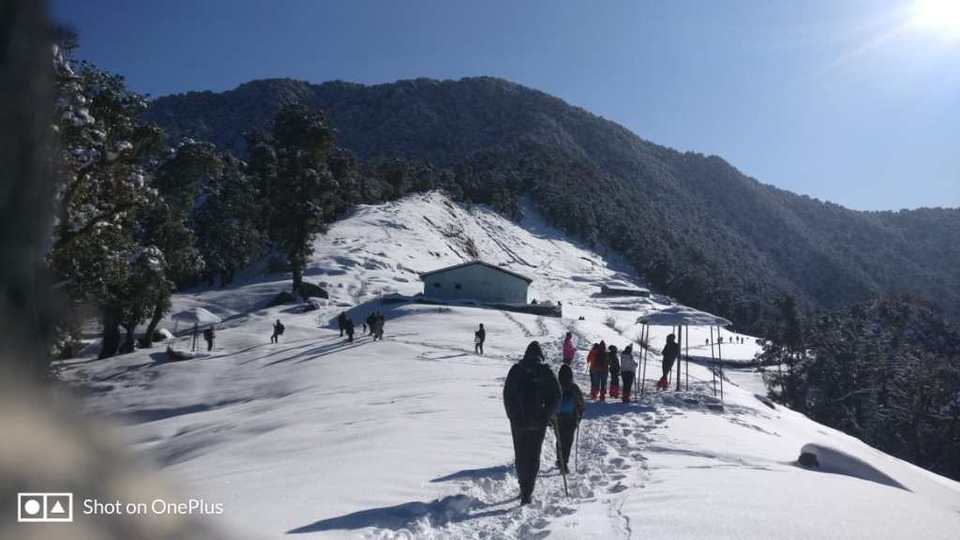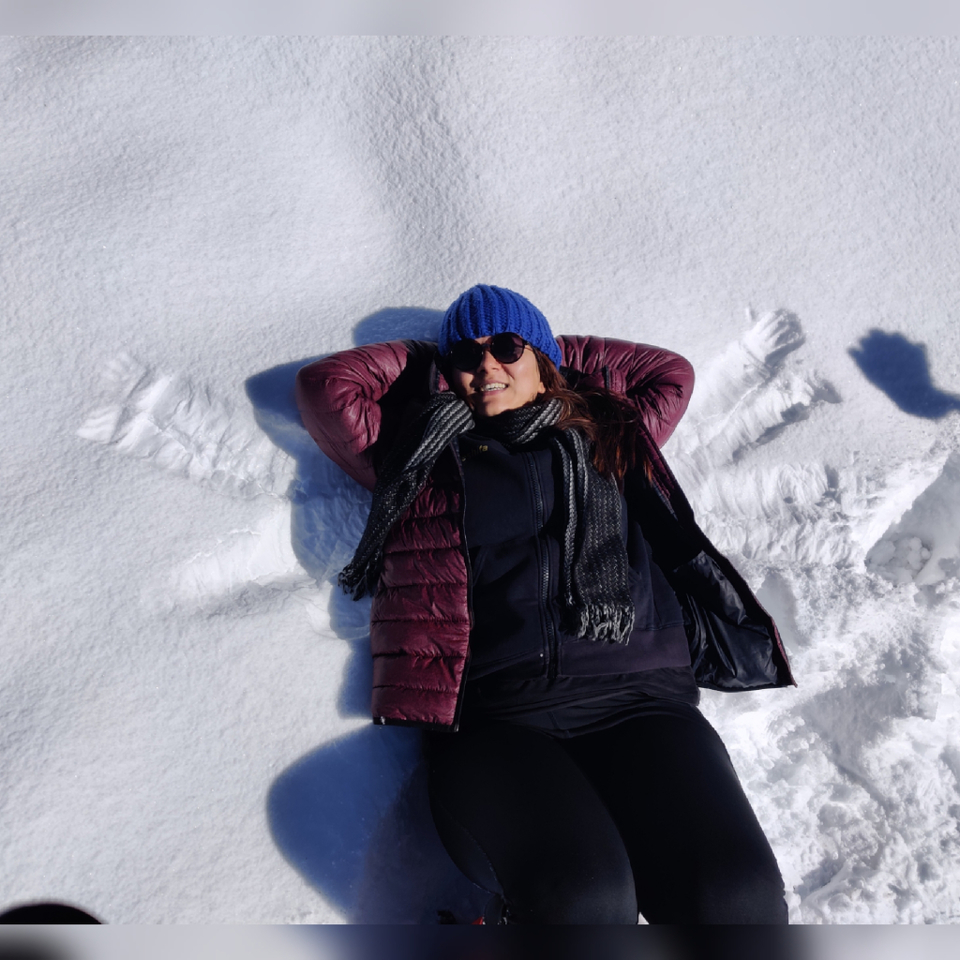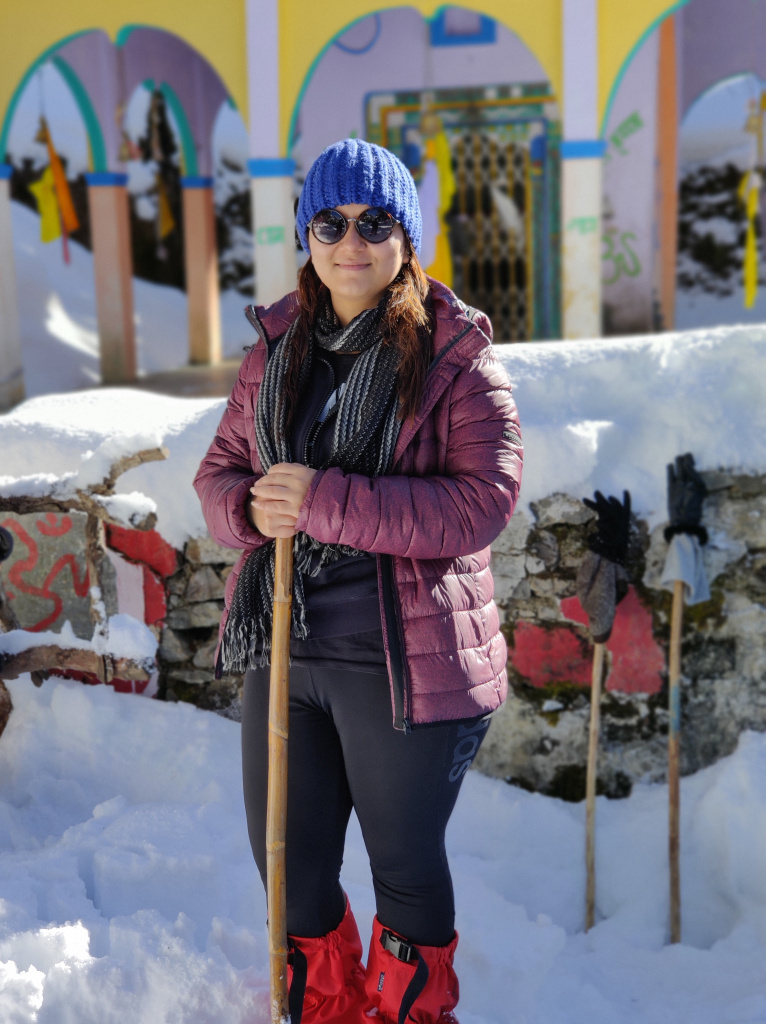 The journey back to base camp was a happy but not so easy one. The snow had melted by then and made certain routes extremely muddy. But carefully treading through, we managed to reach our base camp safely. After a lunch with a view and a quick refreshing cup of tea, we headed back to Pantwari as we had a planned bus from Dehradun at 9:30 pm and that meant leaving Pantwari at 6:00 pm sharp.
We managed to make it on time despite the minor jolts on the way back and finally after a round of freshening up, were already minting plans for future treks while getting back to our starting point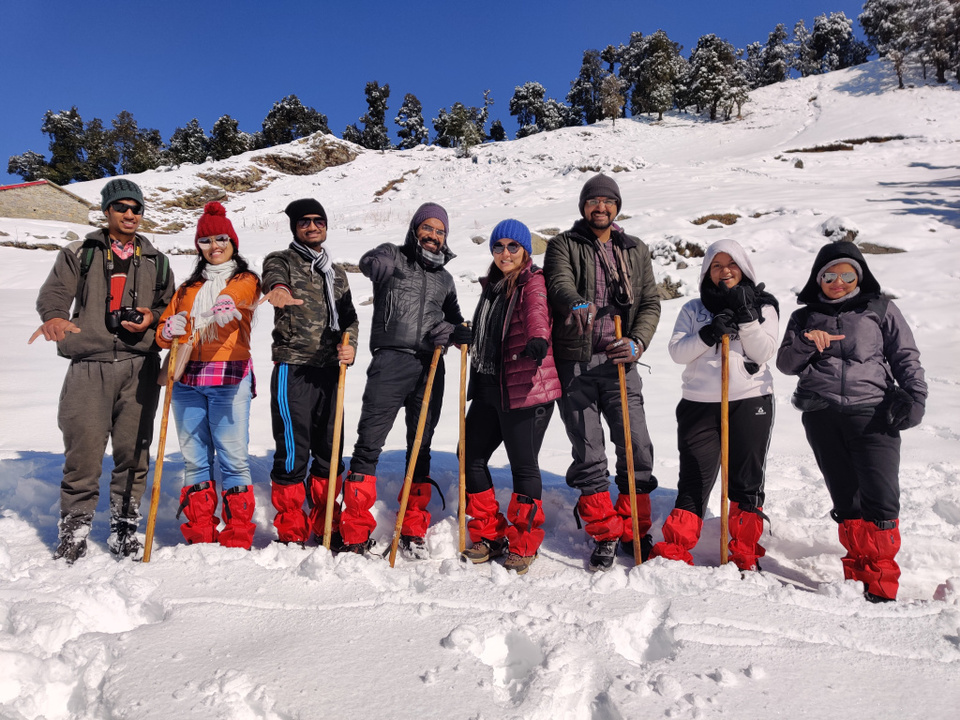 ***Don't Quit Your Day Dream***
Just like the end of other treks/ trips, I might have over-promised to self yet again on multiple facets- be it our fitness regimes, doing 1 trek each month, reading and preparing more for moderate to difficult treks as well and well, lastly to look for some long lost passions - writing, reading, reading people.
I might under- deliver again but the only thing that really matters is - I still have these inklings at regular intervals in life.
Pretty much a reminder of my mellowed self-gasping for fresh air from time to time ????