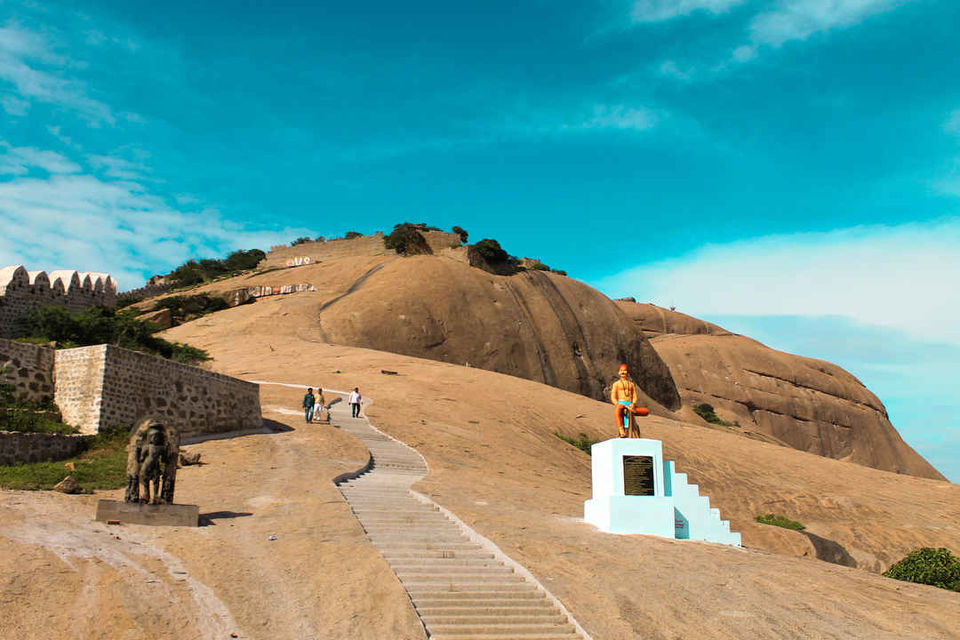 Every time I go on a trip anywhere in India, I am amazed by the sheer diversity that our country possesses. Not just in terms of culture and people, but also geologically and geographically – there is not a single natural phenomenon you can't find in India. We have tall peaks, the deep gorges, green hills, flowing rivers, and everything in between.
I recently came across an article on the largest monoliths in the world and was wondering if we have these unique formations here in the subcontinent as well. And lo, behold, we do! The word "Monolith" is derived from ancient Greek, where 'mono' translates to 'single' while 'lithos' translates to 'stone'. The definition of a monolith is somewhat ambiguous, but geologically, it refers to a massive formation made out of a single piece of stone or rock. These can be naturally occurring as a result of geological processes or man-made as in the case of several temples and structures carved out of a single piece of rock.
Did you know that some of India's monoliths make it to the top lists in the world! So the next time you're looking to revisit the subcontinent's geographical history, you can head to one of these astounding places. Read on to find out about the most well-known ones in India and what makes them so unique:
The Jaintia Hills in Meghalaya are home to the Nartiang Monoliths – a collection of monoliths that are now considered to be the tallest in the world, according to a recent report published in The Times of India. While monoliths have existed throughout the length and breadth of the Khasi and Jaintia hills, the ones in Nartiang are the biggest collection of such structures in one single area. These consists of Menhirs (upright stones) Moo Shynrang and Dolmens (flat stones in the horizontal position) locally known as Moo Kynthai. Amidst these structure stands the tallest Menhir, which was erected by U Mar Phalyngki, a lieutenant of the Jaintia King, to commemorate their victory in battle.
You can read more about the Nartiang Monoliths, here.
How to reach: Nartiang is 65km from Shillong. The closest airport and railway station are in Guwahati. You can get local taxis and buses from Guwahati/Bagdogra to Shillong and then further take local transport from there to reach Nartiang.
Best time to visit: September to May are the best months to places in Meghalaya as the weather is pleasant and rains are relatively less intense.
A National Geographic traveller called Savandurga "a hike, millions of years in the making", and rightly so! Located about 60km from Bangalore, this hill is considered to be one of the largest monoliths in Asia! It is basically a giant rock that rises nearly 300 metres above the Deccan Plateau (1227 metres above sea level). There is a temple on the top which houses a stone-carved statue of Nandi.
Savandurga is a popular trekking spot and weekend getaway for the residents of Bangalore and is home to a wide variety of flora and fauna, including some endangered species.
Read about trekking Savandurga, here.
How to reach: The nearest airport and railway station are both in Bangalore, which is about 60km away by road. From Bangalore you can get buses and taxis to reach Savandurga. It takes about 2 hours.
Best time to visit: You can visit Savandurga anytime except during monsoons, which last from June to September.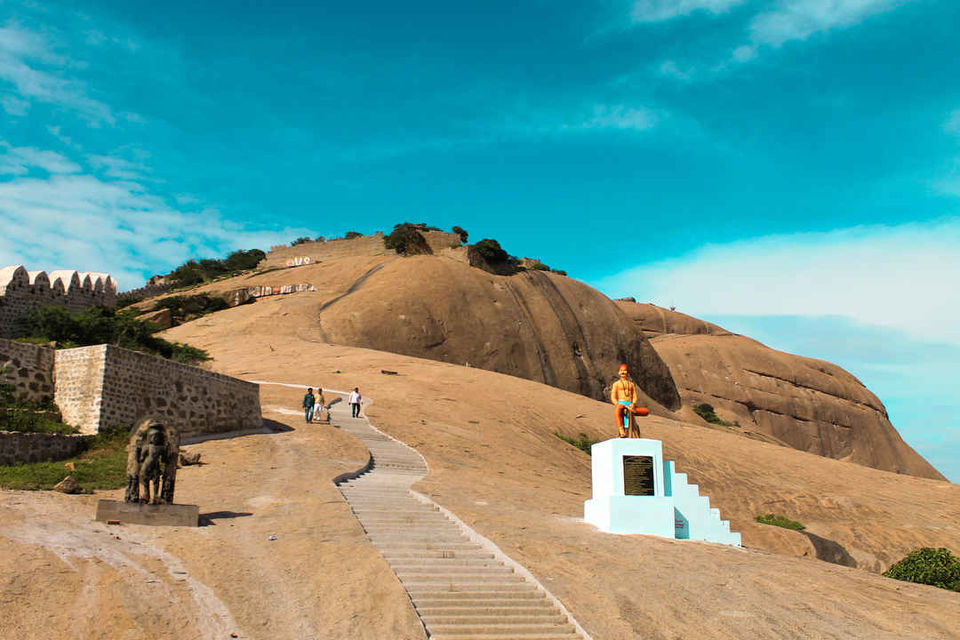 The fort in itself is not a monolith, but built on a 500 feet tall monolithic rock. Located in Nalgonda district of Telangana, Bhongir Fort is a massive impregnable structure, spread over an area of 50 acres. It was reportedly constructed by Chalukya ruler Tribhuvanamalla Vikramaditya VI and the construction has been traced back to the 10th century.
On reaching the highest point, Bhongir fort offers breathtaking views fo the entire region and you can find an impressive collection of artefacts housed in the fort as well. There is also a Hanuman temple on the hilltop.
How to get here: The closest airport is in Hyderabad, about 60km away, while the closest railway station is in Bhuvanagiri itself. You can easily get a cab or bus from either of the places to reach the starting point of the trek.
Best time to visit: Best time is winters (October to February) as the weather is pleasant and sun not too harsh. Avoid monsoons (June to September) when the slopes can get extremely slippery.
Located about 120km from Bangalore, Madhugiri is a popular trekking destination. What makes it famous is the huge fortress built on top of a monolithic rock that is often touted to be the second largest monolithic structure in all of Asia. Although, I have not found enough evidence supporting the claim. Located in the Tumkur district, the place is relatively untouched by tourism, which is why you will find it to be less crowded. The construction of the fort dates back to the Vijayanagara Dynasty and is a gem for architectural and archaeological students.
How to get here: The closest airport is in Bangalore while the closest railway station is in Tumkur, which is about 40km away. You can get a cab/bus from both Bangalore and Tumkur.
Best time to visit: From October to March is the best time as the weather is neither too hot nor too cold. Avoid the monsoon season from June to September.
With lush green backdrops, beautiful hills and dense forests, Yana is a nature-lover's dream come too. Situated with thin the Kumta Forests in the Sahyadri Mountain Ranges of Karnataka, Yana is known for its unique karst and limestone rock formations. Two of the most famous monoliths here are the Mohini Shikhara at 90 metres and Bhairaveshwara Shikhara at 120 metres. The rocks are a popular trekking destination and ever since they've become popular on the tourist circuit, the road to reach the place is well developed.
How to reach: The closest airport is in Goa, which is 210km, while the closest railway station is in Madagaon, which is approximately 112km. You can get a bus/taxi from either of the places to reach Yana.
Best time to visit: Yana is open throughout the year except in monsoons which last from June to September
Gilbert Hill in Mumbai is a 200 feet tall monolithic structure of predominantly basalt rock, which was reportedly formed over 65 million years ago during the Mesozoic era. According to researchers, there was a huge volcanic eruption which resulted in the hill being squeezed out of the surface of the earth. Interestingly, Gilbert Hill is one of the only two such structures found in the entire world. The second one is in Wyoming, USA, and is called Devil's Tower.
How to reach: Mumbai has an international airport as well as several well-connected railway stations. Once in Mumbai, you can either take a local auto/taxi or a bus to reach Gilbert Hill.
Best time to visit: Winter months from October to January are the best time to visit as the weather is pleasant and not too humid.
St. Mary's Isles are a group of four small islands located about 10km from Udupi. The islands are known for their famous basalt rock formations, which have crystallised into columns and split into hexagonal mosaic structures. This is the only spot in the country where basaltic rocks show up in such a peculiar formation. Though the four islands were formed as a result of the volcanic eruptions, according to researchers only the northern most island has these hexagonal columns. These lava pillars are listed as one of the 26 geological monuments in India by the Geological Survey of India.
How to reach: The only way to reach the islands is by boat. You have to take a 20-minute ferry ride from Maple Beach near Udupi. The nearest airport is Mangalore, which is around 48km away while the nearest railway station is at Udupi.
Best time to visit: The ferry rides are stopped between the months of June to September and while you can visit the islands throughout the rest of the year, the best time is from October to January when the temperature is not too high.
Which is the most amazing place you've visited in India? Share your stories on Tripoto and help this community of travellers get even bigger!
Frequent Searches Leading To This Page:-
meghalaya holiday packages, 3 day trip to meghalaya, meghalaya itinerary for 4 days, meghalaya tour package for 5 days, budget trip to meghalaya, bhongir fort bhuvanagiri telangana