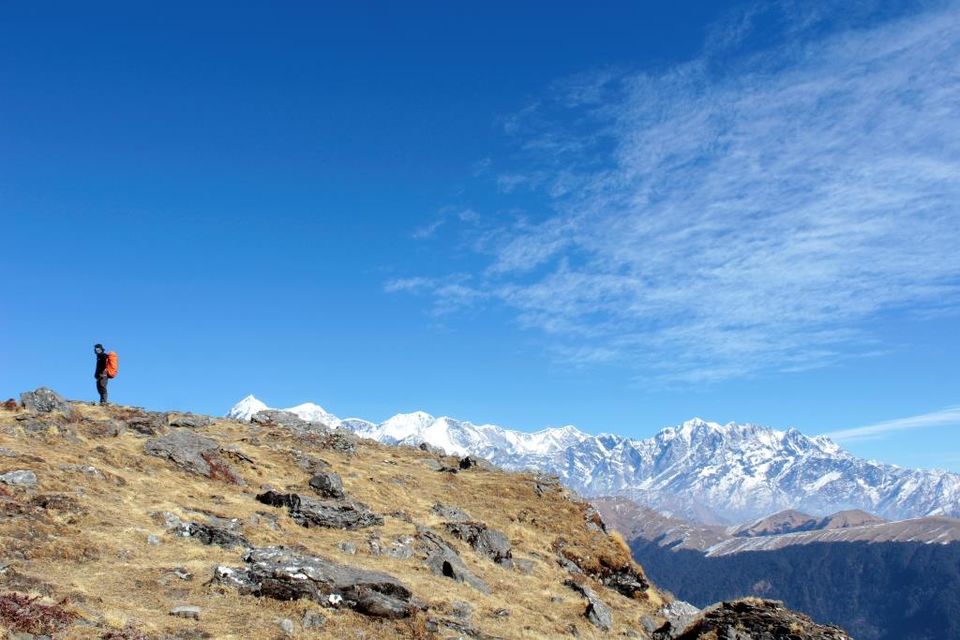 "Hrishi dude, let's do something different this year in Dec. Scuba diving? Or better, lets go to Rann of Kutch?"
"Umm, sounds exciting. But I still haven't done a Himalayan Trek this year man"
"That's fine, you can do one next year. We will do ABC without any external support".
"Cool man, let's do one of the above only then. Chuck Himalayan trek."
"Excellent!"
And that's how, my friends, I ditched my mate (again), and went ahead with my plans for a year end trip to the Himalayas. I was clear I wanted to go to Brahmatal, and finalized my plans and booking with TrekTheHimalayas, just to avoid the last minute wait-list.
There were sporadic reports of snowfall in the upper Himalayan stretches, though no concrete info was available. Quite obviously, snow is an integral part for many factoring a winter trek. Delhi was shivering in cold, though. My travel arrangements were not as simple and well-organized as my trek booking. As stupid as it may sound my onward journey to Delhi was via Rajdhani express from Bengaluru, mainly due to exorbitant prices of air-fare. Worst, my travel from Delhi to Kathgodam was to be in bus, as my waitlisted train tickets didn't get confirmed. This was to be one long, pain-in-ass journey...
Day 0: Welcome to Dilli Ki Sardi!
Rajdhani express finally arrived in Delhi at around 5 am. Needless to say the cold was expected, yet enough to swoosh you off. My connecting bus to Kathgodam was at 10 pm, I had all the time in the world. The entire day was spent re-organizing my backpack, buying some last minute stuff (including a much needed haircut), and then snugging inside the quilt in my friends' room.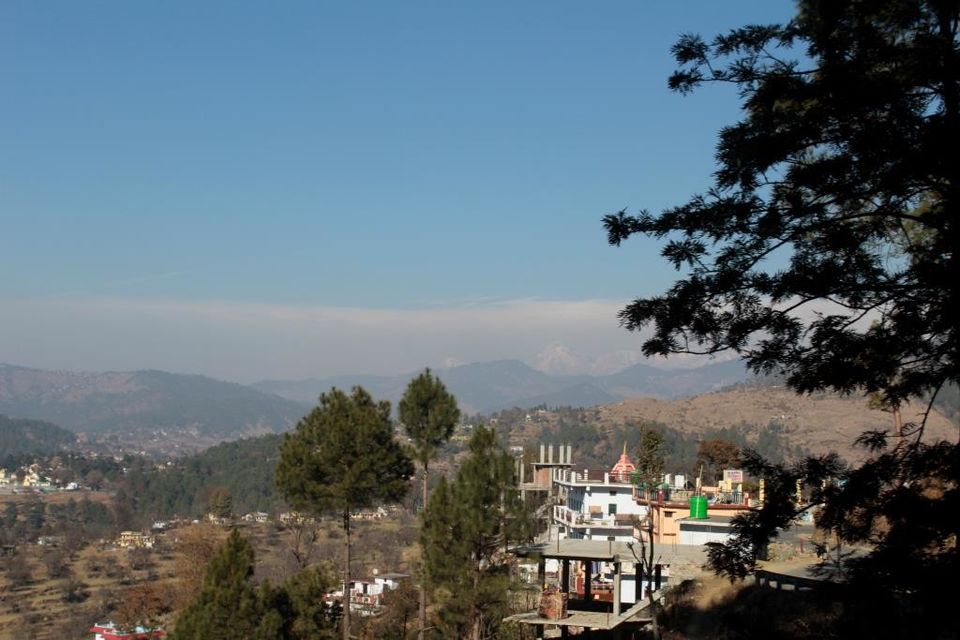 Night couldn't have arrived any sooner. I reached well ahead of scheduled time near the RK Ashram Metro Station. The bus, though, arrived 30 mins late. Nevertheless, I took my seat, and the bus was all but 3 passengers filled. It drove all its way to the Kashmere gate bus depot, and that's when the agony started.
The bus reached Kashmere Gate at around 9:30 pm. And then we waited. We waited more. For more passengers to board. And they did come. But we were still standstill till 11. The bus was slowly filling up, but there were no signs of the bus moving. It finally rolled on at the stroke of midnight. I was seriously worried now if I would be the only guy reaching Kathgodam pretty late, and would have to manage my own transport. I woke up at around 3 am to a blanket of white mist through which the driver was cruising. Absolutely horrid about the safety and to top it all it was moving maybe at a speed o 30-40 kmph thanks to the obscured visibility. No way I'm reaching Kathgodam at 6 am, so much for a good start.
Day 1: Kathgodam to Lohajung on Twisty Roads
We finally reached Kathdodam at 10 am, a good 4 hours behind schedule, on a sprightly cold morning. To my delight though:
I realized we were 6 in the bus from the same group (BIG RELIEF), and thatour ground coordinator had organized one cab for us, still hanging in there waiting for us.
Paced up till the Kathgodam railway station to find our cab driver waiting for us (not sure who was more happy and relieved to see each other). Without wasting any more time we were zipping past winding narrow roads. At this moment hunger pangs were driving everyone mad. But we can't afford to have stoppages now; we are close to 5 hours late from scheduled timing.
Kathgodam is a small, beautiful hilly town in the district of Haldwani, and lies on the way to Nainital. It has excellent connectivity with major cities and towns owing to its close proximity to both Haldwani and Nainital. Our destination and base camp for today is Lohajung, famous for being the starting point for Roopkund trek. We reached Nainital in about 2 hours of ride, and on our way towards Almora now.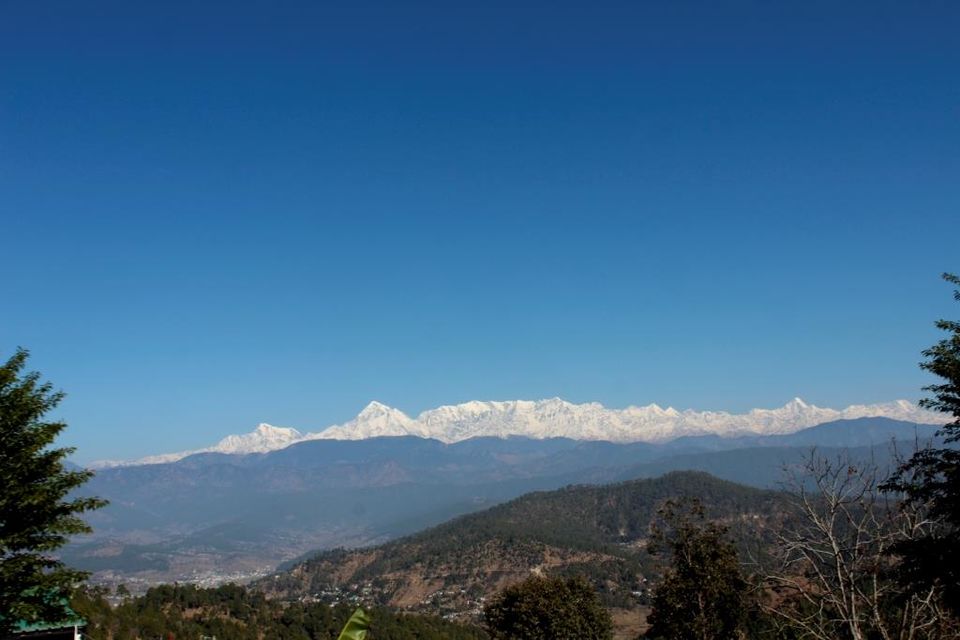 Our journey was nevertheless filled with some grand views, with the first sighting of the snow covered Himalayan peaks once we reached Almora. And then lunch also ensued in a nearby roadside restaurant. This was much needed.
As the sun slowly transitions from east to west our destination is still nowhere near. Mt. Trishul and the adjoining mountain peaks were now glowing in utter golden hue. Felt like stopping the ride and just bask in that setting moment. But we have quite a bit of distance to cover today. Broken roads, conifer trees all around, coupled with us being the only souls on the road we were treading in some unfamiliar territory as day gave way to night. We entered Lohajung at around 8 pm, driving straight inside the lodge. While we checked into our respective rooms the rest of the group mates were already getting ready with their plates for dinner.
Post dinner was all about introductions and a host of do's and don'ts for the trek. Turns out not much of snow was up there, and probability of snowfall in the next few days was minimal. Few frowning faces, though in the mountains weather changes in a heartbeat, and we hoped so.
Day 2: Dusting Our Way To Bekaltal
Though its a sunny day out there the water was ice-cold. And right after I stepped out of my room Mt. Nanda Ghunti was lurking in behind, right in the vicinity. Standing out from the rest of the peaks due to its impressive height and snow covered peak Mt. Nanda Ghunti gave us our first sneak-peak of the things to come ahead. Breakfast of sizzling paranthas was more than what I would have asked for in such a remote area.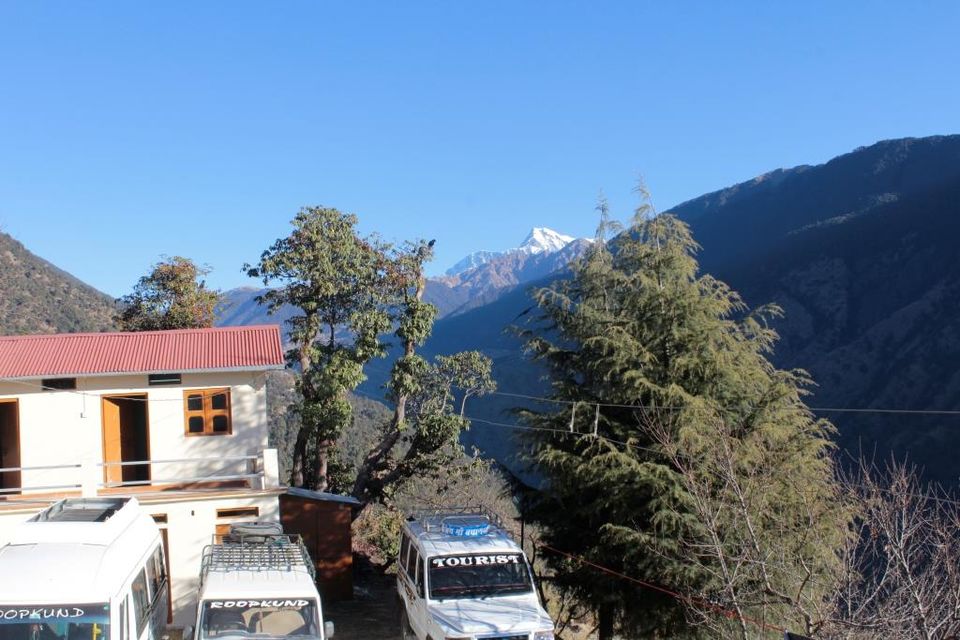 ~40 trekkers (quite a size for a group) would be part for this 4 days caravan. We set out to Bekaltal campsite today, meandering through some dense forests. The initial part of the trek, like any other trail, required us to negotiate through some short but steep elevations. That was enough to charge us all up, and also ensured all the extra layers that all had put were quickly removed and kept inside.
The trail, though passing via some gorgeous oak forests, was quite dusty. This will be the situation till we reach Bekaltal. The frequent movement of horses has ensured no vegetation grows on the path, and thus has created a dusty lane now. The dust was turning out to be a big nuisance.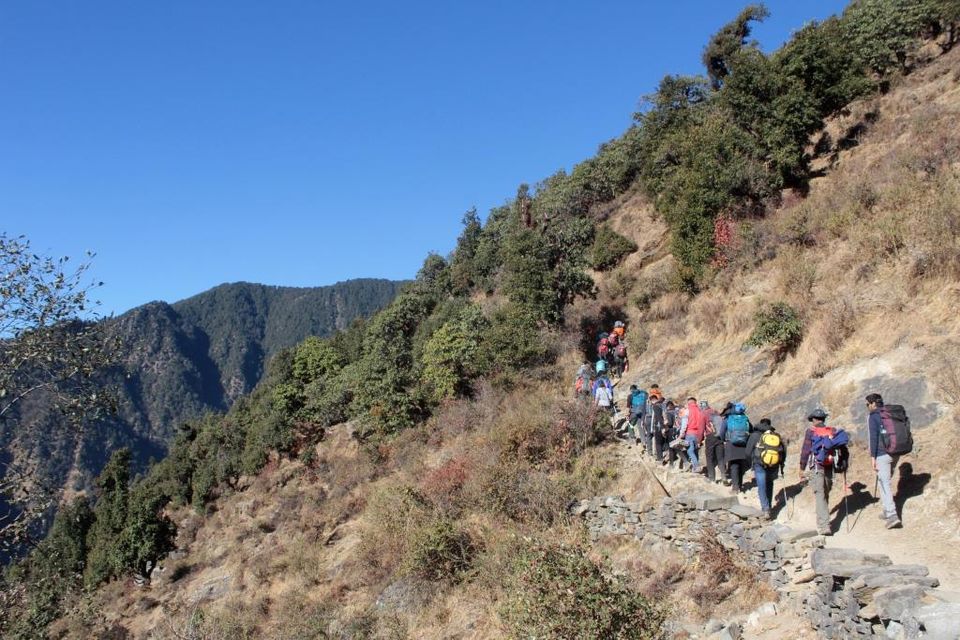 We did find couple of "Maggi points" (I guess every Trek has atleast one landmark named as Maggi Point) where we just dropped our rucksacks and would lay flat on the ground. The sun was strong and for a winter trek it was quite warm.
The rest of the trek didn't offer much of surprise or offer any challenges. Except at a point wherein people who were in for their first Himalayan trek just lost it! We found snow (albeit not much) just before the campsite. Since the area was under forest cover the snow hadn't melted yet, making some trekkers to just jump into a snowy-fun. The Bekaltal campsite was set up in an even more dusty ground. We reached there by around 2 pm, giving us ample time to relax and explore.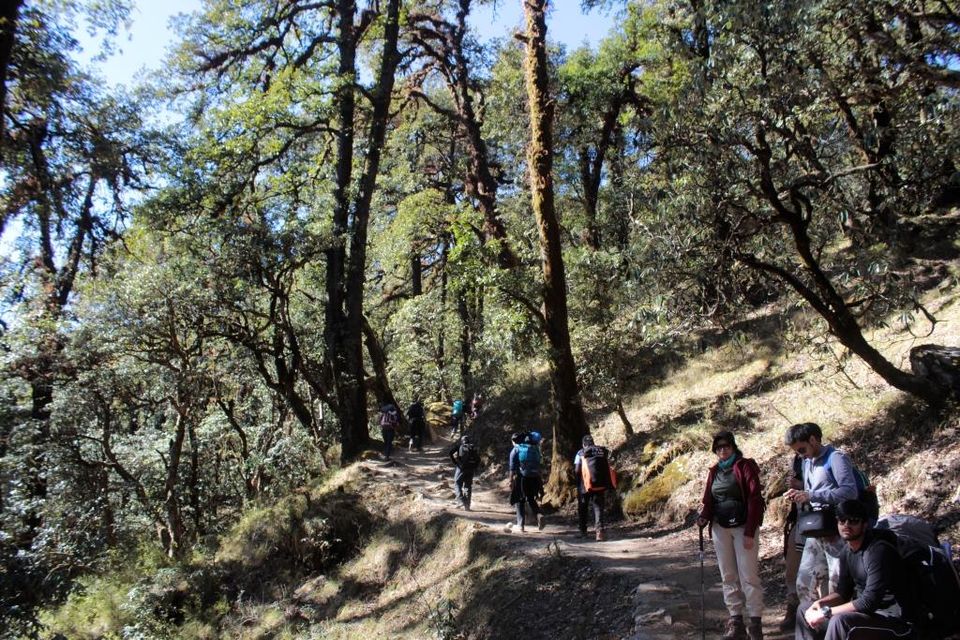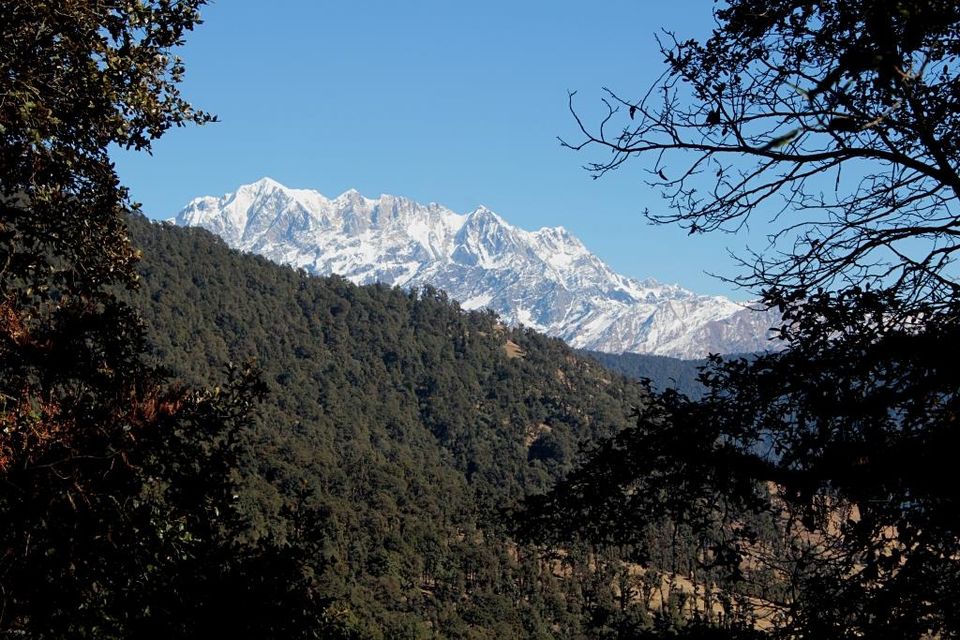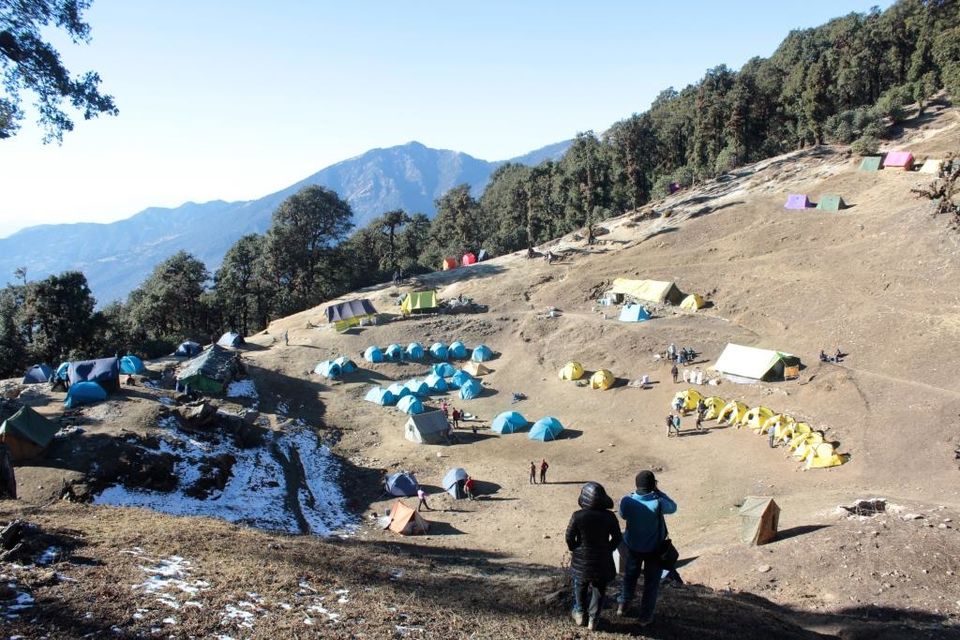 And contrary to my expectations NOPE, we wouldn't be camping right next to the lake. In fact, the lake is somewhere 200 meters above the campsite. The camping site was like more of a grazing land, full of dust, causing irritation. While most folks decided to take it easy and relax in the comfy sun few of us decided to venture into the woods, to probably explore what many may have never set foot onto (!).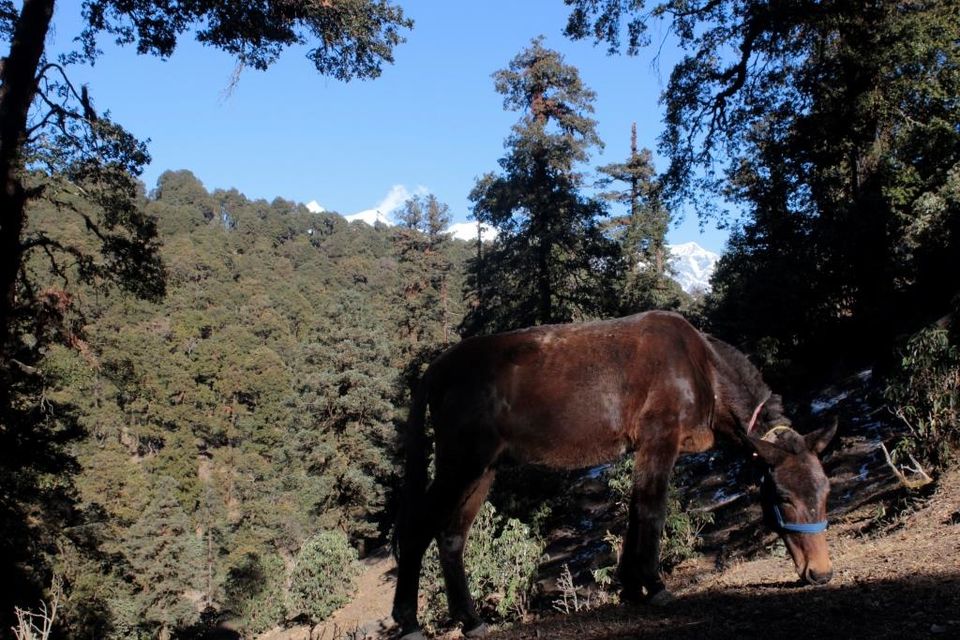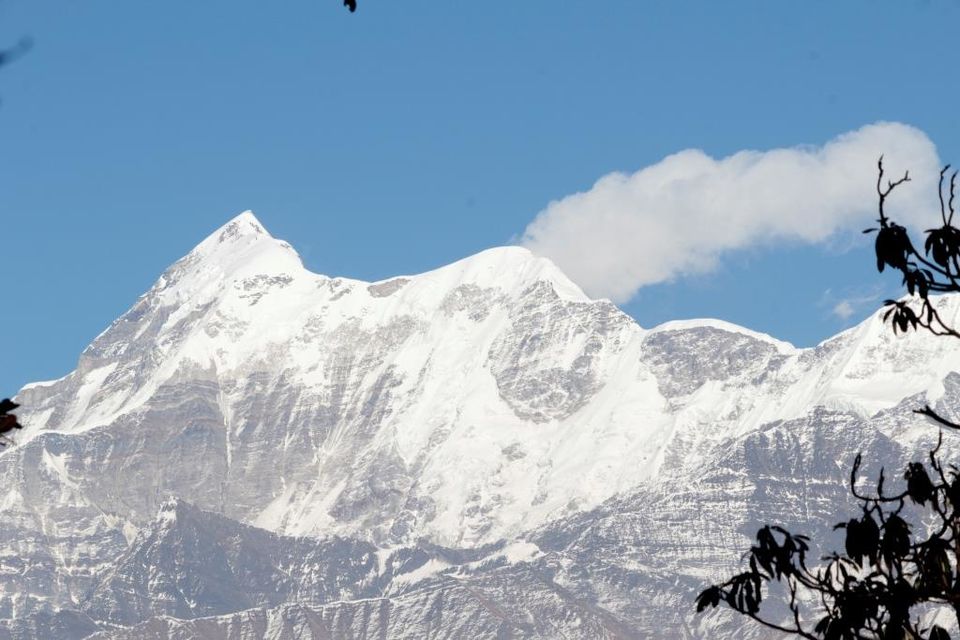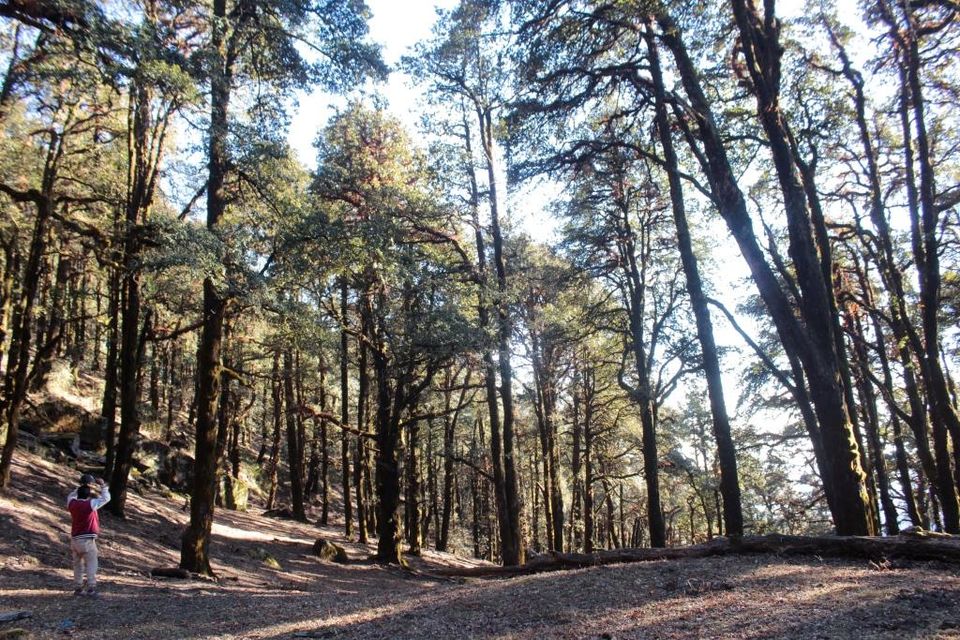 Now we were just casually strolling around, to see if there's any vantage point from wherein we can get some clear, uninterrupted views of the mountains? We did! Albeit, not the entire range though. That apart being aloof from the rest of the pack, inside the jungle where even sunlight was struggling to get past was kinda nice. Anyways, back to the campsite and this time its time to go towards the other side; Bekaltal lake. And that's exactly what everyone were waiting for.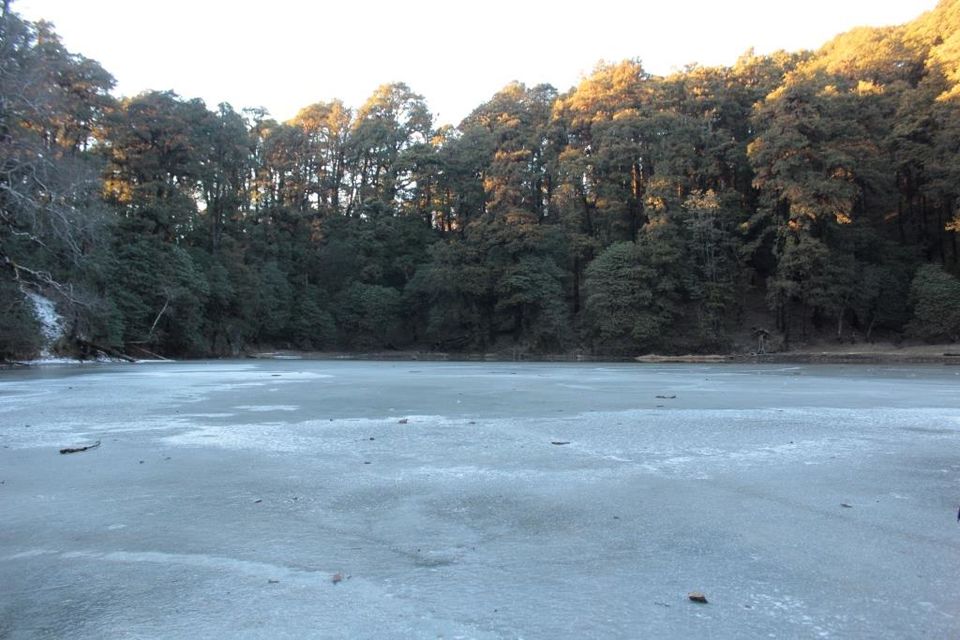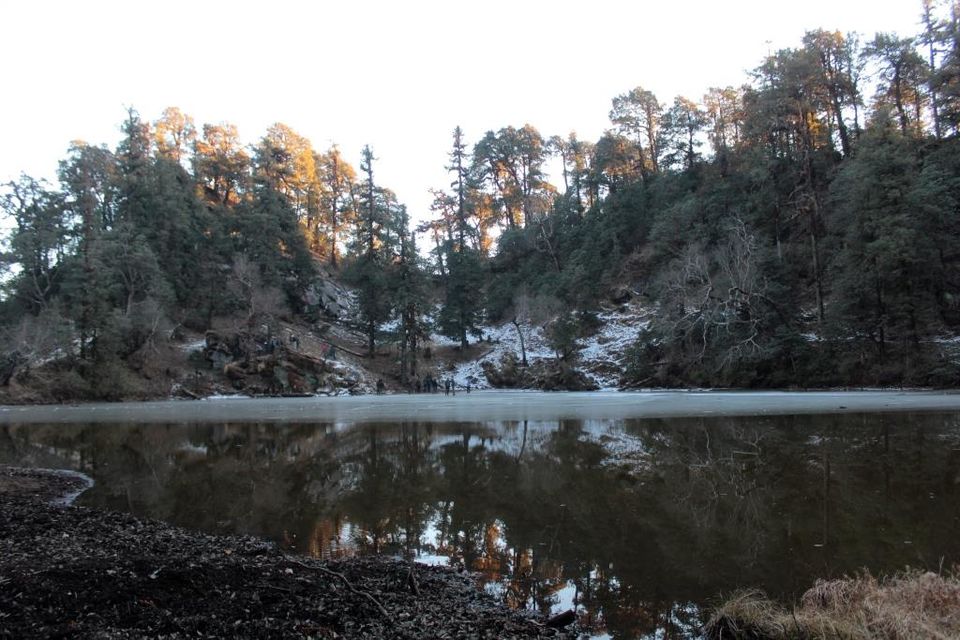 Fenced by oak trees all around the Bekaltal lake was in a semi-frozen state, much to the glee of all. Well, in all honesty, it wasn't the biggest or the most charming lake that I've seen on a trek, but the charisma of winter has just added that enough splash of niceness for everyone to revel. We took a round of its perimeter, to photograph it in all angles possible. The day was complete by witnessing a otherworldly sunset from near the lake.
The Bekaltal campsite was claimed to be the windiest and coldest campsite of the trek. And we noticed it immediately once the sun was down. Any source of heat, be it a wooden fire, or a bowl of hot soup made things better. Back inside the tent all huddled up as we interacted with each other, knowing how many representations were there from each state of India, and the fascination that each state has. Outside it was a full moon show and the entire campsite was lit up. I did try my hands on some night shots, but gave up after fiddling around and fingers unable to bear the extremities of the elements.
Day 3: The Grandest Day With Grandiose Views
One golden rule on any trek is to be on time; be it for breakfast, lunch, dinner, or to get ready to march. We would be late, everyday, on every occasion. And our trek leads Sudhanshu and Happy were not impressed. Today's work is to reach the Brahmatal campsite , involving around 8 kms of trekking.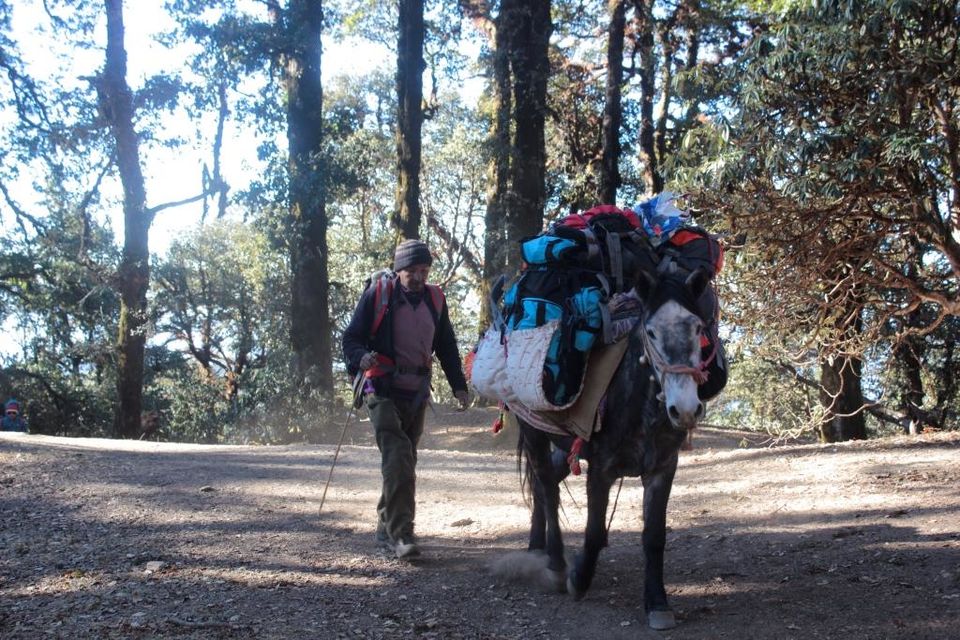 The initial part of the trek got us back near the vicinity of Bekaltal. We would walk on a tangent path to the lake under a blanket of oak and rhododendron trees. The initial 1.5 hours inside the forest were quite steep and taxing. And the dust on the trail was not making things any simpler. But once the forest section got over & opened up to a vast, endless meadow the mountains of Garhwal Himalayas would welcome us to its divine, massive appearance. The excitement upon our first clear tryst with the snowy mountains were immeasurable. These vast meadows would serve as the most idyllic camping spot, infact imagine waking up in the morning to a view like such. But due to the recent ban on camping in meadows in Uttarakhand trekkers would just need to move on from here. Still, the excited we dumped our bags across and merrily trotted around, clicking pics to our hearts content. This meadow is named Telandi. Mt. Trishul, Nanda Ghunti and other colossal peaks would clearly be visible from here.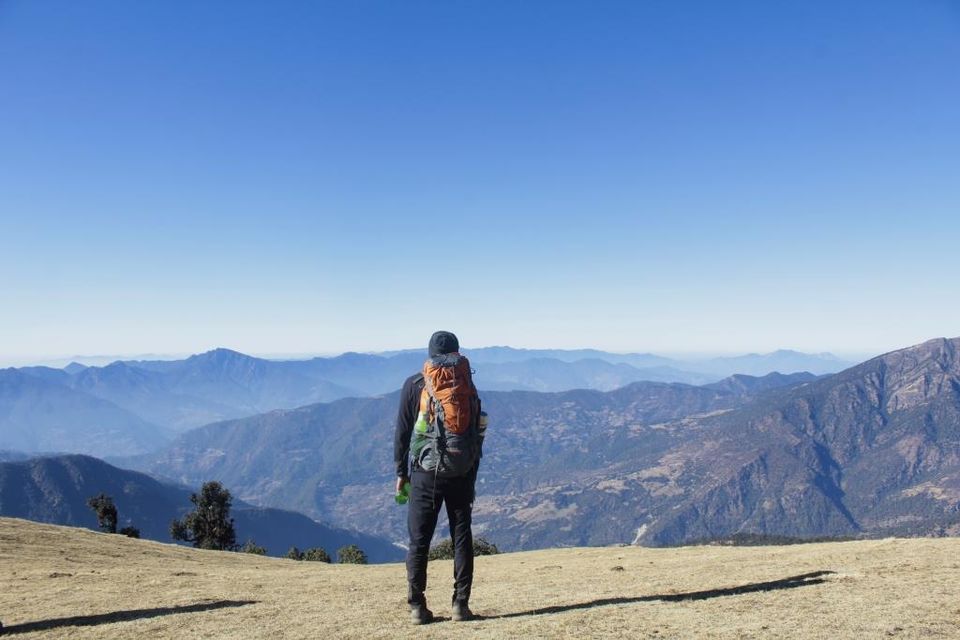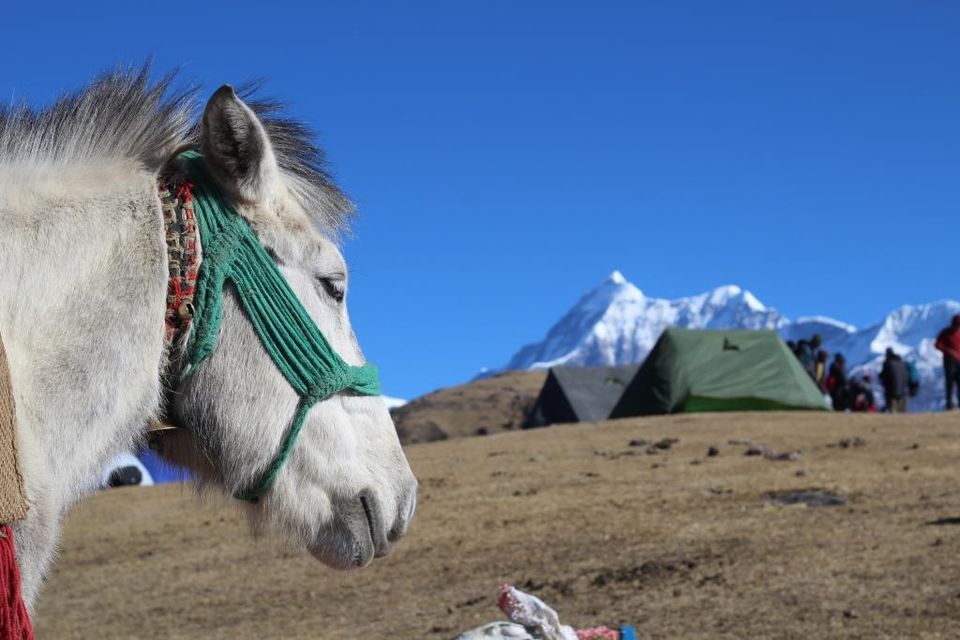 The meadows here are vast. So far-reaching that you can walk miles on those never ending stretches. And the same we need to do now. Our local guides waved at all of us to carry on, apparently to a much better viewpoint. Reluctantly, we got ourselves up and got moving. The views from here onwards were uninterrupted and gratifying. Walking head on towards Mt. Nanda Ghunti as if it were in an arms distance. You have a scintillating picture lying in front of you whichever side you stare up. The day was finally living up to everyone's expectation.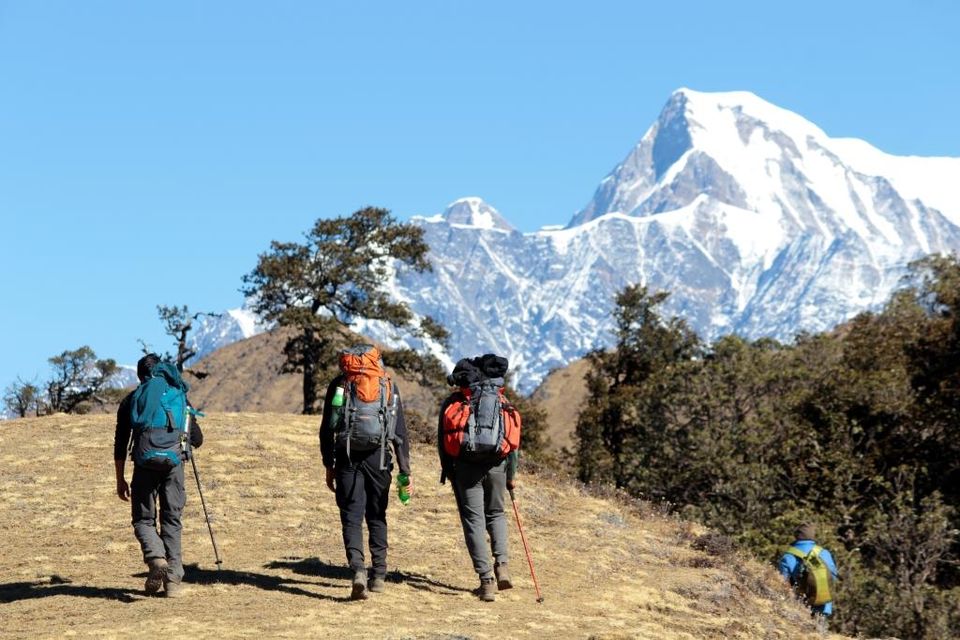 We soon reached a point called 'Jhandi Top' from wherein the mountain range felt even more closer. While admiring the work of nature we settled to have some cold packed lunch. That by no means we were not clicking pics; in fact we just won't stop clicking. Plenty of time with us to enjoy the grandeur as most of the pack was still further behind. We are in no hurry.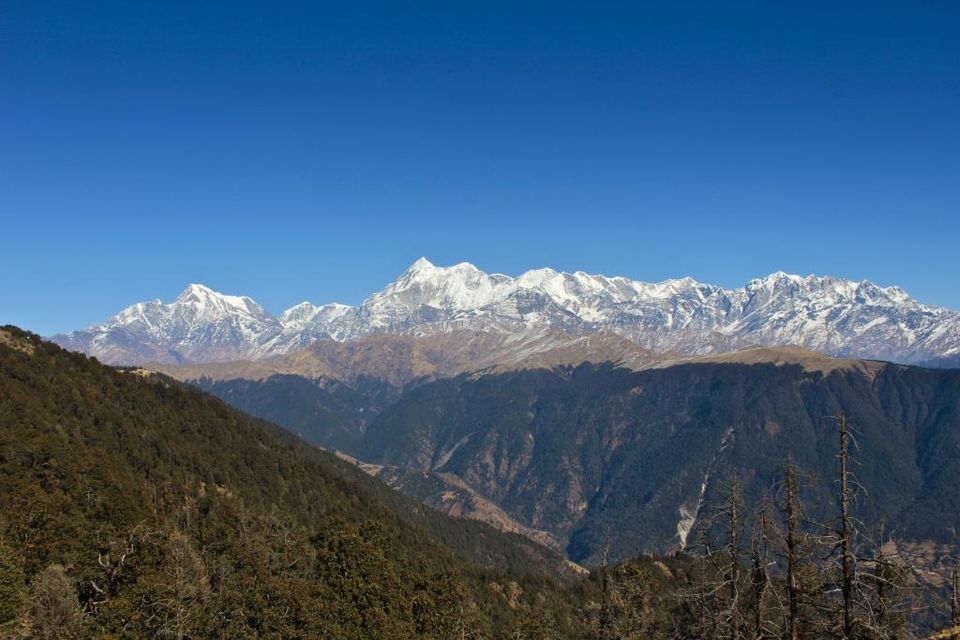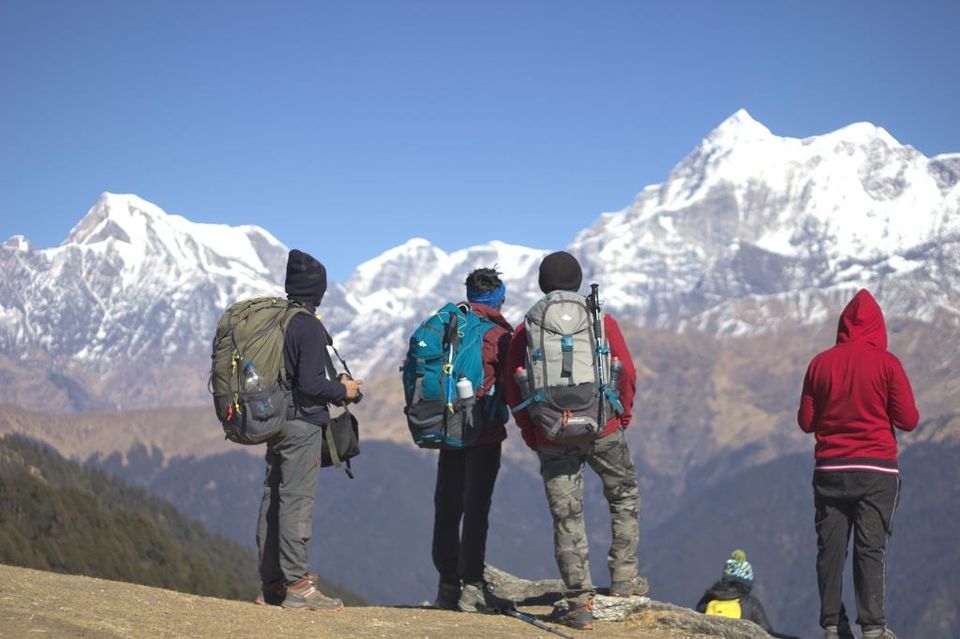 The next phase of the course had us descending towards our campsite. With a brown-golden hue all around coupled with a sunny day I don't think it would be snowing anytime soon. As we temporarily bid adieu to the peaks our journey down a sloped, rock laden trail was proving to be tiresome, painful, and never ending. We just kept walking with our stock of water depleting quick. Amidst frailing steps we spotted our fluttering blue tents amidst a myriad of colorful tents. Relieving self from the backpack was the best feeling. Rushed to the kitchen area for some water to cleanse the hands and face. Wherever you'd pat there would be a dash of dust flying off the body.
Once everyone hopped in the camp hot tea and snacks were made available. Post a bout of volleyball we were ready to visit Brahmatal. And with sunset nearing it would make for an ideal setting for photography as well. We were on the move even before a reminder from our trek leads.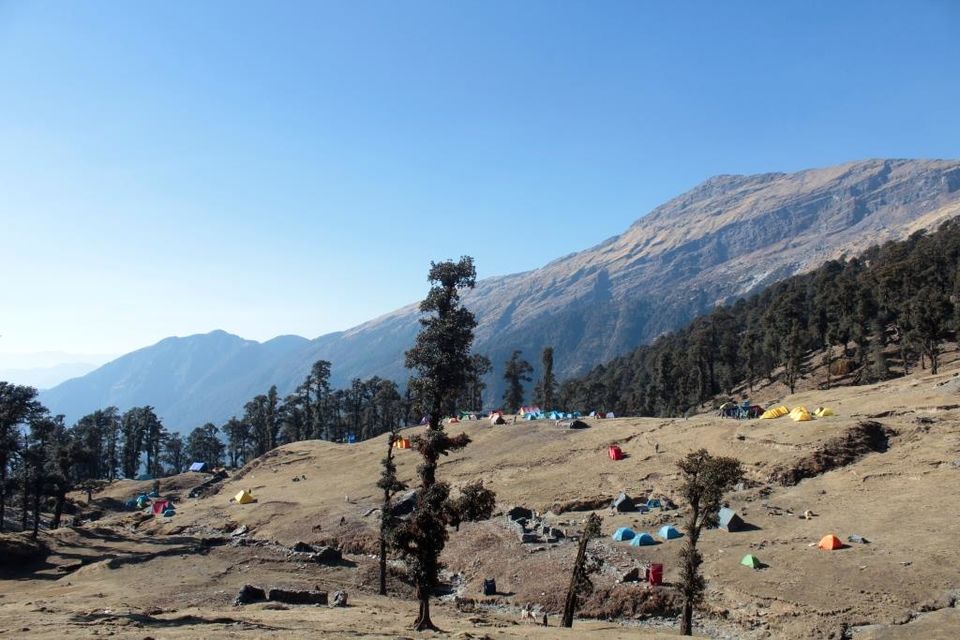 The lake was not more than 500 meters from the campsite. Upon reaching there though I didn't jump out of my seat with sheer excitement. At first was not sure if it was the actual lake. The lake, well, looks less convincing for a lake and more of a water puddle. I mean, you can just walk through it, with water levels not more than 2-3 ft I would assume. But with the ensuing sunset and Golden Hour the lake looked pristine. While clicking plenty of pics we walked to the other side of the lake which was in semi frozen state. Some snaps of the same below...
Right next to the lake was a hill from where the sunset looked absolutely jaw-dropping. Just sat there all of us, witnessing the sun go down behind those mountains. Yet another day has passed on earth.
During the night all of mustered courage to attempt night photography. And the efforts and results were not bad at all. To withstand bone-freaking cold was one thing, and to get a decent shot out of many attempts was another. We didn't give up that easily. In fact Aashish, Vikrant, Ashutosh, Gautam kept trying just to get that one perfect shot. Braving all the cold we could that was a beautiful night-sky out there, alas we couldn't get the same framed through our pics.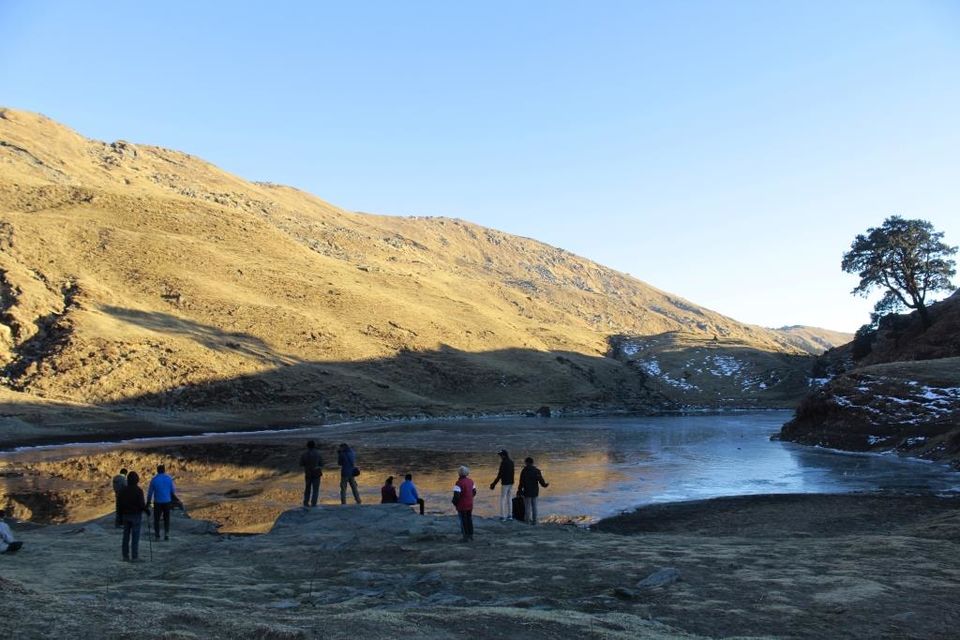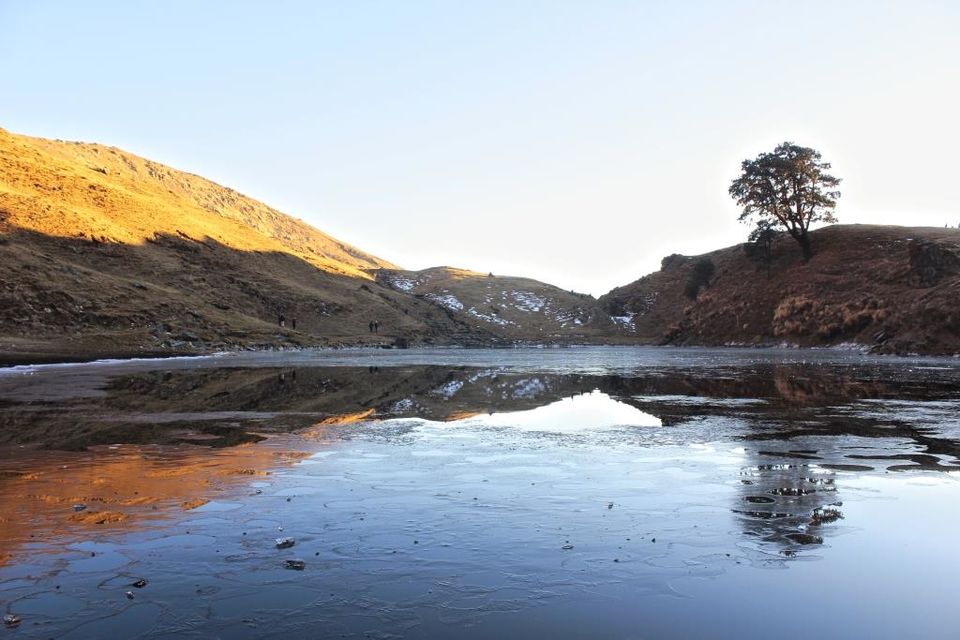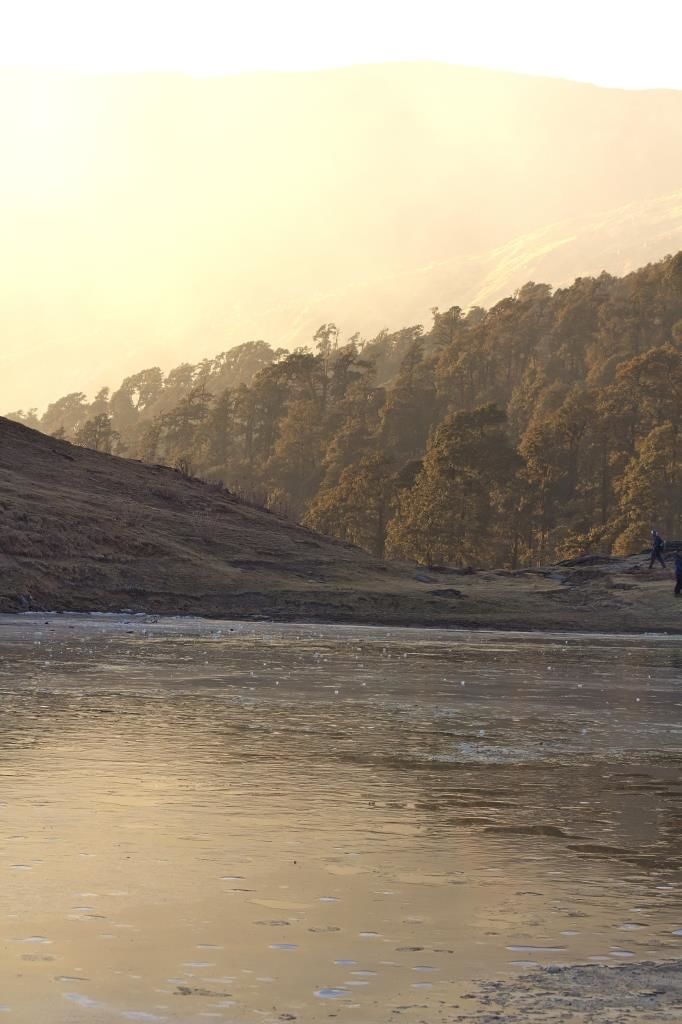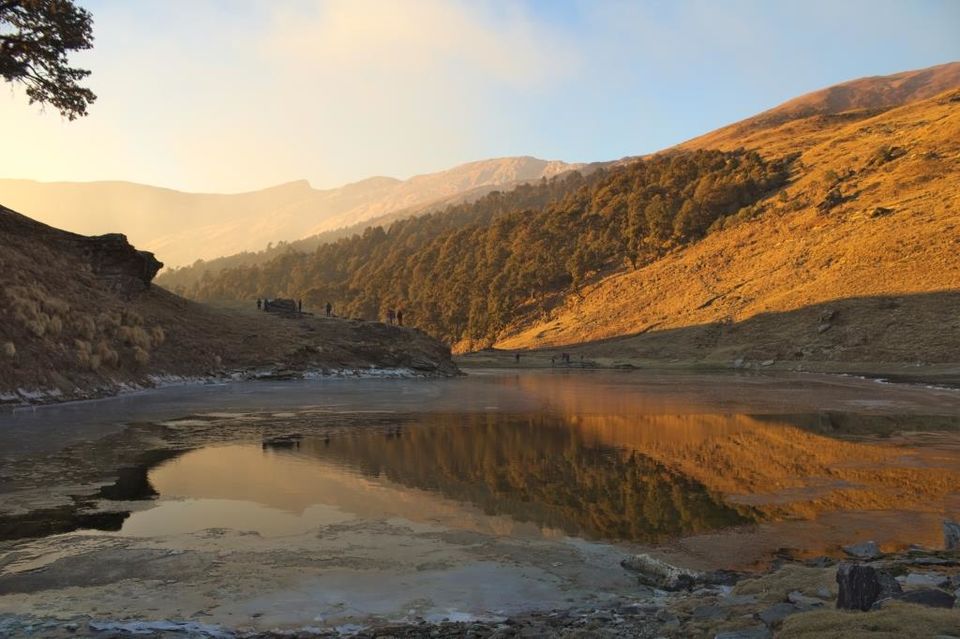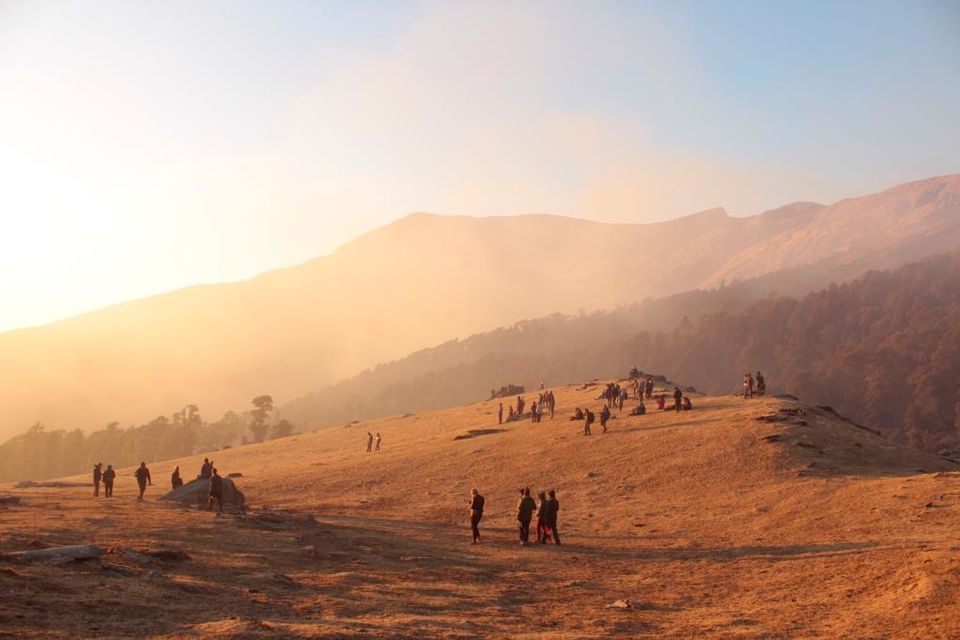 Day 4: Those Postcard-ish Views from the Summit
Summit day is always filled with excitement. Technically, today will also be the tougher of all days. The initial part of the trail is the familiar route, taking you past the Brahmatal lake. As the ascend kicks in and you inch closer to the summit the Brahmatal lake is more visible and starts shrinking in size to the eyes. Walking under a scorching sun this ascend is not that simple, but the cool breeze blowing past keeps us going.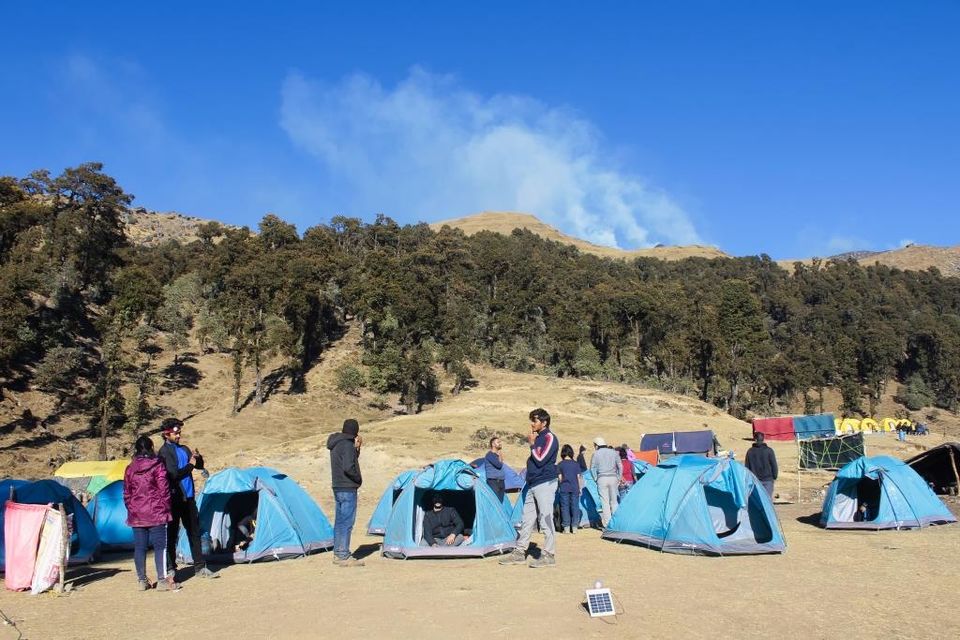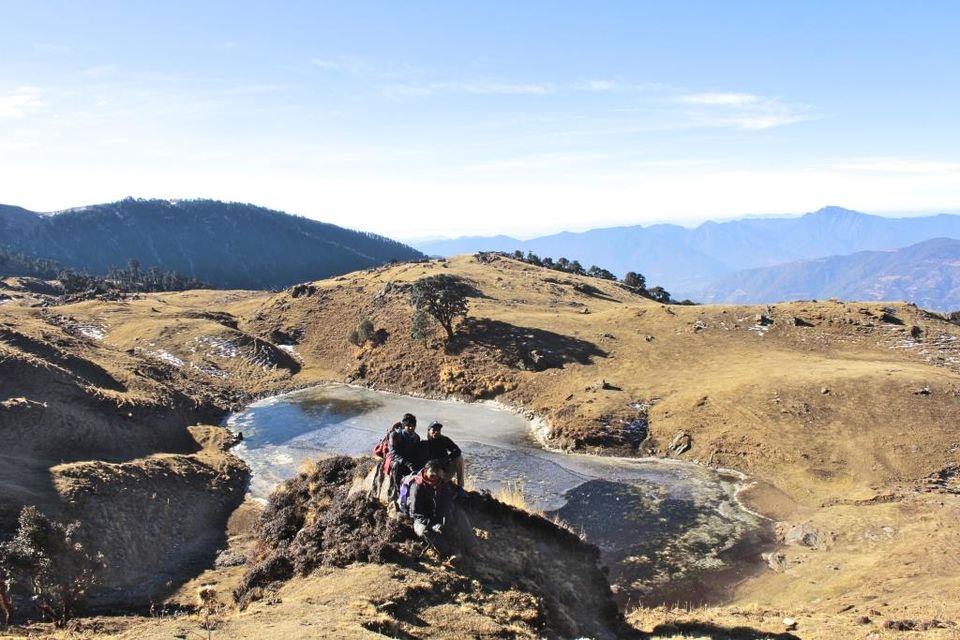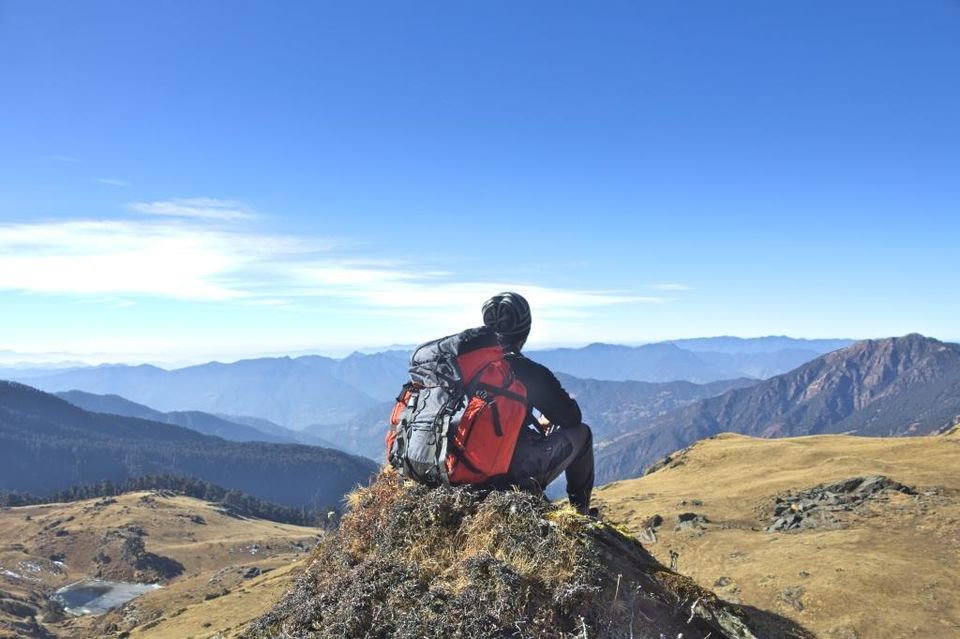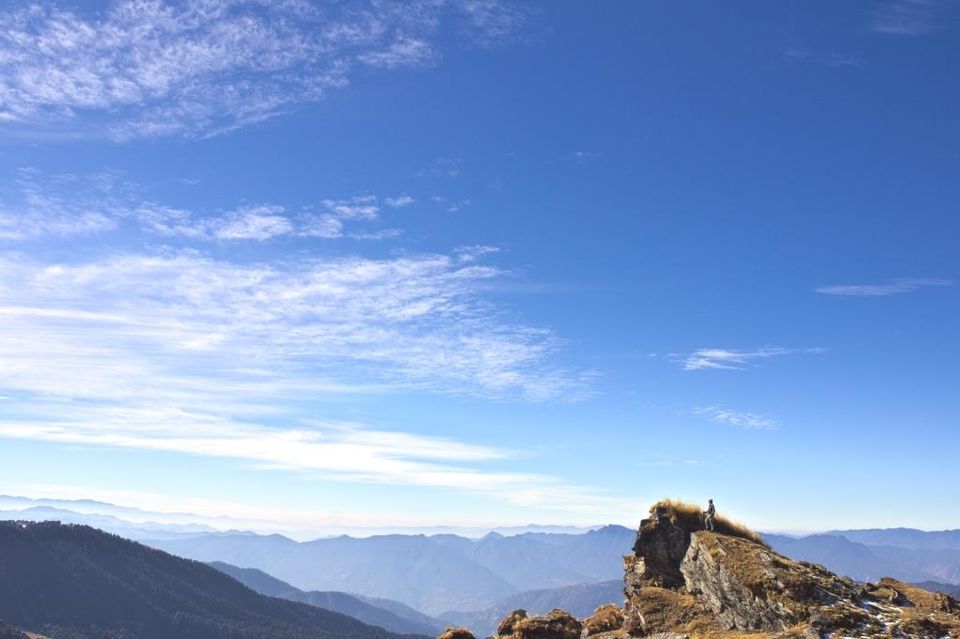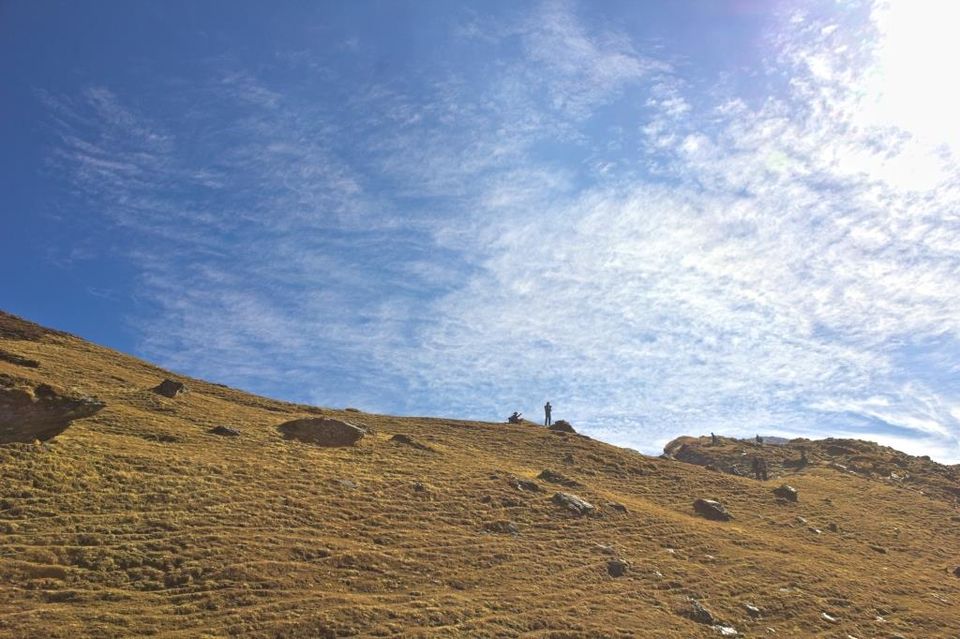 We have been climbing for the last ~3 hours or so now. But the best part about today is the grand views of the mountains starts peeping in even before you're at the top. And as we speak about the summit, here we are, at the highest point of the trek. At an altitude of 12,200 ft. we are standing on top of Brahmatal pass. And the 360-degree views from here are arguably one of the finest I have yet seen anywhere. Nanda Ghunti, Neelkanth, Maitoli, Trishul, Chaukhamba just glittering at an arms distance. And then there is the Bedni and Ali Bugyals. In fact the Roopkund trail can be clearly figured out from here. And there's Junar Gali, right below Trishul. And then the trough like cavity below Junar Gali is also visible, where Roopkund lake is. Wow! Undulating sights all around, you just can't take off your eyes for a moment.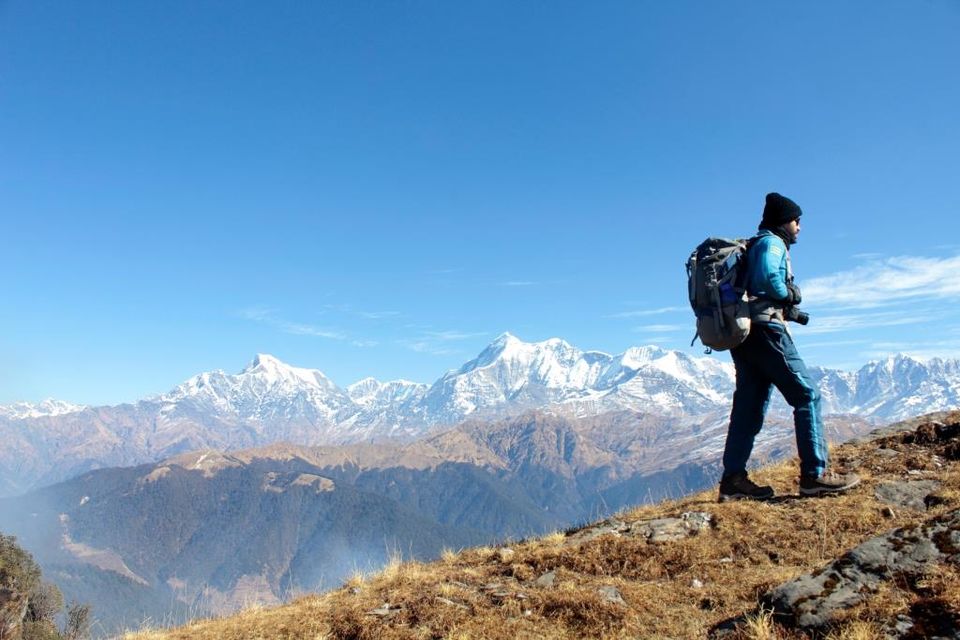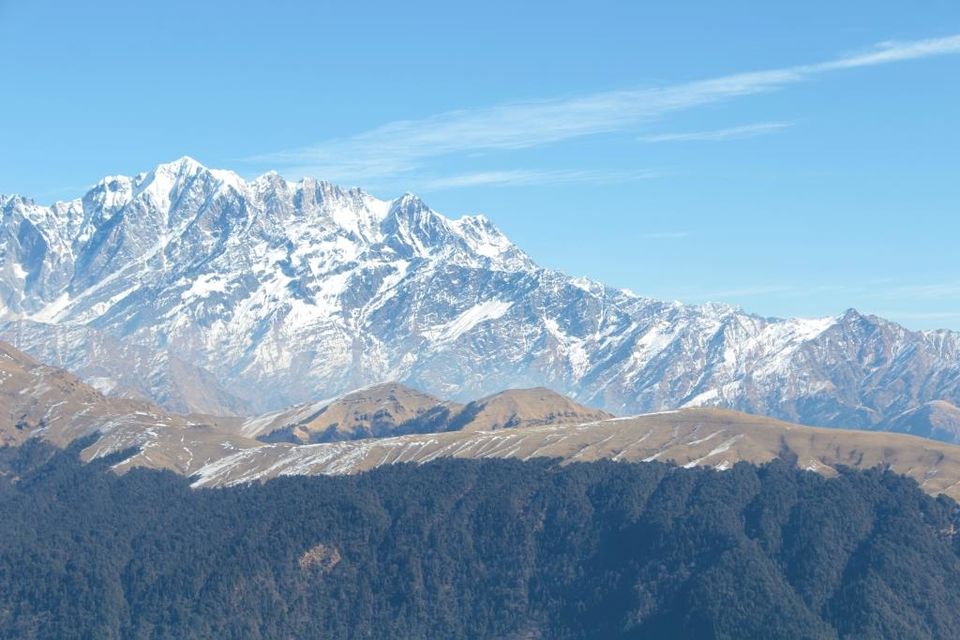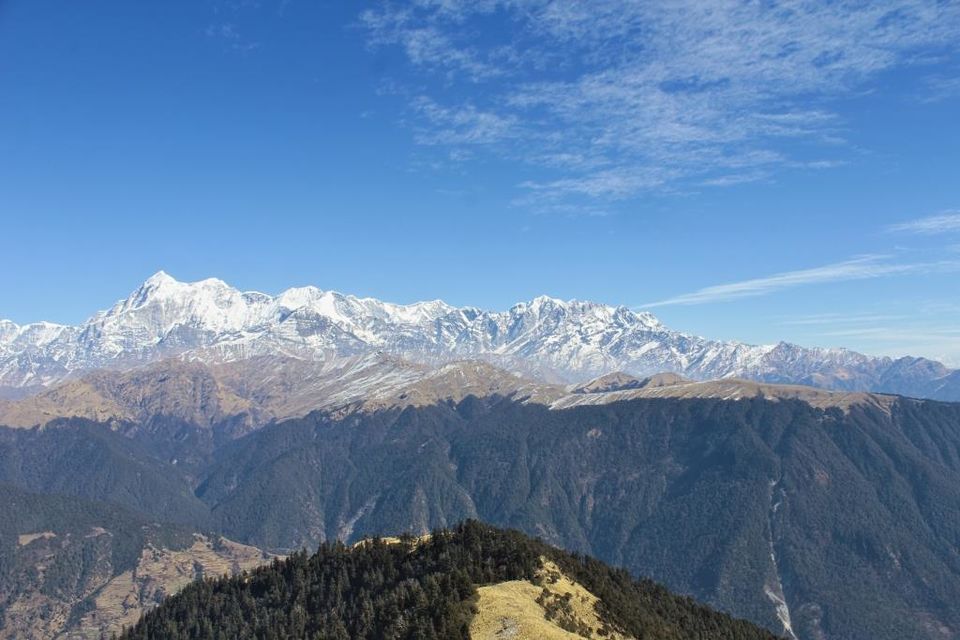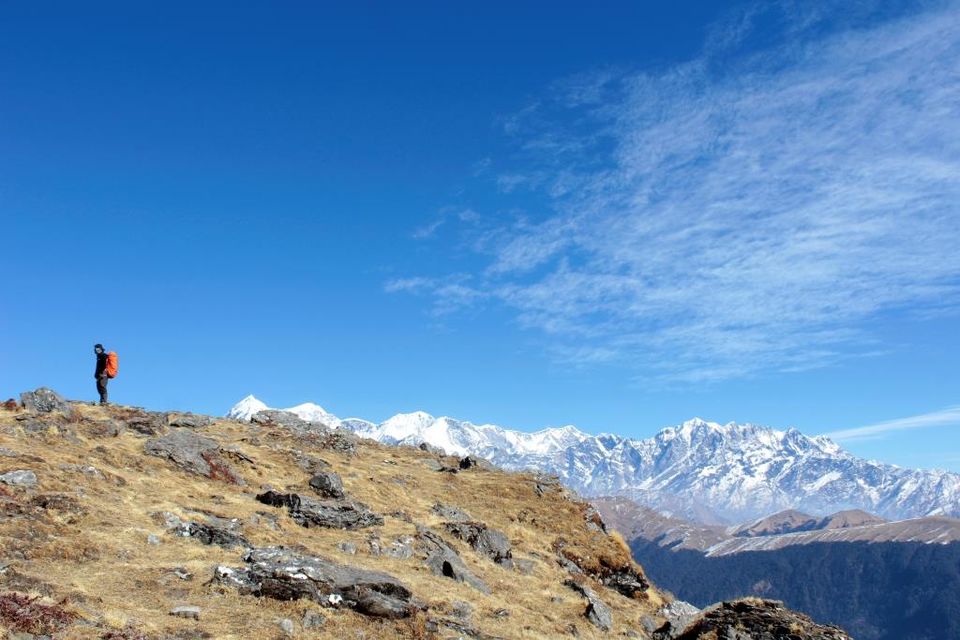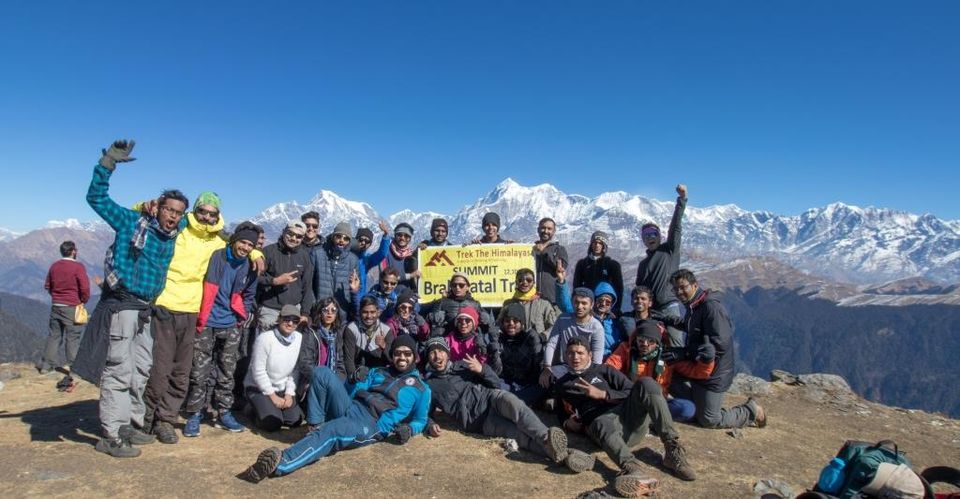 The Brahmatal top is seeing lot of trekkers perched in today. Every angle is picture worthy. And surprising enough the TTH staff had ferried tea with them. And boy, it was steaming hot. Now imagine sipping in a cup of hot tea on top of a mountain, with those palatial views in front.
The dreaded calls for moving on from here came in. We simply didn't want to move from here. Absolutely not. Atleast not till the time the trek leads calls out our names, for atleast 10 times! Reluctantly picked our bags and trotted onwards. Yet another highlight of the trek is the fabulous ridge walk from the Brahmatal top till Jhandi Top. Yep, we again make our way to Jhandi Top today. To my left are the mountains gazing at each of my step, and on my right is an endless valley. For a change being in the back and slowest of the pack had its own perks; me, Aashish, Manoj ji, Ashu, Gautam were having an absolute cracker of a day.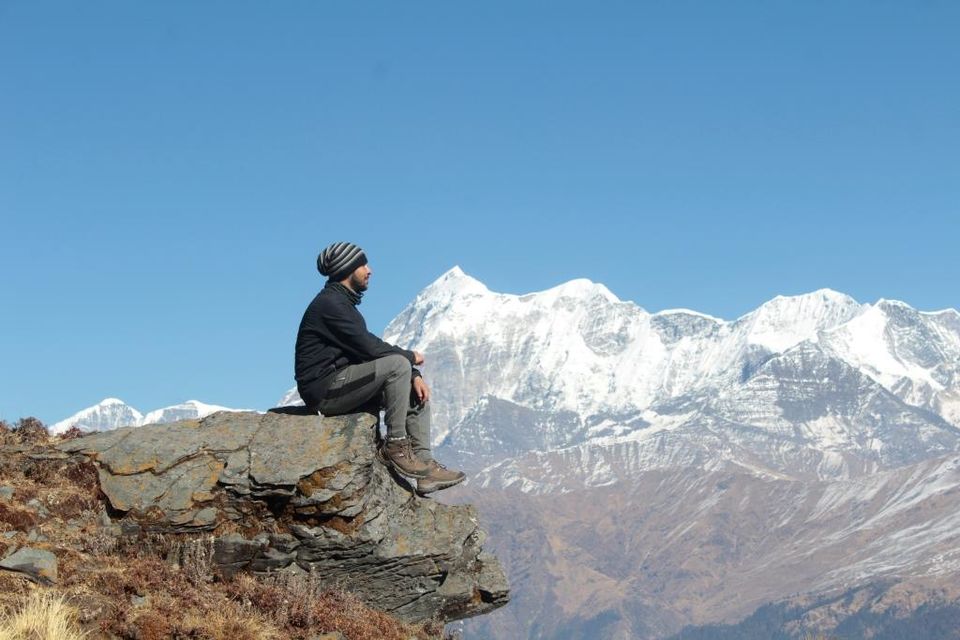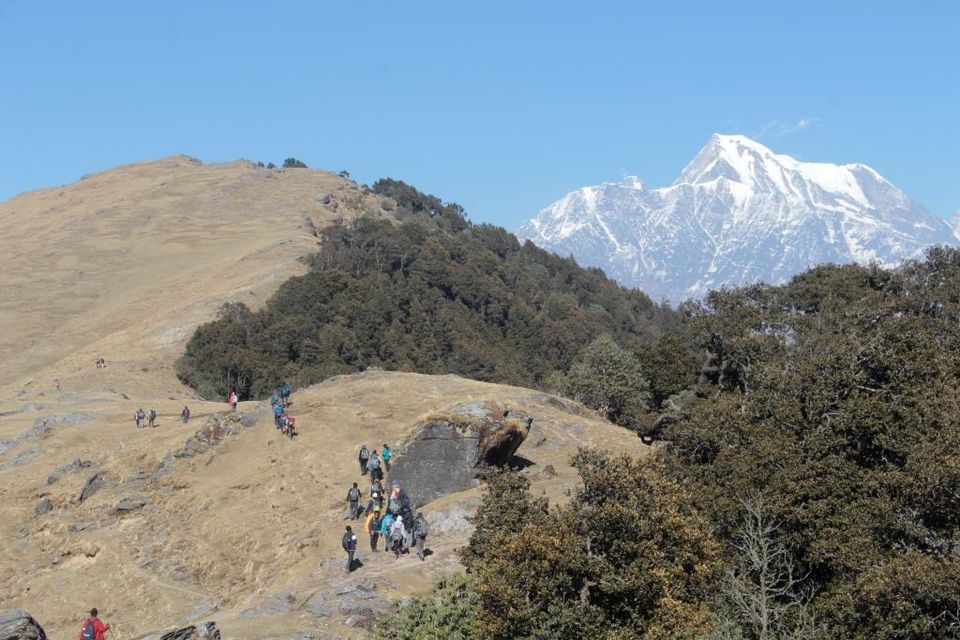 Jhandi Top would be the last point from where we get to see these peaks. From hereon we head towards the forest again, to Tilbudi. We soaked in as much as possible, while binging on cold lunch. Unwillingly moving on we waved adieu to the mountains and headed back inside the forest, full of Oaks and Rhododendrons. And the dust makes a comeback. Every step here just throws in a handful of dust back on the face, making it extremely inconvenient to walk. From walking under a bright sun to being under green, dark foliage the temperature here has suddenly subsided.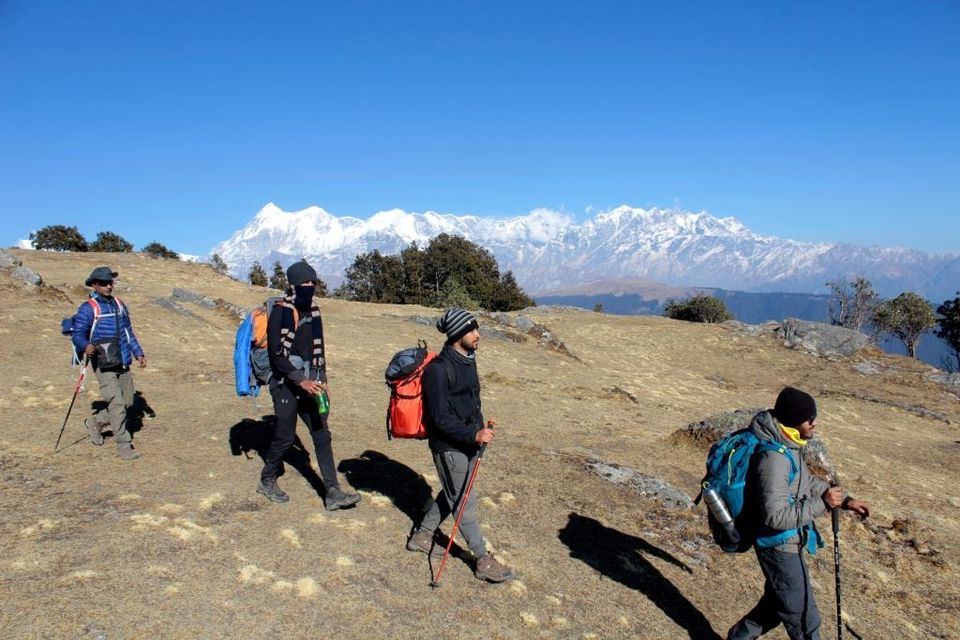 Our camp was set up right in the middle of a forest. It was quite chilly here already. The urge to wash your hands and face after the trek is irresistible considering the amount of dust that settles on us, no matter how bone-rattling cold the water is. Temperatures will further drop at night. Few of us engaged selves with Volleyball, others like me indulged in hot Maggi and tea near a temporary tea stall set up by a local, sitting next to a bonfire.
Our evening was quite an engaging one as well. I mean who doesn't likes a bit of college gossips and some office mis-happenings to be talked out over a fiery bonfire. Sure, Ashu and Gautam are having quite a time with their Law classes. Tonight is our last outing in the wild. No ones bothered to rush for dinner, nor has any plans to get inside the sleeping bag any soon. Sounds of our laughter was probably echoing through the forest wilderness. For the night is dark and full of... smiles!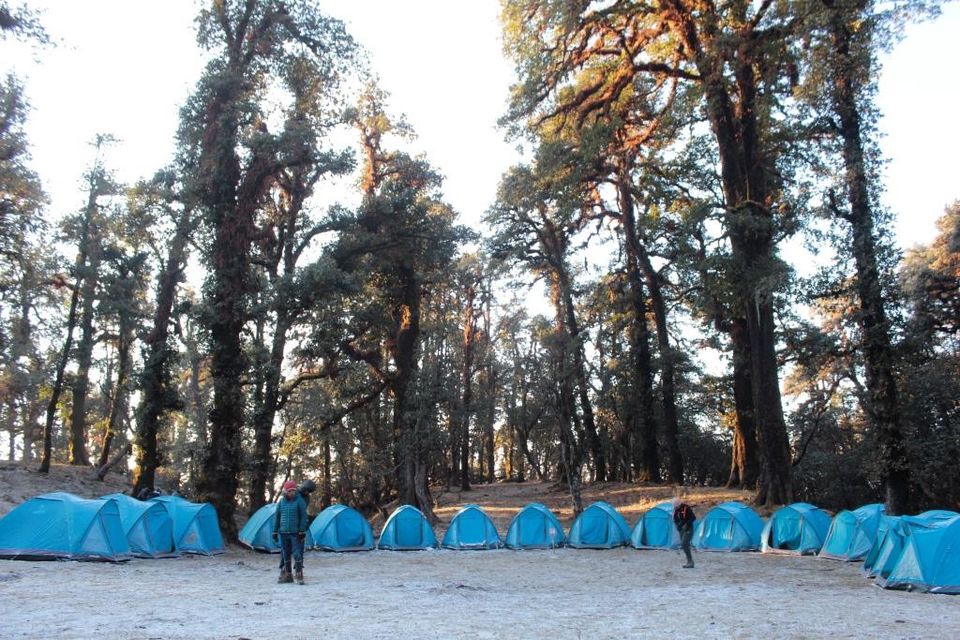 Day 5: Back to Lohajung
Albeit less, it had snowed last night. Stepping out of the tent and the first thing we all realize is that the floor has turned white. Ok, it didn't snow that much. Just enough to give it a salt and pepper look, and to bring that 'yayy-we-finally-saw-snowfall' thrilled look upon everyone's face. Something tells you that it will snow properly in the upcoming days. Too bad we didn't see any snowfall while at Brahmatal. Few of us even braved the early morning chill to pounce back on the volleyball!
Today we head back down to Lohajung. Not the best of feeling going back to civilization, but then considering we haven't taken shower for the last 5 days, and that all the dust that we have accumulated gave us a good enough reason to get happy about re-entering the lives that we live. Not a lot of distance to cover today. Somewhere in the middle we re-connected on the path that we traversed on the 1st day of the trek.
For a change the descend here was much gentle than all my previous treks. And within no time Lohajung was visible. Unsurprisingly as well phone networks were also back. The very idea of a hot water bath at Lohajung was enough to whet our appetite to reach as early as possible. While we trace back our trail back to Lohajung there are numerous new faces the trail is witnessing today, all making their way up to Bekaltal. Waving at them with our advises and goodwill we were now almost about to reach our starting point.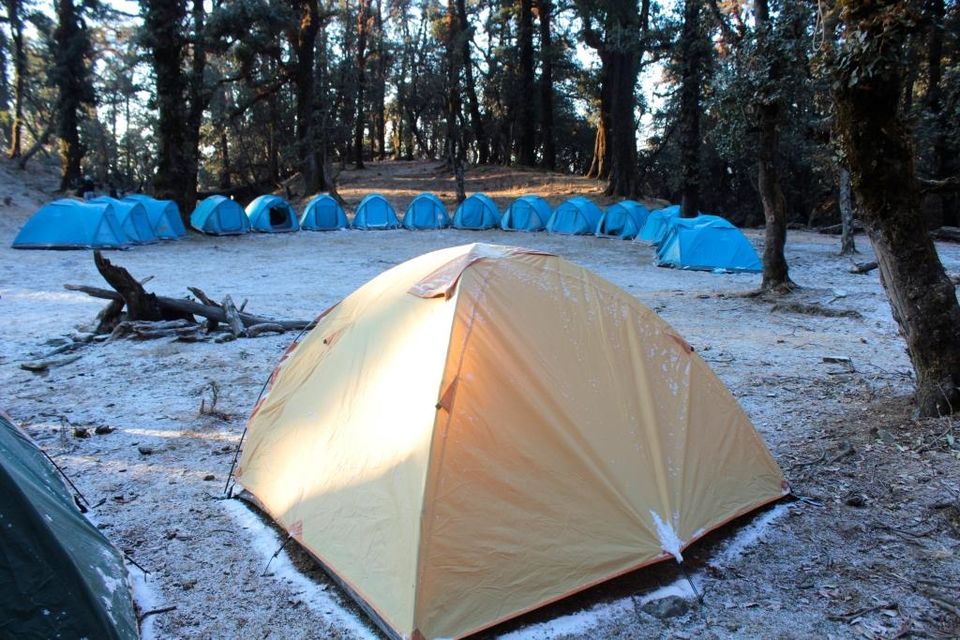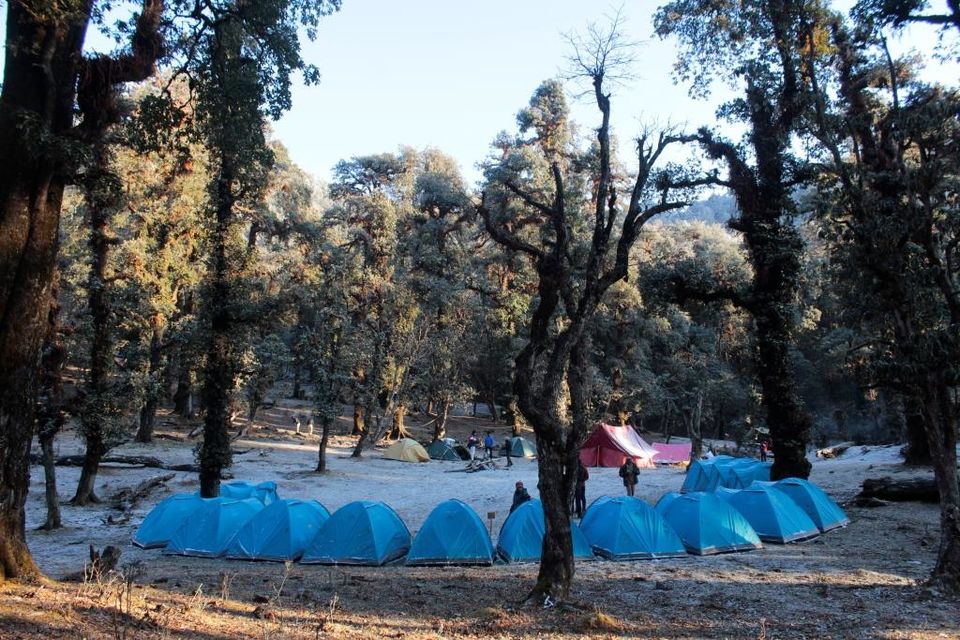 Reached Lohajung in about 4 hours of laidback stroll. The trek is finally over. Lunch was on the table as we unloaded our sacks. However, our lodge for the night was a further 1 km away, to which we had to be back on our foot. The town of Lohajung, otherwise a bustling spot on the trekking circuit is now only seeing activities in December, as the fate of Roopkund still hangs in balance. And the numerous lodges, trekking gear renting shops, coupled with operators are uncertain how things will shape up considering a major source of livelihood has been suddenly taken away.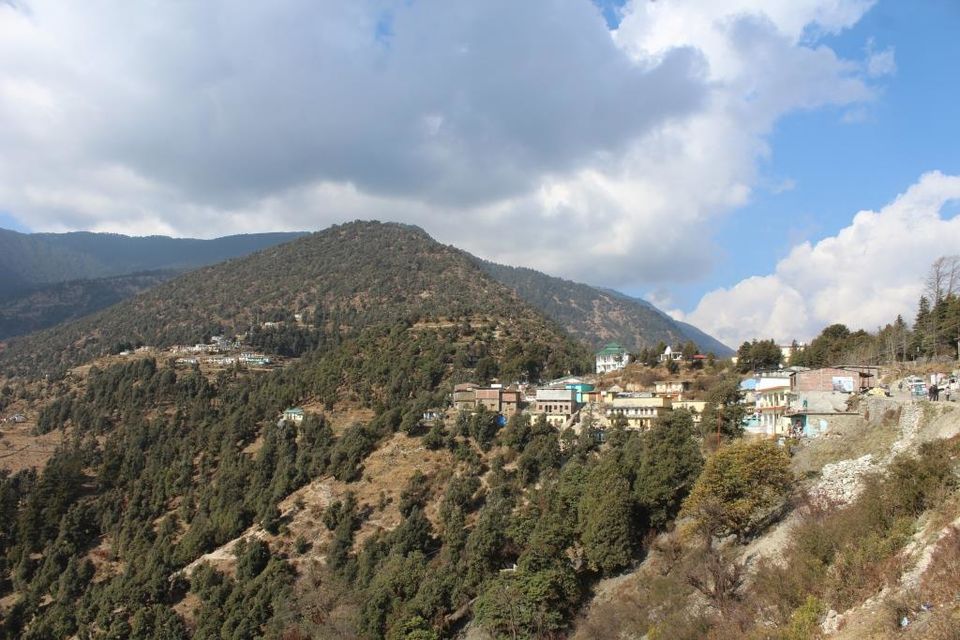 This lodge isolated from the rest of the town is where we'll spend our last night while here. And the very first thing on our things-to-do was to ferry 2 buckets of hot water and just cleanse ourselves. And boy, I can't expound in words here the celestial feels after that quick shower. Felt like an eternity since we had one the last time around. And I don't think I ever had the fortune of a hot water bath after any Himalayan trek right after it got over.
We had some pretty decent arrangements set for the rest of the evening. To start off with for the evening snacks we had pakodas and chai on our plates, to which everyone just literally stampeded on! Then once light faded a bonfire was set up for all of us to sit around and discuss and laugh on all the happenings in the last 4 days. And if that was not enough we would have the luxury of eating chicken for dinner. At the same time we parted ways with Happy and Sudhanshu, who would lead a new batch tomorrow.
We would be moving out at 6 am tomorrow and a constant admonition that we would be inching closer to the rat race with each passing minute gave us even a more reason to enjoy today's evening. The remainder of the evening was well spent amidst countless laughter, nit-picking specific incidents, and a promise that we will be back on such adventures together in future as well. While the fire continued to keep everyone warm few of us ventured into our respective rooms to sign off for the night, for a blissful sleep we all had been longing for since the start of the trek.
Day 6: Back on the Road, Back on With Our Lives
Under that thick, warm blanket I had the sleep of my life. The only thing that got me up was the early morning commotions to get ready. It is inexplicably cold outside and dark. Our two Tempo Travellers are parked outside, all set to take us back to Kathgodam. We started off at 6, and as soon as we rolled on I realized I got myself a broken seat. The moment the TT would take a sharp right is when I would get thrown off as one side of the screws on the seat was broken, and the driver had no plans to get it fixed. And this is how I will spend my next 10-11 hours now. Imagine the horror of getting jolted the moment I doze off!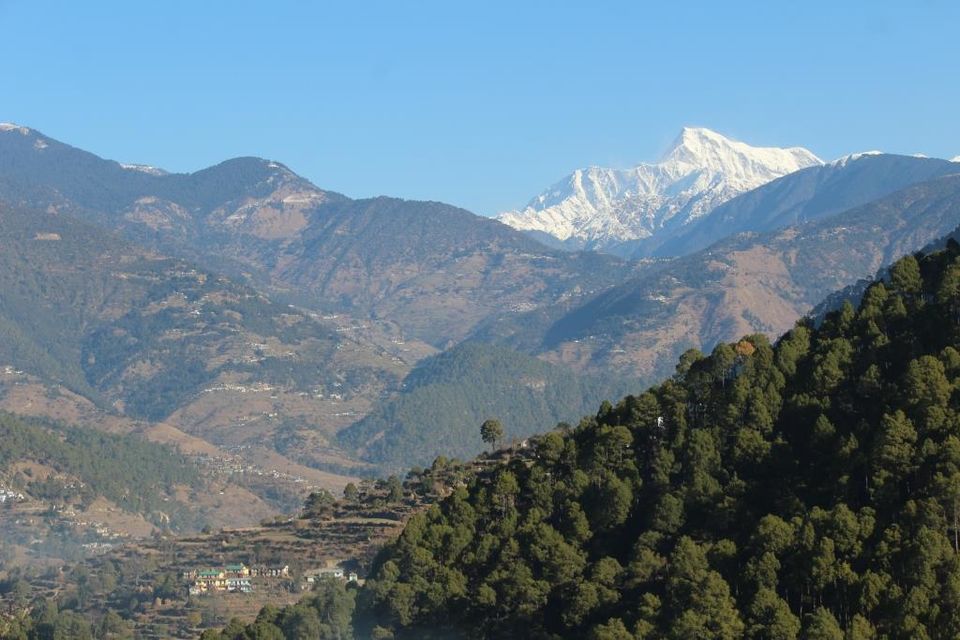 Outside its sunny and clear. We stopped at Dewal for some breakfast, the town was yet not ready to host us so early in the morning. Luckily there was one dhaba where we gorged on Chole Bhature. Once you're out of Dewal you'll get some astounding views of the Himalayan peaks till Almora. I tried clicking as many pics possible since we passed through this section on Day 1 but it was dark by the time we crossed. But thanks to twisty roads, coupled with my unpredictable seat I had a tough time getting some good snaps. Still...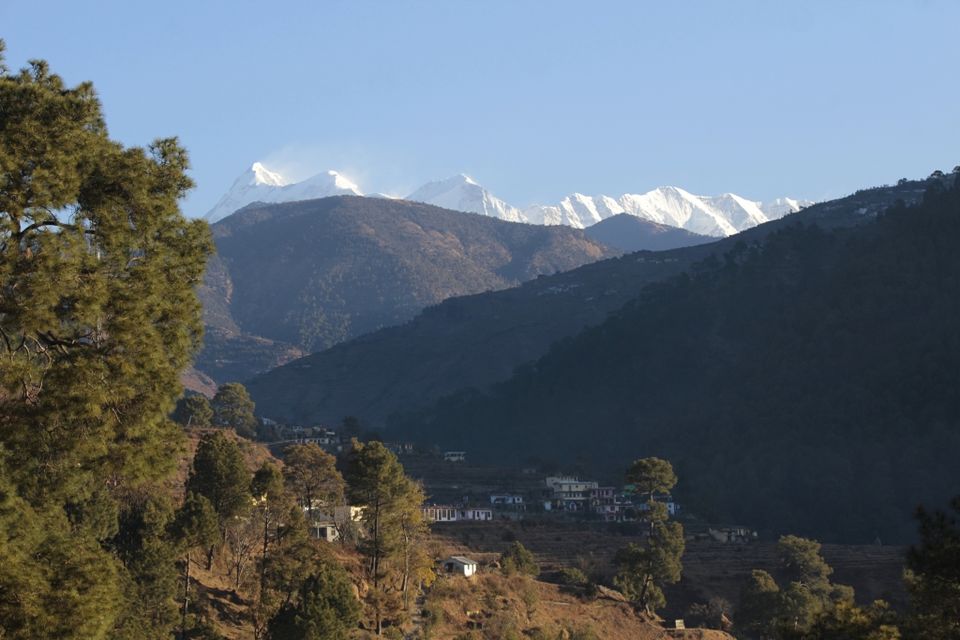 Vikrant and Gauri got down at Nainital. As the clock ticked 6 pm we entered Kathgodam. Few of us (including me) would take the Ranikhet express back to Delhi, rest had planned theirs in bus. Its almost a 2 hours wait before the train docks at the platform. And the 'privilege' of being in RAC means I would be sharing a non-AC berth with a random gentleman while cold wind creeps in through closed windows. My tryst with dreadful rides continues. We knocked at Delhi station at around 5:30 am. Needless to say a dark, chilly Delhi welcomed me. I said my adieus to Saurabh & Gowtham before parting ways. Traffic suckers here I come again.
A Sight So Staggering
In all honesty Brahmatal was a fairly decent experience. Maybe the dust on the trail throughout was a dampener. Or maybe my expectations with the physicality of the lakes was too high. Surely, they can't be perfect like those in KGL. Or maybe the presence of snow would have made it more fascinating? Whichever way you look at it one thing is for sure; the views from the Brahmatal top were just eye-popping. Sure, I still consider the views from the top of Chandrashila as the best yet I've seen. But here they are more closer to you, and somewhat more noteworthy. I can just stand there and gaze at those white peaks for hours. And the fascination of spotting out the Roopkund trail is equally worthwhile. Quite evidently Mt. Trishul and Nanda Ghunti definitely steal the limelight here.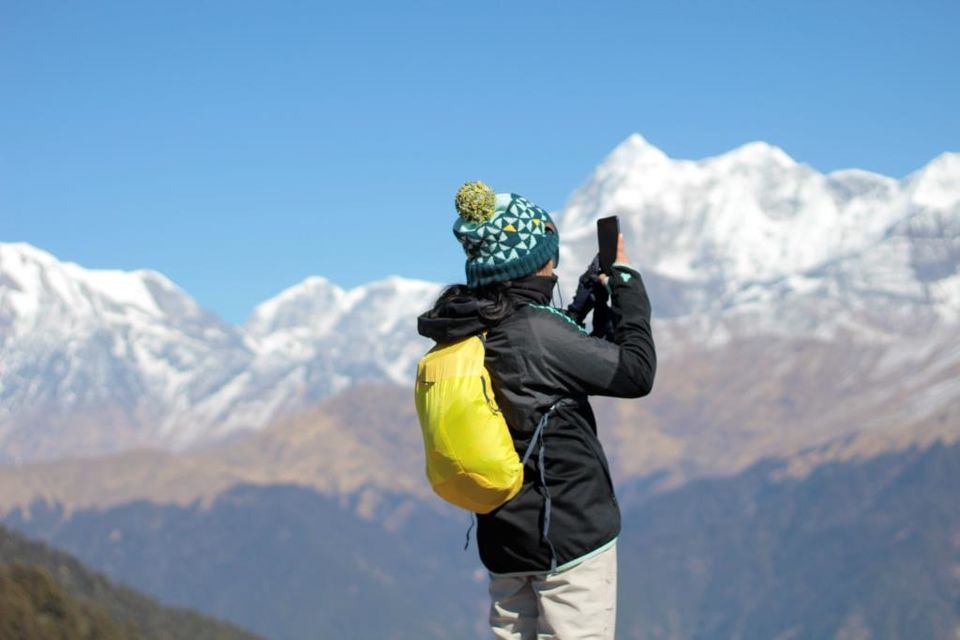 A trek definitely for a first timer to a Himalayan trek. Comparable to Rookund though? Maybe not. Rookund has its own aura and fame to it. But with Himalayan trails getting ever so choked Brahmatal opens up as a refreshing detour without compromising on those delectable, scintillating views.