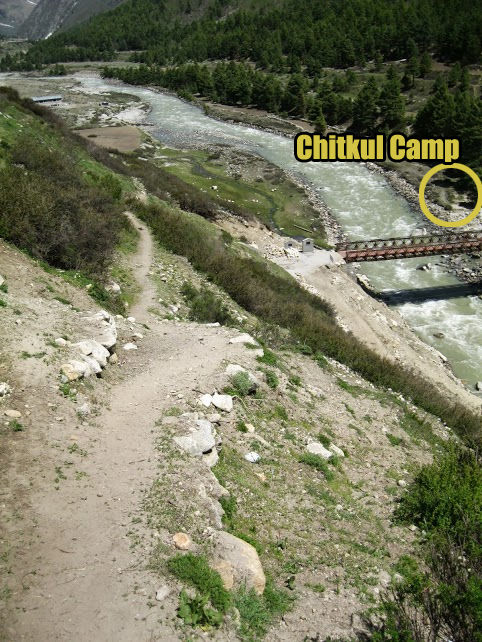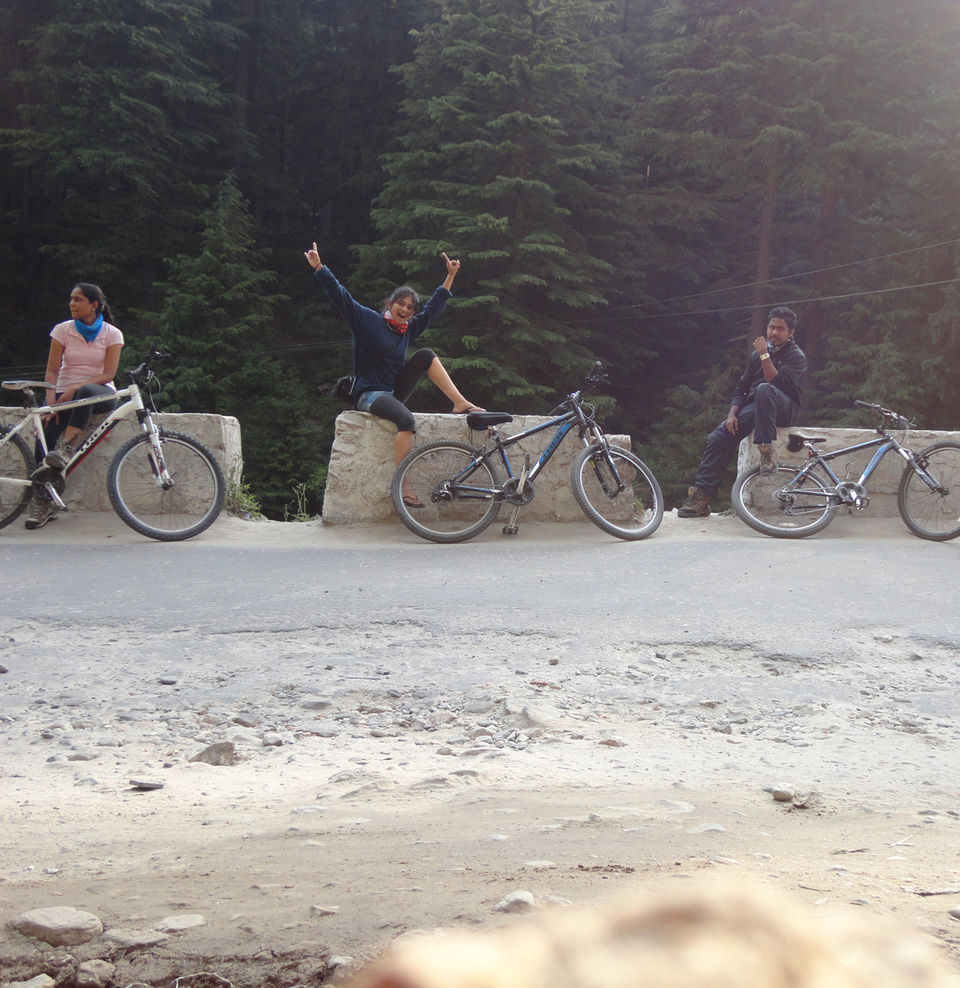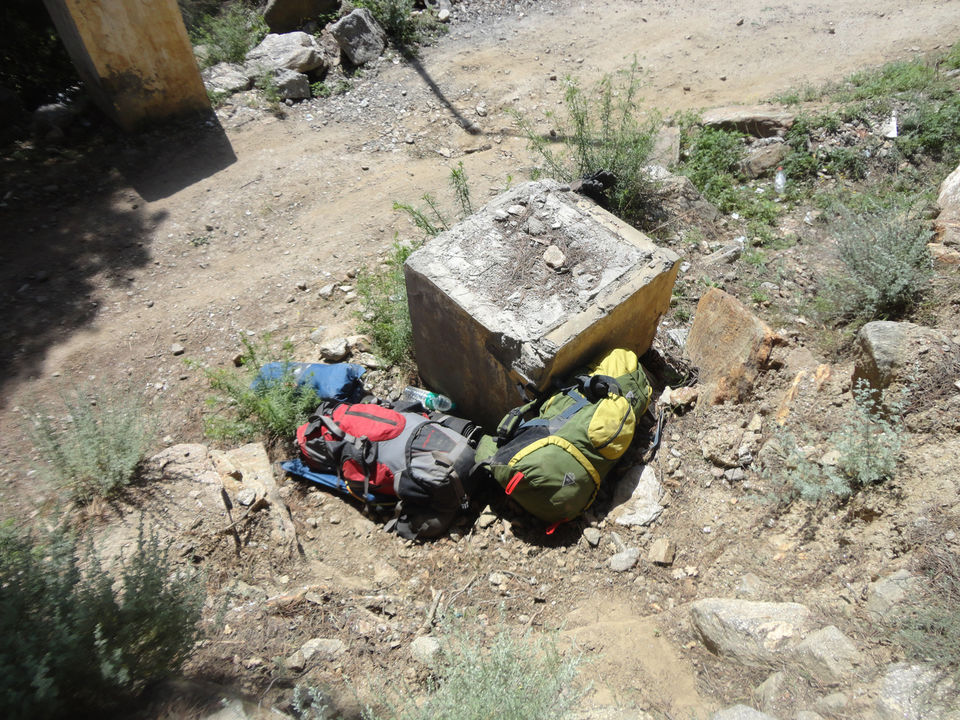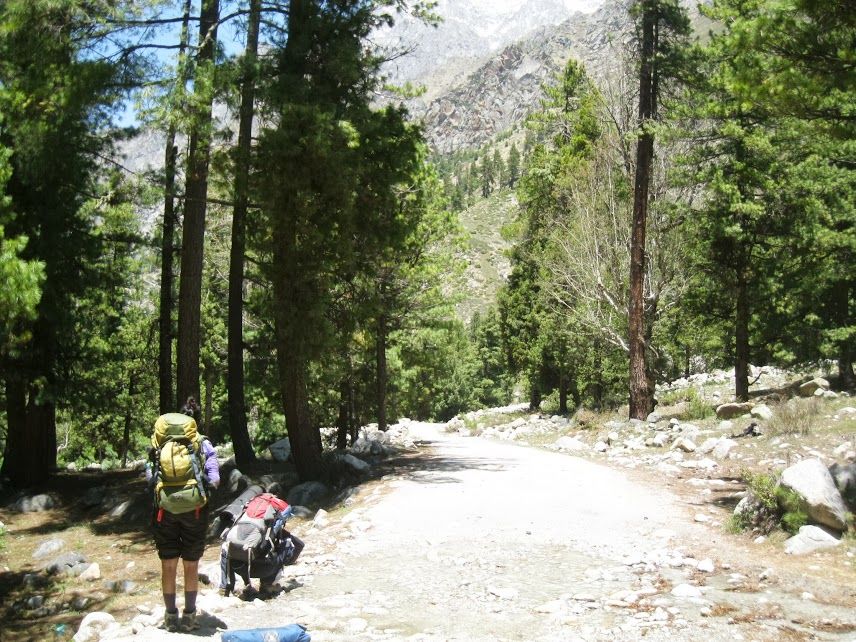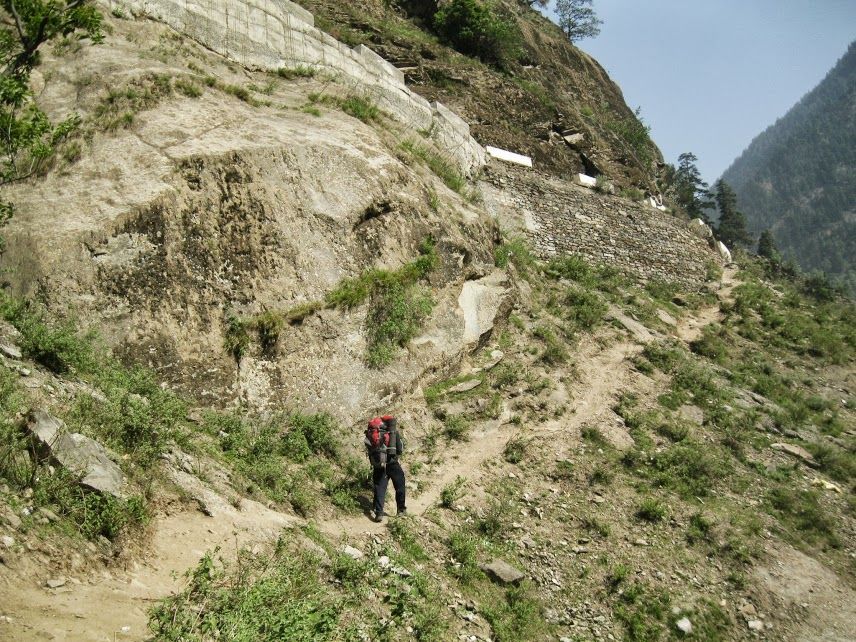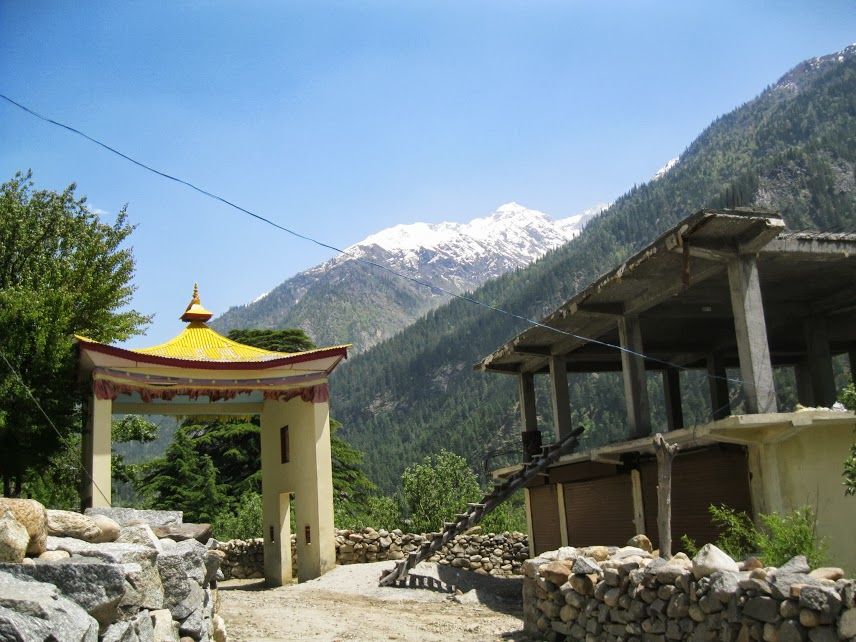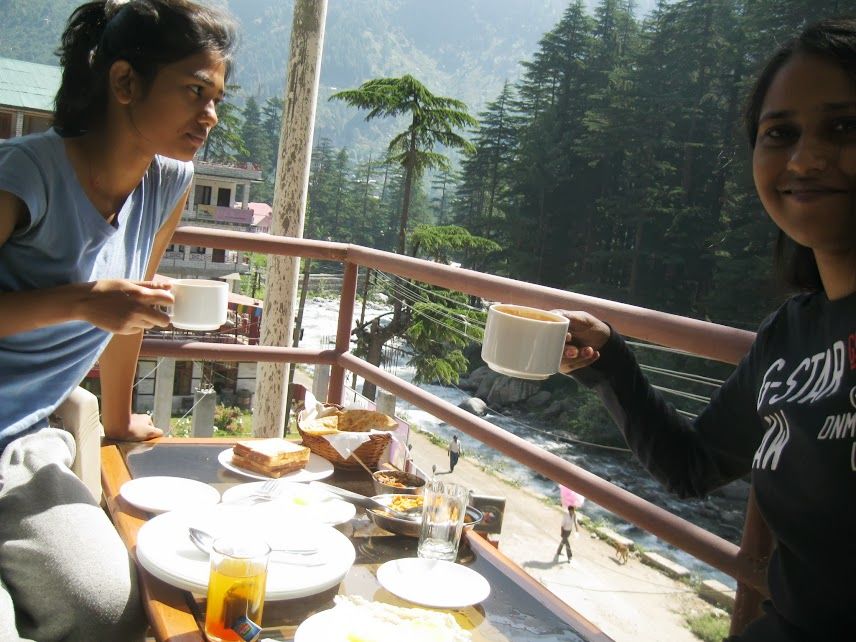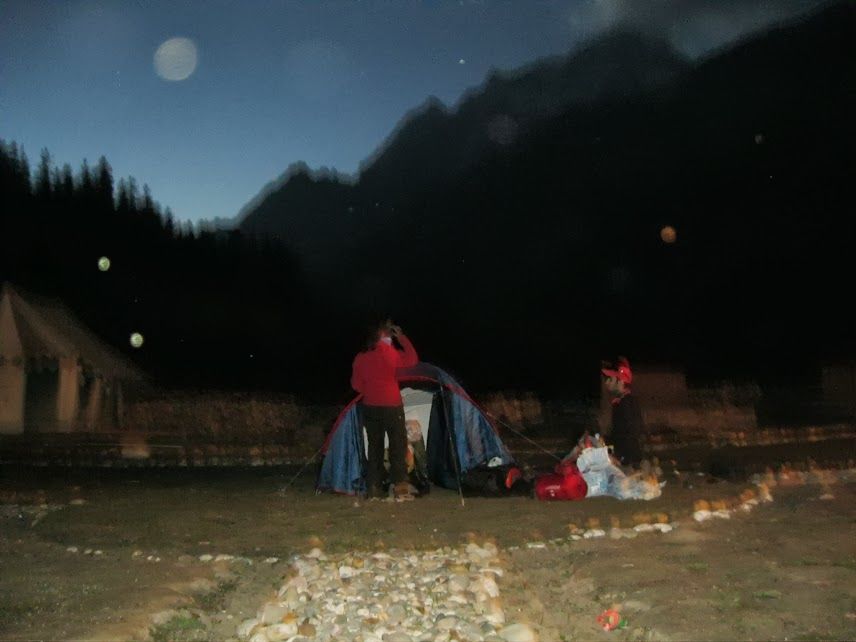 What started out to be a trek to Baralacha in Spiti via Chandratal Lake turned into an unplanned, ill-ready trip to Chitkul, the last village in Himachal Pradesh at the Indo-Tibetan border. Here is a low-down on all that happened along with helpful info in our trek at Sangla Valley in May 2013. You can take a quick look at what I had carried along for this trip here.
Temperatures in Sangla Valley Day time : Max 30 degrees Night time : Minimum 5-8 degrees (will be lower for Chitkul) What else to do there 1. Dip yourself in the Baspa river 2. Eat in the amazing forest area 3. Buy and take a souvenir such as the local cap they wear 4. Pet and feed a mountain dog 5. Play catch or frisbee near the river
Detailed read on the journey
17th May We take the Duronto Express from Bombay Central departing at 11.15 pm. 18th May We reach Delhi at 5 pm. After a terrible mess up by Red Bus of our bus booked at 7.30 pm which apparently got pre-poned to 5 pm on the same day, we were left fuming at their services and had to somehow get another bus. We hurried off to Kashmere Gate and were lucky enough to get seats to the last government bus to Manali at 8.30 pm. 19th May After a rigorous 16 hour journey is the most rickety ordinary bus, we finally reached Manali to find out that though the Rohtang Pass was open, the route to Batal was shut. We pondered whether to go trekking still, getting off at the stop before Batal or leave for Sangla as a backup. We decided on the latter of which the bus was booked recognizing such a crisis to arise. We proceeded to our pre-booked hotel Hotel Satkar Residency, 3kms away (50/- in an auto) from Manali bus stand. This hotel was amazing, being one of the cheaper ones, it had an amazing view and had cycles on rent that we took around Manali in the evening. We treated ourselves to some sushi at the restaurant Manali Mount View.
20th May Our HRTC booked bus was scheduled to depart Manali at 11.30 am and would later reached Reckong Peo at 5 am the next day. Another 16 hour journey in a rickety bus, we had to brace ourselves. One will find a lot of Channa guys, selling cooked channa and coconut sellers too. All of that between 10-15 Rupees. Healthy.
21st May After a couple of us had an encounter with nausea over the terribly long winding roads of the mountains, we reached Reckong Peo in peace. Firstly, we checked in at Hotel Shivling close to the bus stand. Its more of a bar with rooms. Nothing wrong about it. We freshened up, ate breakfast and by 11 am, we began on our journey on foot and what we thought we could trek for 60km in one single day. We were told by a local to reach Karcham, and then head to Sangla from there. We began downwards from Reckong Peo only to stop at the nearest bus stop after 2 hours of being on foot. The infrequency of the bus forced us to stop a truck, where we hitchhiked from to drop us at a point close to Sangla. Unfortunately, none of us, including the driver, not knowing the place in and out, we missed the point by a few good 8-10 kms. We got off and then hitchhiked on another truck back to Karcham Dam. Here we had to take a jeep to reach a point where the buses halted to take us to Sangla valley. They jeep ride is 2 kms at 20/- per person. We boarded the bus and at nearly 4.30 pm reached Sangla Market. Our aim was to get as close to the Baspa river as possible for better camping. By 6.00 pm, we had reached our river bank. And it felt amazing. We pitched our tent, cooked our food, doing exactly what we set out to do.
22nd May Our destination now was Rakcham about 20 km away. After morning breakfast and packing of the tent, we were ready to leave when a localite had come over and we got chatting that led to a handover of a few beedis to us. Besides that, we craved for some charas (better known as bhaang in Sangla). By 12pm, being dejected at not finding any in the Sangla market, we set out for Rakcham. We enjoyed the picturesque landscape so much but it was much too hot. After settling down below a large tree for lunch and resting we resumed but this time, seeing that there was quite a distance left to cover and the sun was fading down, we stopped a jeep to give us a lift. Turned out that jeep was driven by a youngster who was drinking along with his other friends. They did not harm or show signs of harming but the women in the group were scared. Not realizing they could be dangerous, after they stopped at Rakcham where we got off, they by then knew of our plans of where to trek, camp etc. Here, we got into stealth mode, waiting for them to proceed in their direction before we got to doing any camping. We then walked a little to an enclosed campsite by 7.30 pm where we paid 250/- to pitch up our own tent in their land for that one night.
23rd May The final destination, Chitkul. We started off early by 10 am to cover a distance of nearly 10kms. The landscape by the mountain road that we took was very pretty. Being close to the Indo-Tibetan border, there was an army check-point for all those going through 7 km before Chitkul. After walking with our heavy baggage at a good pace, we reached Chitkul. Apparently Chitkul has only 563 people currently living in it. There was a bridge leading to the other side of the Baspa river which is where we camped from 3 pm. We were very relaxed since we reached very early. We had a dip in the very cold Baspa river, ate our lunch and then slept off. Our wake up time for the next day was 4 am since we could not afford to miss the one and only morning bus from Chitkul to Sangla.
24th May We woke up at 4 am, packed our bags, tent and walked up the bus stop which thankfully was only 10 mins away. But as luck would have it, the bus driver came only arrived by 6.30 am while we froze in the biting cold waiting for him. By 10 am we were at Karcham, just in time for another bus that was heading to Shimla. After an 8 hour journey we reached ISBT in Shimla (last stop) where we were scurrying for a place to stay for the night. After getting help from the hotel "marketers" out there, we found a place in Hotel Taj Palace, good to conveniently avoid it if you are ever there. That evening, we went to Shimla Mall road, very pretty, looked around and ate at Dim Sum, a small Chinese fast food place. Back at the hotel saw the movie Real Steelbefore heading to bed. 25th May After checking out of the hotel at 12, we left our bags back to explore Shimla. First went to the Market Road which is just filled with tiny stalls selling all the jazz available in cities like Mumbai. Next we ate lunch atBaljee Restaurant which was just not that good. We then shuffled between ISBT and the Old Bus Stand asking of placing to see before it was evening when we took our bags and headed off to ISBT for our bus to Delhi to depart from there by 10.15 pm. 26th May Not wanting to check into any hotel and the IRCTC Lounge in Delhi facing water shortage, we were forced to loiter in Connaught Place till it was time to catch our train for Mumbai at 4.30 pm. This was a completely self-organized trek, not to mention, we had to quickly adapt to the change of plans at the nth minute. Sangla is definitely a place to go if you like pitching tents. The people are very very kind, helpful and friendly. Travel to this point might be long but in the end, being at the last village of India bordering Tibet is absolutely worth it. You can drive to this point too, if you like.