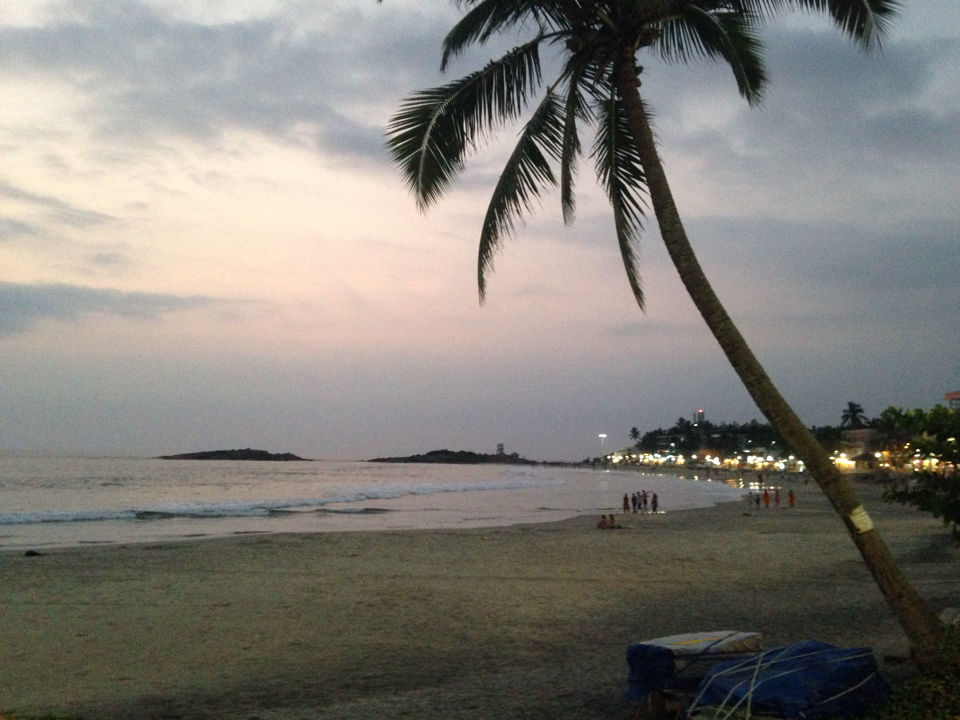 16KMs south of Trivandrum main city this beach town will steal your heart with its secluded, squeaky clean beaches and kerela cuisines that are to die for.
Getting there :
Take a bus or train to Trivandrum and then be prepared to get ripped off by taxi/autowalas as you board one to get to Kovalam. (Having someone who speaks Tamil/Malayalam might just save you). To avoid the hustle prebook a mango cab; operates on similar lines of ola and uber.
Stay:
Live by a beach if possible, great accommodations are available near Lighthouse beach. They are relatively easy on the pocket and clean and walking distance to the beach. Some even provide/give information on scuba diving and snorkelling facilities widely available(seasonally) in kovalam to explore the incredible marine life.
Must To-dos:
1. Getting a traditional Kerela massage! Many hotels provide this facility and there are quite a few Ayurvedic centres too in kovalam to choose from. Just make sure to book yourself an appointment before hand. For not more than 1.5k enjoy a full body massage from masseurs with over 10 years of experience! With an amazing hour of oil massage relaxation followed by a multani mitti body scrub you are bound to be left feeling rejuvenated.
Warning: try not feeling violated during the massage!
2. Mouth watering cuisines available in and around the beaches will leave you wanting more. Appam, puttu, kappa and sea food at shacks as well as restaurants are a must have! Each one has their own form of coconut water mock tails which are a must try. For lovers of seafood dining at Fusion, on light house beach is a good option. And for dessert stopping by Germany bakery with its insane variety of pastries and cakes is necessary!
Beaches:
1. Lighthouse Beach- largest and the most popular, it provides you with an array of cheap street shopping as well as eating options as you walk down the street to the beach and along it.
2. Hawa beach or Eve's beach- is opposite the light house beach is more stunning and less touristy as you experience the local life here with fishermen crowding the waters engrossed in routine work. Watching them in action is an enriching experience.
Sightseeing:
1. Vizhinjam rock cut temple
2.Halcyon Castle
3.Kovalam Art Galary
4. Neyyar Dam
Things to do around Kovalam-
1. Padmanabhaswamy temple:
If you get to Trivandrum do visit the World's wealthiest and also one of the most controversial temples ever: the Padmanabhaswamy temple. With its iconic Vishnu statue and intricate architecture, the pain of going through the numerous security checks to get in makes it worth it. Remember to adhere to the dress code!
2 Pearl spot fish:
Locally this fish is know as karimeen. Find a great restaurant in the main city to enjoy karimeen fish, a delicacy of Sri Lanka and South India. Our favourite was karimeen pollichathu, karimeen fry and kerela biryani!
3. Veli Lake and the floating restaurant:
A tourist spot for a speed boat ride exploring the backwaters of kerela. It also provides a floating restaurant experience to enjoy a cup of coffee.
4. Shankumugham beach :
This is very near to the airport and is serene and stays relatively empty. It has significant historic relevance and is simply beautiful.
5. Ponmudi :
This s a serene hill station north east to Trivandrum not to be missed with its tea gardens and waterfalls and a famous spot for hikes and treks alike.