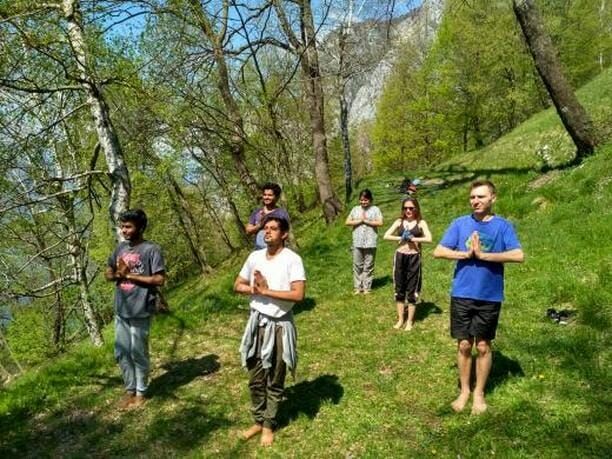 It was last in October 2017, when i trekked last in the Western Ghats and it has already been 1.5 years that i left Mumbai and trekking. After which i came to Milan, Italy for my Master Studies and left trekking behind. Though before coming, while checking on maps i thought Milan is close to Lecco, Swiss Alps and i could do mountaineering course and trekking often but it is only after coming you reaalise the reality is something else. Lecco is still 40 minutes by train to Milan, and it is similar to Mumbai from where we can just travel 1 hour by train and there are 100s of treks surrounding us but to spare that 1 weekend it is difficult.
So the Easter Holidays have strated and i was already in Lecco at a friend's, we plan to trek for the next day i came here.
I was so excited to trek almost after 1.5 years but also scared if i can still do it or not. We packed our bags with water, oranges and pasta. Oranges for me are the best thing to have because it serves the purpose of water and sweetness which help to prevent dehydration.
Reaching the streel cross standing out in San Martino Mountain was our goal. Like we have Shiva statue in India at the top of the mountains, here they have Cross and church. We followed the mountain in the pleasant sun, while it was difficult in the starting but it always is, then you find your way to do it and get adapt to it. After 1.5 hours of continous walking, waving to other people(from older people to the kids were our motivators) on the way we reached the cross which we saw when we started.  The view was the giant como lake with the lecco city surrounded by mountains. But as the popular tourist stops serve, the spot was crowded and we wanted to go ahead to find a better peaceful place.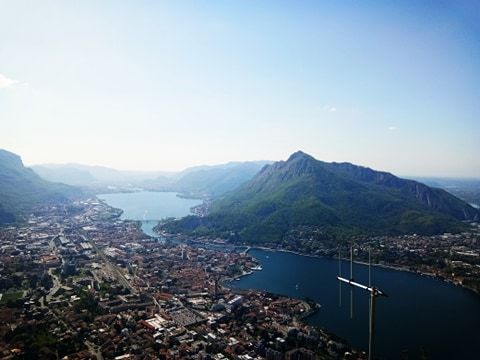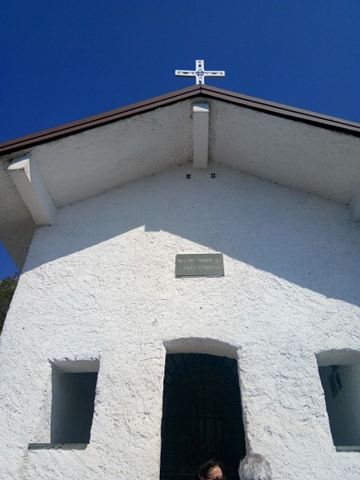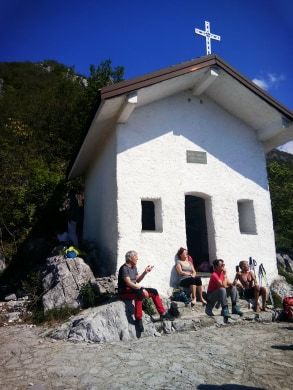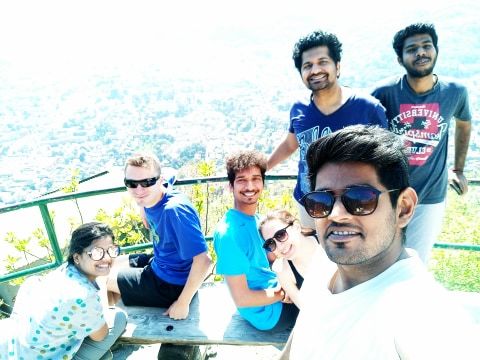 I just wanted to lie down in the sun, trekking is like a meditation, it is so relaxing as if all the pain gets dissappeared when u reach the top of the mountain, u just want to move a little more to find that best place to sit for a while.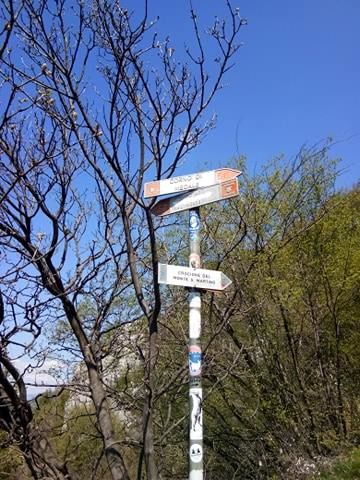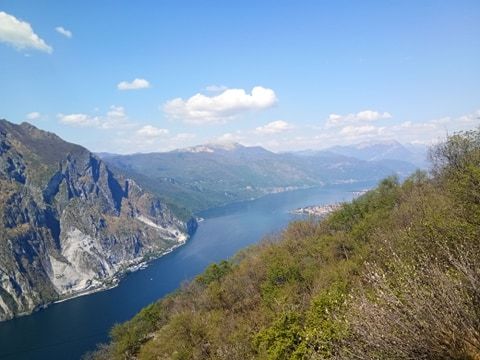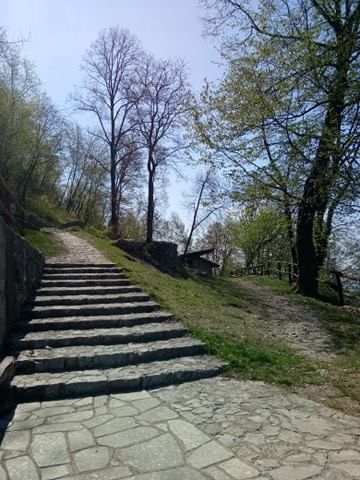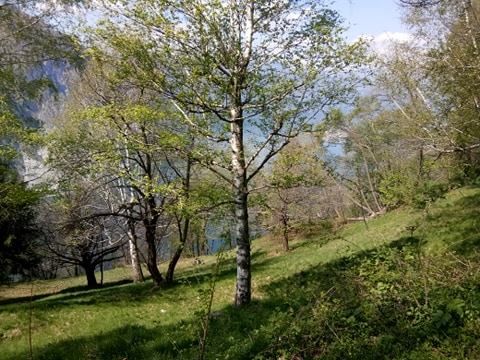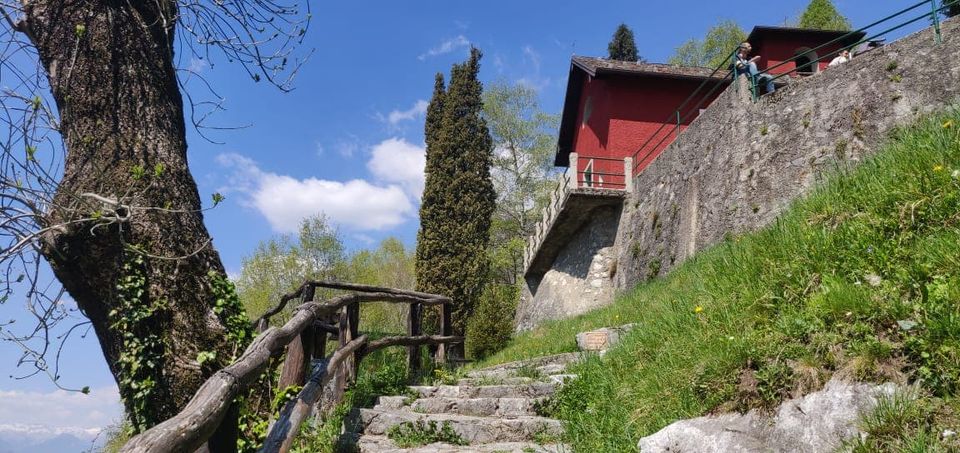 We moved ahead, and the view of the lake got better and bigger. We trekked up and down,  sun was at the peak by now and we could see the people taking sun bath in the meadows or having a family picnic on the benches. 
Each of us found the places to sit, relax, stretch, eat. While we speant almost 2 hours there. As we also had a friend who was Yoga instructor so we managed to spend sometime doing Yoga as well. Having circles at the top is always pure be it be open conversations, sessions, activities etc.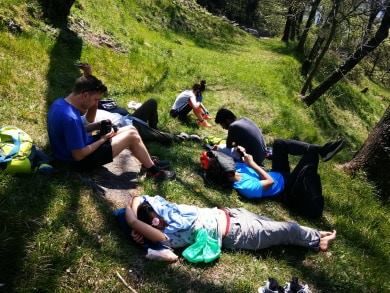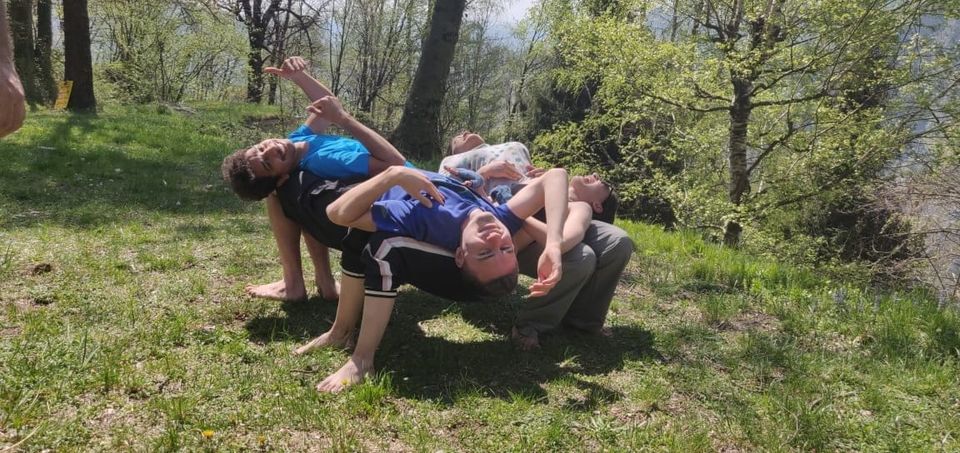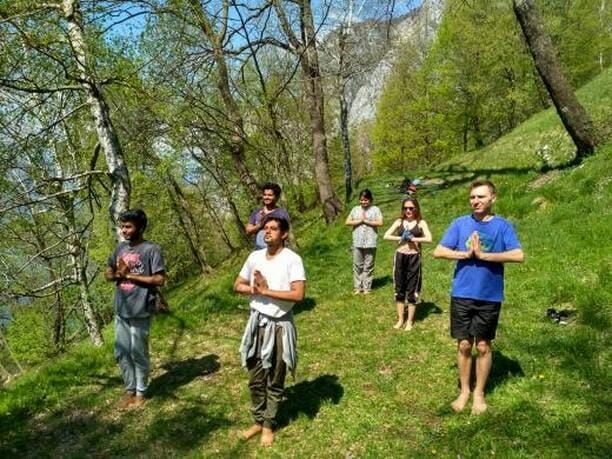 There is water source on the top where we refilled our water bottles and headed down.
This is how i spent my 1st day of Easter holidays.
The trek starts from the Lecco City:
Milan - Lecco = 5Eur 1 way.
Things to carry: Sunglasses, water, energy candies or fruits
Tip for trekking in Italy: If you are exploring a new way, u will find red dots on the mountains or the rocks in between the path which are an indicator that on are in the right direction.