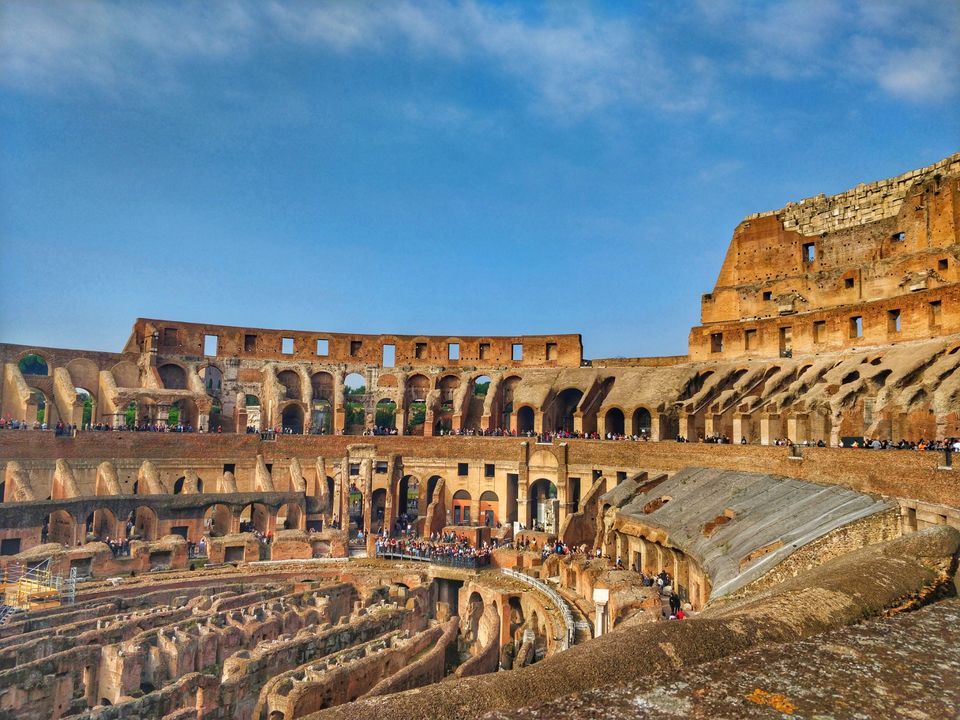 Who needs a man when a girl can conquer the world? I always underestimated myself thinking I need companionship in life to be crazy, stay happy, and explore places until I discovered a new part of me with my "FIRST SOLO TRIP EVER" and what better place to start with other than Italy?
It was a 10days trip and I covered almost 5 cities. My first stop was Milan-The fashion capital of Italy. I was totally awestruck by the edgy fashion sense of people walking across the streets and took some inspiration to revamp my personal style as well. Second stop was Venice. I cannot emphasize much on how beautifully this romantic city is constructed on the water canals. I walked through the canal streets and experienced some great artists playing violins. If you are in Venice, you got to take a Gondola ride with the love of your life. My third stop was Florence and Pisa which are well known for its renaissance art & architecture (Piazzas in Florence will make you forget the Pizzas). Last stop was Rome and the Vatican City. This cosmopolitan city of globally influential art, architecture and culture blew my mind and I sure would love to return to this place. The whole vibe of this city makes you fall in love. Also, do try some fresh cold drinking water pouring from the cast iron fountains. Trust me you'd want a direct supply back in your homes.
During my trip, I lost my way multiple times, felt clueless when language was a barrier, had DDLJ moments (except meeting my Raj) of catching the Euro rail but amongst all this chaos I met some amazing people who helped me wherever I got stuck and escorted me safely. I exchanged smiles with countless pedestrians, heard travel stories of fellow passengers and walked across every possible street as a local. I discovered all of the cities' richness, cuisine, language, art, architecture, history and came back home with tons of memories and an amazing learning experience. Before you get married, do go on a SOLO HONEYMOON and rediscover yourself to have a fresh perspective about life. I can surely say that this Euro trip was a game changer for me. I've never felt so carefree, independent, and confident in my life as I am now. I feel more ready to face challenges and overcome them. Once in a while you need a break just to clear your head and this trip gave me all the "ME" time I needed. And not for one second did I miss home! When I returned home I was a new version of me, HAPPIER, CRAZIER and full of positive energy.
Here is everything you need to know about your first Solo Euro trip:
• Best time to visit Italy: October
• Airlines I flew: Emirates (Delhi-Dubai-Italy/Milan)
• Intercity trains: ItaloTreno, TrenItalia
• Accommodation: Budget-friendly Airbnbs (make sure it's in the central city for better connectivity)
Tips if you are traveling SOLO:
• Ensure you have a working SIM card to navigate routes
• Carry enough warm clothes and some antibiotics
• Make all accommodation and train bookings in advance. You can also purchase tickets to the monuments and museums in advance to avoid standing in queues
• Carry enough Forex! If you have enough money, you'll never be worried no matter where you get stuck
• Get involved in engaging conversations, networking is key: Speak to locals and wanderers, I promise you won't even realize you've come SOLO
• And most importantly, forget all your worries and just have fun (because Zindagi Milegi Na Dobara)! #SOLO #YOLO
Popular places to see in Italy (suggest to spend at least 2 days in each city):
• Milan: Duomo di Milano, Milan Cathedral, Galleria Vittorio Emanuele, Sforza Castle, Parco Sempione, Porta Sempione, Bosco Verticale, Cimitero Monumentale di Milano
• Venice: Venice grand canal, Rialto bridge, San Marco Campanile, St. Mark's Basilica, Bridge of Sighs, Piazza San Marco, Doge's palace, Venetian islands tour-Murano, Burano & Torcello
• Florence: Florence Cathedral & Baptistery, Santa Croce, Piazza della Signoria, Uffizi gallery, Leonardo da Vinci museum, Giotto's Campanile, Porcellino, Mercato di San Lorenzo
• Pisa: Leaning tower of Pisa and Campo dei Miracoli, Pisa Cathedral & Baptistery, Piazza dei Miracoli, Ponte di Mezzo, Santa Maria della Spina
• Rome: Colosseum, Roman forum & Palatine hill, Pantheon, Trevi fountain, Piazza Navona, Spanish steps, Vatican museums (Sistine Chapel), St. Peter's Basilica, Castel Sant'Angelo, Altare della Patria