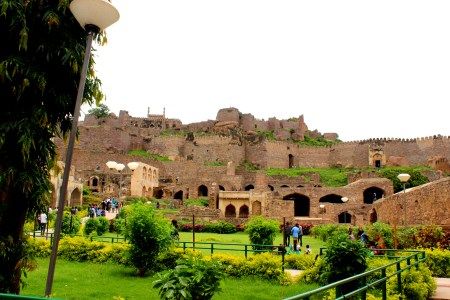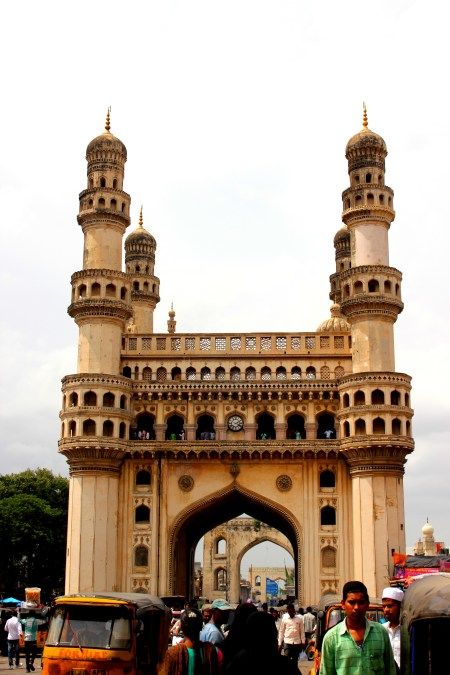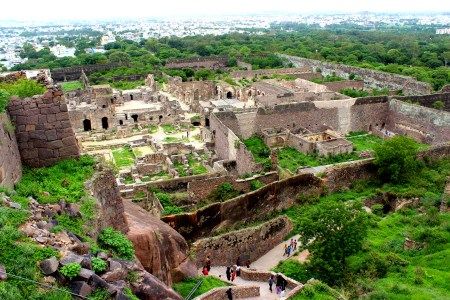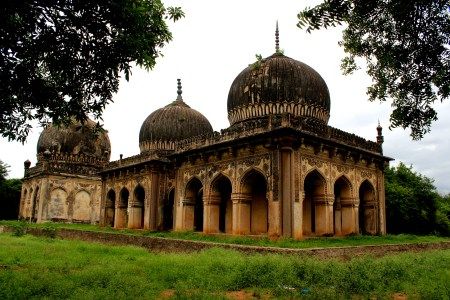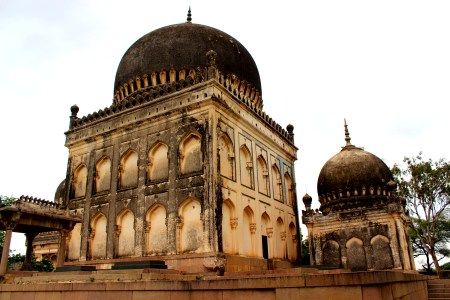 Armed with Google Maps, we set off on a bike to explore the historical monuments in the old city. If you've ever looked up Hyderabad as a possible tourist spot, I'm sure you've already read about Charminar, the Golconda Fort, Birla Mandir, and Salar Jung Museum. We did cover two of these in a day, Charminar and the Golconda Fort.
Let's face it, for most of us, climbing up a whole lot of stairs to reach the top of a hilltop fort will do us in. So, it's best to limit the number of things you can do in conjunction with this activity.
What we did add to the itinerary for the day was a trip to the Qutb Shahi Tombs (remnants of the Qutb Shahi Dynasty) and an evening drive through Necklace Road. Both of which were totally worth it.
Golconda Fort
It was a cloudy day and absolutely perfect for a visit to the fort, chugging up the seemingly endless stairs is much easier to do when the heat isn't draining you. You can Google the fort beforehand to get to know the history/background. But, in case, research isn't your thing, there are guides for hire.

If you are a history buff, or into historical architecture like me, you will enjoy a walk through this fort. There are well-maintained, landscaped lawns that add to the beauty of the place. And, if you can take the time (and muster up the energy) to walk up to the very top, you will find a breathtaking view; a modern city lining an ancient fort.
Qutb Shahi Tombs
This encompasses the tombs of seven kings of the Qutb Shahi Dynasty. It is a 15-minute ride from The Golconda Fort to the tombs. It is a beautiful ride, and you will be following the outer walls of the fort and head out through the "Banjara gate" (which translates to "Gypsy Gate").
The tombs are laid out over a large area, which you can walk or stroll around. This again is a history buff's fantasy, with some mind-blowing architecture. Trying to tone down the superlatives while talking about these buildings is nearly impossible. One definitely needs to take time to get up-close-and-personal with the buildings to really appreciate the architecture.
Rest assured that you will need sustenance once the you are done with these two sights. There are several places to get yourself a plate of traditional (mouth watering) Hyderabadi biriyani. Do not waste time trying to find a posh hotel. All you need to do is walk into any of the hole-in-the-wall restaurants that serve biriyani.
Charminar
Another fascinating historical structure. Unfortunately, it is set bang in the middle of a busy market. However, that is also one of the best things about this place. Not only do you get to check out Hyderabad's most famous landmark, but you also get to have an awesome shopping experience.
The Charminar area is famous for it's perfume and bangle stores. If you want to really see the beauty of bangle street, you need to be there after the sun goes down. Lights reflecting off the stone bangles in every store window creates a truly magical effect.
There is also a separate area where you can pick up any clothing of your choice and get it embroidered in the traditional styles. If time is a constraint, you can just buy the materials off the counter, although personalizing it is definitely recommended.
Complete this day trip with a late-evening ride around Hussain Sagar Lake and Necklace Road.
Dinner options are aplenty, but try and end it with biryani from Paradise Hotel for the perfect finish.