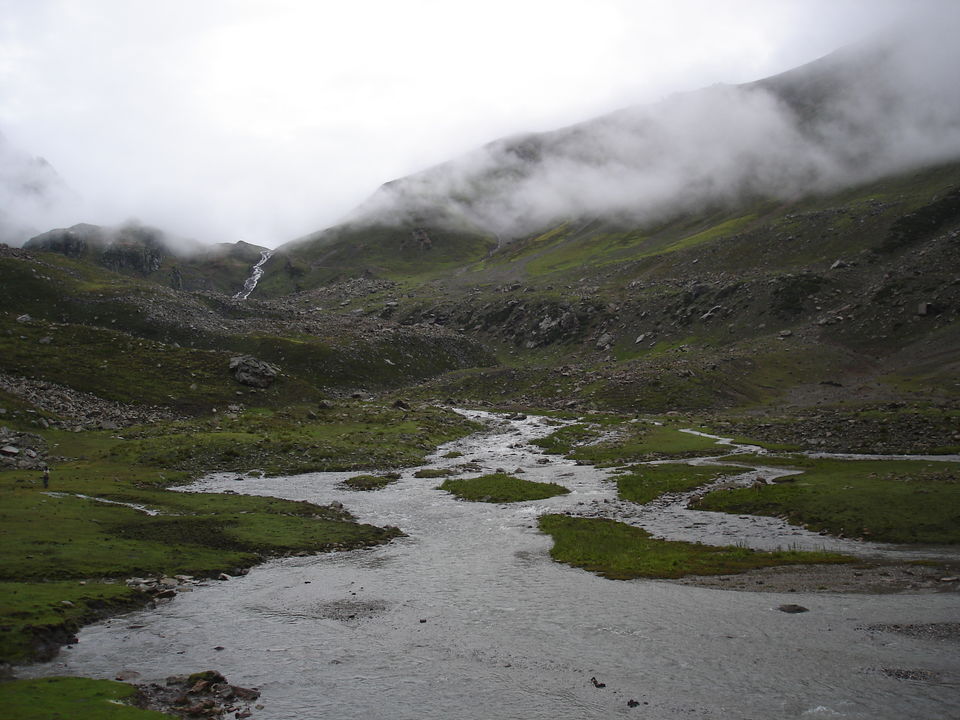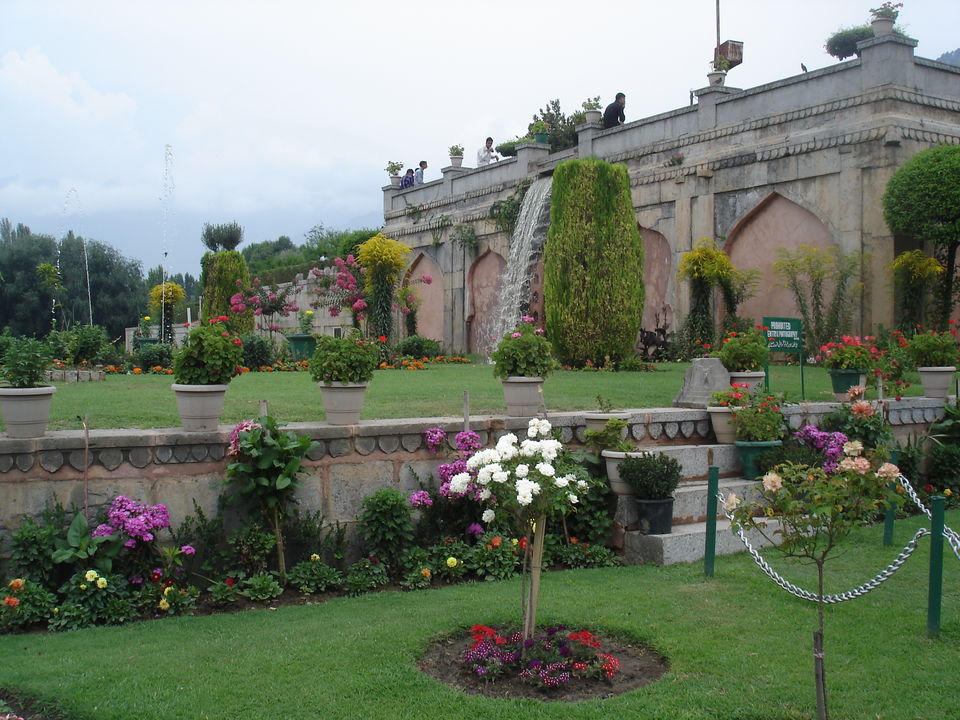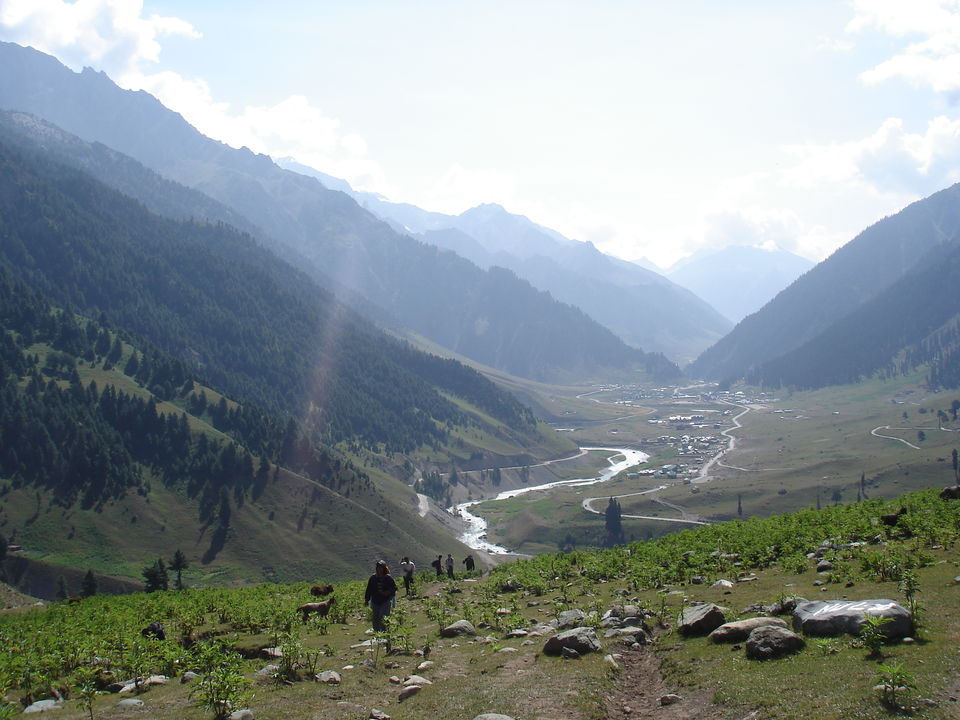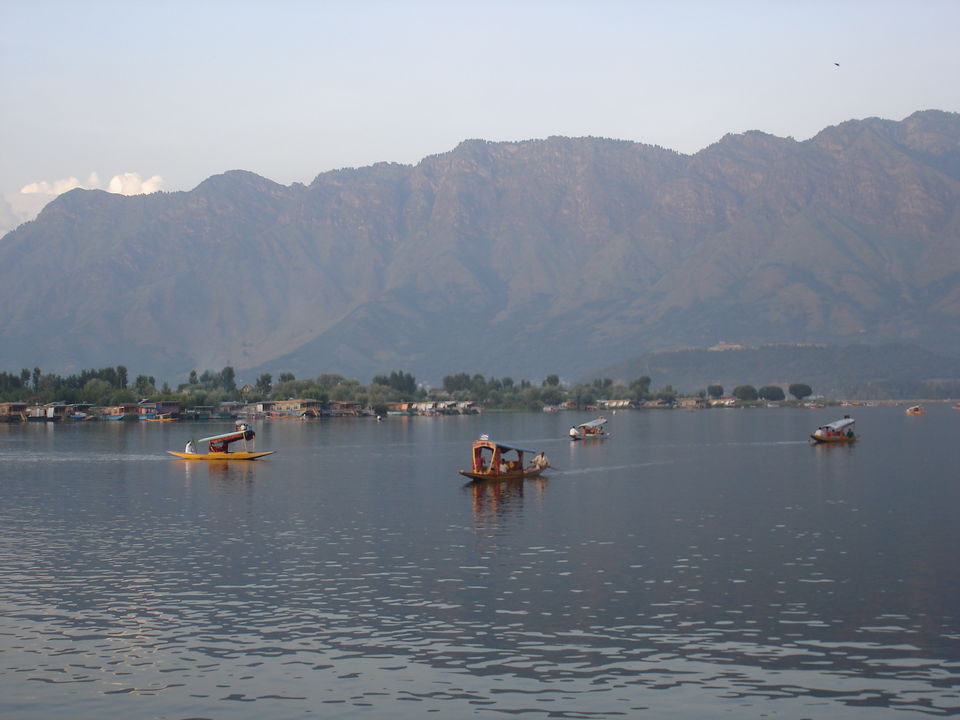 It was January 2013 when I came across the Indiahikes website and saw the details of Kashmir great lakes trek. I decided to do this trek this year. I asked some of my friends and we registered for the 11 Aug batch. It was still 7 months but I was very excited and was eagerly waiting for it. I booked my flight tickets to Srinagar for 9th Aug thinking that we can use the 2 days to roam around Srinagar. As the months passed by, one by one my friends had to cancel the trek due to some or the other reasons and in the end I was the only one left. I was waiting for the trek for so long and did not want to cancel this but was in a dilemma whether I should go alone or not. Suddenly I remembered the lines I read on one of the trek blogs

"You may choose to go alone or with friends but you will always be walking alone. Your exhaustion is your own. Your fear of maybe falling on slippery terrain at the edge of a valley is your own. Your conquering your fear is also your own."
And then I made up my mind to go for the trek. The next big task was to convince my family to let me go alone for the trek and also to allow me to spend 2 days in Srinagar on my own. Luckily they got convinced with the only condition that I will keep them informed and will take good care of myself.
Day1 – 9 Aug 2013 – Hyd-Srinagar
I reached Srinagar around 11 in the morning. I had booked a houseboat in Dal lake through booking.com. I took a prepaid taxi from airport – Dal lake and then took a shikara to go to my houseboat. I met my houseboat owners Tariq and Riyaz and they were very friendly and warm. I had my breakfast and went to my room to rest. In the evening I took a Shikara ride to roam around the dal lake. I was amazed to see the lake which is spread over 22 sq. kms and has everything vegetable gardens, shops, restaurants, flower gardens.
House boat owners stay in Dal lake and like we use to go to school on cycles, their kids take out their boat to go to schools. I was told that previously in the winter the lake used to freeze completely and kids used to play cricket over the frozen lake. I enjoyed viewing the lotus garden and vegetable gardens and then asked the Shikara driver to stop at a cafe in lake to have the famous kashmiri kahwa. The shikara ride in Dal lake and to try the kashmiri kahwa should be on your must do list on your trip to Srinagar. I roamed around the lake for around 2 hours and then came back to my house boat for the dinner. I asked the houseboat owners to arrange a cab for the next day so that I can go for local sightseeing.
Day2- 10Aug 2013 – Srinagar local sightseeing
I started at around 11 in the morning from my houseboat and went to land to take my cab. The plan was to first go to Shankaracharya temple and then to mughal gardens. The route to Shankaracharya temple was very nice and view from the top was beautiful. After that I went to Nishat Garden and Chashme Shahi, as it was a holiday (next day of eid) there was lot of crowd and it was a big task to get the entry ticket. I came back to lake side around 2pm and had my lunch in a nearby restaurant.
After taking rest in the afternoon in the houseboat I came back to lake side in the evening for a walk. The lake looks beautiful and the walk was pleasant. I met three Kashmiri girls and had a chat with them. It started getting dark around 7:30 and then I went back to houseboat. Next day I had to meet my indiahikes group at tourist reception center.
Day3 – 11 Aug 2013 – Start of the trek – Srinagar(5000ft) – Sonmarg(7800ft)
I reached tourist reception center around 1pm and met the other trekkers there. We introduced ourselves to each other. It was inspiring to listen to trekking experiences of others. First I met Rushikesh who just came from Vaishno devi and was planning to go to Amarnath after the trek. I got tired only after listening to his plan and he was actually executing it. He helped me a lot in coming days by walking with me at my pace and guiding me along the way. Next I met Guruprasad sir who was 65 years of age. He started trekking at the age of 55 and has done vaishno devi, amarnath, Mt kailash, Roopkund and what not. Previously I use to feel I should have started trekking early and it's too late now…but after meeting him I realized it's never too late. His stories were a great source of inspiration.
After that I met Archana and Geeta who became my future tent mates. Some of the trekkers were going to join us directly at Sonmarg. We started our journey from Srinagar – Sonmarg in the cab. The drive was of around 3 hours and was very beautiful. There was a landslide in between Srinagar and Sonmarg and so we had to cross that patch on foot. Due to landslide and bad weather our base camp in Sonmarg was shifted.
Once we reached our new basecamp we met other fellow trekkers and indiahikes staff. There were total 30 trekkers including 10 girls and 3 senior citizens. It was great fun to meet all. I met Rajni, Ursula, Shubhada and Abhijit here. They all had lot of trekking experience and helped me a lot with their experience. We had our dinner and slept in the night eagerly waiting for next day.
Day4 – 12 Aug 2013 – Sonmarg base camp(7800ft) – Nichnai(11500ft) via Shekdur
We packed our lunch and went to our original base camp in cabs from where we started the trek. My backpack was too heavy for me to carry so I gave it to mules and decided to carry only a daypack with essential things such as water, rain jackets, packed lunch and extra sweater. I forgot to carry the daypack and when I told it to people over there, one of the horseman quickly arranged a bag for me.
We started our trek at 9:30 in the morning. It was pleasant sunny weather when we started our trek. From the height Sonmarg was looking very pretty with Sindh river flowing alongside.
The route ahead was beautiful with green trees all around. We were walking with little breaks in between till we reached Shekdur where we had our lunch and took the much needed rest.
After lunch we started walking again. The route ahead was full of rocks and suddenly it started raining. We continued walking in the rain over the rocks, trying to avoid slipping as much as possible. Whenever we saw some tent we hoped it will be our destination but we were proved wrong each time. The last leg of the day's trek seemed more difficult than complete day. We finally reached beautiful Nichnai camp site at around 5:30 in the evening where hot tea and pakodas were waiting for us . We walked 13kms and gained an elevation of about 3800ft.
The camp site was beautiful with river flowing next to it and mountains all around. I always wanted to stay in a tent at such a beautiful place.
Myself, Archana and Geeta were going to share the tent. We arranged our tents and went for dinner. While coming back Archana asked me to look at the sky. It was so beautiful with lots of stars. I had never seen so many stars before. The day ended with our trek leader giving us the instructions and information about next day route.
Day 5 & 6 – 13 & 14 Aug 2013 – At Nichnai waiting for the rain to stop
When we woke up in the morning it was raining very heavily. The tea and breakfast was served in our tents and it was decided that once rain stops we will start ascending to Nichnai pass. We waited and waited but rain did not stop till evening. We spent whole day in tent talking to each other, hoping that rain will stop. The rain stopped in the evening and everybody came out of their tents. We had one extra day in our trek schedule, so there was still hope of completing the trek. But it started raining again in night and we could not proceed with the trek on next day as well. I was getting very disappointed and Archana and Geetha were trying to cheer me up by saying that we will do this trek next year in the same batch. They both were of great support during these 2 days. Slowly I also started to realize there is nothing we can do other than to accept the fact that we cannot fight against nature.
I realized that there are people who came from US and Europe especially for this trek and they will be much more disappointed than me. I realized that in this short duration of trek I have not lost anything but learnt lot of things. I am more confident now than I was at the beginning of trek that I will be able to finish this trek successfully whenever I do it.
Day 7 – 15 Aug 2013 – Nichnai- Sonmarg – Srinagar
The rain stopped for some time in the morning and as the weather was still not stable we all decided to end the trek and move back to Sonmarg. It was 15th August so to celebrate the day we sang our National Anthem and then started to descend. Due to rain the trail was completely filled with mud, and itincreased the weight of our shoes by atleast a kg. We reached Sonmarg around 12:30 and took cabs to go back to Srinagar. We all parted ways in the hope to meet again next year.