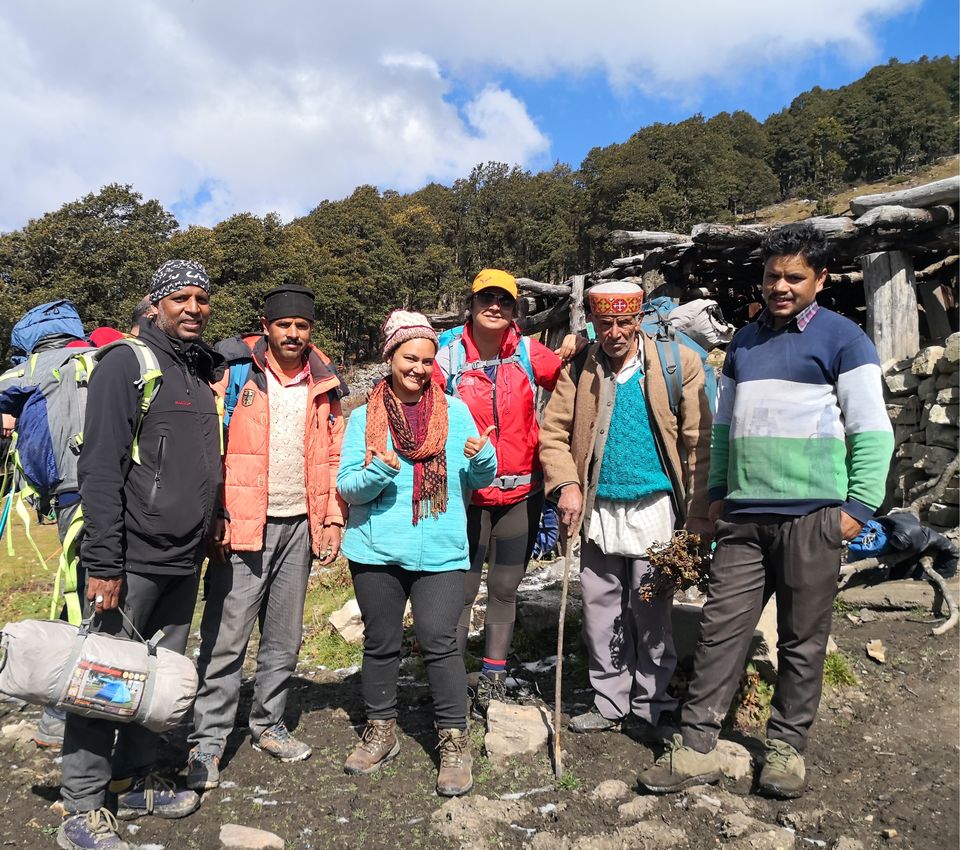 Mountains has always been my favorite place. I always believe that Nature heals your soul and it calls you when in need. After my knee surgery in 2016, my trekking life started. This Lambhari Trek was never actually in my bucket list as never heard about it.
I was in a disturbed state of mind and was just scrolling the facebook ladies travel group and found this Trek ad. Without any second thought, I just messaged, got the details and immediately booked, as I really wanted to get lost. When enquired, I was told with my body conditions and previous treks, this is similar and I can do it.
I had taken a volvo from chandigarh to Aut. The drop off point was before a tunnel that lead to Manali. It was supposed to reach by 6.45am and a pickup was arranged at that time from there to Tirthan valley. But, that day, the bus reached before schedule,at 5.30am itself. I was left all alone on the Highway of Himachal. The cab driver couldnt be reached due to poor signal. Somehow coordinated with my Trek leader and after 20mins of standing in the cold, little tensed as was alone, the pickup came to my rescue. The start itself was adventurous and I wondered what the rest of my trip would be like!
1st day of trek, was very cool walk till Serolsar lake. It was damn cold as winter started. The group was small and fun loving people.
The 2nd day of trek.. damn! What an experience! Never ever thought in my weirdest of dreams that something like this could come up and I had to do that. The start of the day was climbing uphill without any trails. It was breath taking and had somehow managed to climb. The 2nd stage of it was to climb down the hill where it was rocky and slippery. If one just slips, thats it, for sure will break some part of your body. There was a point where one has to cross the rock to other side and when you look down, it sends you a shiver in your body. Esp for 1st timers like me. There was no other choice than doing it as one cant climb up and return. We had 2 local guides with us. One was a 64 yr called Karamchand Mohan, in short we called him Mamu. He held my hand and kept saying "Khulke Chalo, Khulke chalo". And there I was , couldnt even see a place to keep my leg and wondered "kaise chalun in first place"!
He dint leave my hand and almost kept dragging me down. "Trust" is what played the game. I blindly followed him and was down after almost 30mins. This phase of climbing down, taught me Whatever test Life throws at you, Dont overthink nor crib.. one must keep going. Thats the only solution!! God only knows, how much I had cursed myself so much for coming on the trek hahaha (But now, happy I Did this!!!!)
After this tough phase, the trek seemed to be moderate with ups and downs. The whole night it was so cold as it was snowing. The next day all we could see was the hailstones, which they called Ole.
Last day, was another phase to come back to civilization. The way was too steep, rocky, thorny bushes. 4 hours of fight with self to get through these and come down to road.
The best part of trekking is when you reach the top and see the beautiful landscape, the surroundings, the mountain ranges.. all the tiredness vanishes and the efforts that one takes to reach here, we feel proud of ourselves.
I had experienced campfire, gossips with co-travellers and learning lot of things, staying in shepherds temporary stays, how life of the local guides is, the simple yet yummy food cooked by our guides, esp Sarson ka saag that which we got fresh in the camp site, laughing on silly jokes,running like a mad little girl on the meadows..
The sound of silence can be heard when you are alone in such place. You can actually feel your soul talk to you. Theres nothing precious than hearing your own heartbeat that says you are Alive! Explore Life at your best and know Yourself!
Thanks to the Trout Adventure team for taking good care of us.
Whatever it is, Trekking life is something one has to experience and feel it..cannot be explained!
Though this might be an easy trek for regular trekkers, for some like me as beginners, it was an adventure. Lots to learn in this process. Had confidence gained that I too can do these things, after a knee surgery, at this age of 40+. Nothing actually is meant to be cribbed for. Nothing is permanent in this Temporary Life. Came back with fresh mindset.
Its all in our Mind. 'We are what we think'.. as Budha says!
This was the best of my 2019 travel.
#BucketList2019