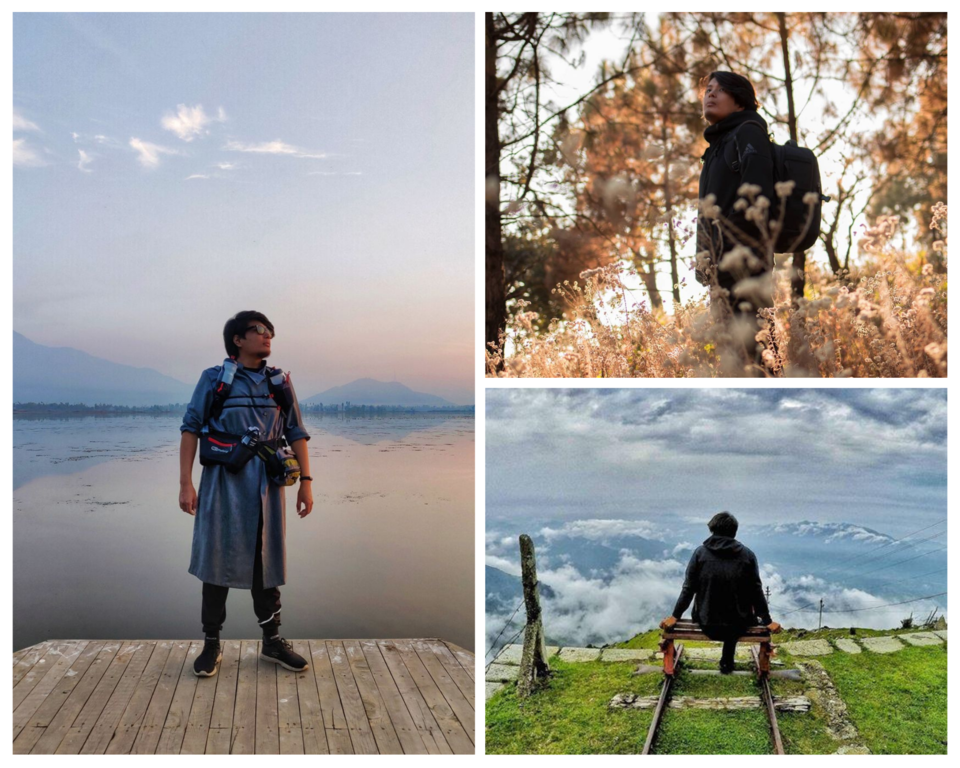 He has been on journeys where he was kidnapped by the conviviality of people, got arrested in the sweetness of nature, crossed lonesome as well as cramped roads, and has been living a life on the edge of everything. There were times that he cried, fell, faced natural calamities, and wanted to quit, but not giving up was his only mantra. And with all of that, he gathered experiences of a lifetime and achieved what is deemed impossible or challenging. What you will read is an account of inspiration, dedication, and above all, as Shubham wants us to follow: Minimalism, simple joys and sustainable living.
Who is this person?
Shubham Dharmsktu has been a TedX speaker, owns a sustainable adventure tourism company, completed the solo walking journey from Kashmir to Kanyakumari, ventured on a solo cycling adventure in the Himalayas, has helped locals in selling products, and is today supporting foreigners stuck during the pandemic in Delhi.
What does he do professionally?
He is a photographer, filmmaker and professional traveller. He is religiously working on travelling Sustainably, caring about the environment, making acquaintances on the way, following a minimalist lifestyle, making people aware of the degrading lifestyle and, obviously, inspiring others.
Why are his journeys extraordinary?
He is merely 26, and at such an age, he is known for his iconic 5000 km walk from Kashmir to Kanyakumari, which he covered in 180 days. Besides this, he has done solo cycling of the whole Himalayan to promote sustainable tourism covering a distance of 6000 km of mountain cycling in 105 days. For a start, he even cycled solo from Ahmedabad to Kanyakumari, covering 3200 km in 55 days.
Most of his expeditions revolve around environmental sustainability awareness and minimalist life.
His account of travel
5000 km, 180 days, 56 blisters, 9 states and 3 union territories, four pairs of footwear, 3 pairs of clothes and one backpack—this is what his life looked like for some days. His genuine efforts pushed me to scroll through his feed to find out what he must have felt while on Kashmir to Kanyakumari solo walking expedition. Here are some excerpts from his journey. Keep following!
Day 4, 8th November 2018: Mountains and solace are great companions!

"Today was a tiring day with a lot of muddy, uphill roads. It was a combination of lots of snow and bright sun. I took the longer route, diverting from the national highway and entered a dense forest to explore it. It was a great decision."
15 December 2018: It was never about getting famous!

"This journey was never about walking an unbelievably long distance, how many km I cover, or setting a record. I can give up some sleep for the experiences, stories and love. It's just magical, and it's one of the motivations behind walking solo from Kashmir to Kanyakumari."
24 February 2019: Photographs are just a trail of remembrance, not a reality!

"Every day, I get messages from people that they admire this lifestyle, but behind these cool photos, I have burnt my skin, have slept in uncomfortable places, slept without eating, but yes, all of this is worth it!"
29 March 2019: A traveller observes everything as a third person!

"For me, travelling is one of the most important jobs. While the whole world is busy playing their roles, a traveller observes everything as a third person while being a part of it. It is more important to be a story listener than a storyteller. While thousands of people do the same thing, watch the same movie, read the same book- no traveller will ever have the same experiences."
09 May 2019: You cannot fit him in any box: he is a real traveller.

"From -5°C that freezes bone to hot 45°C that burns the skin, I have seen snow slowly turning to sand. The solo walking expedition, which has given me millions of stories and turned hundreds of people into my family, has finally come to an end."
What he gained from his journeys?
Every day was a surprise. Shubham stayed with multiple families, tasted food that he had never tasted, visited places like never before, heard stories and in the process, he became someone he had never imagined he could be.
Indeed, travel changes you. And in Shubham's lines -
"Let's go out! It doesn't have to be Ladakh or Paris! Travel can be just going to the nearest chai place and talking and listen to new stories or chilling with the neighbours whom you've never met!"
Explore Tripoto's exclusive, 'Mera Shandar Bharat, Safar Anokhey India Ka' where we are celebrating India and the inspirational people who make it beautiful!
Earn credits and travel for free with Tripoto's weekend getaways, hotel stays and vacation packages!
Read Shubham's stories on Instagram.