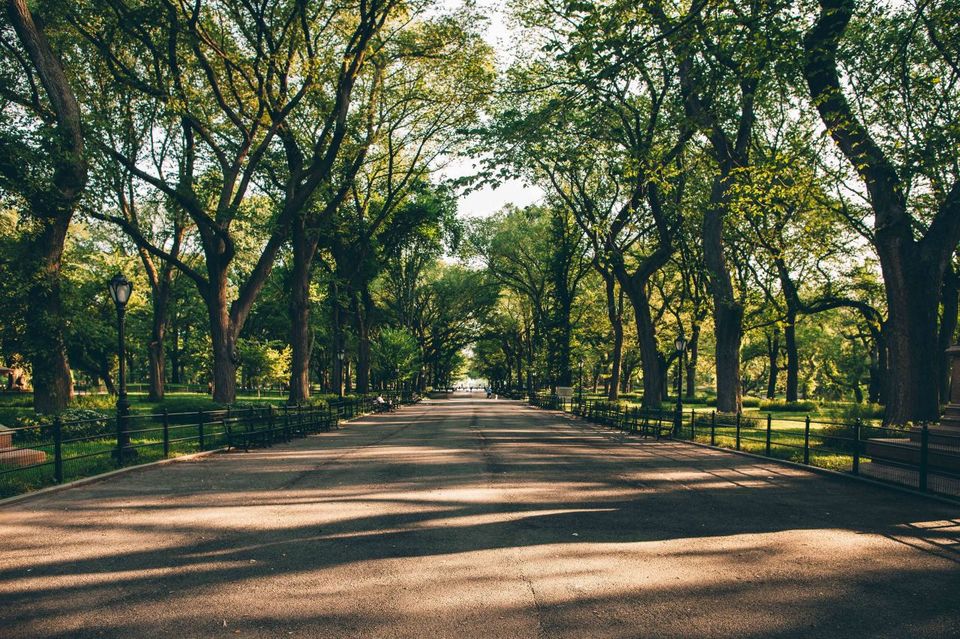 With the growing pollution and decreasing air quality in most big cities of India, Bengaluru stands as a breath of fresh air (pun intended!) The Silicon Valley of India might be home to big multi national corporation offices and large industries, but is also known for some of the best sunsets in the country, offering spectacular views of the city line, and the treeline alike. This refreshing amalgamation of nature untouched, along with globalization is also home to some of the most beautiful green spaces in India. Whether you are a sunrise lover, or a late evening runner, or just a small family looking for picnic spaces, these 7 parks in Bengaluru must be on the top of your list-
1. Cubbon Park, Sampangi Rama Nagar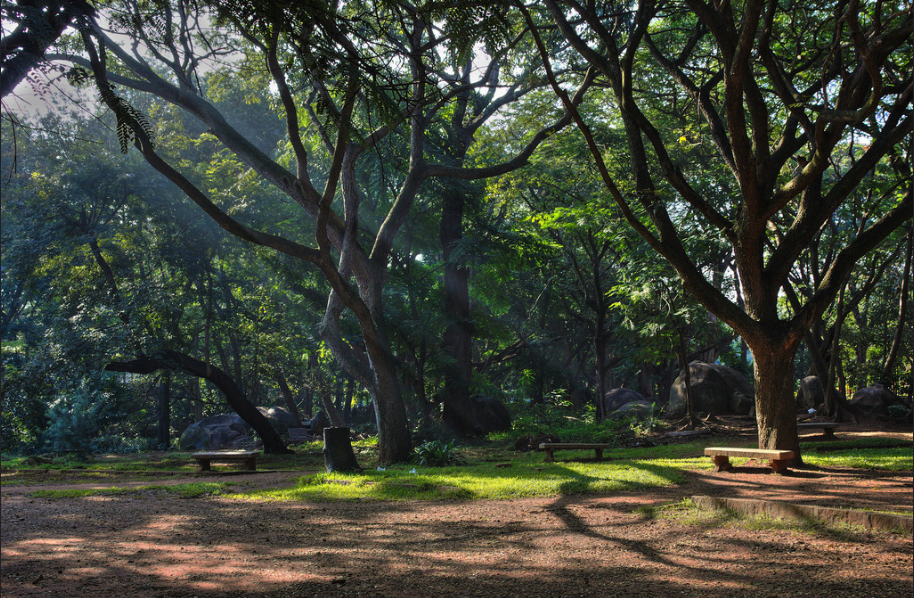 Officially known as Shri Chamarajendra Park, this famous landmark of Bengaluru city is even known to those who haven't yet been to this beautiful Karnatak land! This massive sprawling lush green park right in the city's center covers an area of 300 acres and is famously called the 'lungs of Bengaluru'. Along with well laid out walking and running tracks, this park is also home to a number of neo-classical styled government buildings such as the Vidhan Soudha, the Public Library and the High Court. Cubbon Park also has a toy train which is popular among kids, and makes it for a great family picnic spot. Located right in the heart of this 'Garden City', Cubbon Park is the go to place for all nature lovers because of its flowerbeds, trees, and lush rolling grass. The Park is also a sight to see in the evenings, with its lit fountains, giving it a magnificence beyond comparison.
2. The Coles Park, Frazer Town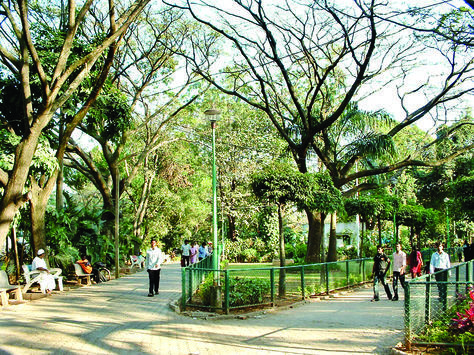 This little gem in Frazer Town is the perfect place to unwind after a hectic city day, or to go on long early morning walk on the weekends. With so much to do here, it's easy to lose track of time in the Cole's Park. It is also perfect for little kids, with a special play area dedicated just for them, complete with monkey bars, jungle gym, swings and slides! There is also a seperate skating rink here with regular classes for children.
3. Cariappa Memorial Park, Shivaji Nagar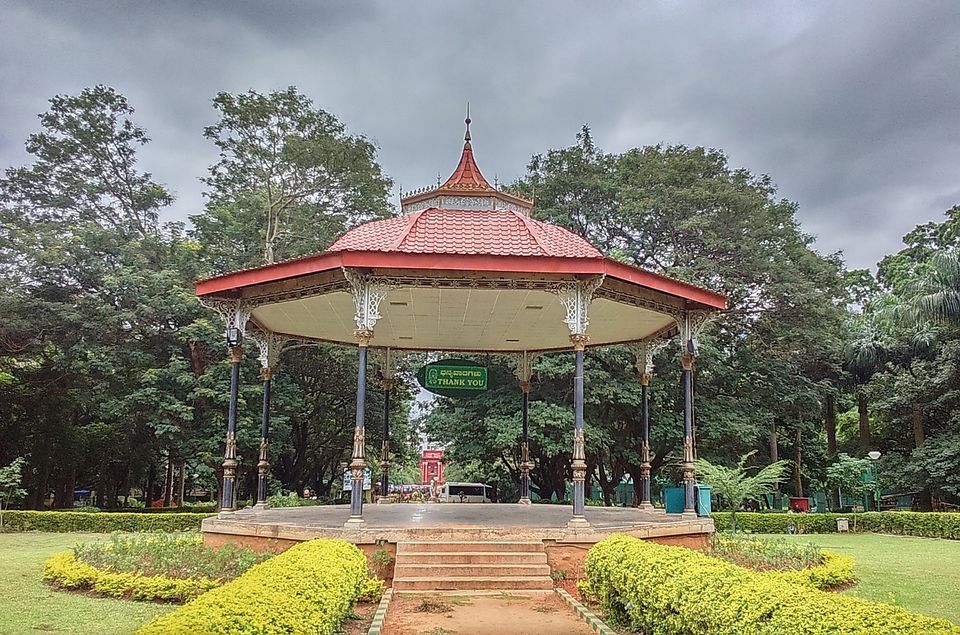 Located in the Parade Grounds between Cubbon Road and MG Road, this park was built in the memory of Field Marshal K M Cariappa who served the Indian Army. Perhaps it's most famous attraction is the six military bands that perform here every fortnight. The bandstand and grassy dunes make for a perfect seating for the public. Maintained by various divisions of the Army, about 3000 species of indigenous and imported plants and trees can be found here. Its small waterfall with a pond also make for a good spot to relax. Another important feature of this park is its play area created in military style for the benefit of children's physical strength and mental co-ordination. This play area boasts of sand pits, a Tarzan-swing, zig-zag tunnels, a spiderweb, Burma bridge and balance bars. It also features a 1.8 kilometers long well paved cobblestone walking track.
4. Bugle Rock Park, Basavanagudi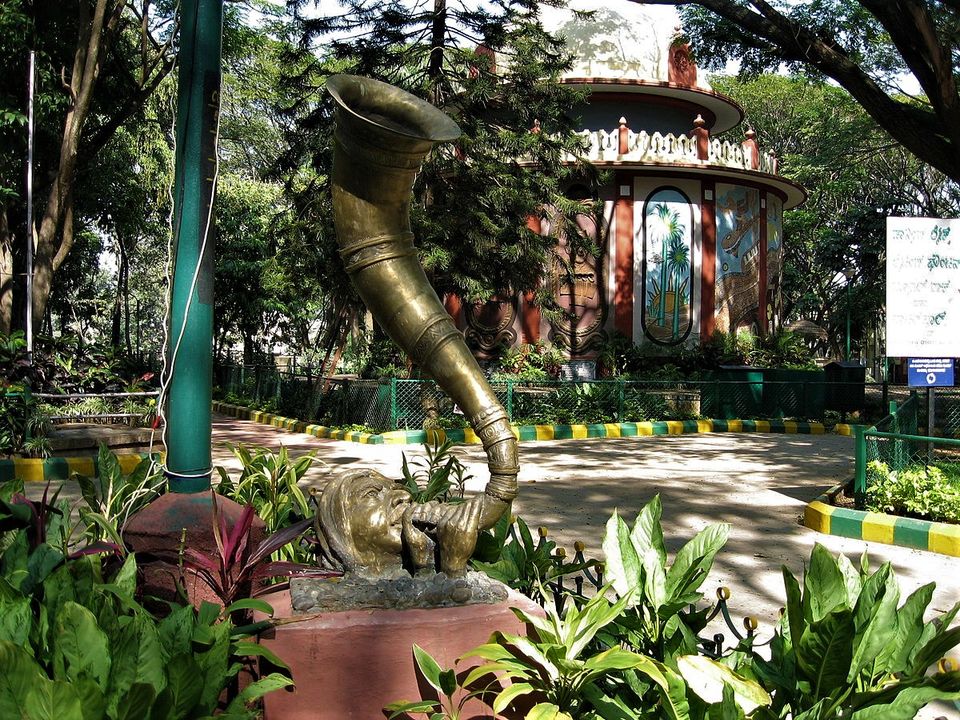 The Bugle Rock located southwards in the city, is a massive rock classified as a 'peninsular gneiss'. Amidst the natural rock formations of the Bugle Rock, the Bugle Rock Park has been developed, which serves as one of the green lungs for the city. Home to three temple and a dense treeline, this park is also called 'walkers paradise'. The park is a geological anomaly and attracts hundreds of nature lovers and scientists from all over the world. Complete with fountains, waterfalls, and a watch tower built over the rock offering a 360 degrees view of the entire city, Bugle Rock Park is the perfect place to enjoy a picnic with your loved ones in the lap of nature.
5. J P Park, Mathikere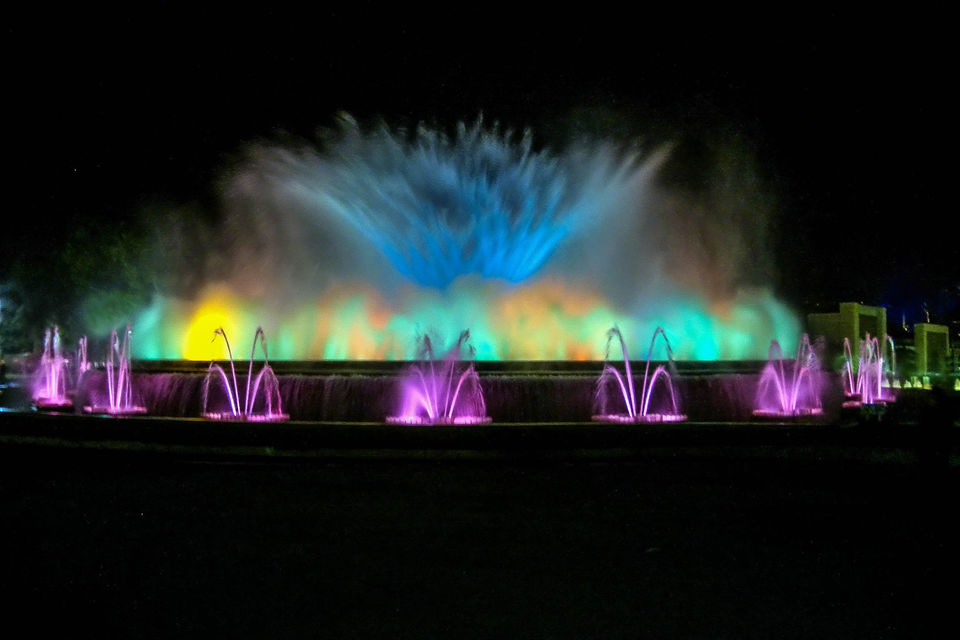 Jaya Prakash Narayana Park, or commonly known as J P Park, is a massive park divided into 3 sections. Its main attractions include the sitting area made of broken glass pieces, and the fish pond where the fishes come to surface to be fed by visitors. The weekly 30 minutes long musical fountain show also attract many visitors, and this park is a famous spot for runners and walkers. Sprawled across 25 acres, the park also boasts of four lakes, over 250 varieties of shrubs and trees, and select exotic aquatic species.
6. M N Krishna Rao Park, Basavanagudi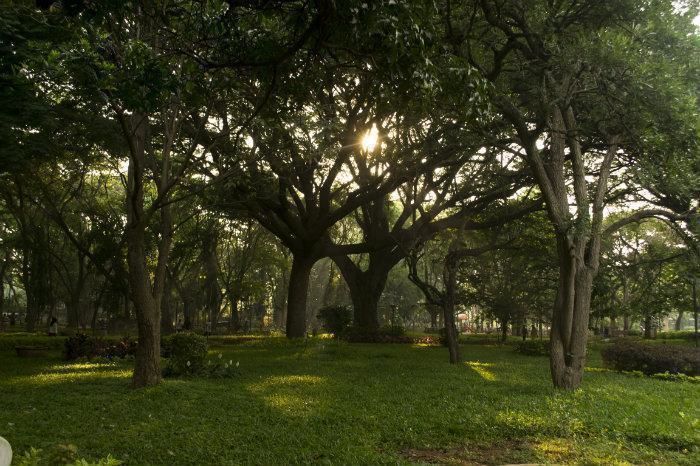 Named after the Dewan of Mysore, this park is home to several canopies, and some of the oldest trees of Bengaluru. It also hosts the annual Neralu Tree Festival which celebrates the sanctity of the trees in the park. This one of a kind 25 acres square shaped park is a green space dedicated to women and children only, and is located just a stone's throw away from its elder brother, Lal Bhag Botanical Gardens.
7. Lal Bagh Botanical Gardens, Mavalli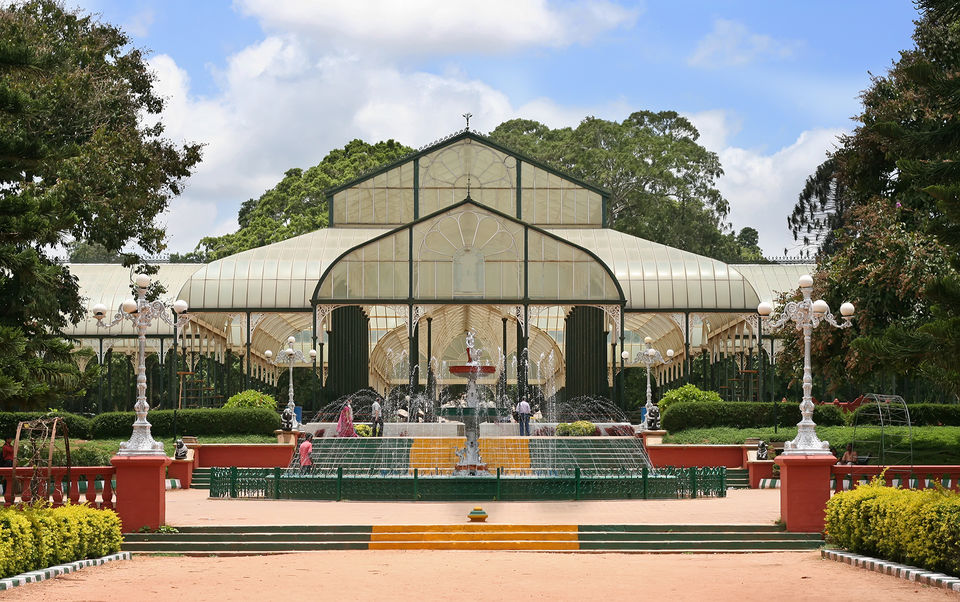 One of the biggest parks in Bengaluru, Lal Bagh is an important remnant of the Wadiyar dynasty. The park pays homage to Hyder Ali who had ordered its construction, but the completion was only seen by his son, Tipu Sultan. Home to a massive glass house, this park hosts two annual flower shows- one on 26 January and the other on 15 August. The park is also home to India's largest collection of tropical plants. This sprawling 240 acres park is complete with a lake and a few lucky sightings of some endangered bird species as well. Perfect of nature lovers looking for a fun day outdoors, or just for a long unwinding walk, the Lal Bagh Botanical Garden is a true spectacle.