Mind you, this one is only for the architecturally and historically inclined ! You won't find anything else here apart from a lot of beautifully carved rocks and temples. And yet, the abundance of it all will enthrall a like minded soul. The beauty that still exists in these now worn out sculptures will make you think: How was it all when such opulent empires held sway over these lands ?
To give an idea of the timeline, it has been a millennium and half since construction began in 6th century AD.
Welcome to Badami and it's environs, and by the way, Hampi is also not far away ( my other article on that historical marvel ). A lot of visitors with time on their hands do club these places together, so may be that is how your itinerary will end up too !
I arrived in Badami on a night train from Bangalore. The town is a short auto/bus ride from the train station, probably 15 to 20 minutes. Enjoy a pleasant sunrise and view even as these 'Badam' ( almond ) colored sandstone rocks announce your arrival into the town center.
My abode in Badami was this decently popular hotel Rajsangam International, bang opposite to the bus stand ( for your trips to Aihole and Pattadakal ). Very conveniently located, there are eateries and ATMs nearby, while the prime attractions of this town, the fort and the caves, are a 10-15 mins leisurely walk away. My room was big and very neatly done, and well, I could see the rocks and it's fortifications not far away from my balcony :-). There was a distant temple to top it all ! There are cheaper options available near the bus stand, but yeah this place definitely had it's perks.
After finishing up with the usuals, I made a quick escape to the rocks, to be able to catch as much of the sights in my camera as was possible in the morning light. Let me begin the photo-tour!
For a general understanding, let me mention that there are 2 rock faces as can be seen above. The north and the south. The south face is where you have 4 exquisitely carved caves which are prime attractions here. The north houses whatever remains of the palace now, which is not much. And you can't go on top of the south face anymore. I don't remember the reasons exactly, but yeah it was possible some time back.
My morning tour of the rocks had come to end, wherein I had covered only the south face and it's cave temples. It was getting hotter, and I returned back to the confines of my room to freshen up and relax before the evening sun would render the rocks aglow. The north rock, would, however, have to wait until next morning.
My evening rendezvous was reserved for this tiny hamlet nearby called Pattadakal. I was well in time at the bus station, from where a half hr pleasant ride led me to the temple complex here which was begun in 8th century AD by one of the most successful kings among the Chalukyas of Badami, Vijayaditya. This group of temples, along with those at Aihole ( another half hr journey ahead ) served as the temple laboratory of the region, where various architectural styles were practiced and implemented elsewhere later.
All temples here are dedicated to Lord Shiva. The Malaprabha river skirts past the complex on the eastern side.
The photo-tour begins.
I had to wait for sometime outside the now closed temple complex, before the last bus to Badami slid into view around 7PM. Jittery moments those, with all the shops starting to close and the crowd around starting to thin out. Expensive camera gear has it's own downsides, more so if someone decides to make a meal out of it.
I remember the bus frequency between Badami and Pattadakal to be every half an hour, which is quite good actually. Just that I didn't expect the bus service to end that early.
With nothing much to do in Badami during the night, I had a nice and quiet dinner, and decided to call it a day. Next morning was to be an early one.
And it began with a walk along the lake's north bank, and on to a path behind the Bhootnath temples, which leads to another temple yonder on the other side of the hill behind it. I was alone, and the path abandoned, so I decided to leave it for another group tour some other time. I ventured on to it for a while before climbing on to a small hillock nearby and capturing this: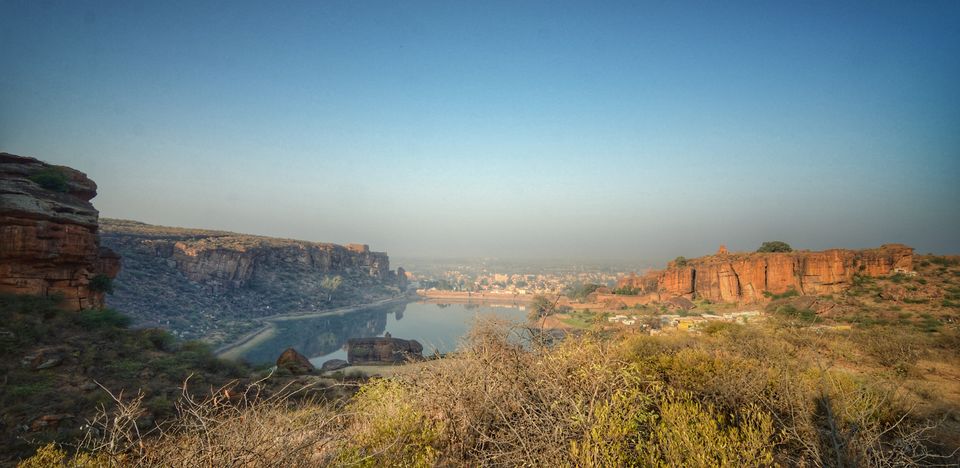 I came back down and the temple came into view, wherein I roamed around it's precincts and then it's surroundings, capturing few pics as below.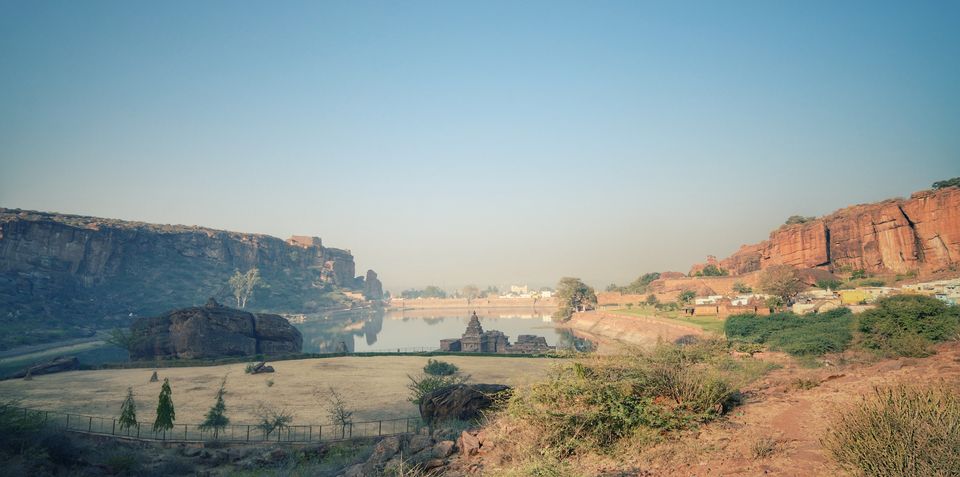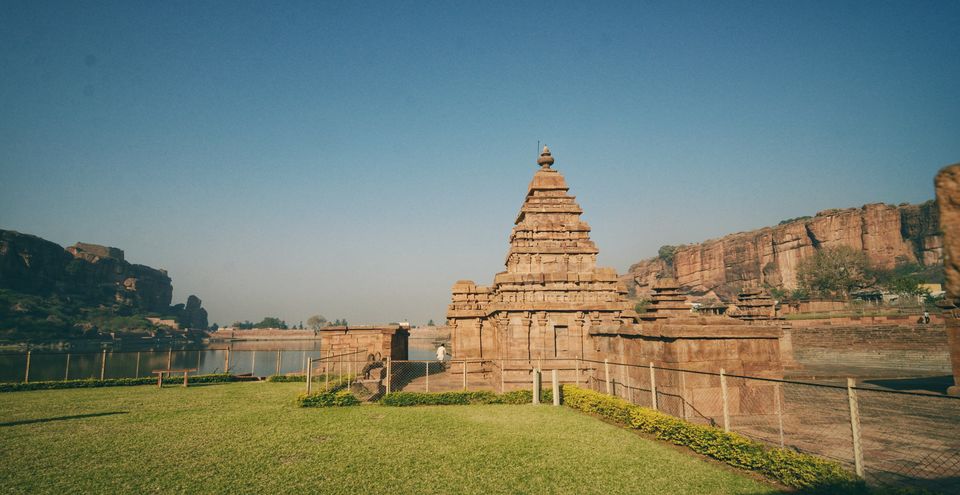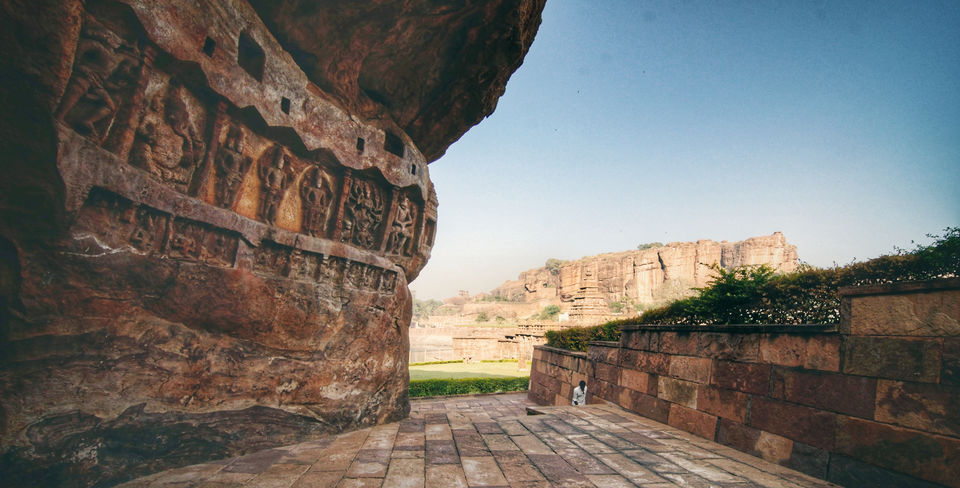 I then traced my steps back along the Agatsya Tirtha, and on to the north fort.
I made my way through the maze of rock-cut pathways further inside the fort; not many of it's older buildings seemed to have survived the test of time. And well, some of the pathways appear now closed and over-ridden by vegetation to even considering treading on them.
I passed a circular bastion which overlooks another Shiva temple down below. A few granaries and dilapidated structures past, I reached the top of the rock, where I came across the Upper Shivalaya and interestingly, a dargah of a popular Muslim holy figure.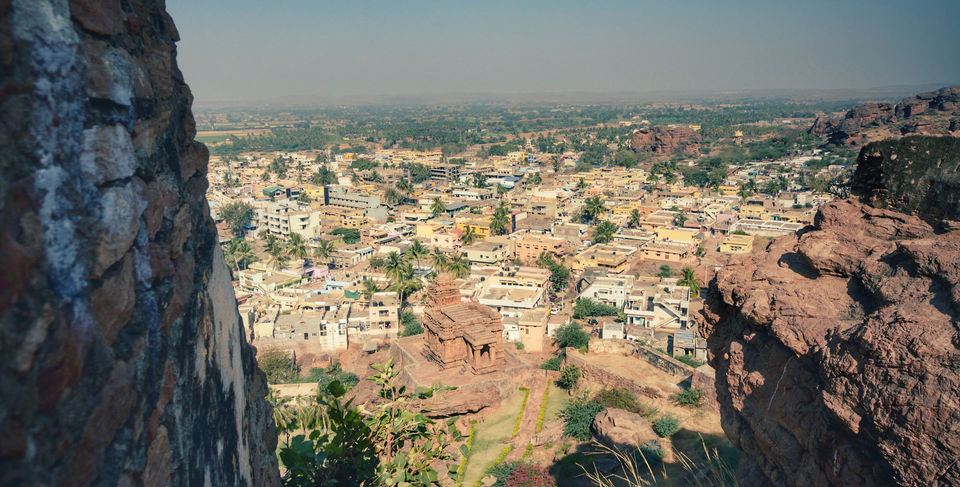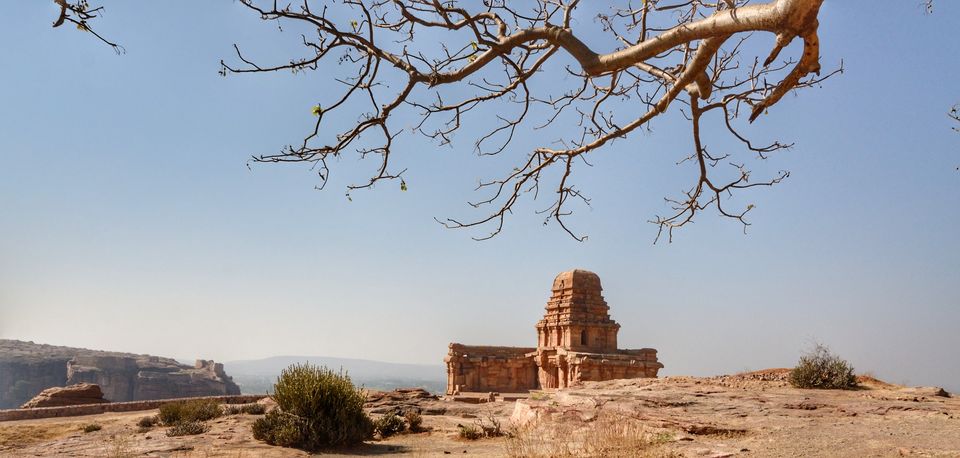 As can be seen from this last pic above, the sunlight had become quite harsh by now, and the day hot. My tour of the North Fort ended thus, and frankly speaking, there's nothing much which remains to be seen here anymore. The walk among the rocky pathways is, of course, something to talk about.
I had to come to the rocks again though, to capture the lake and the Bhootnath temples during sunset, but not before doing a quick tour of Aihole ( pronounced Ai-Holay ), another of the architectural gems of these Chalukyan lands. I returned back to my room, and after freshening up quickly, took the 1 hour bus ride to the village ( Buses from Badami to Aihole run at a frequency of 1 hour, as against half an hour for Pattadakal ). There was no time to be wasted !
A pleasant ride sitting all by yourself and enjoying the wind on your face; quaint little villages and large agricultural fields passing by, these public bus journeys are a bliss where you just live in each passing moment. Everything is new, and a feast to the eyes, so I was soaking in as much of the landscape as I was getting to see. I knew Aihole had arrived as soon as I spotted few old structural remains on one of the hills in it's vicinity. There was a walled fortification as well that I remember noticing. This, perhaps, is the Meguti Hill overlooking the town, and must be included in a complete tour of this place. I didn't have that kind of leisure this time.
The bus entered Aihole village through a small lane, and well, temples had started springing up to the left and to the right, even as we were just at the periphery. And then I noticed something rather unusual. This is a hamlet which looks frozen in time, with human dwellings competing for space with these age old monuments so much so, that an inhabitant can easily call upon you to visit a 1000 yr old temple in his 'backyard' ! People are still living amidst all these cultural treasures, and sadly, inside some of these too.
I was trying to take in all of these sights when the main set of monuments came into view ( properly enclosed, with encroachments cleared and beautiful lawns ready to welcome you ! ). The bus dropped me at the entrance to the complex, the driver reminding me that buses back to Badami can be had with every passing hour.
After a satisfactory lunch at the KSTDC hotel nearby ( highly recommended ), I bade some time therein with another co-passenger of mine. We decided to wait for the sun to relent a little, but both of us had our own itineraries to catch up with. We walked out and started our exploration, first with a temple outside the complex, and then entering the same nevertheless in the interest of time. It was agreed that a complete exploration of the place would require a stay-back here, at least for 1 night, and even then, it would be a hurried one considering the abundance of architecture, and harsh-sun days through most parts of the year.
We decided to concentrate on the main temple complex for the time being, and well, it requires close to an hour to cover in itself. We used our time wisely, visiting a museum inside the complex as well, and strolling along for the rest of the part. The sun did not allow me to take nice shots here as it did in Pattadakal, but then my hurried itinerary was to blame for the same. Nevertheless I managed a decent shot of the most celebrated monument, the 'Durga' temple, which is dedicated to the Sun God actually.
We caught the next bus to Badami as soon as we got out of the temple complex, and bade farewell to Aihole until next time ! I would be back again.
I was in Badami just in time for sunset, and made a hurried dash for my last rendezvous with the caves yet again, this time to picture in the Bhootnath Temples and the lake in the golden warm rays of the setting sun. I was sure the rocks would be aglow and a pleasant site to watch.
I was not disappointed, and attached below are few shots which corroborate my stand.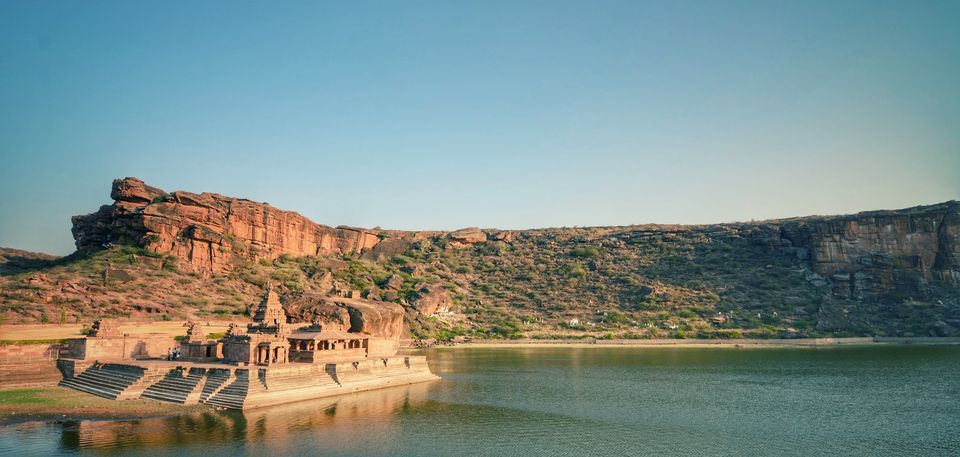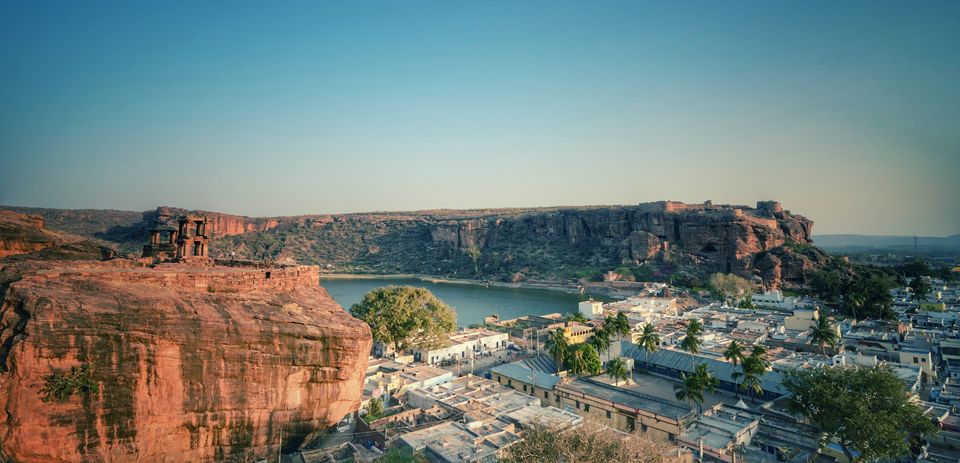 After a short pack-up time back at the hotel, it was a relaxed journey to the train station, and from thereon to my abode in the city !
Until next time Badami !
The Usual but noteworthy stuff:
When To Go: Summer months must be considered only at your own risk ! The heat emanating from these rocks would be unbearable, and so would the temperature be. Late rainy season, and winters are the best time. I was there in Feb, and afternoons were still quite harsh. Aug-Jan should be a decent interval. Try the rainy season if you want to witness the magnificent waterfall from the north rock face, but no guarantees there.
Where To Stay: Hotel Rajsangam International is definitely an awesome choice at Badami because of it's location directly opp to the main bus stand. It's a little pricey though. Try to avail discounts on travel aggregator websites. I got what I was seeking !
Hotel Mayura Chalukya Badami ( Karnataka govt; http://www.kstdc.co/mayura-hotels/ ) should be a good choice otherwise. It is definitely closer to the caves.
For your stay at Aihole ( definitely on my next trip ), try to see if you can book the KSTDC hotel there. It's not listed on their website anymore, but it's a very good option, considering Aihole is a tiny hamlet at best. Food at the hotel is a good and safe bet too.
What To Do: Temples, architecture and history galore ! No night life or shacks as you get to see in Hampi, considering the fact that these are pretty small towns/villages that close down not long after the sun sets.
Tip: Consider taking this book along if you love to explore such places in detail. It's awesome and I'm sure, one of a kind. "Badami, Aihole, Pattadakal" by George Michell. All monuments have been mapped up and described in detail here. Quite much detail, so be careful not to get overwhelmed !