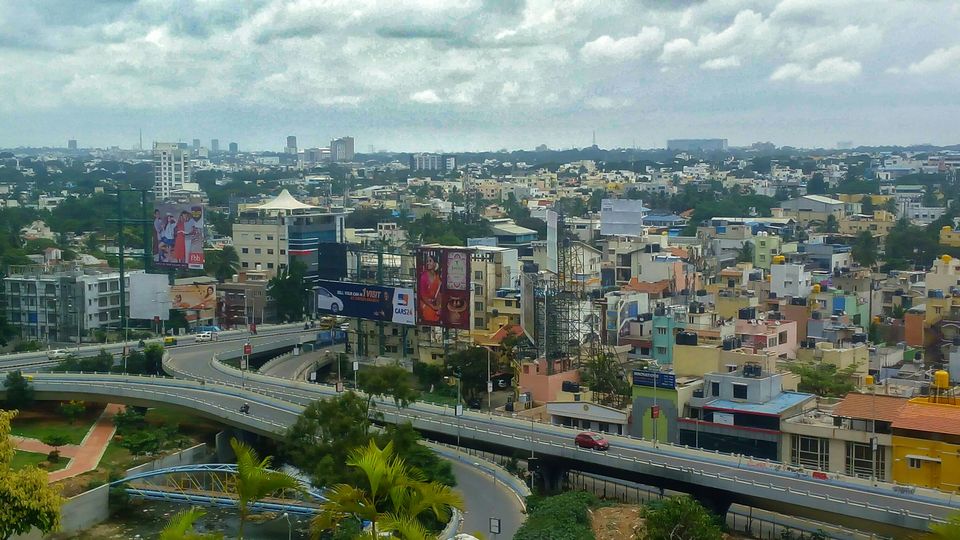 To take an escape from Summer in Gwalior and to save myself from the scorching heat I headed to Bangalore for two months on an internship with a budget of 10,000 INR. I excluded the train tickets this time to avail the offers on various OTA's (Online travel agents). To travel smart it is advisable now to look before you book and use technology as a major tool in saving money as technology is going to be the face of travel in next 5 years.
Gwalior is enroute for any train that reaches Bangalore from New Delhi. The distance is almost 2000 kms and the expected duration of the journey by train is at least one day and 15 hours if train runs on time. But the train goes through dense forest in MP, landscapes lakes and caves in Maharashtra and till the time you reach Bangalore, the weather and the winds makes you realize that the journey was worth taking.
The city of Bangalore is one of the biggest cities in India with the population of over 8.5 million according to the 2011 census. It has the most numbers of engineers and startups. It has various colleges that provide a wide range of career options. Geographically, it is situated 3020 feet above sea level which is even higher altitude than Dehradun in North India. It has more than 20 small and medium sized lakes which not only provide enough water to a humongous population but also keeps the mood to be as cool as the chill wind blows ambience in the city. From gardens that are designed to be set in an expansive area of 5 kms to crowded pubs, from mini forest trails to parks and from royal heritage to modern day co-living spaces, Bangalore has it all.
For someone who loves to be under the shade of giant pine trees gardens like Cubbon Park, Lalbagh are the spots where as for a traveler who likes to party and enjoy nightlife, Kormangaka and Indiranagar are some of the best places.
The hostel accommodation in the city is on its peak in Bangalore which makes it easy to find cheap accommodation in the city. The Karnataka state tourism govt has funded one of the hostel startup to promote budget traveling and backpacking in the state and as of now there are more than 10 hostels in the city itself which accommodate over 300 backpackers on a daily basis. The metro connectivity and public transport facility, cafes and restaurants, museums and libraries, are available on roads on a busy day; this all is as good as the country's capital city New Delhi.
Places to See in Bangalore:
Cubbon Park, Womderla, Water World, Lalbagh Botanical Garden, Jawaharbal Bhavan, Lumbini Garden, Habbal Lake, Ulsoor, Kormangala and Indiranagar.
Places around Bangalore
Nandi hills: A picturesque hill station that is 60 kms away from the city at the height of more than 4500 feet above sea level. Backpackers travel in middle of the night to this spot to gaze at the charismatic view of sunrise from the hill. Many of the backpackers bring their camps and shelter themselves for the night. Accommodation options are easily and economically available nearby. The Nandi hills was summer vacation spot for the great Tipu Sultan and it is surrounded by monuments and temples all around, which not  only makes it a well adored tourist spot these days but also a scenic beauty as the location justifies itself as a hidden gem. Many backpackers from around the world visit this place just to follow Tipu Sultan's trail.
Mysore: At a distance of hundred and a few kilometres, the city of Mysore is one of those heavens in south India that holds the highest rank in heritage and hospitality. The city is famous for its authentic sweets, sandalwood and silk. The glorious Mysore palace and its sound and light show is mesmerizing and each day more than 500 tourist gather to experience that. Mysore zoo is also one of the biggest zoo in India and has few rare creatures like African giraffe and alligators. Even Mysore has a wide variety of hostels to choose from my personal favorite was a hostel that is situated right behind the chamundi hill. The aura of the city is so meditative and yoga friendly that one can go into a trance state at any point of time just by maintaining couple concentration for a couple of minutes.
Backpacking is every teenagers dream, but most of the times youngsters choose destination that are overhyped by the social media and they just follow the trend. Backpacking was started as an activity for character building and that is why the early backpackers chose to explore unknown destinations. Travelling to South India with such a low budget was one such experience for me and that experience counts on my personal character building as I understood that money can get you a lot of things but money is not everything. Its the connection with people, places and planet that fulfills me more than anything.