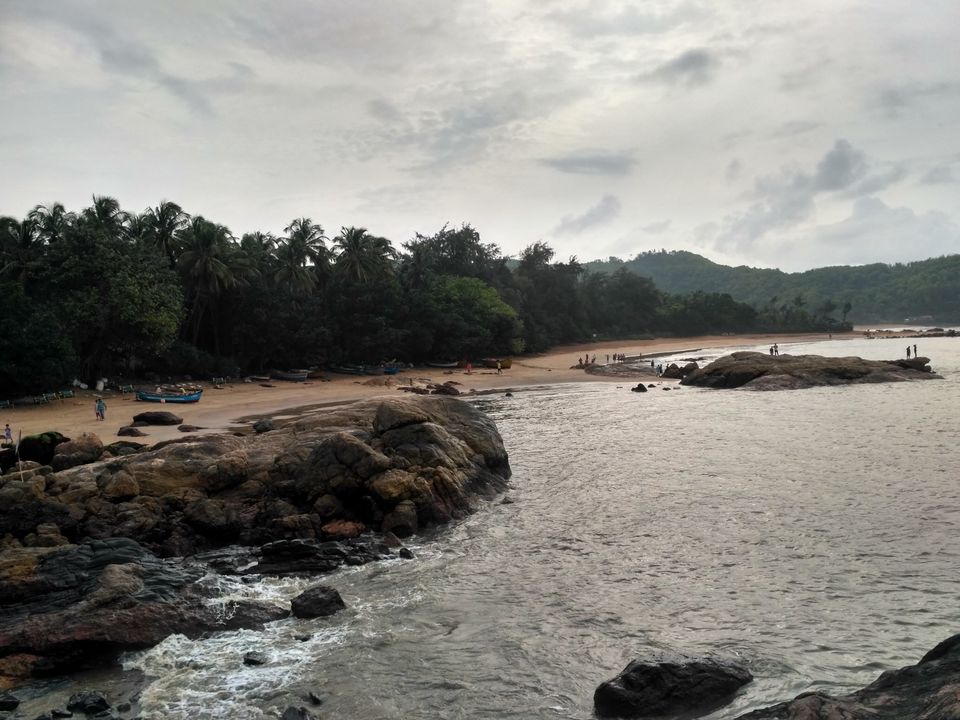 Gokarna was a hidden place till early 2000s and also it wasnt on my bucket list . The only place pwhich strikes my mind when talking about a beach night is Goa. But here the scenario is somewhat different.
I am fortunate that this year i managed to travel to gokarna . The bus was to Gokarna was to pick us up from East End Circle at 7:30 PM. We reached there at 7:25 only to find that the bus had already left from there. I started arguing with the person from the travel agency and being the wise man he was, told me that there was no point in arguing and that I should take the bus standing there to get to the next stop so that we can get to our bus. Wiser words than that haven't been ever said! But in all this, I let out that we were going to Gokarna! Good thing the suspense ended, because Deepti and I spent some time in the rest of journey looking up more information on Gokarna.
The journey was quite fine till we hit Gerusoppa the next morning and got into the Ghats. We were on the upper seats in a sleeper bus and it was quite uncomfortable being tossed around! We were biding our time and eagerly waiting to reach Gokarna.
There was some confusion on where would the bus end its journey and where we'd need to get down – Gokarna town or Gokarna Cross? Finally, the bus stopped at some place and the cleaner grandly announced that that was the last stop. The bus folks weren't very helpful and we thought we'd figure out our way once we got down. We walked around quite a bit after getting down and realised that we were actually in the Gokarna town and we had got down at the Gokarna Checkpost. One could go inside the town from there or go towards the beaches from there. We decided to head towards the beaches.
I had not booked any accommodation and thought we'll explore the place and then stay where we find something comfortable. Now some basic things about the beaches in Gokarna – there are five beaches in all. One of them, the Gokarna Beach is close to the Mahabaleshwara Temple and isn't really the kind of beach where you can stay for a vacation. It's mostly visited by people who come to visit the temple. Of the remaining four beaches, Paradise Beach and the Half Moon Beach are now out of bounds. Om Beach and Kudle Beach are the ones where one can stay and find options for food etc. Since we had not decided on which beach to stay on, we decided to head to Om Beach and check that out.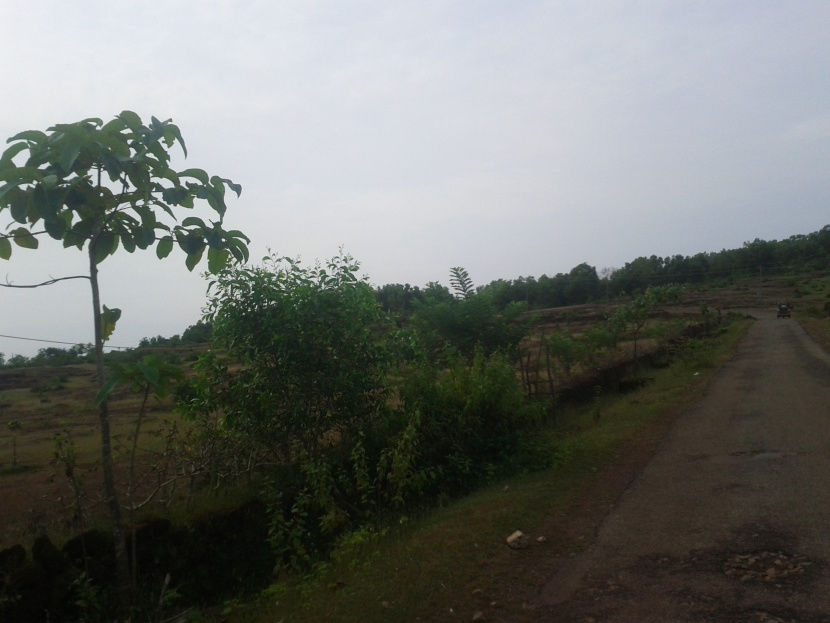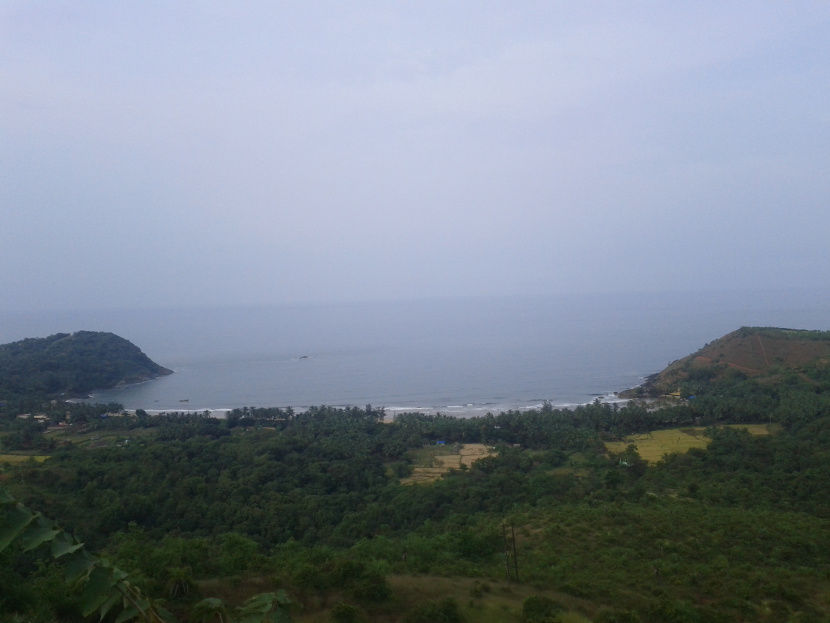 Very exciting indeed! We got to the Om Beach area in the next 10-15 minutes. The autos stop at a certain point and one has to walk down the steps to get to the beach. It was already 9 AM and we were looking to freshen up. There's a toilet/bathroom complex near the auto stand which is built and maintained by the local administration. On reaching there, we were told that it opens only at 10 AM which made me wonder if people there feel like using the restrooms only after 10 AM!
We got to Namaste Cafe which is right at the beginning of Om Beach, freshened up and had some lemon tea (of which I drank a lot of glasses over next two days) and tea.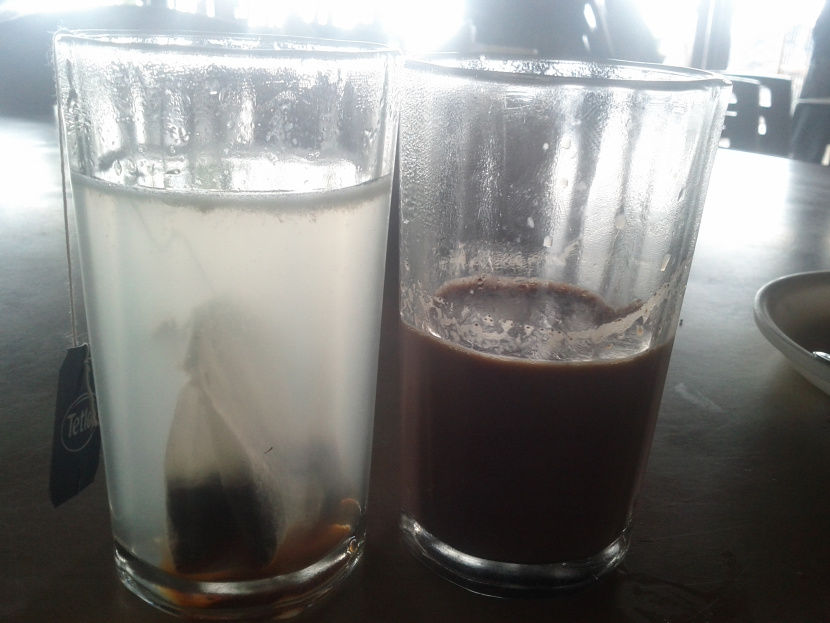 After tea-ing off, we decided look for options for stay and started with Namaste Cafe itself. Apparently, all the cottages were full and there were only rooms available. Now, one had to go round and round around the area to get to the rooms which means that neither were they close to the beach nor even facing the beach. Rs. 1,200 per day for such a room seemed too steep a price. We told the person that we'd come back in some time, to which we got a very rude reply that he couldn't wait for us to come back. Although we weren't considering staying there, that reply just helped us make a quick decision and we started walking along the beach.
It was quite nice to walk along the beach. It wasn't very hot and there wasn't a lot of crowd either. Om Beach gets its name because its in the shape of Om. While Namaste Cafe is the only prominent cafe/guest house on the first half moon part of the Om shape, there are a lot of guest houses on the second half. The first half is quite crowded, while the second half isn't very crowded and has a smoother beach.
A couple approached us while we were walking and asked us if we were also looking for a place to stay. They had checked most guest houses on the second half. While there was accommodation available in one of them, it didn't have rooms with an attached bath which is what they were looking for. Good that they gave us an option which we could check out and in return we told them about the room we earlier saw at Namaste Cafe!
We went in to check Om Shree Ganesh Guest House (yes, that's the name) and found that they had a room (a very basic one, with a mattress a raised platform with a mosquito net attached) and guests had to use a common toilet and bathroom (which were cleaned regularly and maintained well). The Manager (Mr. Ganesh) and the Owner (Mr. Ganesh again, yes!) seemed like nice people and we decided to stay there.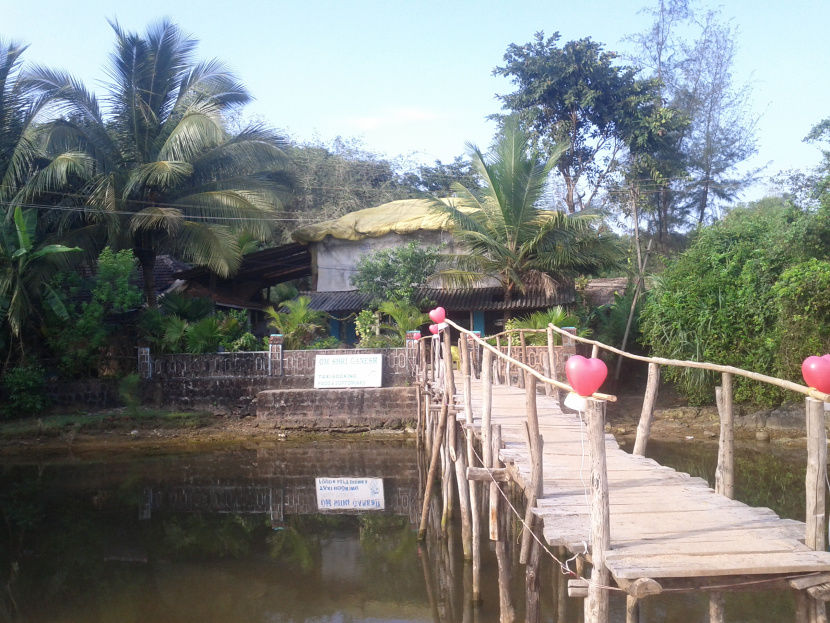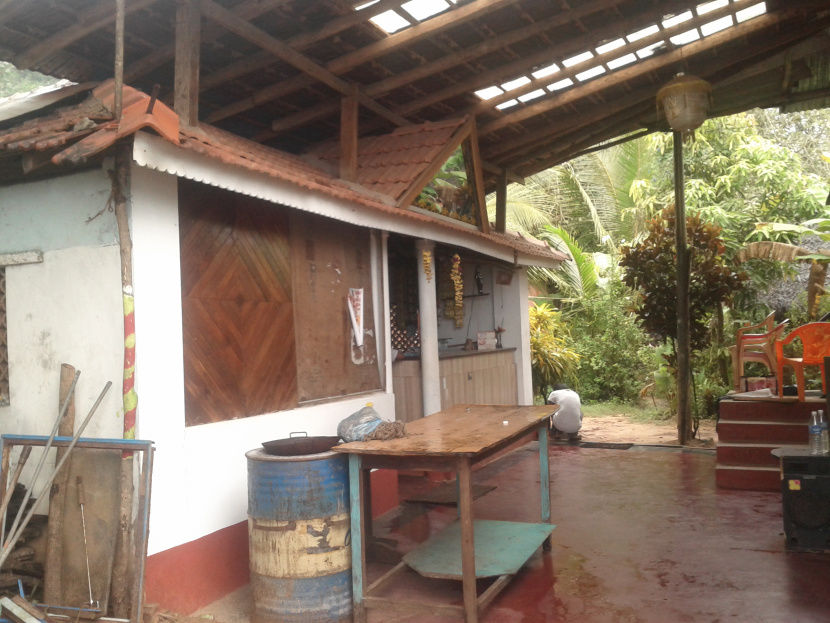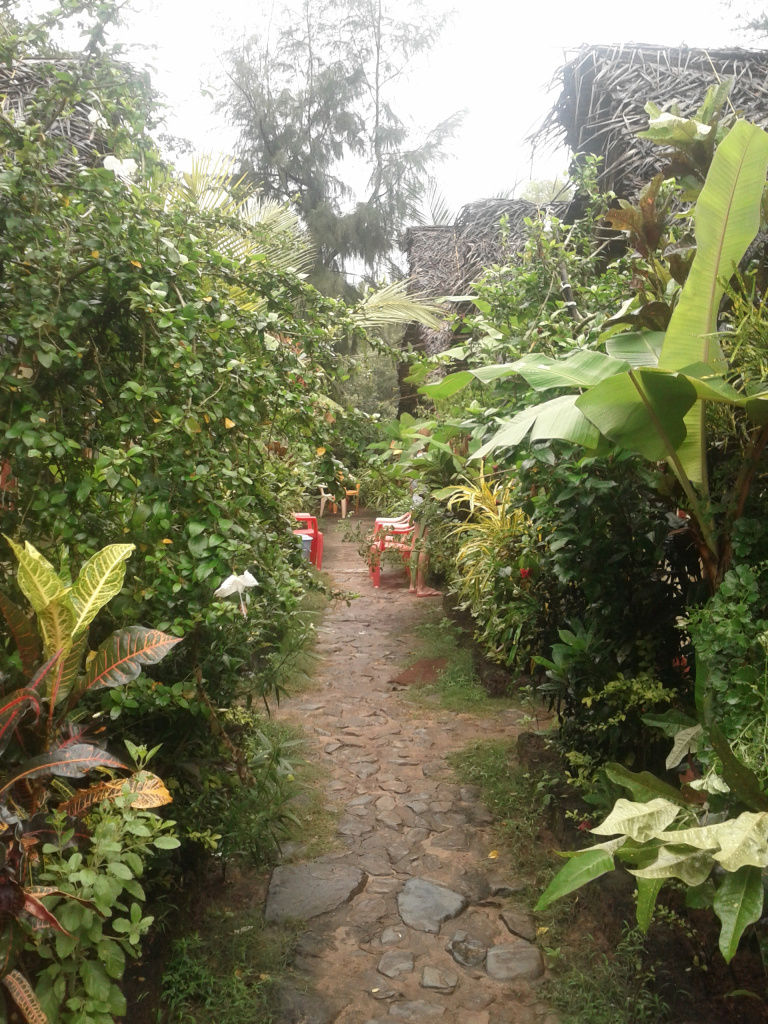 We quickly freshened up, had our breakfast (Om Shree Ganesh makes really nice hash brown potatoes) and got ready to get on to the beach by around 11 AM. Didn't want to get into the water yet and just wanted to walk around and get a feel of the place. Also, left the mobile behind to get some good time away from the 'noise' that the mobile brings.
We walked from one end of the beach to another, encountering an occasional cow (it's Gokarna after all, Go is cow) , foreign tourists taking a dip in the beach or sunbathing, hawkers selling necklaces, bracelets and such wares and people offering boat rides to Paradise Beach and Half Moon Beach along with a possible Dolphin sighting. We decided to go for the boat ride and the boatman after much bargaining agreed to take us for a boat ride covering the beachers and the Dolphin sighting place for Rs. 800, having started with Rs. 1,500 earlier. Moreover, it was just the two of us and thought it was quite worth the money we were spending.
The boat ride was a very good one. The other two beaches, Paradise Beach and the Half Moon Beach were very nice with some fantastic views. And we actually saw Dolphins! Not really large ones which jump completely out of water and dive back in, like they show on NGC or Discovery or in tourism ads of South East Asian countries. Nevertheless, more than the actual Dolphin sighting, it's the anticipation and the lookout for the Dolphins is what's more fun! It was quite nice of the boat guy to stop near the Dolphin sighting place for some more time.
We then hit the beach. The weather was quite nice, warm enough without being very hot and the waves were quite pleasant as well. The water was quite ok, perhaps wasn't the cleanest (slightly muddy), but definitely not dirty to not get into the sea.