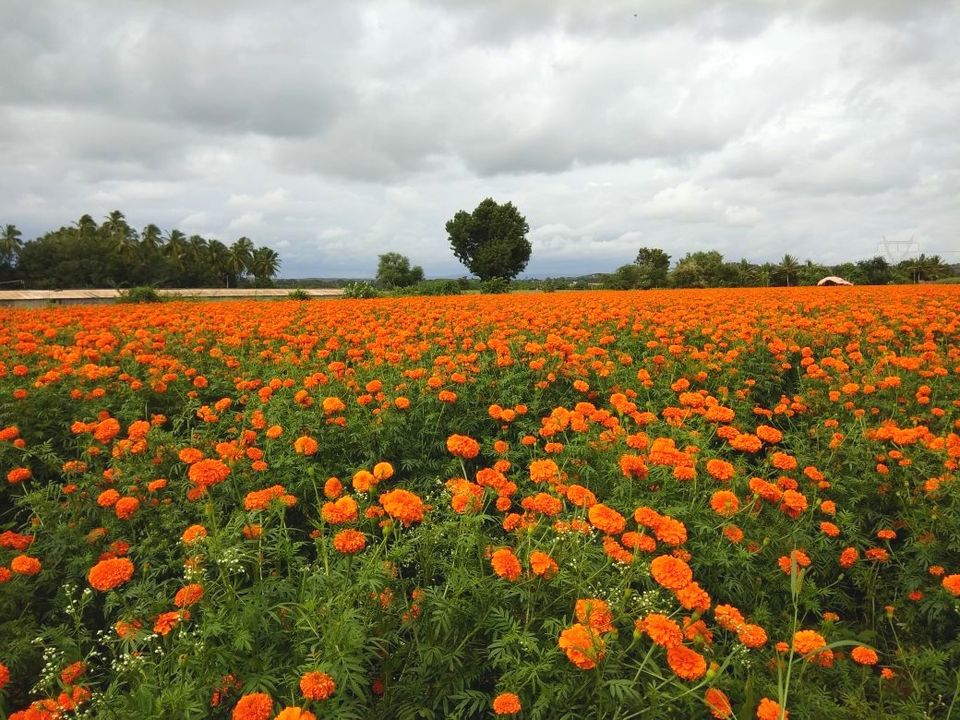 Photographs, courtesy LensDynamic.
An overnight drive from Bangalore, Hampi is a heritage town in Karnataka, India. About 600 years ago, it among the richest places in world, ruled by the powerful Vijayanagara Empire. This city is situated on the southern bank of the Tungabhadra River. It is identified with Pampa, a princess who performed tapasya for Lord Shiva. Pleased, he married her and took the name Pampapati. The Vijayanagara Empire was built around the Shiva temple, Virupaksha.
The route


Leave Bangalore at 11.00 pm.
Reach Hampi at 6.00 am.
- Checked into the hotel.
- Took an auto tour of Hampi starting at the Vitthala Temple and ending at Virupaksha Temple.
- Relaxed lunch.
- Hired a cycle and explored the city.
Drive to the Hippie Hub of Hampi: Anegundi
- Explored Anjaneya temple.
- Coracle ride in Sanpada lake.
- Home cooked lunch.
- Drove back to Hampi.
- Spent the afternoon exploring Virupaksha temple, Ugra Narasimha temple, and the Ganesha and Krishna temples on Hemakuta hills.
Checkout and leave for Bangalore
- Early morning walk to Bhima's gate and bird watching.
- A lazy lunch at the famous Mango Tree restaurant.
- Some shopping and checkout at noon
- Drove back to Bangalore with a quick stop at the Tungabhadra dam.

Detailed itinerary 
My first glimpse was of a granite boulder-strewn landscape, in shades of grey, pink, ochre, and light blue. All around were ridges and hills (huge rock piles) dotted with ancient monuments.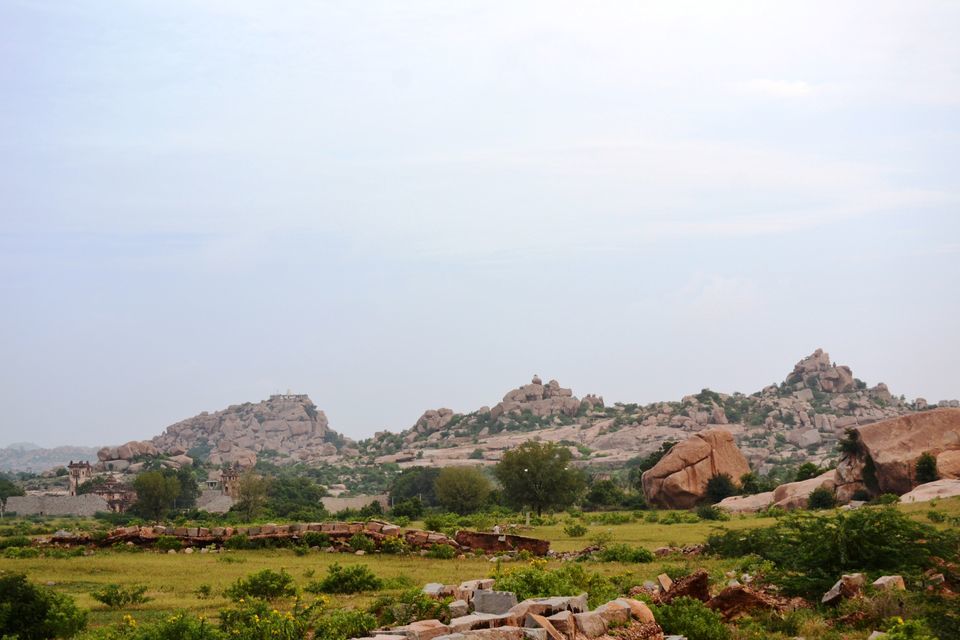 We stayed at the Mayura Bhuvaneswari hotel, this visit, its sprawling garden an easy attraction. The restaurant has a dak bungalow feel with laid-back waiters. While away from the buzzing Virupaksha Temple market, it's a 10 minute walk to the Saraswati Temple, Queen's Bath, Bhima's Gate, and other ruins.
I find monsoon the best time to visit Hampi, though the peak season is December. Frequent showers and cool breeze make it easier to explore the relics. Take your pick – walks, cycling, auto rides, or driving around the city. I remember, during a previous trip in July, the underground Shiva temple was submerged in water, giving it an eerie 'Tomb Raider' feel. Small rain-water pools and reflections add to the magic.
The Sacred Core
A walk through the city transports me back to a bygone age of rock temples, sacred hills, and royal enclosures. The temples of Hampi, some with active worship, form a strong sacred core. Is this spiritual center the reason this ancient city still captures imaginations?
These temples have intricate carvings … the ones in the Hazara Rama temple are akin to a graphic novel! The famous musical pillars of the Vitthala temple, grand Yali pillars – a mythical creature, part lion, part elephant, and part horse, and underground parikrama chambers … there's so much to observe and obsess over. The chariot at Vitthala Temple and the Krishna Temple are a celebration of Krishna Deva Raya's victory in Kalinga.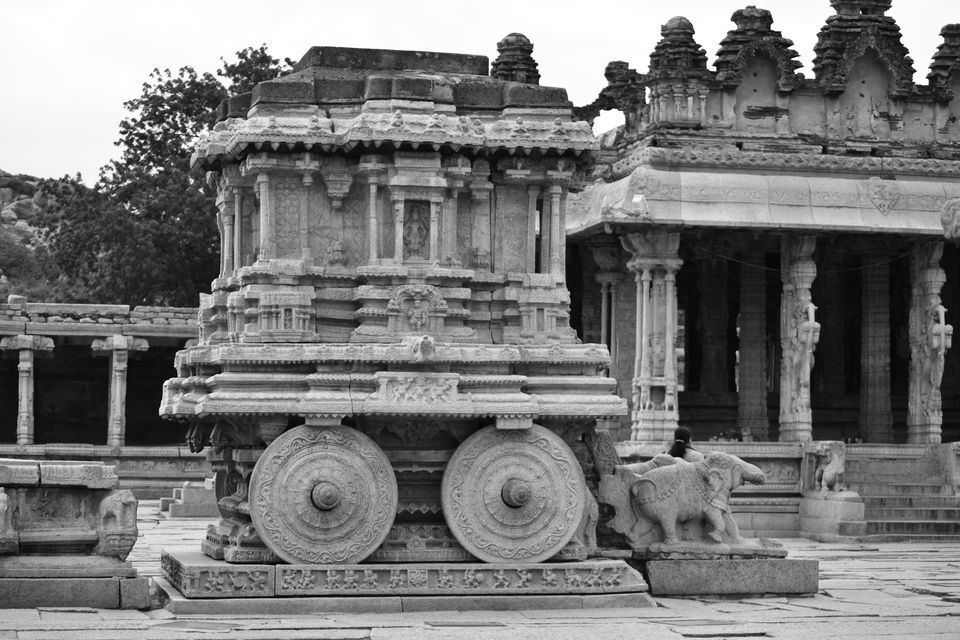 A distinctive feature of Vijayanagara architecture is large monolithic sculptures, such as the Narasimha statue, Sasivekalu (mustard seed) Ganesha, and Kadalekalu (gram seed) Ganesha statues, the Badava Linga and a huge Nandi near Hampi bazaar.
The Hampi bazaar comprises stone shops occupying both sides of the road leading to the Virupaksha Temple. These single and double storeyed shops, though not in their intended state, still make one revel in its imagined glory once upon a time. At the end of the road is the entrance gate of Virupaksha Temple, dedicated to Lord Shiva. The marriage mantapa is the most elaborate structure with murals on the roof that still retains some color. Like many of the Hampi architecture, this one too has a stone foundation with the tops made with slim red bricks. Everything looks so delicately put together like it was always meant to echo through the ages.
Royal and Urban Layout
Apart from the temples and shrines, there are remains of civil structures, canal systems, a row of stone plates (for feeding soldiers), wells and bathing areas, enclosures for Kings, and much more. These are all indicative of a sophisticated and mature civilization.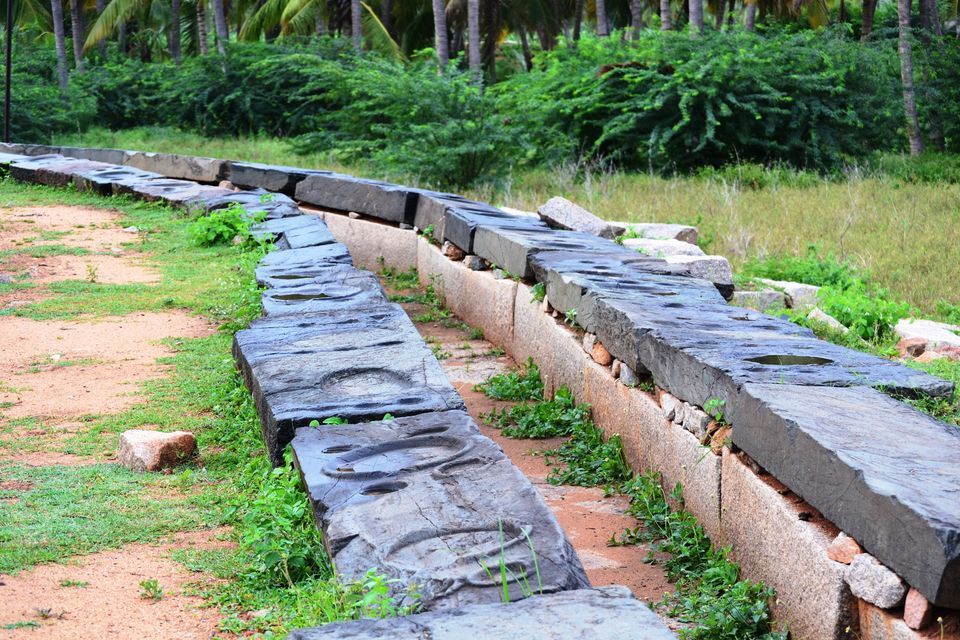 The majestic Elephant stables, zenana enclosure, and lotus bath are simply breath-taking. This enclosure comprises elephant stables, a lotus mahal, and viewing towers at the corners of the enclosure. The Indo-Islamic architecture is a blend of two very different cultures. One just can't resist being besotted with the intricate architecture with a slight Jain influence as well.
Another interesting and unique structure is the King's Balance. A rather amusing yet historically factual method, to measure the figurative wealth of the king with gold and precious stones. The treasure would then be distributed among priests to mark special occasions.
Hire a guide to learn the myths and meanings behind each carving. Of course, a trip to Hampi is incomplete without a meal at the famous Mango Tree restaurant. It's a short walk from Virupaksha temple. This walk to the restaurant is lined with cafes and shops – all catering to foreigners and now the hip IT crowd. From Lambani embroidered belts, to leather bags, handmade books, and Om printed harem pants - there's something catchy that you are bound to like, and take home with you.
The Hippie Side
Cross the Tungabhadra in a coracle, from behind Virupaksha Temple, and you land up in Anegundi. This area was erstwhile Kishkindha, the kingdom of Vanaras, where Ram and Lakshman befriended Hanuman. Today, it's a peaceful hippie oasis. Shacks, with basic rooms and exotic names, dot the river bank. These resorts have trippy art work, lively music, European cuisine, often uniquely charming/recognizable owners, and are the favorite hangout of foreigners. The verdant farms and rocky horizon add a languid charm to it all. Nights come alive with a host of fireflies. Time stops in this tiny hamlet.
Hire a bike and zip through the roads, stop by at lakes with coracle rides, and climb up to pay your respects to Lord Hanuman at his birth place atop Anjanadri hill. An interesting fact - Anegundi is about 3,000 million years old and among the oldest plateaus on earth!
There's always someone interesting to meet round the corner here. Meandering roads through lush green paddy fields and non-intrusive locals present a pretty unique countryside charm. For those who want to take their tranquility to the next level, there's probably a joint waiting for them in a cafe. Alcohol is limited to beer.
The so-called 'sacred' and 'profane' coexist so amicably here. One has to experience Hampiness to truly understand the pull of this place.
How to reach Hampi
The nearest railway station and bus stop is Hospet, about 13 kms from Hampi. You can also take a flight to Bengaluru and drive down to Hampi.
A single ticket is required for the Zanana Enclosure and Vitthala Temple Complex. Indians, and citizens from SAARC and BIMSTEC countries, have to pay 30 rupees for a ticket. For others, its 500 rupees.
Where to stay
Hotels and resorts at Hospet
Neat, basic rooms and house stays near Hampi Bazaar
Shacks amid the greenery at Anegudi
Other attractions
Visit Daroji Sloth Bear Sanctuary
Take a day trip to Pattaidakal, Aihole, and Badami