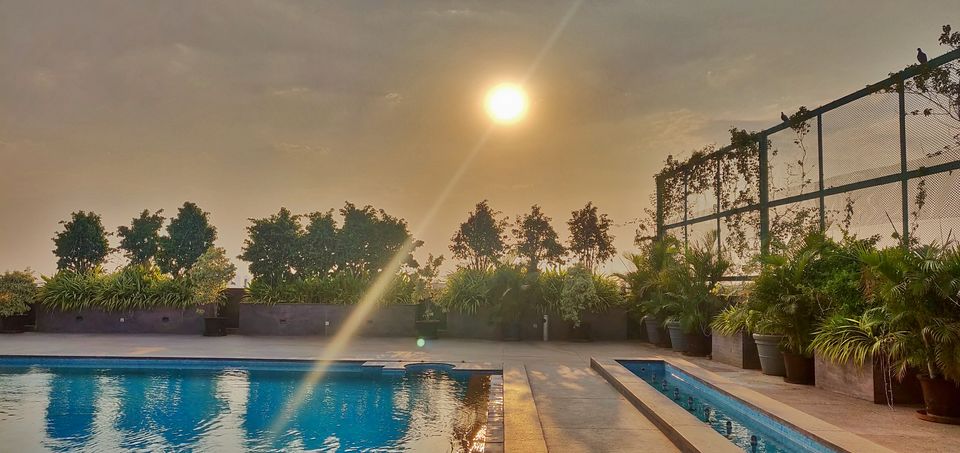 The tech city of Bangalore is home to all things pop culture. In the hustle-bustle of this electronic paradise, we found old-world charm, tailored for contemporary travellers in the tastefully done La Marvella, a property by a Sarovar Premiere Hotel.
Located 2 minutes away from the Jayanagar Metro station, La Marvella is extremely traveller friendly. The interiors of the hotel are largely inspired by British, and European Architecture while keeping up with Indian design aesthetics.
The rooms are crafted to meet the comfort of luxury and space for its guests, with automated control over the lights, and curtains (Ideal for some cosy downtime after a long day at work or to wear off the fatigue after wandering through the busy streets of Bangalore on a trip.)
A rooftop swimming pool with a breath-taking view of the city, and a mini jacuzzi is a surreal experience at sundown. Witness the sun paint the sky in beautiful hues, widening its horizon to present a #NoFilter moment!
What's a vacation without a spa therapy, right? The good Smartians at Sohum Spa, the in-house spa got you covered with their rejuvenating therapies. We personally loved that they have a complimentary 15 minutes spa for each of their guests, and have a dedicated relaxation room for one to unwind on the lounger and enjoy the view with soft music for company.
The restaurant Golden Oak is yet another example of a beautiful architecture with prompt service, scrumptious food and hospitable team. Apart from this, La Marvella is constantly buzzing with weddings, conferences, events and more as the spacious banquets in huge numbers are ideal for the same.
P.S: La Marvella By Sarovar Hotels is a contemporary traveller's paradise. When in Bangalore, bookmark it as your happy place. Until next time, #StayCurious ????