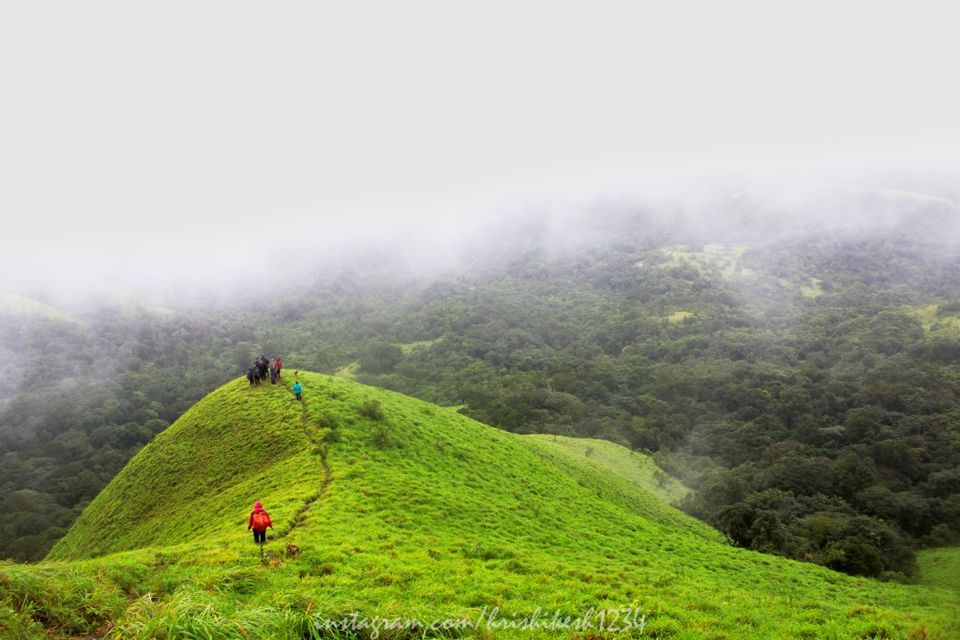 The above title of my post would arguably have to be the longest one I've put up (and could think of). But then this particular adventure in Sakleshpura area was more than just a trek on misty hills. Never did a trek offer so much of adrenaline rush, non-stop, incessant rains, cloud drenched hills which would seldom clear up to give you a moments of exhilaration, and the mammoth army of leeches. Oh yeah, not to miss the near vertical climb on Ettina Bhuja (which I would come back to in the later part of this post).
Niranjan would send an event registration for this trek, which in all honesty I had absolutely no clue about. Bangalore Adventurers (BAT) was setting out on an adventure, and albeit after some hesitation I signed up. Google suggested this particular area is notorious for wild elephants and thick jungles where numerous instances of trekkers losing their path and getting lost (Ombattu Gudda, anyone?). This made the entire deal even more enlivening.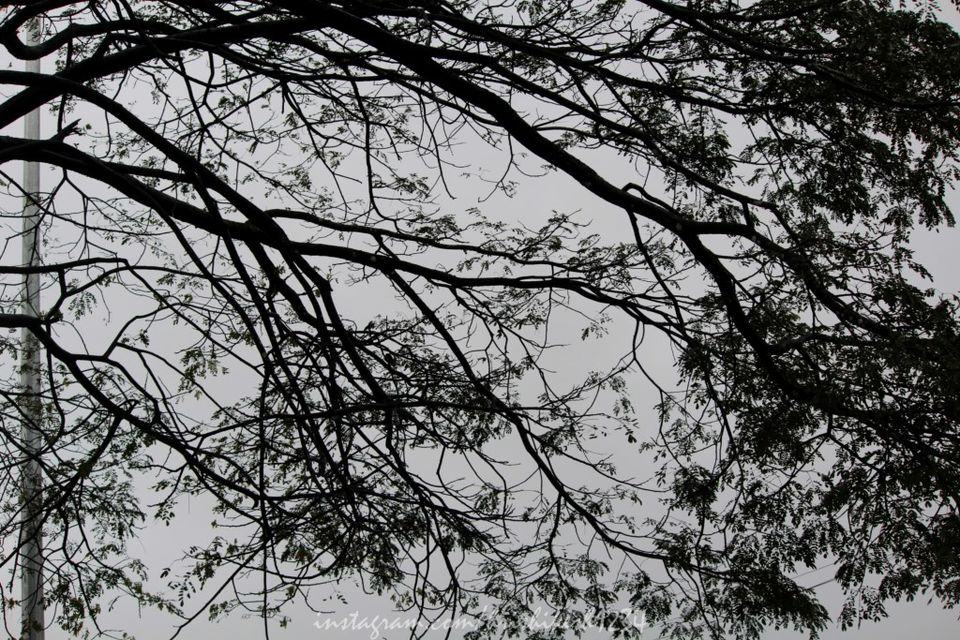 South India was experiencing 4-6 times more rainfall than the average annual rainfall. Rivers running above their danger limit, mudslides, and road closures were few of the many hardships people were facing. I was not sure if it would be conducive to go ahead as per plans. But after the assurance of BAT I decided to go on, brimming with confidence and excitement.
The Rain That Just Won't Stop
We reached Sakleshpura quite early in the morning. Dark, pale clouds welcomed us, suggesting its going to be a slushy day. The remainder bit of the ride to our home-stay was a rather bumpy one. Quite a cozy and warm home-stay this one was (after all it belonged to the guide), surrounded by coffee plantations. A quick changeover for all, and we set out on our trail. By the time we hit the trail it had started drizzling all over again.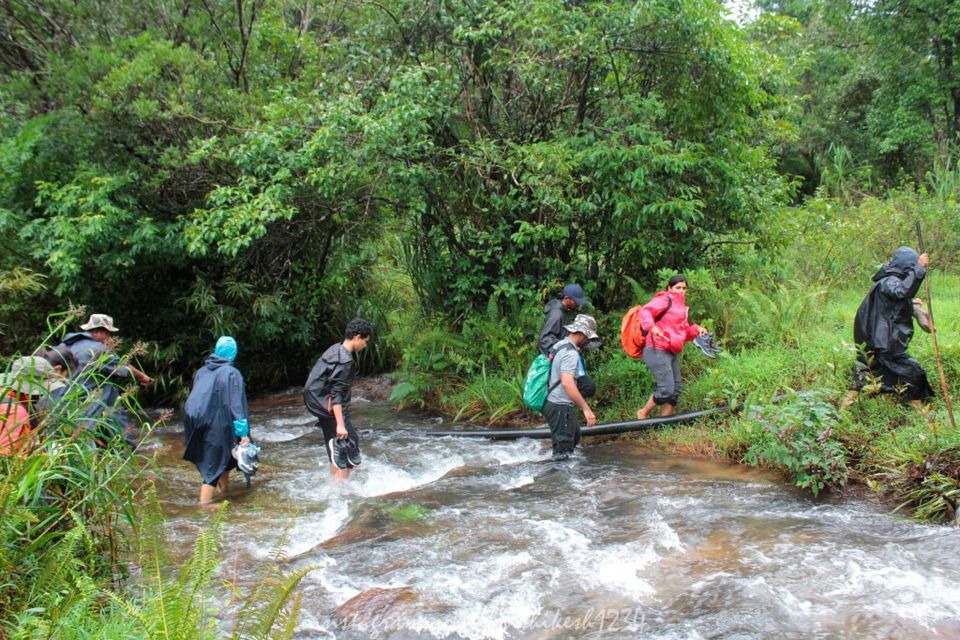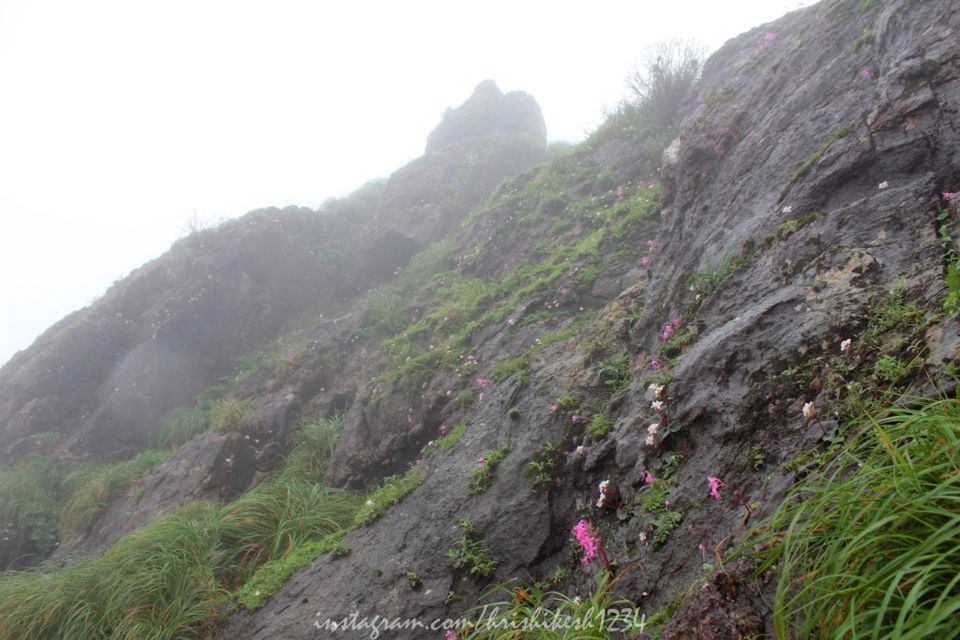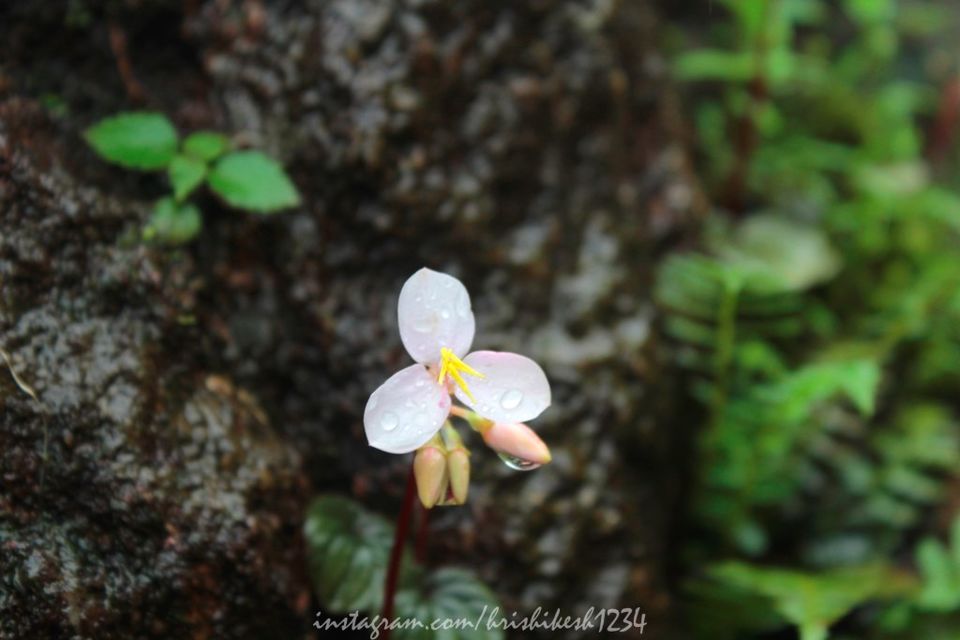 Trek to Ettina Bhuja
Our morning started off with putting on those damp, stinky shoes back for the trek to EB. I can't explain in words the repulsiveness of wearing dank, soggy socks and shoes. We bid adieu to our lovely home-stay and hopped on our Tempo Traveller to Shishila, 13 kms apart for EB. The start point to the EB trek is from a temple. Quickly back on with our rain-gear, and we march ahead. The initial section passes through a jungle and the continuous pouring had made parts of the trail sludgy. So much so that our feet in few cases would get sucked in the treacherous mud.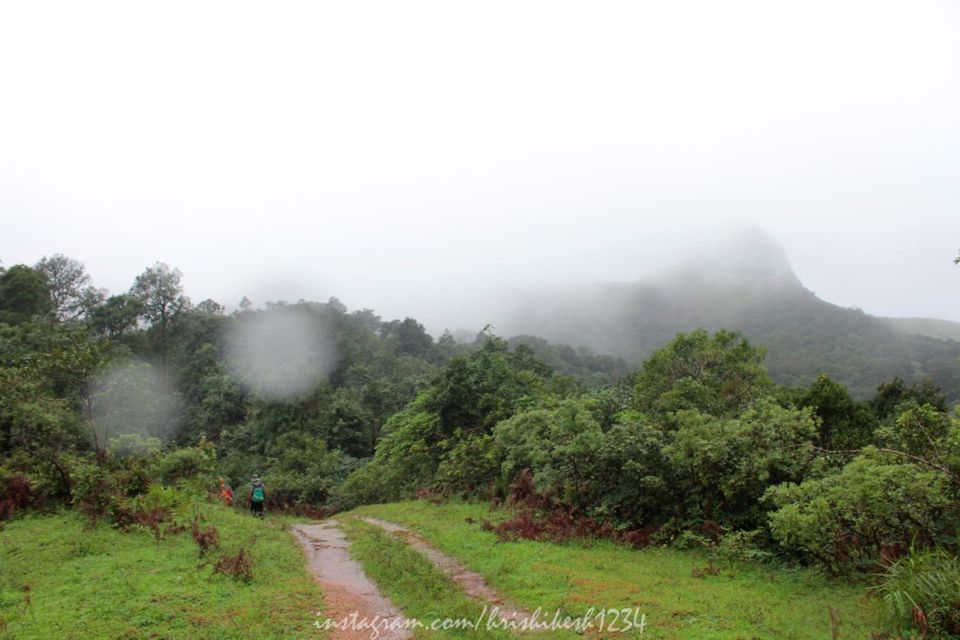 Locals were glaring at us with much consternation, wondering who in their right sense of mind would venture out! We had just started off, and here's a river that we have to cross. The river, though was knee deep was powerful enough to sweep you off your feet thanks to the incessant rains that has been feeding it and adding to its current. Reluctantly all of us removed our shoes, threw it towards the other side and carefully crossed it. Once on the other side the forests only gets more engaging and dense. That slight drizzle has now turned to a fierce downpour. But thanks to the thick foliage we were in some respite (well, we were still getting wet). It was impossible to take out the camera, and I was just managing to safeguard it under my rain-jacket. The temptation to click the beautiful forests had to be controlled.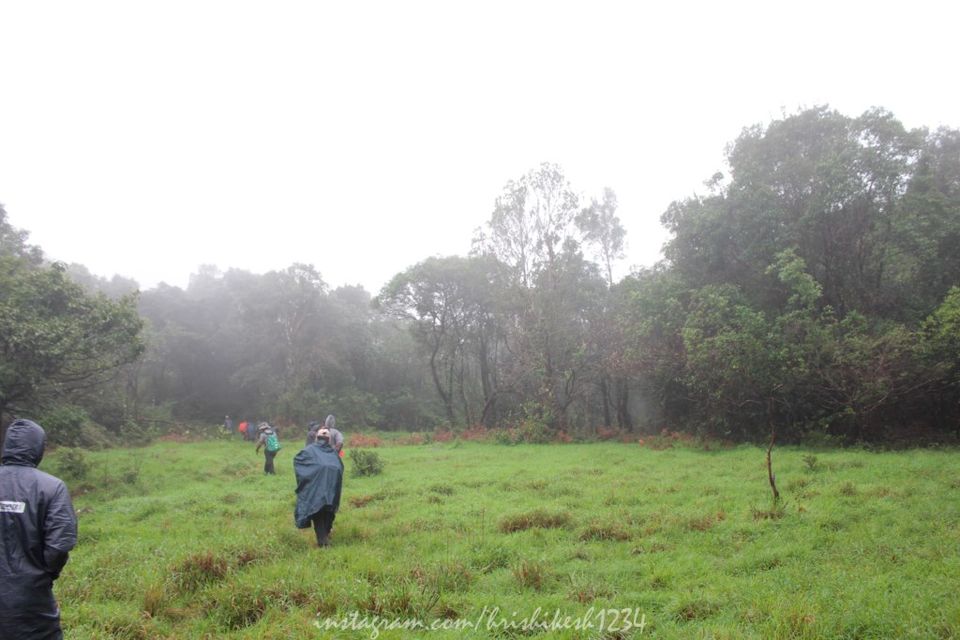 The rains have subsided a bit now, and here we are out in the grasslands. The gradual incline to our 1st peak begins; Jenukallu Gudda is somewhere there but is completely invisible thanks to a thick blanket of mist running through our faces. We were walking, climbing, ensuring our footsteps based on the same followed by the person in front of us, such was the level of visibility. We were now standing on Jenukallu Gudda. The only pictures that would be captured were of those of whitish mists encompassing us.
Now the actual fun (trek) starts. Our next destination would be Deepadakallu Gudda. And the route to the same starts with a scary-steep-descent. Normally going down a hill is the favorite part of most trekkers since its comparatively less taxing and also marks the finish to the trek. Not here. We were literally scampering for grass to get some grip, both to our shoes and palms. Add to that the recurring drizzle didn't make things helpful. One wrong step will tumble you down like Jack on the hill.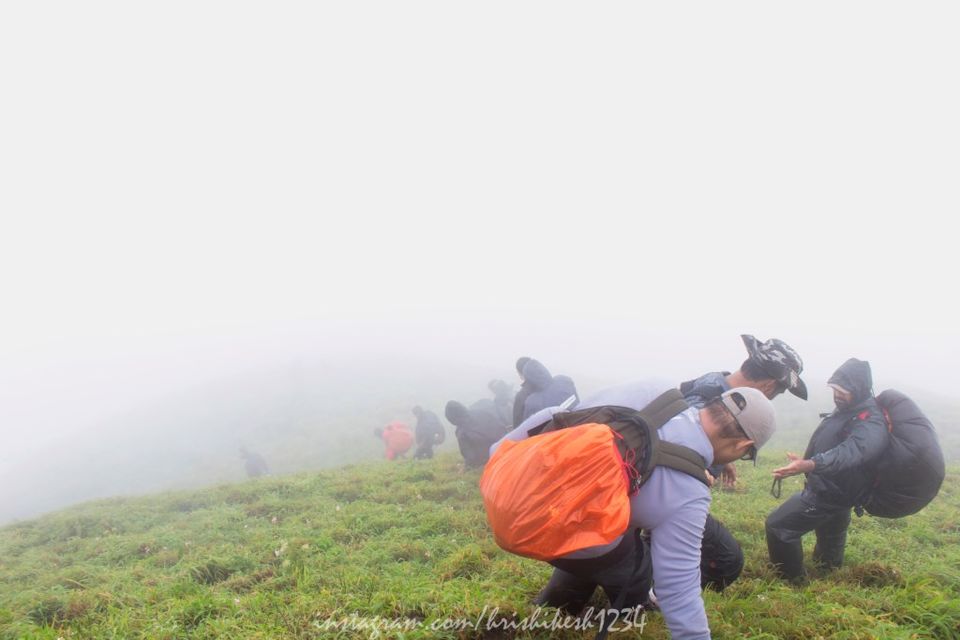 Once the scary descent was conquered we were snaking through some gorgeous grasslands. I was more intrigued to see what vistas lie beyond those misty clouds that would mar our visibility. Bet there would be some delectable sights awaiting beyond that haze. Not today though. Little, colorful flowers would lay all around the grassland.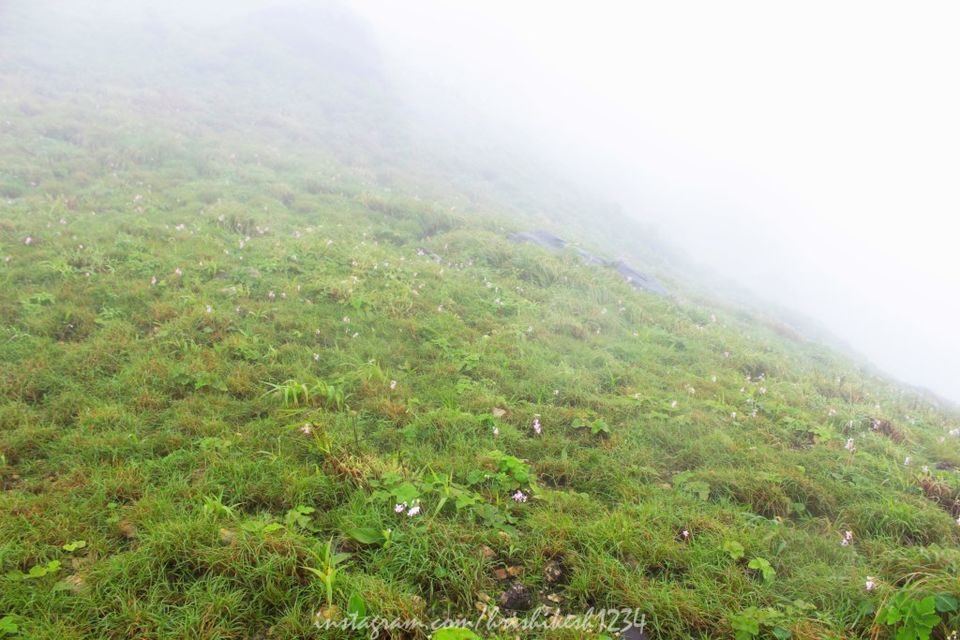 Our next peak Deepadakallu Gudda would be below us after negotiating some boulders. There's this massive pile of boulders that few attempted to climb. I, fearing slipping on them decided to keep at bay. We would proceed to have lunch there itself, sniffing on the fact there's no point awaiting for the drizzle to halt. We also had 2 dogs that would follow us all the way from the home-stay as well. Talking of men's best friend!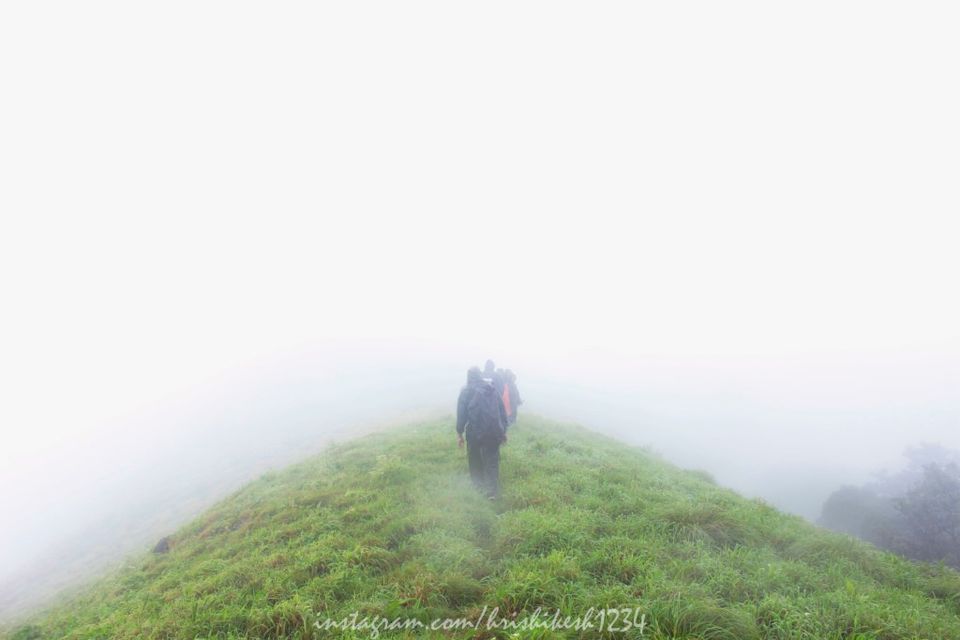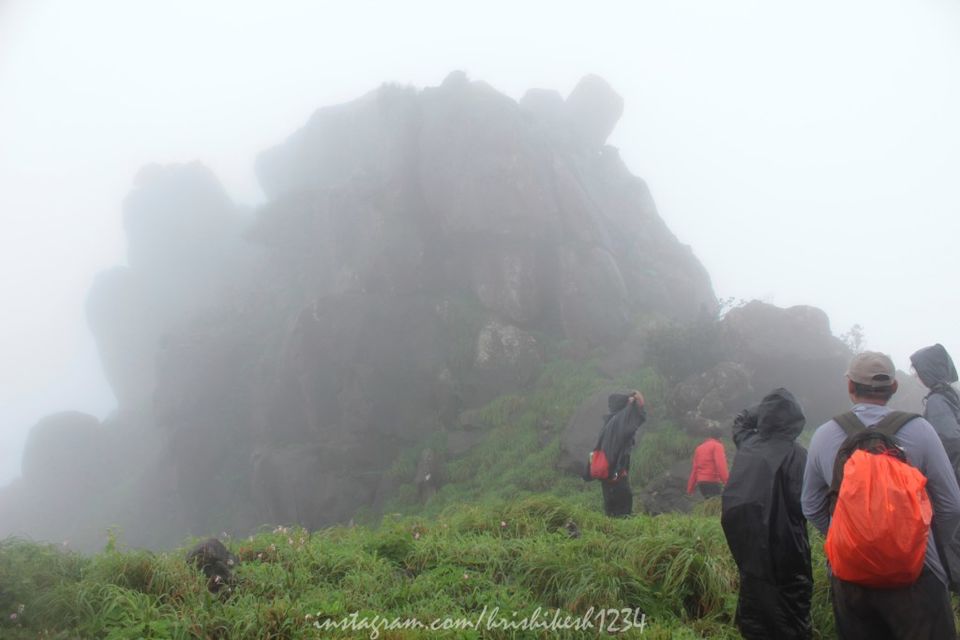 2 peaks conquered on a single day; not bad I would say. Here's to the death-staring descent again. This part of the descent was scarier and mightier from the previous one. Every step would be one on hopes of not taking a spiral down the hill. The views were enchanting though; you would get a clear sight of the entire valley and the very next moment it would be engulfed in puff of mists. We were in dilemma whether to pop out our camera or to let it be in its resting place within the rain-cover.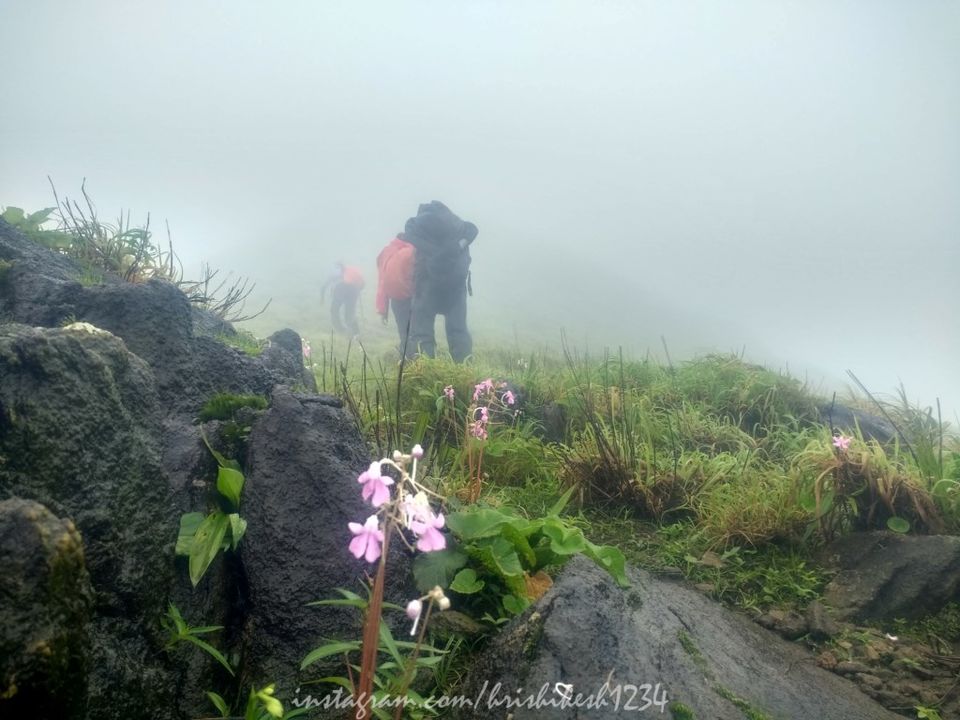 Our downward journey till the base of the foothill got over without any incidents. From here we walk till our home-stay. The only problem is that the trail is muddy and slushy and beset with leeches. You attend to remove one, and another 4-5 would plunge on you. The walk to the home-stay was a rather long one, through the virgin forest trail again. Those demonic leeches just wouldn't leave you alone, after all you have ventured into uncharted territory. Not an inch of the body or clothes were dry (yep, even those private areas). We were juiced out by the time we reached our home-stay. Removing our socks and shoes opened a can of worms. Suckling leeches just kept popping out of nowhere. My both feet were a bloody mess.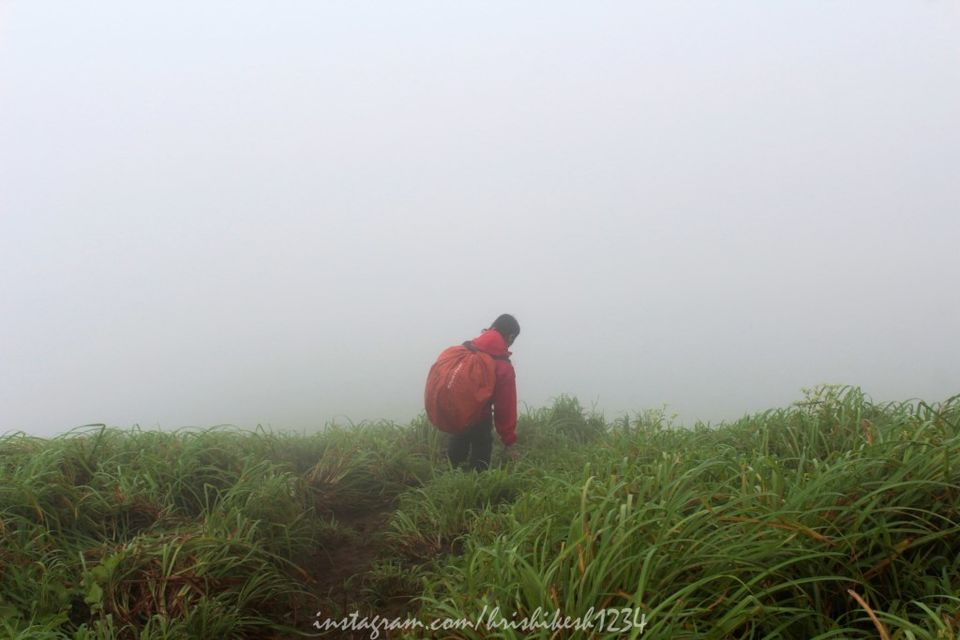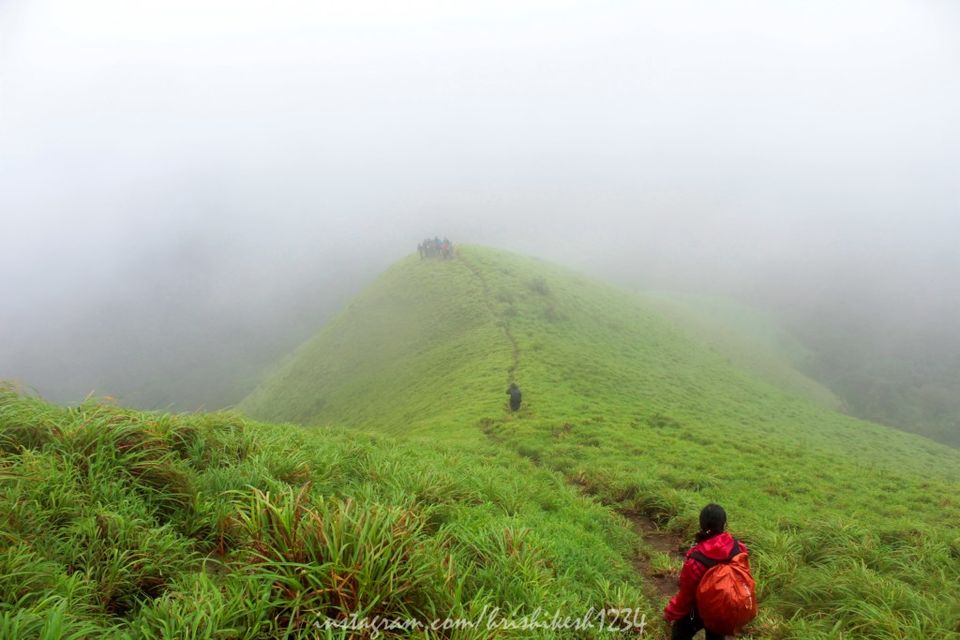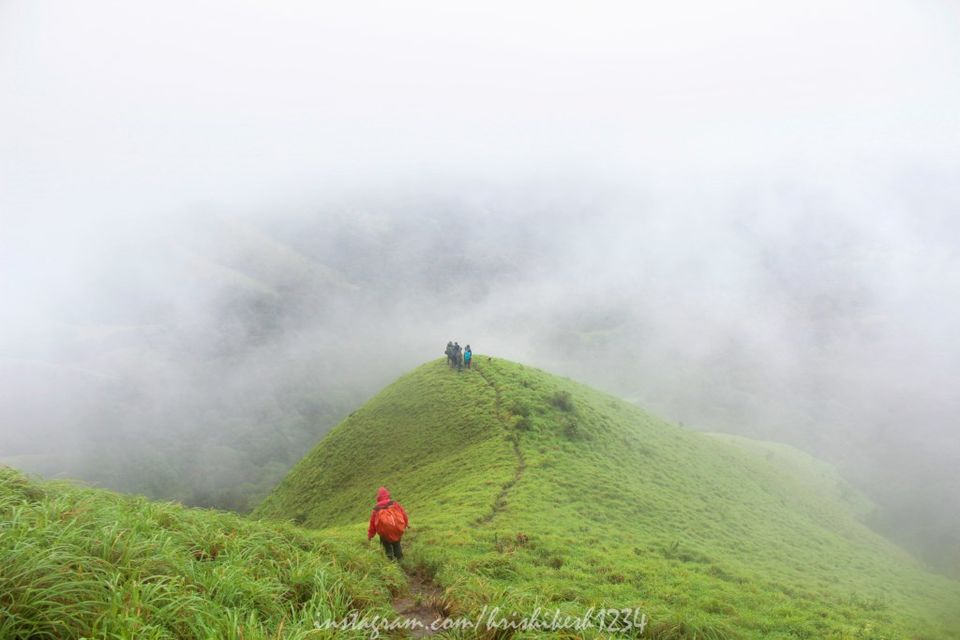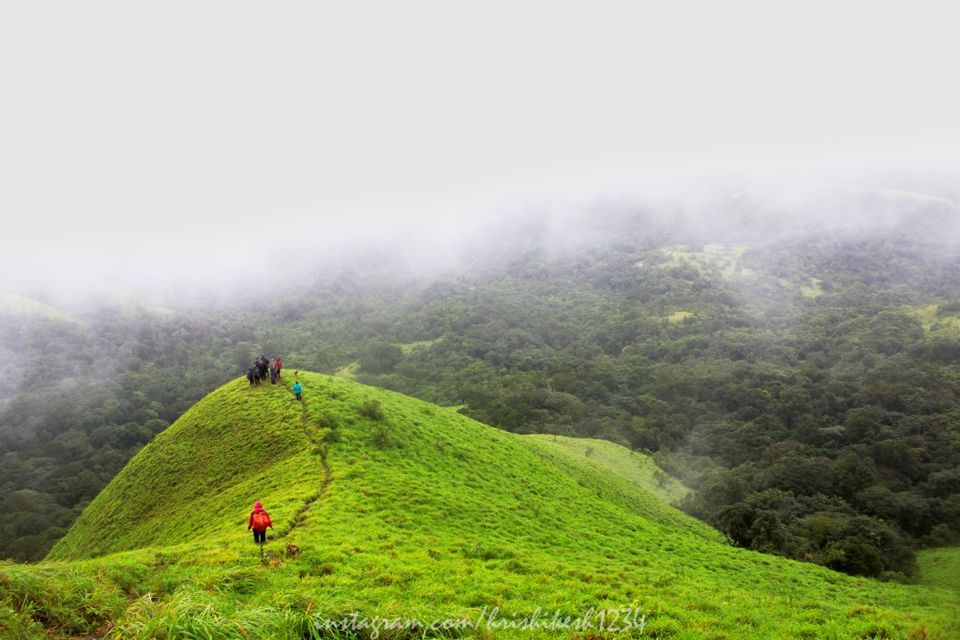 Out of a hot-water shower and we all assembled in the drawing room for some nice pakoda and coffee. Mamta took a brief but important session on the significance of using a menstrual cups for women (yeah, don't skip and scroll down now). And it was equally invigorating for the men out there as well. Mamta explained well the essence of doing away with sanitary pads (their harm to the environment and costs) and spreading the word of menstrual cups. Everyone of us listened like a toddler.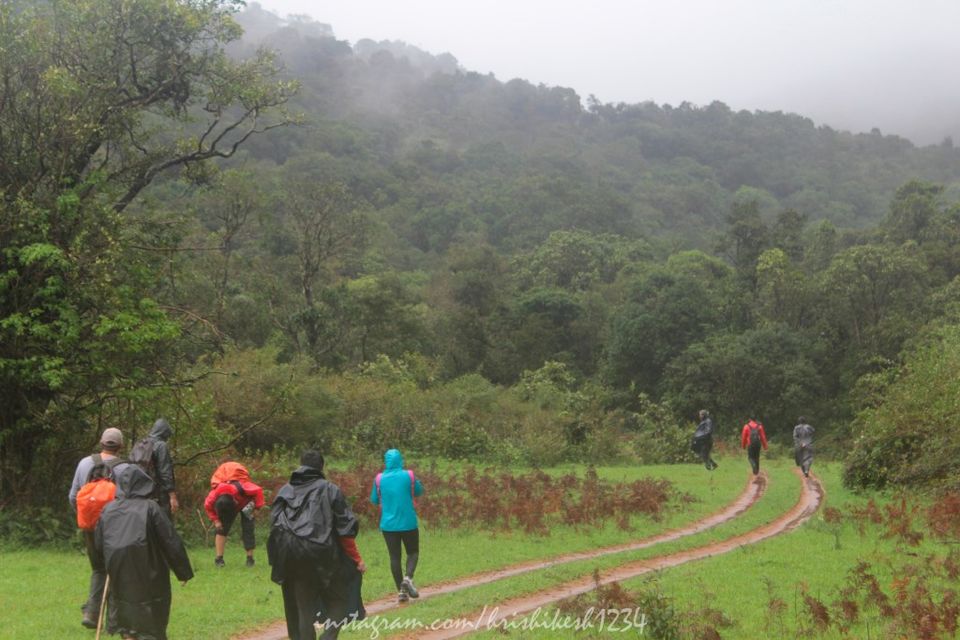 Someone took out Uno cards. And utter mayhem ensued. Lot of laughter were shared, and leg pulling involved. Post dinner everyone snuggled immediately inside their sleeping bags for a blissful nights sleep.
The conditions out here have been absolute bonkers for the last 2 days. Well, this is how it is in the Western Ghats during monsoons. Our tryst with the forest section ends, opening to a grassy meadow which leads straight to the EB. Ettina Bhuja literally means Ox's hump in local language. As you inch closer the trail becomes narrow, exposing you to the danger of a slip-up to hundreds of feet down. Worse, the trail becomes more slippery thanks to the perpetual rains. We would ensure our first step would have a firm grip before lifting the other. Near the "hump" and things are going to get a bit more complicated from here on. Its a near vertical heap of boulders. Climbing them is not only risky but also increases chances of slipping on one of them. The beautiful flowers growing on the cracks of the rocks adds charm to the danger. All our Spiderman skills must be put into careful execution now.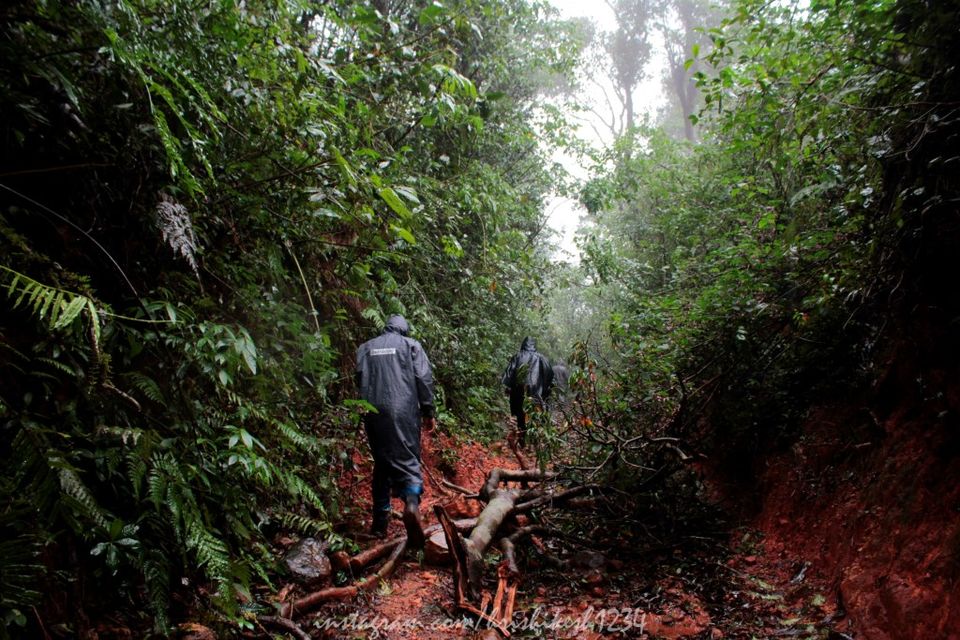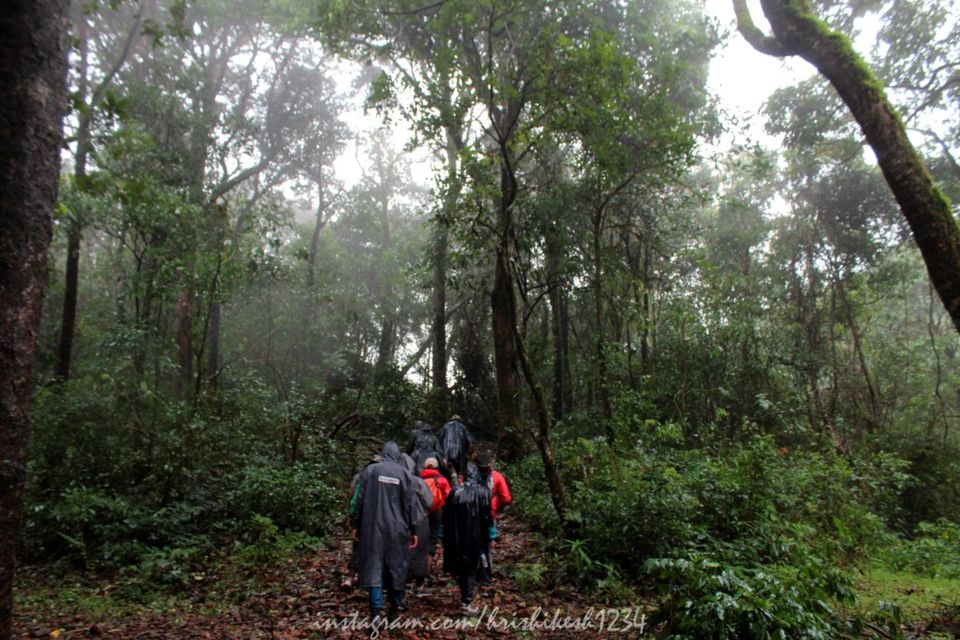 On all 4, negotiating those sharp, slippery rocks was no fun. And finally, on top of EB! Though visibility was marred, seeing the clouds fly up from the bottom of the valley towards us was one exhilarating moment. The gushing wind didn't make things any conducive, add to it now the downpour that has restarted. Few clicks and we decided to descend back before condition worsens.
The descend was nothing sort of a page pulled out from a horror story. Finding a foothold was the most difficult part, combined with a near vertical face-drop. Patience and a strong mind is the key to navigate out of here. Back on the meadows and its a simple walk back to the temple. By the time we reached back there was a small pond that have built up inside my shoes! We went inside the temple premises, changed to fresh clothes before rushing back to our TT before we get wet again. Once settled in we were back on road, this time to Bengaluru.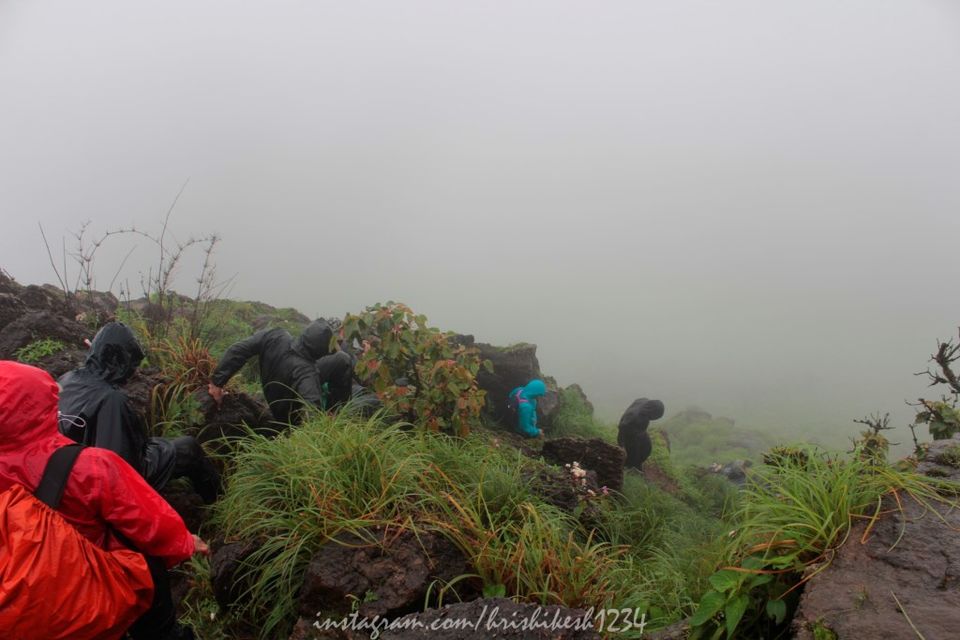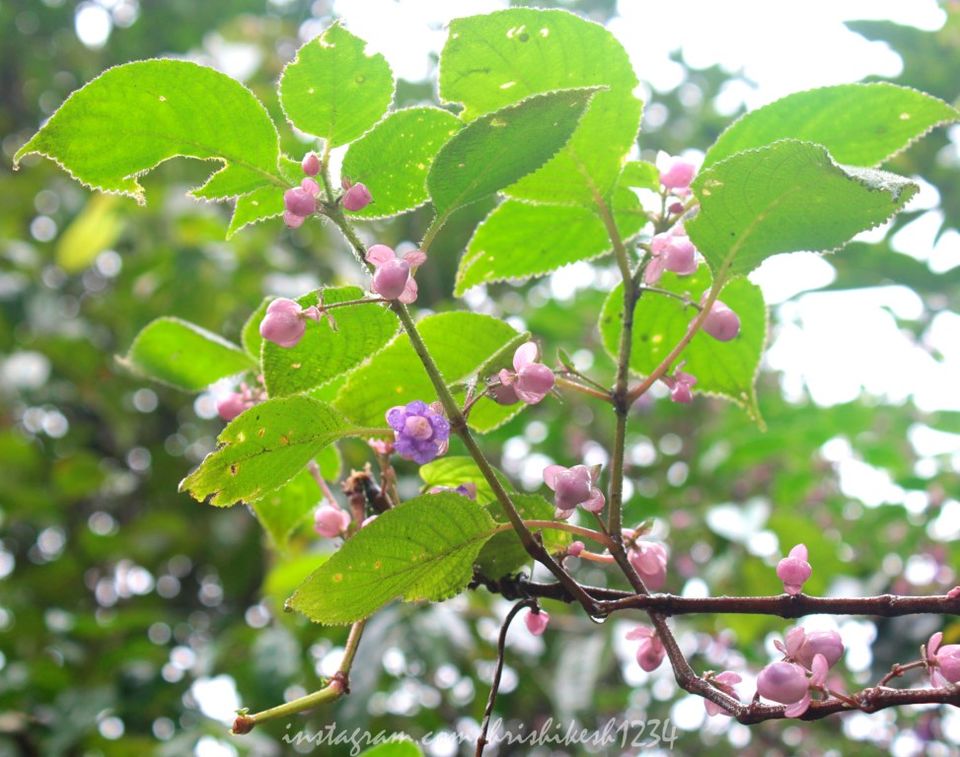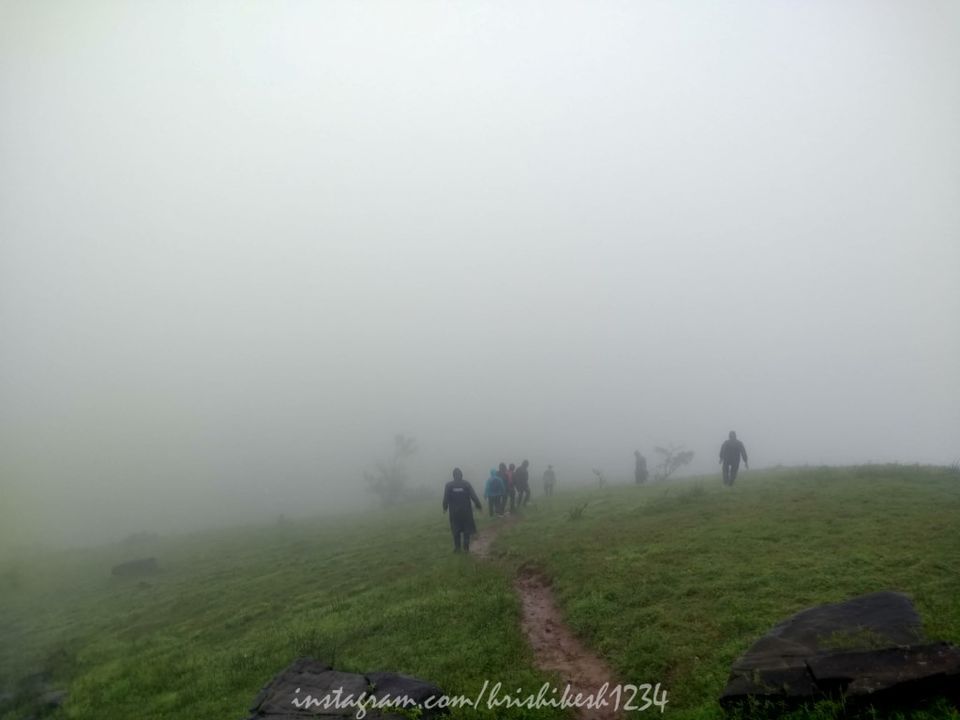 There are so many unheard, less explored trekking trails that the Western Ghats hold secrets to. This is definitely one among those which doesn't feature in the commercial routes but can easily give a run to the money of many notable counterparts of the Western Ghats. This was all in a end-to-end adventure in the rains. Never did I trek under such extreme conditions. I'll definitely be back on those virgin hillocks when the monsoon wades past, and the views are more clearer...