28th Oct : Wow ,How I was waiting for this day, For going on my most amazing trip!Finally the day came, and we started off at midnight from bangalore, to mangalore, so that exactly by morning we will reach near sakleshpur ghat section to enjoy the scenic drive, and it was as expected, lovely roads with most awesome mystic views.
we reached mangalore by almost 10'O' clock and checked into a hotel we just booked on the fly,It ended up like hotel decent in Jab we met :D, but as we are so excited about trip, It didn't bothered us much. We got freshened up and headed out for some good lunch, and there we decided to try Shetty's lunch home.I took a Fish Thali there which was not so worth for the hype it had.
With a bit of tiredness and scorching heat, we decided to rest an hour, later at 3, we thought of eating Ice-cream at pabbas, which is quiet famous for its Icecreams, we were surprised to see the huge crowd there, I saw an Ice-cream parlour such huge for first time :D, We tried Tiramisu which was just great! Now, It's time to try something spicy too, we thought of having a good chat, we decided to try sri krishna bhel puri house as it seemed to have some good reviews out there, but we struggled a lot to find this place as we were not able to find this small place on maps exactly, as we stepped in, it appeared like any other typical chat home, but the taste is really good, we ordered jalebi, sev puri, samosa chat and lassi here.we felt good as our effort didn't go in vain.
Finally, after having a fulfilling snack session, we decided to go to Tannirbhavi beach, which is just amazing with it's serene beauty, the waters are so clean and clear, that I fell in love instantly with this beach, we sat there for an amazing sunset view and played in the waters a bit, It became one of my favourite beaches now. After that, we came back to room and set out in search of good authentic sea food, we zeroed in on Narayana hotel nearby, but as it's diwali on that day, it remained closed, the same guy suggested us 'Machali', and we ate there, the place is little crowded, I ordered Fish thali & angel fish fry here, both tasted so good.Worth visiting here if you're in mangalore craving for some good seafood.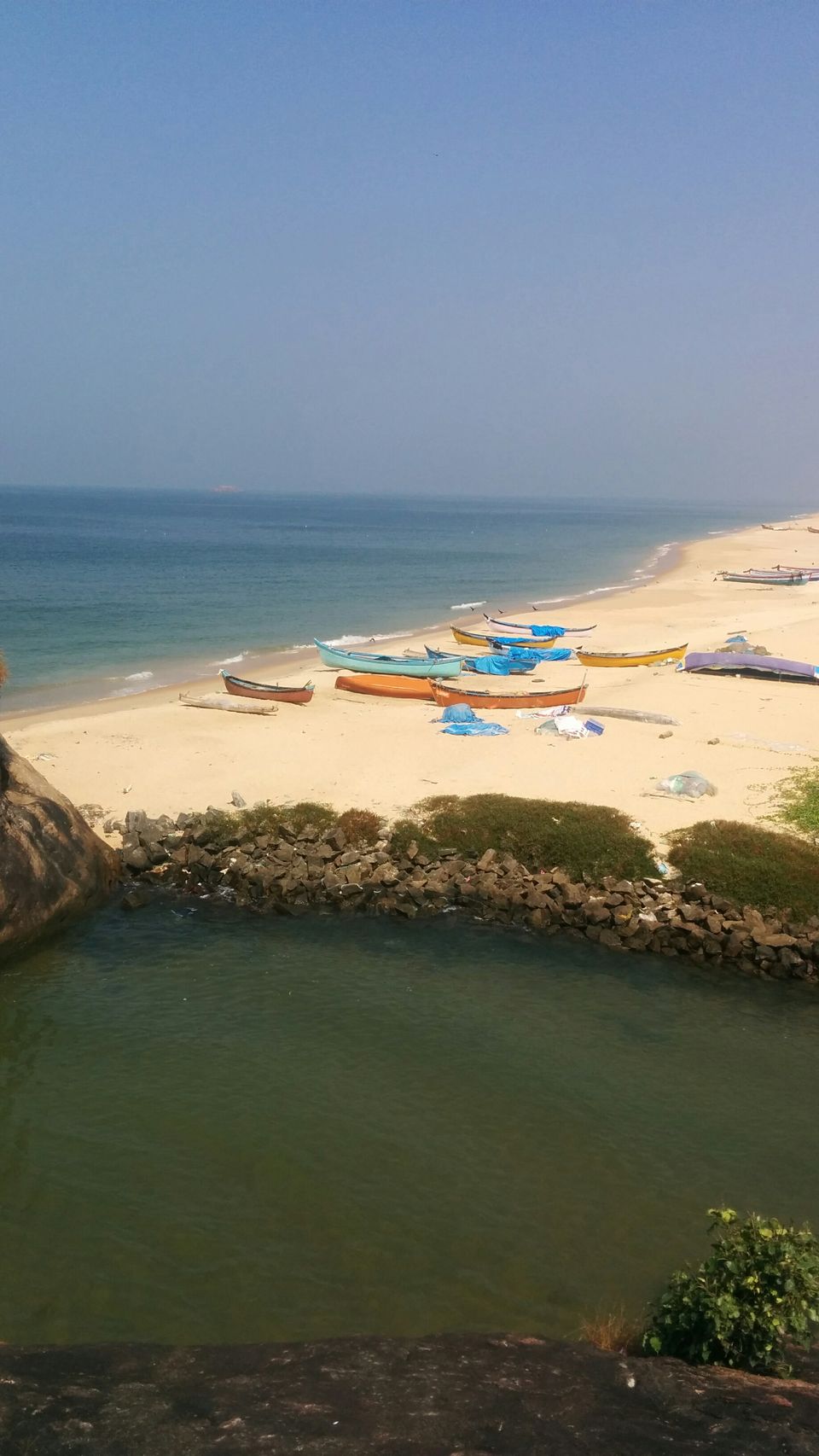 Next day morning, we headed towards Udupi,, we stopped at a small hotel for breakfast which turned out very good and cheap.We checked into a hotel which we booked in manipal, after a quick refreshing bath, we headed towards famous udupi Sri Krishna Matha, after dharshan, we had lunch there which is served as prasadam, After that, we headed towards st.mary's Island, to go to this island, one needs to take a ferry boat, which will be available at malpe harbour for around 150 rs(to and fro), we took the boat around 3'PM and reached the island, the island was pretty good, very peaceful, full of sea shells, lots of coconut trees and amazing nature, you can try couple of water rides here! No matter how much time you spend there, it never seems enough, (Pro tip : If you are selfie freak or photography fan, best place for you to be).we came back by boat by 7PM, headed towards hotel and headed for dinner in a small hotel and went for having some yummy ice creams at naturals and ended second day.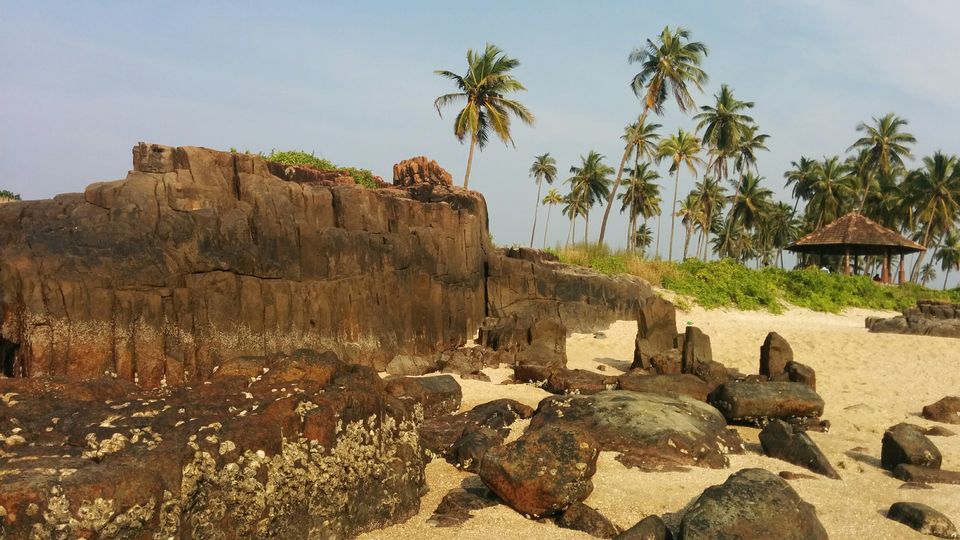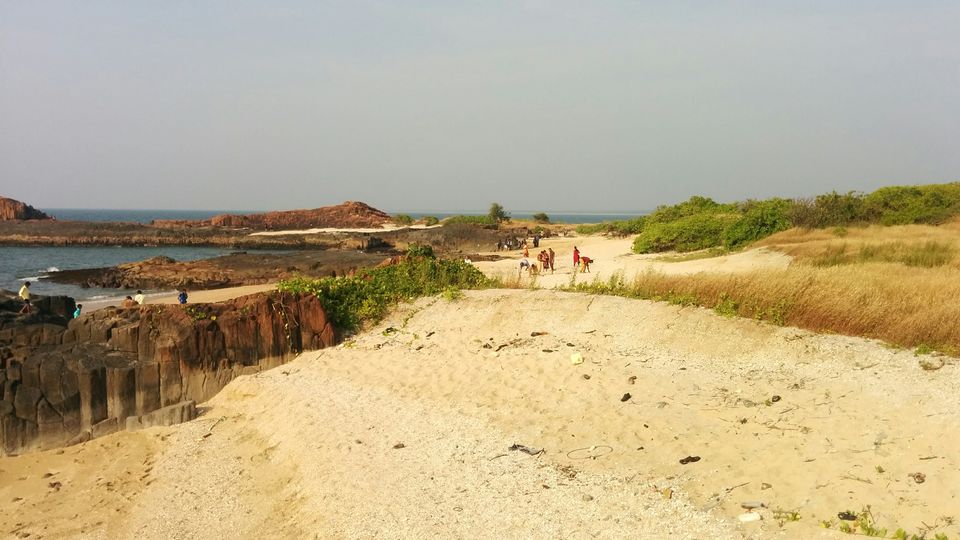 Next day, we started for Murudeshwar*, while going you will pass along a stretch of Marvanthe beach, which runs just parallel to highway and with a river other side,a spectacular view, we just stopped there for a while, and started the journey again ,as it was Monday(Auspicious day for Shiva devotees), there is huge crowd in Murudeshwar,you'll get to see a magnificent shiva's idol here,we went into temple for dharshan, later to cave where you will get to hear and see the story of the place through sculptures.the audio is in kannada though(Search for "Murudeshwar- The story of atmalinga" for story). we came back from there and started to gokarna, we stopped just near mirjan fort road to have some quick lunch and went to Mirjan* fort, the fort is 2 km inside the main road, but is very clean and a good place to be at. The fort is not that popular(I like it that way, less crowd ;) ) but worth a visit if you are either history buff or nature or forts lover.The greenery and the location gives a good feel, again a great photography destination. we started towards OM beach, the famous beach of gokarna, we reached there by 4PM, a ghat section will be there, post which you can park and walk towards the beach, we just sat on the rocks for the entire evening till sunset.Had a great time here, after that we planned to go gokarna beach and temple, but due to procession and traffic jam, we dropped the plan and headed towards karwar, where we had dinner at Swetha's lunch home, it's one of the most famous places out there, I tried Pomfret fish here which is decent.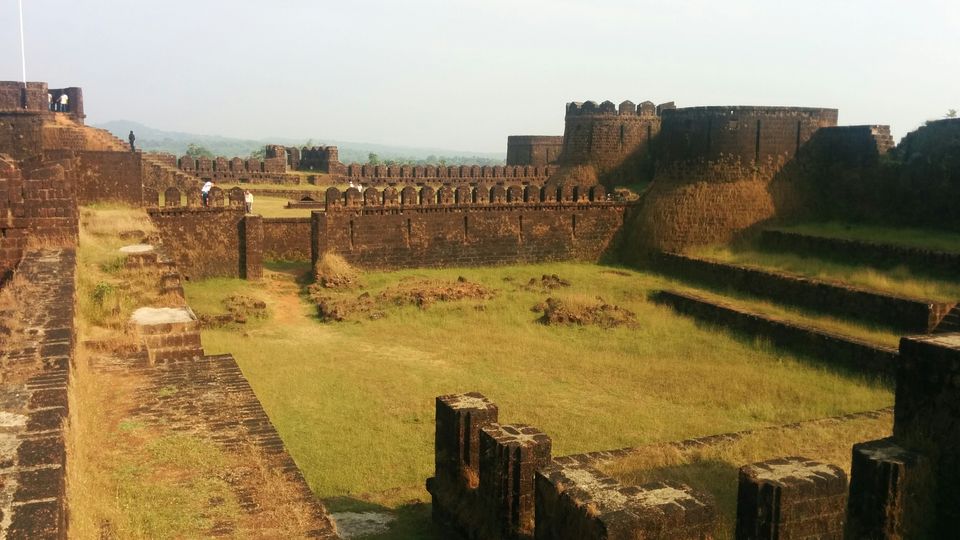 we started towards Goa and reached almost by night 11, we checked into a resort we booked just near Benaulim beach, a 2 mins walk, after a fresh shower we headed towards beach almost in midnight, it quite calm and found no one! Fresh breeze, cool sand, dark hour, the sound of waves slamming onto shore,That's too good to experience! after spending good 20 mins , we came back and slept envisioning a super awesome further days in goa! Next day morning, we had great breakfast at resorts which is pretty good and checked out for exploring Goa, we headed towards the most famous church of goa, Basilica of Bom jesus* and se cathedral. after that, we went to chapel of our lady of the mount church, this is one more picturesque place which also featured in many Indian movies, we had an amazing photo session here and enjoyed a lot, a lot less visitors come here than the first two churches, if you're a movie fanatic, you might have this on your list definitely by now!headed towards Aguada* fort, we spent the evening there, sitting in the corner, after a while, when the guards announced to vacate, we started from there slowly, we just sat near a view point at the beach nearby Aguada, and I just fail to explain you the awesome experience, we spent almost 2 hours just doing nothing, later we booked a hotel nearby , and started to explore a place to have dinner, now it started raining,and there we found a roadside restaurant, with nice ambiance, it's totally open and I ordered fish steak there(I don't remember the name of fish though), but I didn't like it much, still the experience is worth as I really liked the ambience on that heavy rainy day! not all the time you find a table just with a roof and raining all around you with a simple candle, petrichor and the persons you like!, slowly by the time we finished lunch, rain too came to an end and we thought of visiting Baga beach, we parked car somewhere and started walking, we almost walked 1 km and reached beach and just sat and within minutes, we slept there as the breeze is so soothing to our tired bodies and we didn't even realise that after good 30 minutes.
Next day,After a goan style breakfast, we headed towards chapora fort, yeah yeah you guessed it right, the fort which featured in Dil chahta hai!, you need to trek a little to reach top and there you go for an amazing panoramic view, can sit on that wall and have an amazing view of beach, from there we went through a trail and started trekking down and finally we were on vagator beach which we were seeing from chapura fort, we spent some time over there, no one usually takes that route and come there, so entire beach is lonely except a couple of tourists, we took a different route to come back to fort again, with that hectic trek, we chilled down by having some coconut water & nimbu soda, which just felt like heaven after that much handwork&achievement ;P :D, we just started towards panjim now to a river nearby where you can take your own vehicles in a boat!it's like a public transport there to cross that river, the ticket is dead cheap as it's just 10 rupees with car for us. you can go to other shore and there is a bird sanctuary which you can visit if interested.we didn't. Then we headed towards anjuna beach and just spent the rest of the evening, and started towards hotel as we felt hungry, after a shower, we decided to eat at fat fish restaurant, after a few minutes wait, we got a table and I ordered kingfish curry with rice, which is delicious! we actually thought of spending a day in tent nearby a beach, but unfortunately, we couldn't make it! There it winds up and the next morning we started to bangalore,enroute near mundgod, we visited tibetan settlement,it's like a mini tibet in karnataka, worth visiting!(tip: read some history about tibetan settlement here, to have interesting time, also make sure you reach here before 5 pm, as it closes by that time), Finally, back to bangalore with amazing memories and lots of satisfaction! :)
Note : Most of the times, we prefer eating at roadside hotels suggested by locals or any authentic region specific hotels with good rating, we tend to avoid fancy chain or high end restaurants!
* Please read history behind these places to make trip more interesting!