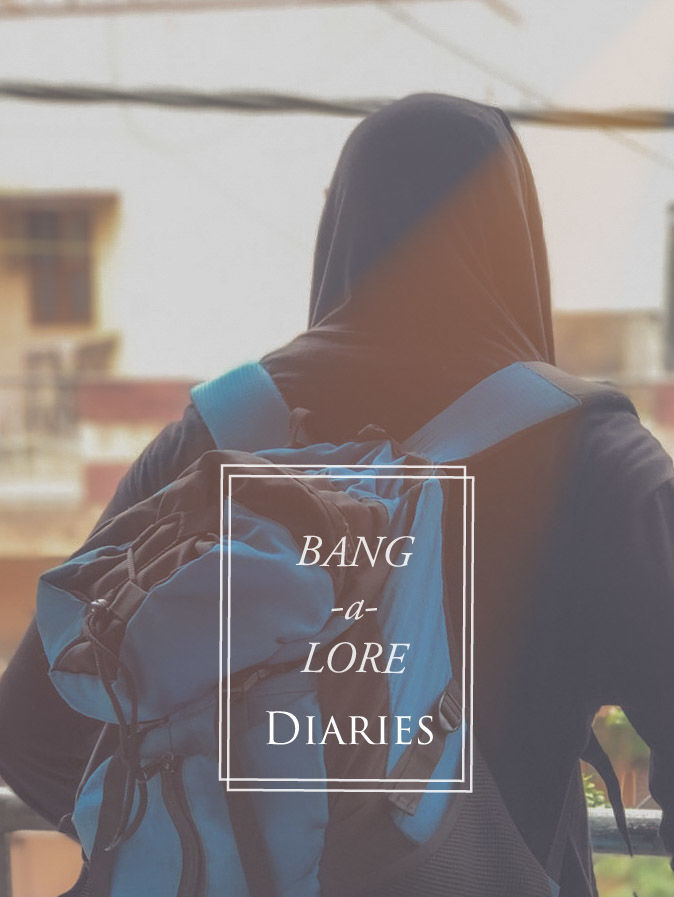 The experiences one feels while traveling is just phenomenal. The crowd and faces we come across, the anecdotes we hear, the unpleasant events we cross, and so on. But at the end of the day, when we walk wordlessly, the story of each moment gives us a valuable lesson. All these lessons, experiences, and inspirations we love to give back to people.
I guess, on my journey to the South, I had many challenges and new experiences that would help my fellow travelers.

Bengaluru, is known as the Silicon Valley of India, located in the State of Karnataka in the Southern part of India. A city that has pleasant weather, planned-architect row houses, and exotic South Indian cuisine to butter you up with rocking nightlife, which will enliven you. I was in Bengaluru during the "Diwali" time, a festive time where people lighten their houses with diyas and lanterns, it's also known as Festive of light.
The trip turned out to have a lot of experiences, challenges, and some mistakes. Experience as rickshaws are overpriced, challenging was language, and to walk my mobile in hand on a street was a mistake because random bikers snatched my phone and something valuable, all my clicked pictures. When I complain, I knew such incidents are quite common in this city. So, I can very well take you through an experience that may help you to avoid a few blunders as you travel.
Let me drive you through a wondrous experience and some mistakes which you can easily avoid.
Bangalore, was renamed as Bengaluru in 2014. The big technological players like Google, Flipkart, Amazon, and more to name are based here in the heart of the city. So, if you are a computer-engineer or want to get into an IT sector, maybe this place will suit your profile or startup.
The tourist side in the Bengaluru was reasonably busy on weekends as I visited, but if you visit some other day, you may find emptier where you can discover nicely but during odd hours. One thing that did surprise me here that the town has narrow streets, nasty roads, and traffic in Bengaluru can make your journey way slow. I realized it when I had to travel 6 km, which took around 60 minutes. You should count yourself lucky if you could book an Uber or Ola within 5 mins.
But, you will find pleasant weather in Bengaluru for most of the year's time, that's because the city's location is on the Deccan plateau at an elevation of over 3000 feet above sea level. Surprisingly, this city has seven different languages – Kannada (native language), Malayalam, Tamil, Telugu, Konkani, Hindi, and English. The native people are familiar with South Indian languages, besides the hoardings or signboards may not all be in Hindi or English. In my experience, I feel if you take a guide along, it will ease your journey.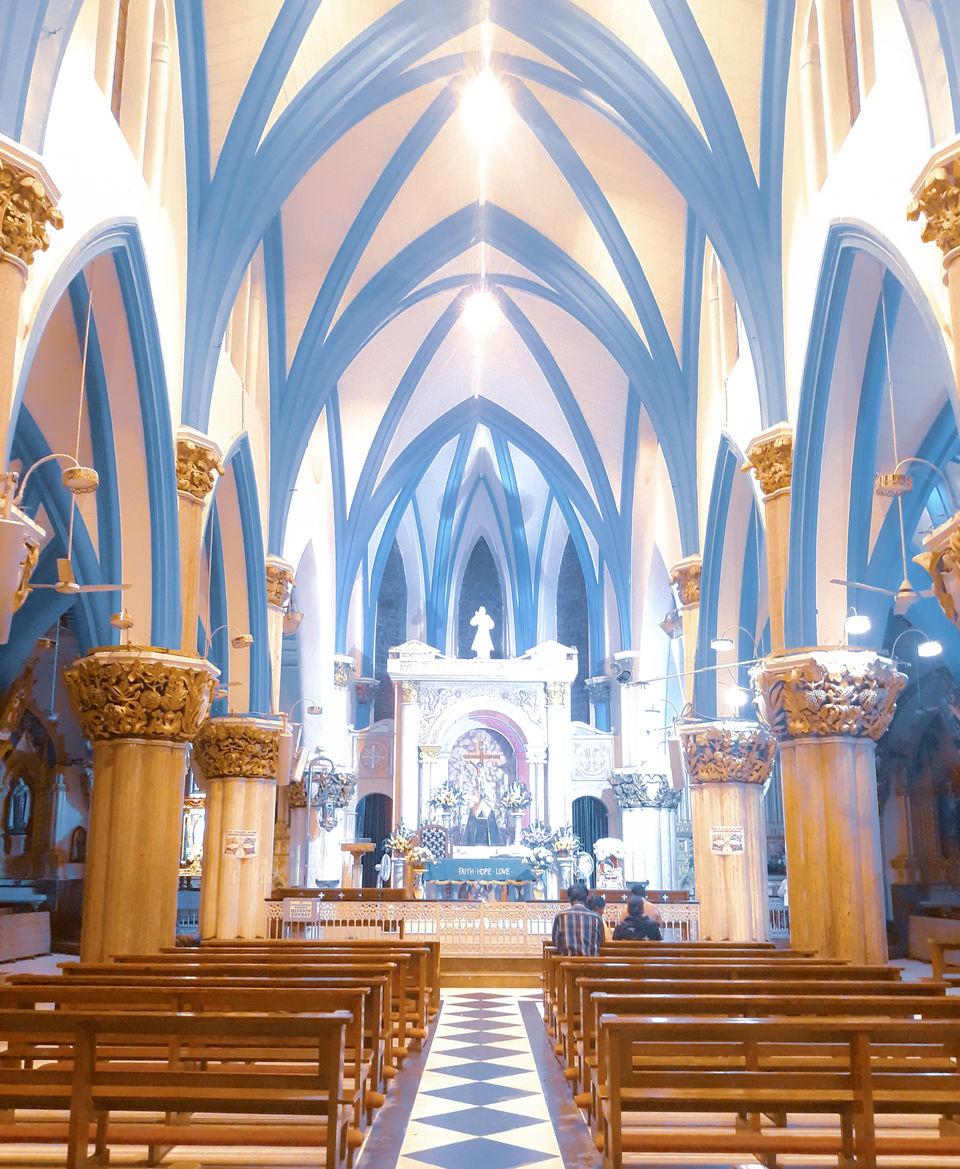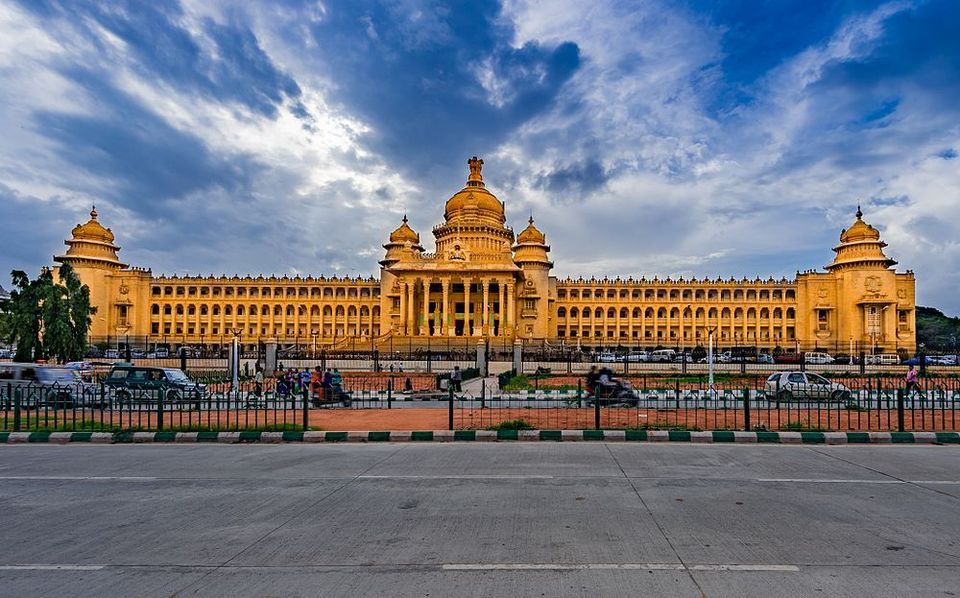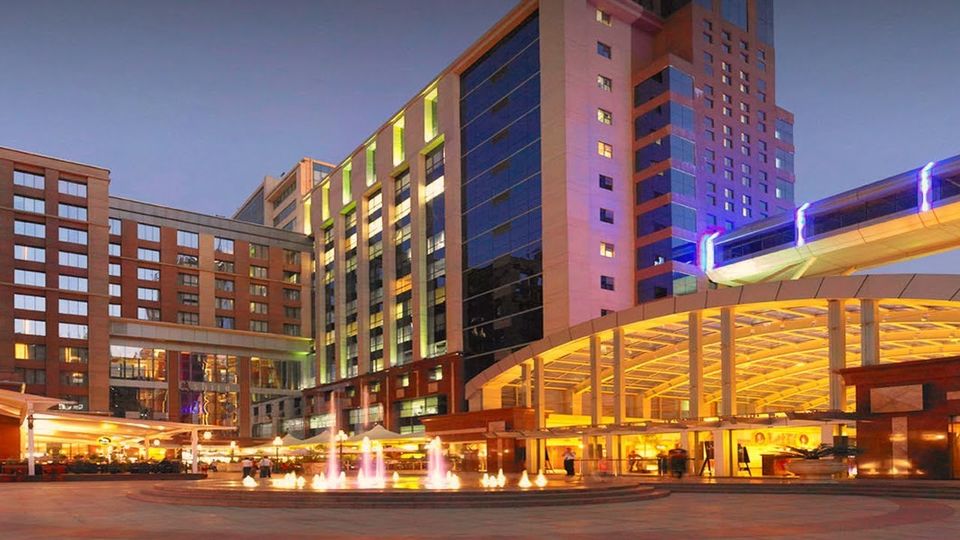 Lastly, how do you reach and where to stay in Bengaluru?
So, if you want to book a good hotel, make sure you finalize your itineraries and then look out for the destinations. Stay closer to your sights as you can save travel time.
– The most preferred at the best-discounted price is always the OYO Rooms (https://www.oyorooms.com). Currently, the third-largest hospitality chain in the world. In India, it covers more than 200 cities, having different standards, stylish, and deluxe rooms.
– For Luxurious hotels, go for ITC chains (www.itchotels.in), it's a 5-star hotel with superlative amenities, besides this, it has Pan Asian and European cuisine specialties.
– For experiencing bunk-bed for mixed-gender or female-only dorms, check out Zostels (https://www.zostel.com/zostel/bangalore/), one of the cheapest option for a short trip. Note, here you have to share the place with other tourists.
Take a bow to reach #Bengaluru without hassle,
1. All you need to know to travel by Air,
There are five functional airports in Bengaluru, in which Bengaluru Mangalore are the International airports, while Mysore, Hubli, and Belgaum have major domestic flights.
The Bengaluru International Airport is on the outskirts, and the easiest way to commute to&fro is by booking a cab, but that's an expensive option you are likely to put 900 – 1500 INR. If you want to save bunks, check the timings for the fleet of air-conditioned buses, which costs around 200 – 300 INR.
2. Travel via Rail route
If you are planning to travel by rail route, plan to book tickets before 45–60 days from your journey date for confirmed tickets, you may cancel even 48 hours before with minimum cancellation cost. The four major railway stations are Bangalore city station or KSR station, Bangalore Cantonment, Yesvantpur Junction, and Krishnarajapuram railway station, all located less/within 10 km (6.2 miles) away from the city center.
The superfast trains such as Rajdhani, Shatabdi, and Bangalore express, provides good hygiene and best facilities. After reaching to any of these stations, kindly book an Uber/Ola, the most preferred mode of transport.
3. Planning a Road trip,
The inter-connectivity is excellent with magnificent countryside via several cities and major towns in India. If you plan to travel from the West, it is connected with major NH 48 via Mumbai, from North major NH 44 via New Delhi, from North-East or East coast via major NH 16, and from South via Kerala NH 544, via Kanyakumari NH 44, and via Pondicherry NH 77.
The Karnataka Government operates Karnataka State Road Transport Corporation Buses (KSRTC) within states like Andhra Pradesh and Tamil Nadu. These buses also operate for sightseeing and tourism.
_ _ _ _ _ _ _ _ _ _ _ _ _ _ _ _ _ _ _ _ _ _ _ _ _ _ _ _ _ _ _ _ _ _ _ _ _ _ _ _
You can share your views in the comment section or on Instagram (chillax.prat). You can also send me your travel experience or queries. I'll be happy to help!
My first destination in the Garden city was this famous garden. To book a cab, it took nearly 30 mins. The distance barely should have been covered within 20–25 mins, but, due to narrow streets and traffic, it took approximately an hour.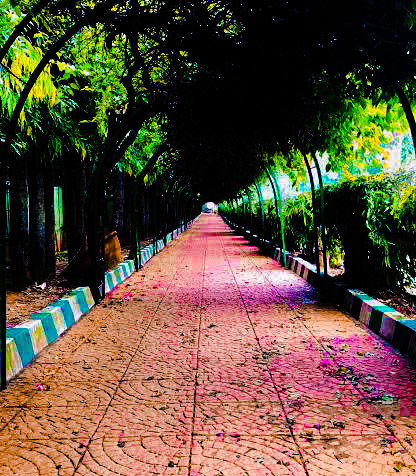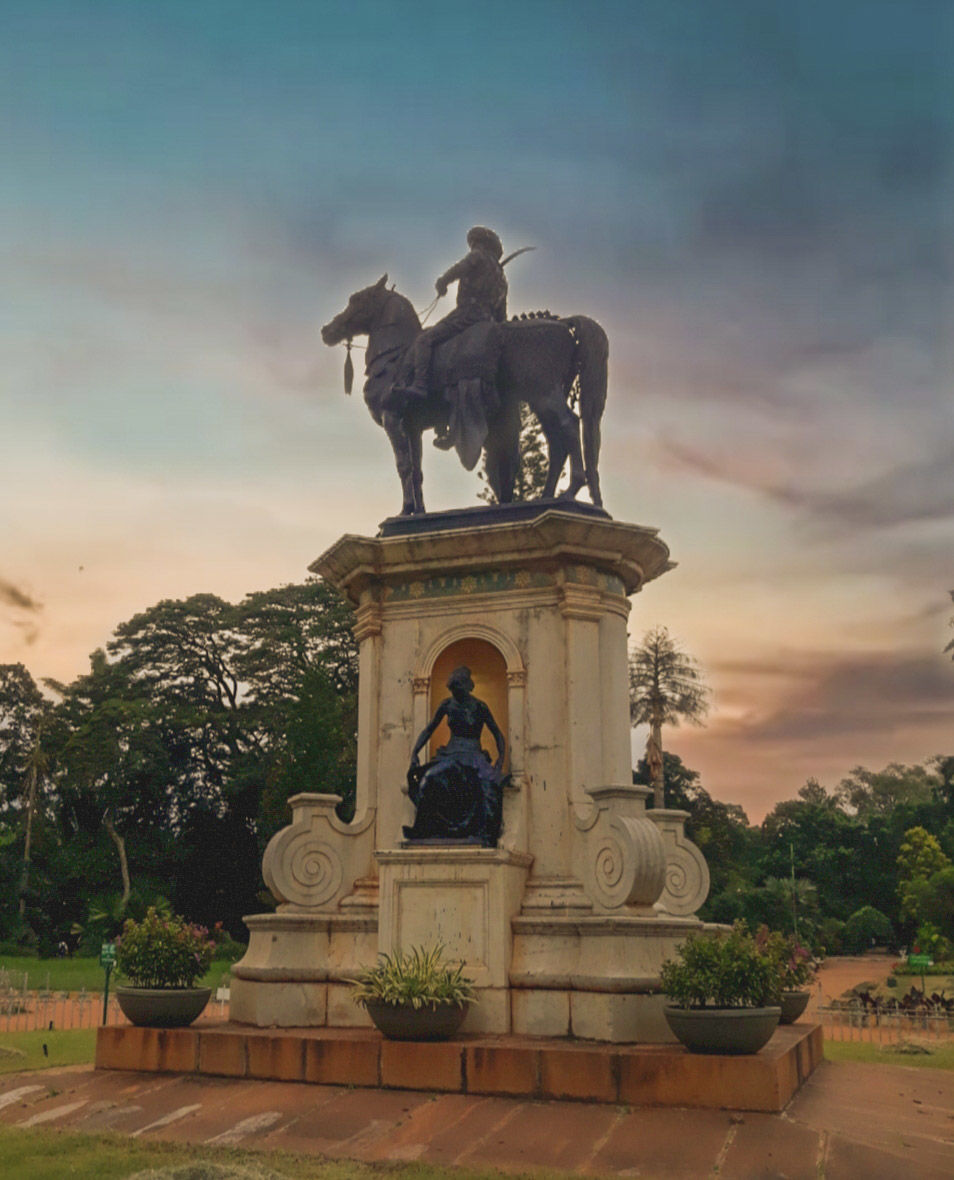 The first thing you will notice is it's super-clean. It spread across 240 acres, having a lake, fountain, glasshouse, and 1000+ species of flora and plants. I was taking a tour through the woods, but the cloud appeared and from nowhere it started raining. I was standing under a small roof for more than an hour. So, I couldn't explore much.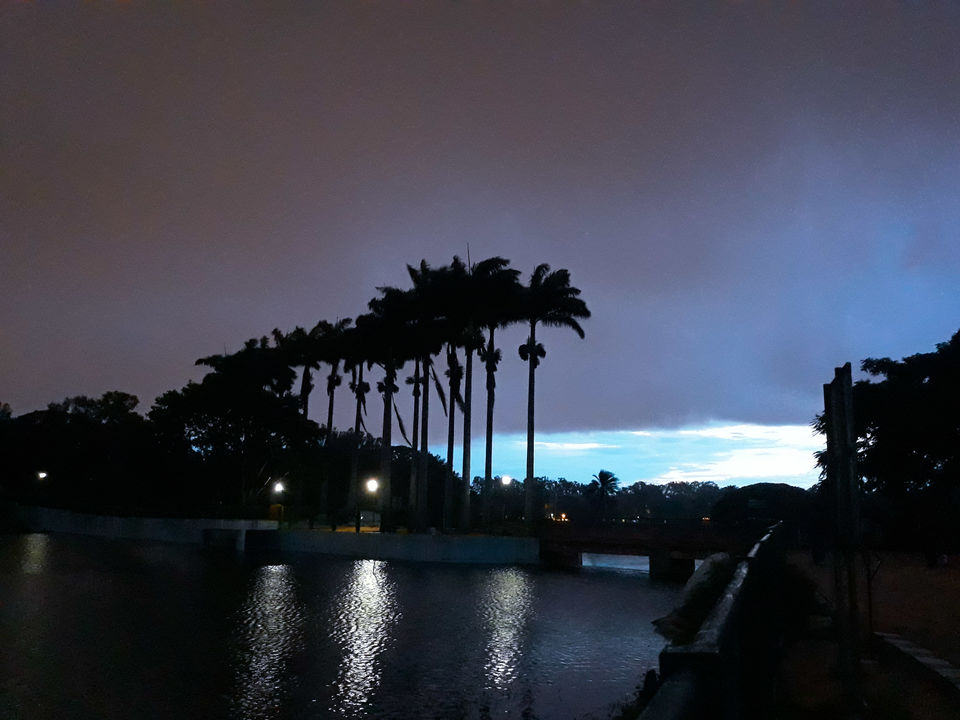 As I said, my experience was not as I expected; the encounter with torrential rain on a sunny day and cab inefficiency, I decided to move and take a Metro for my next destination. The garden is open from 0900 – 1800 hours, and the entry fee is 20 INR.
I boarded a metro from Lalbaug station and got down at Mahatma Gandhi metro station, from there 10 minutes ride in a rickshaw to reach, one of the oldest churches in Bengaluru.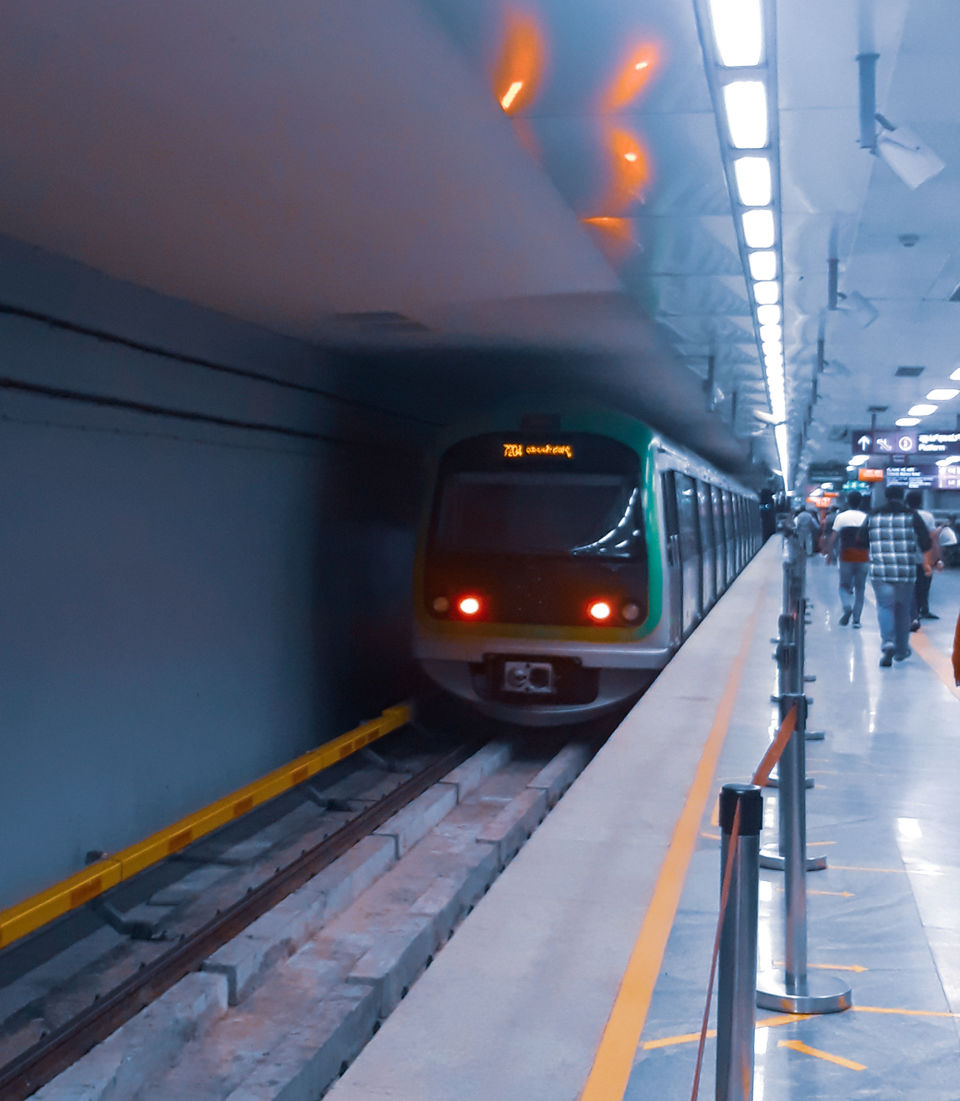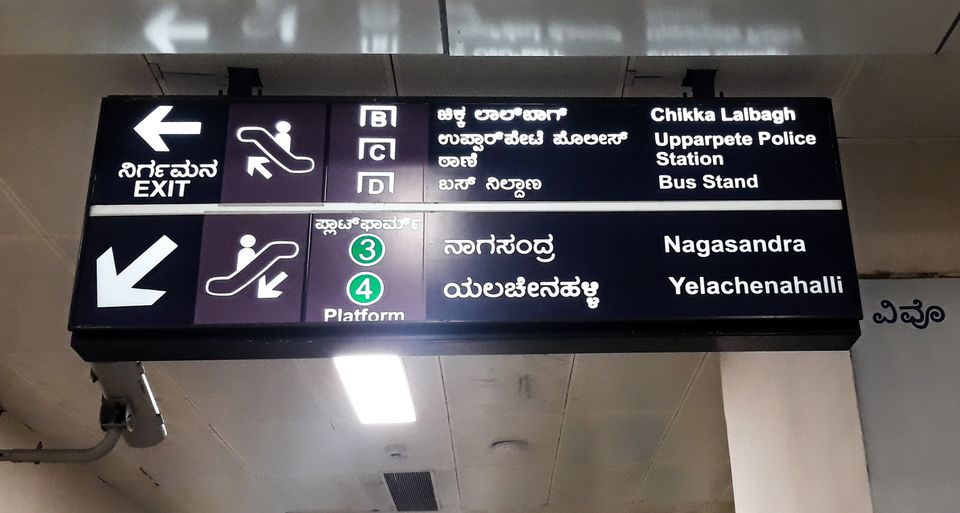 The church is charismatic. The formation of this city and the church is interlinked. It has a marvelous sight of Mother Mary, showcasing the colonial era of Indian history.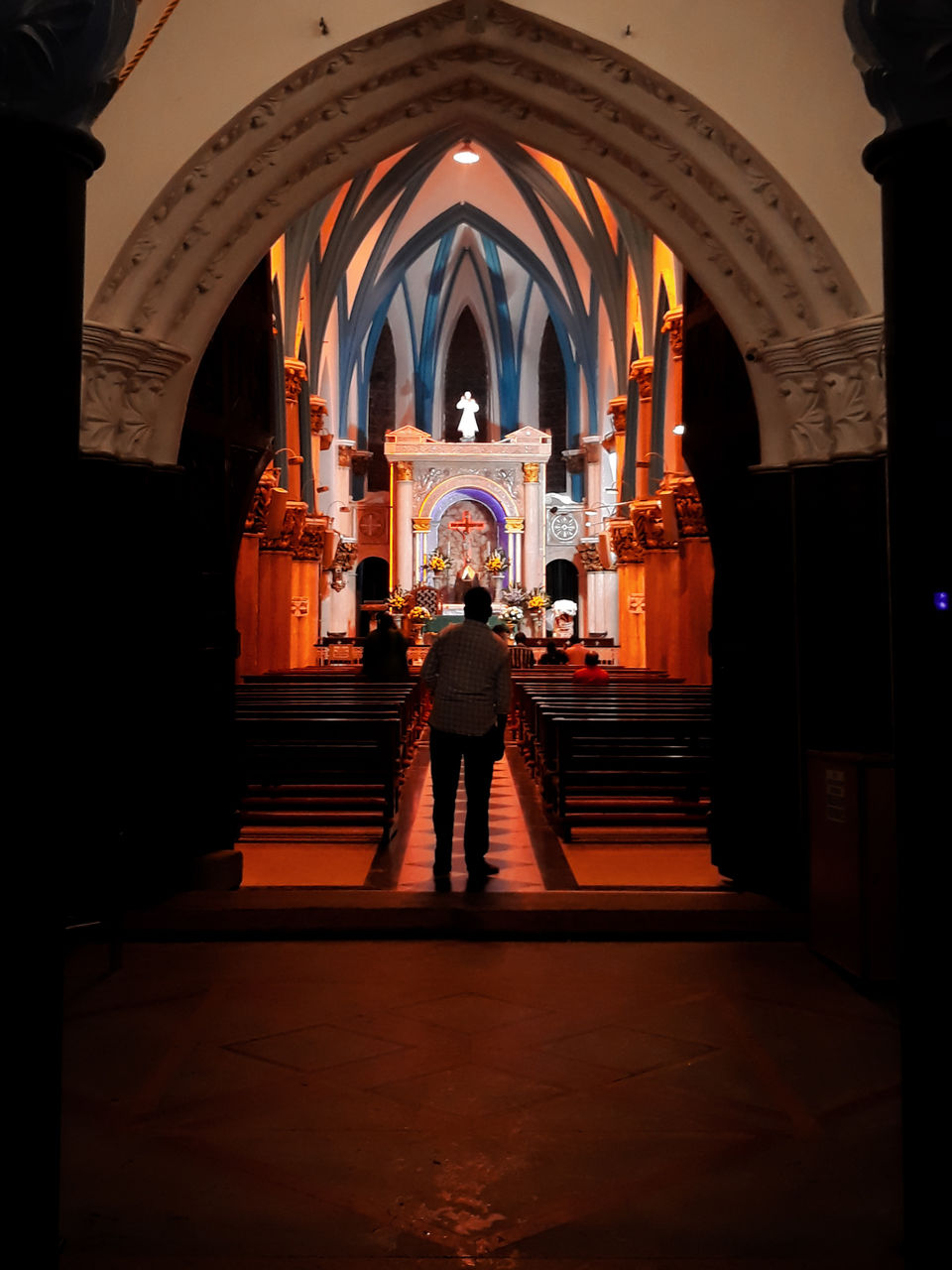 The Church structure is splendid, and conducts masses in different languages, though I missed the Mass, but was glad to experience tranquility and serenity. One of the highly recommended places by me.
Perhaps the most famous and glamorous streets of Bengaluru is MG Road. The famous street is known for its specialty in food delicacies, shopping, and exotic cafes. It was drizzling at that moment, and people were enjoying the moment.
The strangest dish I found was "Dosa Chicken". I bet you won't get this anywhere around the world. I won't tell how it tasted, try it yourself. Along with food corners, you will find shopping arenas and some top attractions such as antiques stores for houses.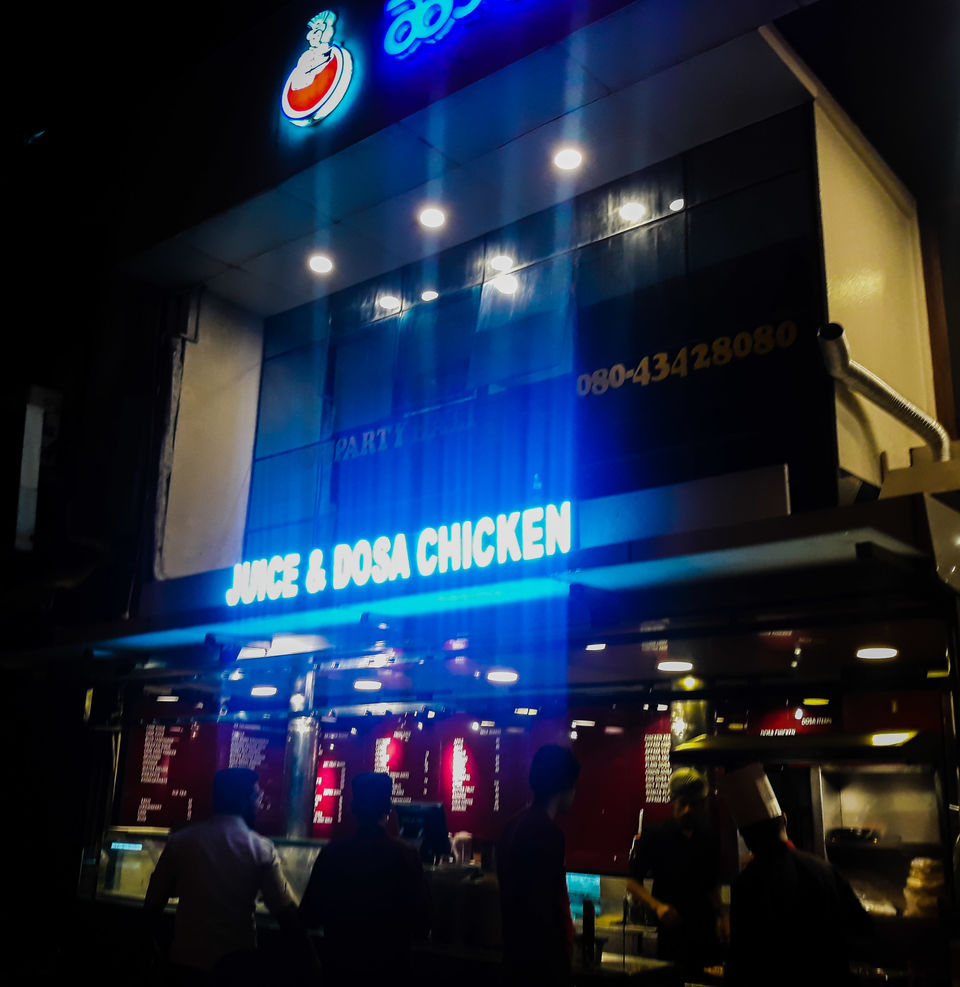 Tip 1: Check the weather and assume the forecast to be true. Carry an umbrella or waterproof pouch just in case.
The most striking structure in Bengaluru for me was the Vidhana Soudha, a large and stylish construction at a land area of 60 acres. It is the largest Legislative building in India designed with four floors and one-floor below the ground level. You will capture the sight of this magnificent architectured building the moment you watch it. The elegance of design and construction was an idea of "Kengal Hanumanthaiah", who was the second Chief Minister of Karnataka State.
Moving on to the next is another sprawling structure that will take you back to the colonial times of the British period. It is said, the Palace built by J. Garnett during the 18th Century, which later was bought by King Chamaraja Wadiyar, an South India's enduring dynasties, who then modified the structure in 1874. The interiors tell you a different story of an earlier era. I didn't visit this part, as I had a crunch in time and wanted to finish my next destination a little early. But, you can explore from inside, the exotic interiors, and the audio guide will help you tell the stories of the castle.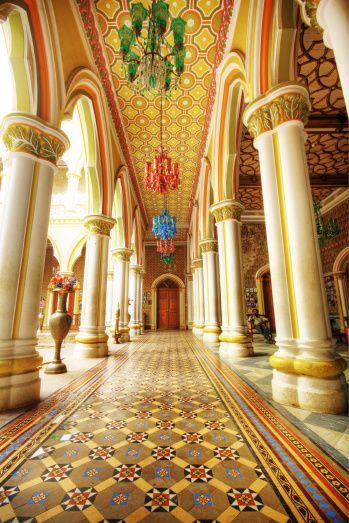 There are strict timings to visit the Bangalore Palace, it is open from morning 10 – 1730 hours, besides this, to click photos you need to pay, also the entry fees are 230 INR for the locals, and 460 INR for foreign tourist.
The heritage temple with a Statue of a Bull is called "Nandi". The Statue is 6.5 meters long and 4.5 m in height. The most impressive part is, it's carved of a single rock. The farmers worship the statue as a blessing from "Lord Shiva". The devotees around the world, hold a spiritual status in the hearts, and people in large numbers visit to seek blessing.
Make sure you don't plan during peak hours, it may even take two hours to reach your next destination.
Tip 2: Always carry your Power-bank or battery backup along with you.
During your travel, always plan to visit nearby malls. You can check-out the UB City Mall, which has one of the modern architecture, it's known as India's first Luxurious mall. If you don't want to shop, you can enjoy the finest and traditional restaurants inside the mall or a lovely french-style coffee with some snacks at Cafe Noir.
Another mall you can visit is the Orion mall – the third largest mall and best-constructed malls around the city. If you don't want to do anything, you can still visit with friends or partners to spend some memorable moments.
When your in South, these things you can't miss – Idli, Dosa, and Coffee. That's the full form of this restaurant chain, "IDC Kitchen". The novel way to serve traditional dishes for the super active and fast-moving generation. The unique thing is they stick to the basics, the "Taste of the South".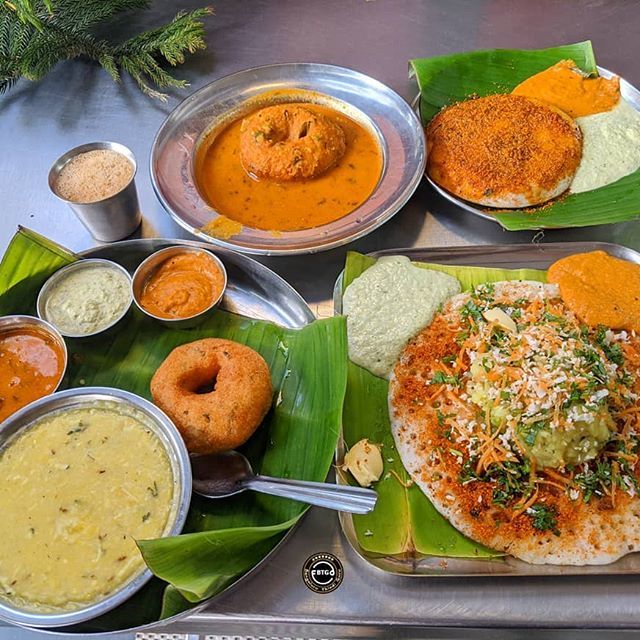 The place is small, prices are fair, and the service is quick. The main highlight is not the fancy restaurants or cafes, but to explore places you will get, only in Bengaluru, which I highly recommend.
An ideal place for nature lovers. Located exactly at the heart of the city, with rich in green foliage spread across 300 acres, with wind crossing effortlessly, shades of beautiful trees, and resemblance of the forest leaves you lost in nature.
The best thing was, the motor vehicles could pass through a stretch, but the roads around the park are kept closed for 3 hours, from 0500 – 0800 hours, so that people can walk or exercise in the morning. Isn't it cool?
"Now, Bengaluru is famous for its nightlife. So, how can I miss one here! The night of Diwali – when the lanterns were up, diyas were lightings; it was enthralling to watch every corner of the city. Though it was raining, the enthusiasm of people wasn't affected".
As friends were in town, we felt the joy and excitement through some Bollywood dance moves on the dance floor while the DJ played some energy booster music at one of the finest clubs. You should keep an eye on the most happening gigs in such towns.
When the sun goes down, Koramangala, Indira Nagar, and MG Road lighten up. These are the most happening places in Bengaluru for club partying, exotic new flavors, drinks, and unlimited music. Even if your alone or with a squad, it doesn't matter, sometimes, it becomes the secret to reinvigorate.
The next day, we went to add some memories in our life as well as spend some peaceful time. These are the moments you cherish even after a decade.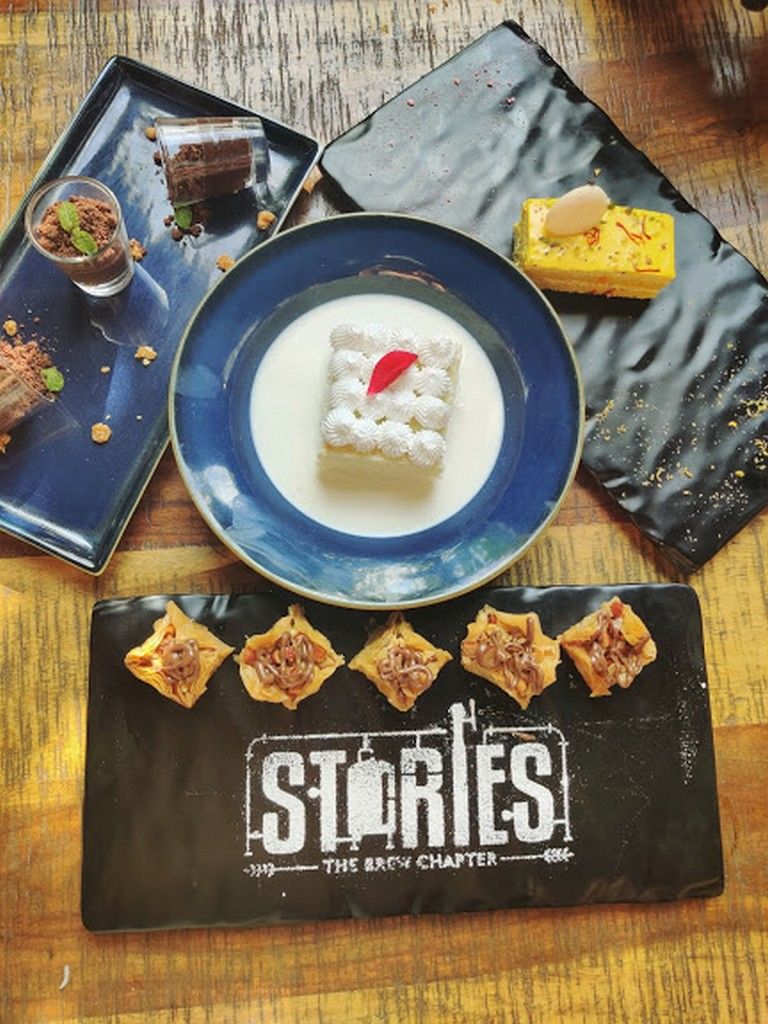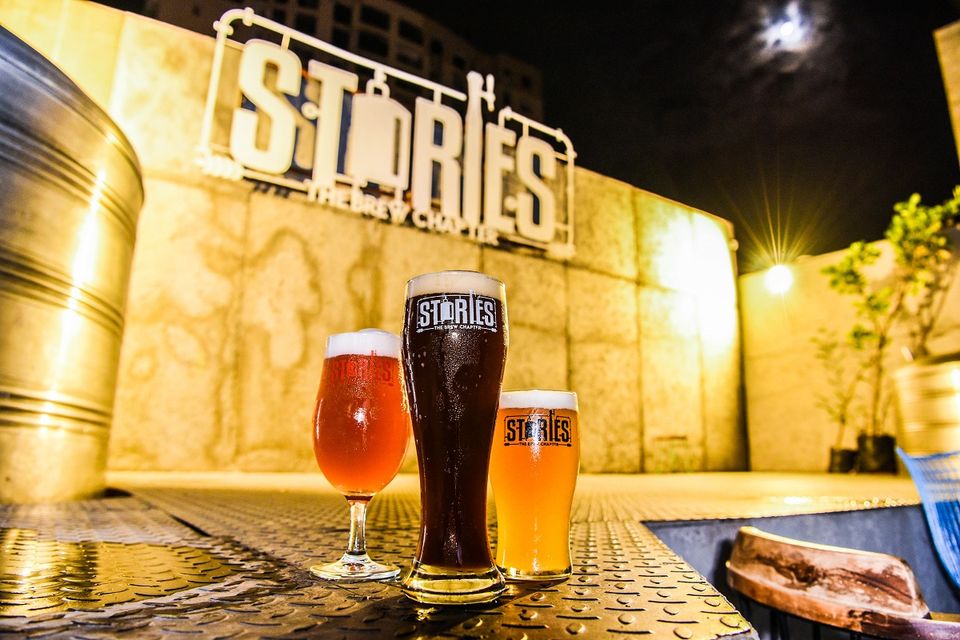 Adding more crispy to the moment, the blend of authentic Indian food influenced the dinning with culinary arts. The open roof-top ambiance was cheerful, with some exotic cocktails and mocktails adding colors to our moment.
That's the wrap of my overwhelming experience inside Silicon Valley of India.
Tip 3: To book a cab/message/call, avoid at the corner of any street, look out for a cafe or shop, stand inside or nearby. The bikers or thieves will have no scope to snatch and run away. Also, avoid walking on the streets with valuables.
Missed Places:
One of the famous tourist destination for cinema lovers. Every day it's booked for the shooting of ad films, short films, movie scenes, pre-wedding, and many more on the list. If you get lucky, you will meet some Film-Stars.
As I shorten my trip, I missed it but, you will need a day because it's approximately 35–40 km from the main town of Bengaluru. The standard package for entry fees is INR 699 per person. The timings are from morning 10 – 1900 hours. You can schedule a tour through their website and can get more info, here's the link http://innovativefilmcity.in
People who love street shopping, this is a paradise for them. You will get all ranging clothes, and there's no fixed cost, so you can bargain at your best to buy the garments, jewelry, footwear that suits your style. Mostly you get the trendy Asian and western wears, a top attraction spot. Ladies, you can't skip this destination.
Tip 4: When you plan for a day, divide your essential travel gears. Don't keep it in one place. Like money, debit/credit cards, pen-drives, passport, so on. You should always have a hidden pocket or pouch in your clothes; it works as an ultimate asset.