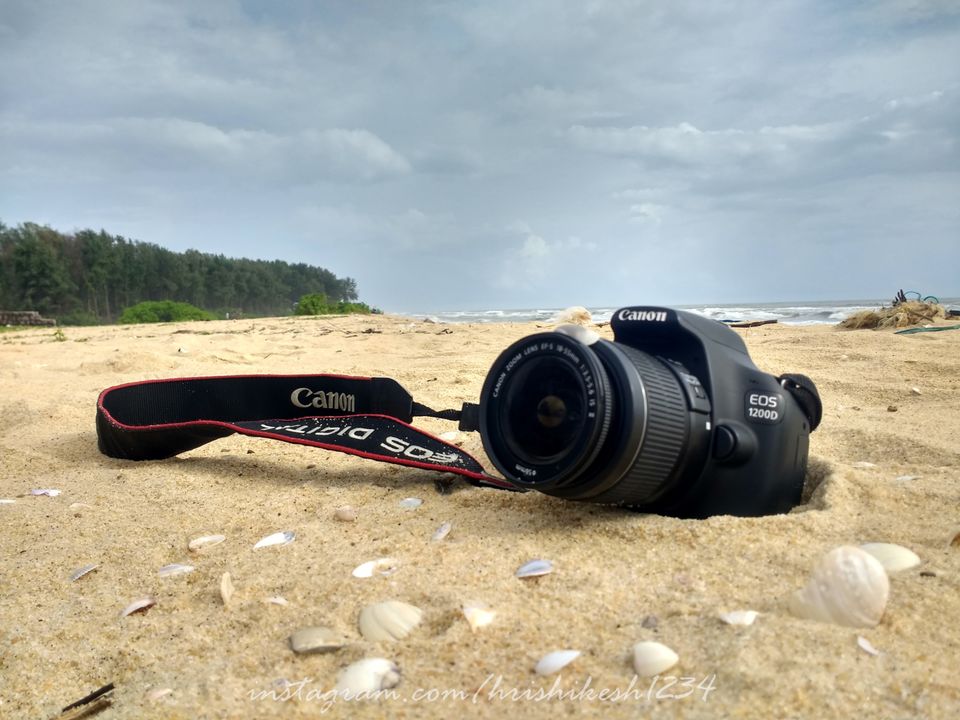 Back in July 2017 all 4 of us decided to go for a road trip to the coastal region of Karnataka. This was like the "beach-pilgrimage", covering 4 destinations; Mangalore, Manipal, Udupi, and Murudeshwar. Of course, we couldn't cover Gokarna as it was further ahead and we didn't have that much time.
The plan was to fly from Bengaluru to Mangalore, as we were lucky to get the flight tickets with the prices comparable to that of a Volvo bus ticket. Since it was an early morning flight we hardly got any time to sleep. In the flight we could sleep for all 30 mins before we landed at Mangalore at 6 am. It was a cloudy morning, with drizzling. Perfect start to the day!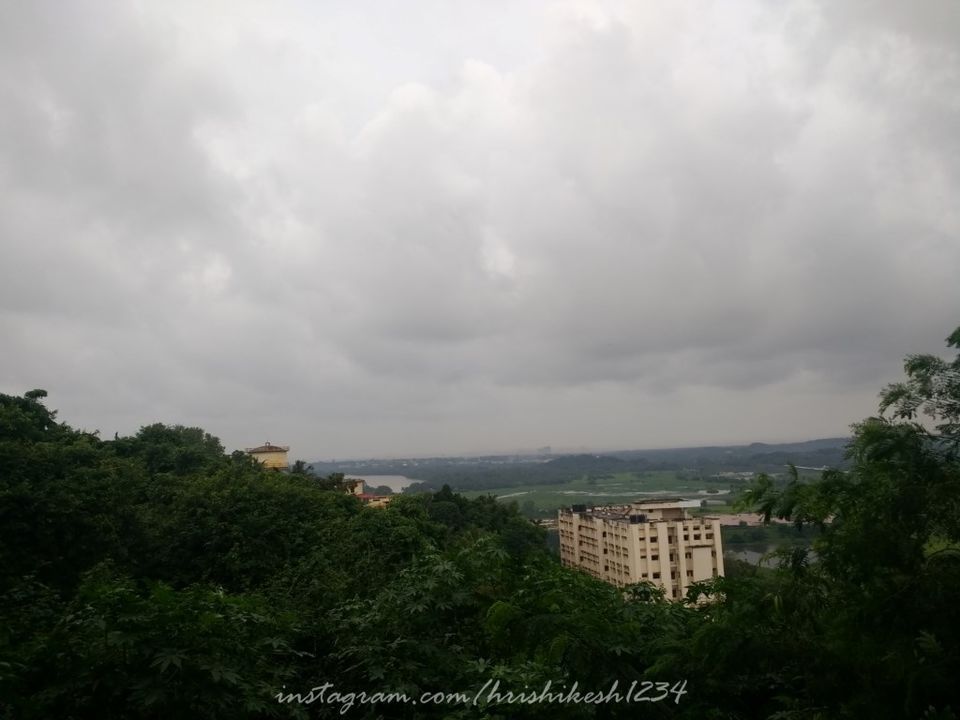 While at Mangalore airport we were struggling to get the services of a Ola/Uber. Turns out app based taxis are not allowed to pick passengers. Hesitatingly we took a cab at an exorbitant rate of Rs. 400 to drop us at the bus stop so that we can take a bus to Manipal. The city looks fresh out of a shower, with morning droplets trickling down from the rooftops of the houses. Here we are at the bus stand now, waiting for a ride till Manipal. A speeding bus came, boarded it quickly before it flew off. Most of the passengers looked to be students from various colleges under Manipal University, going to their classes. The bus was rushing at a break-neck speed. We took the last seats and the views outside were really satisfying. With the Malnad styled houses flanked by coconut trees it was a welcome relief to our senses from the towering concrete jungles.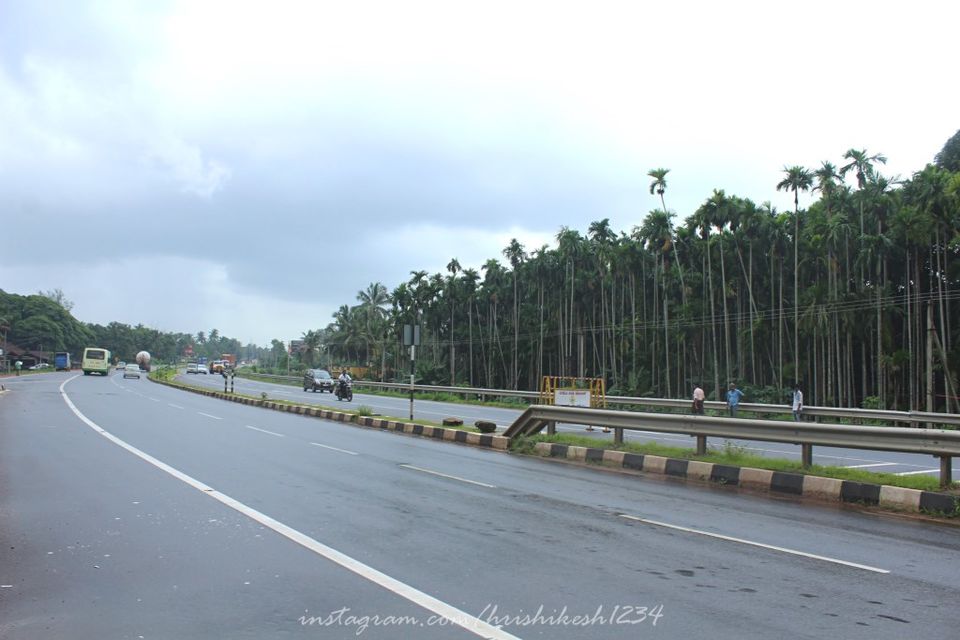 While the bus speeds away we crossed the National Institute of Technology Surathkal, one of the premier engineering institute in India (and my dream institute back when I was in 12th). Interestingly NITS has its own private beach. Pretty cool I say, with all the bragging rights. Mangalore to Manipal distance is around 65 kms, and takes less than 90 mins to cover. The roads are in excellent condition, and driving in monsoon takes the pleasure to next level. We got down right in front of the Manipal Institute of Technology at 8:30 am. Manipal is globally renowned for the Manipal University, and students flock here from across the globe. Almost every 2nd building belongs to the Manipal group, else Manipal was a quaint little fishing village. Students will be swarming across the town giving it a vibrant feel.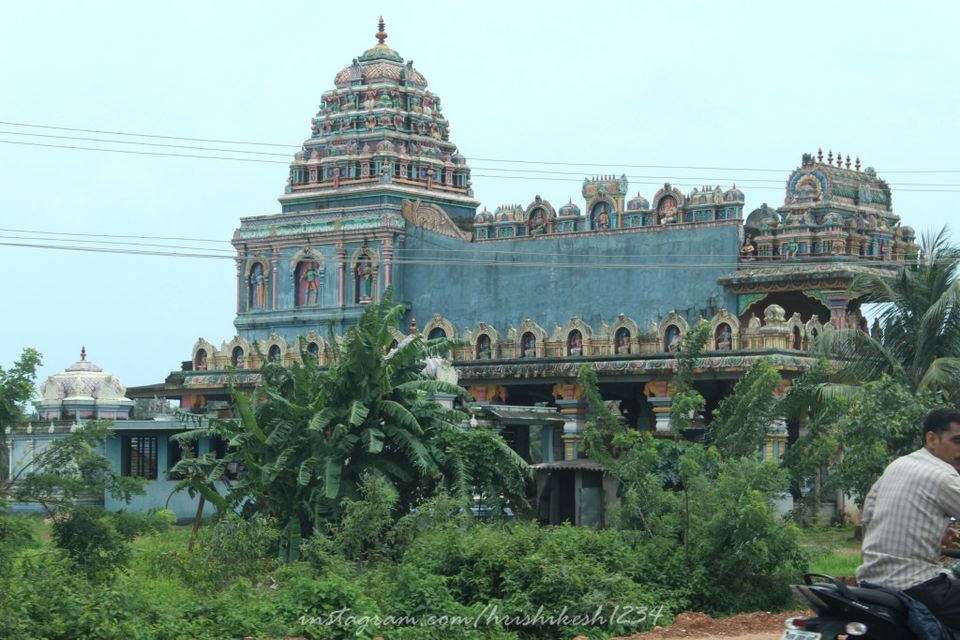 Day 1: Mangalore --> Manipal --> Murudeshwar
We reached Murudeshwara at around 12 pm, and had booked rooms in RNS guest house. The first thing that catches your attention is the towering statue of Lord Shiva, with the multi-storeyed Murudeshwar temple right in front. Wow!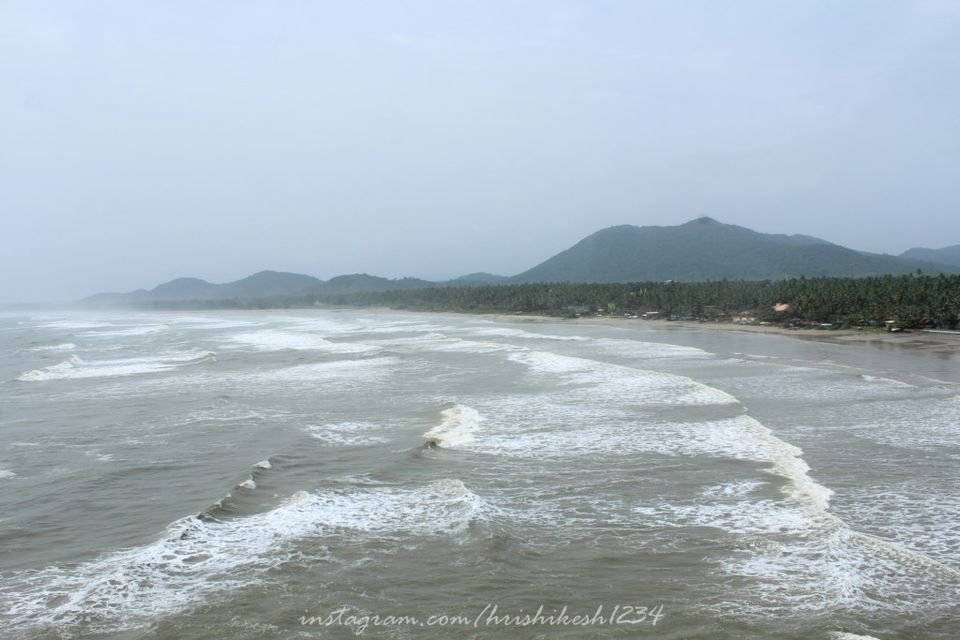 The beach is a bit dirty and the waves turbulent. Would advise to take caution while entering. Whereas, we decided to walk on the sea shore. After few photo-shoots we were craving for some nice seafood for lunch. While we looked around most of the places were closed and neither did we want to drive out again just for food. Just then we say a small eatery open, and ordered for plenty of fish items. Kid you not that was one of the most amazing fish fry and gravy I ever had. So much so that I ordered for one more fish fry. When we it came to billing we were surprised to a relatively cheap bill. Fresh fish fry for 50 bucks is a deal breaker.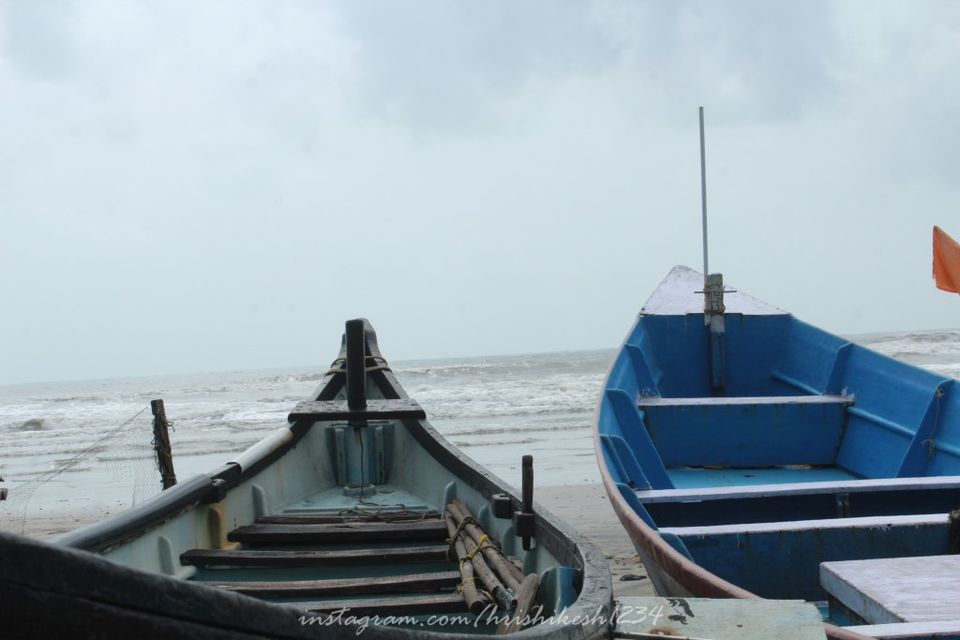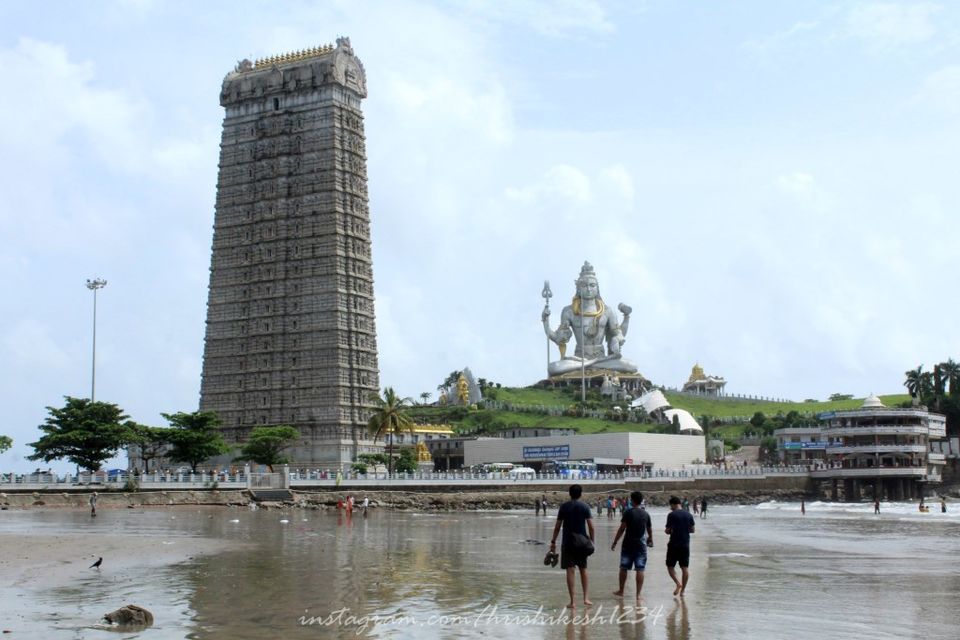 It was 3 pm and we decided to try our luck with another beach, this time Kaup beach. Kaup beach is on the Manipal-Mangalore highway, which means we are back on the same road. Situated at a distance of around 18 kms from Malpe we had to hurry up before it gets dark. Reached there in like 30 mins. And good lord this beach is a jackpot. Absolutely spotless and stunning is what I can describe this beach. In fact, the prettiest beach in India for me so far. And a cherry to the top? The Red-n-White painted Lighthouse on the far right. Best part is you can go up the staircase to the top. Its pretty scary to climb up to be honest, with the narrow pathway.
Reaching the Arbi falls is not difficult; you can either take an auto till the base or simply walk. Nestled inside a forest the falls will give a rejuvenation once you step inside. Now who doesn't like a cool, pristine water source.
After this small adventure we go to Udupi. We caught hold of an auto to drop us at the Sri Krishna Temple. The temple is at a distance of around 7 kms from the waterfall, and takes about 20 mins.
The Sri Krishna temple is a famous icon of Udupi, and is more than a millennium old. The temple premise is a huge and spectacular one. One has to drop off their footwear before stepping inside the temple corridor. Once there there is a queue to get inside the temple. A pond is placed right in front. Once inside there is a tranquil air that prevails. The main idol cannot be seen directly, there are panes with holes through which darshan happens. Spend some time sitting on the cool stone floor. Also, don't hesitate to have plenty of prasad (laddoos).
Outside it is damn hot today. We are perspiring from head to toe. After spending around couple of hours we decided to take a AC bus to Mangalore, which would reach in about 1 hour. Quickly, we took an auto to Sultan Battery for our next destination.
One has to take a 5 min boat ride to cross the water body to reach Tannirbhavi beach. Unlike other beaches there was a small treeline that made way to the beach. We realized there was constant high tide and the local administration has debarred anyone from going even close to the shore. We just sat there collecting exquisite shells on sand.
We took the boat ride back to Sultan Battery, and this time we take an auto to St. Aloysius College and Chapel to get a feeling of catholic history. But to our misfortune the church had already closed by the time we reached, at 6 pm. Nothing to do else we decided to hit one final place, Pabbas.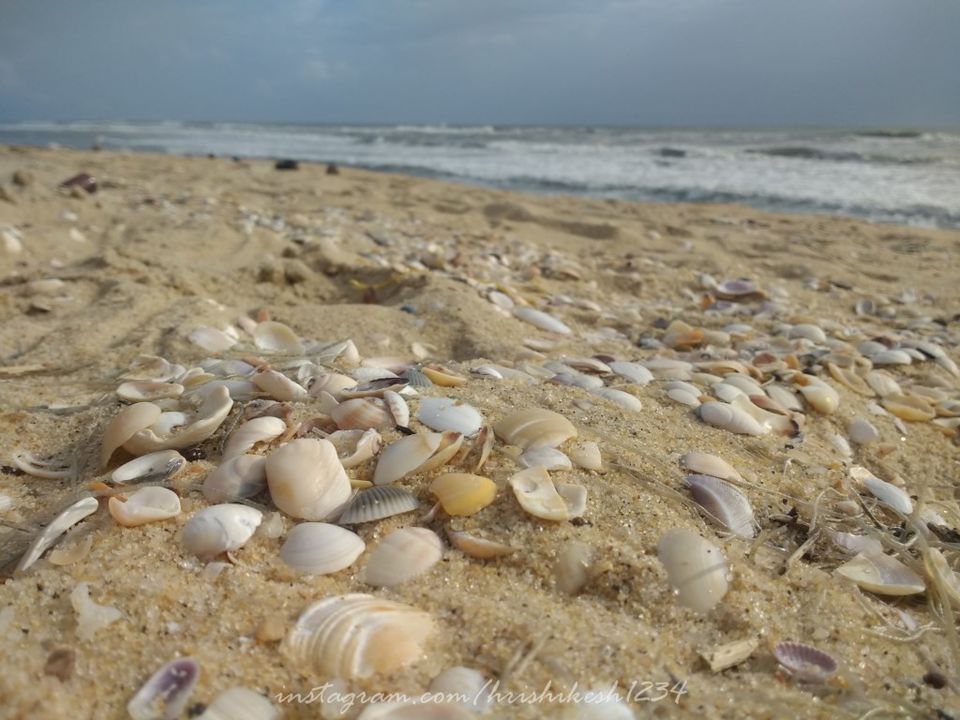 Before undertaking the trip I had asked 4-5 people regarding things to do in Mangalore. And all had suggested Pabbas to end the trip with. Pabbas is a very popular ice cream parlor joint. And we quickly realized its scale of popularity when we had to wait for around 15 mins in waiting before getting a table to us. The awesome taste is one thing, but the prices of ice-cream will provide equal relief to your heart as well.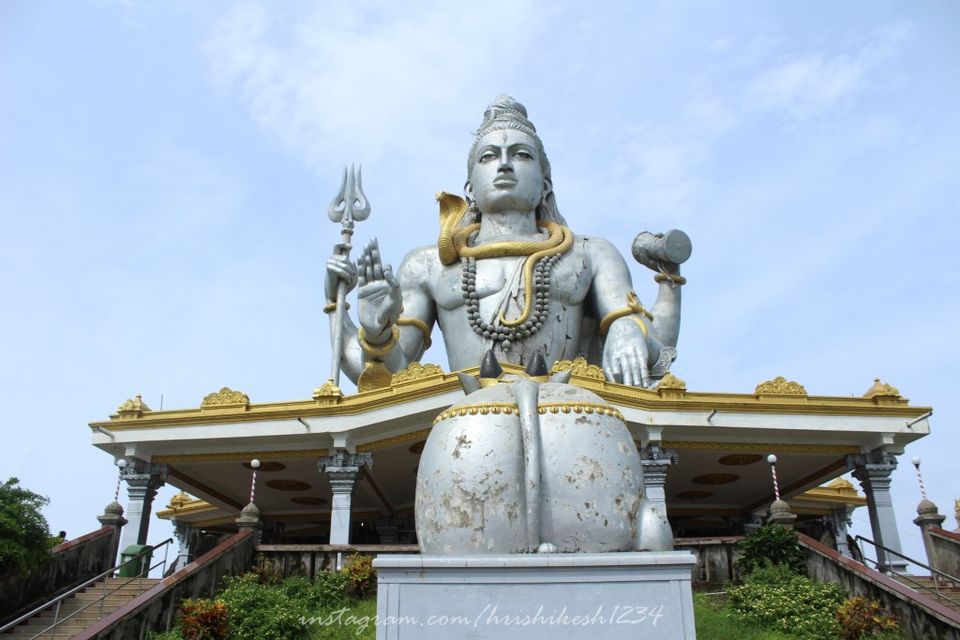 Now this is where things got a little awkward for us. We didn't have a solid plan in place. We didn't even finalize what all places we wanted to cover. Do we chill in Manipal and the adjoining beaches? Or should we head out to Agumbe? Heard Murudeshwar is also nice, should we go there? Or better lets go to Udupi and then to Mangalore! All this thoughts from each of us only confused us further. We finally zeroed down on our plan; we will get a Zoom car, drive to Murudeshwar, spend the day there, and back to Manipal next day, and then to Mangalore. Sounded like a good plan!
Manipal gives you that feel of a student with the fortune of studying in a beautiful small town. With its green hillocks surrounding it and empty roads Manipal is the perfect place to be in. We got a KUV 100 from Zoom car, and considering it was a weekend I feel we were lucky to even get one at the last minute. Indra would be the driver while the rest 3 of us enjoy the drive. And so it begins...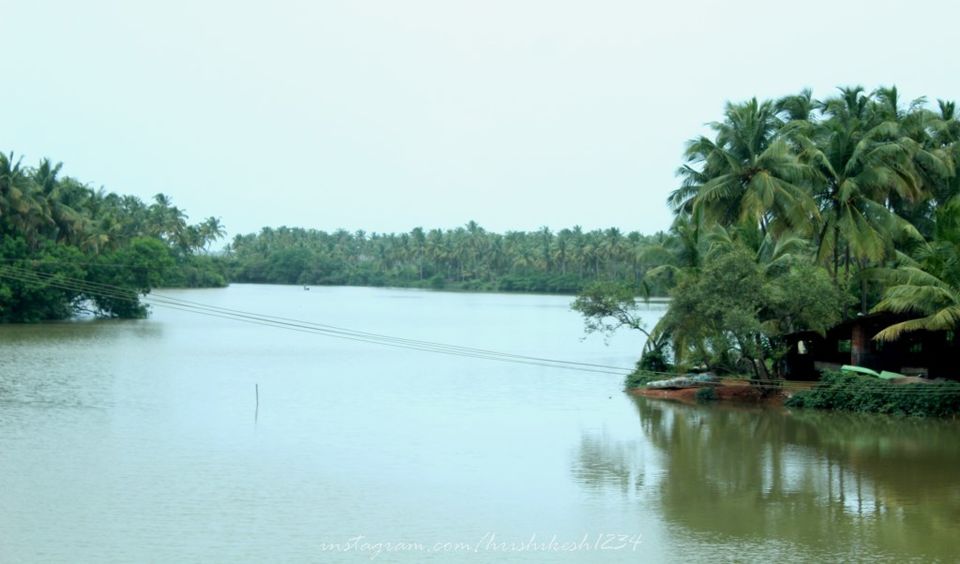 The road to Murudeshwar starts through a narrow road through villages before it meets the highway. It has stopped raining and sun is at its lightest now. You'll see plenty of temples on your way, along with water lagoons. Cruising on a 4-lane highway, humming to our songs is what road trips with best buddies are all about. Dil Chahta Hai anyone?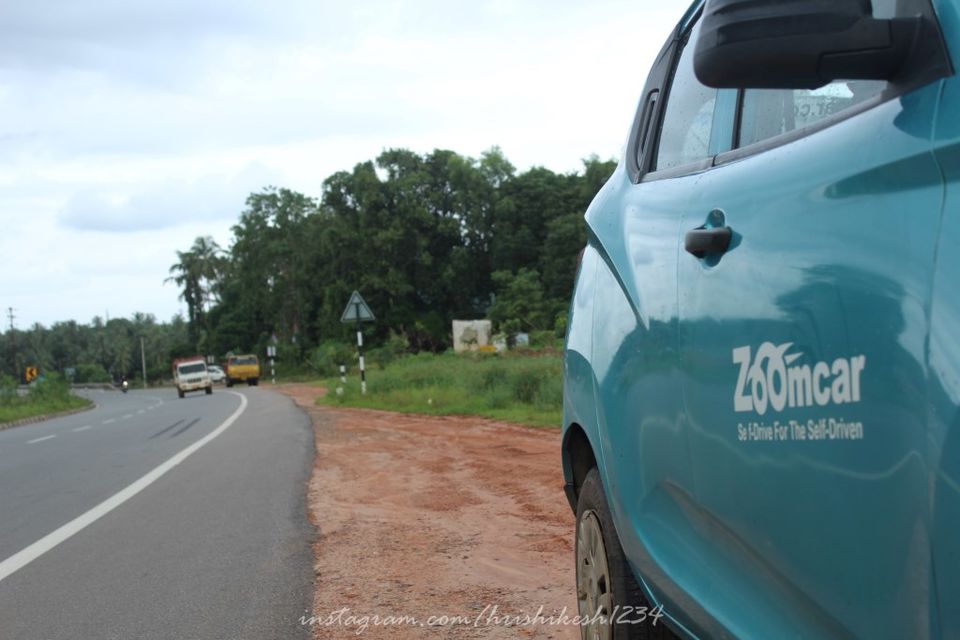 We stopped for breakfast midway for some idli-dosa and coffee. As much as the route was scenic the food was equally delectable. Back on the road and and we now take the deviation towards from the main road, entering a patchy 2-lane highway. Distance from Manipal to Murudeshwar is almost 100 kms, and shouldn't take more than 2.5 hours. With the endless green crops adjoining the water bodies made this for a even more prettier road to drive on. Just when we were basking in such glory we saw the first sight of the sea crashing furiously on land.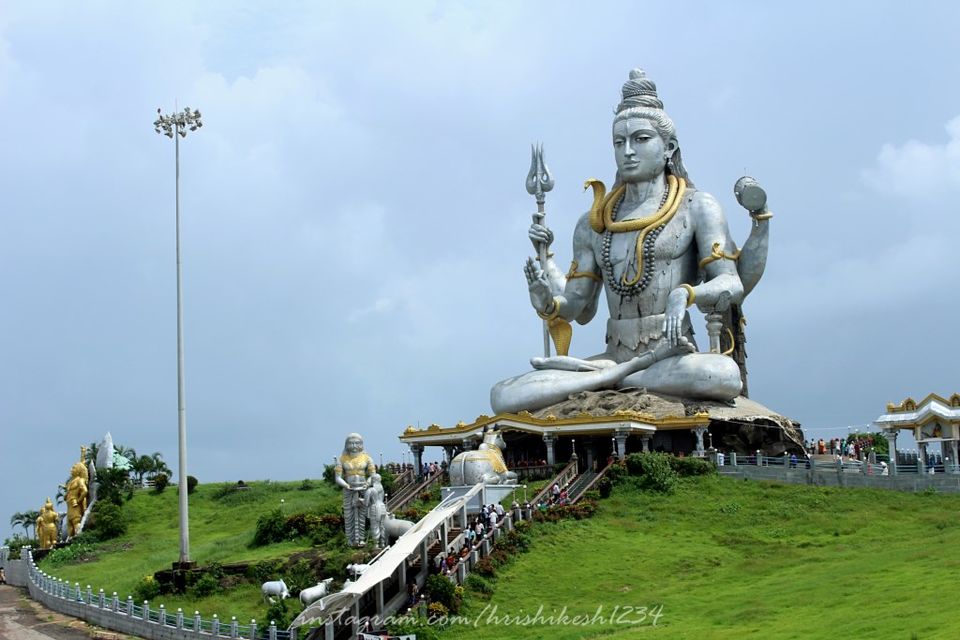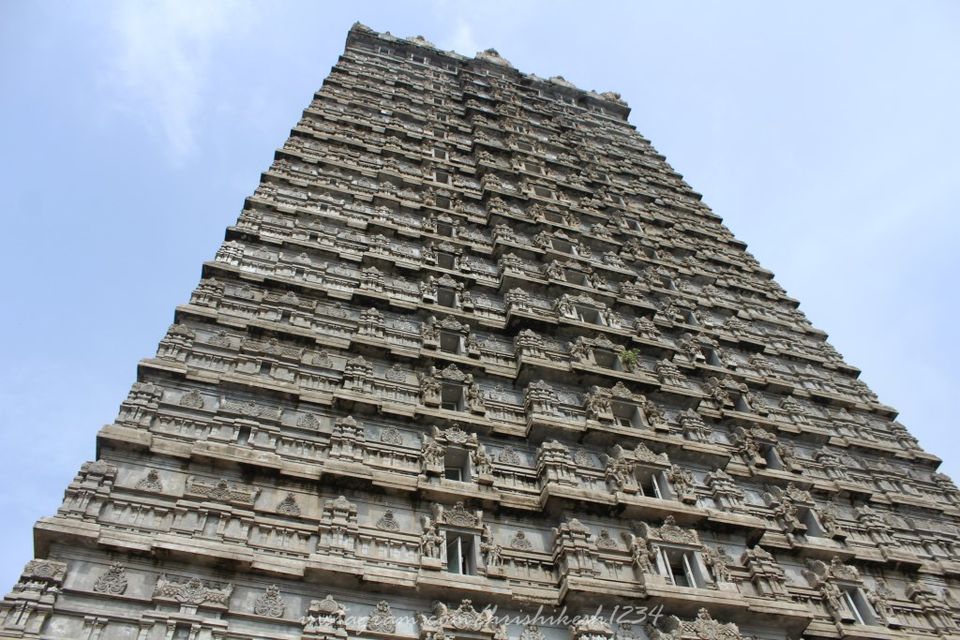 The view from the balcony of our room of the Murudeshwara beach and the vast ocean just left us speechless. The rooms are clean and spacious, for Rs. 1500 for a double bed room. It started to drizzle soon, dampening our plans to hit the beach. But I guess Lord Shiva was in a good mood and the slight drizzle gave way to sunshine. Without any adieu we rushed to the beach.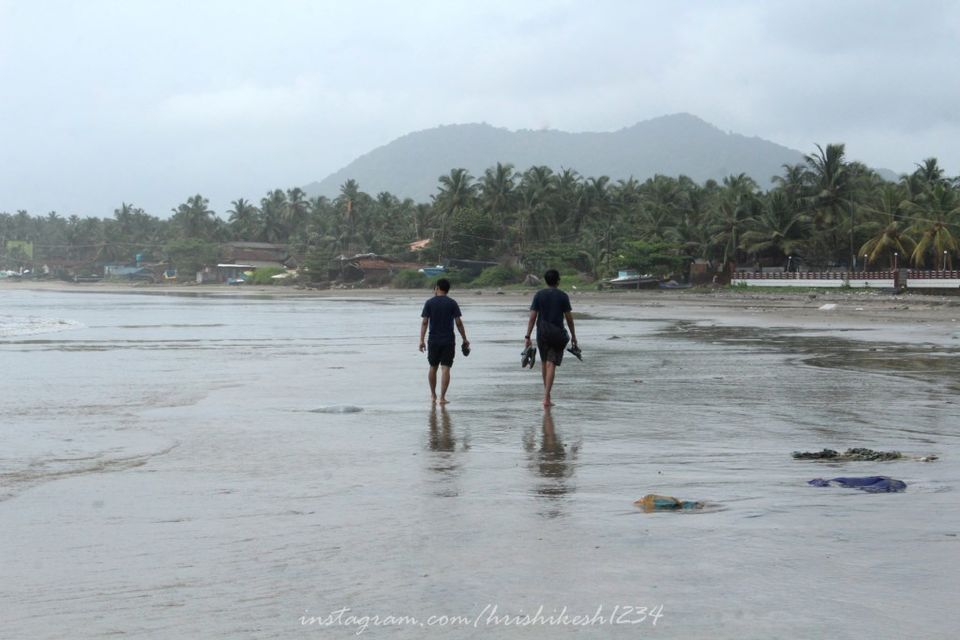 We took the slowest pace possible while returning to our rooms. That Shiva statue right in front of our room had a certain allure to it, and we would click multiple pics from same angle. As we hadn't slept the previous night we thought of taking an afternoon siesta in such a pleasing weather. At night there's literally nothing to do except click more pics of the Shiva statue and the temple. For dinner we went to a nearby resort for some more seafood and beer.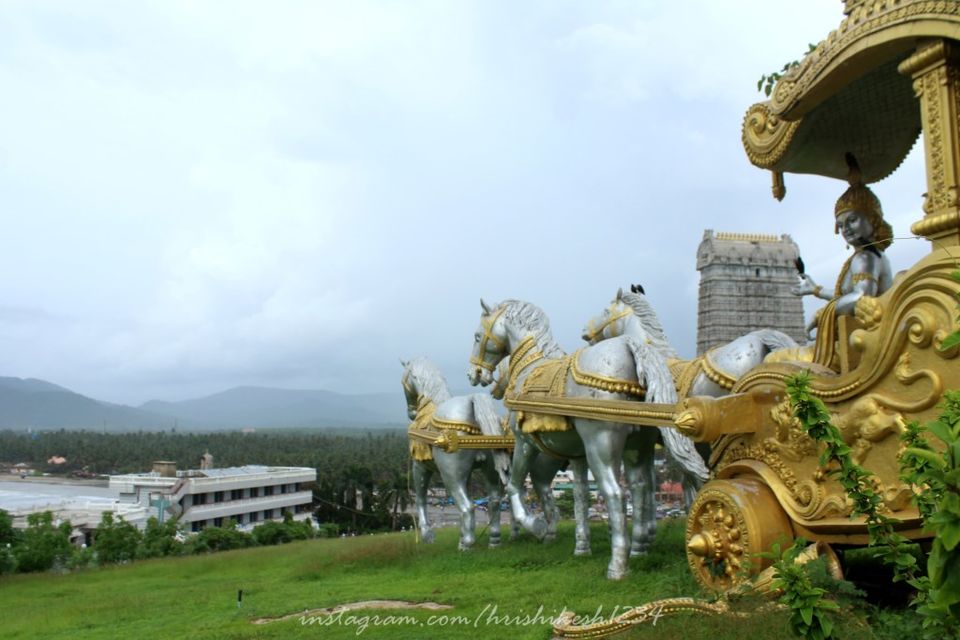 Today we head back to Manipal. Without wasting anymore time we hop back in the car and drive our way back to Manipal. While enroute we decided to pay a visit to the Malpe beach. We reached Malpe beach in about 2 hours of driving, right on time for lunch. But before that lets take a dip in the inviting water.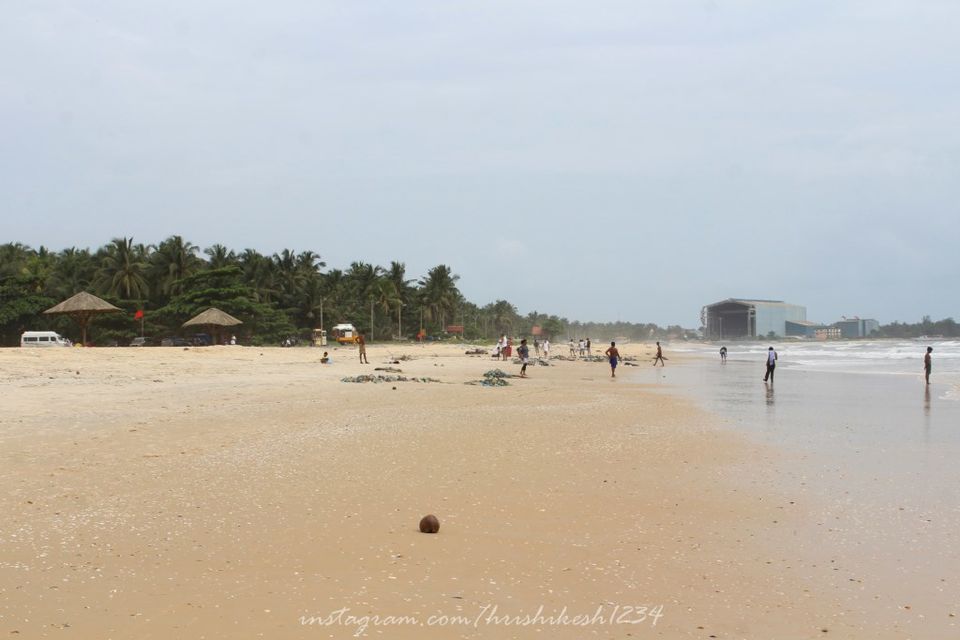 We would go inside the temple tomorrow early morning. What we need now is more sleep!
Day 2: Temple Darshan --> Malpe Beach --> Kaup Beach --> Manipal
Woke up early morning and found lot of devotees thronging the temple. Well, of course today is a Sunday. We also freshened up quickly and went to the Shiva statue. This ones a huge statue. Every step that you take closer the statue feels even bigger than the previous step. Standing from there you can have birds eye view of the beach and the endless ocean from the back. Paying our respects we quickly now went inside the Murudeshwar temple. Now this is where there was a huge crowd thronging in. I'm not sure why they have built so many floors across but one can take the lift to top to get a even better view of the Shiva statue with the Arabian Sea in the back. Gorgeous!
The Malpe beach is a pretty neat and less crowded one. It doesn't have the fanciness of a Goa beach. Lots of fun for me and Ranjit, while Indra and Suman decided to steer clear. Around 45 mins of playing in the water definitely triggered our hunger pangs. A quick shower in a public washroom we went to a restaurant right opposite to the beach. Again had fish, prawns, and chilled beer!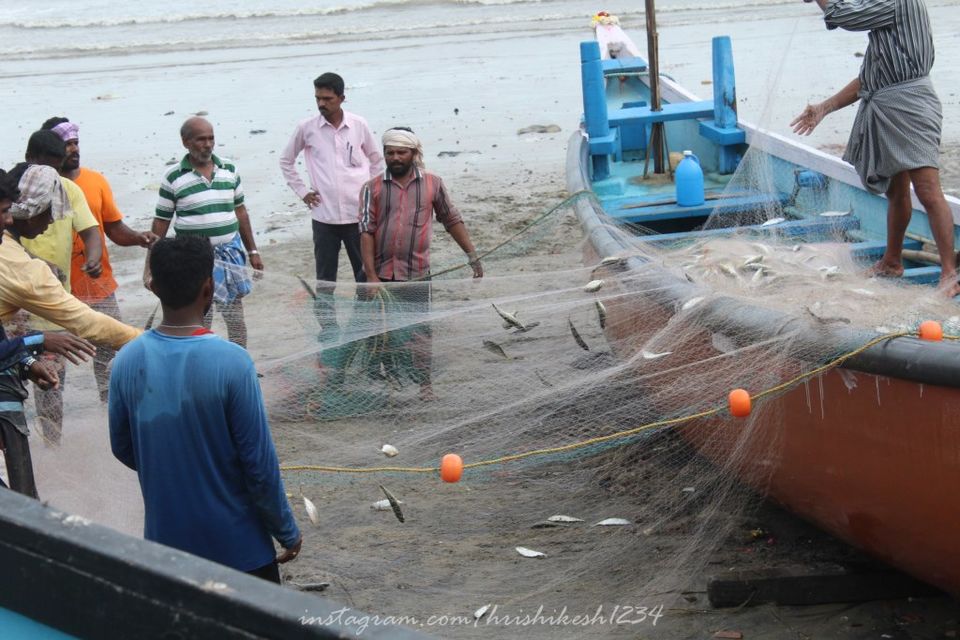 From the top its an astounding 360 degree view. The view may be surreal but you have to be careful with your steps, and not get carried away while trying to get that epic selfie. as it gets dark we get down of the lighthouse and make our way back to car. There's literally no one on the beach, its that quiet. Perfect place for a honeymoon.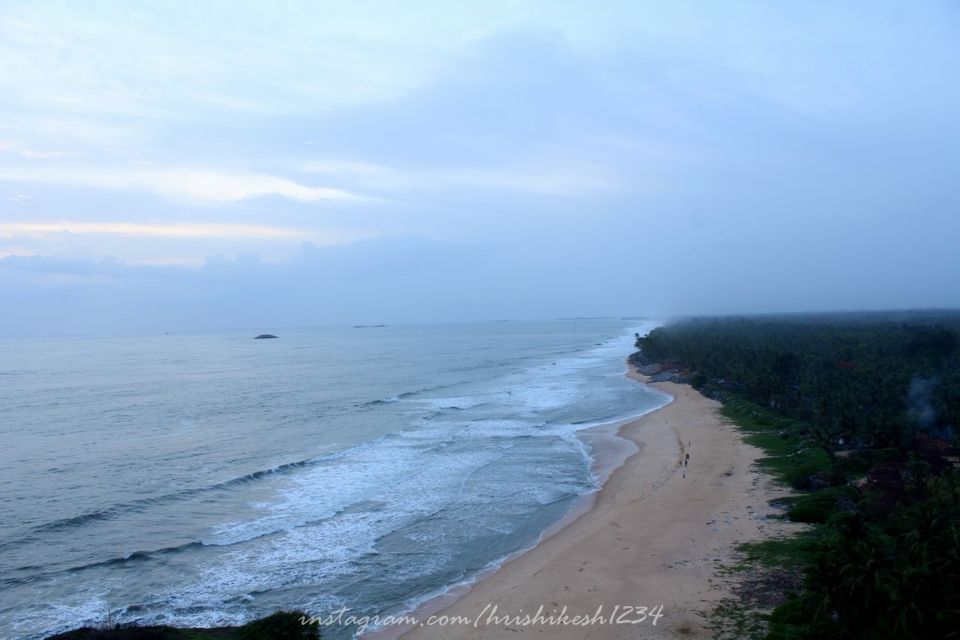 Back on the road and we head back to Manipal to our hotel. While Indra and Suman go and handover the car we decide to call it a day at the pub downstairs on some beer and some non-veg starters.
Day 3: Manipal --> Udupi --> Mangalore -->Bengaluru
Today we are reliant on public transport throughout. We head down to Udupi to Sri Krishna temple, before returning to Mangalore. Before that we had a nice breakfast right opposite to Kasturba Medical College. Post that we went to explore the Arbi falls.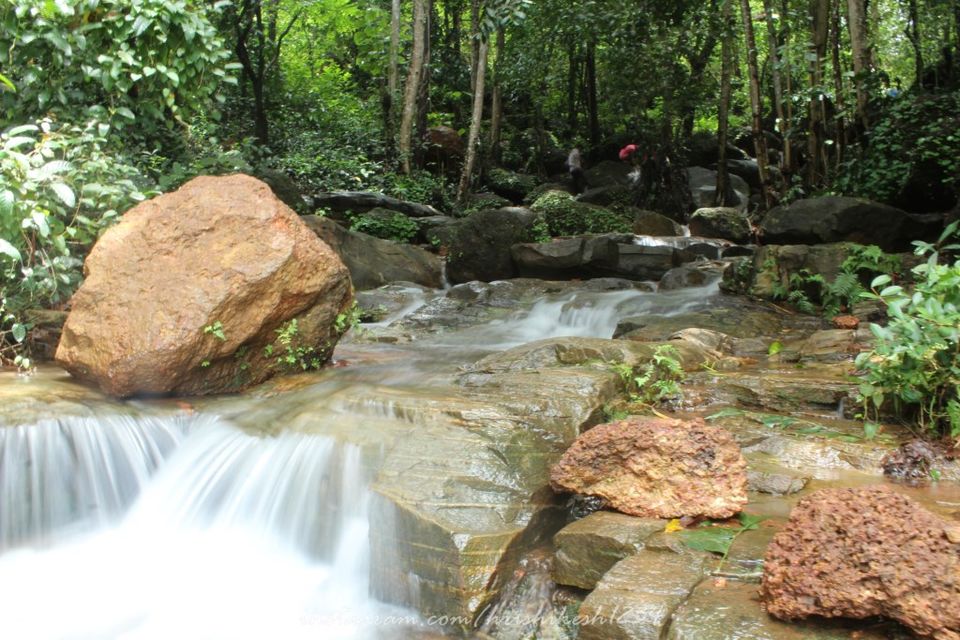 As weird the name sounds Sultan Battery was a watch tower built by Tipu Sultan. Today what remains of it provides a hang-out point for youngsters, and point to cross-over to Tannirbhavi beach.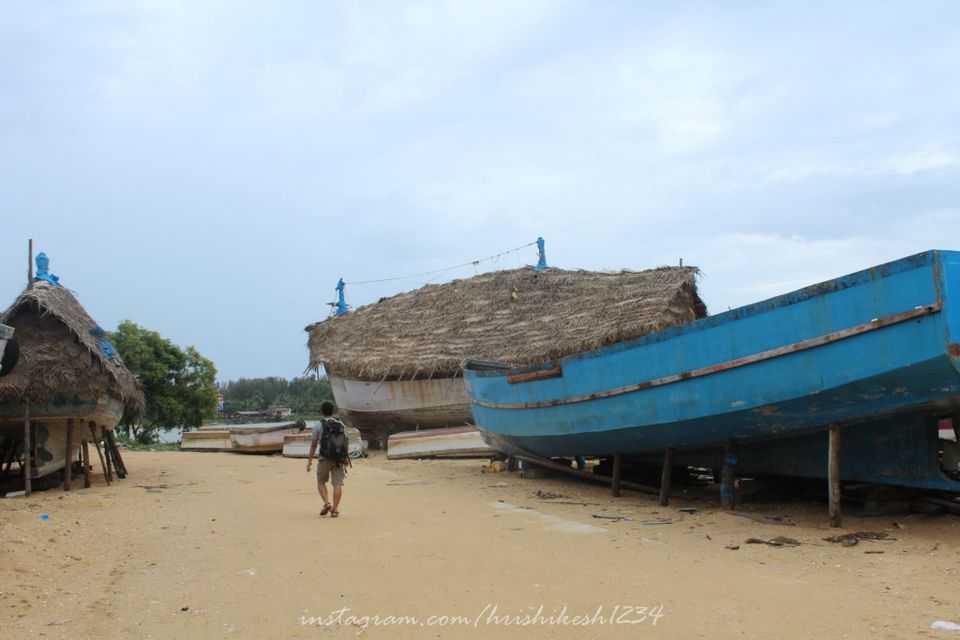 This beach was equally beautiful, albeit with a bit of more trash than the previous 3 that we encountered. Lunch was still pending, mind you. And so while we are returning we stopped at a restaurant for some drool-worthy Mangalore styled fish curry. That taste still lingers on my mouth to the day.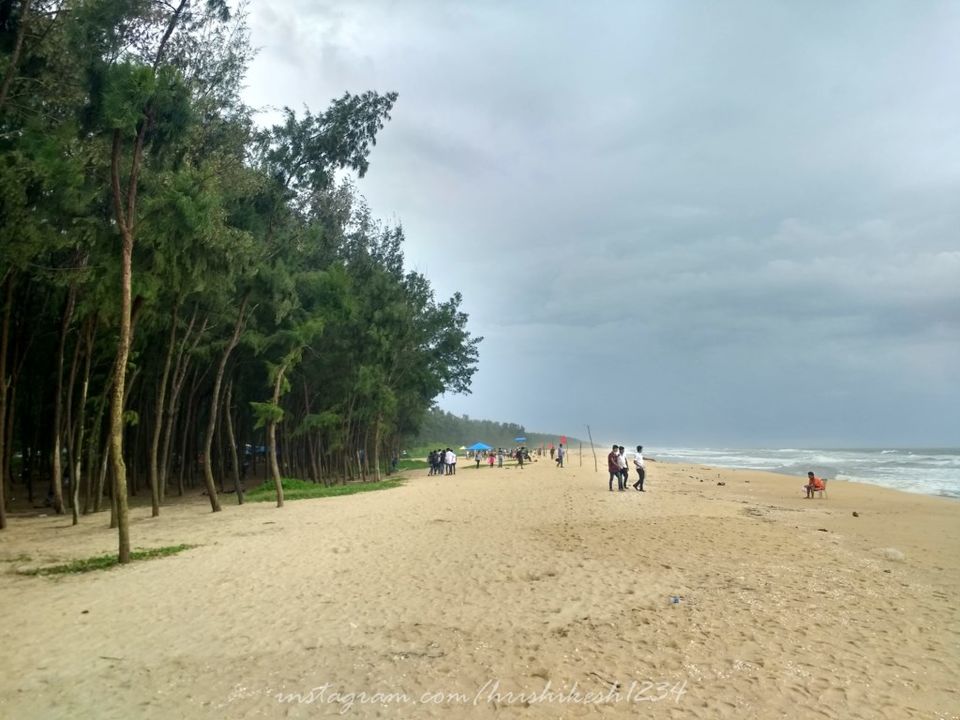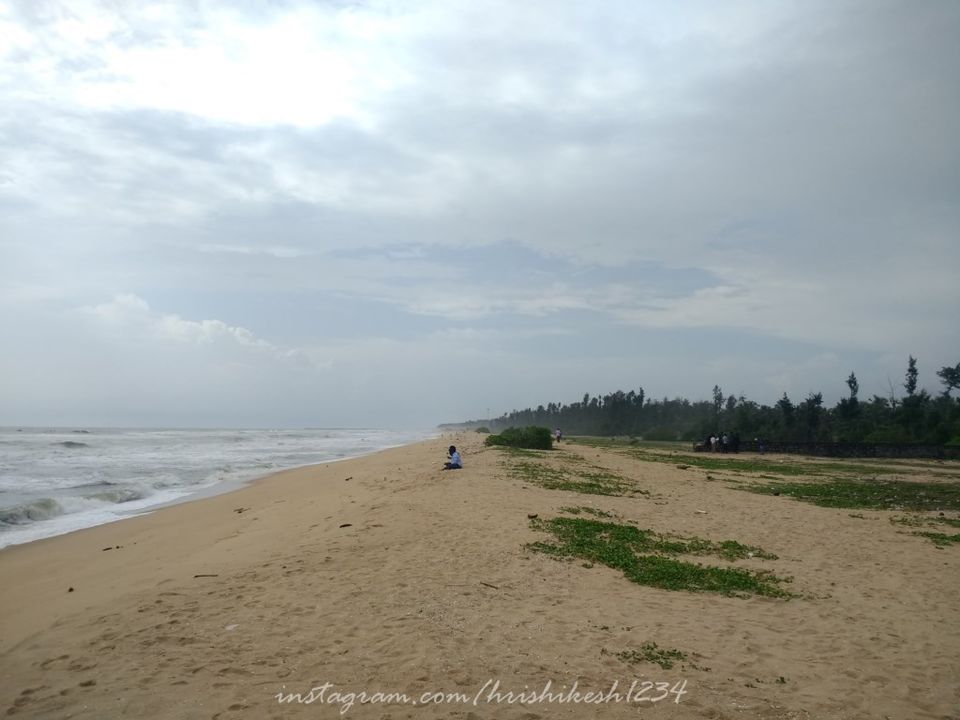 After some tender loving ice cream we head to railway station to catch our train back to Bengaluru. This trip provided with a lot of picturesque moments and beaches that I wish don't see much of tourism. Our train soon arrived, with us making a sprint for it as it didn't halt for long (later realized Mangalore has 2 stations, and we went to the one where trains stop only for minute or two). If you're planning to follow our trail then monsoon is the right time to hit the road. Plus there are so many other attractions where we couldn't even go to, thanks to paucity of time. So, what are you waiting for?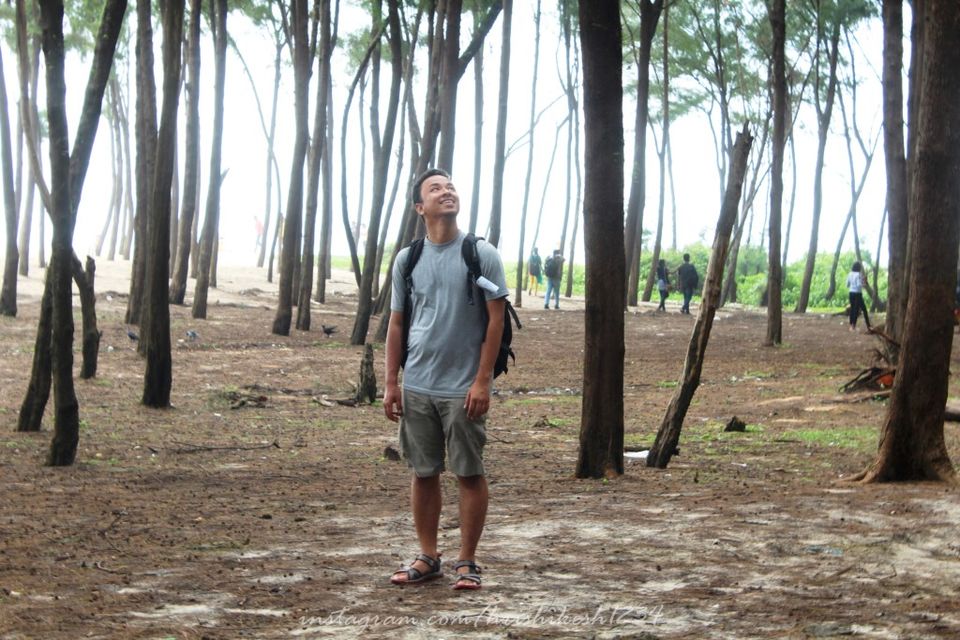 Frequent searches leading to this page:-
karwar karnataka tour packages, karnataka local tour packages, karnataka tourism packages mysore ooty, karnataka tour packages from mumbai, karnataka tour packages from mangalore