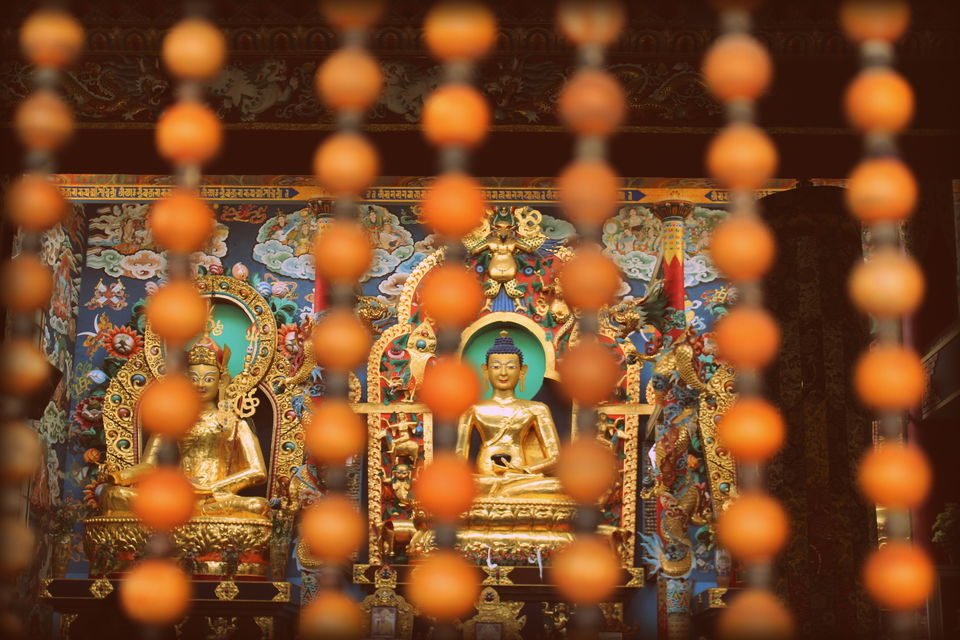 "Some things are not to be told, you either live it or you don't, but they are not to be told".
Having said that, here I am writing about my inexplicable trip to a place, which holds true to its name.
I had just finished my Masters from Manipal and was in desperate need for a break after the hectic, overwhelming exams. While others were planning of tripping (pun intended) in Goa, I and my fiancé were busy planning for a place to revive back our energy (as my fiancé had to bear the brunt of my stress).
So we started hunting for places where we can just relax under the cool shades of the tree and go around snapping the picturesque views. The first place that popped up in google and caught our attention was Coorg. I had heard a lot about Coorg from my friends, who had visited recently, and were raving about the scenic beauties, the streams flowing and making their ways through the mountain cracks, the surplus amount of wild life sanctuaries situated right amidst and surrounding the place. With no further doubt or hesitation we decided to hitchhike Coorg.
Day 1
The easiest way to reach Coorg, is take a cab ride, which can cost you a whopping 5000 Rupees. We on the other hand, took a bus ride (and I am happy I did), as we were told that the road leading to Coorg from Manipal is surreal. There are no direct buses to Coorg from Manipal, so we had to take one from Udupi. The distance from Udupi to Madikeri – the tourist hub of Coorg, will take an average of 4.30 hours. Also, we realized that almost all of the tourist spots in Coorg were located both in and around Kushalnagar or Madikeri. Hence, we decided to stay at a place which falls amidst the two tourist nuclei spots that would make our commute a bit easy. We googled and found out that, a town named Virajpet is 1 hour equidistant from Kushalnagar and Madikeri. We immediately checked for any OYO rooms near Virajpet (with no hopes of finding any) and to our surprise found many. We chose a couple friendly one, MV Residency OYO 12347, and thus, began our journey from Udupi to Coorg.
The first thing you feel as soon as you enter Coorg is evidently the temperature difference. The cool breeze, fresh coffee smell, plush green fields and tall mountains, it was as scenic as any Nicholas Sparks novel. We reached Madikeri bus stand and saw tons of lodges, hotels, autowalas, rental cabs, spice corners, coffee vendors and most importantly homemade WINE shops. Yes, along with coffee and spices, Coorg is also famous for its homemade wines. We decided to take a local bus ride to Virajpet which was not scheduled for another 15 minutes, and hence, decided to kill time by doing some wine tasting. We were pretty aware of the fact that wines when bought at any tourist hub will definitely be overpriced, hence we planned to try wine shopping at Virajpet.
We reached Virajpet in almost an hour and set the google maps to OYO MV Residency. It was just 10 minutes walking distance from the stop, so we decided to walk around and check for some hotels where we can have a hearty meal as we were famished from the long journey. Let me alert all the vegetarian travelers out there (including myself), Virajpet is definitely not the place for vegetarians. There are only two pure vegetarian restaurants, Grand Udupi Pure Veg which is right below OYO MV Residency, where we had planned to stay and New Gayathri Bhavan which is almost 5 minutes walking distance from OYO.
We tossed our bags at OYO and had a delicious meal at Grand Udupi after which we intended to wander around and do some local shopping for spices, coffee, homemade chocolates and definitely homemade wines. We came across a homemade wine shop located right next to Clock Tower Road which had different flavors of wine available, some up to 2 years old and tasted fabulous. They charged us 200 rupees for each bottle which was surprisingly half the rate to those available at Madikeri. It was almost 8.00 pm and we were exhausted, on enquiring the autowalas about a good restaurant, many of them suggested KFC. Surprised and exited we headed towards KFC, just to discover that KFC is not Kentucky Fried Chicken but Kodagu Fried Chicken, the local version of the original KFC. Though not anyway close to KFC standards, it wasn't as bad as we expected it to be.
Day 2
As already pre - planned and sorted, we decided to cover the spots in and around Kushalnagar the next day viz.
1.Namdroling Temple
2.Chiklihole Dam
3.Nisargadhama Reserve
4.Dubare elephant camp
As the Elephant bathing scene closes by 11 am, we decided to start our trip with Dubare. We rented a cab by 9.00 am and started driving towards Kushalnagar. Dubare is not only about elephants but also about horses and ferry boat. As it was not monsoon season, the water level in lake was pretty below expected, hence ferry was non-operational, and we had to walk our way through the slippery, scary yet adventurous stone laid lake and reach the other end to catch a glimpse of the elephants bathing. These elephants are well trained by the mahouts and are very well behaved. They pose, they trumpet, they even squirt water through their trunk on the bystanders (which I was quick enough to capture), and there was this one tusker which was kind enough to pose with us but on one condition, if you offer him some money. After few snaps with the one tusker, we moved towards the elephant grazing area. We learned from the mahouts that only during the visitor's time, the elephants are chained, and the rest of the time, they are left free to wander in the reserve. We saw two baby elephants playing around and having taken few candid pics with them we headed towards Namdroling Monastery.
Namdroling Monastery also called as Golden Temple, is a Tibetan temple and the largest teaching center of Nyingma lineage of Tibetan Buddhism in the world. It is a home to the monks and nuns, has a religious college and a hospital. Loud vibrant colors, echoes of chants, scented sticks, spices and art work embrace the monastery. The entrance to the monastery is adorned by green shrub sidewalks leading to Zangdog Palri Temple which holds a huge portrait of the founder Pema Norbu Rinpoche. The main temple i.e. Namdroling Monastery temple, has huge golden statues of saints like Padmasambhava, Sukhayami and Amitayus. Each statue has a placard displayed near the entrance, which describes the saints and their contributions. The walls are decked with paintings which depict the rich Tibetan culture. Another temple called the Tara temple reverberates with chants of monks as they recite their prayers in complete attention undisturbed by the spectators. This temple displays offerings donated by the tourists, which includes biscuits, juices, cakes and many more. Along with the surreal views you also get to have the best Momos here, which are piping hot, freshly made, available as either steamed or fried, and served with schezwan chutney.
Next we planned to visit the Nisargadhama Reserve. It's a huge forest reserve for deer's were they can be seen grazing and playing along with their fawns. There is not much to see in Nisargadhama apart from deer and boating. So after spending some quality time at Nisargadhama we drove towards our last spot for the day Chiklihole dam.
The drive to Chiklihole dam is mesmerizing, the roads are covered with trees on both the sides. We reached there right on time for sunset and could see the sky turn from red to orange to violet. Like other dams and falls in Coorg, this dam doesn't receive a lot of tourist attention, which could be because of its less familiarity among the tourists. But it's a place worth the visit. Only caution to be taken is to stay away from the waters, as it's a habitat for the alligators (though we spent around 30 minutes waiting to see one.)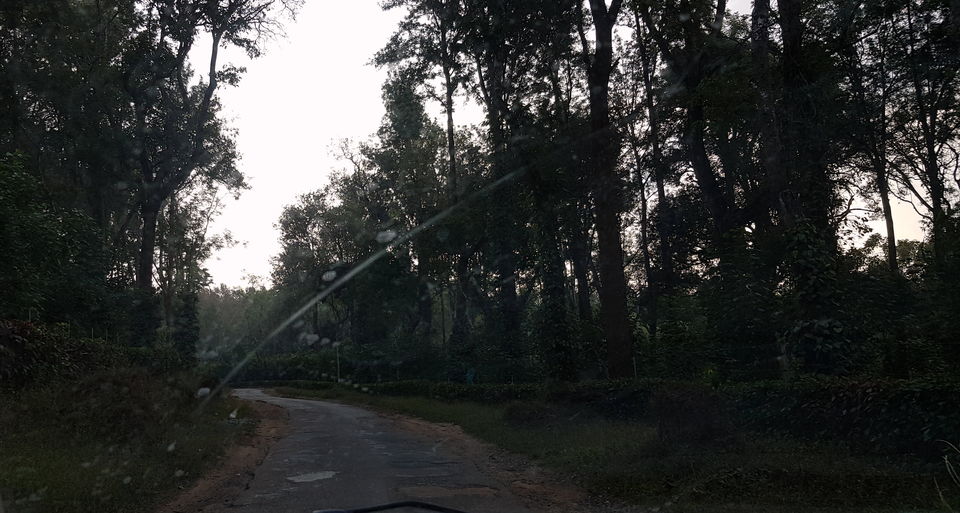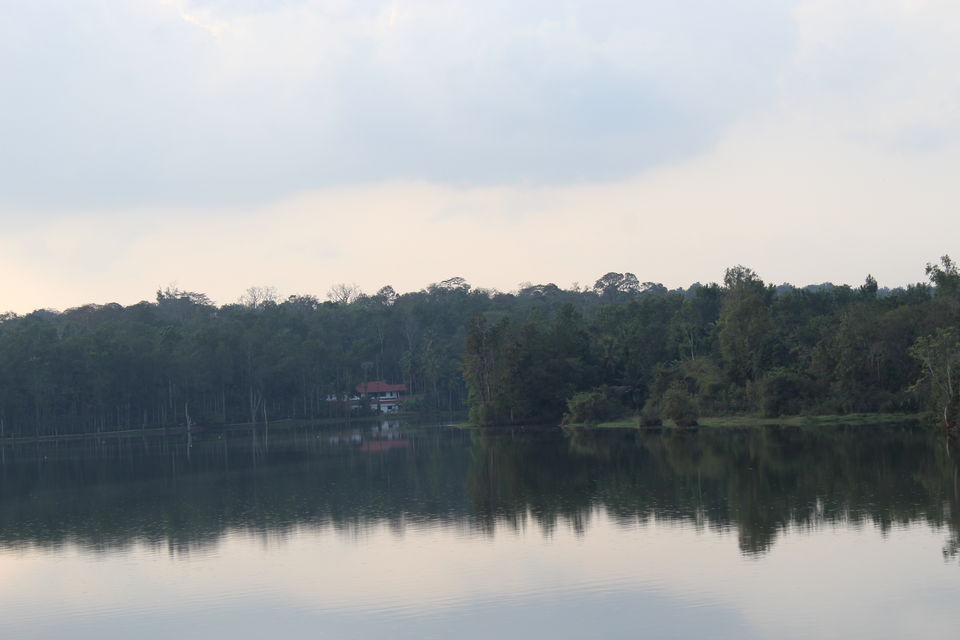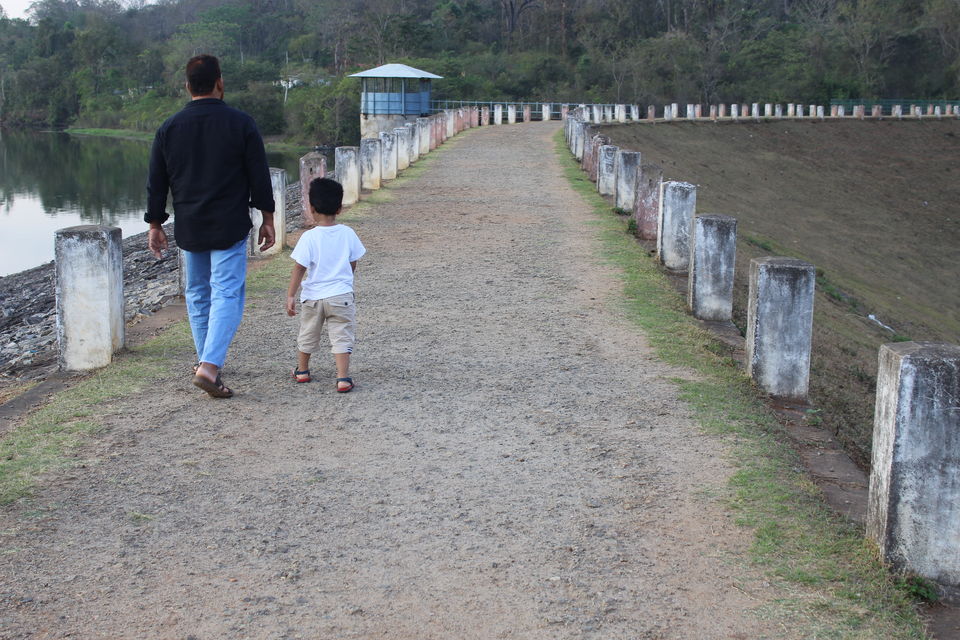 Day 3
Third day of our travel was to visit the following places located in Madikeri.
a. Abbey falls
b. Talacauvery temple
Grab on your sneakers and roll up your socks, because the way to Abbey falls is not an easy path. There are, I guess, at least a 100 to 200 steps to hop if you want to reach Abbey falls. But it's worth your cardio. As you near the falls, the sound of water gushing and hitting the rocks can be heard. On the other end we could see a rope bridge which was dismantled and blocked after the Kodagu floods. The rope bridge was a channel to reach the forest on the other end where people used to camp. Though the descend was easy, climbing uphill covering 100 or more steps is seriously some task. After huffing and puffing we climbed back up and headed towards Talacauvery, the origin of the holy river Kaveri.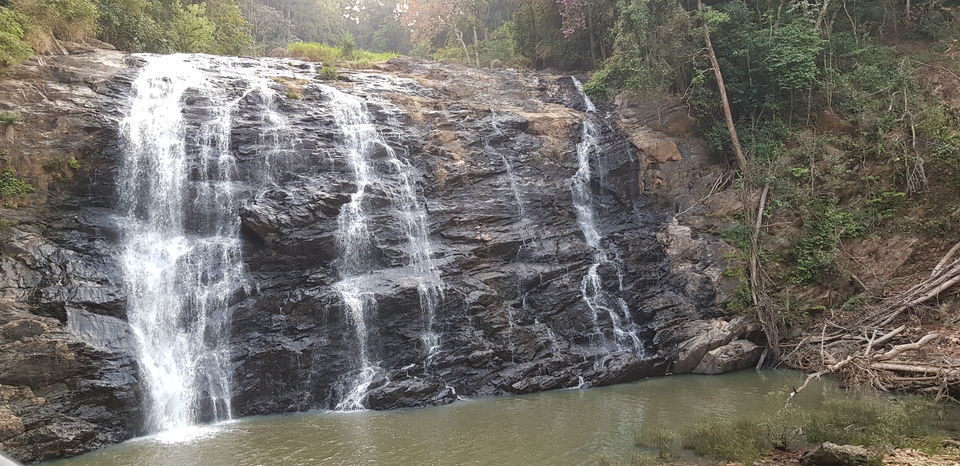 Talacauvery is situated on the foothills of Brahmagiri hills, a reserve by itself, were clouds meet the dome of the temple and mist covers up the entire place by 5 pm. There is a holy tank called as the Kundike where the River Kaveri flows into and people bathe in the holy water. Later it flows underground to some distance and emerges as Kaveri River. On its way before emerging as Kaveri River, there is a small well were the river flows out from the mouth of a bull into a pond of coins which is believed to be a wish well. There are other deities like saint Agasthya, Lord Ganesh and Lord Shiva who are worshipped along with the main goddess Kaveramma. We revered the deities and started walking towards the Kundike, where we saw a huge cloud of mist move towards the temple from the Brahmagiri hills and cover the entire area with itself. Within a few minutes, the whole temple was covered with thick mist, and it was difficult to notice anything approaching towards our vicinity. After few photo-shoots, we realized it was time for us to leave.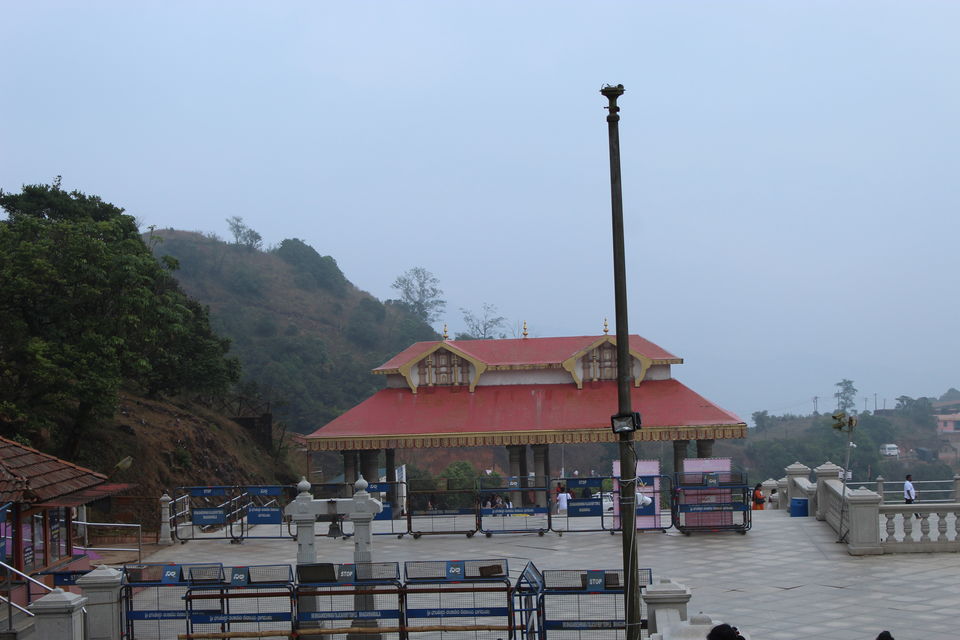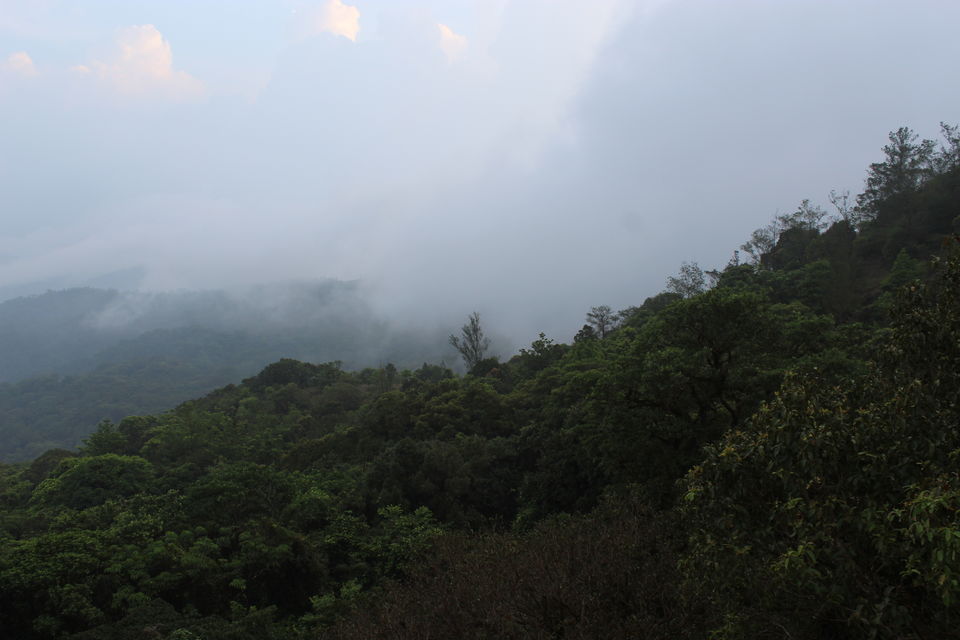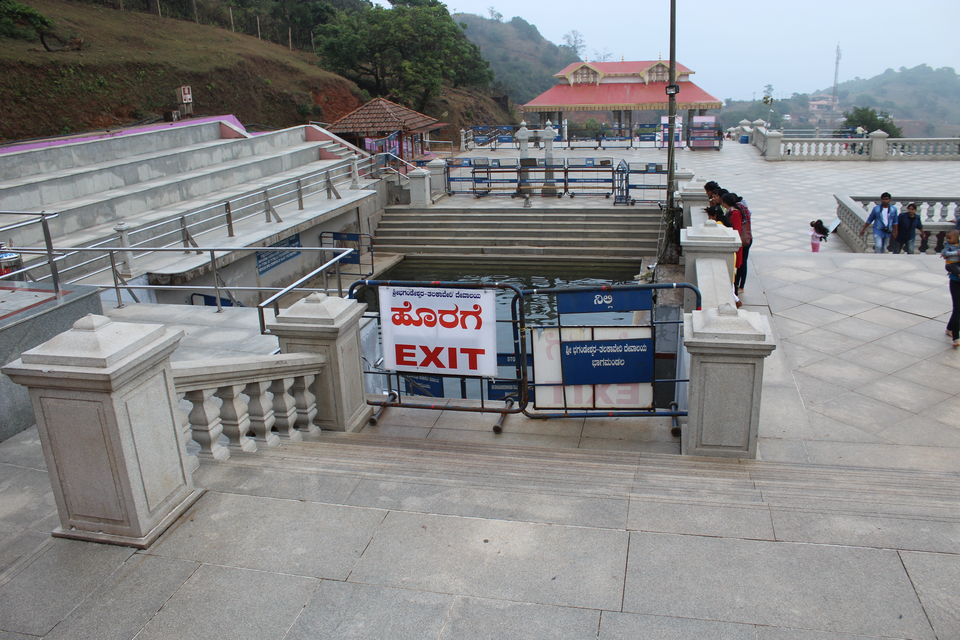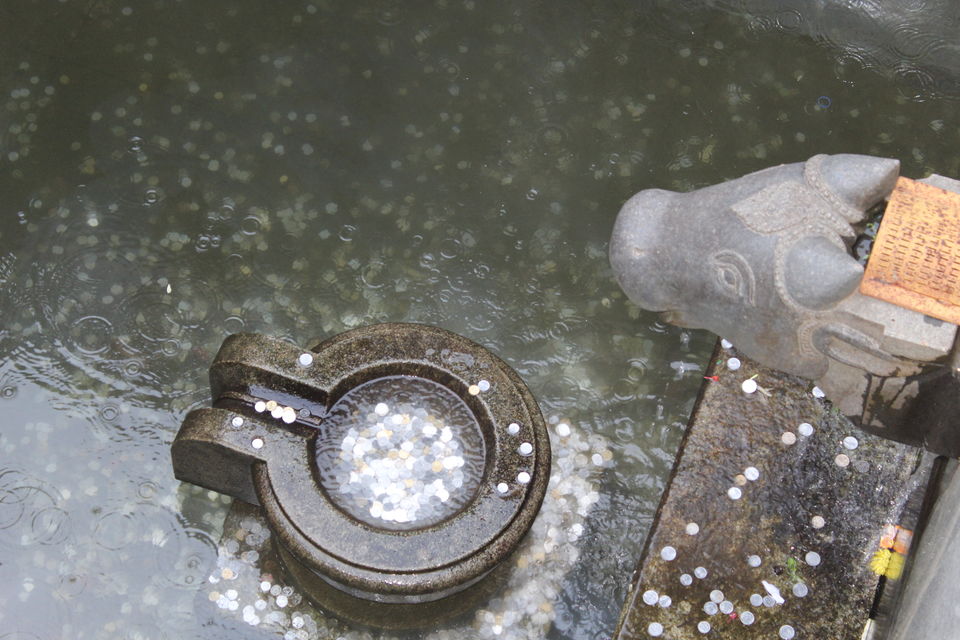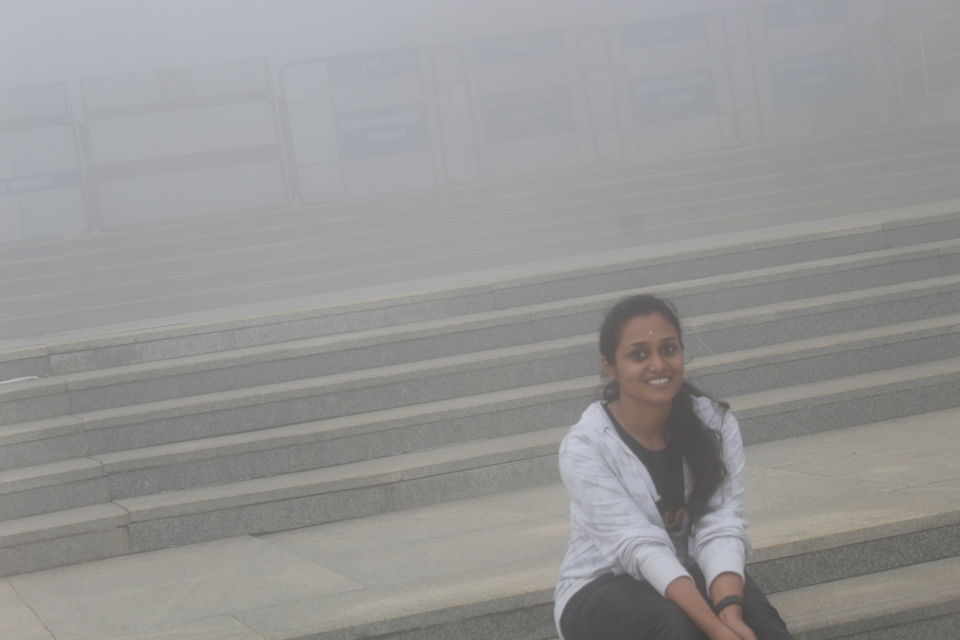 We reached Virajpet and returned the cab. On our way back to Madikeri, we wanted to try out the food at Gayathri Bhavan, which is a small restaurant, though with limited food choices, the taste was comparable to any three star restaurant.
On our way back in bus, gazing into nothingness, playing with my hair, thinking about our 3 day trip, I just kept saying to myself, may be it was him, may be it was the long needed break or maybe it was Coorg. But deep down I knew, it was, those things that happen at right places at right time with the right person, which makes you feel
"How lucky I am to have something that makes saying goodbye so hard".