And our motorcycle ride continues form Chikmagalur, Mulyangiri and now where?? With two options in mind 1. The scenic Dharamshala and the party place Manipal, Malpe beach OR 2. The Hippie Trippie Murudeshwar and Gokarna. By now it is already 2 days of continuous riding for us and by the time the group left and we checked into a café to plan our nest steps it was 5:30 PM. Both the places are at 300+ km distance from Chikmagalur. No much fun at party places like blue waters, Manipal on a tight budget trip we decided to Raid De Gokarna!
The Ride: Got the extra fuel we are carrying due to the tank leakage and we started our ride. I started riding with my friend Tudu as a pillion with a thought to cover the distance till sunset and then he takes over in the night. To make this ride to be a crazy one we picked up all rural ghat roads rather than the highways. Riding in those pitch dark winding roads, just both of us, crossing the tiger reserve area and elephant crossing boards once in a while is a bit scary at times. One of the best navigator, don't know what all apps he has for the maps, Tudu reaches anywhere without asking anyone for directions, may be not even on his later Bangalore to Sikkim 4000 km solo road trip. He told me to take a right in few meters and right then bump hump bump hump hump bump.. where on eart are we, is it the road? They are not potholes, they are manholes or craters. This is while crossing the Agumbe ghats. Also passed the hair pin bend and took a break, where our dear friend Iniyan had a fall two years back on yet another memorable Endurance Ride.
Covering good distances we managed to come onto the Mangalore Gokarna highway, and then after it was a cursing night ride at 100-110 kph. Suddenly we could hear the sea waves by the side on the road and this is the place where the highway passes just next to the Maravanthe beach, Trasi. A beautiful stretch where you get to ride next to the beach. There is this food truck serving some hot snacks right there. What a sight to have some food, some interactions with those guys who told to visit Murudeshwar hill as well which is just a 2 KM detour from the highway. Still 100+ km till Murudeshwar and it was already 10 PM, by now I was little tired and almost asleep sitting behind which is not safe and asked Tudu to pull over to wash my face. When we check the distance again, don't know what speeds he was riding it shows Murudeshwar 5km. Phew, scary it was, did I sleep or I just didn't realize the distance. A quick visit to see the beautiful and huge Shiva idol from outside as it was closed, we started to Paradise beach, the next destination we ticked on the maps.
Reaching Gokarna and Stargazing: We reached the destination of paradise beach showing on the maps but it was a dead end with back waters and then some cliffs. It was already 1:00 AM. Not having any options to stay there for the night we set the nest destination which is OM beach. It is only both of us riding in those lanes, not a single soul to be seen. People sleep so early in Gokarna? Where is the night life? Stopped a passing car who said a place is open and he just dropped some guests, but no one opens the gate by the time we reached there. Sitting on the road with a view of the next Kudle beach, thinking what to do now? Maybe some adventure calling and we decided spend that night on OM beach itself. It was 2:00 AM already and if we can pass few more hours, by sunrise we should be able to find some shack to stay. Carried all our riding gear, saddle bags into the beach, found a bench on which Tudu slept with all our stuff and I tried sleeping on a Tyre which was hanging from a tree next to the bench????????. After a while, suddenly Tudu wakes me up, Dude 'wake up' 3:00 am is the time and I almost shat in the pants, did the water came close? Or any dogs or cattle or what?
They were a small group of foreigners who crossed us and slept on the beach at some distance. We though to check with them if they know any places which are open. I walked to them to see they are a group of travelers already asleep. See me walk towards them two girls said Hi, I told them our plight and heard from them that they from different countries and are coming from Hampi. As they too couldn't find any place, they came to the beach and told us also to join them. We opened our tent and realized that we forgot to pack the poles to hold the tent. So we just spread it on the beach and it was star gazing in Gokarna that night along with the new company.
Gokarna Beaches: We woke up to the sights of people doing Yoga on the beach and a beautiful sunrise. Quickly found out there are two ways to reach Paradise beach, the place know to be a hippie island. One with a boat and the other trekking through the cliffs and jungle next to the beach. We chose the later, carrying all the baggage trekking, jumping, climbing we managed to reach paradise beach. It was a challenging trek indeed especially the stretch after crossing the half moon beach. With coconut trees and rocks the place is a beauty, which use to be dotted with hippies five years back but later the shacks were demolished by the forest dept. You will find only one two guys selling some biscuits, fruits and nothing else. Need to be prepared with hammocks and tents in case if planning to stay over in the night.
It's a calm and peaceful place to spend time with no crowd. If planning to stay over, good option would be the half moon beach which has a couple of shacks where people sunbathe and chill with no many tourists around compared to OM beach or Kudle beach. Returning from the paradise beach we choose the boat as we were almost exhausted by now and need to quickly find some place to have some food and crash. It is difficult to find place for Indians in the shacks along OM beach. Got some shelter in the pretty decent Namasthe café, a quite popular place with the Russians tourists. That evening we spent some time loafing around the beautiful beaches and enjoying some delicious food at namasthe café. The walk from OM beach to Kudle beach is an other trek if you wish to, but we kept it aside for our next visit.
Goa Vs Gokarna: Compared to Goa which is the party destination especially North Goa, Gokarna is peaceful and serene. You have your privacy and quite popular for couples who wish to spend some calm time in the beaches. While Goa never sleeps, life in Gokarna is almost over by 10 PM, excluding one or two places where the music still plays into the night. The cops are more active in Gokara and a strict no to drink and drive especially when you come into the city. Gokarna is however a bit similar to Arambol and sweet water lake areas where you find travelers and not many tourists.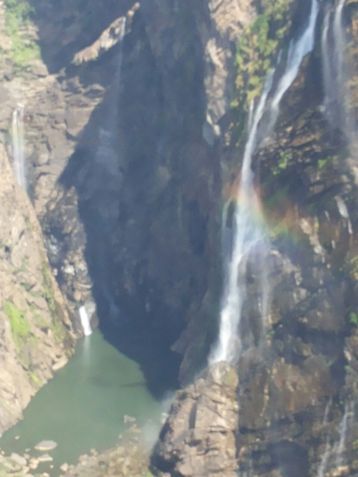 Jog Falls and Ride Back: The next day on our return back to Bangalore, we thought to ride via Jog Falls which is 120 km from Gokarna. Though it was not a great time to visit the falls as there would be no much water flow, but still we want to cover that as we have covered almost every type of landscape and only a water fall was missing on this ride. We crossed these two rides riders in Kumta, with Goan registered royal enfields and riding gears. We rode along with them for some distance and were thinking on a weekday, Goan vehicles, riding gears, laptop bags, where would they be from and where are they heading. We couldn't get any connect till we met them again after 100 km near Jog falls, where me and Tudu were taking a nap near the entrance. They hail from Goa and work on the ships, now going to Mangalore, lost their way and ended reaching Jog Falls. Seeing four of us talking another rider stops by who was riding from Chennai to Mumbai solo. This was epic when five riders riding in complete different directions met at 'The world famous Jog Falls' (That is what the entrance board says). Only riders can understand this feeling.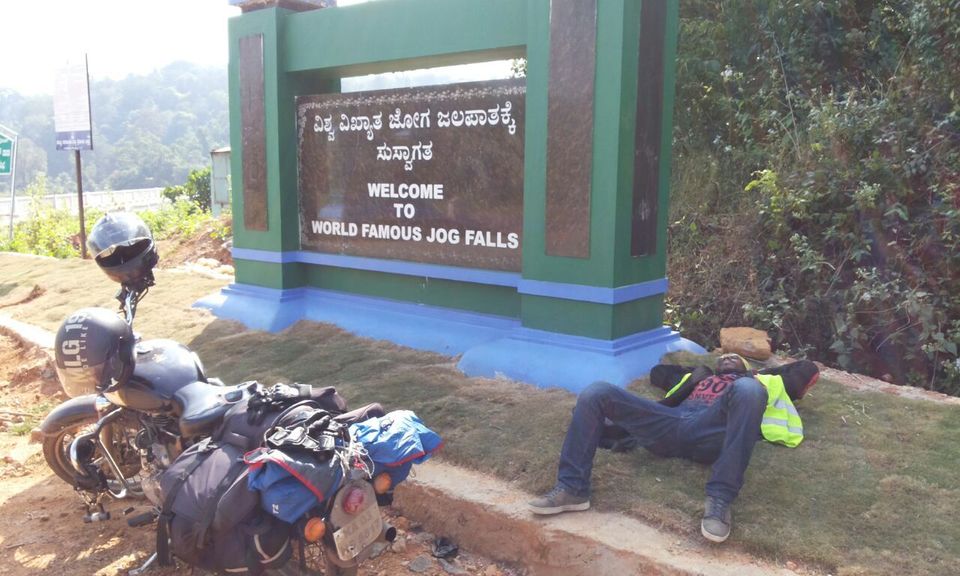 By the time we finished the visit to jog falls, had lunch at our next pit stop and checked the distance to Bangalore it was again 350+ km and the time was 5:00 PM. Not wasting much time we started on and reached Bangalore by next day 2 AM. We did get some naughty thoughts of covering Hampi also in this ride taking a detour while crossing Hospet, but again that would be too much for asking and we kept it aside for next time.
Riding on the highways, Riding through the beautiful ghats, Camping in the tents in Chikmagalur, Trekking to Mulyangiri highest peak and Paradise beach and other beaches, Stargazing in OM Beach, Water falls at Jog we did traversed every kind of landscape and did all activities. We named this ride as 'Hallabol', did it at a time when we had to release the stress of previous months, to rejuvenate and start things afresh anew.
A memorable ride it indeed.
This blog was originally published on 'MOTO TRANCE'