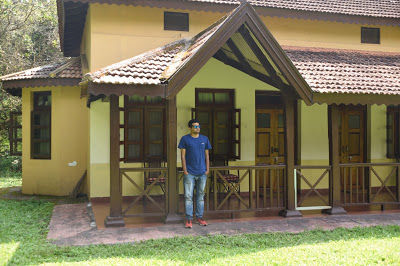 Crocodiles submerged under the surface of the water, Birds chirping around the beautiful territory of the Kabini River. Leopards scanning and surveys their prey from the lofty trees, elephants deep in the forests in a state of trance and the majestic tiger sitting high up on the throne of the forest of Kabini. Kabini is a wildlife reserve located near Mysore in Karnataka. During the olden days the forest in Kabini were used as hunting grounds by the Wadiyars as hunting was a popular form of entertainment for the kings. Thankfully as time passed by this practice was given up and this forest was protected as a tiger reserve and was called Rajiv Gandhi National Park. Kabini, it a small part of this park and it gets its name from the Kabini River which flows in that area. Of course now this area has a number of fancy resorts where one can have a brilliant experience of living within the woods. I took off on yet another solo journey to this beautiful place to get out of the city stress and completely rejuvenate. As I am from Bangalore for me the easiest and best way to reach here was by road and it took me a good 5 hours to get there. Roads are sweet in this part of the country and the drive is super fun. I opted for Kabini River Lodge a property managed by Jungle Lodges and Resorts. They have several options of accommodation such as cottages, tents and maharaja rooms. They are managed by the Government and are very well maintained in terms of their accommodation, food and their safaris are flawlessly managed with a super group of guides who are well aware of the forests and very knowledgeable towards several things when it comes to safaris and more.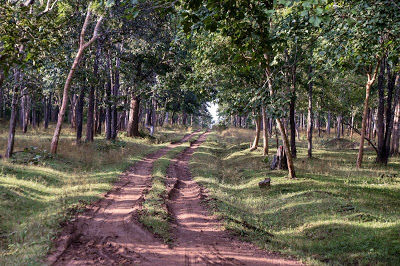 At Kabini river lodge the itinerary is simple, checked in at 12 noon after which lunch was served and I was given time to explore around their property and back waters of the Kabini River which is located right by their property. At 3 pm they served high tea and put me into a jeep with a group and we were headed for the super thrilling jungle safari. It's a 3 hour safari into the dense forests of Nagarhole. Animal spotting here is totally based on luck. For me it wasn't my first jungle safari so I was aware that the outcome does not necessarily need to be positive. Yes we were blessed with a rare sighting of a tigress and it was epic. I was pretty stoked by the sighting and with a mellow beginning to the safari it ended up being a super thrilling experience. In my several years of jungle safari experiences it was my first time to sight a tiger in the wild and I was very happy with this. I've been blessed by spotting several leopards and also had the thrill of a tusker charge at my jeep in the past on various occasions this one was another feather on the cap and it was an epic moment as the majestic beast jumped in front of our safari jeep. Back after the safari at the Kabini River Lodge I had time at leisure and could be part of their documentary screening and socialize with the various groups of people there for a while till dinner was served.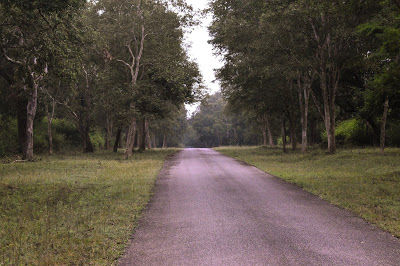 The next day they have a wakeup call at the crack of dawn and I was back on a jeep into the national park for another thrilling experience. It turned out to be a mellow trip with a nil sighting apart for a few sambar deer. Well, no complaints as it were good to get into the forests and be with the sounds of nature along with birds chirping and monkeys creating havoc by jumping from tree to tree. Back to the property I was ravenous and breakfast was served. Here at Kabini your meals are well taken care of with a creative variety of food on their menu. They also cater to non vegetarian tastes on all meals. After breakfast I had some time to get some pictures out and about the Kabini River till it was time to check out. It is a comprehensive package with 2 safaris and three meals and two high tea arrangements included with the accommodation. Several properties in Kabini follow the same routine. A perfect spot to spend a weekend and re energize. Kabini is beautiful, it's a thrilling date with Mother Nature and I would recommend this as a must visit in southern India. Kabini is a great place to visit anytime of the year however animal sighting is higher during the months of March, April and May. During, July, August and September monsoon can be experienced in these lush green forests with a lesser sighting. Other months around the year promise a fair experience of the jungle.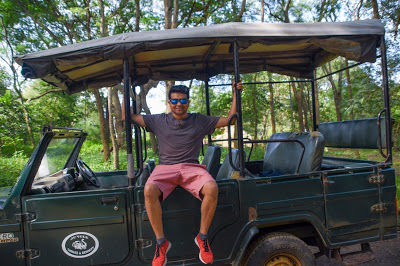 1. Closest airport is Bangalore International Airport (although I can also suggest you Mysore Airport if but the flight frequency are less) Kabini is 265kms from Bangalore Airport and 230 kms from central Bangalore. Closest railway station is Mysore Railway station, which is about 80kms away.
2. Once you enter the forest areas such as the national park and the resort you've taken accommodation, you need to strictly adhere to the forest rules and contribute to preserving the environment.
3. All the accommodations here do not provide extraordinary amenities and shops here are scarce. If you have any personal requirements make sure you carry them beforehand.
4. If you carry a camera you will have to pay a fee before entering the national park, your safari guide will take care of this at the entrance.
5. You can hire a camera lens at www.lensowls.com is located at Kabini and they offer delivery to your doorstep of the resort. Lens here can be rented for the time of your stay in Kabini.