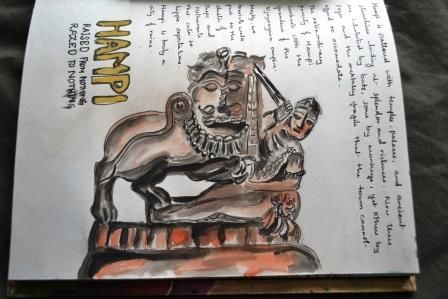 To view my art profile, click here (my website) or here (Behance profile).

Hampi has been on my travel list for ages. And, after all this time, exploring the city was simply exhilarating.
I lived my history books ... chapters of "Discovery of India" came alive as I walked through the royal enclosure.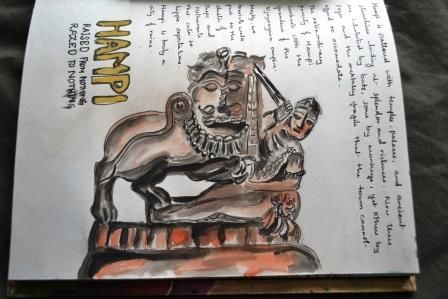 Stories on stones ... Rama, Ravana, Hanumana, and Sita; the Pandavas and Kauravas; gods and goddesses; or mere mortals with very human emotions - all brought alive on stone hundreds of years ago.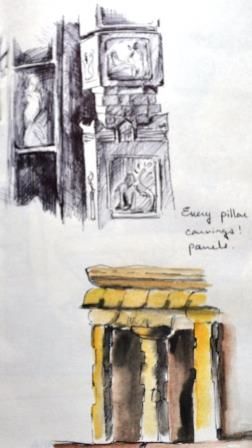 The Virupaksha temple, for Lord Shiva, is the only temple with active worship. This temple is not as well maintained as the Vittala temple. Its just as beautiful with murals on it roof that still retain some of the original colors.
The landscape is rocky, with stone structures every few furlongs.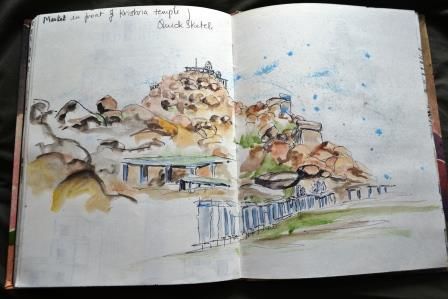 Crossed the Tungabhadra river in the afternoon in a coracle. Rocks with Nandi statues caught my attention. The old stone bridge across the river is now just a small fragment of its original glory ... I imagine bullock carts and soldiers on horses crossing this river some 600 years ago.
You are never more aware of the transient nature of life, than among these ruins.
A guard at the Saraswati temple. Her bright orange lunch box pops out. Does she find these ruins as fascinating as I do? Or has it become commonplace for her?
Lots of wells, Pushkarinis, especially near the temples.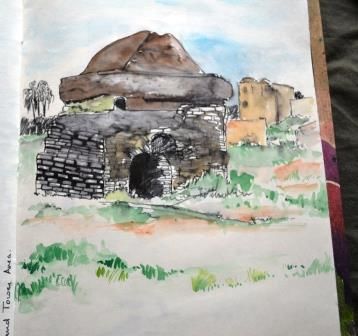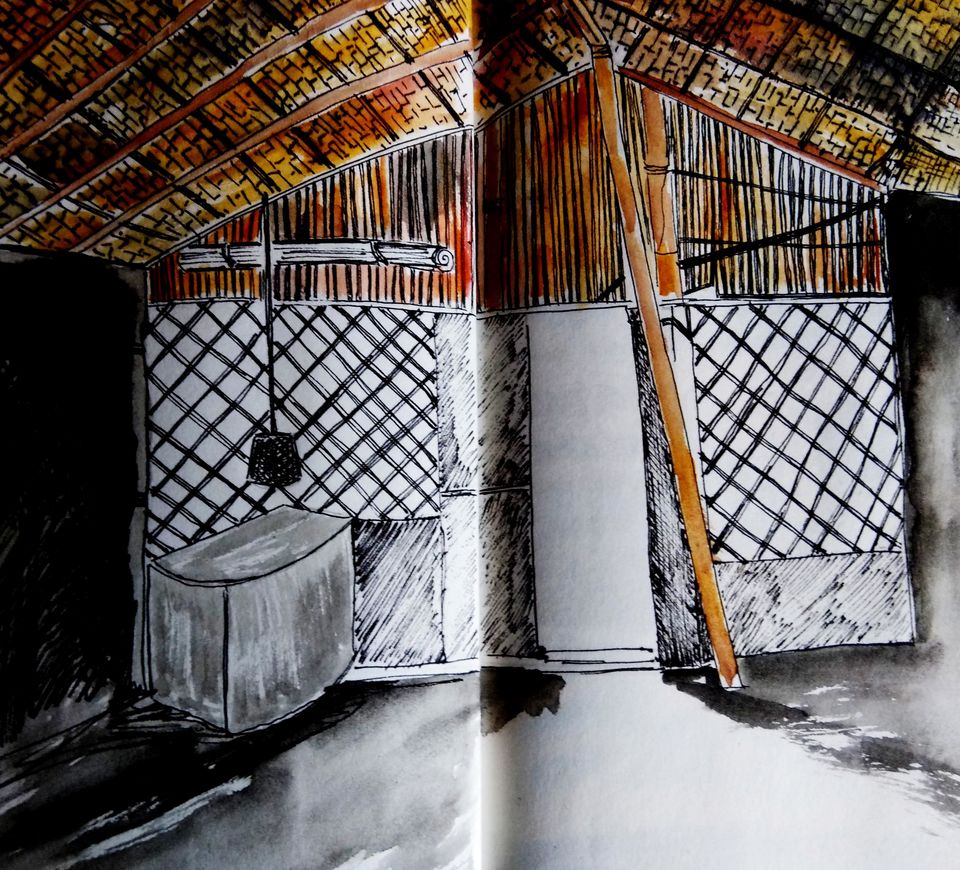 This restaurant is always brimming with travelers, relaxing after a trek, planning a new one, buzzed out or just lazing around. There's lots of yummy stuff on the menu, with delicious stuffed tomato curry and rotis for an Indian palate, pastas and pancake, Hummus, pita bread, and chips, and hearty breakfast platters.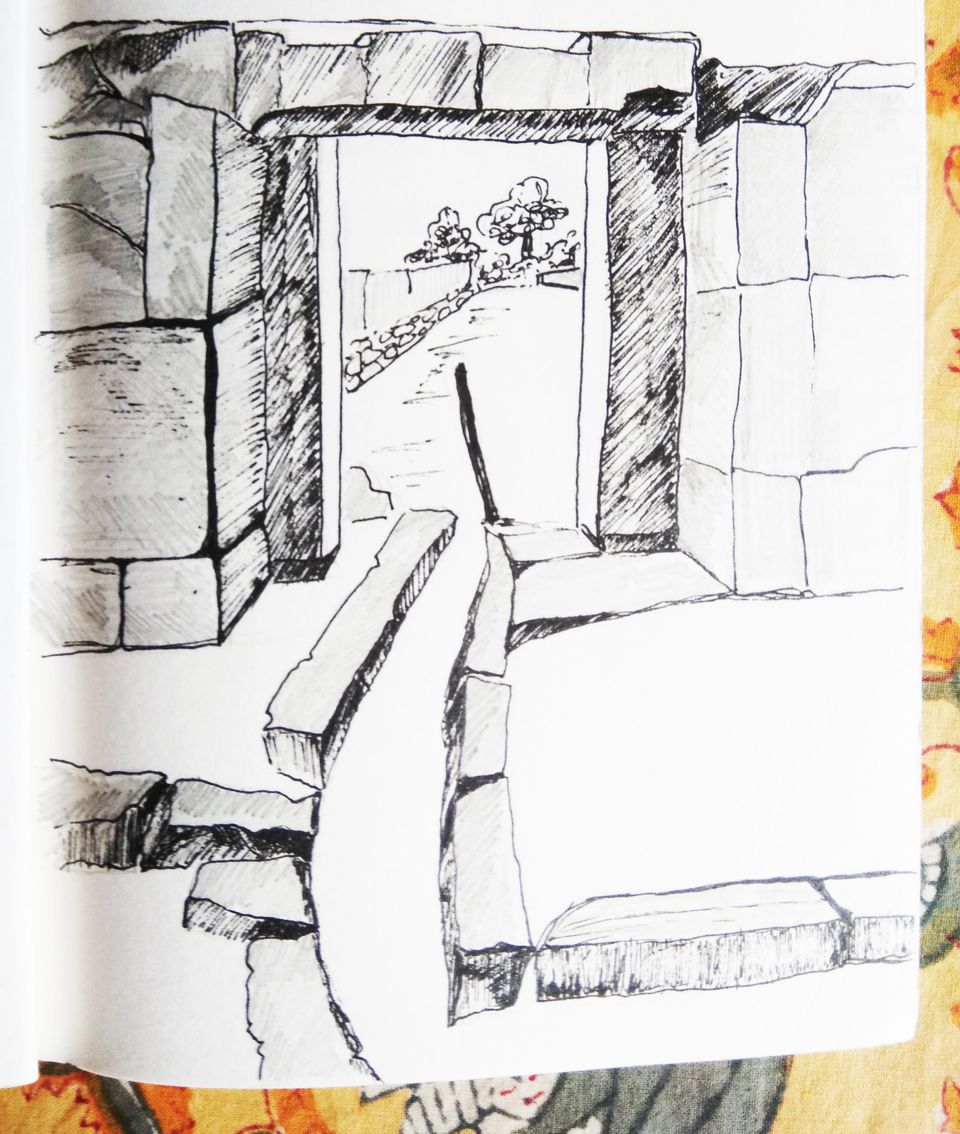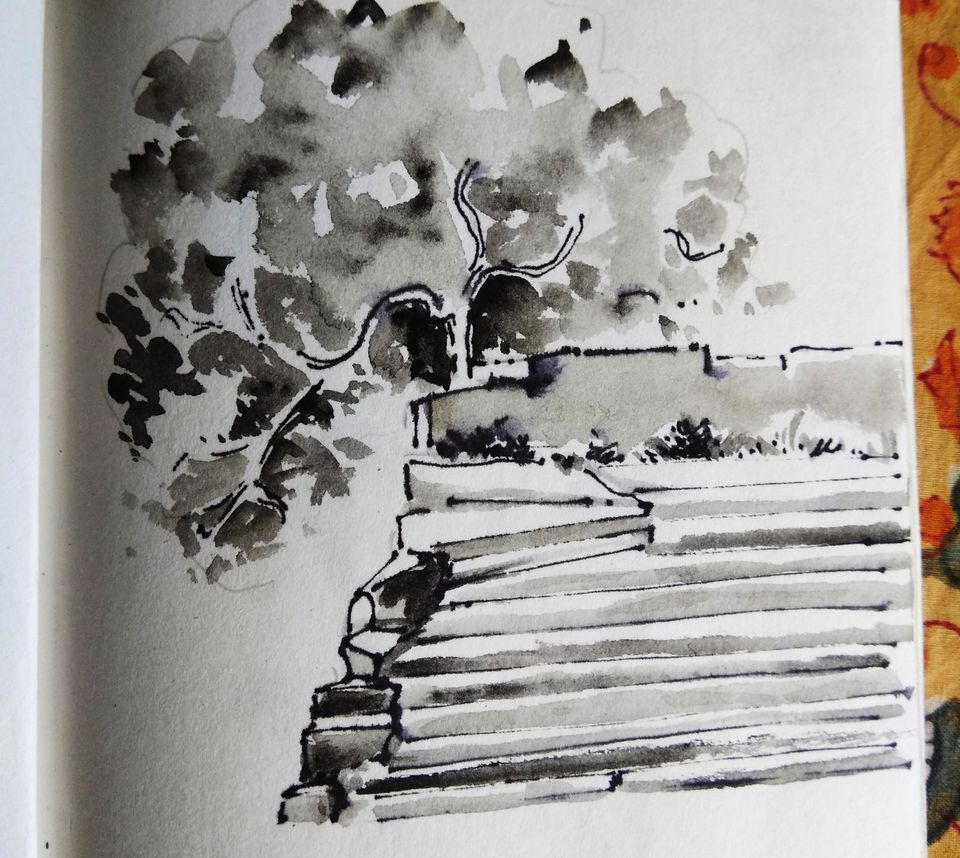 Just this one monument has so much to offer ... While making this tiny sketch, I promised myself that whenever I revisit Hampi, I'll walk till the Vitthala temple (instead of taking the govt open bus), sketch the temple and chariots, hike till the river bed, and give this place the time it deserves.
Originally published here.
Sketching, taking sketch-notes, and doodling is one of the best ways to travel. These scraps of information and drawings engage you with the environment, make you really observe details, and create a special link with a place.
Keep an art journal this trip and let me know how you felt :)
What you need to Travel Sketch
Watercolors
Pencils, sharpener, and eraser
Thin and thick
A small, light-weight journal or a stack of paper clipped together
A brush and a bottle of water or a watercolor pen brush (I use Sakura Koi Portable Water Brush - Medium)
Some patience!!