A trip is the most satisfying when it is the journey that excites you rather than the destination. The beauty of a trek is in the pleasure you get putting yourself through physically challenging tasks, sweating it out and oompa-lumpa-doopity-do what you set out to do i.e. reach the top. Mid-December, a group of 6 of us set out to trek Kumara Parvata, believed to be the toughest trek of Karnataka.
Things to know before trek:
* The hill is open for trek between October and Februrary.
* The trek is 14 kms one way from Subrahmanya.
* There are a couple of streams on the way, which are sources of potable water.
* Accommodation options are 1) tent provided by the Forest Dept. ,2) tent provided at the only home on the hills - Bhattra Mane - a family of Brahmins who also provide vegetarian meals (Rs.200/person), 3) the family also allows you to sleep on the veranda (free of cost) or 4) pitch a tent you carry on your own. Since the hill is open for trekking only on winters, the night will be dewy and sleeping in open is not advisable.
* Food options are 1) Breakfast (Rs.100 for Upma/Poha/flavoured rice), Lunch (Rs.150 for rice, runny sambar, buttermilk, leftover breakfast) and Dinner (Rs.150 for rice, runny sambar, buttermilk) - unlimited vegetarian meals at Bhattra Mane or 2) food you carry on your own.
*It is advisable to keep your luggage light but here are a few items that'll help with the trek - Cap, Sunglasses, Sunscreen, extra pair of clothes and socks, sports shoes, water bottle, juicy fruits and required food, glucose/sugar, pain spray/painkiller, odomos, first aid, cash (online payment not available since mobile network isn't available on the way), jacket/sweater, flashlight.
Our trip began when we left from Mangalore to Kukke Subrahmanya by bus at 10AM. Buses ply between Mangalore and Subrahmanya around every 30 mins and the duration of bus journey is 3hr30mins. We reached Subrahmanya around 1.30PM.
Kukke Subrahmanya is a temple town. The Subrahmanya temple is one of the richest temples in Karnataka by revenue. The temple offers lunch to devotees as is the norm with major temples in South Canara (Mangalore & Udupi Dist). We had our lunch, filled our water bottles, bought some fruits and began our trek. The starting point is about a km from the temple, reachable by an auto rickshaw(Rs.40) or by walk. It also serves as parking lot if you've brought your own vehicle.
Our plan was to trek for 6 kms till Forest Dept. checkpoint. We started our trek at around 2.30PM. There is a stream mid way where you can freshen up and fill up your water bottles. The terrain is hilly rainforest and the trail is slightly steep for most part of the 6km stretch. It helps to have a good shoe since the trail has many stones. We reached the top by around 5.30 PM and picked ourselves a tent at Bhattra Mane. We also booked our dinner at Bhattra Mane and went for a stroll around.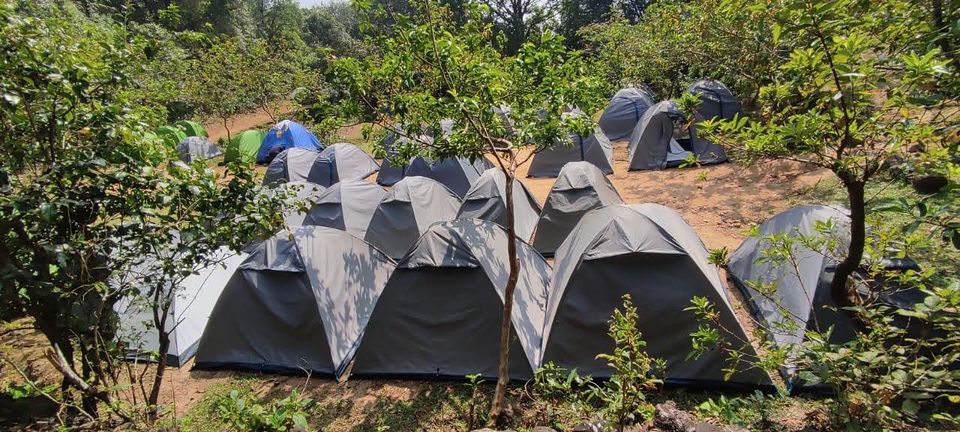 Dinner was served at 8PM. Unlimited rice, hot sambar and buttermilk were served. The sambar was runny with little dal and vegetables but satisfying since we were very hungry and tired. We retired to our tents and slept.
Our idea for the 2nd day was to reach to the top before the scorching sun made it tiring. We had to trek around 8 kms by 10AM. So, we got and started at 5.30 AM. We reached the Forest Dept. office, got our permits (Rs.350 per head) and got our bags screened for plastic (Rs.200 deposit to be returned if we bring back all the plastic we took with us). We started our trek at 6AM.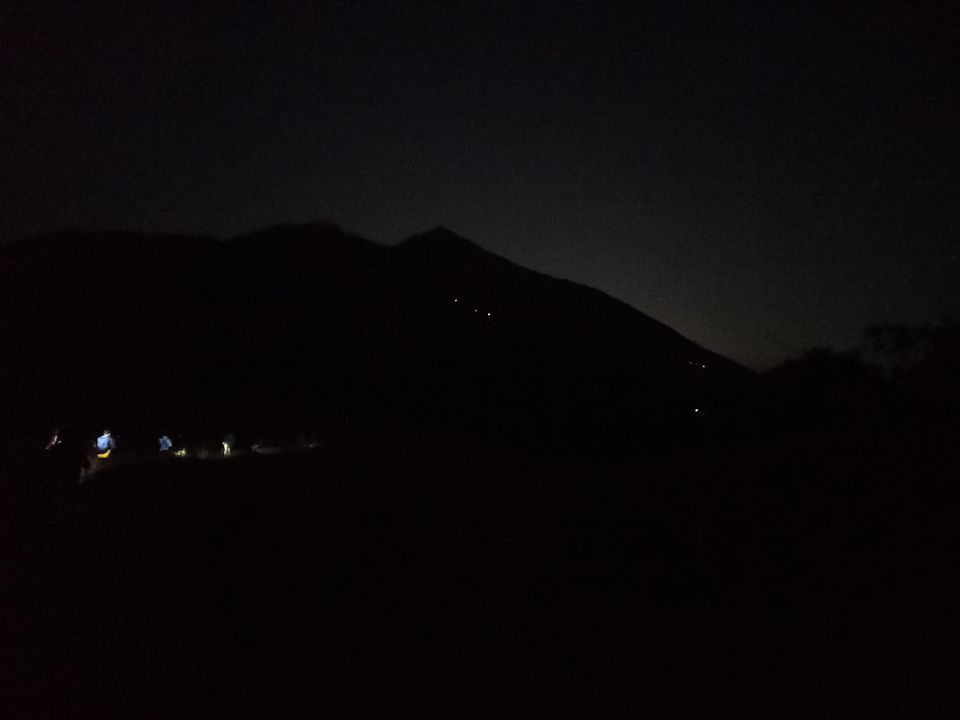 The climate was breezy and cool, the dawn was breaking and it felt surreal. But soon, we started to sweat from the trek and it didn't feel cold anymore. There is a source of water after around a km and no water source for the next 7 kms. The terrain here is grassland with hardly any trees/shade and the trail isn't as steep as the first half. The trail is also easy with gravel at certain places. The trek is tiring but not physically difficult and we are on track with our schedule. We trek 6 kms further to reach Shesha Parvata at 9AM. We had carried fruits and bread and we had our breakfast there. Shesha Parvata is almost at the same altitiude as Kumara Parvata but we still had a km to go for our destination.
From Shesha Parvata there is a steep descent and a steep ascent and the trail is strewn with boulders. There is a stream as well usable for drinking water. This is the single challenging stretch on the trek. We reached the top(Kumara Parvata) by 9:45AM and it was exhilarating. It was sunny, we strolled around and rested in shade for around 30 mins.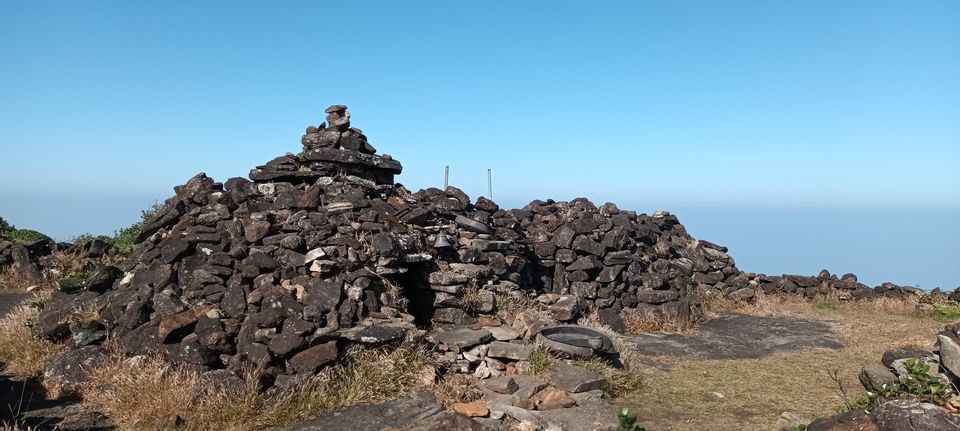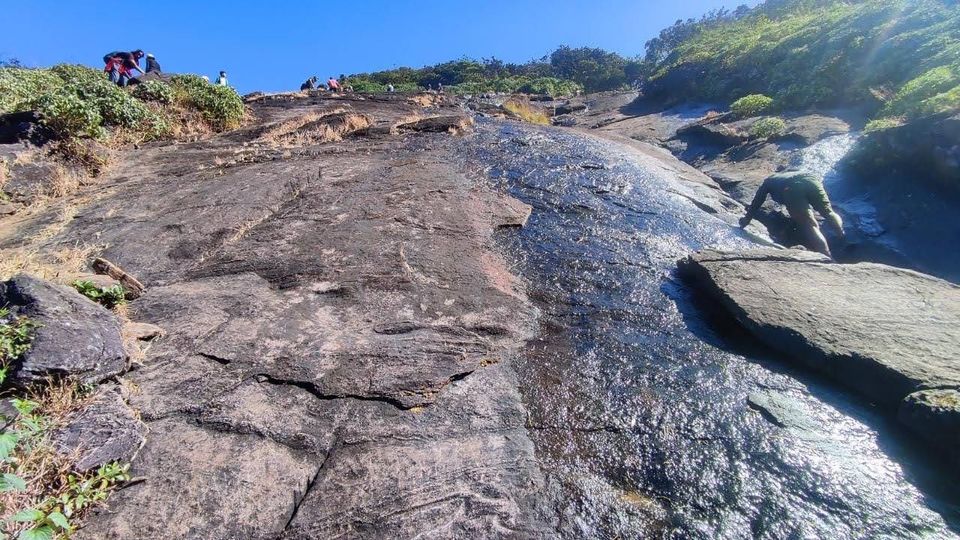 We began our descent of 8kms at 10.15AM. The descent is relatively easy but the sun was scorching on us. We reached Forest Dept. office at 12.30PM, got back our deposit and headed to Bhattra Mane for lunch. We rested in our tents for a while after lunch.
We settled our dues for tent and food with the family and began our descent of 6kms and reached the base at 3.45PM. It was an eventful 26-odd hours where we trekked for close to 28kms. It was time for us head bid adieu and head back to home.
We boarded a bus to Mangalore at 4.15PM (FYI - last bus to Mangalore leaves at 5.30PM) and reached Mangalore by 8PM.
P.S.: Points to note in special circumstances;
* Carry Raincoat/umbrella in case there is a rain forecast.
* Bhattra Mane has a makeshift toilet but no bathroom. You might have to skip bathing for the day.
* The makeshift toilet at Bhattra Mane is unhygienic with zero maintenance. Carry a slipper.
* The tents at Bhattra Mane aren't pitched in a clean area.
* There is a shortage of plates due to crowd during holiday season/weekends. Carry a disposable plate to avoid any inconvenience.