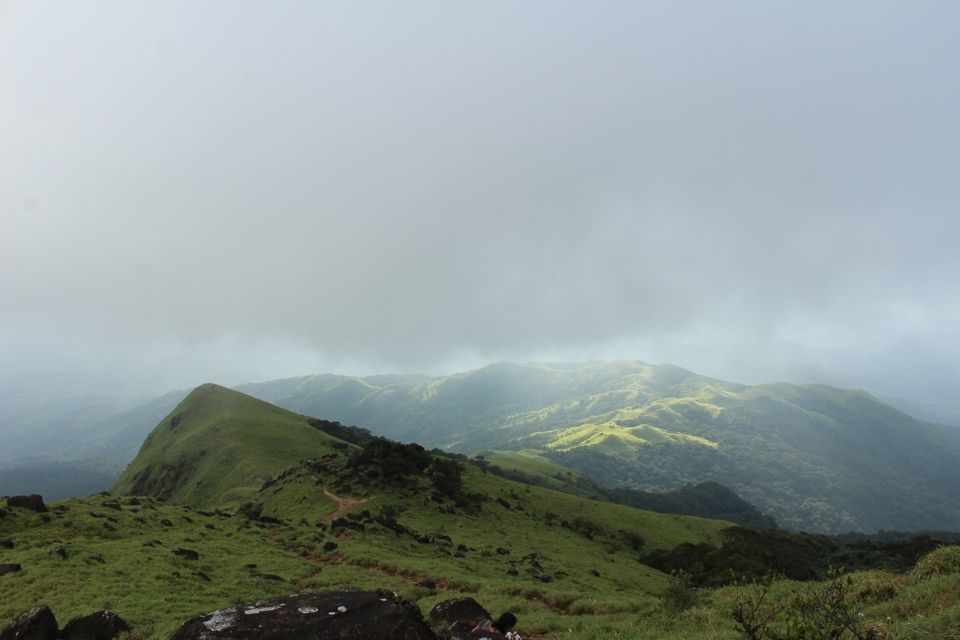 After my recent trek to Jog falls in August I was mesmerized with the beauty and greenery the Western Ghats has to offer. And there is so much to explore and trek around.
I got this opportunity to go with Bangalore Mountaineering Club (BMC) for a trek to Kumara Parvatha (KP) in mid Sept. The cost wasn't much (2600), so without much thought I registered with them. Kumara Parvatha is considered one of the toughest treks in South India. I felt this one will give a good exposure to the mountains before my much awaited trek to Rupin Pass in Oct. And also I got my new Forclaz 500 shoes from Decathlon, after I lost my Forlcaz 50 shoes while coming back from the Jog Falls trek.
Once everyone got trek-ready we got into our TT and went to have our breakfast. We will have our breakfast in a South Indian restaurant near Kuke Subramanya temple. It consisted of dosa-idli, puri-sabji, vada, among others. The breakfast was delicious, everyone were hungry, and you had a cup of hot kappi along. Now what more could you ask for! Breakfast went down quickly and we all assembled outside to march. Bhavani gave the nod and we started with the trek. We all followed her through alleys and small roads to reach our 1st briefing point before we actually enter the jungle.
Once we all gathered we quickly introduced ourselves to everyone. It was good to see a diverse group, and a quite few of them were first timers as well. The rules, the do's and don'ts were laid out. Rajesh made it clear; this is not going to be a run-of-the-mill trek. It is going to be strenuous and everyone has to push their limits. How true he was!
So after knowing each other it was time to start hiking. We entered the forest. You start climbing the moment you enter the jungle. It was humid out there. Plus I was carrying a 50 L rucksack on my back, my DSLR on my shoulder, and my water bottle and towel in both hands.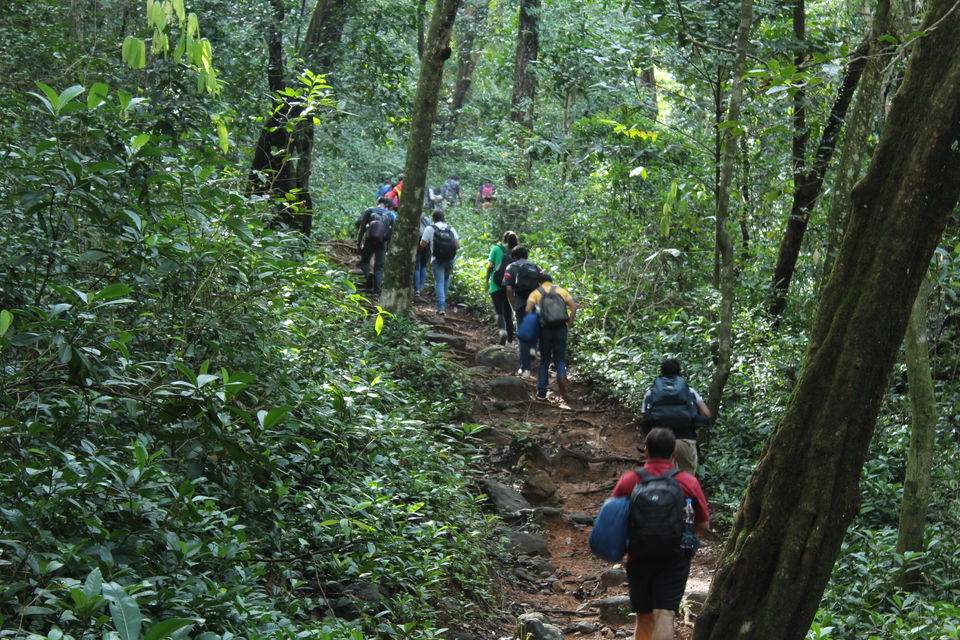 Barely 1 km in to the wild and we have a man down. 1 of the participant was struggling. He was filling dizziness and was about to faint. He sat down in the middle with Bharath attending to him. The humidity and the difficulty level of the trek was starting to show. I offered my assistance to Bharath and the guy who was struggling but Bharath requested me to move on. I later came to know that he couldn't move on and had to retrace his path back.
I continued on the trail and soon met one more fellow trekker, Rakshitha. She was hiking all alone and looked exhausted. She was taking too many breaks and was breathing heavily. I felt she really needed my help. So even though she insisted that I carry on I decided to climb along with her so that I can boost her morale and help in case she doesn't feel well eventually. As I matched my steps to hers we also caught up with Bhavani who was also going solo. We took small steps and breaks in between so that we don't exhaust ourselves. We continued in this fashion and I could see Rakshitha getting acclimatized to the harsh environment. She was more comfortable now and was chirping with me and Bhavani well. Bhavani, on the other hand was on her 3rd trip to KP. So she knew the trek well and was letting us know what more lies ahead.
The route through the forest was vivacious. You could see vivid flora all around and the very sight of only green foliage was so refreshing to the eyes, which are used to see only concrete jungles day in & out. We also spotted few monkeys jumping from one tree to the other. Some suggested that they spotted vipers as well!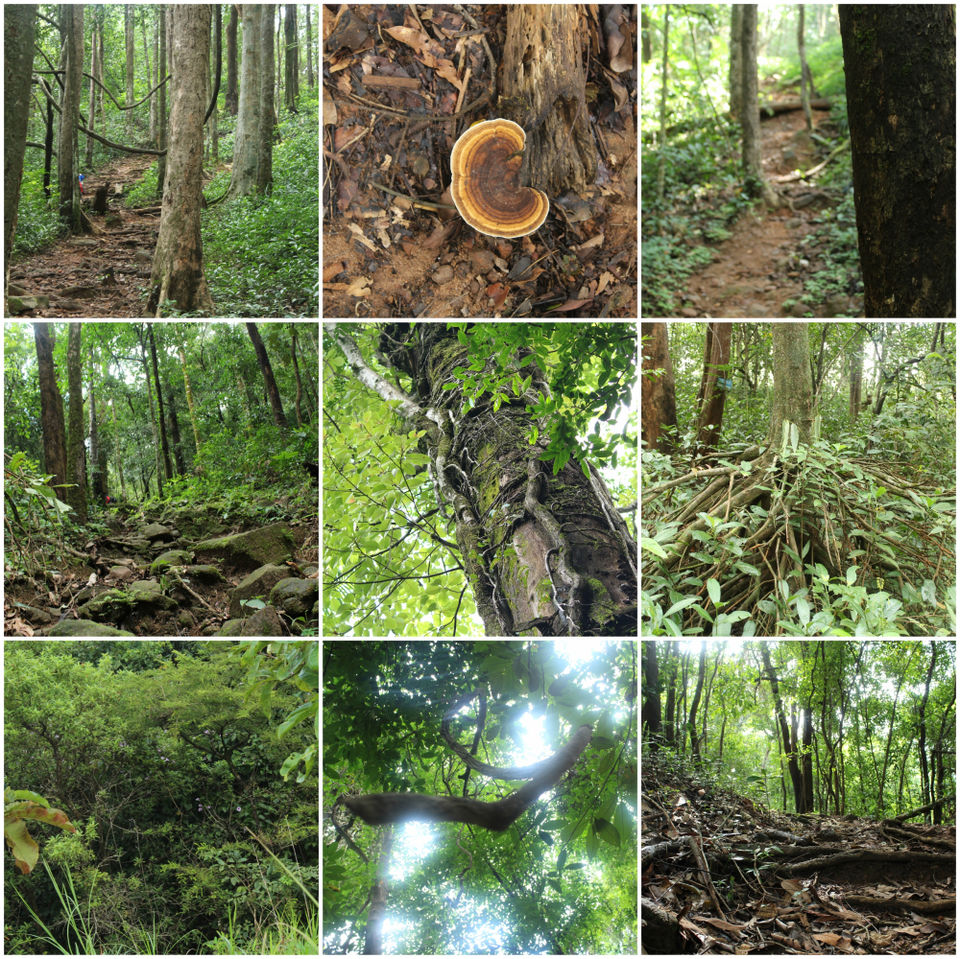 So it was to be me, Bhavani and Rakshitha who will hike for the complete duration inside the forest. I don't remember but we must have hiked for at least 4 hours amidst tall, lush trees. As we inched more closer to Bhattaramane the trail started to get less demanding, and the jungle slowly started to make way for clear blue skies and green grass.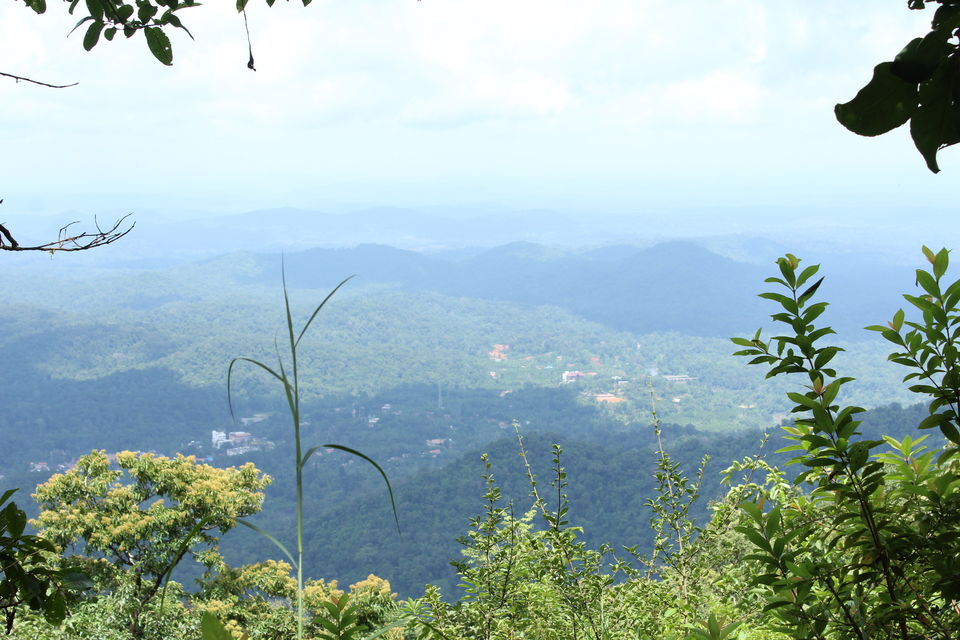 All this time it was quite humid and there was no trace of rain, we were all sweaty and exhausted as well. But to keep one thing in mind while trekking in the Western Ghats is that you can never truly anticipate when will it start pouring and when to expect sunshine. Indeed, soon after we exited the jungle it started to drizzle. But was I complaining? I was just relishing it! I mean when was the last time I enjoyed a slight drizzle. So I was in no hurry to take out my poncho (which is also one reason why I love the drizzle since taking out and wearing a poncho is clumsy). Once it was evident that the drizzle was not going to stop soon I reluctantly took out my poncho and put it on. I also had the camera so poncho became essential now. But the rain also brought out the awesome views of the valleys, with the misty haze playing hide and seek with the mountains.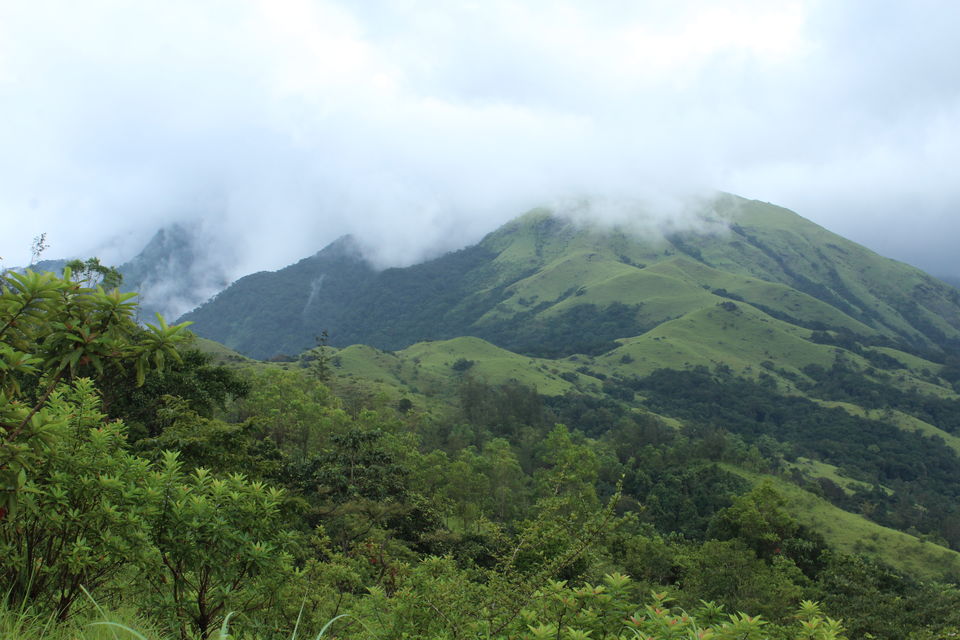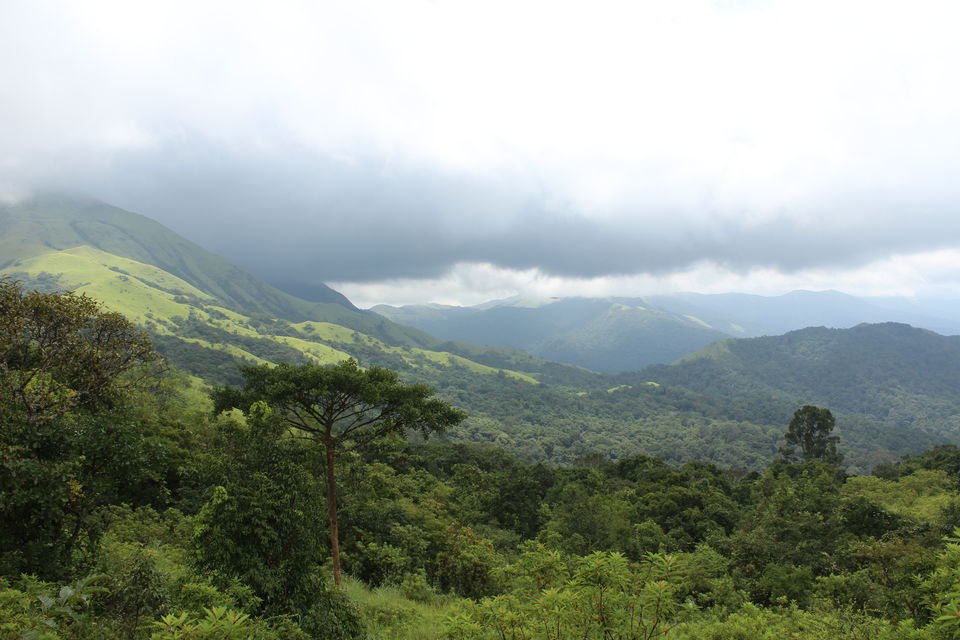 It was a very contrasting views that started from now compared to the one we were getting till now. The jungles made way for never ending, undulating green valleys, with tall mountain ranges. The views were crisp, pine trees popped up, and the sun was up again. No sooner we reached our base camp, Bhattara Mane. On reaching we already found a lot of trekkers, some from our group and some from other groups. That small place was really crowded, and had hardly any place to accommodate everyone inside. We got refreshed and quickly had our lunch. Lunch comprised of rice, sambar, pickle and buttermilk. All of us were very hungry so didn't waste time to gobble up! Here we decided that we will keep our rucksacks (those who wanted) in the camp and continue on the trail with minimum luggage. While most of us decided to carry with them their daypacks, I decided to just carry my camera set, torchlight, poncho and water bottle. Since I was to hike extremely light I was hoping for a more comfortable hike ahead. And I'm glad I did that as later I realized it was worth it.
Once lunch was done we were on the move again. It was around 1 pm. It was quite hot now. Soon we reached viewpoint 1. The viewpoint 1 offered some amazing views of the valley. Also I noticed that the group again got scattered. I was at the back of the pack and I could see a lot of trekkers from our group who have already crossed viewpoint 2. So Srijal (our coordinator) asked us to speed up and be back on our track.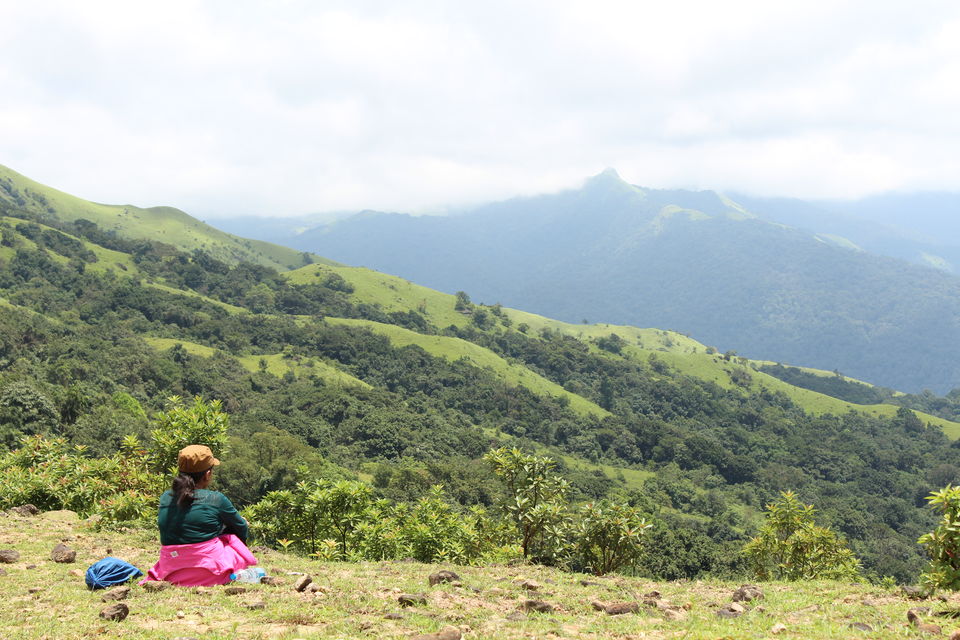 Back on our trail and the grass was getting taller and the views spectacular. Soon we reached viewpoint 2 as well. We didn't spend much time out here as the views were more or less similar to Viewpoint 1's, albeit you are more closer to the mountains. Once you cross viewpoint 2 the actual climb to Kumara Parvatha starts. This is where your fitness actually comes to play, and makes all the difference. I could already see lot of ours making their way up the ridge while we are still to start our climb up. It was me, Rakshitha, Uday, and Ramya going together now. Uday was feeling a little dizzy, plus he also had acrophobia (fear of heights). We were not going fast enough, and most of us had outpaced us long time back. I was pushing Uday as much as possible. He was feeling unwell, and me and Ramya were trying to motivate him as much as possible. We opened up chocolates and biscuits to rejuvenate our energy level. Rakshitha was now properly acclimatized, she was enjoying. Since we were the last (Rajesh and co were still far behind) I didn't want to leave them back as it could be dangerous. Uday gave his best; he would walk for around 10 mins but will soon get tired and sit down on a nearby rock. We slowly, but steadily marched ahead, and I was sure Uday and the remaining 3 of us will make it to the summit. I heard sounds of water gushing down to my right. Upon enquiring I found a narrow stream of water flowing gently behind a veil of shrubs and trees. I was so elated seeing it! Not only did we refill our bottles, but also splashed water on face, neck and hands. God, that felt awesome! However, time was racing against us. It was already 2 pm (I think) by the time we reached Kallu Mantapa.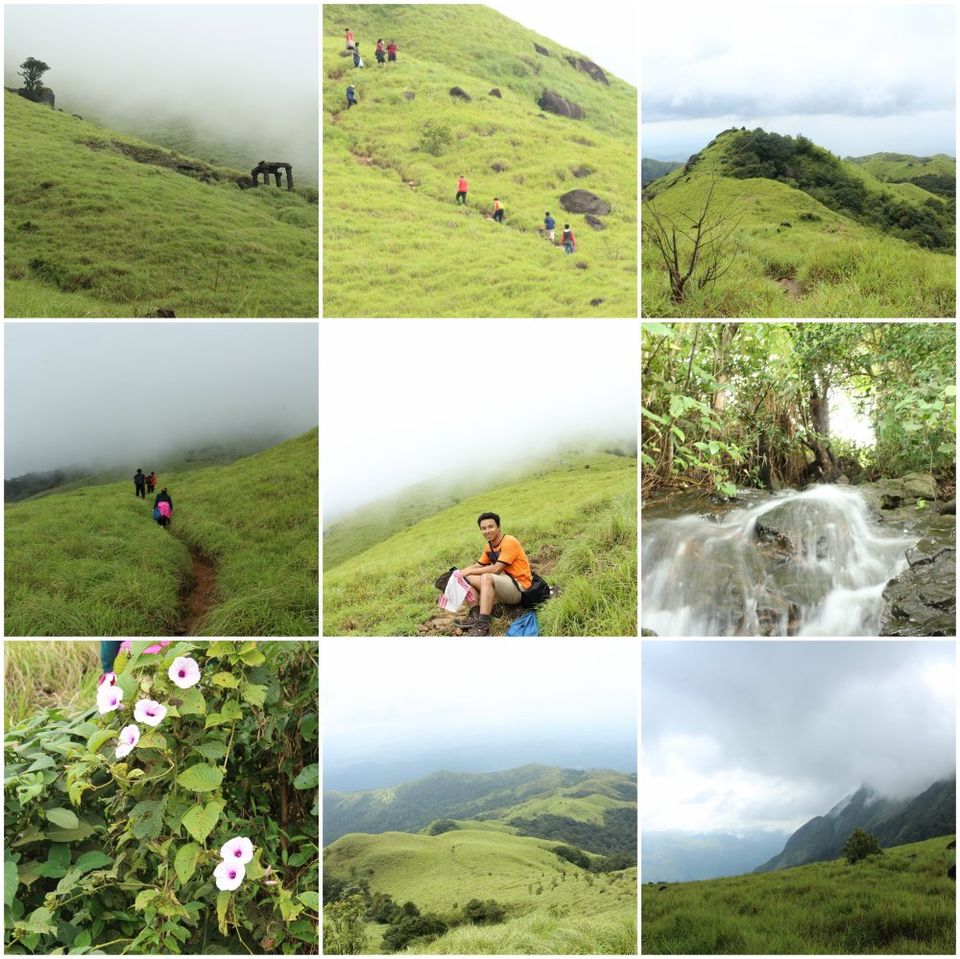 Moving on, the climb started getting steeper from here. Clearly, Uday couldn't move an inch now. He and Ramya decided not to continue. I also decided that if I don't hurry up I'll never make it to the top, despite the fact that I was perfectly well. I forced Rakshitha to continue with me before it gets dark. Soon the trail that we were walking on was engulfed in clouds. That had to be one of my finest moments; cool breeze, walking amidst clouds, and flowers were blossoming all around. And all of sudden I realised why it was worth taking so much pain.
I just shut my eyes and spread my arms wide. This was indeed heavenly. I can come again and again just to enjoy these priceless moments nature gifts to us. I was not talking to anyone, not stressing myself with what's going around the world; all by myself and a beautiful sight to behold.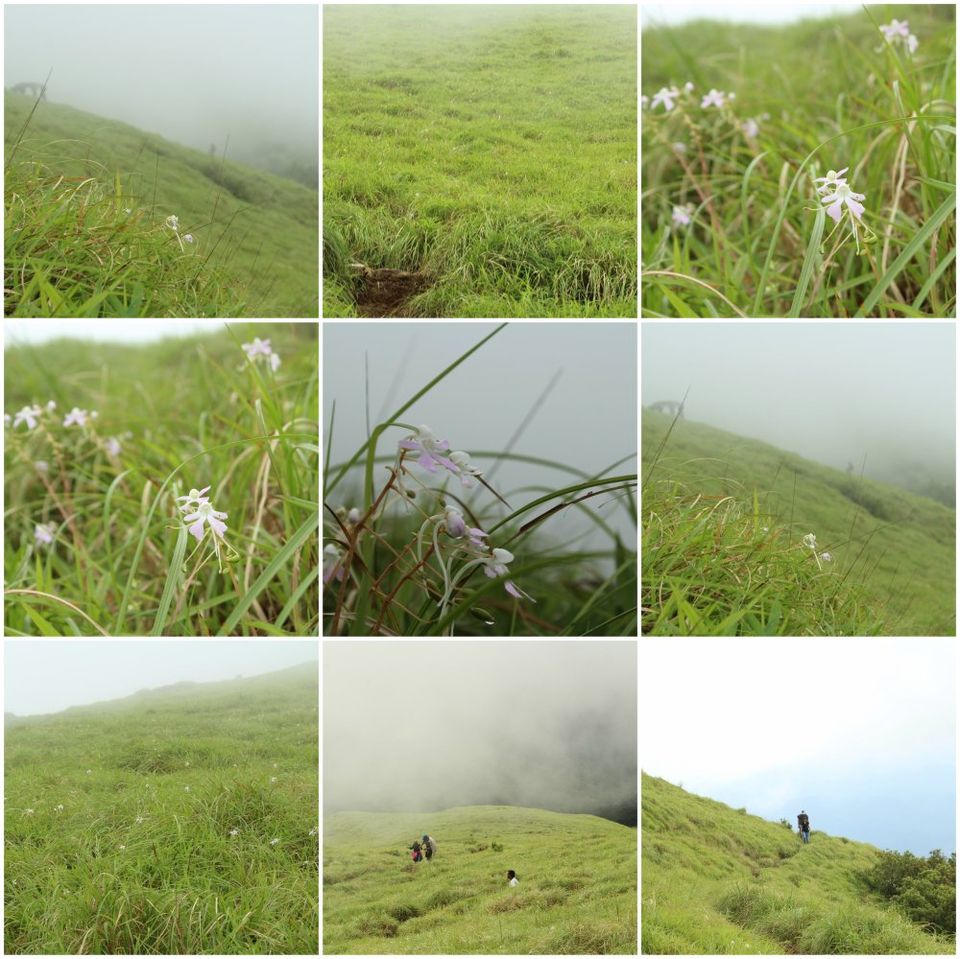 Now I understand why Kumara Parvatha is also known as Pushpagiri. Lovely, blossoming floweres all around the valleys makes for a spellbound sight
Now I understand why Kumara Parvatha is also known as Pushpagiri. Lovely, blossoming floweres all around the valleys makes for a spellbound sight
Moving on, I gathered momentum and Shesha Parvatha was visible (unknown to me). I was going solo and soon enough reached Shesha Parvatha. I found most of the group members sitting here. I thought this is Kumara Parvatha. Hoorrayyy! Only for Bhavana to break the joy that KP is still around 2 km hike from here. Meh! It was already late. Rajesh instructed us not to proceed further as it will be dark very soon. And we didn't complain, for the view from Shesha Parvatha was much more grander than from KP. The clouds playing hide-n-seek with the mountains and the valleys was a view to cherish.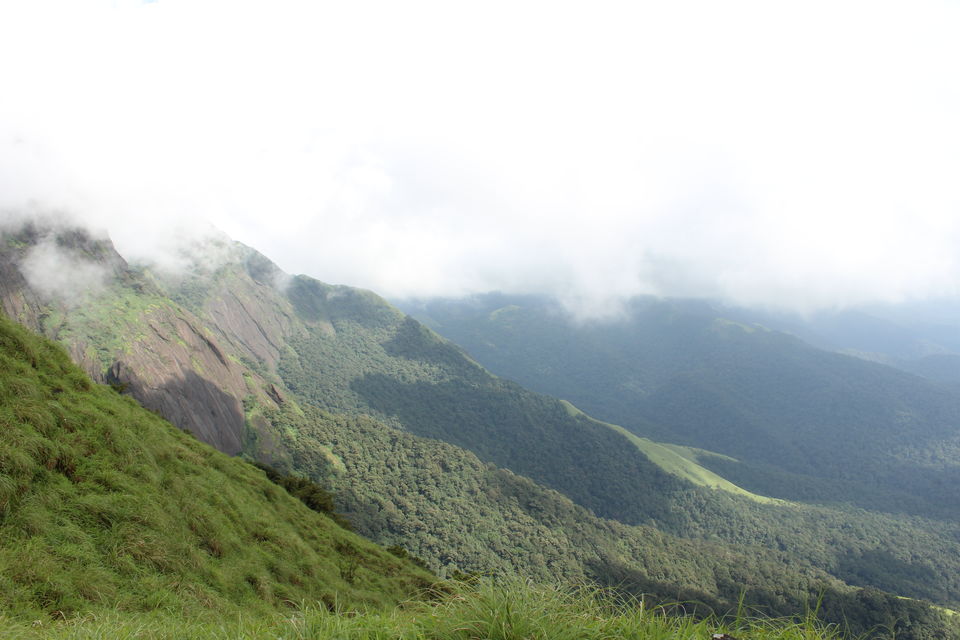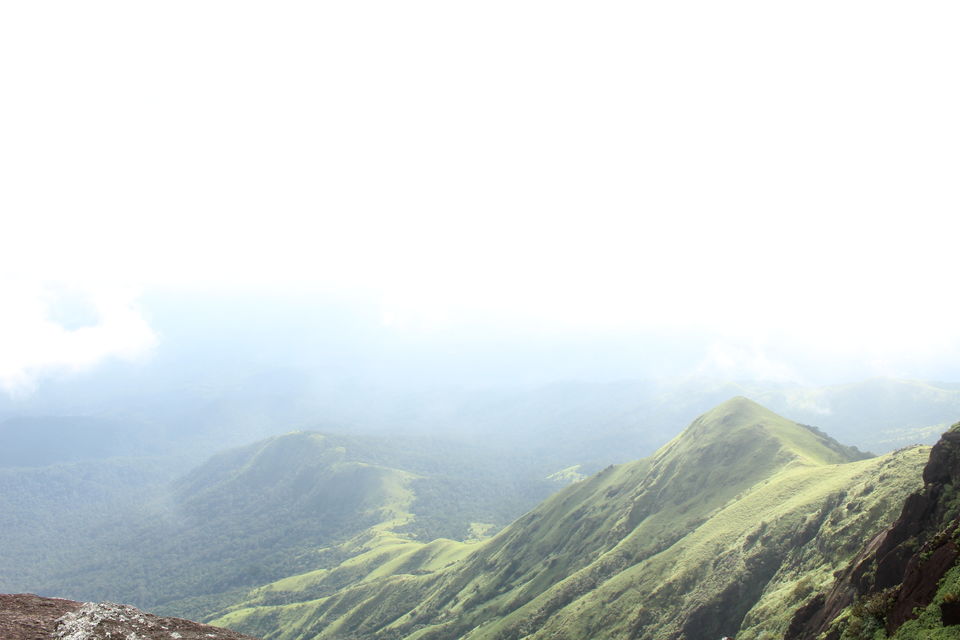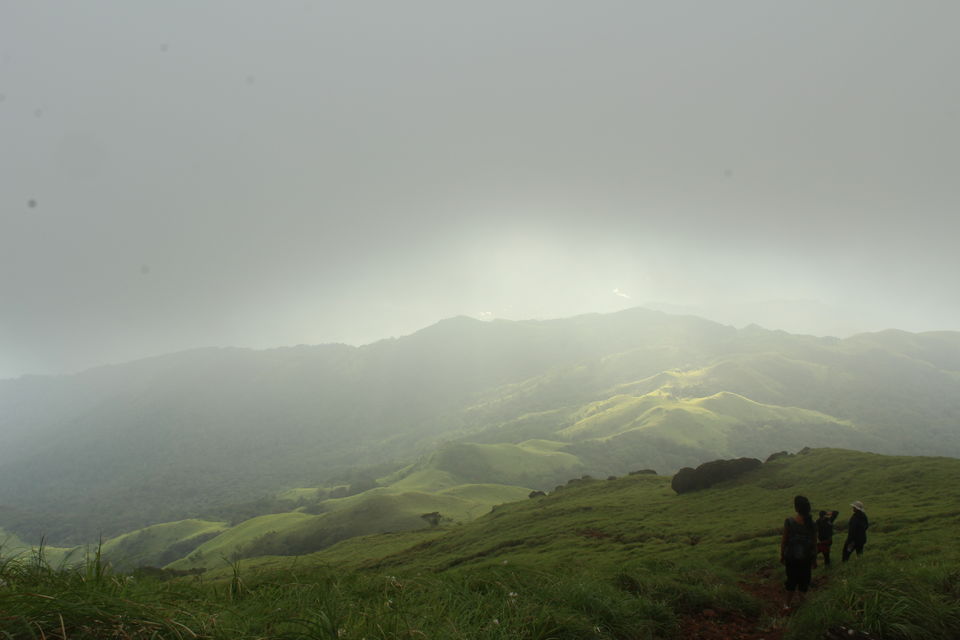 We stayed at the top for more than 45 mins there. No one wanted to leave. And why so? Its not everyday that you are served with a view like this. Brilliant!
Anyways, time to start moving down now. All of us now were on a downward slope. Bhavani was having pain in her knees. Me, Ananya, Spoorthi, and Bhavani were walking together. Sun was setting in fast. We wanted to cross the valley before it gets dark. Just as we thought the show's over nature had some other ideas. We were served with the dessert of the trek.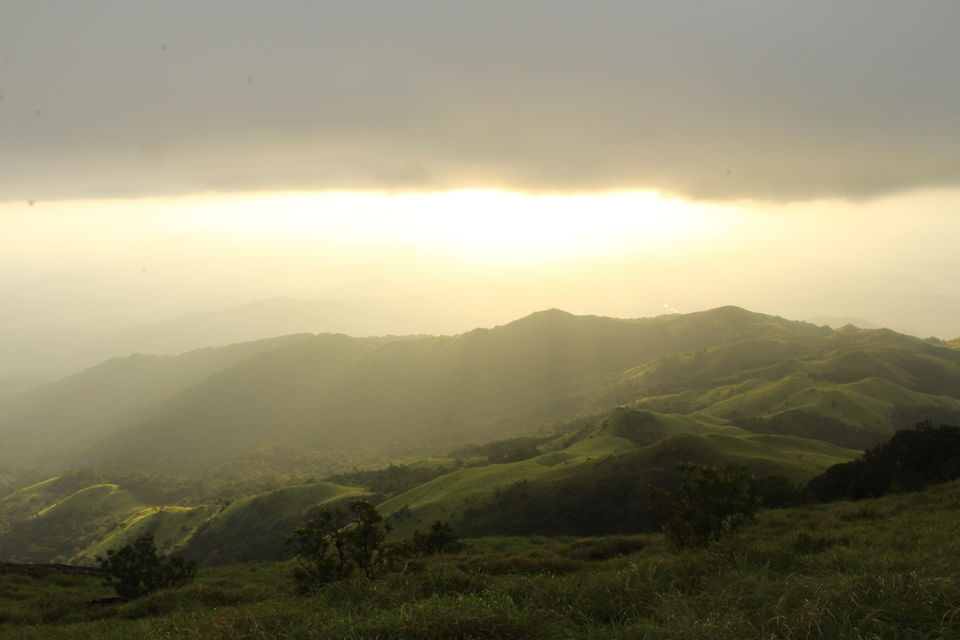 It soon became dark and out came our torches. Since Bhavani was our trek lead I decided to follow her showing her the path with my flashlight. The remaining junta followed my footsteps. It was pitch black; navigating through thick jungles and tall grasses became troublesome. I think approximately by 10 we reached Bhattaramane. People were already inside lazying in their sleeping bags. Dinner was quickly served, and the same rice, sambar, and buttermilk served for lunch was there. All tired and hungry we quickly gobbled up whatever was offered and prepared our small places inside the hut for a much needed sleep. Lights out. Good night!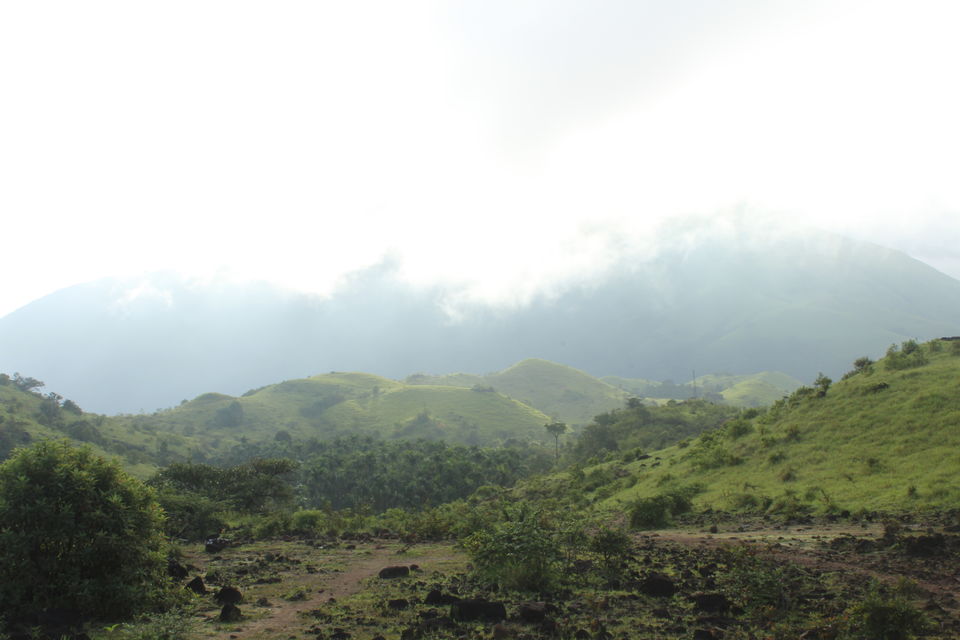 I was up by 6am, getting ready for the remainder of the trek down to Subramanya. Srijal and few others decided to start early, skipping breakfast. I initially thought of same, but I shall wait for breakfast. Breakfast arrived, I filled my tummy to my content, and I set out to Subramanya on my own. The morning was a delight to the eyes with the hazy greenery all around me. I did realize that this will be all gone once I step in Subramanya and enter civilization. But hey, all good things must come to an end.
I was actually happy to be all by myself; surrounded by verdant mountains + no one to bug you. 1 hour into descent and I was joined by fellow trekker Pankaj. Pankaj had recently relocated to Delhi and we chit chatted our way down to Subramanya. We didn't speed it up, we were content with our relaxed pace.
Soon enough we exited the forest. As much as we were happy that we completed our trek successfully (we were stinking like rotten meat!) also was the disappointment that the we will be soon back to our usual lives. Me and Pankaj decided to take a quick shower and change of clothes in a small lodge near the hotel, paying up 150 bucks. And boy-o-boy, did it feel good! Once all refreshed but of us headed towards the parking lot where our vehicles were waiting. Upon reaching we realized that lot of ours were still making their way down. I took a quick bite near a restaurant. We left Subramanya by around 12pm, once all the hikers reached. Once sleeping bags were deposited we soon headed back to our origin Bengaluru. We had some sumptuous lunch at Sakleshpur.
We reached Bengaluru by around 9:30 pm. Most of us alighted at various points once we entered city, thanking each other for the wonderful memoirs and promising to see each other in one of the other mountains very soon…
So, come 11th Sept and I will be travelling at night to Subramanya. I reached my pickup point Domlur well ahead of time, and was pleasantly surprised to see many trekkers waiting. I met Rajesh and Bhavani who were the coordinators of the group. I was surprised to know that there were 36 people travelling in 3 Tempo Travellers (TT) who will be attempting to summit KP. I was not expecting this since KP is a difficult trek and it might be difficult to manage such a big group. Oh well, the organisers know better.
After picking up the last batch of trekkers at MG road we set off. We were travelling on the Bengaluru-Mangalore road. Subramanya comes before Mangalore and is famous for Kuke Subramanya temple which draws lot of people.
The TT was uncomfortable. Whole night I was changing my positions to get the best out of the seat. But to no avail. And we reached Subramanya at around 5 am. It was pitch black outside and I was very sleepy. I felt like please don't stop the vehicle and move a little more. But that's not going to be and we had reached a lodge where we had to freshen up. The sun came up and we were welcomed to a sight of greenery. We all brushed up, and some of us even got lucky to take a shower!