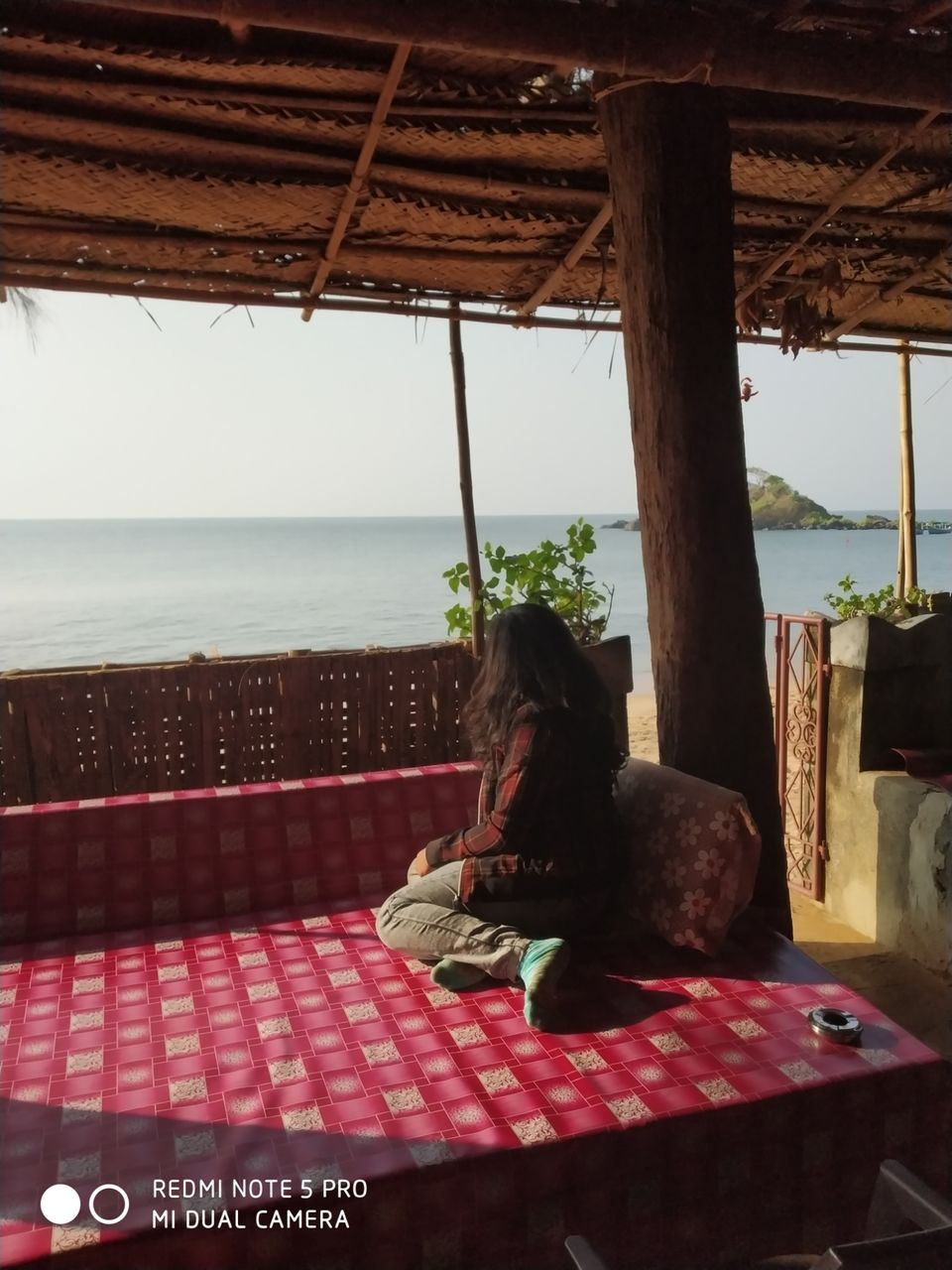 After suggested by my local colleagues of Goa Office, I decided to head to the Gokarna and Murudeshwara with my family as I was told that it's a Hindu pilgrim of Lord Shiva, having mythological importance. I booked hotel online in Gokarna Market and visited temple and Gokarna main beach. This beach has a long coast line and its populated mainly with locals and devotees. Same time I made some online search through which I got to know about other beaches. We caught a rickshaw and head to Om beach. What I imagined was non commercialised beach with local crowd where people come to enjoy nature, what I found was a twin culture of Goa where people were sipping bear enjoying music in minimum clothes. I was not wanting to get scolded and to escape the situation worst, I headed back with the determination to come back with my friends. But it didn't happen because they said they not interested in temples.
Lucky to get Sameer as husband, who also became my travel partner and one who always led me to plan trips  and believe in my plans. When I told him about Gokarna he got ready and this is how we planned....
So Sam ( Sameers nickname ) firstly came to Goa from Mumbai  where I was living  in rented house because of my job. As his train was late, we miss the another train we were about to board for Murudeshwara and from there we had decided to go to Gokarna. But as plan messed, after our breakfast we boarded a bus of Karwar as there was no direct bus for Gokarna. It was around 11.00 a.m. at that time. By 1.00 p.m. we were at Karwar. From there we caught another bus for Honawar and from there another one for Gokarna. I thought now this guy will beat me up but he was too calm.
When we reached Gokarna, we enquired about two wheeler but price was too much. The lady told -  for one day it was Rs. 800/- So, Sam asked me to drop that idea and we looked for Rickshaw. Now it was not decided where we gonna live. I read in travelogues that it's Kudle beach where accomodations are available on the beach in budget but  with bathroom on sharing basis. We asked Rickshaw wala about availability of Beach huts on Kudle as well as on Om beach. He suggested us that stay on Om beach would be more pleasant. For Kudle beach he said Rs. 100/- and for Om beach on same route further, he told us Rs. 150/- We decided to stick with Om beach. We had to climb down the steps  to reach the Om beach. There was a happening restaurant "Namaste Cafe" which was giving a feel of Goa. We had to walk far on the beach to search a better stay option. We asked in 3-4 reception counters. One we liked was full. Another we found was not even breathable. Finally we found our abode in Rs. 800/- with an attached bathroom, mosquito net and hamlock.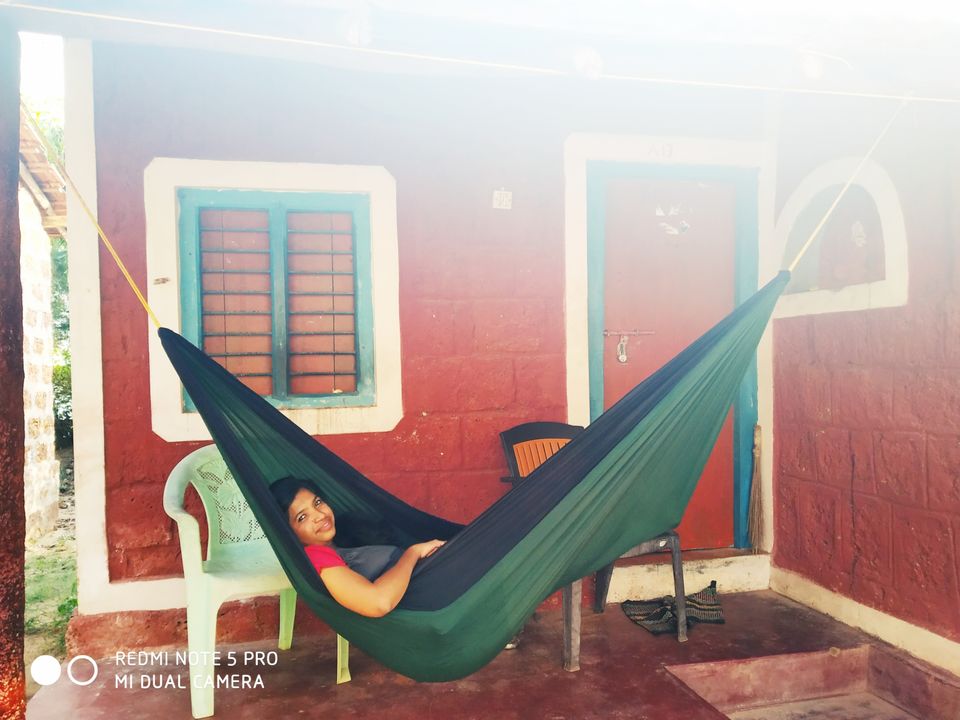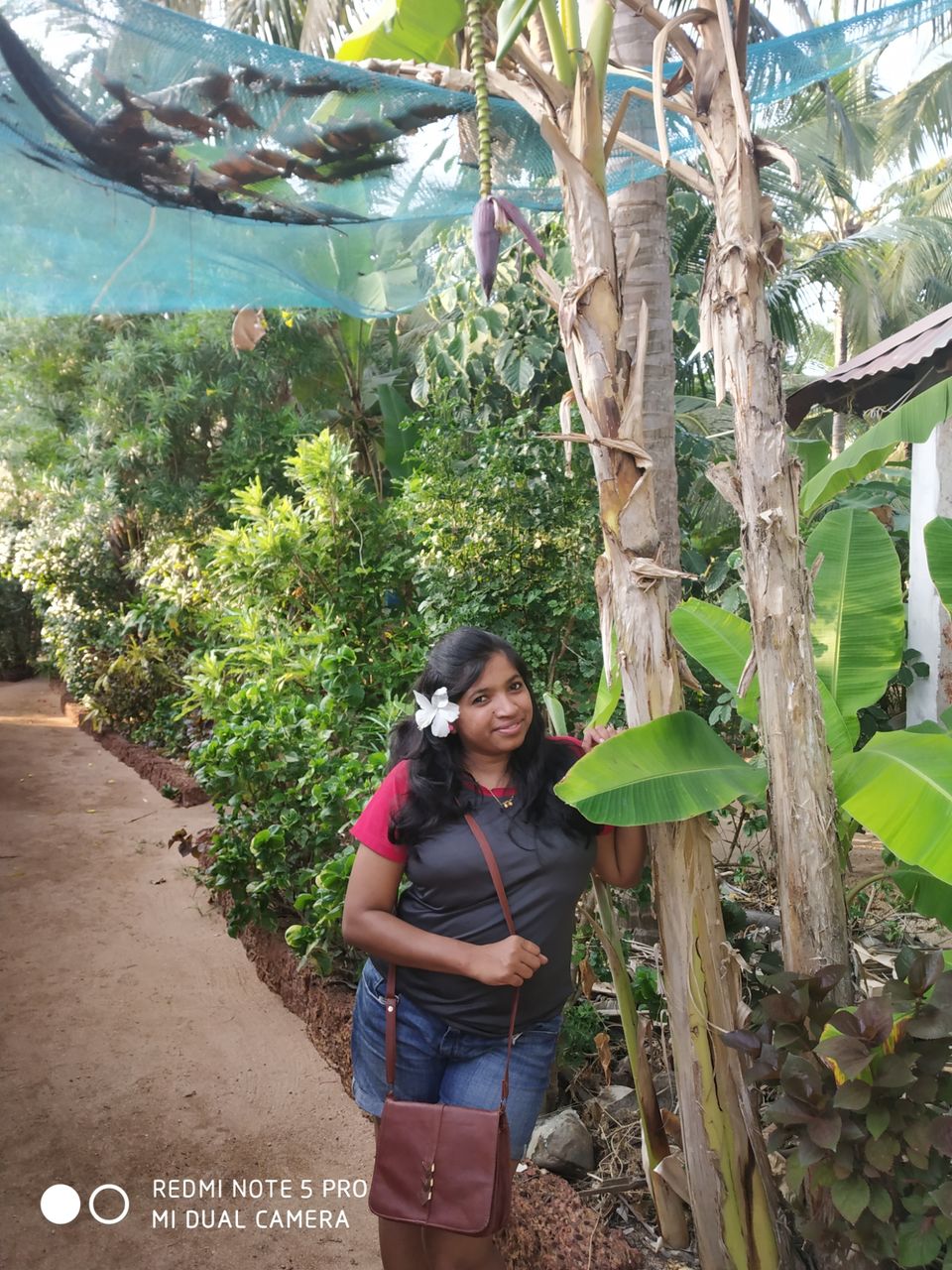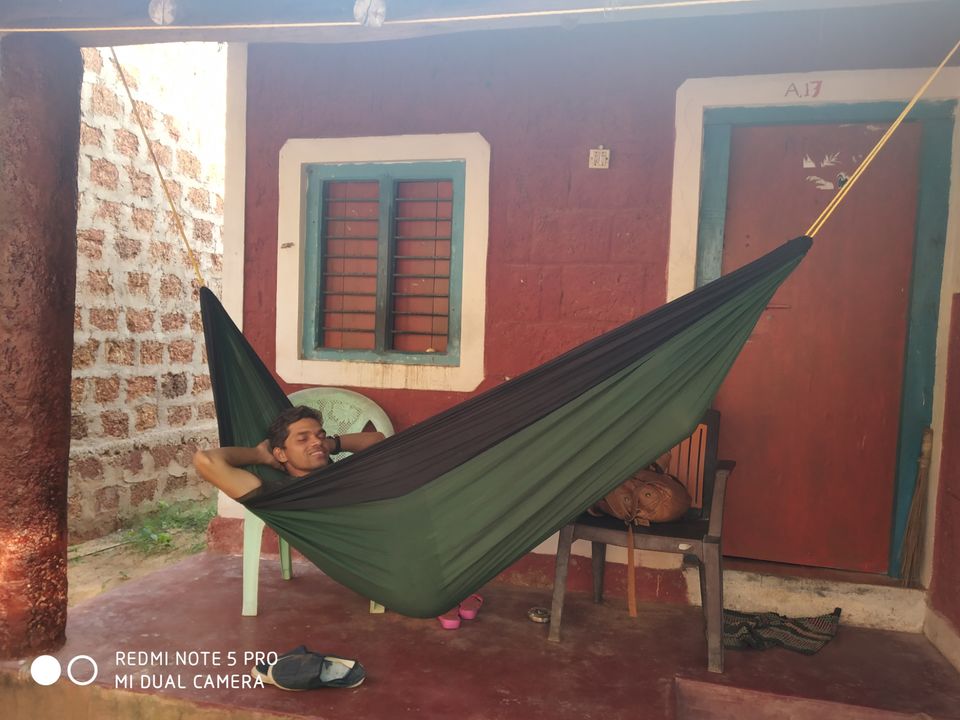 We did little happy dance after that, changed our clothes  had a homemade prawns biryani n Fry kingfish along with chilled beer.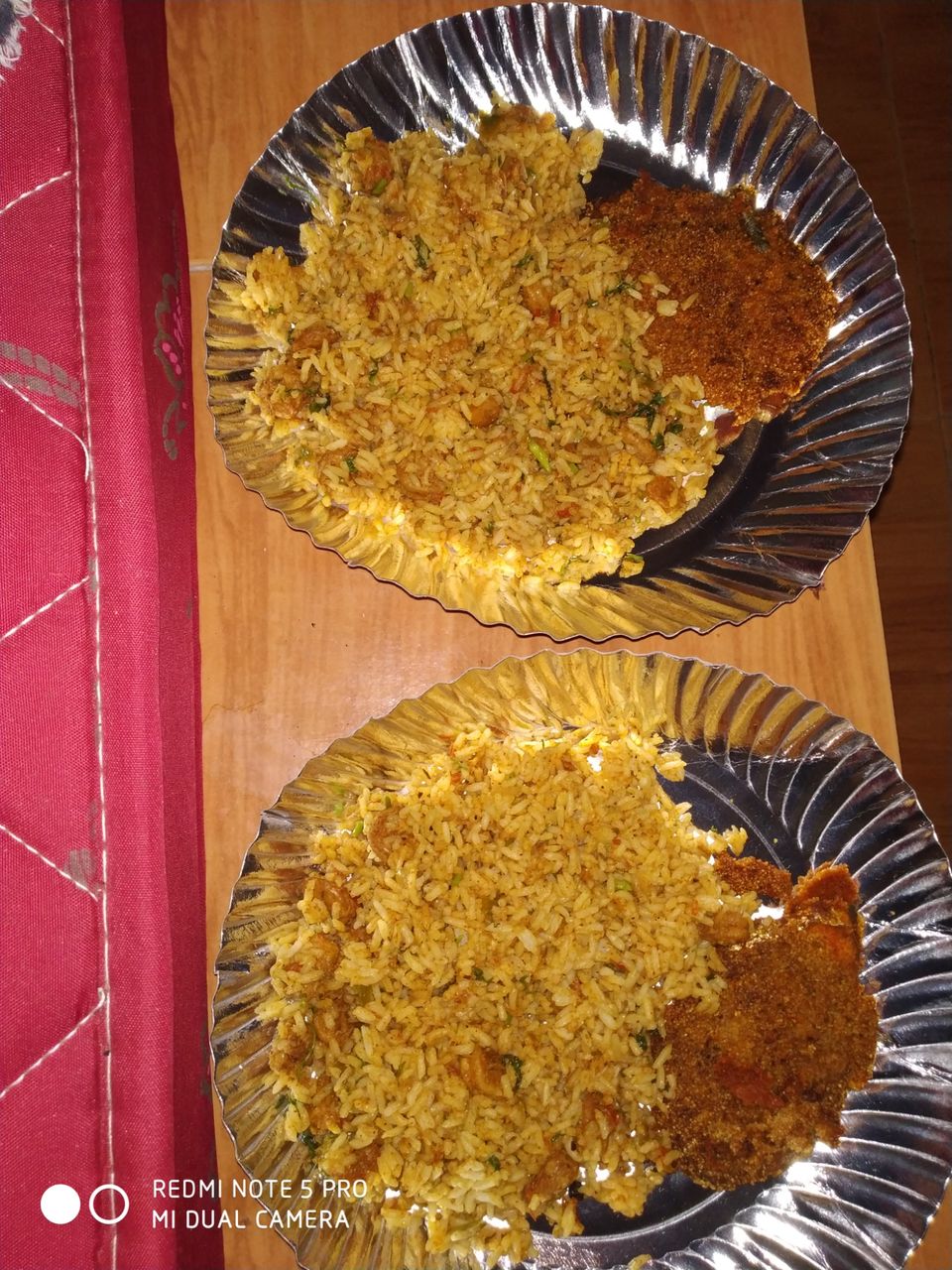 and then we moved out for beach hopping. The whether in December was very pleasant. Beach was crowded with foreign tourists doing kayaking, swimming, reading books, some were simply enjoying Sun rays. Also there was a considerable number of "Delhi crowd". We clicked lots of pictures there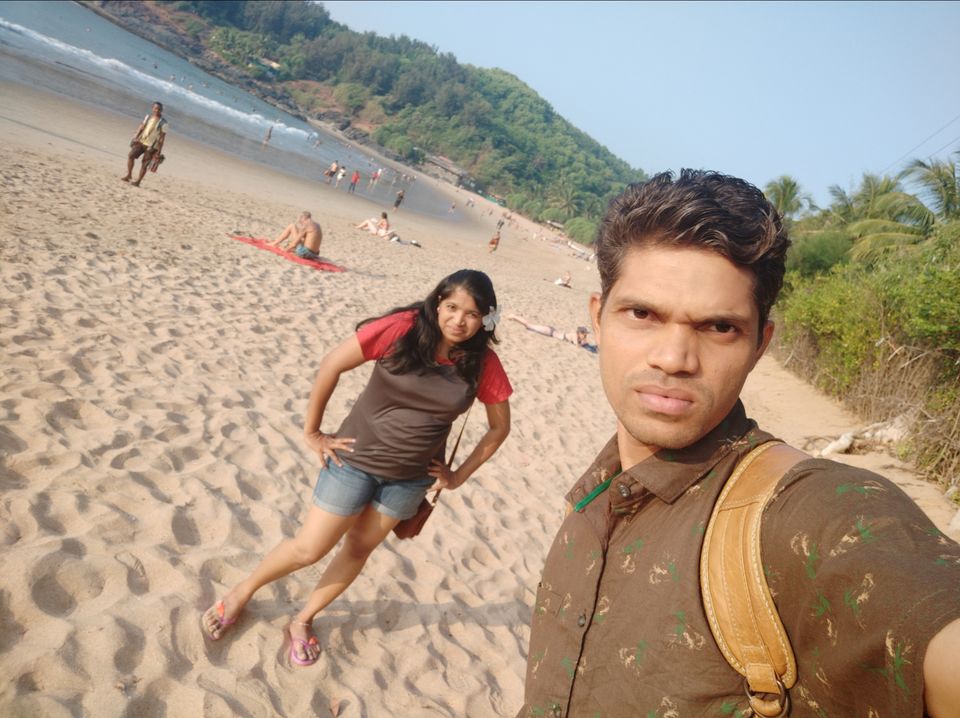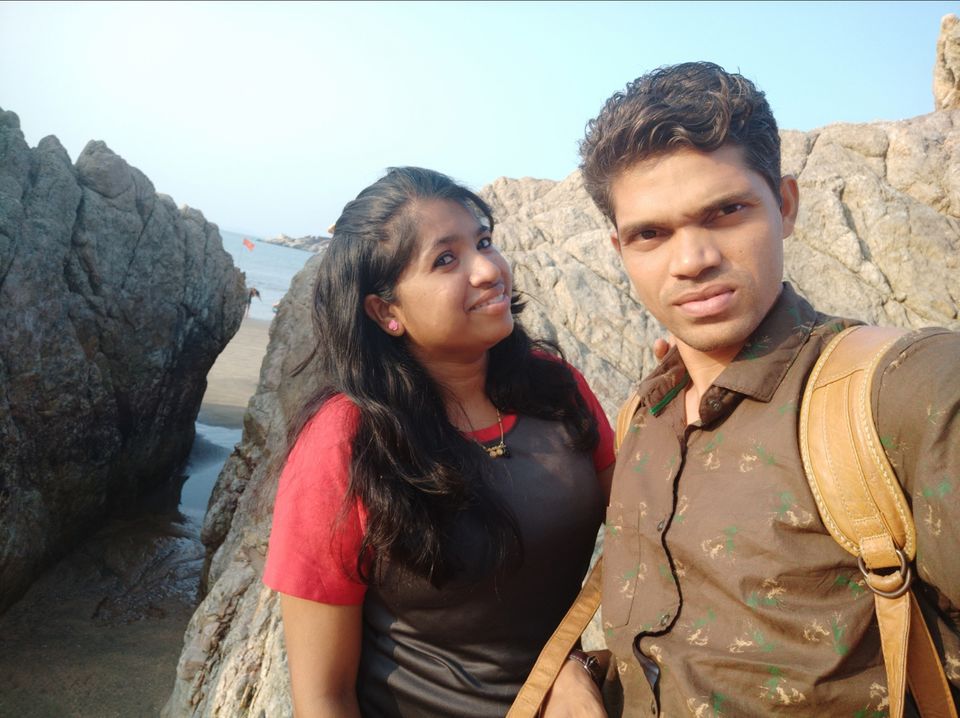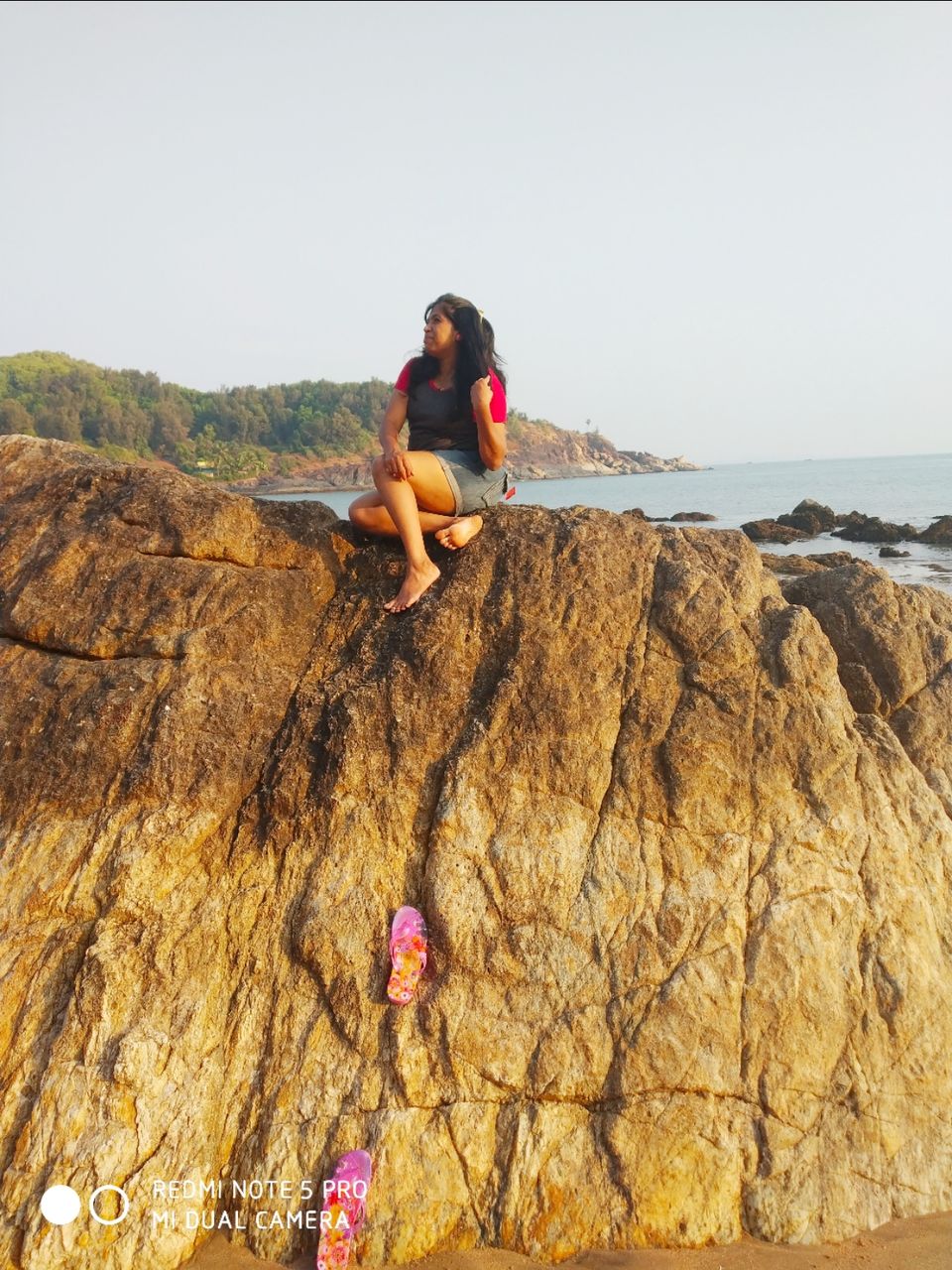 and then we decided to have a boat ride. The quote was of Rs. 250/-  per person, surprised to have it that low compared to Rs. 800/- Dolphin spotting boat ride at Coco beach Goa, we even didn't bother to bargain it further and got into a boat. The boatman showed us a Lighthouse, Paradise beach, half moon beach and at last, we reached the point where we found many dolphins - playing , swimming and entertaining us. There was a pink dolphin and spotted dolphin too. We enjoyed a view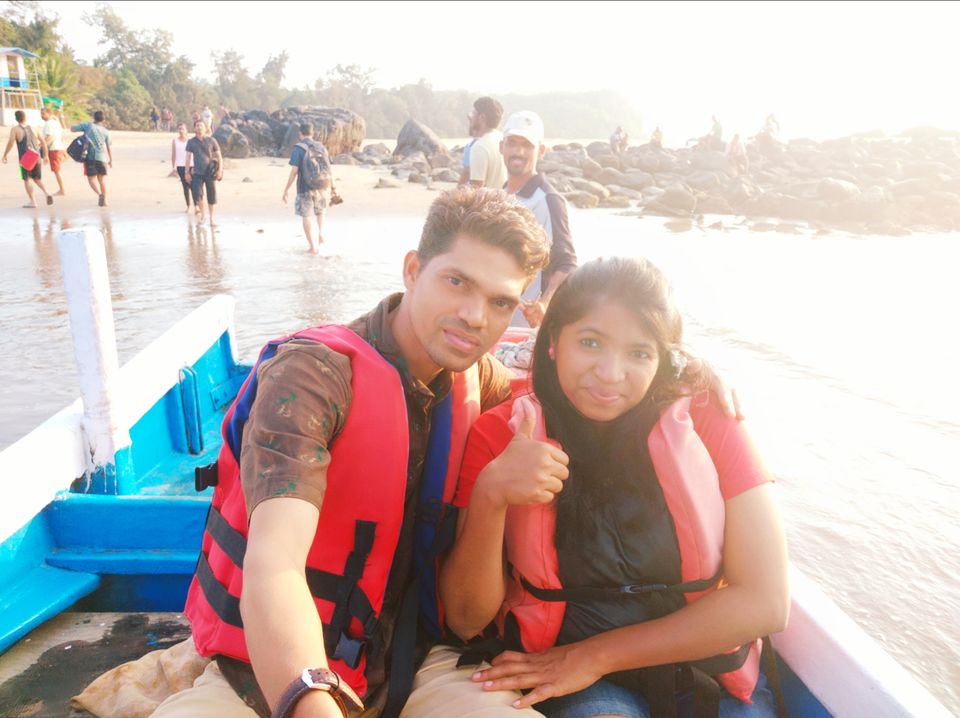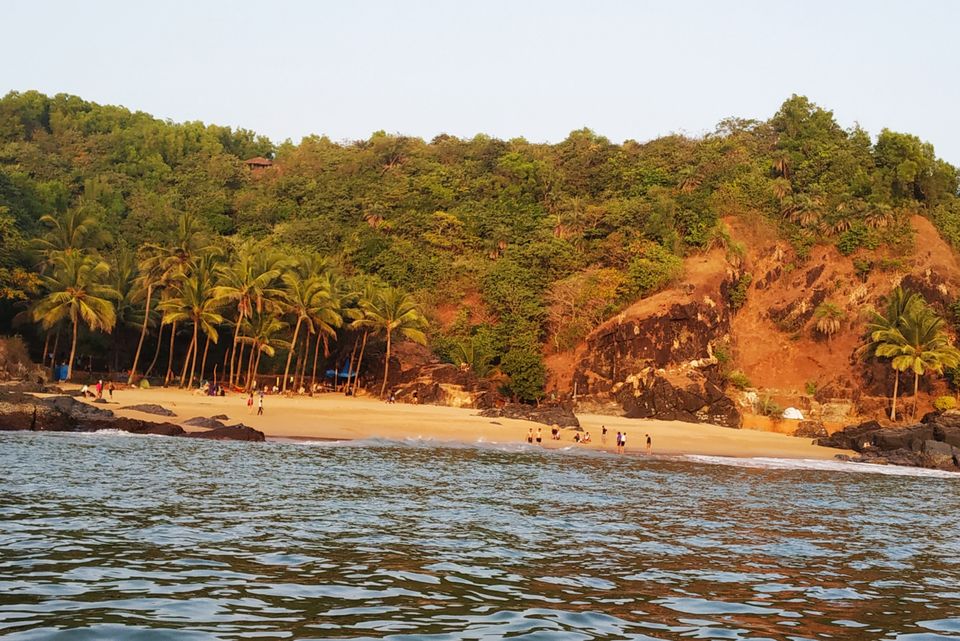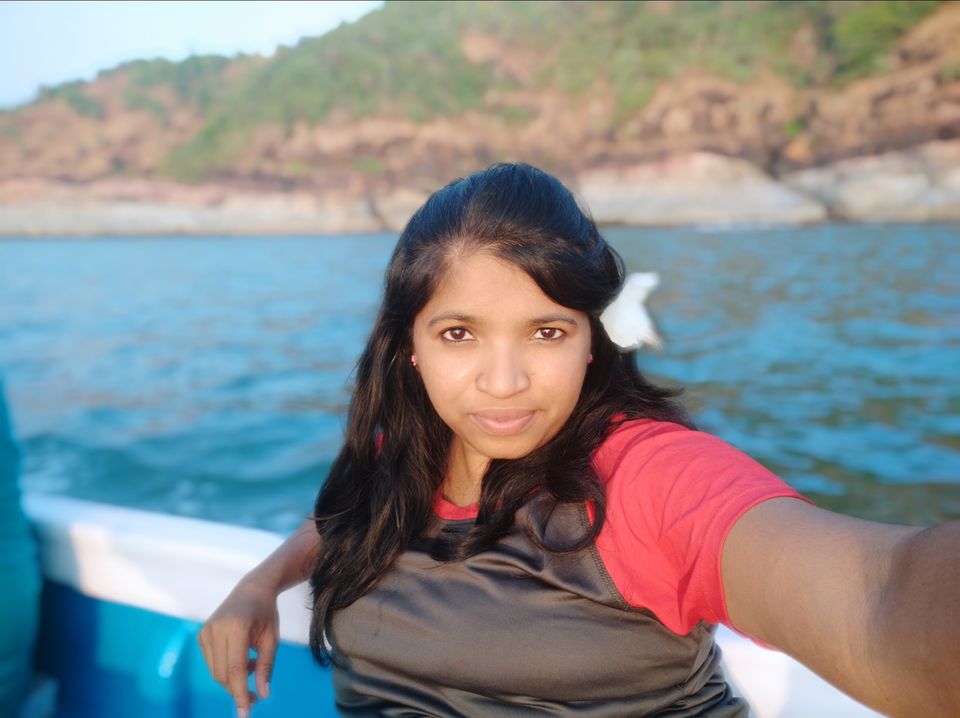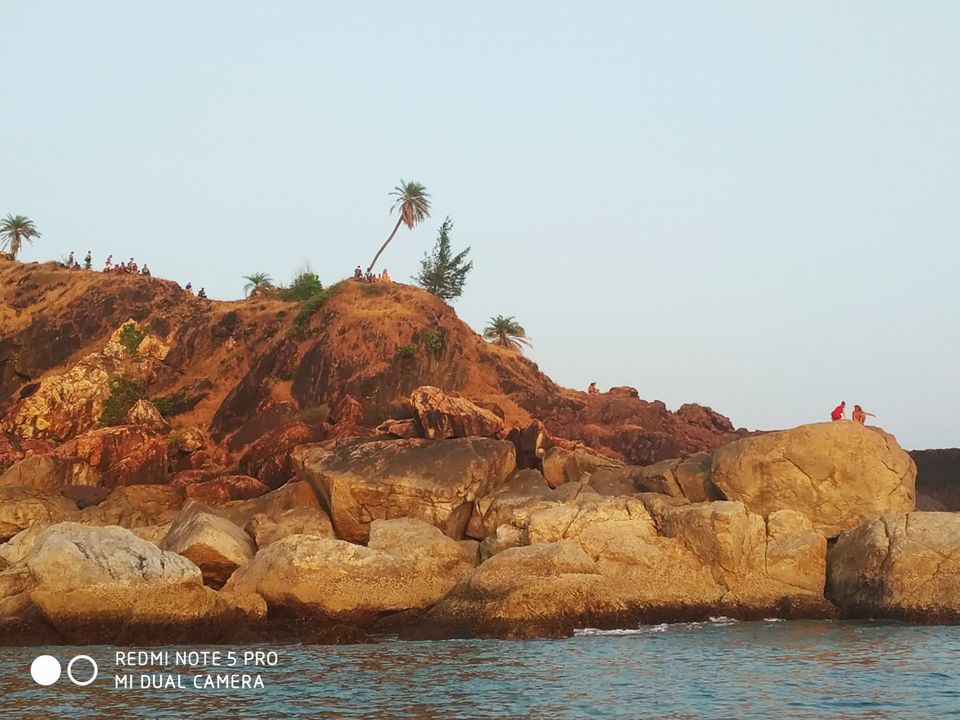 When we were returning it was a sunset. And a blue sea turned into a glittery golden water. It was a beautiful sunset we witnessed there. For a while we enjoyed rock climbing and took abundant pictures. Then we went to a room, changed clothes to get into a water. Though it was time to come out, as already whistles were blowing, we spent a considerable time playing in water, swimming and floating. When we came out, it was already dark. We went in our room, had a bath, wore clothes, rested for a while and came out to spend time on the beach. We walked from this stretch to that corner. Foreigners and amused Delhi crowd was having me time. Some were boozing, some were lost in music, some were chit-chatting over a bone fire there....
Me and Sameer, hand in hand were talking about a day. How it would have been if we could have start a journey early in the morning....We could have got time to trekk to the paradise and moon beach like others. ..how it would have been a different experience if we would have brought a tent and would have done camping on the paradise beach ...how fun it would have been if would have done proper time management to do kayaking which was just Rs. 250/- per half an hour and so on....
It was a full moon day and moon was looking quite bigger n brighter. We ordered our food in the attached restaurant there and asked them to serve right on the beach. We ask them for a mat and laid there gazing sky and listening the music of waves...there were group of hippie dippies by our side and it was one of the beautiful night and time we were having together. The exact what I always want...and had in Goa several times....The food ordered came and it was too delicious. we sipped a chilled beer side by side while admiring the taste of food and beauty of the location and aura of the night.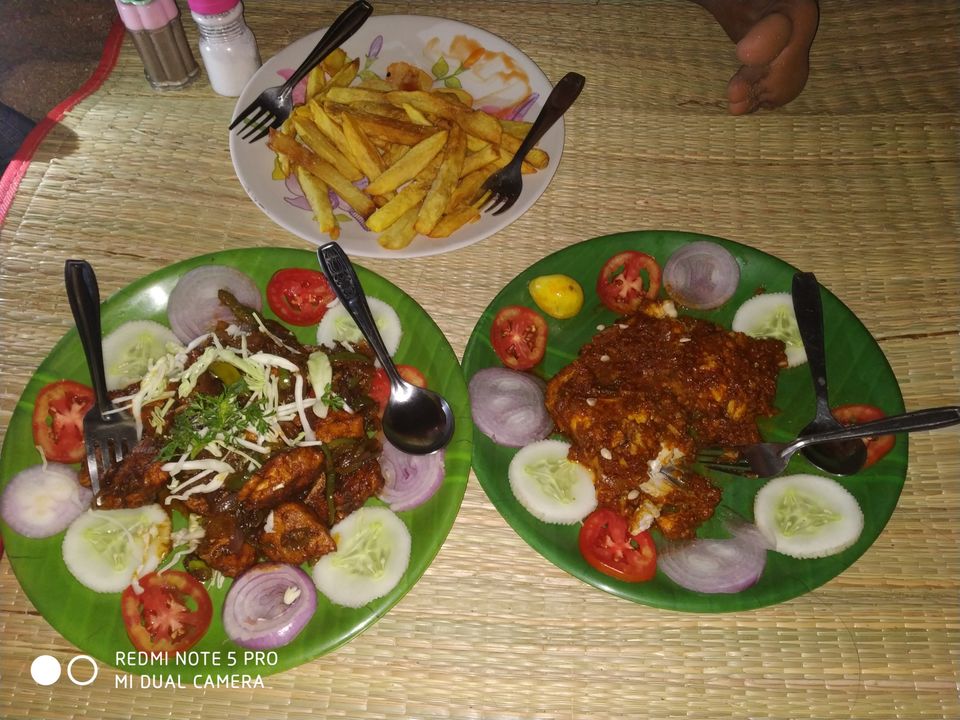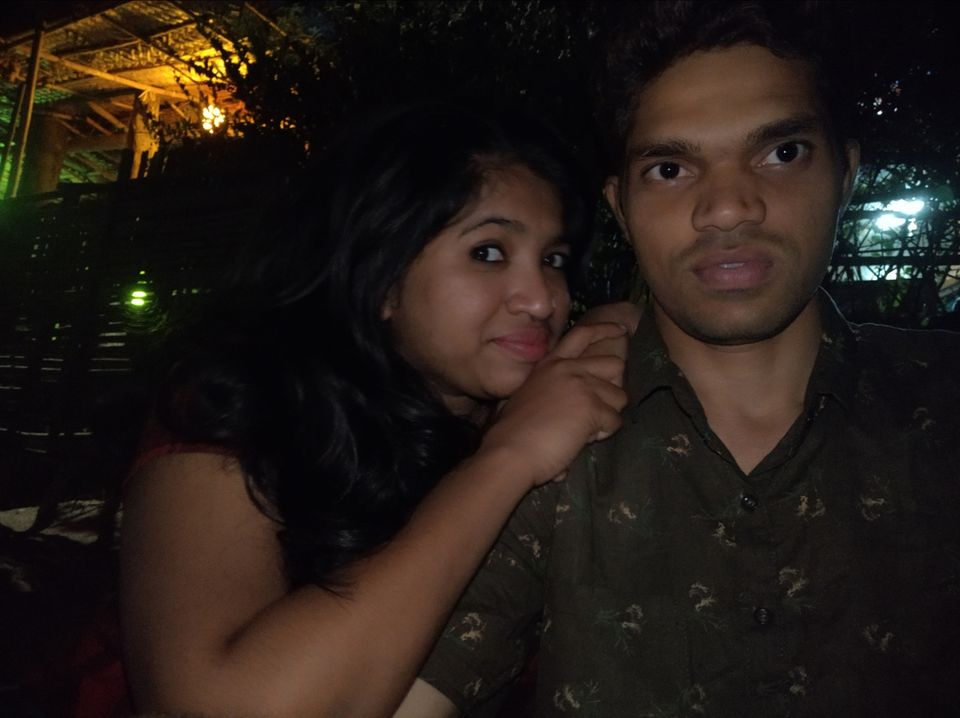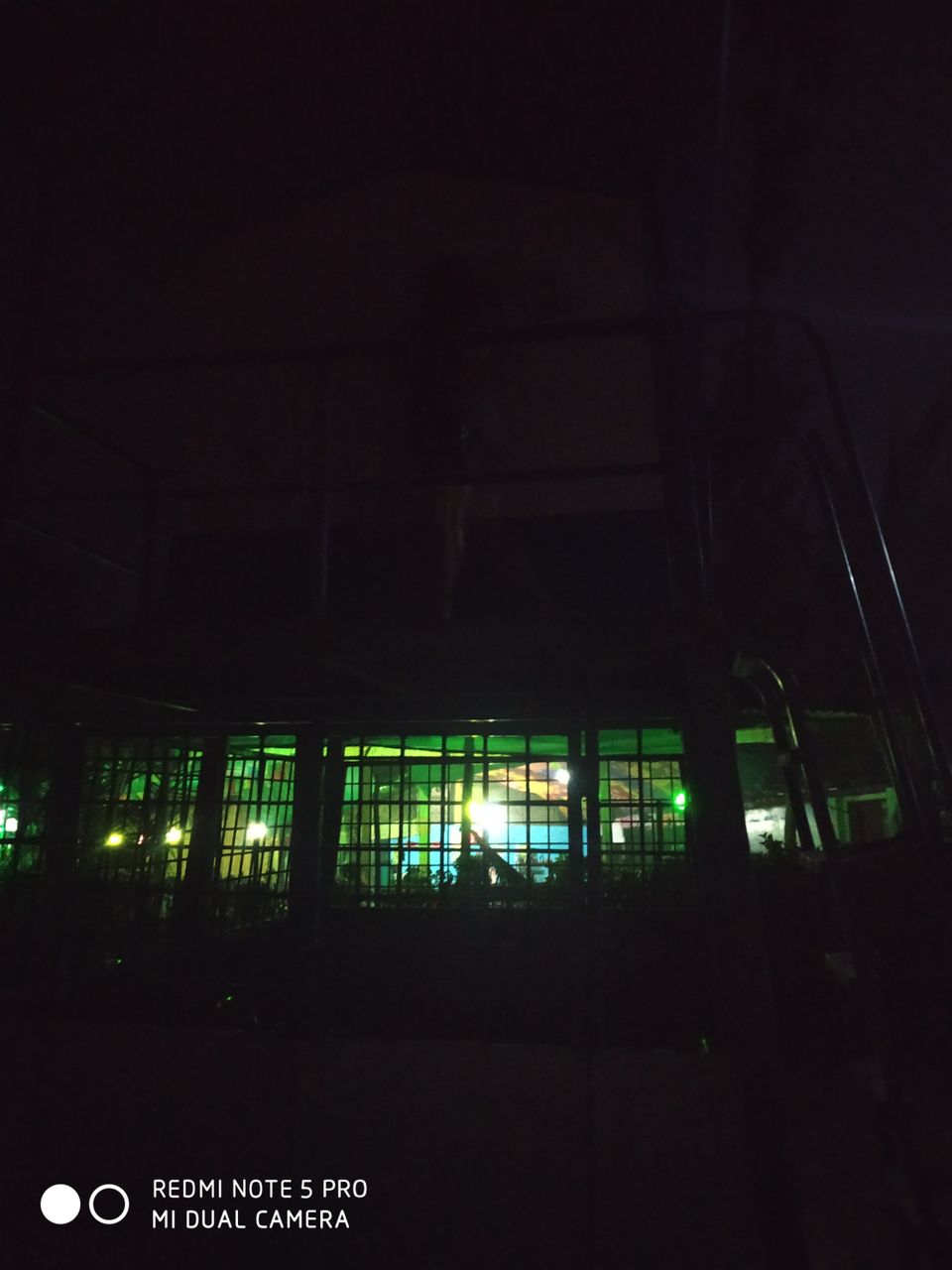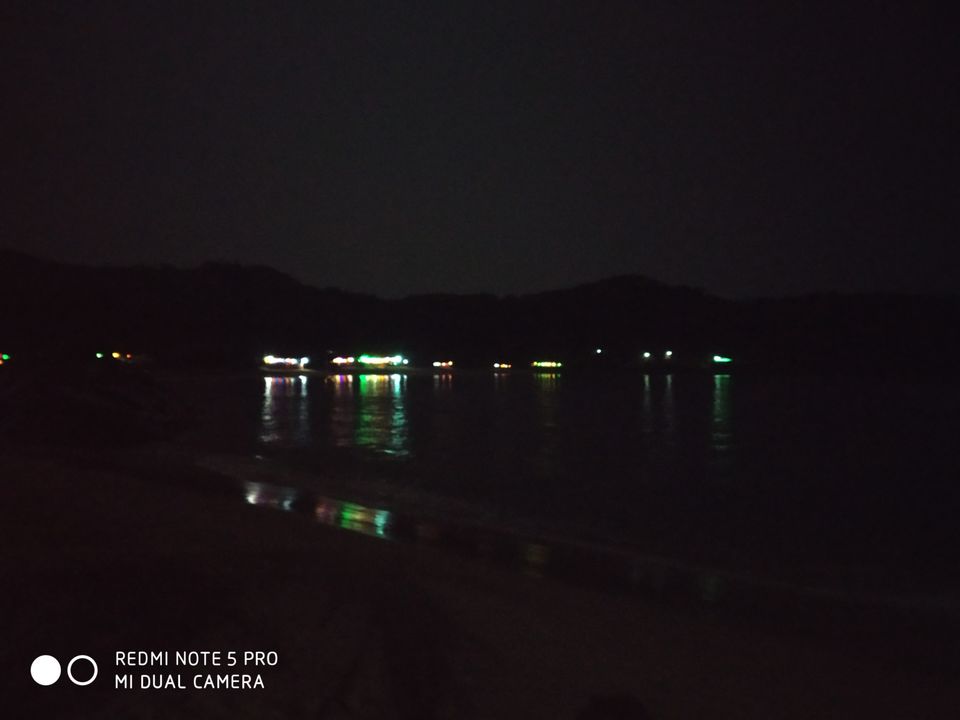 The whole arrangement made it a beautiful experience to cherish. After a tight dinner we fall asleep to the music of waves which were frightening some times....
At morning we woke up and walked to see a sunrise, had our bath and said bye bye to the beautiful Om beach experience. At morning after check out we visited temples had a budget South Indian  breakfast at Prema restaurant. I don't know why it was so overrated by the travellers,  I found it to be very ordinary. After a fresh kickstart we headed to the next destination Murudeshwara.
To summerise, Gokarna no doubt a next alternative to Goa for the people who want to enjoy nature, beach and peace in a budget price.