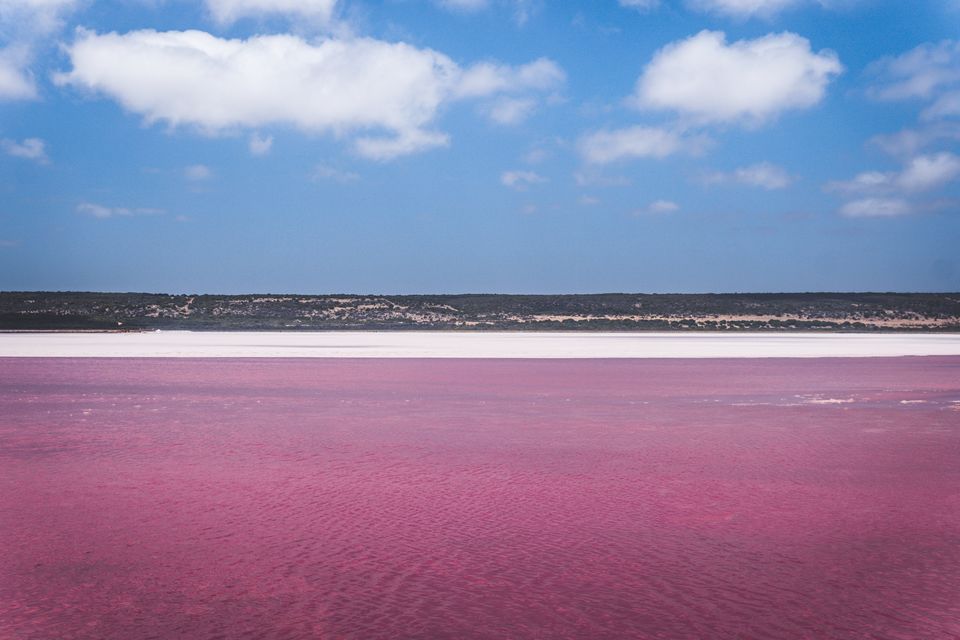 What if you wake up one morning only to find out that everything around you—your well-kept lawn, your favourite dress, the colour of the beach you visited last evening, the sky, the trees—has gone colourless? Let alone the technical complications in life, there'd be simplest things of beauty and joy you will miss once everything around you goes black and white. It can get worse for for those who love posting their colourful pictures on Instagram.
But thankfully, that's not going to happen unless there's a sudden alien invasion or some supernatural occurrence. Fortunately, this world is full of colourful places which are always a treat to eyes. And what better than witnessing the best shades of pink that exist in some of the most beautiful natural wonders of the world. So, here we list down 19 gorgeous pink places you must to visit at least once in lifetime.
1. Muralla Roja, Spain
You might have stayed at the prettiest places all your life, but this pink building sitting nicely atop the cliffs near the sea shore, inspired from Arab style of architecture, promises to be a picture-perfect experience. The location, the views, the stay, everything is simply majestic at Muralla Roja.
2. Lake Hillier, Australia
Looks more like a palette left in the garden by an artist, doesn't it? Well, that's the beauty of nature and Lake Hillier in Australia is the perfect example of this rare artistry. Fewer places have better shades of pink than this lake that contrasts so well with the blue of the ocean. You see, it doesn't even need editing!
3. Jaipur, India
A city with history of royals and their grand palaces has every right to be amongst the top pink places in the world. And why not, there are attractions like Hawa Mahal, Amber Fort, City Palace, and Pink City bazaars which give it that warm and beautiful pink shade. No wonder it's called 'pink city'.
4. Takinoue Park, Japan
Nature has a magical way of surpassing its own masterpieces. Just when we were beginning to think that Lake Hillier is the best naturally pink place in the world, pictures of Takinoue Park in Japan left us open mouthed. It may not stay like that for whole year, but the months of May and June, when pink moss is in full bloom, this park turns all pink and is second to none it terms of beauty.
5. Marrakech, Morocco
It's not just Jaipur whose pinks will leave you spellbound, Marrakech in Morocco is another 'pink city' whose buildings and streets are painted in dusky pink colour, making it look like a distant cousin of Jaipur. With almost everything in pink around you in Marrakech, don't forget to take some great pictures and let others know about it.
6. Don CeSar Florida, The U.S
A perfect example of what happens when man and nature combine to create something beautiful. Located near the stunning white sandy St. Pete Beach in Florida, Don CeSar is around 100-year old hotel painted in an even more pleasant shade of pink. Stay there and you will see the true colours of best holidaying experience.
7. Pink Sand Beach, Bahamas
It won't be an overstatement if we go on to say that Bahamas and beaches are synonymous. Look for the best beach destinations in the world and Bahamas would be right there at the top. And if that's not enough, visit Harbour Island and you'll be welcomed by a pristine pink sand beach. Who needs a hotel?
8. Pink Street, Portugal
It's name is Rua Nova do Carvalho, but it's all right even if you call it 'pink street', for it's all painted in bright pink. Whether it's shopping, having a cup of coffee in some cafe, or having wine at some classic restrobar; if you love pink, you would be tempted to visit this street in Lisobon again and again.
9. Las Coloradas Pink Lakes, Mexico
Las Colorados pink lakes in Yucatan peninsula of Mexico is yet another name in the list of most beautiful pink places in the world. Red-coloured algae and planktons are the tiny but most significant reasons behind these beautiful pink lakes in Mexico. Don't be surprised if you see a number of tourists at the lakes, for they are a famous tourist attraction now!
10. Pietro Nolita, New York, The U.S
Wondering why we included a restaurant in this list? Well, visitors claim its pink interiors and exteriors are nothing short of an attraction in the New York Central. Makes it a great place for your first date.
11. Craigievar Castle, Scotland
Located in Alford, Scotland, Craigievar Castle is a pink-ish castle straight from the the 17th century and looks like the one straight from fairyland. If you love history and art, this is a must-visit for you. One picture will [not] be enough here.
12. Pink Cave House, Greece
Located close to a famous Byzantine-era castle and the Maritime Museum in Santorini, Greece, Pink Cave House is an apartment hotel that sits peacefully atop the cliff that overlooks the Aegean Sea. Almost every traveller wants to visit this place and so should you, especially if you're a fan of pink buildings and awesome natural beauty.
13. Lake Nakuru, Kenya
No, it's not really a pink lake, but it turns pink; thanks to the visiting flamingos who show up in large numbers during the migration period. They simply shadow the blue of the Lake Nakuru with their own pretty pink. What a sight it would be to see thousands of flamingos on the lake shores!
14. Crane Beach, Barbados
The pink sand at the Crane beach in Barbados is another gorgeous Caribbean attraction for all who love the colours of nature more than anything. Would you need a bed of roses if you are at a pink sandy beach like that?
15. Tokyo Cherry Blossoms, Japan
Even though it's one of the most densely populated cities on the planet, Tokyo has a knack for finding ways to be one of the most beautiful places in the world. Visit early April and the gorgeous pink of the cherry blossoms will leave you in awe of the natural beauty of this otherwise busy metropolitan.
16. Schloss Drachenburg, Germany
Pink castles never seem to go out of fashion, do they? Well, to add one more to this long list is the 19th century Schloss Drachenburg castle in Germany. It has everything your upcoming Euro trip even more Instagram worthy.
So, which one would top your bucket list? Let us know in the comments below. And don't forget to share your travel experiences with Tripoto Community here. Start writing now!

To know more about such gorgeously colourful places in the world, subscribe to Tripoto on YouTube.

Get travel inspiration from us daily! Save our number and send a Whatsapp message on 9599147110 to begin!