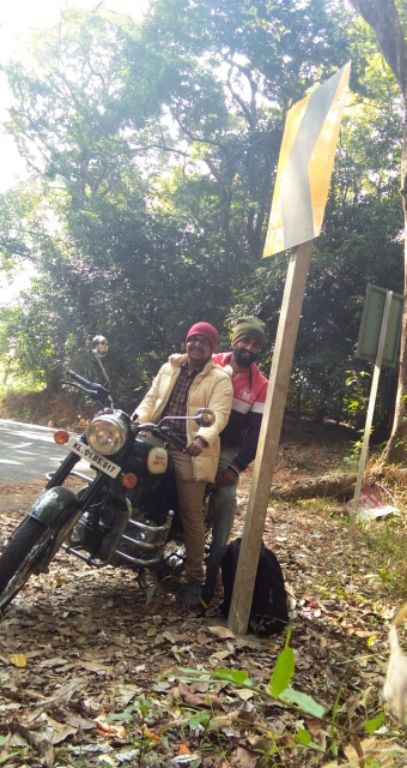 Ponmudi is a hill station in the peringamala Panchayat  of trivandrum district in kerala. It is located 53 km north-east of trivandrum city, 78km south-east of Varkala beach and 69km north-east of Kovalam beach at an altitude of 1100 m.
                Ponmudi is also called Kashmir of Kerala and is a popular honeymoon destination in South India. The normal temperature of Ponmudi is between 18 to 25 degree celsius.
Travel:
Ponmudi is connected to Trivandrum by a two lane highway (SH2 & SH 45). The last 18km starting from Anapara has scenic views, as it winds through the mountains and tea gardens. The travel along this stretch provides a thrilling experience as drivers and riders have to navigate around 22 hairpin turns.
Morning Bullet ride:
    My travel partner had purchased a new bullet just few days before this trip. So we thought ponmudi gona be the first trip using his new companion.we planned to start the ride by early morning around 5.30 am. I was more excited than him because I was never been to ponmudi hills before. My mind was happy that new destination is waiting for me to explore. Trivandrum was too cool then at the time we started our journey.
  We had breakfast from a shop at the highway side before the starting of hair pin turns.
Meenmutty water falls:
This waterfall is about 3 km away from the Kallar-Ponmudi road. The main attractions are water falls and the small natural pools and rocks located beside the way to the water fall. In order to reach the place, one has to take a long trek that passes through dense forest.
This place is an Excellent one for a day out with family Or friends. 1 hour trekking is there (mild). Very chilled water & we had bath there for couple of hours, interesting.
Note:
Carrying packed lunch is good during this trip & have it near the falls.
Now a days we are not allowed to go to the point where water falls from hills. Management has constructed a stand approx 50 meter before the waterfall. We need to stand there and enjoy the scenic beauty.
We have huge stone before the trek, where we can enjoy bath in natural cold water directly coming from hills.
Small shop is also there, where you can get snacks, water bottle and other eatables.
Best time to visit:
Post monsoon is the best time to visit ponmudi.
Special note:
Ponmudi and meenmutty offer a majestic combo.