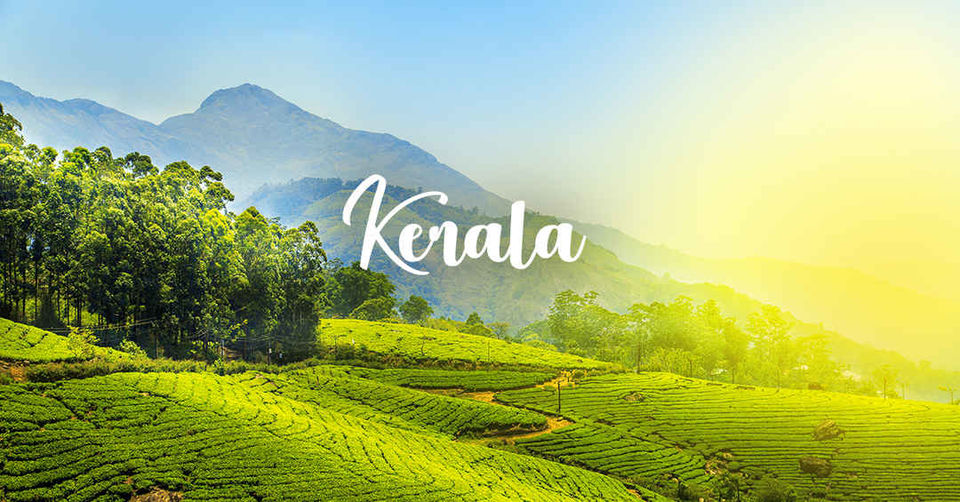 "Once you have traveled, the voyage never ends but is played out over and over again in the quietest chambers. The mind can never break off from the journey."
-Pat Conroy
In all your life, it is your mind that travels the most! Even if you stop from traveling, it is your mind that still won't stop you from wandering into those deserted streets, landscapes, valleys, waterfalls, and rural & rustic life that you have already ventured. Traveling gives you a sense of finding yourself but wandering gives a sense of completeness within your soul. Throughout my life, I have always been keen about traveling, planning a trip, seeing new places, meeting new people, and digging out the uncovered history. But still, I couldn't find what I was looking for.
I was still not satisfied and couldn't find the true meaning of my life. Then I realized, it is not the traveling that will give me a sense of satisfaction. I will have to give my traveling a new direction and stop myself from making a planned trip, heading towards the known roads, and seeing explored destinations. The ardent traveler inside me shouted out loud and told me just to pack my bag and go where ever the road takes you, look for an unexplored destination, and meet people who feel the same.
And that was the time when instead of following a conventional path of traveling where you think of escaping your everyday life, I decided to follow an unconventional way of wandering where I will redefine my life. I was still not sure, whether I will get the answer to my question of what I am looking for in my life by doing this? But, once you become a passionate traveler, you keep on experimenting with your journeys. So, my journey towards experimenting with my own sojourn started on the day when I decided to stop following and uncovering the answers to my questions.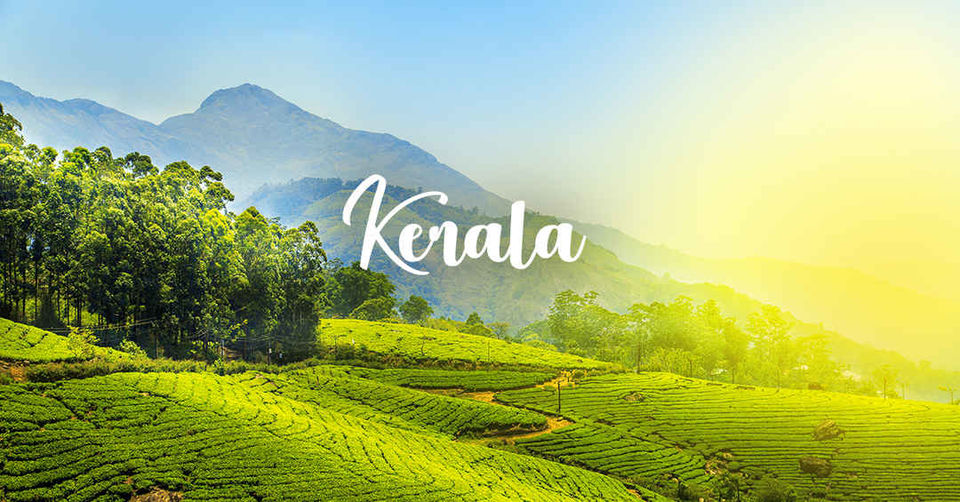 Believing on my own instinct and knowing the fact that South India is a hub of various unexplored locations, I decided to take a chance of visiting Kerala- a place of alluring landscapes and captivating mountains and valleys that will transcend you into the lap of Nature. I decided to dig out the unexplored villages of Kerala and their mural landscapes. I knew this is my first unplanned trip and I will surely face some serious challenges, but instead of getting nervous, I chose to be my own God and decided to venture into the unfathomed locale of God's own country!
Reaching Kerala is not a difficult task; you will easily get flights from major cities to Thiruvananthapuram and Kochi and that will, of course, save your time. But according to me, if you are a thirsty traveler, looking for some untold stories to be added in your journey, then either to choose a road trip or a rail route. I chose rail route to be the initial step towards my journey and straightaway booked the ticket to Trivandrum Central. Yes! Trivandrum- the first stoppage of my exploration. I reached there at 11:00 am in the morning and decided to take the halt of one day. Meanwhile, I need to dig out what are the places that I want to explore during my visit to Kerala. After taking rest of 2 hours in my hotel room, I took out the local map of Kerala and finalized Ponmudi as the second destination.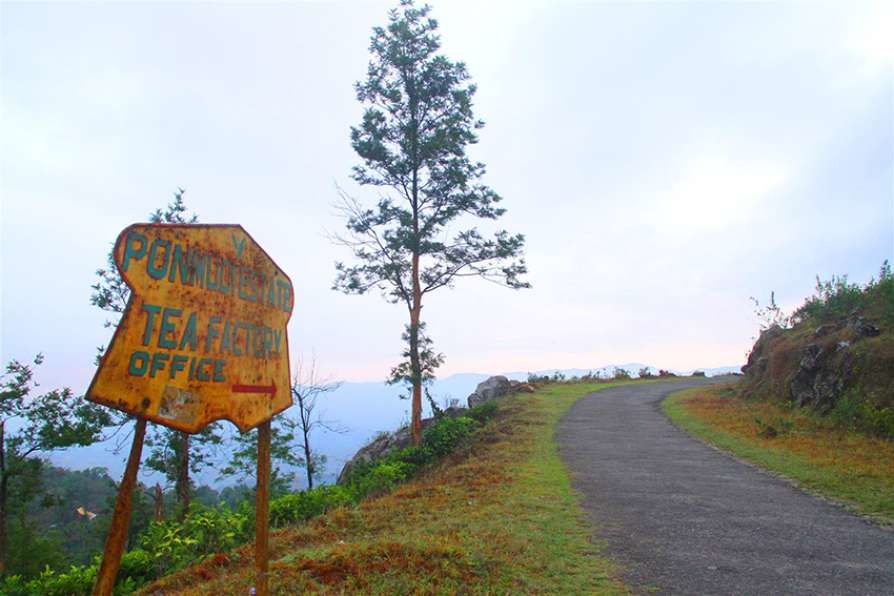 Next day, early morning I booked a cab to Ponmudi and stepped into the first unplanned trip of my life. What a thrilling experience it was! The one and a half hour of ride shook my entire mind, body, and soul. I have never seen such a beautiful and scenic location in my life. The tea plantations, waterfall, wilderness, and most importantly the sound of nature instead of the noise of fast-moving life of Delhi. I was totally baffled by the fascinating beauty of the place. I have been to various places, but if you will ask me, then there is something exceptional about the places that are lying in the lap of nature.
You will never be able to come out from that aura! The misty surrounding, trees covered with foggy clouds, the dewdrops of rain falling on the windshield of your car, and silent roads; What else you need to call this journey a self-driven expedition! My first unplanned trip was now taking me towards the unforgettable trip of my life! I saw Menmutty falls, Golden Valley, echo point, and Agasthyamalai Biosphere Reserve, and many more scenic locations.
While riding on the fuzzy roads in Ponmudi, my driver told me about one of the oldest festivals in Kerala that was going to held on the next day in Pathanamthitta district. The festival was Aranmula Boat Race. Now I knew that I am not going to return to my hotel in Trivandrum and at the end of the day I googled the nearest lodge and asked my driver to take me there. I fell asleep thinking about the adventure of the next day.
Next day I called the same cab driver because there was a repo built between us and for me, wandering doesn't mean to take help from Google maps. Of course! It will help you a lot, but I rely more on people than Google maps (jokes apart). So, my cab driver Athiya was now my tourist guide in Kerala. From Ponmudi, the distance to Pathanamthitta is a total of 3 hrs. If you leave early morning, then you can spend your entire day enjoying the Aranamula Boat race festival. As soon as I reached there, I noticed that the festival was already started. I was a bit late but haven't missed the entire festival. There was a large crowd but Athiya finds me a better place from where I could witness the entire festival. People cheering up sailors decked up in their local costume of WHITE DHOTI and WHITE CLOTH tied up on their head. I didn't know that my trip was going to bring me some exciting experience!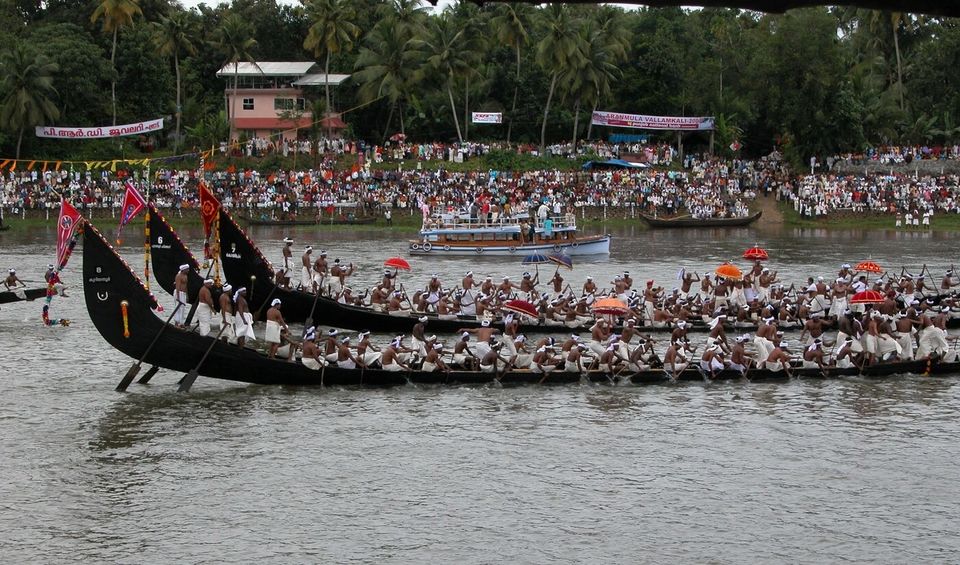 The snake-shaped long boats sailed by around 50 men was worth a watch. The traditional music and the charged people, everything was just blocking my mind with surprise. This boat festival was celebrated every year in Pathanamthitta district during Onam- a festival that celebrates the Vamana avatar of Vishnu. After the festival was over, Athiya asked if I want to taste few local dishes of Kerala and took me to a local restaurant where I tasted some of the most relishing dishes of my life- FISH MOILEE & KERALA PRAWN CURRY.
I talked to some of the local people with the help of Athiya. They were very kind and gentle and even telling me the folklore and music related to the boat festival. This was the first time when I was talking to people I barely knew, listening about their culture, traditions, and folklore, and most importantly trusting them. Being a girl, I knew I will have to take care of some limitations during my trip, but after meeting people like Athiya, it totally changed my perception of seeing people. It's not the place that will make you feel safe, it's the people, who do ordinary things and let you feel safe at the unknown place!
My trip landed me to various other speechless and restrained villages and towns in Kerala, including, Kovalam, Poovar, Kanyakumari, Varkala, and Kollam. You might wonder, why I haven't visited Munnar, Kochi or Alapuzzha and various other places that are listed as the top-rated places to visit in Kerala. As I said, I wanted to explore the unexplored, so, I didn't choose, I just picked what came in my way of traversing Kerala. I returned to Trivandrum and stayed there for one day and explored other places nearby it.
I still don't know about getting answers for what I am looking in my life, but yes! For one thing, I am very sure, that visiting Kerala made me more confident and more self-reliable than before. I started seeing the world and people differently. Exploring Kerala made me realized that it's only about the matter of your self-confidence and you can unfold the hidden treasure of India through your own eyes. Kerala made me meet the best version of me and maybe that's what I was looking for! Being the best version of me!