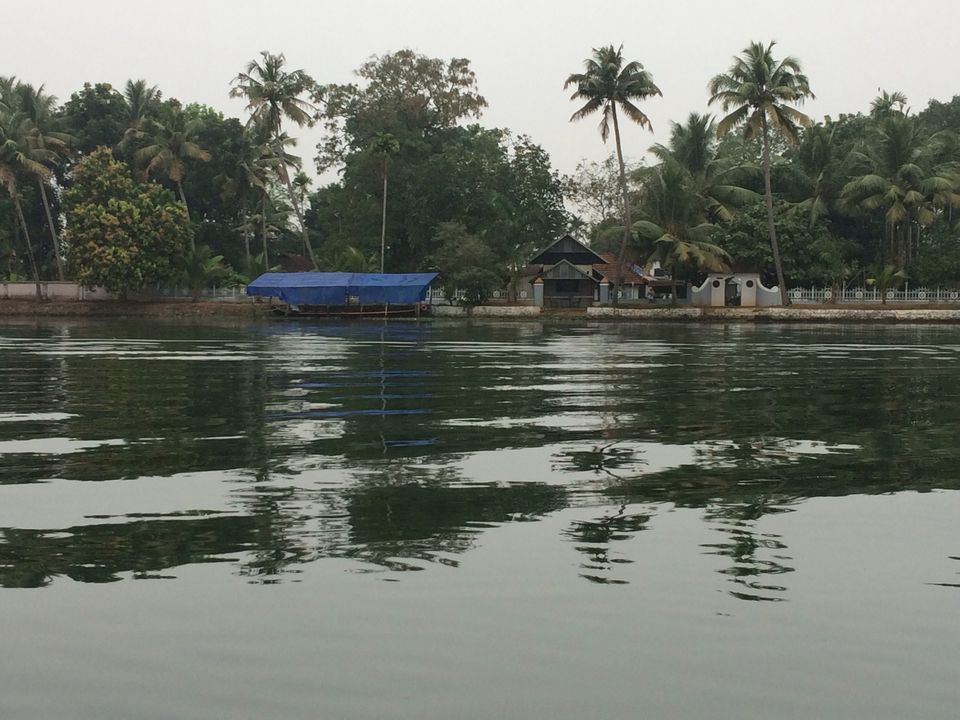 Nothing heals like a trip to Kerala. No matter what one is suffering from - a personal crisis or a punctured ego, a setback in health or just plain disconnect from life, I can guarantee and so can every one who has traversed this land at some point in their lives that there is something about the place that will make you yearn and want to comeback. I still remember once having gone for a trip to Munnar with my college friends and I tried to capture the serene green mountains in the frame of my vision , so I could relive and recollect it when I closed my eyes back at my office desk. I so miserably failed at that but I can still remember the way I felt when the morning breeze touched me as I walked through the plantations. I am no good writer. But the joy and effervescence that comes with travelling to a place that touches you so heartily, bubbles up and trickles down as this writing.
Having visited thekkady, Kumarakom, thrissur, Guruvayur, kochi, kalady, Munnar, vagamon and a few other places already, I wished to go back to the state for an entirely new experience. The scenic locations of Allappuzha, whether captured in pictures or videos never fail to beckon you making you want to visit the place at least once in your lifetime. I never like to travel the touristy way, so a stay in a houseboat or a resort was out of question. I think a travel feels best when the place you stay at, resonates with ones values and life goals. Also the joy of meeting and knowing new people , whom you can adore and cherish is an added bonus. So when I was scouting for places to stay in the scenic villages of kutanad, or the lowest lying regions of land in the whole of Asia , I chanced upon this quaint home stay with only there cottages that was right on the banks of river Pamba. Only three cottages meant the place would be less crowded, so more space and silence for oneself. And the advantage of having a river run right outside the gates and not just a canal, has to be lived through not explained. The website of the Kurialassery house in Champakulam was interesting and appealing. The idea of living in a traditional old style rooms, is very romantic especially when we live in apartments loaded with so much engineered wood these days. The thought of enjoying home cooked Kerala food, fresh fruits and vegetables that were locally grown and a meal of freshly caught fish from the river just outside the gate sounded just so rejuvenating. Pamba is a sacred river. I think all rivers are sacred, especially in the age that we live in. A swim in the clean river waters is a luxury we can give our kids. And want know what's more luxurious? The free fish spa, that you get while you sit in the banks of the river with your feet dipped in water. One could never be more grateful to these tiny fishes for eating away the scum and all the while tickling me away to glory. There has been a lot of research done on the effects of flowing water and how watching it affects our mental states. It reduces stress, slows down the brainwaves, gives us a calm, weightless feeling, it boosts creativity and wellbeing, and all that we know, but we only still don't know how and why. 70 percent of our body is water, so we are quite a waterbody ourselves and maybe hence the attraction. Like a drop wanting to be a part of the larger ocean, perhaps. Oh .. Coming back to allepey, I spent all my mornings sitting by the river contemplating and giggling as the tiny fishes from the river feasted on my feet. When my husband and kid woke up, we enjoyed our coffee by its side and jumped in to the river to swim and play. We dragged our wet selves to a quick shower , in open bathrooms :) :) and rushed for breakfast. And thankfully, there weren't twenty items on the menu. Healthy breakfast that would sumptuously fill you, cooked in the most natural way possible. That's what we feasted on in these three days. Jacob, or Jacob uncle as my 3 year old son fondly calls him, also has a paddy field next to the homestay, ponds for fishing ,a few farm animals that he rears and the fresh and divine tasting fruits that we had for salads came from the trees in the campus. I never knew a papaya could taste like that. Not just me, a traveler from England made the comment on how the papayas back home dint have any taste in them.
Staying in was so relaxing that we ventured out sparingly. We took a boat ride across the river and a canoe ride through the canals in the village. It was nice to see the houses, shops and the churches all being connected through canals and our boatman was exceptionally nice the way he volunteered to take our pics at the most appropriate locations, he bought us tea at the roadside - oh wait! Canal side tea shop and even made lovely garland and tiaras for my 3 year old with lily flowers and stems that we found on the way. We went to the Champakulam church that was white and pristine. We went to the Kurialassery museum, which is a memorial for Mar Thomas Kurialassery, who was very popular and revered among the local people. Jacob, the guy who ran our homestay was a 5th generation descendent from his family. After his graduation, when he shared his plans of starting a homestay with his friends, they criticised him for not going with a cool name for his resort and instead sticking with the family name. As much as I want people from all over the world to come and stay in my facility, I would also like my family name to be popular in the world, he had replied. He runs the homestay beautifully, without much fuss or ugly grandeur.
We took mini vans or autos, if you could call them that to visit the Ambalapuzha and Mannarsala temples. In the former we were treated to warm and delicious payasam, that everyone who has been to the temple raves about. We also spent an evening out at the Alleppey beach and had dinner at the once very popular Brothers restaurant.
We took walks along the paddy field and my son found delight in feeding the farm animals. My husband was enthused to discuss ideas on organic farming and developing a property with Jacob.
We dint buy a souvenir. We didn't need one, as there was already a lot to take back home.
The other not so fancy details that are worth a mention are that, while planning for the trip in the last minute, I was a victim of surge pricing on one of the travel websites that I booked my sleeper bus on. That escalated my expenses for the trip , but when I think back , I don't seem to feel so bad about it after all. Something else that hurt was that the large number of houseboats plying across the river and the pollution they caused. Apparently one hears that they are regulations but they are still not very regulated. The oil spill from these giant houseboats and also the motorboats used by locals is very obviously visible on the river surface during some parts of the day. Jacob tells us that a few years back most of the localities used rowing boats and now most of them had switched to motored ones. Also one could notice a piece of plastic or two floating along with the hyacinths on the river. It would be great to have an eco drive and awareness campaign among the locals and those in the hospitality business, on how to better preserve their treasured waterways. I loved alleppey and I would love my grandchildren and their grandchildren to enjoy it too. But as I write that I wonder if it's too much to ask for. I hope not.