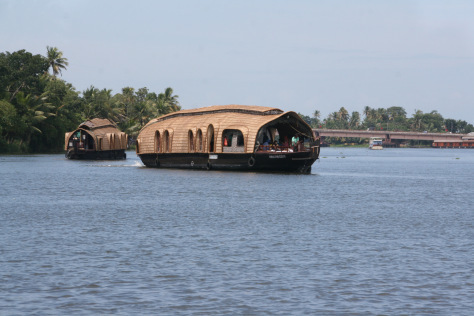 By Mansoor Ladha
I was lying on my stomach on a massage table, my face cradled in the "doughnut" while hot oil is dribbled in long calculated strokes on my back.
This was my introduction to the Ayurveda medicine which is gaining popularity among tourists in Cochi, Cochin or Kochi, Kerala's capital city, and other parts of India. Ayurveda, which means "the science of life", is a holistic healing system that originated in India more than 5,000 years ago. Its treatment involves mind, body, achieving to balance the essential human elements to attain our natural state of pure health. When getting full treatment, the patient has to undergo a variety of cleansing and rejuvenating treatments and practices that includes diet, exercise, meditation and massage.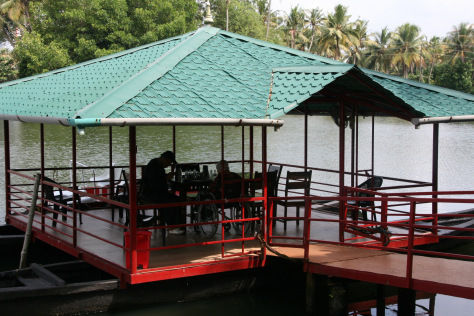 Cochin is a delightful place to spend some time and see some of the country's finest homestays and heritage accommodation. Tourists who visit Kerala must enjoy a short or a long trip on their famous waterways on houseboats. We were able to take a day's trip on a houseboat with its friendly staff of three. The captain welcomed us warmly and made us comfortable in its lavishly decorated living room and served us ice cold beers.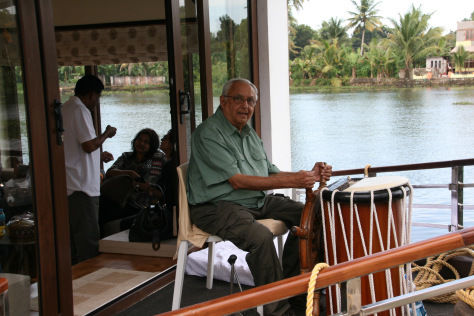 For the night, we stayed at the Coconut Lagoon Resort, 30 acres of land reachable only by boat. Coconut Lagoon has more than eight acres allocated for rice cultivation. It is nestled along the Vembanad Lake, a 175square km. expanse stretching between the backwaters of Kerala and the Arabian sea.
Coconut Lagoon also has its own Ayurveda Centre where one can try massages and treatments for beauty, toning, rejuvenation and stress under expert and professional supervision. Tourists can also try their hand at coconut husking, canoeing in the canals or try learning to play tabla as hotel guests. Many evenings, the resort features shows of Kerala traditional arts. As a devout believer in ecosystem, the resort has established a butterfly garden with natural moisture and sunlight which has attracted varieties of butterflies. The whole set up, layout, rooms, architecture and cottages enhance its natural surroundings, especially endearing to a nature lover and eco enthusiast.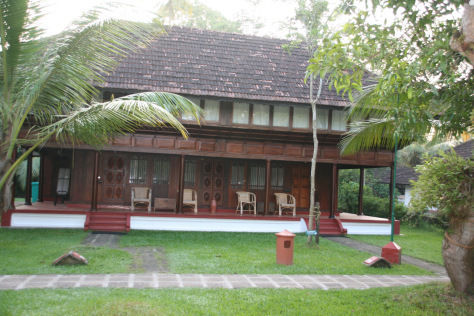 A patio at the Bamboo Lagoon Centre, which is built right into the lake, allows patients to enjoy the tranquil surroundings.
Dr. Dheeraj Vishnu, one of the doctors at the Bamboo Lagoon Centre, explained that they have six hospitals spread all around Kerala offering treatments for various ailments for back or neck pains, multiple sclerosis, Parkinson's disease, arthritis, rheumatism, obesity, osteoporosis and spine related injuries. The hospitals, founded and led by Dr. A.M. Anvar, has a team of doctors, nurses, physiotherapists, yoga therapists and others with over 23 years of experience.
"Everyone is eager to paint their homes or service their BMW regularly. In the same manner, one's body also needs servicing. We can even reduce your beer belly with Ayurveda," he told me teasingly.
Located in picturesque surroundings on the shores of a river lagoon, the hospital resembles a holiday resort. A couple from the Middle East were having a quiet breakfast in a gazebo on the lake shore while the receptionist was checking in another patient from South Africa. Majority of patients come from the Middle East, Germany, U.K., Austria and South Africa. All the rooms have air conditioning, reliable Wi-Fi and enough English cable stations to keep patients entertained and not feel bored. There is also a canteen providing food but patients can cook their own meals if they so desire.
The hospitals have received several awards and accreditation certificates, the main being NABH, which awards the supreme quality standard following 593 quality checks, according to T.M. Shiyas, CEO of Punarnava Ayurveda.
Apart from offering wellness packages and ayurvedic health holidays, Kerala offers a unique experience to tourists. Called the Venice of the East, Kerala is blessed with 44 rivers, enjoying unique geographical features that have made it one of the most sought after tourist destinations in Asia. It has a long shoreline with serene beaches and tranquil stretches of emerald backwaters. It is fortunate to have lush hill stations, waterfalls, plantations and paddy fields.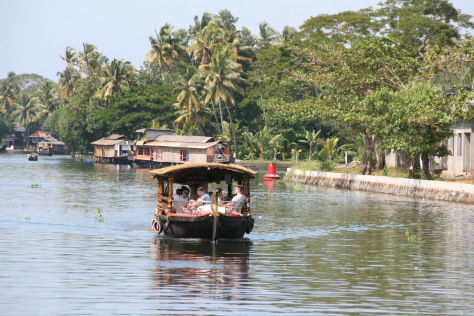 Kerala, called Venice of the East, has 44 rivers, making it a popular tourists destination.
Traders and explorers have been drawn to its shores for over 600 years, enriching its culture. Nowhere else in India could you find such an intriguing mix of giant fishing nets from China, a 400-year-old synagogue, ancient mosques, Portuguese houses and the crumbling remains of the British Raj.
Official tour guides take tourists to visit the unofficial emblems of Kerala's backwaters, and perhaps the most photographed site - the half dozen or so giant Chinese fishing nets on Fort Kochi's northeastern shore. A legacy of traders from the AD 1400 court of Kublai Khan, modern fishing techniques are making these labour-intensive methods less and less profitable, but they still supply the fresh seafood you'll see on display for sale. Smaller fishing nets are dotted around the shores of Lake Vembanad.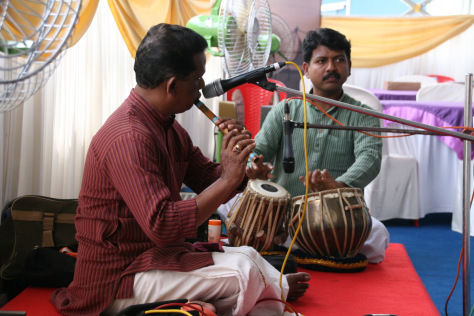 Musicians entertain visitors at the internationally-renowned Kerala Travel Mart.
One of Cochin's attractions is the Paradesi Synagogue, the oldest active synagogue, originally built in 1568. This synagogue was partially destroyed by the Portuguese in 1662, and rebuilt two years later when the Dutch took Kochi. Constructed in 1503 by Portuguese Franciscan friars, this is believed to be India's oldest European-built church. Explorer Vasco da Gama, who died in Cochin in 1524, was buried in this spot for 14 years before his remains were taken to Lisbon - you can still visit his tombstone in the church. It's great historical significance lies as a witness to the European colonial period.
Travel writer Mansoor Ladha at the helm of a houseboat in Kerala.
While the group was enjoying the refreshments and exchanging stories, we heard an authoritative voice summoning us. "Ladies and gentlemen, the dinner is served," the houseboat's chef Ashok, wearing his cap came to make us aware of the mealtime as our party of 12 sat on the long table of the houseboat in Alleppey in southern Kerala.
It sounded like a call for a VIP banquet. Unaware to us, it was summons for a sumptuous banquet as we sat to devour the meal on our luxurious houseboat. The long dining table was laid with delicious vegetarian and non-vegetarian dishes which included spicy prawns, barbequed fish, rice, daal, calamari, vegetable curry and other meat and seafood dishes.
We were catered to such a delicious lunch which even some high-end restaurants with their elaborate kitchen facilities couldn't cater for. To our utter surprise, we are well fed at an unexpected place.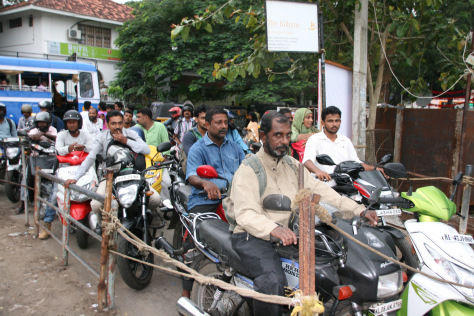 Motor bikes are a popular mode of transportation in India. Above, a group of bikers await their turn to board a ferry in Kerala.
Lovely breeze hits your face as we are immersed in the tranquil atmosphere and enjoying the lush greenery of Alleppey. Hundreds of houseboats of various sizes and shapes cruise around us along the rustic Kerala backwaters, amid a network of canals and lagoons of the beautiful Vembanand Lake.
Captain Harjeet, who was in charge of the vassal, steers the houseboat confidently, explaining the surroundings which have been his territory for almost 10 years. Located on Vembanad, the longest lake in India, and the largest lake in the state of Kerala, it accommodates 3,000 boats and provides livelihood to over 1.6 million people who live on the banks of the Vembanad Lake. Tourism flourishes in Kerala where every other person is employed in hotels, resorts, houseboats and other tourist oriented sector, promoting Allepey as a sought-after destination.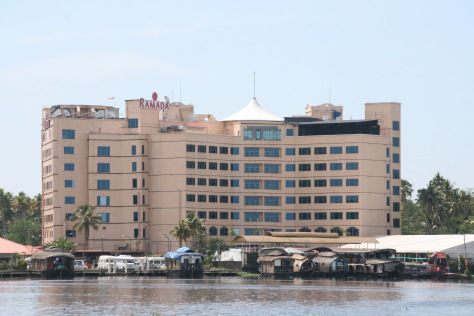 There is no shortage of modern hotels in Kerala.
The only other place in India where one can enjoy houseboats is Kashmir, but the difference is that the houseboats in Kashmir are anchored on the shore and are not mobile, while the houseboats in Kerala cruise along the lake, lagoons and canals and are anchored only for the night when tourists can relax and enjoy their stay in elaborate modern facilities. Tourists are offered memorable customized and tailored tours for just a day trip or ranging from one night to 14-day exotic tours in luxurious houseboats, cruising from Cochin and passing through Munnar, Thekkady, Kumarakom, Kovalam and Trivandrum.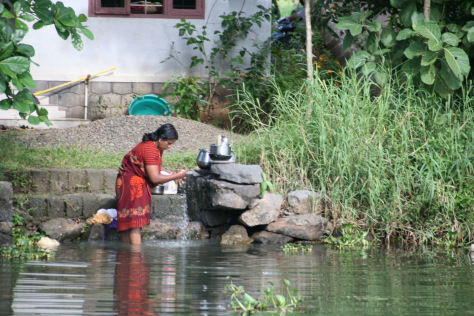 A woman washes utensils in the waters of the lake in front of her house.
Local residents can be seen going about their daily routine on the bank as our houseboat meanders through the network of estuaries, lagoons and canals. All villages in these areas can be accessed via water transport as we see several local residents being transported in boats. We also saw women washing clothes or utensils and children having am early morning bath as our houseboat passes the banks.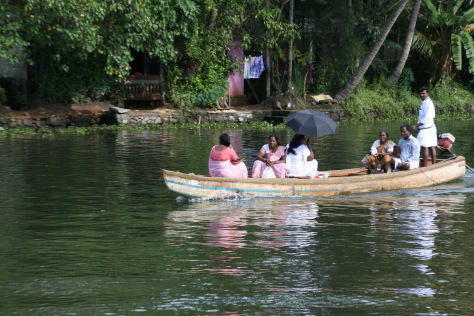 Boats provide a means of transportation to local residents living on the banks of the river.
The river bank is dotted with resorts, hotels and homesteads. Our party left Cochin for Allepey, in an air-conditioned bus after breakfast, driving through heavy traffic on paved and unpaved roads and arriving at our destination ready for lunch. A small boat took us to our magnificent-looking houseboat, where we were introduced to an attentive, friendly and efficient staff of three, which included English-speaking crew of a chef, a driver and an assistant.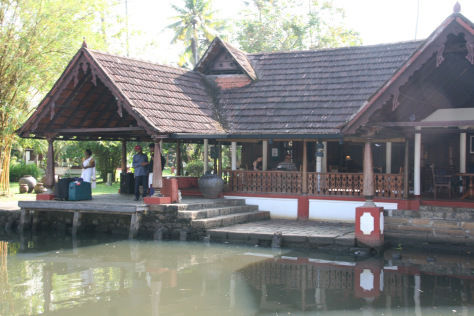 Check-in area of the Coconut Lagoon Resort where visitors arrive to the hotel by boat.
A section of Coconut Lagoon Hotel shows its spacious rooms surrounded by lots of greenery.
Kerala is India's most advanced society with 100 percent literacy. This is one state of India which has world-class health care system, lowest infant mortality and highest life expectancy rates, offering the quality of life in India and a unique experience to tourists and visitors.
This post was originally published on Travel With Mansoor.

Frequent searches leading to this page:-

Kerala tour packages with price, Kerala honeymoon packages kesari, Kerala luxury honeymoon, Kerala honeymoon packages 3 days, Alleppey honeymoon packages, 2 day honeymoon packages in Kerala